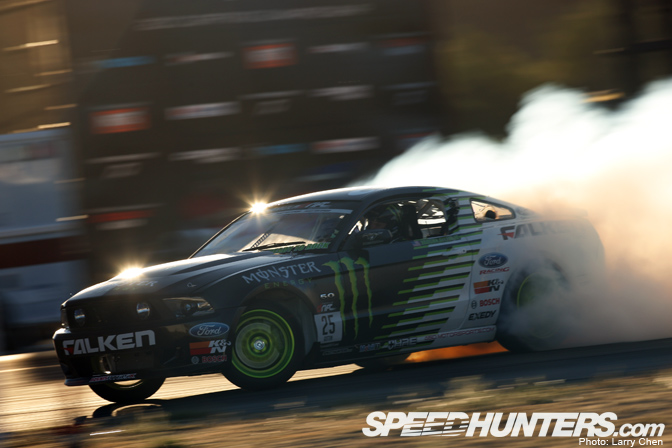 Heading into Sonoma after an awesome event and 3rd place finish in Vegas, my confidence was still very high.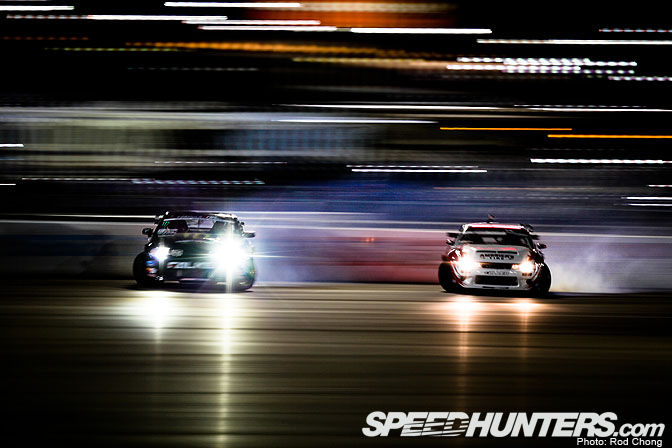 Although I was not thrilled that I lost to Dai in a battle for the third time this year in Vegas, I was obviously extremely happy to still be leading the points heading into Round Six.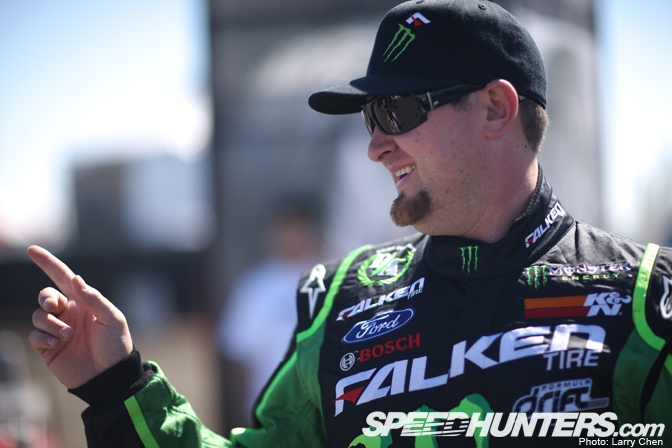 My strategy at Sonoma was the same as it has been all year – to be calm, collected, and most importantly, to have fun. I really don't love the layout at Sonoma, however, I find a fun challenge at every course to keep my focus. At Sonoma it is the entry; I cannot explain how fun it is to accelerate as fast as possible and toss my Mustang into drift at around 100mph. It's like "weeeeeeeeeeeeeeeeeeeeeeee!!!!"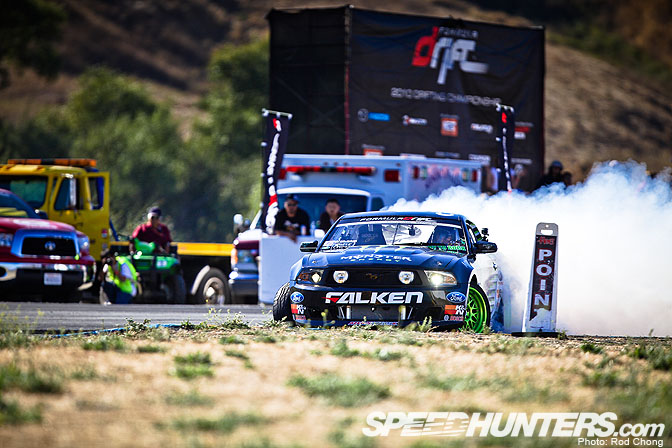 This qualifying session for me was very important. I was trying to get as many Championship points as possible. I went with the standard strategy of putting down a conservative first run and then getting nuts on the second run.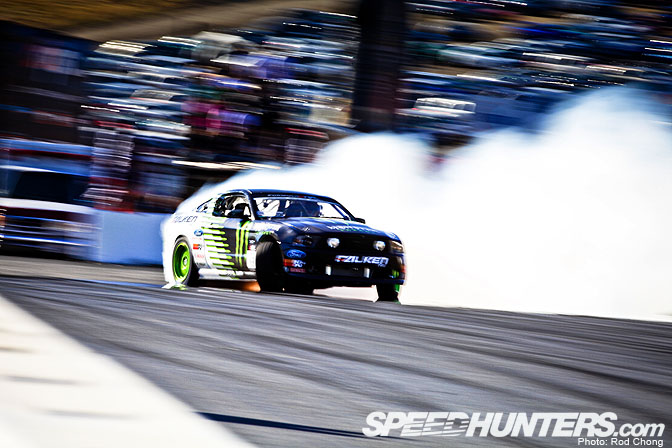 My second run felt much better to me, and looked better then my first to Ian. However the judges didn't seem to think so.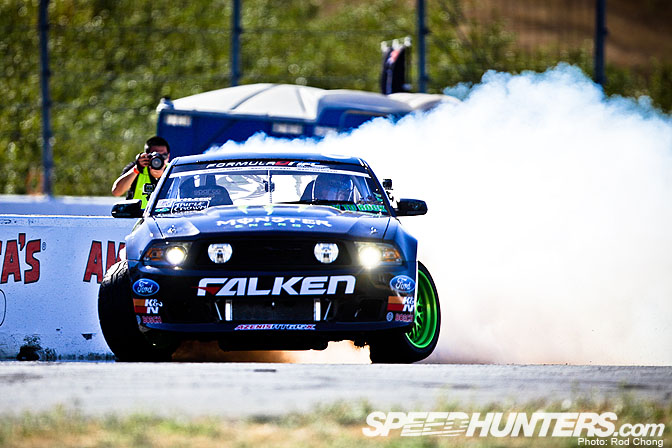 I ended up qualifying somewhere around 14th or 15th, so I didn't get any extra points for qualifying and it was time to make up for that in tandem!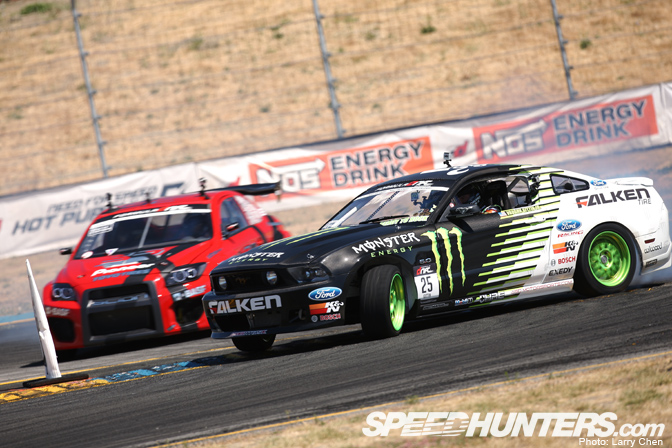 My first battle had me against Ken Gushi. He is and has always been an incredible driver and is never someone to sleep on. It figures that we never got to battle when he was in a Mustang. When leading him, I was able to pull away significantly after the first clip.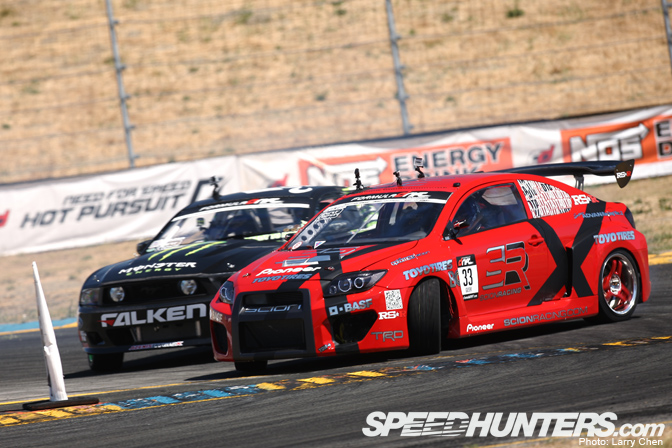 While following I was able to jump on his door on command and stay tight throughout the course. I was moving on to the top sixteen!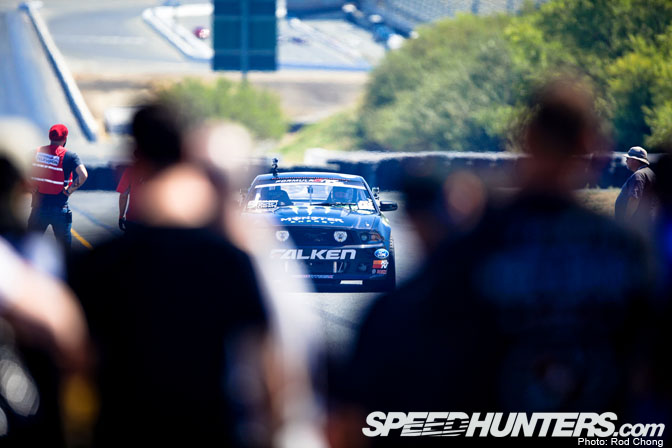 It was this very battle where I realized how dialed we were able to get the car during practice. I felt great and was very excited for the rest of the event. Unfortunately there was a two-hour break between top 32 and top sixteen. It is a true challenge to restart the momentum, especially the great feeling of victory.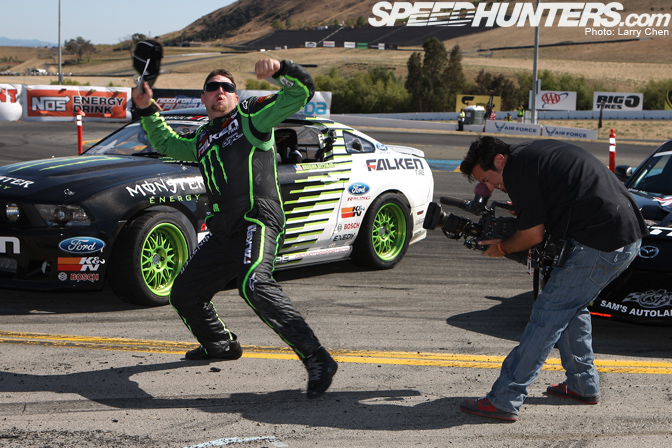 Top 16 introductions are always fun, woooooooooooooooo!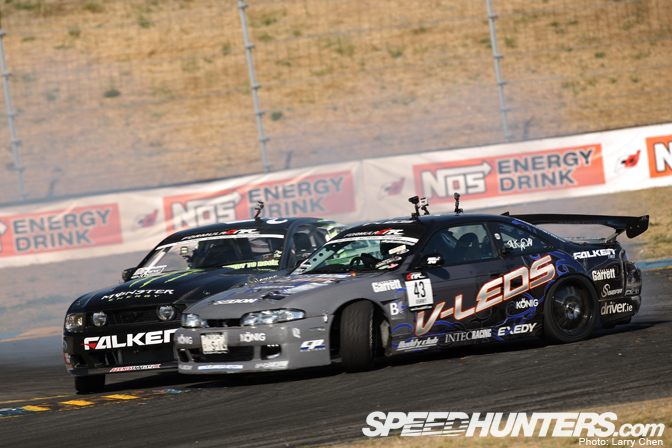 Now it's time to discuss my somehow controversial battle with Deane Kearney. When leading him, he made a huge mistake, pretty much fully straightening up. I knew we had a huge advantage. Normally I would be aggressive still, but based on where the points are, I decided to give him a very large gap. I started closing the gap right after entry and next thing I knew at the first clipping point he was looking at me and seemingly was coming to a stop. I was off throttle for the most part between entry and the first clipping cone, and I wasn't willing to chance straightening to avoid him and then somehow he get back on throttle. I gave him a nice kiss in his door and was pretty pissed initially, as I thought he gave me a serious brake check. I just couldn't comprehend how I was driving at like 60% and ended up in his door.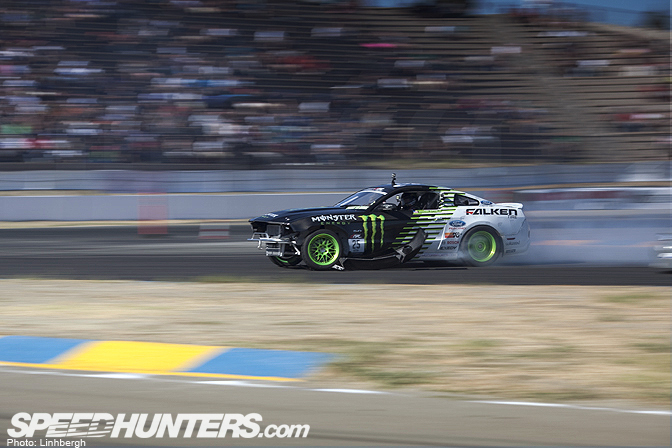 I jumped on throttle and finished my run like the pissed-off man that I was. Luckily, we have replays for the judges to watch, and they saw how much his car slowed and gave me the win aside from the contact. This battle turned into some serious controversy on the forums. Deane eventually came online and admitted he was taking a very unorthodox line to try to force me into a mistake as opposed to running the qualifying line we are supposed to run as the lead car. Unfortunately the line backfired on him, and was much slower then he had anticipated. Hopefully next time we line up, it will be a clean heads-up battle. I do respect him for admitting what really happened and ending the speculation. Here is the VIDEO from my POV for those interested.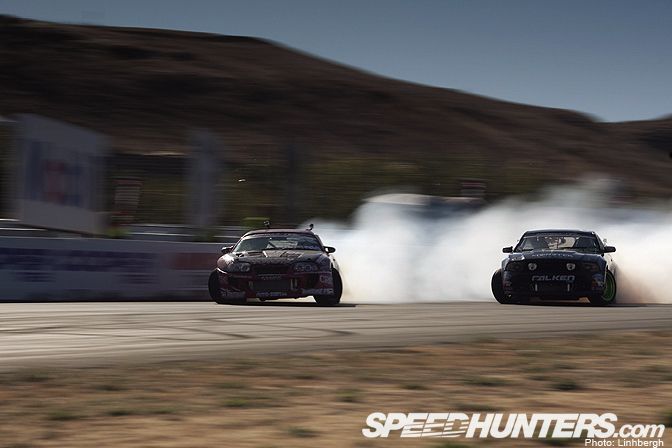 My top 8 battle lined me up against Aasbo, I have had a blast battling this dude all three times we have lined up this year. Unfortunately, I gave it away in Seattle and I was determined not to let the same thing happen here.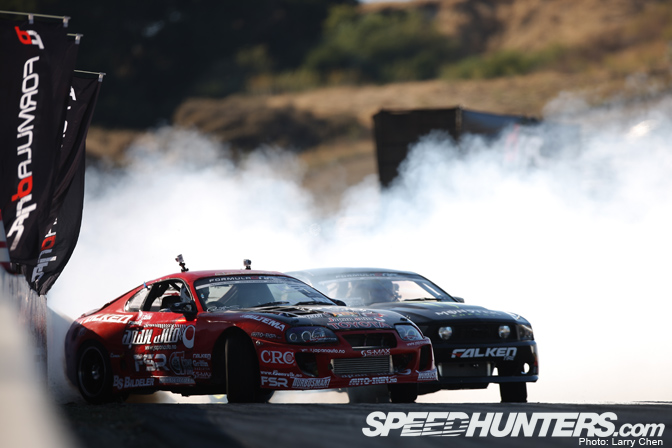 He is a clean, fast driver – one that you can be confident attacking the course very hard with. Exactly the way it should be! It was sure to be a good battle and I brought my "A" game. When following, I stayed pretty tight throughout the course.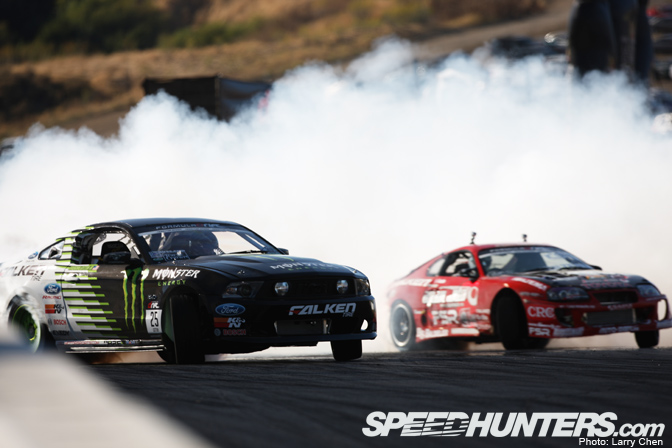 When leading I drove it in hard and fast, barely ever lifting off the throttle. This bought me a pretty huge gap and ultimately the win.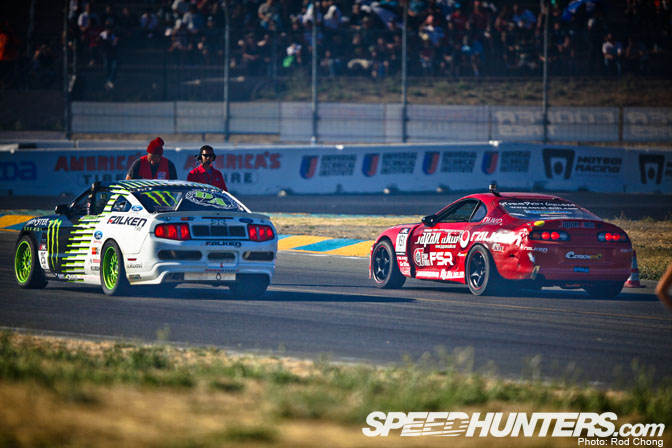 After I was announced the winner we gave each other the nod and a thumbs up. I have a lot of respect for Aasbo, he reminds me a lot of myself when starting out. Chasing a dream at all costs, armed with little money, a ton of passion, and a heavy foot!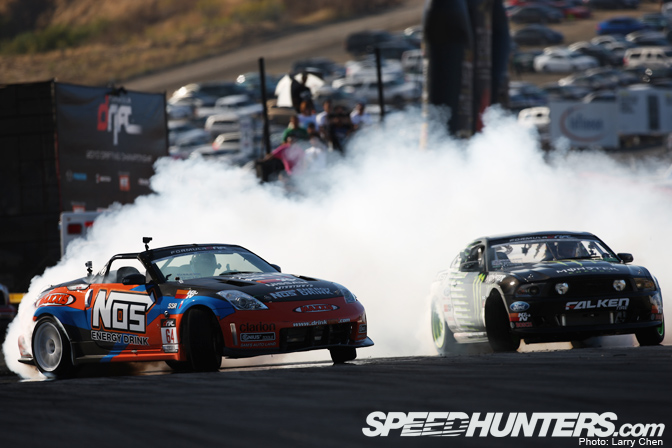 At this point I was on top of the world! Dai was eliminated early by my man Ryan Tuerck and I was heading to the semi-finals. The bad news was that I was to line up against my close friend and last year's champion, Chris Forsberg. I knew it was going to take some serious work to move on. He led first and I entered the first turn inches from his door. Luckily I knew he would only be using his right foot and I was able to remain close with confidence throughout the entire course. When leading, I entered about two mph faster then I probably should have. I dropped only two tires onto the dirt (three would have been a zero) and it did not affect my drift. Unfortunately, Chris went a bit deeper and spun behind me.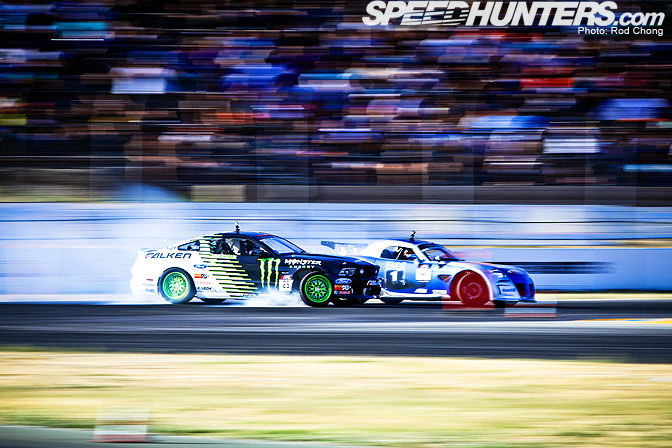 HOLY S$%T I'm in the finals already!!!!… against another great friend – Ryan Tuerck. Another battle that I was going to have to work for. We have battled hard almost every round this year and I have been victorious every time, but each battle was hard fought without a doubt. Tuerck is a KILLER!!! He led first and I entered about two inches closer on his door then I did with Forsberg. Chris and Ryan are in a very small group that I would be comfortable enough getting this close to at close to 100mph in the first turn of any course.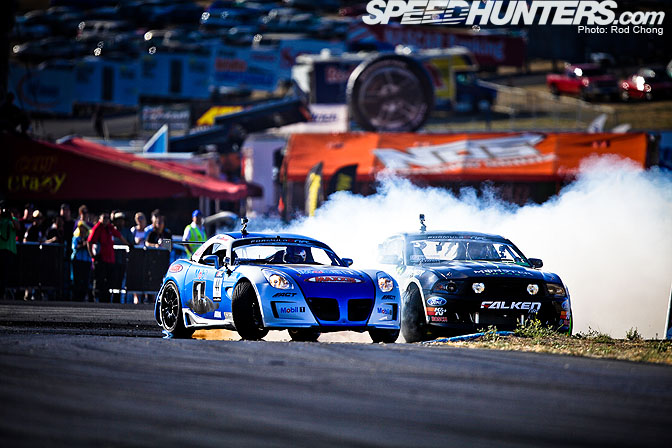 The perfect mix of our perfectly dialed Mustang chassis and our amazing tires allowed me to stay on Tuerck's door throughout the entire course.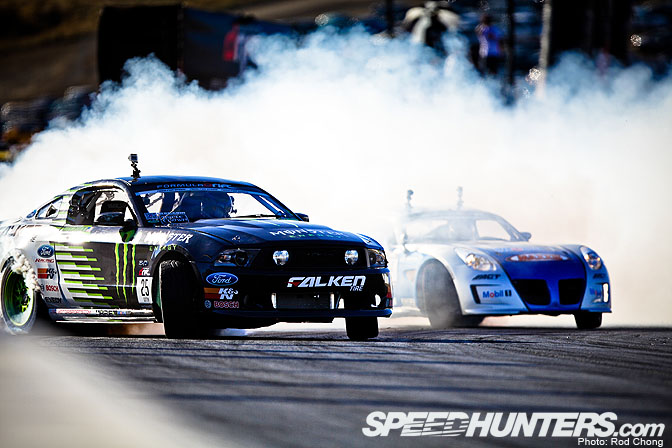 When leading we entered crazy fast together. I put down a pretty flawless run and was able to pull a pretty good gap on Tuerck. When my name was announced as the winner I hit the ground screaming with happiness.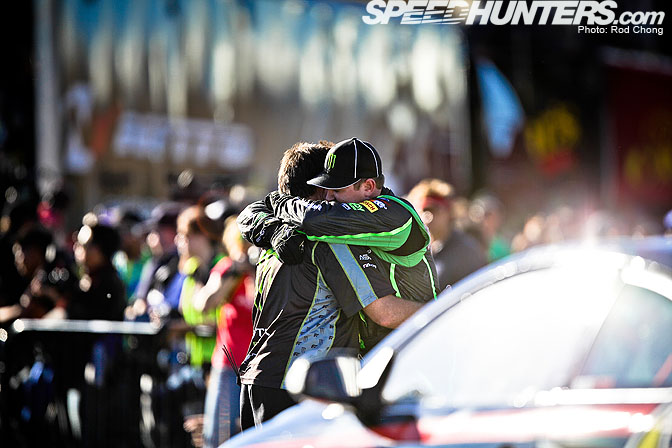 I made my way over to the podium and my main man Dean was there smiling from ear to ear. He works his ass off for me and nothing makes him happier than the "Muzzy" on the podium, especially when it's a win. This win meant a lot for our points lead and quite honestly, it was pretty emotional for me.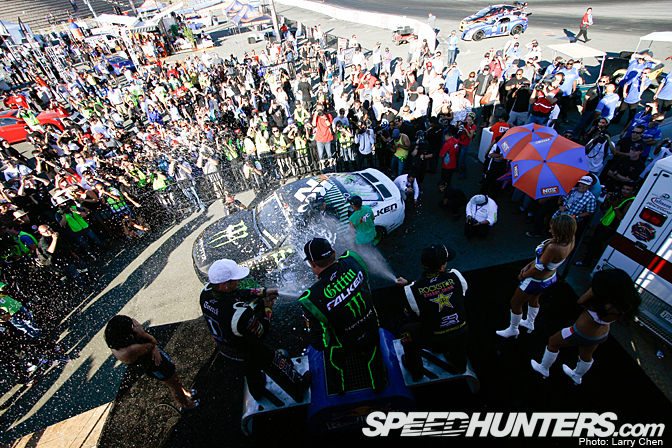 This season has been one that up until this year, I have only dreamt about. It feels so good for all of the hard work, passion, and dedication to be coming together for Team Falken, ASD, and myself.  Irwindale, here we come! I am not even going to talk about what is on the line right now… see you there!
- Vaughn Gittin Jr.