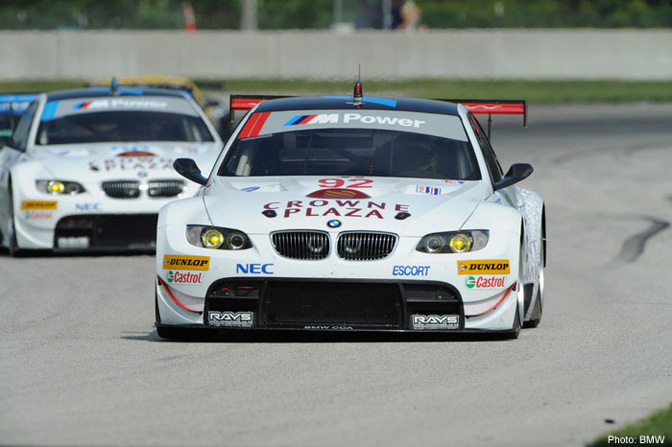 What's up SpeedHunters. It's been a busy month here for the ALMS crews. This blog is going to encompass both Road America in Elkhart Lake, Wisconsin and the second-to-last round from Mosport just outside of Toronto Canada. As it would play out, Road America was a good news / bad news scenario. With back to back weekends, Road America would put a strain on the BMW Rahal Letterman Racing Team…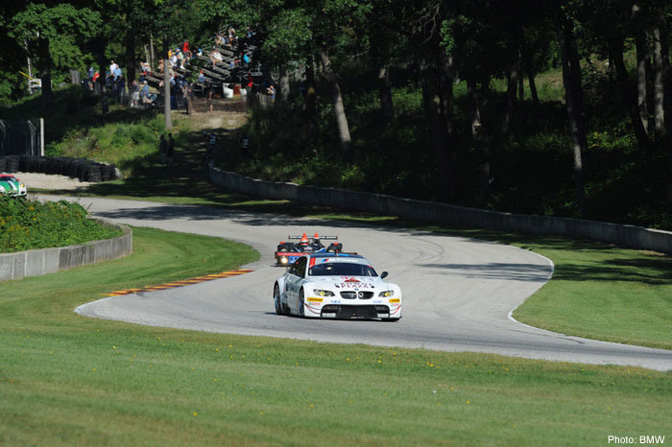 Road America was home to the team's first and only ALMS win last year. A 1-2 finish which was a great result for the team and whole program. We'd proved the BMW M3 GT was a serious contender and would be a great day for the team. We came to Road America now in 2010, again without a win, but really challenging for the Manufacturer and Team championships with Bill and I having an outside chance at the Driver's championship.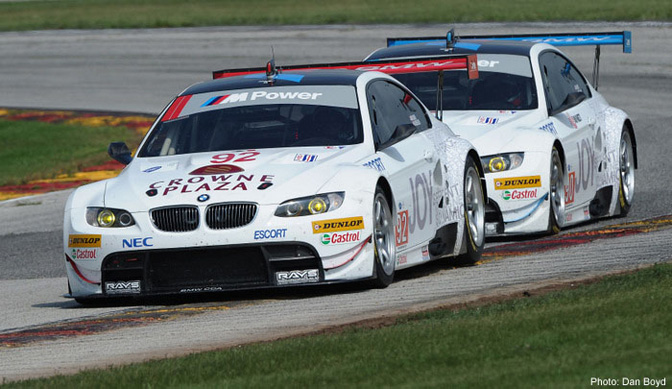 The weekend was going well. Both cars were quick with each of us trading off leading sessions throughout the weekend. The Dunlop tires and the M3 GT really like this track. I had qualifying duties and the whole team was hopeful for another 1-2 qualifying like last year to get the race off on the right foot. We came to qualifying and just couldn't squeeze the laptime out of the car like the others could. Joey put in a fantastic lap and ended up 4th and I was back in 7th but only 3 tenths off of Joey on a 2 minute plus lap. We have a great rivalry within the team to beat each other and we had out qualified the 90 car almost all season. Joey got us this time.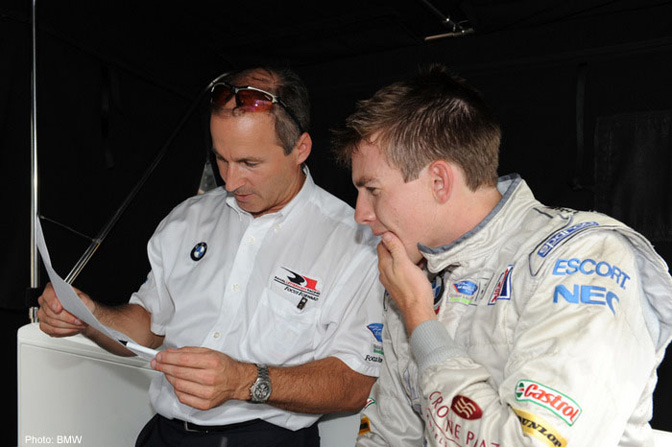 After qualifying, I talk with my engineer Jay O'Connell about the car and what we need to go faster for tomorrow. Qualifying was very disappointing after we'd been so fast in practice. Qualifying is a very tricky thing to get right. You've got tire pressures set to peak right when the grip level is at it's best and if you don't get it right, you lose the ultimate best lap. Unfortunately, in qualifying, my best lap came on a lap when another car had brought out the red flag. I had to put my lap in after the best of the tires had already passed. On to the race, we had a great race car which is what matters most.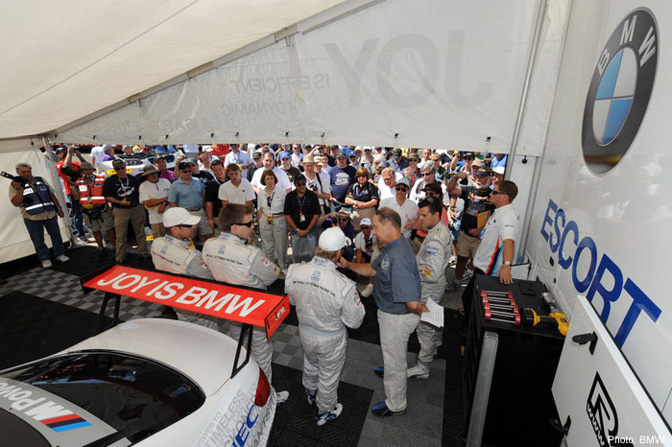 We always have an awesome crowd of BMWCCA and BMW fans at the races. Road America was no exception. These are the diehard BMW fans and are the ones who cheer for you no matter what. It's always great to chat with them each weekend. Some of them you see at multiple races a year, some become big fans, and others are actual family friends which is always cool to see.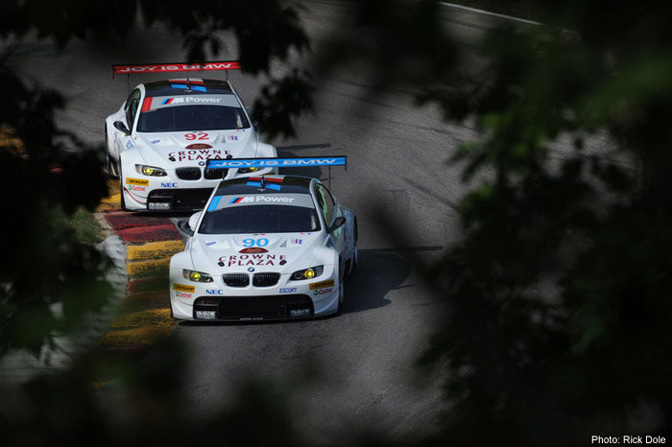 It's race time; this time we have Bill start the race and I'll finish. It was over before it started really. When you have 4 different classes of cars racing together at different speeds and in some cases some drivers with wildly varying levels of skill, something is bound to happen. It did and Bill ended up making hard contact with the wall just after the kink, one of the fastest corners in all of racing (and flat out for us in qualifying!!!). A normally faster class LMP Challenge car was in the GT racing mix and slowed, Bill checked up just after the kink, and Bergmeister in the Flying Lizard No. 45 car hit Bill. That was all she wrote for the No. 92 car. Literally. It was totalled.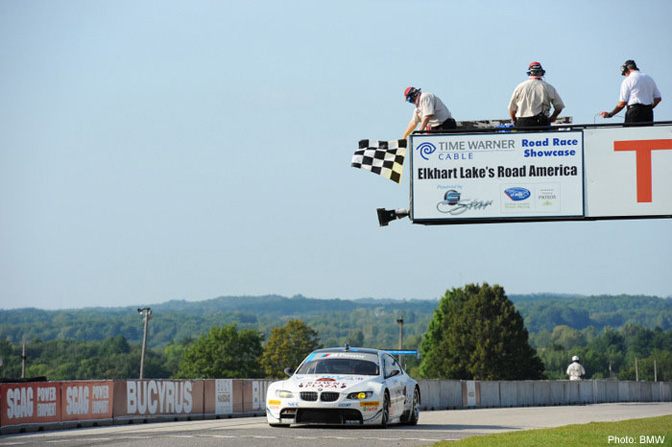 That was the bad. The good news was the No. 90 car took home the first win for the team in 2010! Putting us ahead in the Manufacturers championship over Porsche and Ferrari and keeping the championship hopes alive for BMW! Before the race had even finished, a couple of the RLR crew guys started the trek home to be at the shop in Columbus, Ohio bright and early the next day to start what would be a 72-hour build up of BMW M3 GT chassis No. 901, my car from last year.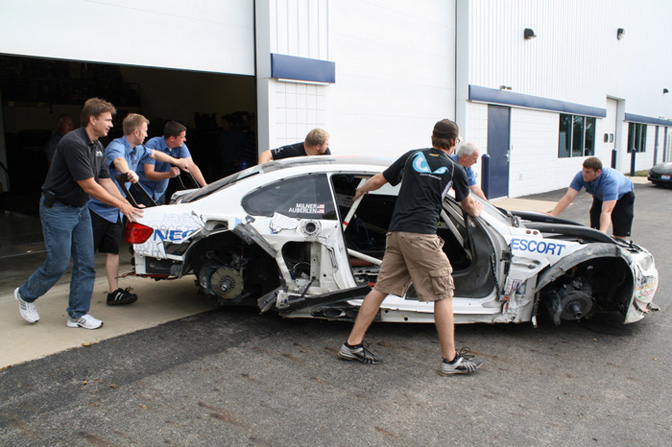 Here is our baby as she was wheeled into the shop Monday morning. Parts and pieces that were salvageable would be taken off to put on to chassis No. 901. The damage doesn't look that bad but it was enough of a hit to put it out of action for Mosport for sure, maybe for good.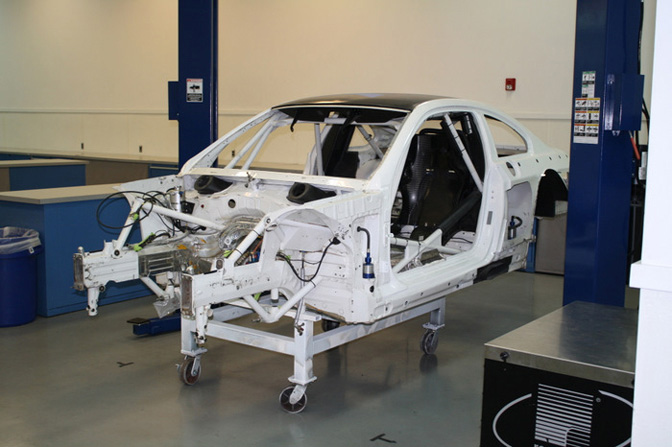 A couple of guys from the shop, after they heard about the crash, wheeled the No. 901 chassis into No. 905's old bay at the shop to be ready to be worked on Monday morning. This is how the car looked Monday morning and by Wednesday morning it would be doing laps around Rahal/Letterman Racing's parking lot. Amazing.
BMW did a quick 3-part series of the rebuild. You can watch a little and hear a little about the rebuilding:
http://www.youtube.com/watch?v=87xum2yxkHA
http://www.youtube.com/watch?v=8eXK_c7_4mE
http://www.youtube.com/watch?v=xee6VFYbNj8
By Wednesday morning the car had decals, was setup for Mosport, aligned, and scaled. It was ready for action Friday morning.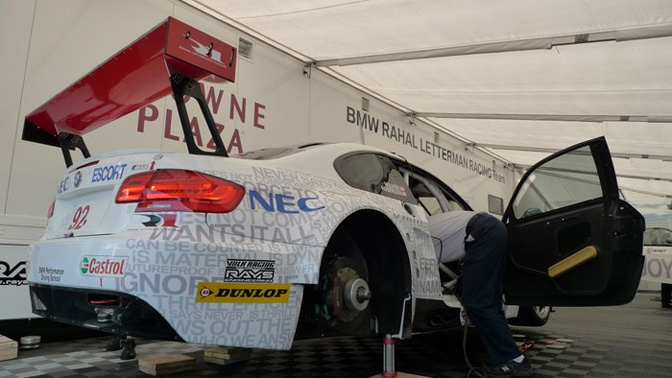 Ready it was. I had duties of doing the leak check as the engineers call it. Typically this is an 'out and in'. Out of the pits and right back in. This time however I skipped the pits the first time just to give it a good shake and see if everything felt OK. It was perfect. If you told me it was the same car from before Road America I would have believed you. The guys had essentially two days to build a car up from almost scratch and there was not a thing wrong with it. If that doesn't give you confidence, I don't know what does.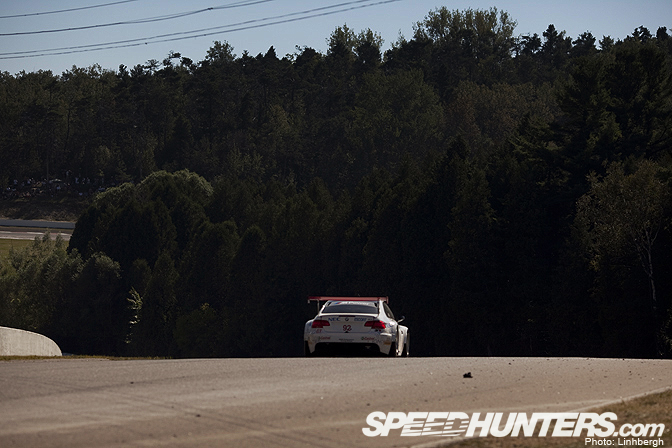 Mosport is one of those tracks where you need that confidence. Turn 1 is a 4th-gear, downhill, balls to the wall right-hander. I didn't even brake for this corner. Just lifted. That's pretty amazing for a GT car. After you survive Turn 1 though and you're catching your breath, you have to hurl the car over and down Turn 2. Turn 3 you run right to the edge of the track at the exit, literally inches away from the grass and a sure spin if you drop the left side wheels there. Then you blast down Turn 4 another huge downhill left-hander that is wide open all the way down in 5th gear.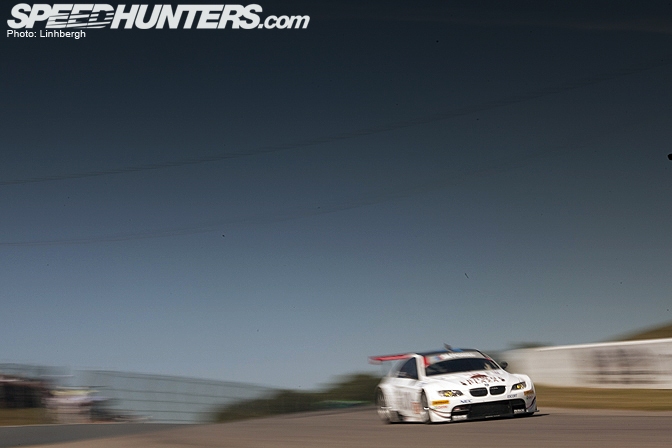 Mosport Turn 2 has to be one of those corners that no matter how many laps you have there you always take it easy at first. For our M3 it was a 5th-gear corner. We just brush the brakes a little approaching the hill… nah, the JUMP that starts Turn 2. When you commit to the corner, you can't even see where you're going. You just have to go off of muscle memory. This was just one corner I had huge confidence in all weekend. Here's two laps of in-car from the first practice. You can hear a downshift to 4th for it but the next session I went back to 5th.
http://www.youtube.com/watch?v=FNs8ZGK3OTA
It was again my turn to qualify the car. I had a lot of seat time in practice this weekend because Bill was a bit sore after his accident at Road America and actually had a cracked rib. We needed to nurse him as best we could all weekend so he was as good as possible for Sunday. He really was hurting after the first day of practice. I had to carry the No. 92 car on my shoulders this weekend. Now that we were locked out of the Drivers Championship, all that was on my mind was a win or at the least staying ahead of the Porsche and Ferrari.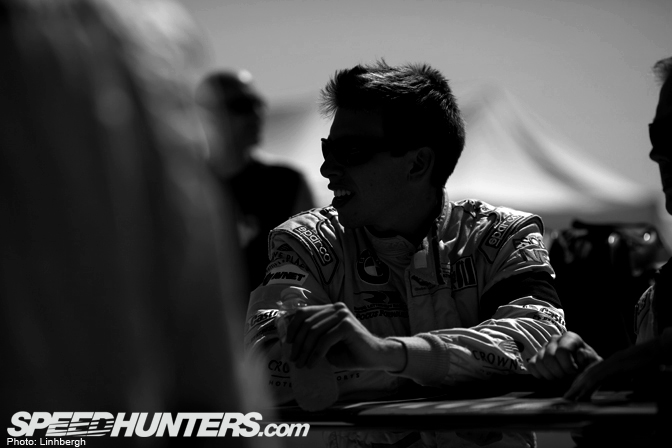 Practice and qualifying were going well. We weren't the fastest car in the class but we were in the hunt. The car was to my liking and I was feeling confident going into qualifying that I could really squeeze a lap out of the car. I had the measure on Dirk who was qualifying the No. 90 car but I had my eyes set on 1st place. I felt like the car had it in it.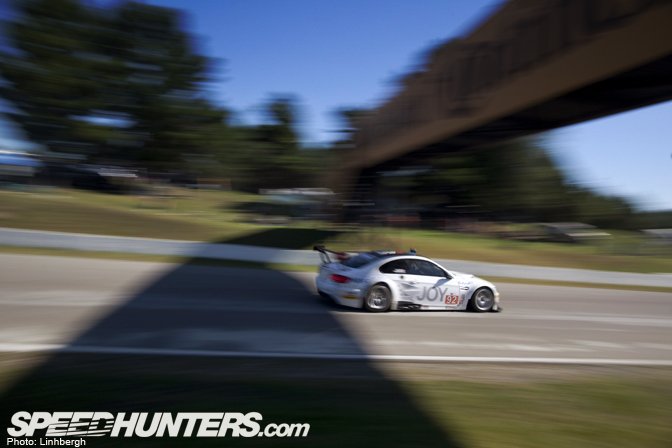 Mosport is one of those tracks that you just have to cinch down the belts a little more and throw it all out there. You can't think about the walls being close. You can't think about the consequences of getting it just a little bit wrong. In the back of my mind were the guys who had built this car in two days and I couldn't imagine making them work any harder, but at the same time I wanted to reward them with a strong qualifying result.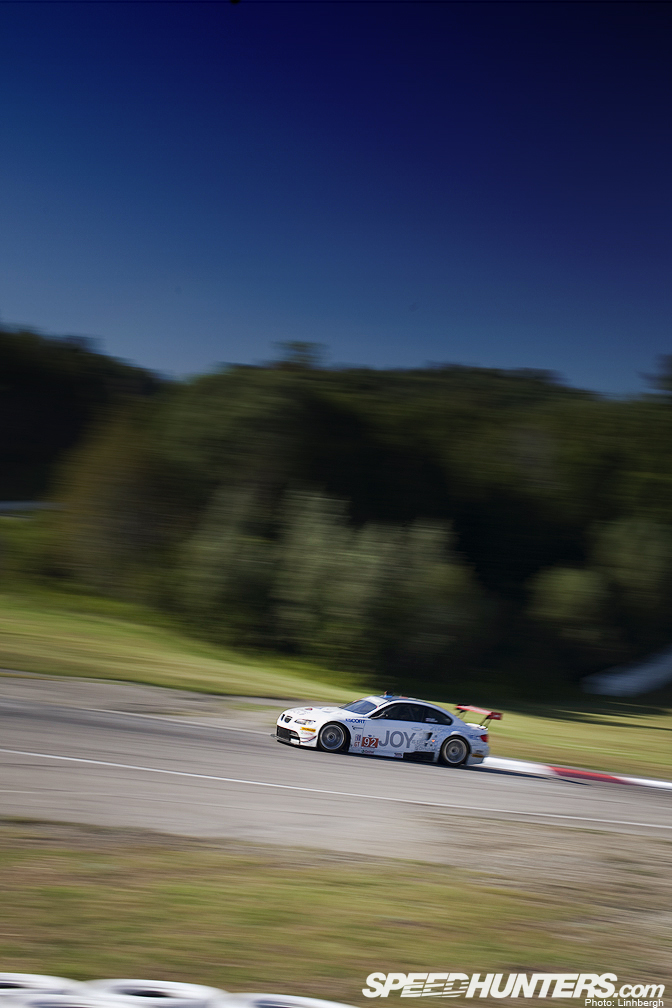 I went out and put it all on the line. We always seem to race a bit better than we qualify, but I wanted to get out of the car knowing I got it all. My lap was nuts to be honest. I chucked the car over Turn 2. Before I was done telling myself that I'm an idiot and that was way too fast I went back on throttle. Next thing I know I'm hauling ass to Turn 3. I made it. I don't know how but I made it.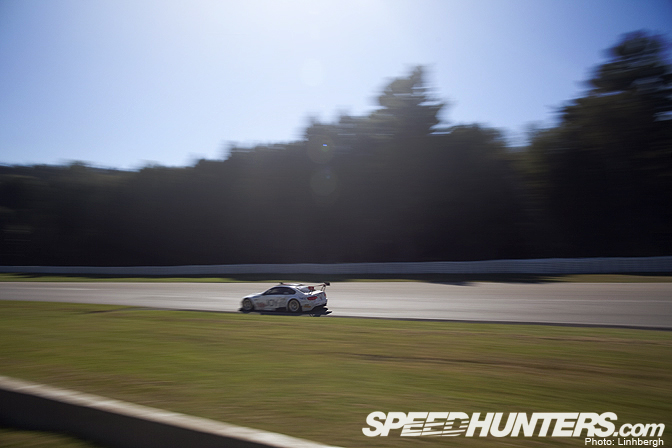 Honestly I don't remember the rest of the lap. I think my brain was still trying to figure out how I made it through T2 without wrecking. I came by the line and the quickest lap of the weekend for us popped up. 1:17.492. I was pretty happy with that so I slowed and asked the crew where I was. "P3. Three tenths off pole," came the reply. I tried another lap after that but was down two tenths to my best lap after Turn 3 so I shut it down and saved the tires.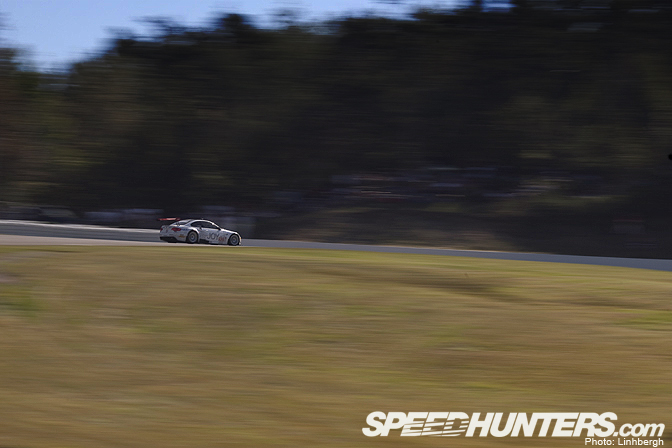 I was only 0.03 from 2nd place. Not terrible. That's all we had that day. I hopped out of the car and high-five'd the guys and congratulated them on building a fast race car in two days. They all say it wasn't that tough but – I don't care who you are – to build a car like that in two days and not have a single problem says something about those guys. Amazingly, this was also the best qualifying for the team all year! That's a great feeling to give the team and the program its best qualifying of the year.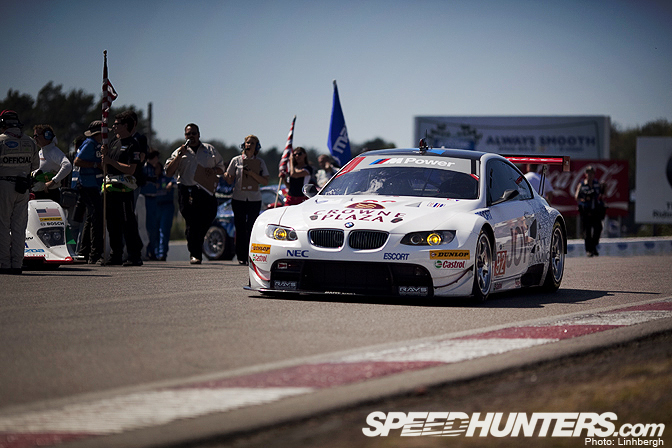 It's race day and Bill has had very limited laps in the car. When he has been in the car it hadn't been the best so he was a bit timid going into the race. I tried to give him the confidence that the car was good to go. The last thing he needed to worry about was driving an ill-handling car with a broken rib. Definitely broken now as he broke it in a Don's John when he sneezed.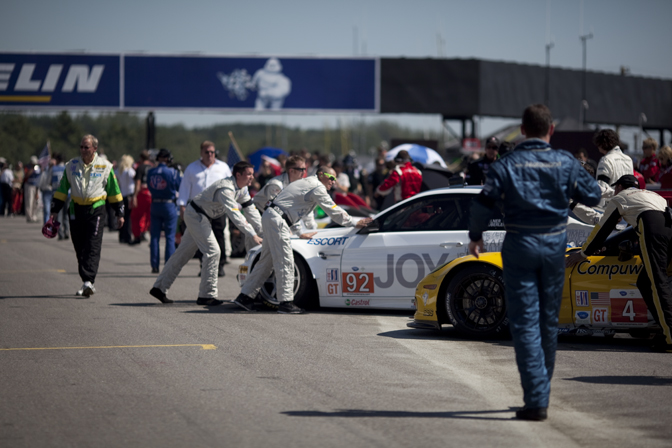 Bill had the opening stint and the plan was to get him out of the car right around 45 minutes which is the minimum to score points. About 50 minutes into the race, he was called to pit and I hopped in. We were sitting in 3rd place before he pitted and if this was to work out for us, I had to go as fast as possible. I basically needed to do qualifying laps. The best lap to that point in the race was a low 1:19 and the pace when he pitted was more like a low 1:20. My 4th or 5th lap was a 1:18.3. The car was hooked up and I was flying. Again, I just had the confidence in the car to push as hard as possible and there is nothing more fun than driving the M3 GT when it's really good.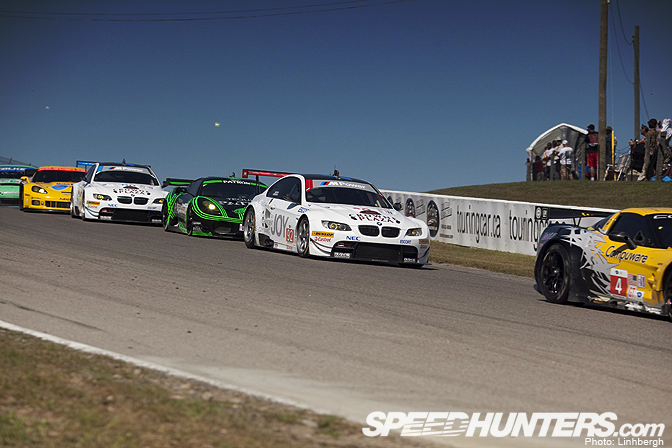 When the pit stops all shook out, I was in first place by 10 seconds over the next GT car. A fast pit stop and some fast laps put me quite a bit ahead of the GT field. In fact I had put a number of them a lap down and was chasing a Corvette or two to put them a lap down when the yellow came out.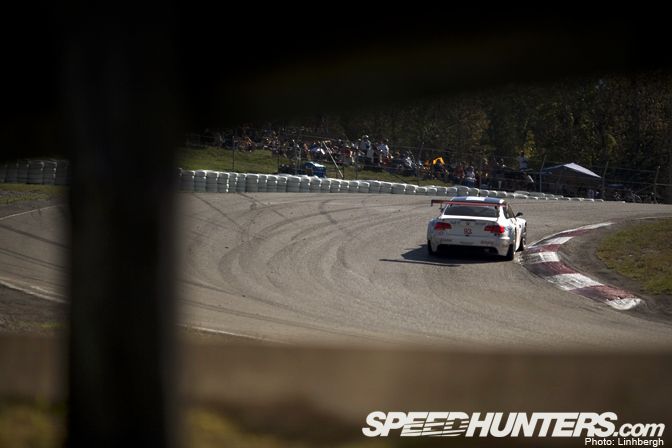 For whatever reason, the tires just didn't come in very well after the restart. I kept the pickup off the tires and got them as hot as possible before the restart but the combination of that plus being in traffic meant that I started to get a big understeer. The awesome car I had before the yellow was gone and now I'm watching the two Corvettes driving away from me while 2nd and 3rd place are slowly getting bigger in my mirror.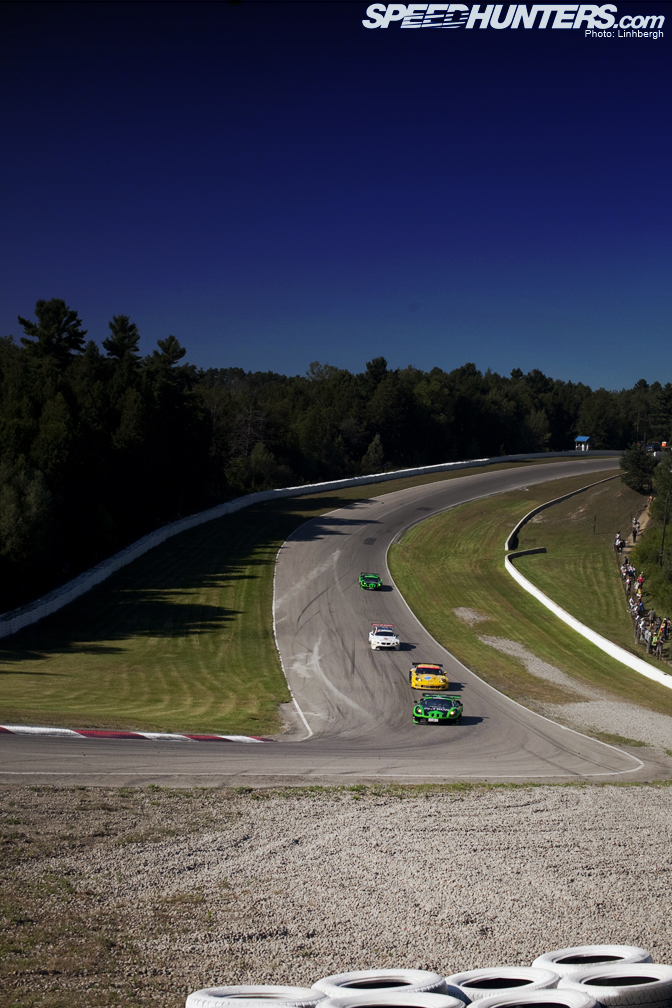 They finally caught me, the No. 45 Porsche and the No. 62 Ferrari. I did everything I could to keep them behind but it wasn't enough. I had such a huge understeer at the end that I'd killed the front tires and lost quite a bit of laptime. They were also on a bit newer tires since we pitted a bit earlier than them but it wasn't a huge difference. Once they got by me, we pitted right away since it was in our window to make it to the end of the race.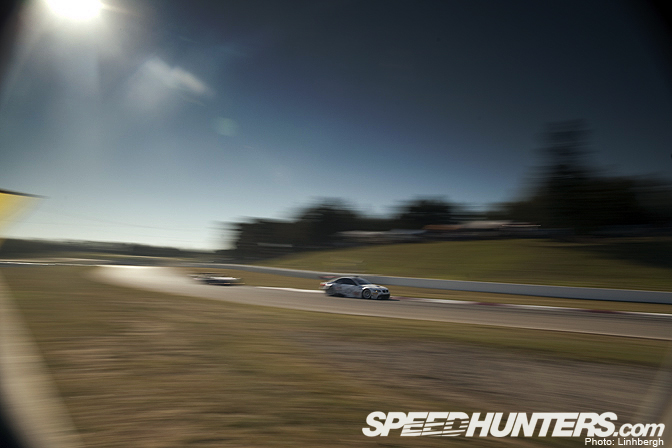 I came in, got four brand-new Dunlops and fuel, and went right back out to do the same thing I'd done earlier. Just throw down a bunch of qualifying laps in a row and after it all shook out I would be ahead again.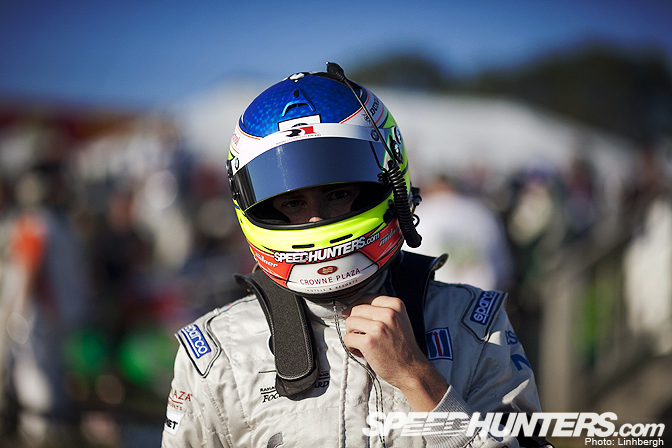 Not to be. With 29 minutes to go in the race, just as my tires were heating up, there was a massive crash on the back straight. An LMP car and GTC car came together and sent the GTC car spearing into the guardrail and knocking about 250 feet of guardrail and posts down. We circled around for a few laps under yellow and then they threw the red flag. There was some hope that we would get the race restarted again but there was too much damage to the track to fix it in time. Our 2 hour and 45 minute race would only be 2 hours and 16 minutes long.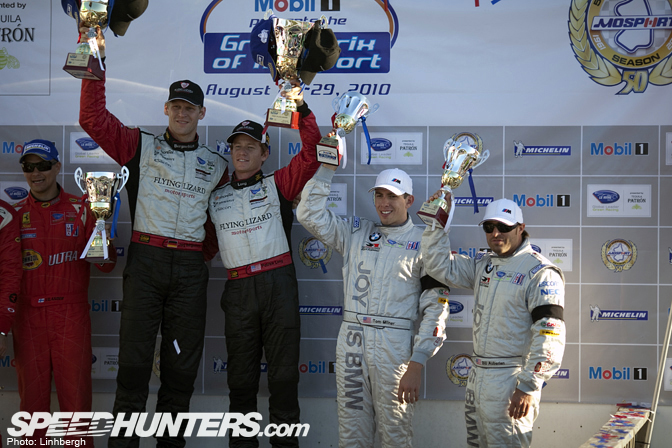 Bill and I ended up 3rd. I think we had a car that could have challenged for the win at the finish. I'd would have liked to at least had the chance to go for the win but it wasn't to be. Unfortunately the No. 45 Porsche and No. 62 Ferrari were the two cars that finished ahead of me. The two we needed to finish ahead of. Our strategy just didn't play out for the best this time unfortunately.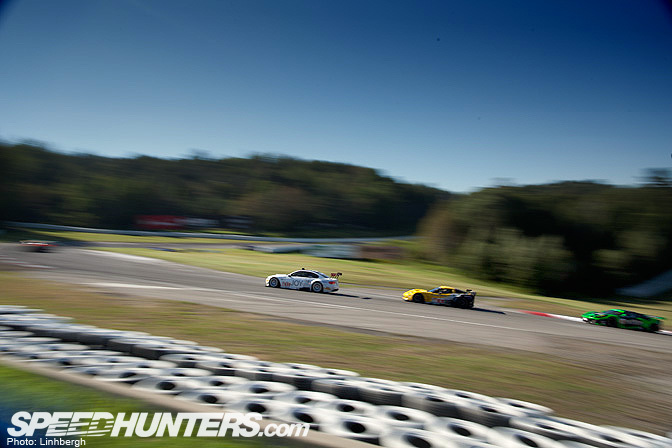 Porsche would just get ahead of us in the Manufacturer's Championship but only by one point. One point difference going into the last race of the season, the Petit Le Mans. If the GT race could be anymore epic than it is, it would require sharks with lasers, bears with grenade launchers, and 'The Most Interesting Man in the World'. Seriously, I've got a feeling Petit is going to be one of those races that people talk about for a long time.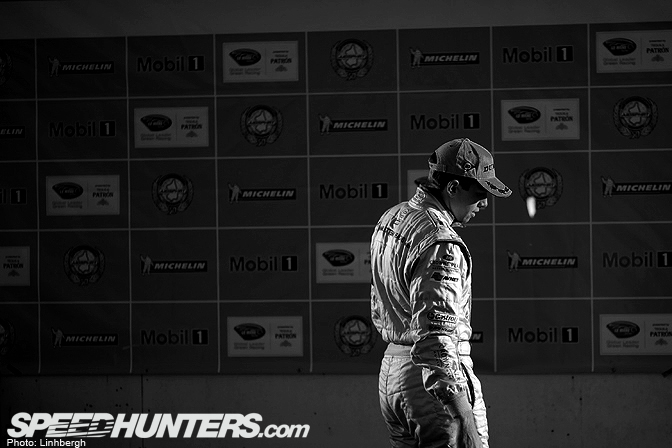 Just prior to the race weekend, BMW of North America lost a great employee and many lost a friend. Jack Pitney, BMW of North America's VP of Marketing, passed away the Thursday before the Mosport race weekend. In his honor, the entire team wore black bands during the race. In respect, Bill and I, as well as the the Lizard and Risi guys, skipped the champagne celebration on the podium. Jack was a great supporter of the BMW racing programs in North America for many years and will be missed. The best way we can honor him though will be capturing the manufacturer's title for BMW. Petit Le Mans is only a few weeks away….
- Tommy