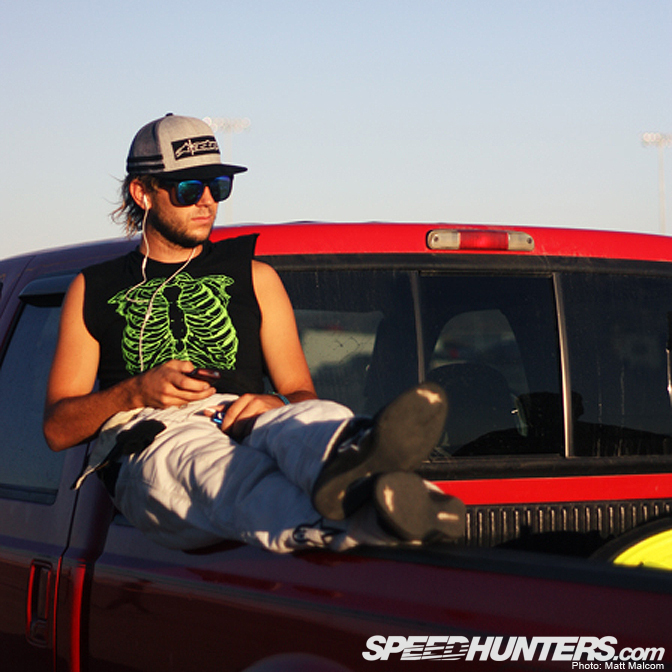 What's up SpeedHunters!
I wanted to do something new again for the blog, so I got Justin Pawlak to comment on the photos and respond to my comments from our top 32 runs to give you guys more perspective and to keep it fun. Hope you like it!
In this photo I'm shifting my focus between the top 32 battles preceding mine, and the Las Vegas strip in the background. I couldn't help but imagine the music video to "Big City Nights" by the Scorpions in my head.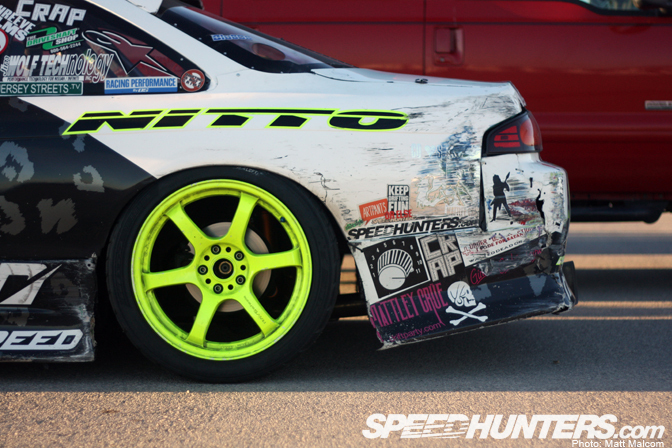 The car was fully fixed from the Washington crash, and I think overall the car is better than before. To fix the body, the middle of the trunk area was cut out, then the driver's side was beat with a sledge hammer. Unfortunately, the trunk was still about 4 inches too narrow. So we ratchet strapped, in three different places, the bad side to a tree in the alley where my garage is, while the other side was strapped to an SUV to keep the car in place. This method was very effective and the car came back together quite nicely.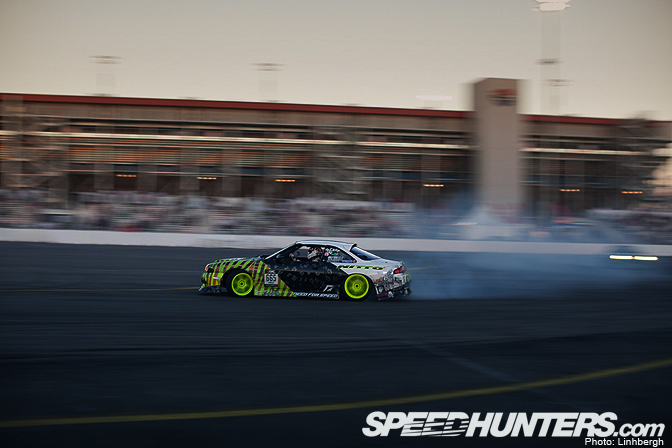 I also got a new differential and Bosch fuel pump for the car during the break since Washington. Big thanks to Need for Speed and the Twins Turbo crew for helping me improve my car mid-season and make it to Vegas with my car in one piece. At almost every event this season I had broken a diff, axle, or part of the transmission, and I was starting to drive differently and more conservative out of a fear for breaking parts. It was awesome having so much more confidence in the drive train and pushing so hard down the straight and dropping clutch kicks whenever I wanted to and without fear.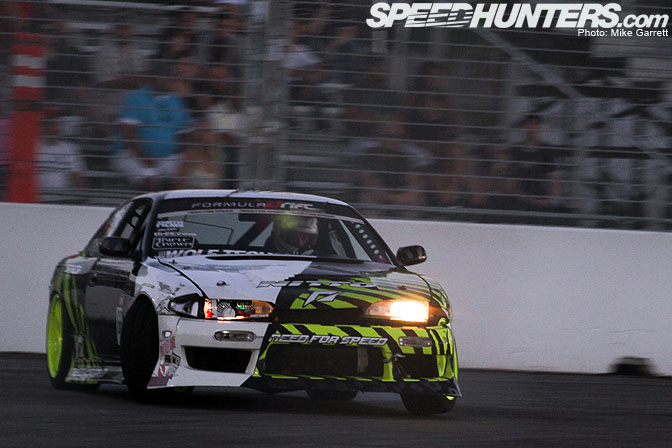 I was also happy to be at a track I had driven before. I barely qualified in Vegas last year but had a great time and I think this layout is one of my favorite tracks in Formula D.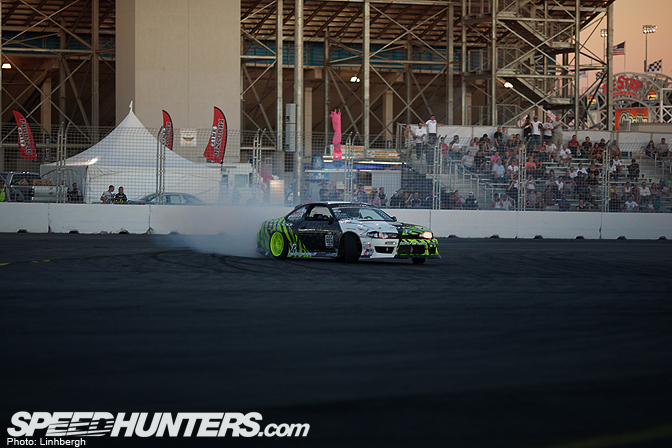 You go down a long straight, then come around a blind corner at around 100 mph where you enter the main part of the track, right after that you initiate against an outer wall where you try to hold your line to carry you out to a second outer clip that runs perpendicular from the first outer clip, and lastly into a S turn.  The event is also mostly at night.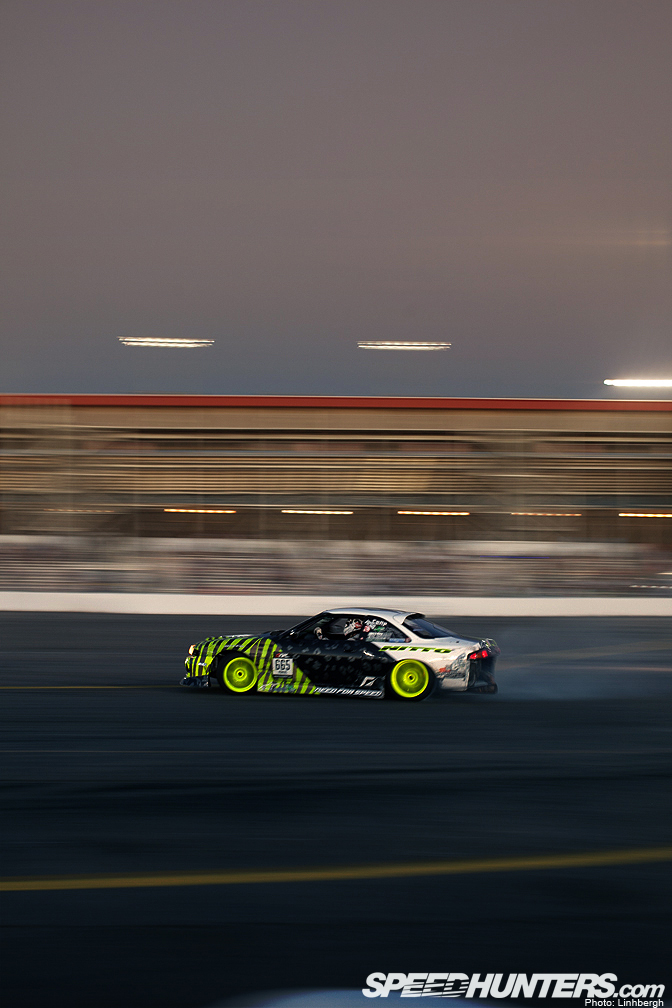 The car had pretty bad understeer at first due to the new diff, I was a little worried that I wouldn't be able to dial it out. I ended up loosening the front sway bar and taking some toe out of the rear which I learned on MotoIQ would help with those issues. I tried not to get my suit dirty as I did this and headed back out. The car felt really good and I was feeling pretty comfortable. I think overall this was my best and most aggressive driving this season which was a much needed change.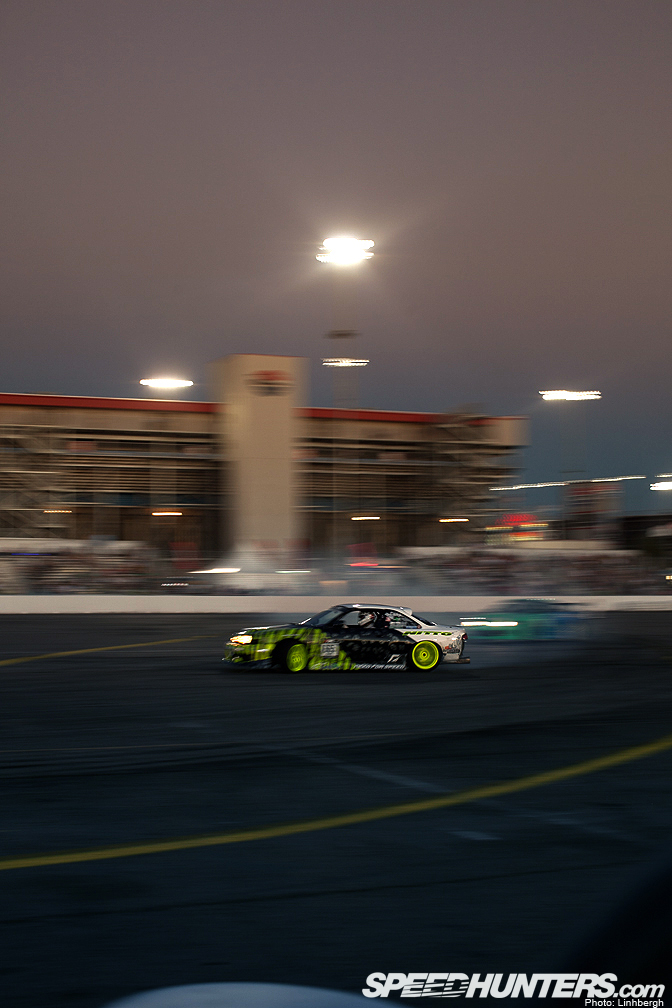 I remember last year I was leading in practice against Rhys Millen. At the time this was my second big event ever and I looked back at him and thought, "don't spin," then instantly spun out haha. I guess I've learned and adjusted to a lot in the past year although I still definitely have a ways to go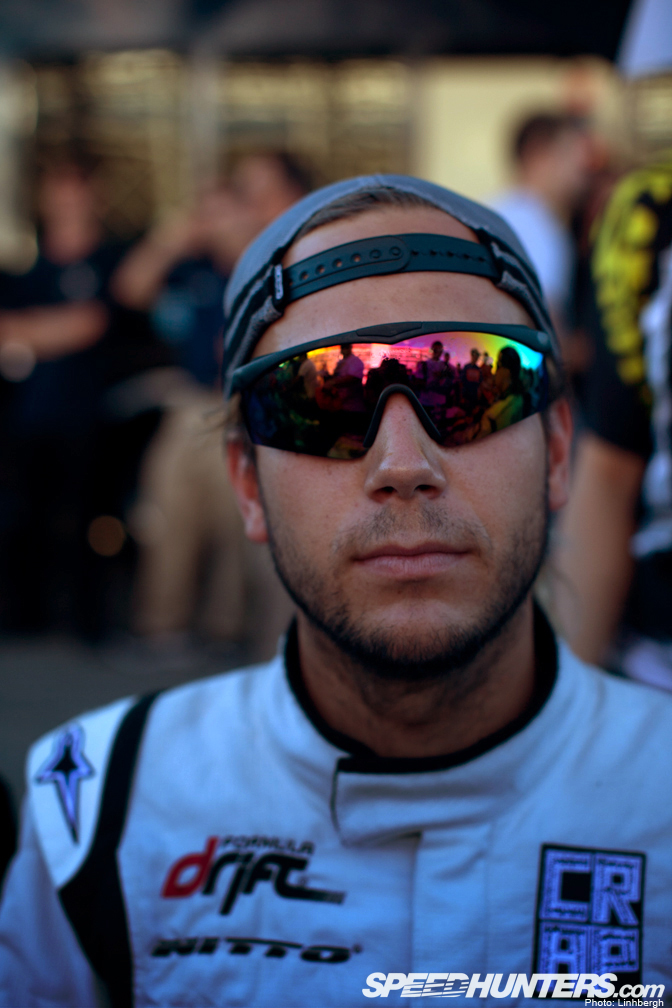 Ricky Bobby.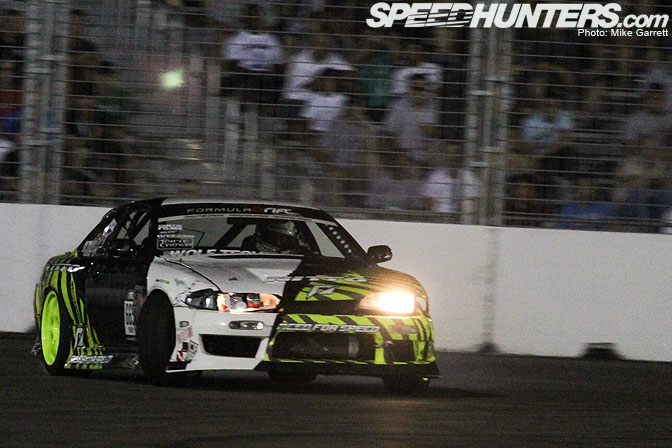 I know that in Vegas a lot of people have trouble qualifying so I wanted to put a decent run down first to get me in the show. I know my qualifying strategy works because I have qualified every Formula D event that I've done.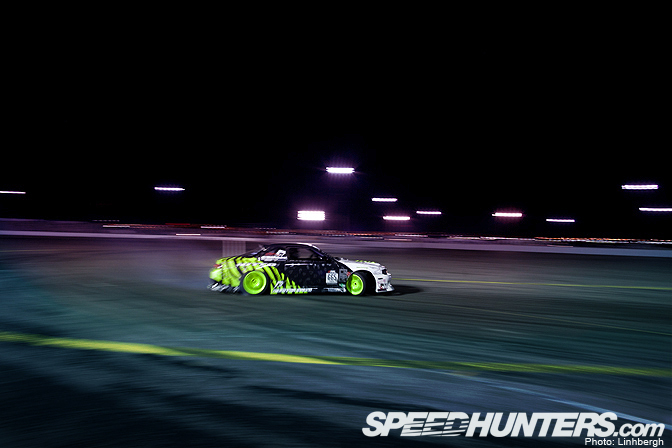 I pretty much just tried to be somewhat close to the second outer clip and not have too much angle around the second half of the track. In practice I was trying to come in almost backwards before each clip and wanted to make sure not to spin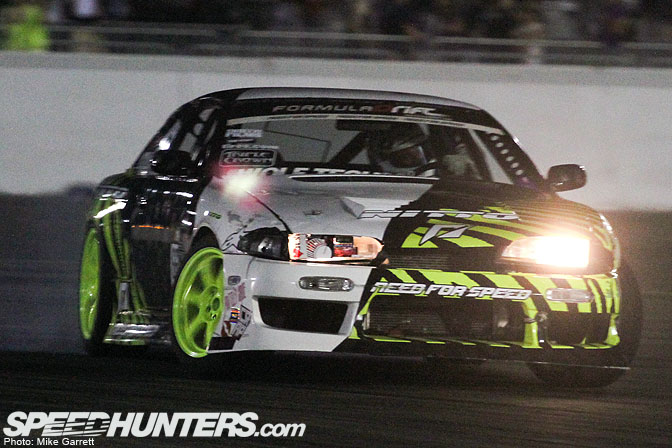 My high performance lighting helped me navigate the course. A lot of people say that the Vegas track is pretty slippery and greasy but I think the course felt pretty good on the Nitto NT05.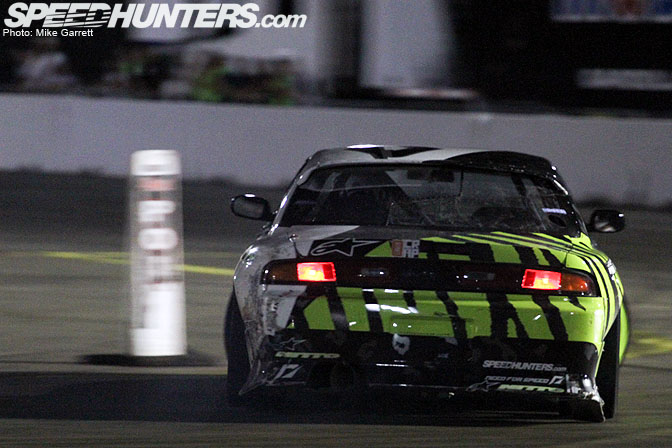 I came around the last turn and knew it was an ok run that ended up get me through in the 23rd position.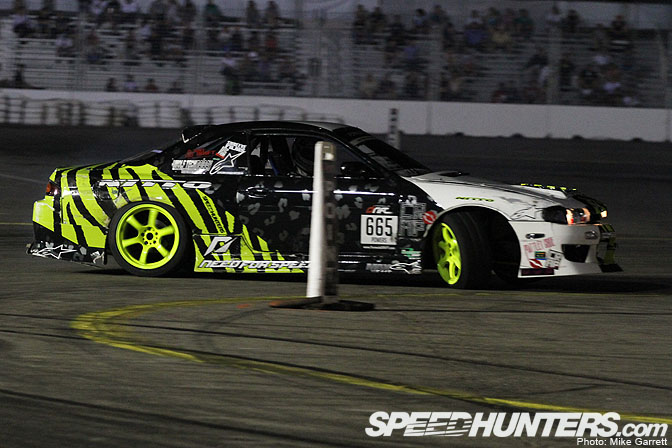 My second run I wanted to push it a lot harder. I initiated a lot harder and with more angle and held it through to the second clipping zone. As I came into the second half of the course to do the S section I knew it was a very good run but I didn't want to start taking it easy. I tried throwing it in backwards around the clips like in practice. The first one was fine but I spun out on the last turn. A few of the spotters told me it would have been easily a top ten run. Arggh.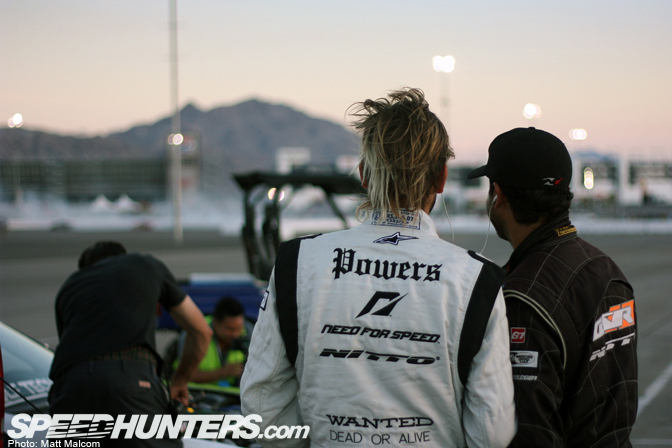 MTP: I got paired up with JTP for Top 32 tandem which I was very excited about. First of all he is one of my favorite drifters and also a good friend. When I was just getting into amateur competition he was pretty much on his way to the pro stuff, but I remember watching him and thinking he was very good and exciting to watch. That was around 2006/2007. Then last year I wore one of his gloves haha. We had a deal going for qualifying that if I beat him, he would have had to worn a shirt that said "What would MTP do?" one day of every FD event for the rest of the season. If I had completed that second run I think he would have to had done it. I tried to just listen to music and get excited for the runs and occasionally would look over at JTP and flip him off. Here I am with Mike Essa getting down to "Straight Outa Compton" by NWA.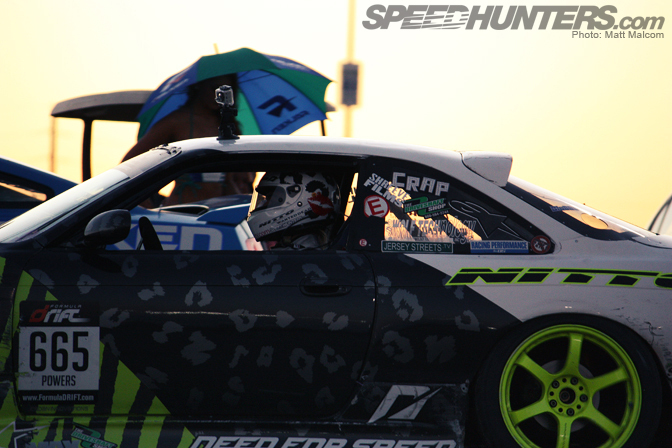 MTP:  As we were staging I kept looking over at JTP trying to flip him off or blow him a kiss at him, but he was extremely focused. I know he could see me but he wouldn't look over or acknowledge me. The night before I went up to him all excited and told him if I won, I was going to have shirts made and hand them out to everyone I know and that he would never live it down. His wife told me after that I got into his head a little bit. But I was serious about the shirts. I thought if I was focused and was able to do my best that at the worst it would be a very close battle.
JTP:  When we lined up I saw Matt trying to get my attention, but I felt like if he did he'd be happy, so I just ignored him.  He'd been saying that he was going to beat me if we met up, so I couldn't let that happen.

–LEFT–
MTP: He paced me pretty well on the straight but there was still a small gap so I entered a bit shallow to catch up. I think this is what had hurt me and not let me get at least a one more time. I knew he was fast and ran really wide on the second outer clip and I didn't get to follow anyone all weekend that ran a similar line, but I think overall it worked out decent. It seems like the first part of tandem happens so fast in my mind, but then once everything is situated the run slows down a lot mentally and I can focus a lot more. I dunno.
JTP: I felt like I entered pretty hard on my lead run, but surprising I didn't create too much of a gap on the entry, I looked back at the first corner and Matt was pretty close, I was thinking about waving, but didn't want to give him the attention he'd been looking for earlier. j/k   
–RIGHT–
MTP: Leading I wanted to do a good run but not push it so hard to cause an error and end up giving the win away.
JTP: On my follow run I knew I had to put the pressure on.  I was fairly close on entry, staying as close, but not trying to drive through him.

–LEFT–
MTP: Coming into the main area I was able to catch up and by then I wasn't worried anymore about the entry or being able to get close to him.
JTP: In the main area I knew he had gotten fairly close, but I was also informed over the radio he had ran a shallow line.  So my goal following was to mirror his line and gain the advantage.
–RIGHT–
MTP: I initiated a lot later than in my practice runs so I could be faster and push deeper into the second clip. I think it worked well and probably was my best run all weekend aside from my second qualifying attempt.  At night it was really hard to see the cones on the first wall and most of the drivers agreed that they couldn't find a reference point to use for initiation.
JTP: This run Matt ran a lot wider than previous, maybe he felt the Mustang pushing him harder toward the outside line… maybe not, but he did run a much better line, and I followed him through the corner.

–LEFT–
MTP: Now I was just focused on his car. When I am focused in tandem I think I pretty much only look at the front of the other persons car out of everything on course and whatever else is going on.
JTP: I think this is where I saw Matt closing in. I gave a look out of the side of my helmet then slammed down on the gas.
–RIGHT–
MTP: I tried to have a lot of angle on entry because I thought that was my best chance on my lead run to win. This is exiting the entry on the way to the second outer wall.
JTP: I knew I would have to stay close on entry and close the gap in front of the judges stand and that's exactly what I did.

–LEFT–
MTP: I stuck with him through the second clip and remember him being super close to the first inner clip; I think he touched it barely.
JTP: My lead lap was a decent run, getting close to the clipping points and staying on the gas as much as possible.
–RIGHT–
MTP: I was going to look back around here to see how close he was to be but I decided not to. When I saw the front corner of the Falken Mustang pushing towards me I didn't feel any different than when it's his FC. Still the same JTP.
JTP: At this point in the track is where I wanted to let Matt know I came to party.

–LEFT–
MTP: He didn't pull much on me through the last half of the course which tells me that my car is getting pretty good. Exiting the course I was so excited in the car. I was screaming and jumping around. I don't think I could have done much better given that I hadn't matched up with him before and the difference in experience and vehicles. I was so pumped I was yelling into my radio and stuff haha.
JTP: Matt definitely has improved through the year, as well as his car.  He definitely stayed with me throughout the course and we had a good battle. Good clean runs like this one is what drifting is all about.  Going out and giving it your all, and may the best man on that day, at that moment… Win.
–RIGHT–
MTP: Justin has come a long ways since last year in competition in his tandem driving. Usually he loses from pushing too hard which drives him to make a mistake like in top 16 Vegas—spinning out, or Washington—hitting someone, but behind me he kept his composure and stayed focused. 
JTP: I was glad to get through this round and shut Matt up a little bit.  j/k… well kinda.  Anyway it worked for now.  I definitely enjoyed running Matt, I always know he's going to be driving at 11!  I still need to learn to control myself while in tandem, I've beat myself several times this year by going too hard behind someone and either hitting them or spinning, trying not to hit them.  Once I figure this out I'm sure I'll be a much better driver overall.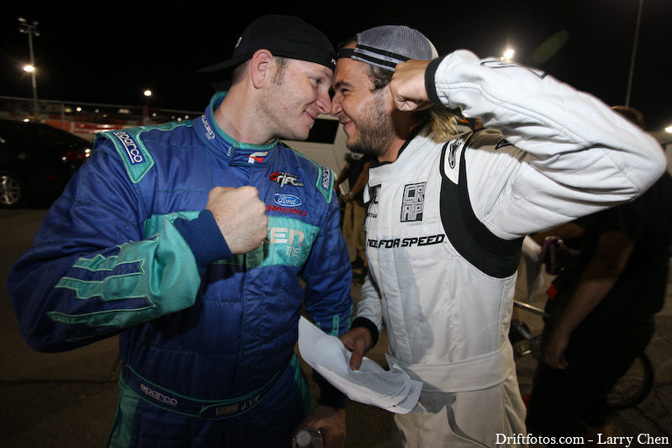 MTP: As we waited back at the start line to hear the results I was very excited. I think that was the most energy and excitement I had felt all weekend, maybe all season. It seemed to take a while and I felt it was going to be a one more time. They pointed to him as the winner and I was pretty disappointed for a moment, but after a little bit I think this was by far the least disappointing loss all season. I pushed hard and was able to do my best and I know it was a close battle. JTP came over after and we hugged it out. I told him that if we meet in Sonoma that Ill beat him. I think this was my favorite and most fun match up in Formula D so far and my most enjoyed event this year. Its hard learning what you need to do to be able to drive the best you can and to stay focused on those things, but I think I'm learning and I can't wait for Sonoma. I wish there was more than just two rounds left!
JTP: As we were waiting at the start line I gave Matt a thumb up. He drove very well and definitely made me work for the win.  I knew he was a bit upset, but I think he ran some of his best runs of the day during the battle.  I'm proud he stepped it up.  Sonoma's coming up soon and I can't wait to get back in saddle of the Falken Mustang. I'm getting more and more use to the car every event, and I too wish there were more than just two rounds left… Thanks again Speedhunters! See u next time.  -JTP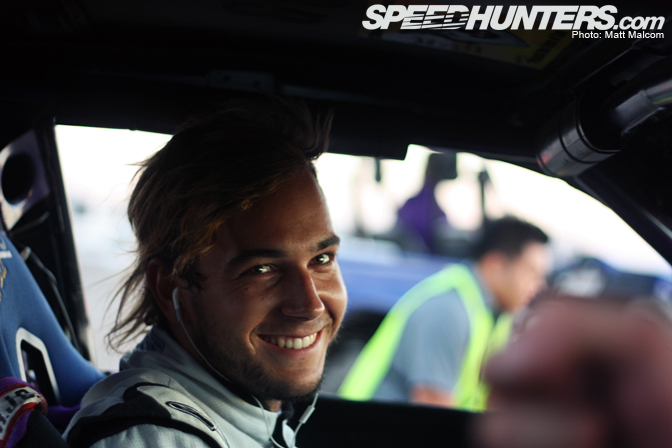 That's pretty much it. I'm really excited for Sonoma as it is my other favorite track in FD. Also my car will have a few more new parts that should make it feel better. Sonoma here we come! High-five!
-MTP