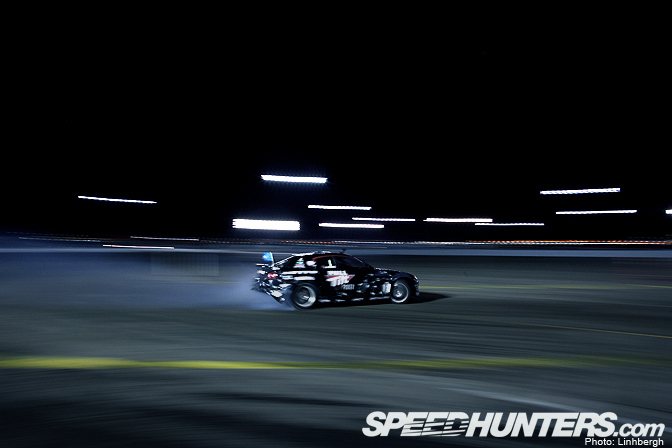 Good day Speedhunters and fans! Thank you, again, for taking the time to read what unfolded for me at Formula Drift Championship Round 5 at Las Vegas Speedway.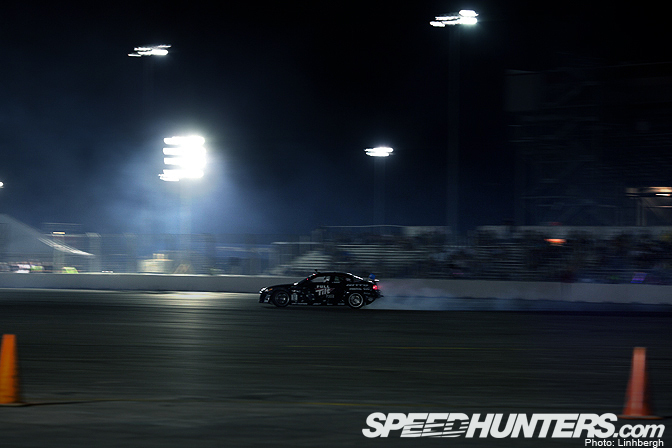 Team Bergenholtz arrived in Las Vegas on Thursday morning, August 19th, and, as expected, the temperature read above 100°F. To prevent heat exhaustion, the team installed misters and prepared swamp coolers in the pit area.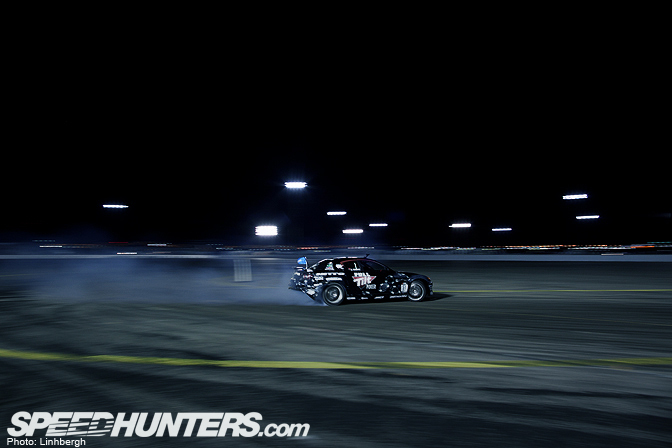 I expected to pant like a dog throughout the event but, because of those misters and swamp coolers, I was unfazed by the dry Vegas heat. Thank you so much Team!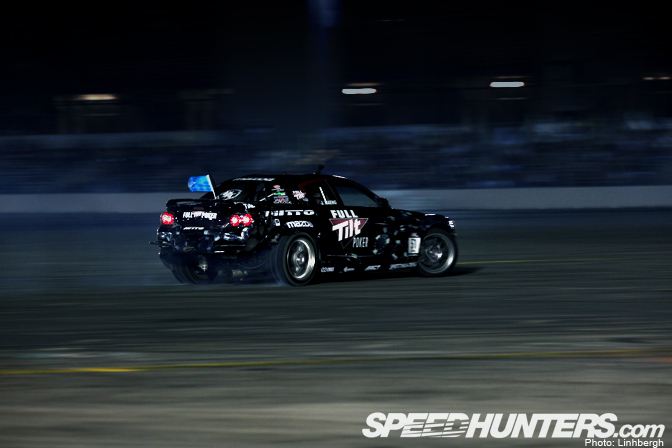 Thursday evening's drifting practice went well. I experimented with different lines and techiques throughout the night. All was fun and worry-free until… Bam! I hit the tire barrels on the entry portion of the Formula Drift's track layout.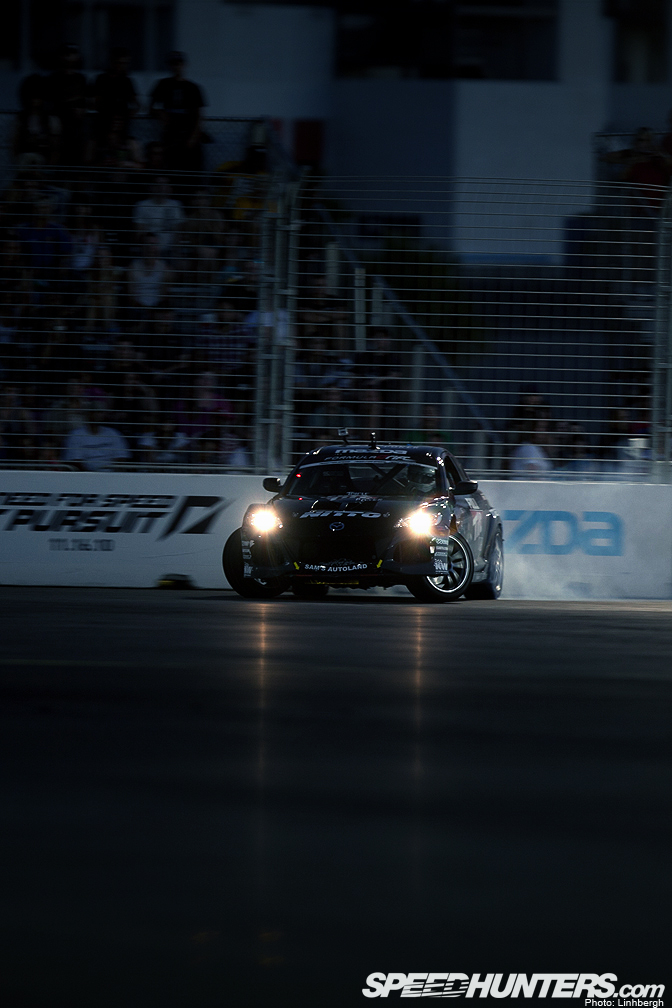 Prior to the collision, it felt like I drove over tire marbles and loose debris. Then and there, I took a mental note of what I did and the line I took so that I wouldn't make the same mistake twice.
After inspection, it was mainly the cosmetics that took all the beating. Thank goodness the tires were placed at that portion of the track! Thank Formula Drift staffs for setting up an awesome course that prioritizes safety!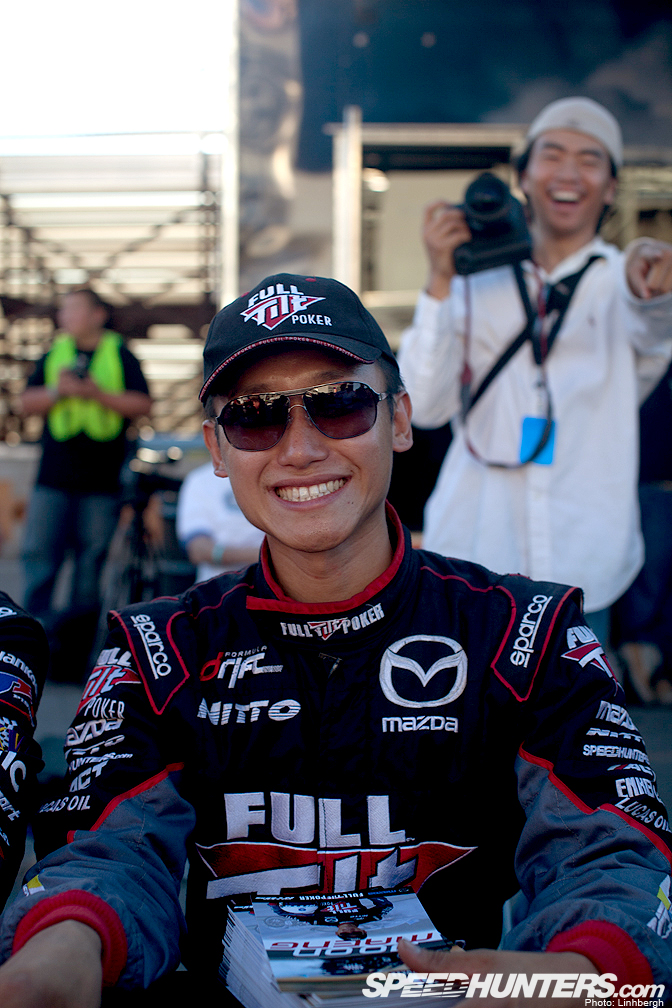 It was time for Formula Drift Autograph session. You can tell that I wasn't the only one having a great time; Larry Chen @ Driftfotos.com was having a blast in the desert heat! 
Thank you drift fans for waiting in line in the heat! I appreciated your patience!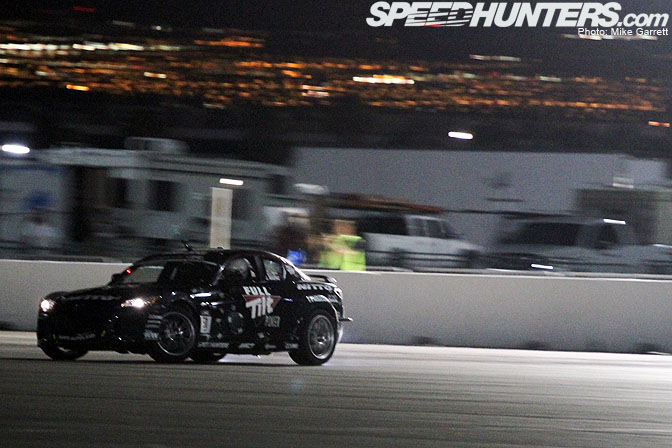 It was our turn to qualify for Top 32. I accelerated and up-shifted to 3rd gear in the HKS 6-Speed Sequential transmission, initiated the drift with as much angle as possible, and, once the KW Suspension took a set, the Mazda Trix 3-rotary engine was hollaring away, hitting the clipping points and shooting fire balls out of the Full Tilt Poker Mazda Nitto RX-8. 
One of the perks of driving on this track is the amazing view of the city at night. After lining up for practice or competition, I would be drawn to those lights, savor the moment, and thank God for just about everything, particularly for the team, the dynamic of the team, my position with them, the great car, the families of each team member, my fans, and the incessant down pouring of support.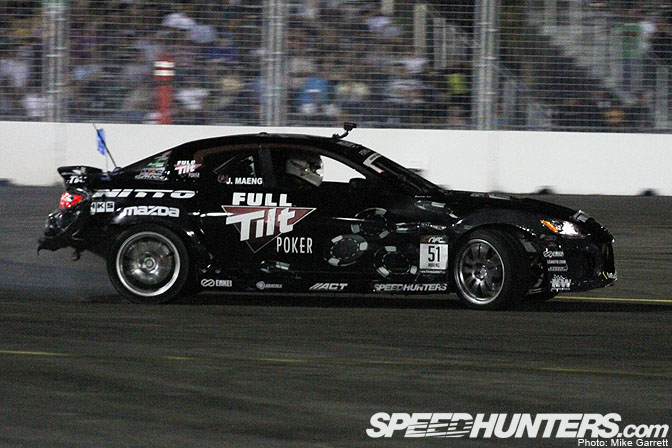 Oops~ There goes the rear bumper.
The Full Tilt Poker Mazda Nitto RX-8 had a slightly different setting compared to the one in round 4 at Evergreen Speedway. It felt perfect for this particular track! Thanks Team for making the changes and always taking my feedback into serious consideration.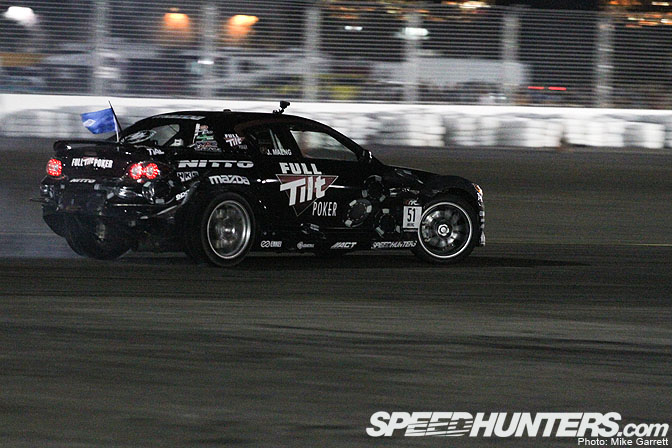 The Full Tilt Poker Mazda Nitto RX-8 looked brand new again after the wreck with the tire barrels during Thursday's practice and it was all thanks to the quality paint from Sam's Auto Land in Gardena, Ca. Also, I used brake cleaner to wipe off the tire grime on the panels, sprayed Lucas Oil Slick Mist Speed Wax, and, then, in the words of Lightning McQueen, Ka Chow!!! The car looked *** & span again!
Still, sorry about the bent exhaust Team.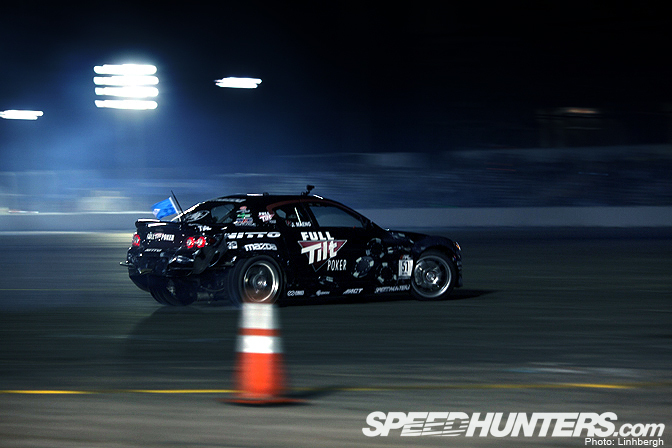 After the first qualifying run, my score was a 65.1. Definitely below par so I hyped myself to drive on the verge of disbelief for the second run. The team concurred with my thoughts and Derek Ige from Mazda Speed asked me to drive an 86-point run. 
After the second qualifying run, I scored a 79.8. Dang~ I missed the mark. Sorry Bro, next time I'll pull it off!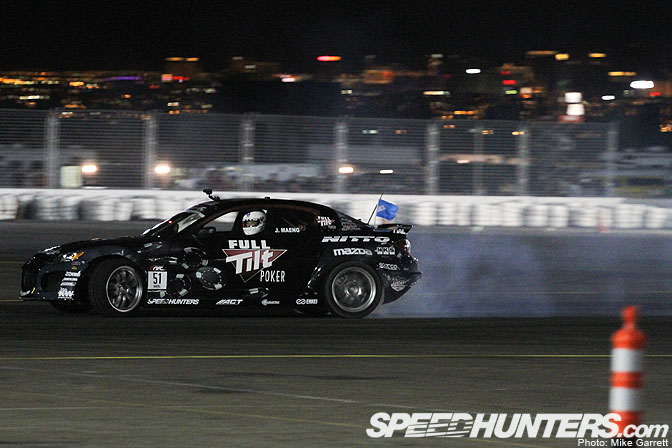 Driving at round 5 was different from driving in the previous rounds in that I was very sensitive to pain on the left side of my ribs. As excited as I was to drive, each time I got into the car, there was a good amount of discomfort. Then the pain got progressively worse to a point where even a burp or a sneeze would jade me. I was certain that the day I went outdoor-karting with Mike Kojima @ MotoIQ.com and Daijiro Yoshihara and ran 20+ laps, which were chock full of g-force and whip lashes, was the culprit to my aching ribs. But at the end the pain was worth all the fun!
Mira Kang and Jay Joo @29Frame were concerned about my pain so they ran down to the nearest drug store to buy me bandages and a cooling spray for my ribs. 
Mira and Jay are videographers who specialize in capturing emotional moments. They can easily pick up on one's mood by mere gesture and attitude. Their expertise in their field had instinctively directed their attention to my physical pain. I kept my problems to myself but Mira and Jay saw right through it. 
After placing the bandage, applying the cooling spray, and taking a dose of Motrin (thank you Derek Ige!), I felt great again! 
Mira and Jay, thank you so much for reading me so well and getting me what was needed. Sa rang hae Noona and Hyung!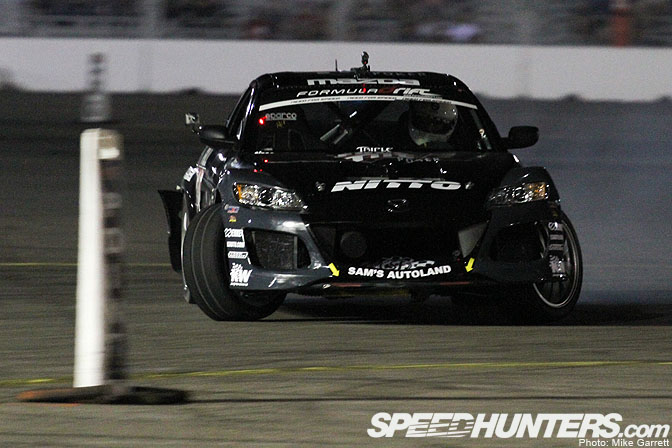 Ron Bergenholtz was wise (as he always is about the car) in deciding to run an extra oil cooler for the Vegas round! It made a significant difference and running on the Lucas Synthetic Racing Oil kept the Full Tilt Poker Mazda Nitto RX-8 performing strong and smooth!
This pix captured an awesome drifting moment but it still feels insufficient. I'm always hungry for more angle so I'll strive even harder to get it done!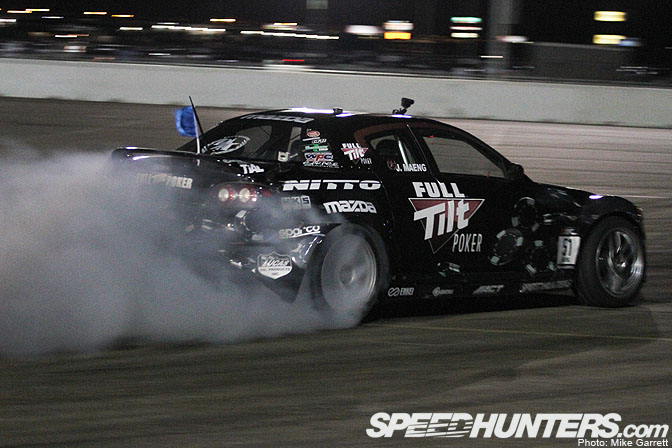 Smoking up those amazing Nitto NT05's wrapped around the Enkei PF01's!  
This was taken right near the finish line and I didn't drift my exit off the track as I wanted to for the FD staffs spoke against it. Still, I itched to.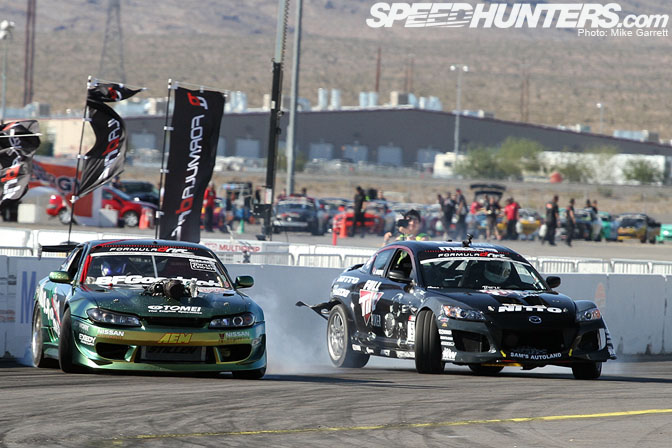 I had a great time running tandem with Michihiro Takatori and his Drift Emporium S15. He's another great driver who comes from Japan and has amazing drift skills. His car is fast, too! So, the combination of a fast car and a skilled driver makes Michihiro a fun competitor.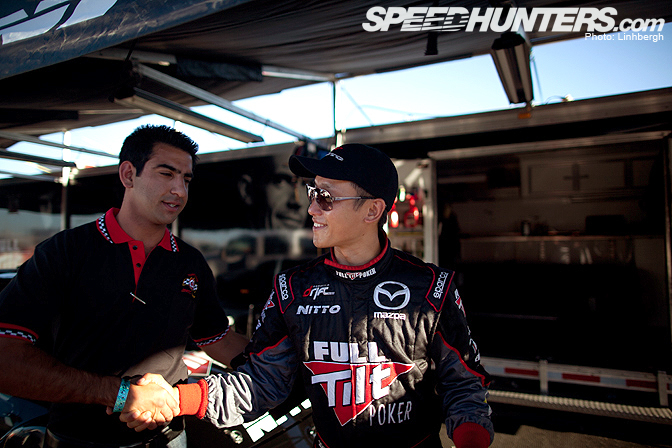 I'm always grateful when our partners drop by for a visit to show their continued support and cheer us on. Rabi represents CSF Radiators and came by to do just that.
Thanks Rabi!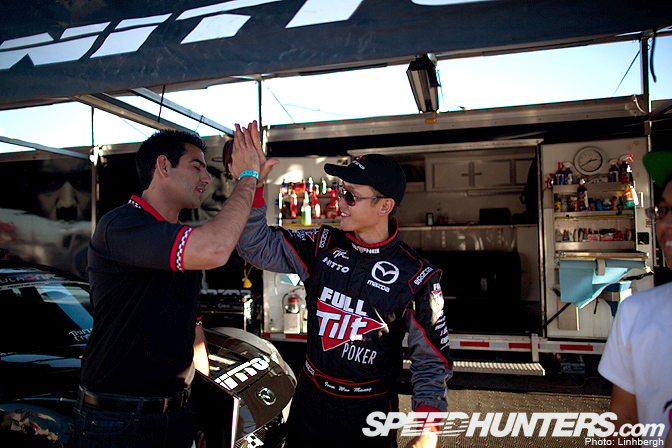 George Carlin would roll his eyes and find me severely annoying for giving high-5s but what else is a thankful and appreciative Korean drifter supposed to do to show he is thankful and appreciative? That's right, a high-5!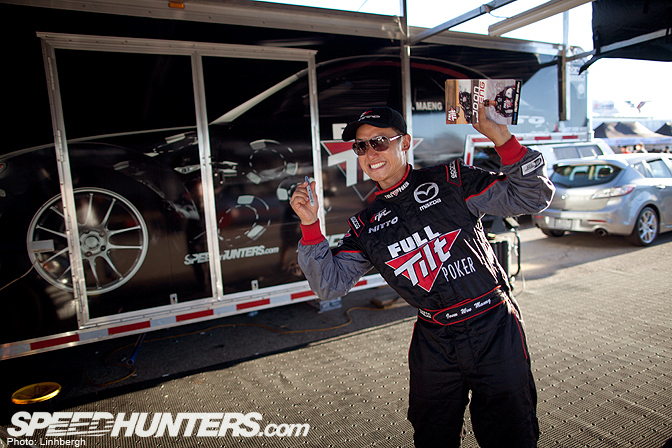 This is going to be gross to some but I am a man of truth so I'm going to tell it like it is. In this picture, I'm smiling, but notice the clenched teeth? I was passing gas as I posed for this picture. ?
Around the time of autograph session, I had major gas. I remember telling myself to squeeze it all out prior to meeting fans because I didn't want to torture anyone. My team knows what I'm talking about. 
Thanks Team for dealing and being patient with me, farts and all.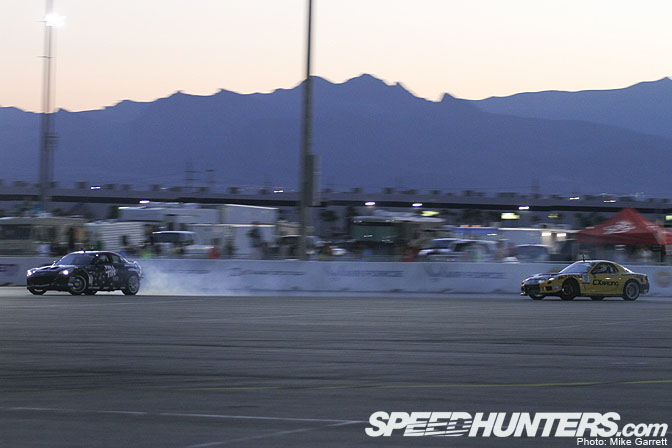 During Friday's evening practice, Jeff Jones, who drives the CX Racing Apexi Mazda RX7, gave me a heads-up that his 3rd gear would get stuck and disengage. So, in hopes of correcting that problem, I brought over to his crew chief, Rene Franco @ Rotary Works, couple bottles of Lucas Oil for his tranny. Fortunately, it worked and Jeff returned to the track so that we were able to duke it out in Top 32.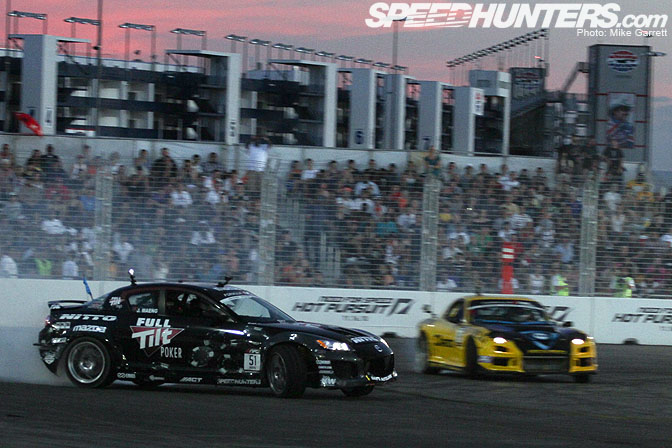 I remember the first time I met Jeff Jones in 2006 at www.DriftDay.com on Thursday nights at Irwindale Speedway. He drove a FC and I had my S13 coupe with 225/50-15 tires. Now, both of us have improved our drifting skills and are competing at a professional level. It just sucked that we were pinned against each other for a top 16 position. On a positive note, his 3-rotary turbo-charged setup was screaming!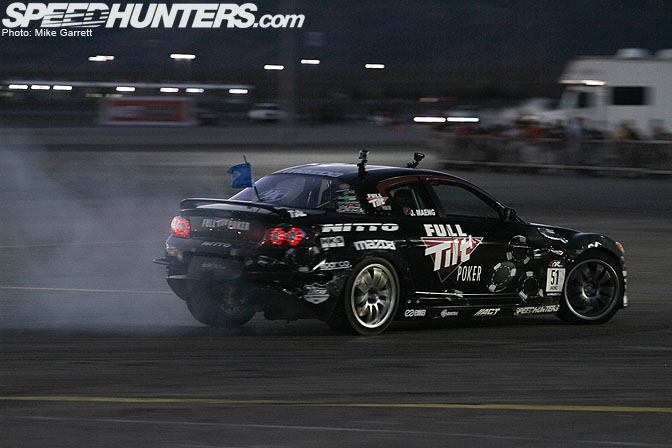 My lead lap with Jeff was to run, as usual, my qualifying line. I assumed that, as such, it would stir spectator excitement and, if I ended up taking the inside line, there would be a huge gap between us throughout the course of the track.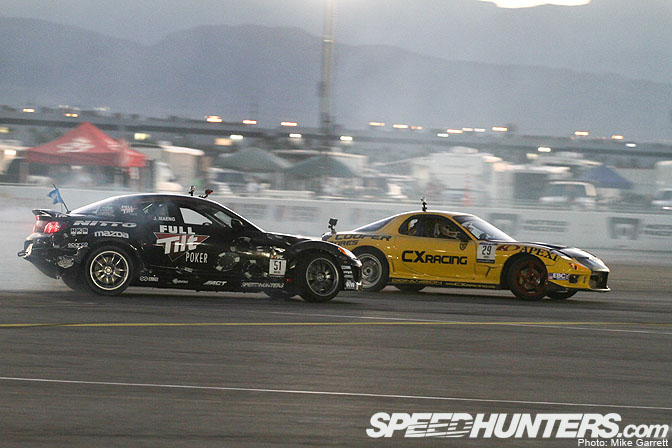 As chaser, I really had to play with the brakes and ACT clutch. Without doing so, I would most likely straighten out or spin out. 
As usual, I was aiming to get as close as possible to the leading car, so close that I would be able to wave a "hello there" and give him a smile.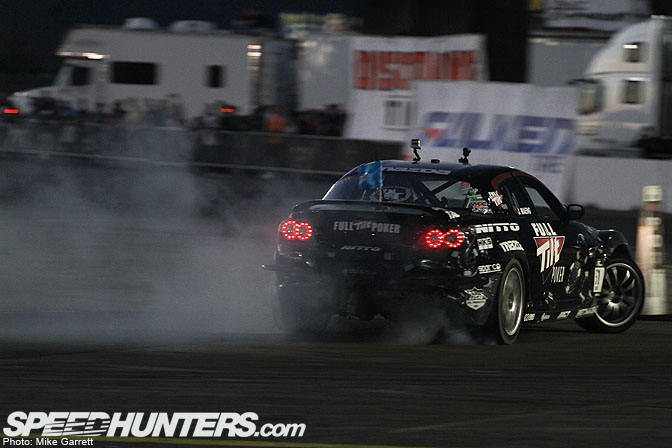 I was trying to keep it together, not get too eager, and stay focused on running a clean line.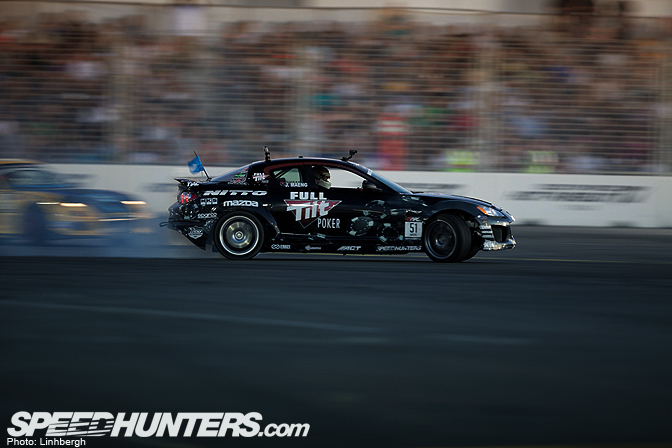 Mentally, I was calming myself down and had my instinct take over the driving. Everything happens so fast that I have to rely on my instincts to dictate the drift.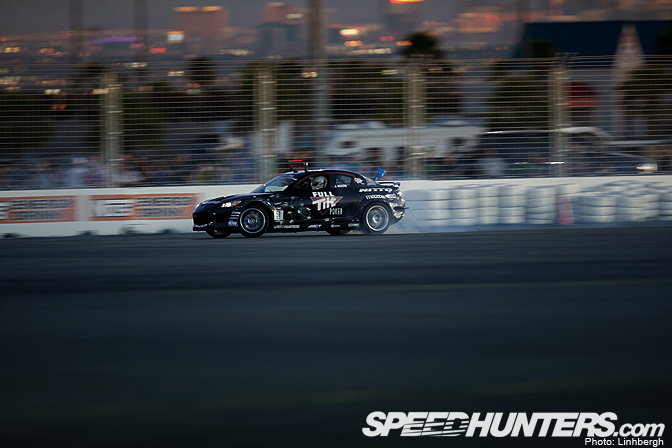 In Vegas, because it's so hot, the track condition gets noticeably different from night and day. Sometimes it's predictable, other times it isn't. That's why, as a team, we expect the worse and hope for the best.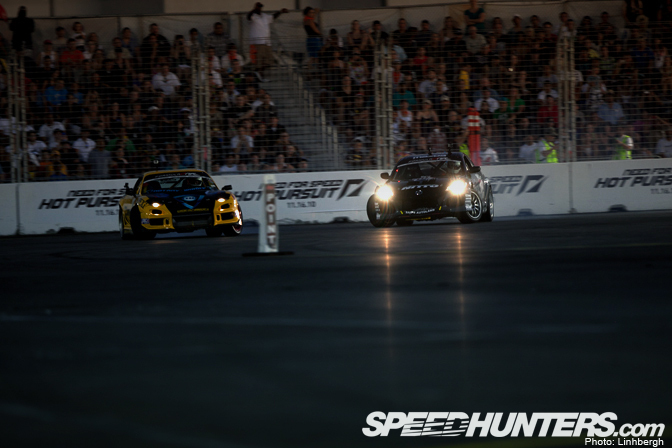 Thank you Gary @ Steen Chassis and Ron Bergenholtz for fabricating the awesome control arms on the Full Tilt Poker Mazda Nitto RX-8! Those control arms definitely allowed me to invade the leading car's space with more accuracy and efficacy.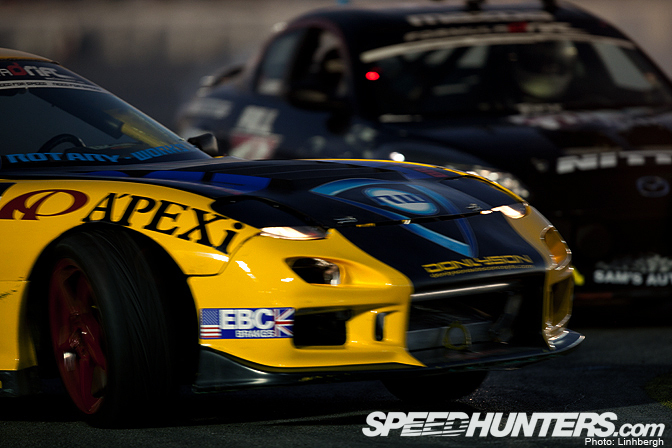 Wow~ this is a great shot of Jeff's car in action!
As chaser, my mind kept yelling to get closer. I was making every effort to comply with my mind. 
I'm happy that Jeff is sponsored by Apexi. They are like family to me so I know that Jeff is taken care of. Also, that is where the LS Auto Nitto Tire S13.5 gets tuned running the Power FC.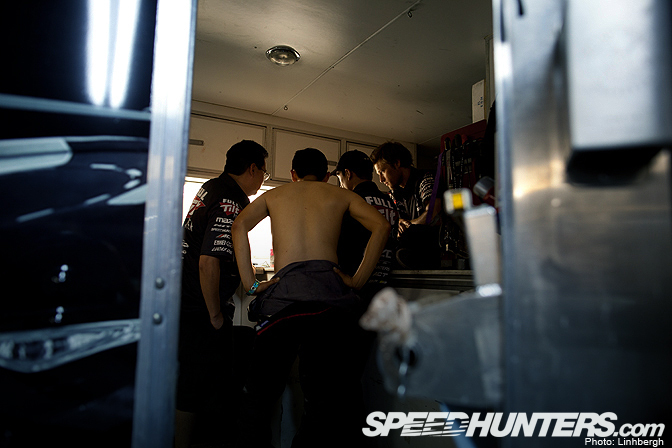 Nice~ Looks like I'm gaining weight. I've been trying to add mass to my frame for years. My ideal weight is 165 and, apparently, I'm right on track.
After talking to the fans and acquainting them to the Full Tilt Poker Mazda Nitto RX-8, the team called me in the trailer to review the data log on the Motec M800. 
It looks pretty intense and serious and, most of the time, it is. These meetings are comprehensive, especially with four intelligent professionals sharing their expertise. Thus, out on track, I'm more confident with what needs to be done or expected so that we're one step closer to the prize.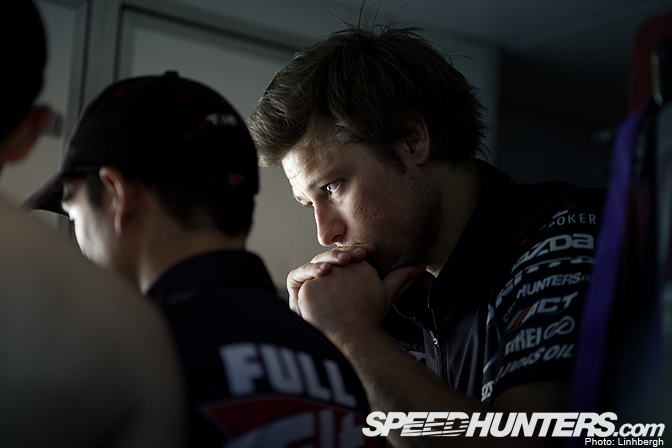 ?Here is my crew chief, Brian Benson, aka Hair Brian. As you can see, his hair doesn't tussle and is always styled perfectly. Hence, his aka.
Brian is lost in concentration. He puts a face to the kind of seriousness and focus that are involved in these meetings. He's handsome, too, no? After looking at this picture, I'm convinced that Brian should be the poster boy for our team.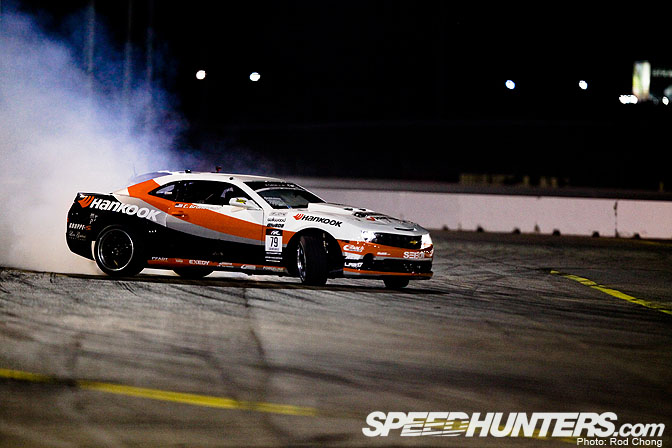 Conrad Grunewald, who drives the Hankook Seibon Camero SS, was killing it all weekend. He drifted backwards on entry and did all sorts of craziness. I was impressed! When we were to compete with each other in the top 16 battle, I got excited. I anticipated the challenge. 
Ed Bergenholtz put a video together from this weekend.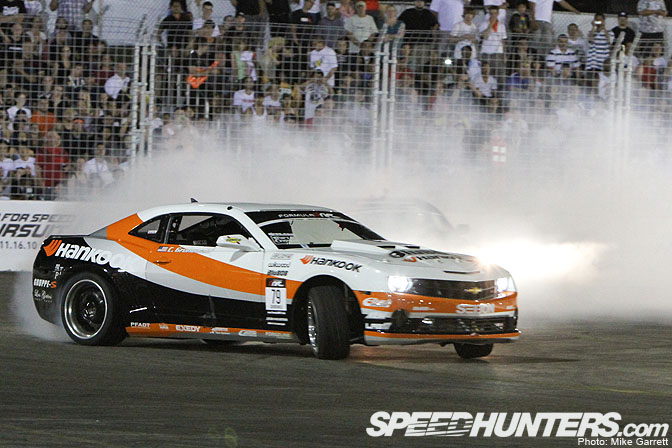 Where's Joon?
Conrad pushing on 700 hp and tq on his SS with all that smoke blinded my field of vision. It got difficult to target his position on the track sometimes because of the smoke. As soon as that happened, instinct kicked in and my ears and gut dictated the rest of the way. Man, Conrad was on it!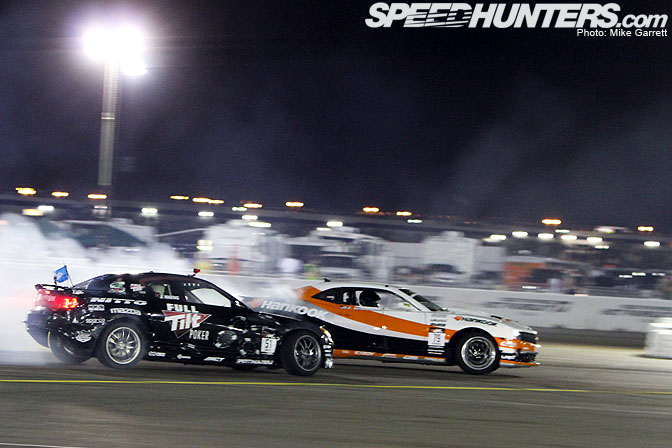 Heee-Haaaw~ my senses led me in the right direction. Once the smoke machine in front of me calmed down a bit, I aimed for Conrad's door.  It was a struggle, but I think I got there. 
Man, I need to improve my skills and come up with more drifting techniques. My ultimate goal (which is no different than other drifters') is to touch the lead car without disrupting his/her drift on a consistent basis. That'll be awesome!! That day will arrive soon enough. What is needed are patience, practice, and a harmonious compatibility with the car.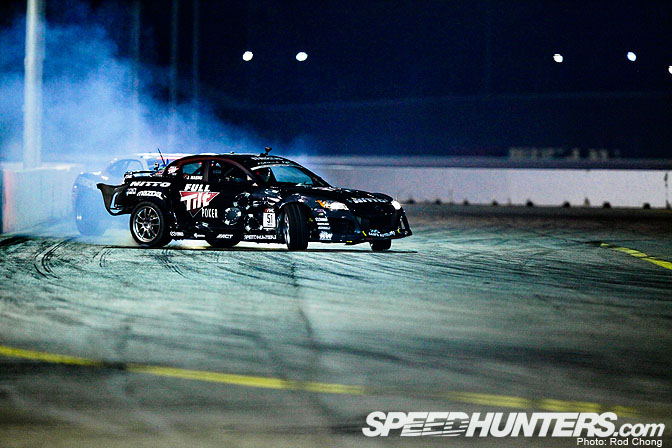 My turn to lead and, surprisingly, I didn't hear the LS-A V8 roaring over the Mazda Trix 3Rotary. My objective as lead car was to haul @ss so that there would be a substantial gap between us. But, dang~ Conrad nearly tailed me.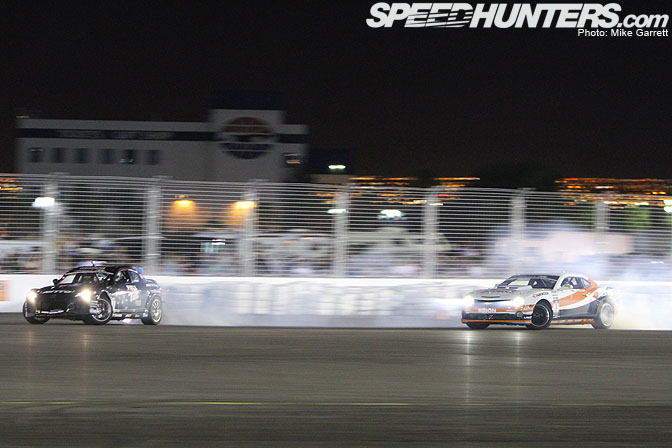 Pedal to the metal! My turn to smoke up the Nitto NT05's!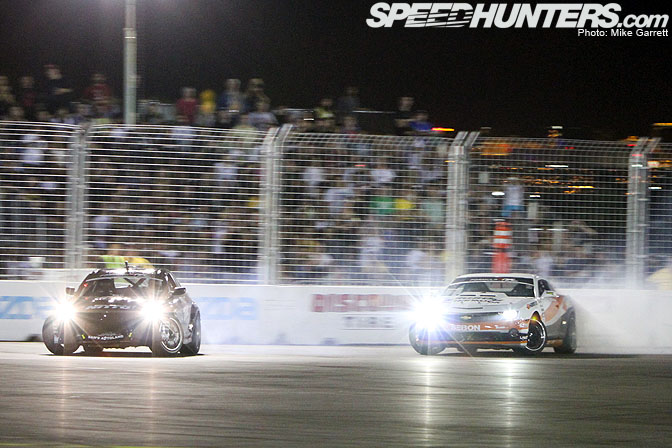 Off throttle and slowing down to hit the clipping point.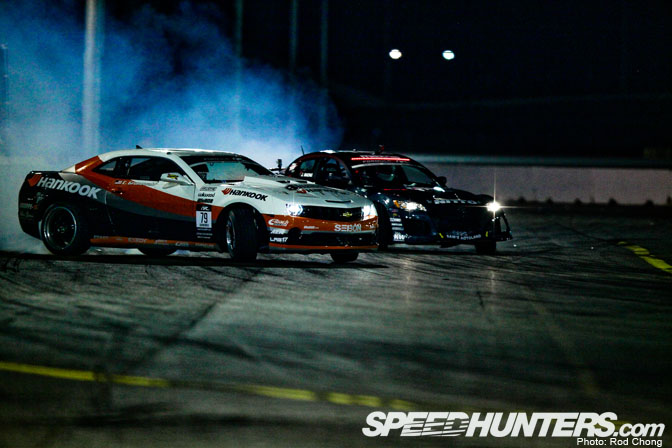 A OMT! Yea~ I was excited after the announcement was made. I had another chance to make an impact and I was determined to drive more aggressively. So, again, as chaser, my only plan was to mimic the moving clipping point and to do it as uncomfortably close to the lead car as possible.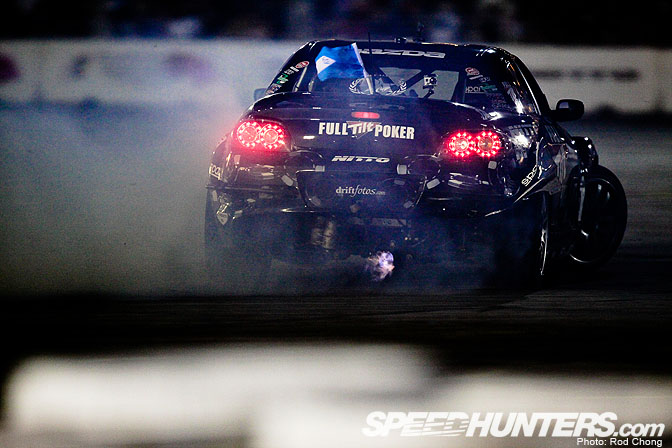 Conrad's Hankook Seibon Camero SS is fast (no big surprise)! I had a hard time keeping up with him on the straightaway. Still, I wasn't fazed. I just had to push myself and the car that much harder! I had no option but to go all in! Time to lay down all the chips!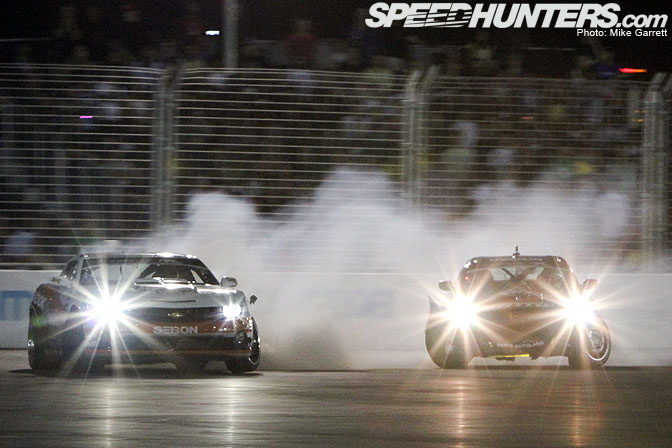 Once I was in drift, I knew it was the moment to stick on Conrad like white on rice!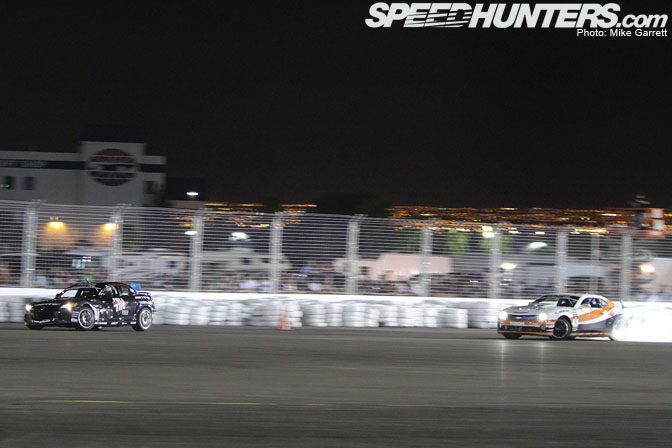 Being able to battle with Conrad with an OMT on top of that was exhilarating! After chasing him and beginning the next run as lead car, the tranny decided that it had enough. Making the entrance into the straightaway, it overheated and, therefore, wouldn't go in gear. Still, I coaxed the car into submission until the last portion of the track and was thankful that it didn't give up on me either.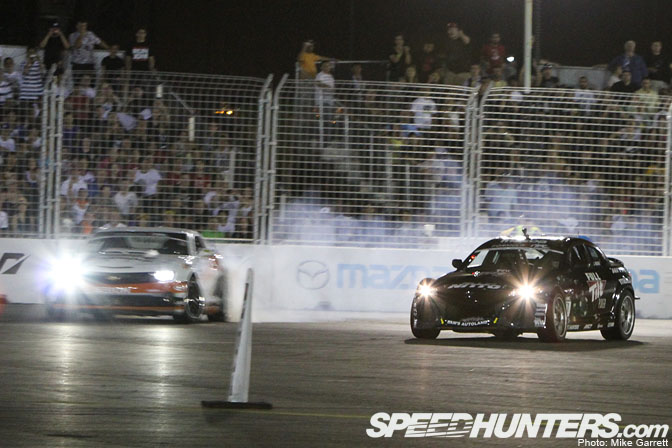 As you can see, as soon as the tranny surrendered to exhaustion, Conrad drifted right past me. Then, I made my way to the inside line to prevent getting in Conrad's way.  
My heart sank a little, there was a bit of disappointment, and I sighed. I guess it wasn't supposed to be my moment yet. But, on a positive note, I didn't feel defeated or hopeless. I have a great team behind me. This just means that when victory is gotten, it's going to be that much more sweeter and sentimental.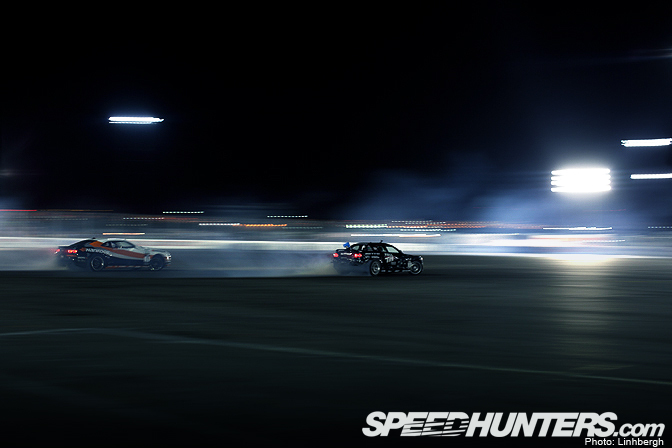 As Conrad finished his lap, it was just me and my car trying to make it off the track.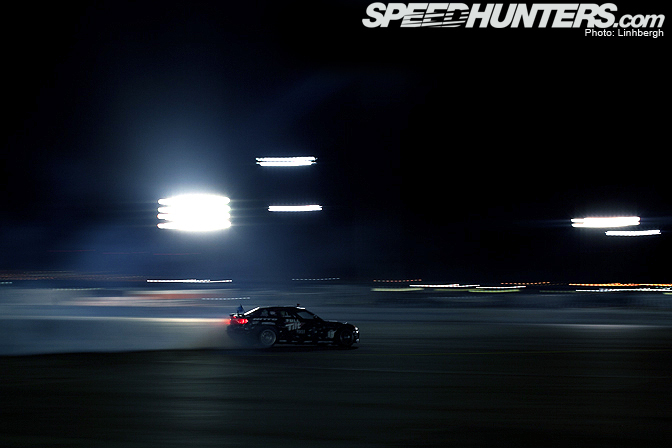 Where's Conrad? Did he clear the track already?
Then, it's still me and my car trying to make it off the track…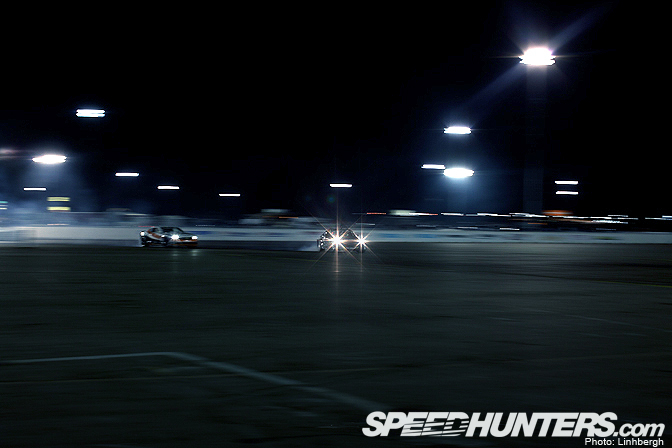 What a great battle it was with Conrad! I had a lot of fun and would like a re-match in the future! ? 
Formula Drift Round 6 @ Infineon Raceway is just around the corner and I'm ready for it already! Although round 6's track is friendlier to V8s, the Full Tilt Poker Mazda Nitto RX-8 has the soul to please and achieve!
Like I stated before, no strobes or LED's necessary. Live fire balls are the way to go!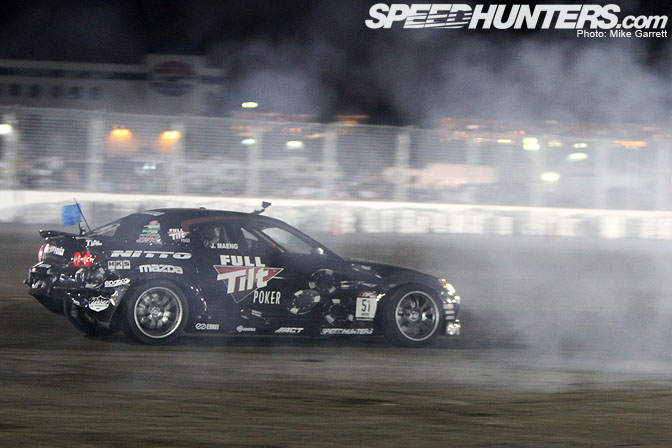 After the awards ceremony, the team packed up, took down the awning, and got out of the track by 3 am. Ron didn't even bother to stop by the hotel; he wanted to get back home so that he could work on the car. Ron's crazy, no? But, that's passion. I love and respect him for it.
At the end of the day, I'm still positive, hopeful, and smiling. Why? Because I have an unbelievable team that supports and loves me. What happened out there on the track with Conrad was felt by every member of the team but we got over it. We know that our day will come, so, we wait patiently and do what we've been doing.
Now we are equipped with a transmission cooler and will be ready to rock and drift! 
Thank you for all for your support!
Have an awesome day!
Mind Over Matter