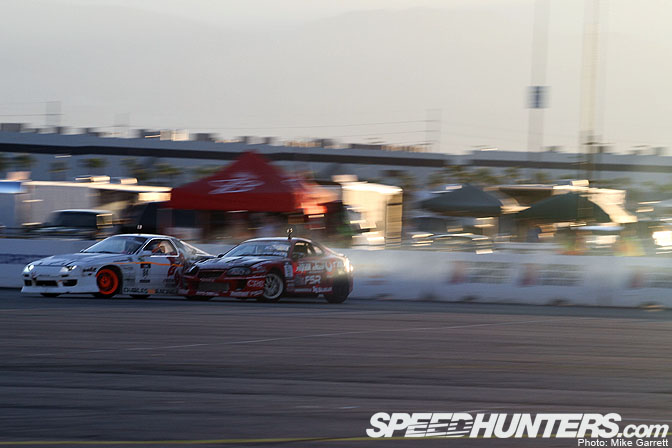 After making it to the Formula Drift Long Beach season opener and Round 4 in Seattle, our small time Japan Auto FSR team managed to get back out for the third time in our rookie year. Formula Drift Round 5: After Dark was held at Las Vegas Motor Speedway, and all teams and drivers were bringing their A game as the championship was being reeled in.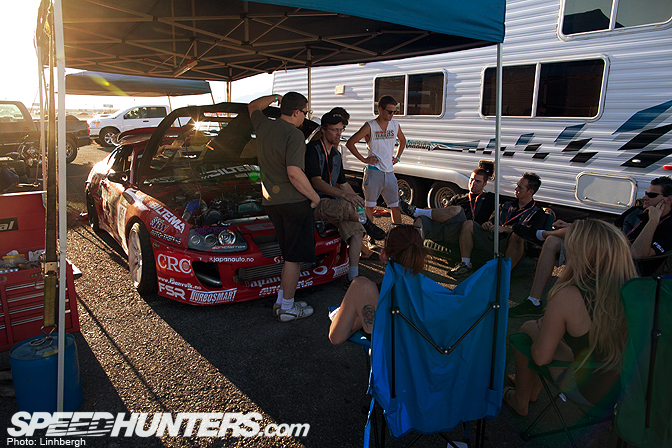 I was so happy to see our people there!
I wanted to have them experience what Formula Drift was all about – the driving, the atmosphere, the heat (literally, this time), the wild cars and the insane drivers. And I wanted so much to be on top of my game.
Looking at it in hindsight, I think I wanted it all too much.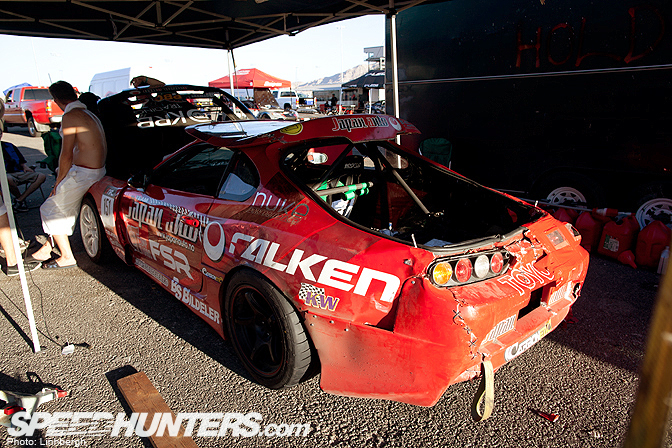 Thursday practice had me crashing into the second outer clip so hard I moved the concrete barrier a couple of inches. I remember saying my experience with concrete walls is that they don't move, but I am taking that back. Sometimes they do move.
While I was getting checked in the ambulance, the FSR Motorsport Creations crew and my friends in the pits got served a well done Toyota Supra on a flatbed. It was served with a couple of torn apart wheels, bent suspension arms, smashed bodywork, broken taillights and a right rear quarter panel relocated wayyyy inside the car.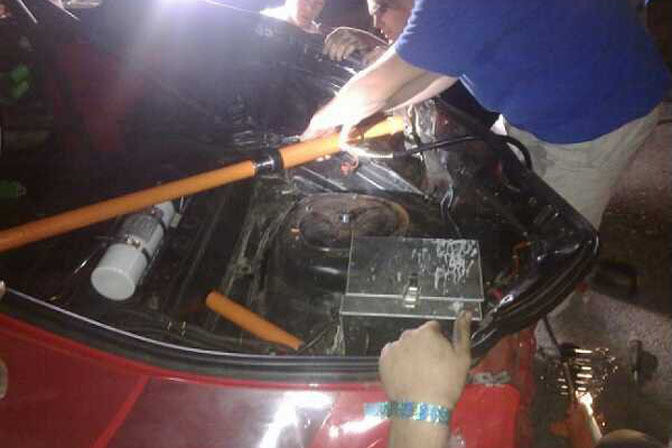 I don't think that was what they ordered.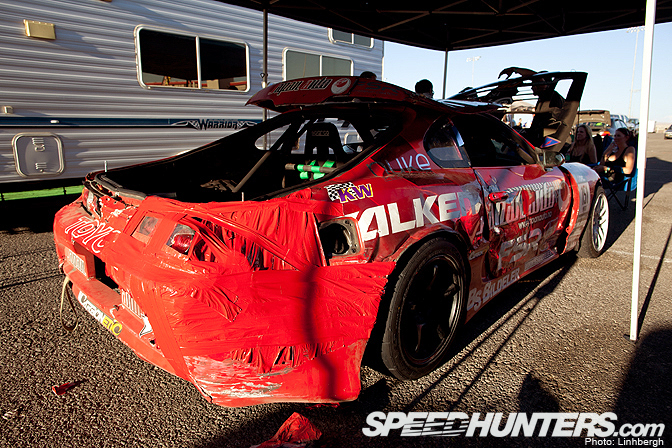 These pictures are of the car all fixed and the body panels pushed back out.
At night, the Las Vegas track temps reach about 105 degrees F / 40 degrees C, and I would imagine in-car temps during the day would exceed 120 degrees F / 50 degrees C.
It was under these conditions the FSR Japan Auto guys; Steffen, Ian, Eric, Kent, Devin, and our friends Dave and Steve all jumped on the car to get it somewhat drivable. They swapped out broken suspension arms and put on my spare Work Emotion fronts, aligned the suspension, and finally strapped the car to a truck to pull out the bodywork about two feet. There were hammers, pry bars and jack straps all over, but they had it all under control.
I have never before seen anyone put so much heart into getting a car that smashed back out on the track.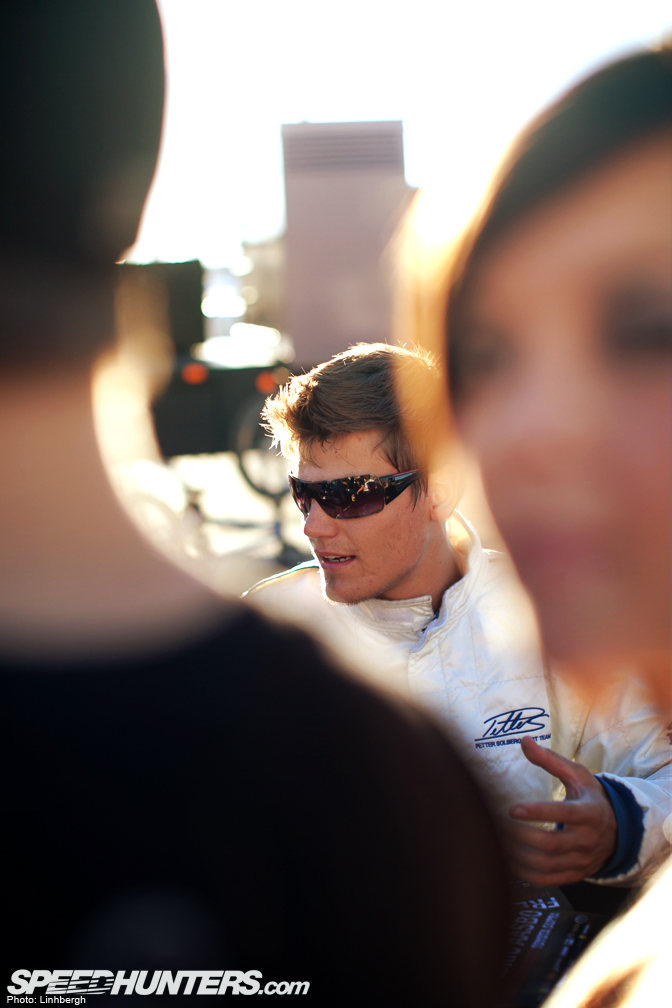 They all kept telling me to go speak with the other drivers, watch their driving, eat bananas and drink water, but it was hard for me to let go of the hard work being carried out in the pits. I felt very sorry for messing up for the people that believed in me.
I tried mingling a little bit, but I wanted to find out what I did wrong to almost drive the car through the wall! I found a quiet place underneath the big grandstands, and started looking through some video footage of the run. All of a sudden Justin Pawlak was there – he had walked over, and gave me a tap on the shoulder, "Don't you worry, you'll be back out there! It happens to everybody and it's part of the game. Good luck, buddy!"
To me, Justin really illustrates the cameraderie I've experienced in drifting in general and within the Falken family specifically. I don't know Justin very well and I am sure he had his own focus for the weekend, but still he took time to walk over and pep talk a guy that had his head hanging. Thank you so much, Justin!!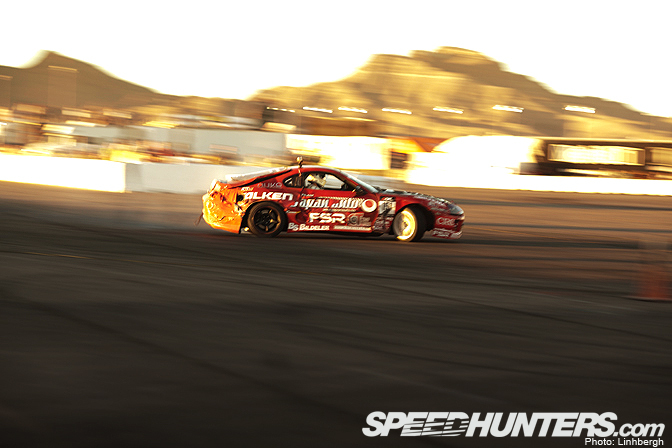 We all got back from the track very late that night/morning. And the next day, the Japan Auto FSR Supra had gotten a new nickname: Chucky. He might not have looked pretty, but he was ALIVE. And kickin'!
For now.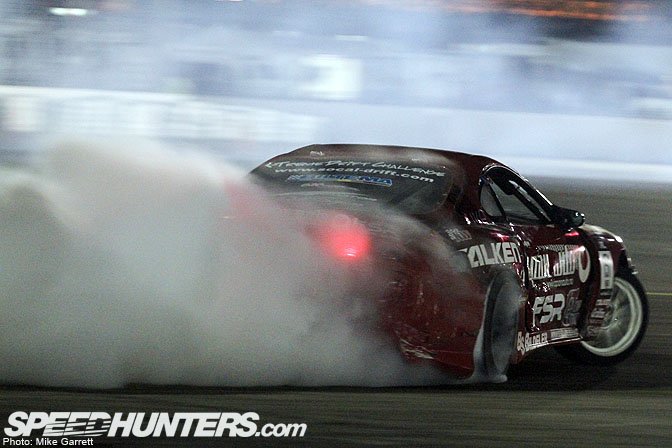 Friday's practice had me get the hang of the track a lot better than on Thursday. I quickly got into the mood, gradually decreasing the proximity to that important second outer clip. Somehow, most of the tension from the day before was taken away from me (and the car, lol), and we made good progress with the new KW Suspension setup.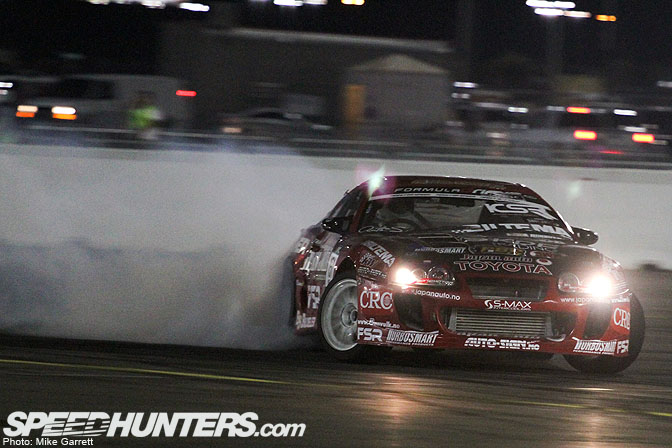 I had a lot of fun approaching a little different each run, finding the balance between staying on the gas as much as I could and reeling in the clips the way the judges wanted.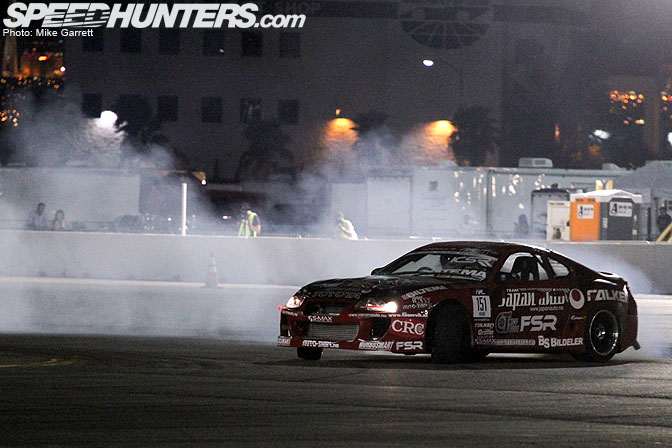 I tried different techniques of getting the power down and the speeds up.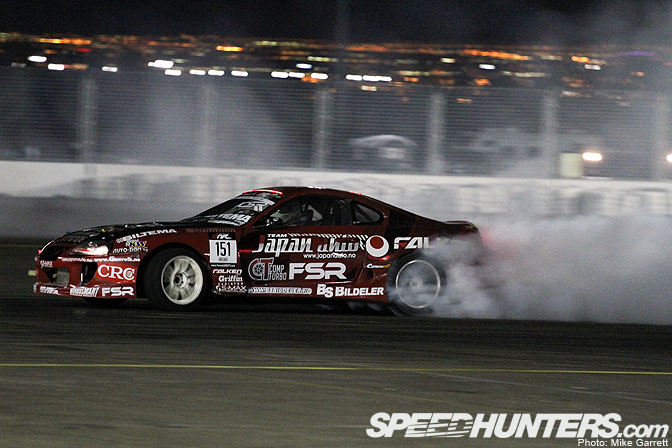 One of my focus areas after starting driving in FD is to let go off the handbrake. One of the outspoken criteria from the FD judging panel is that they want the drivers to "brake with full throttle". I know I am nowhere near it now, but I think with the ever increasing grip levels of the top tier drift cars and the ever evolving tire development, one day we will see drifters approach tight corners on full lock – without ever lifting the throttle pedal.
That is a very inspiring goal to have!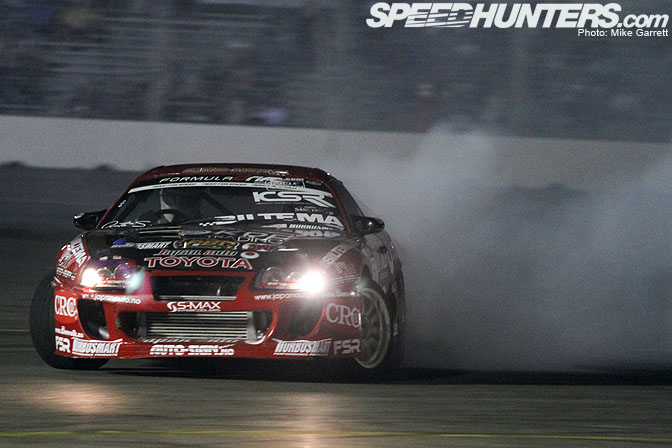 In Norway, we call the never lift-approach "å holde stumt". For Team Japan Auto FSR and I, this time "hold stumt" had an extra meaning: Never ever give up.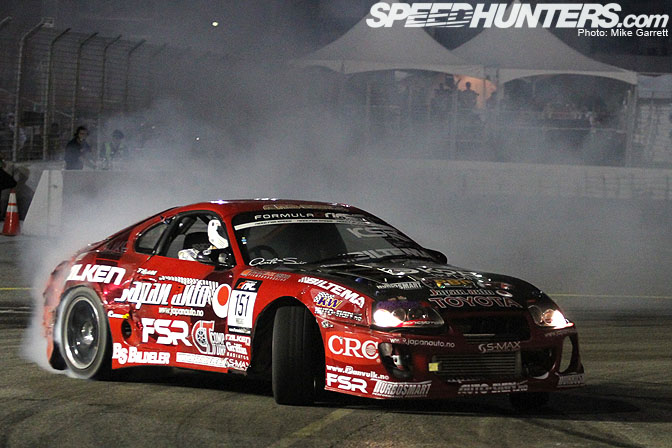 You see, in the latter part of Friday's practice, just before qualifying started, both our fuel pumps and ignition decided to go out. Back in the pits, as the first cars went out qualifying, Team Japan Auto FSR got started on the crazy task of getting Chucky back alive. It turned out we actually needed new fuel pumps, and Sarah and Adam of BMI Racing stepped up and had two spare Walbro's for us – thank you ever so much!! Then, Eric and Ian, FSR Motorsport Creations car wizards, steadily tracked down the faulty ignition wiring.
Ian: You know how to sort it, Eric?
Eric: No. But I will fix it.
Both were smiling. Enjoying the tasks at hand, even in pretty crazy conditions and a pretty much non-existant time frame. That's the kind of team spirit you can not buy!!
We got back out to the hot pits just in time for my second qualifying run. Missing my first qualification spot I had only one run to do it, and I went out there completely cold from the nerve wrecking Frankenstein operation back in the pits. I knew it was now or never, and with all the problems we had faced leading up to this I went out there aiming at doing nothing spectacular, but rather get through in one piece.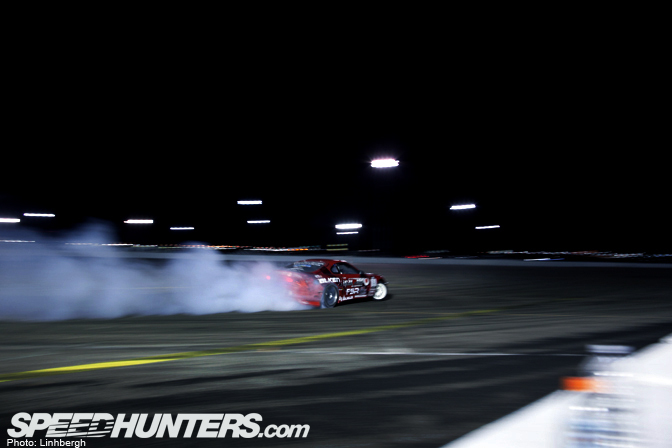 My qualification run put us in the middle of the pack at a 20th place. WE WERE THROUGH, and in for the main Top 32 competition!! YEEEEEHAAAAW!!!
After all the complications we had experienced leading up to actually qualifying, we all agreed that the fact that we were still drifting was a huge victory itself.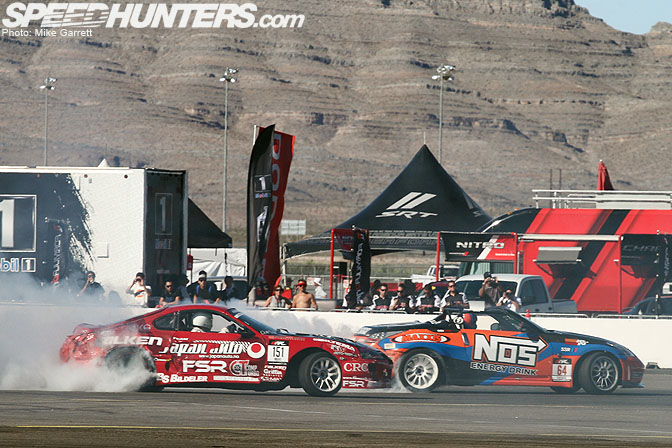 Here is reigning Formula Drift Champion Chris Forsberg and me battling it out during Saturday's practice. I got a good feel for the track that day, and my spotter Steffen and me went step by step in getting back into the form. We slowly got it together, and it was a lot of fun!
The Saturday practice was held in the middle of the day, and the heat reminded me of an occasion in Finland in 2008. DMAC, Eric O'Sullivan, Dean Kearney, some friends and me were all gathered in a sauna in the middle of the Finnish woods, celebrating our Prodrift European Series finishes by daring each other to continuously turn up the heat and see who would sit the longest. It got to a point where the heat had us almost go blind. Fortunately Vegas was not THAT hot, but it was still pretty far from the mild Sunday morning back home in Norway.
Let me put it this way: The heat was on.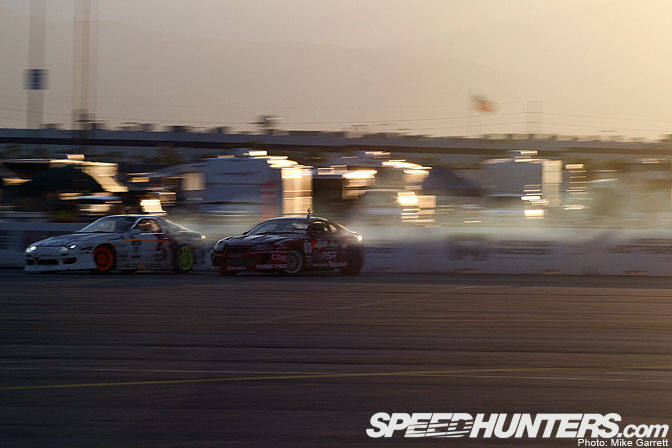 I was set to battle Charles Ng, accomplished Touring Car driver from Hong Kong and fellow Formula Drift rookie sitting first in Rookie of the Year standings. As he had qualified better than me he was to lead first. Charles is very consistent and always on point and I truly respect his driving.
Thanks to Steffen's notes I knew his entry speeds were a little slower than me, but I wanted to be right there on his fender even from initiation.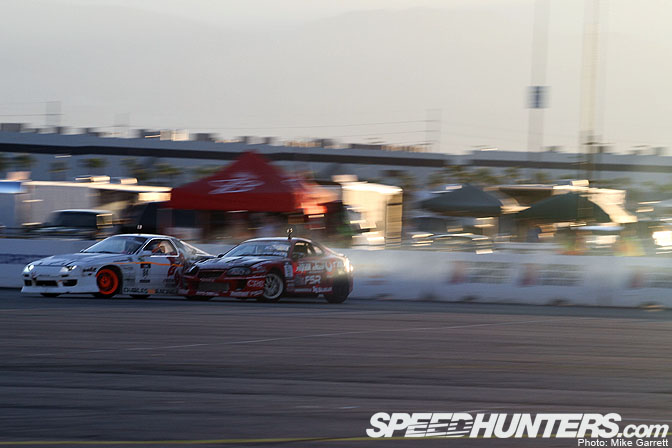 I mean, not literally…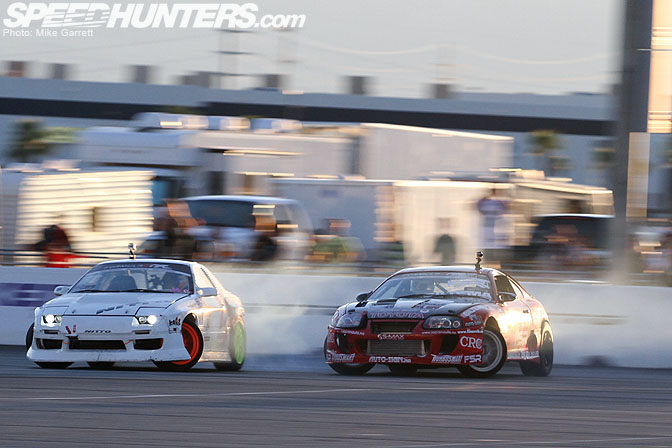 It was too late. I had hit Charles, sending him off line and into a spin.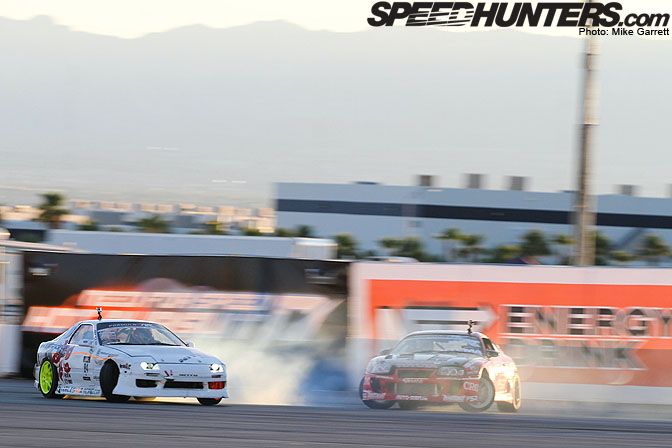 Noooo! That was not nice, Chucky!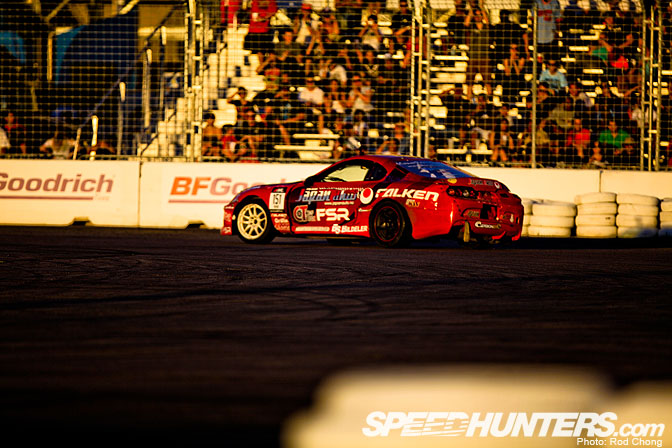 As much as I wanted to put up a good fight and a good show with Charles, I really did not want to hit him. I know Charles did not do anything unusual for his entry and it was all down to me charging way too hard. If anything, at least I was close!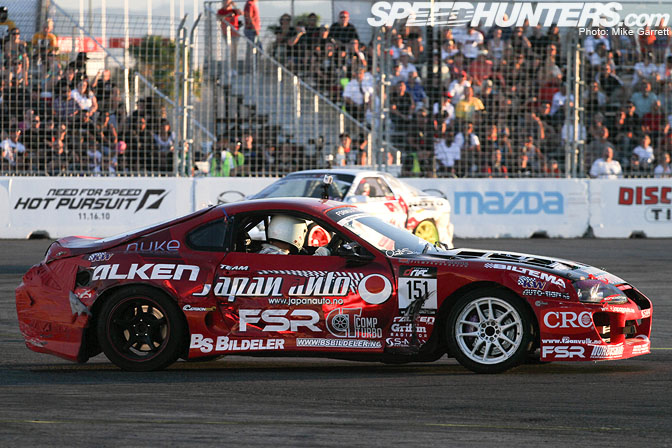 As Chucky and I rolled back to the start line, I waited for Charles to see if he was alright.
Charles obviously had a huge advantage from our first run, so in my lead run I went all out, nothing to loose style. I think I had a pretty good entry, albeit still a little far from the second outer clip.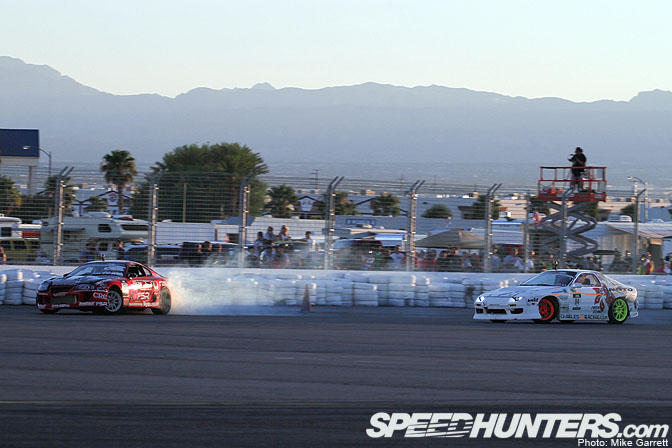 I initiated, and got back on the throttle as soon as a I could. I remember kicking the clutch to keep the 2JZ and the Falken RT-615K's lit all the way through the first inner clip!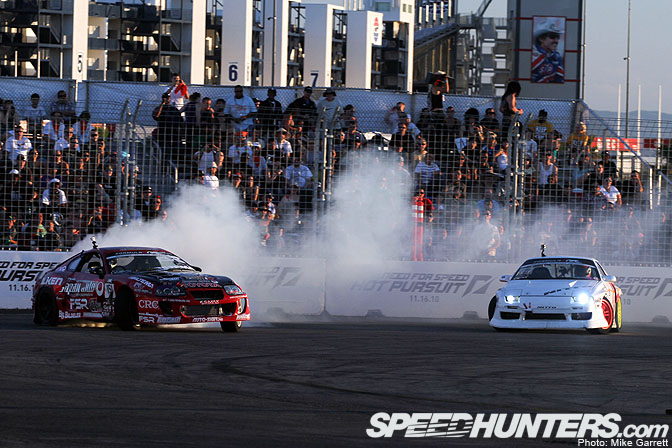 I love how the car squats! Our new KW Suspension kit was on the car for the first time for this round, and it had us dial in significantly increased grip just out of the box!
Charles took a little shallower line, slightly compromising his follow run. I guess that's the only way to do it having a mentally disturbed Norwegian that just hit your car "holding stumt" right there in front of you!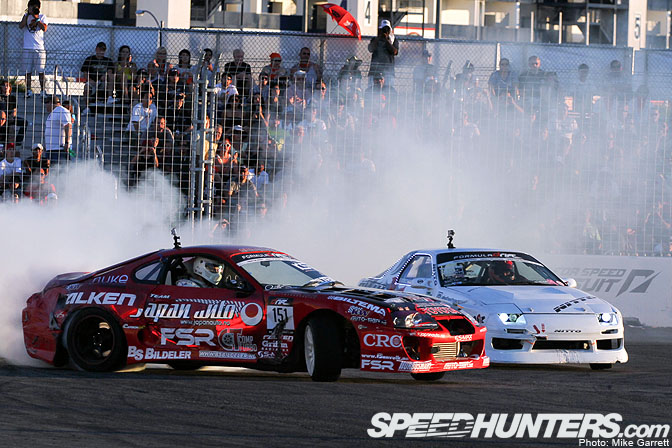 I put the pedal through the metal all the way to the second inner clip, where I threw it in hard, tapped the brakes to rotate…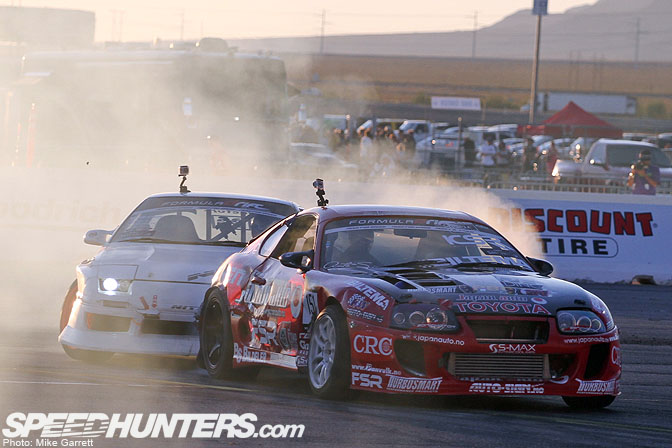 And mis-shifted. Yes, I mis-shifted into fifth, rather than third. That was a little too high of a gear for my beloved 2JZ, even with a couple of brute clutch kicks. I straightened out. Nooooo! This was not our weekend. I got it back in third, drifted the rest and gave the thumbs up to Charles for keeping his head cool.
Then, i got the thumbs down from the marshalls at the start line and congratulated Charles – who eventually went further on in the competition to get one of his best finishes of the year. I am stoked for you, Charles! As much as I really wanted to put up a better fight, your path up the ladder was well deserved!!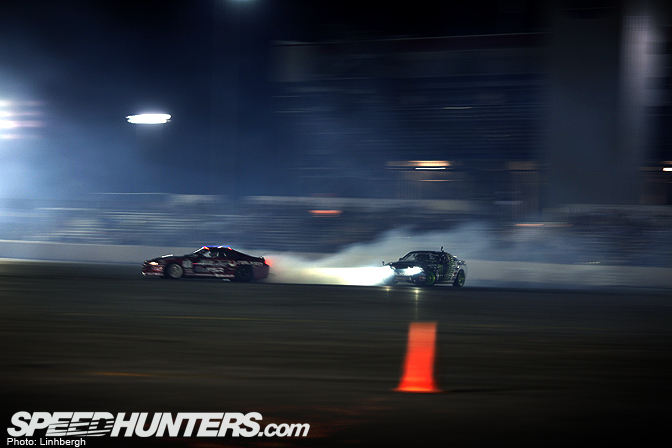 Rolling back in the pits to meet the rest of the pack, I thought back on the practice sessions where things were working out for us.
You see, in all modesty and honesty, you can't really deny that every Formula Drift driver is a good drift driver. What it all comes down to, is how good of a driver you are during the few seconds where it REALLY matters.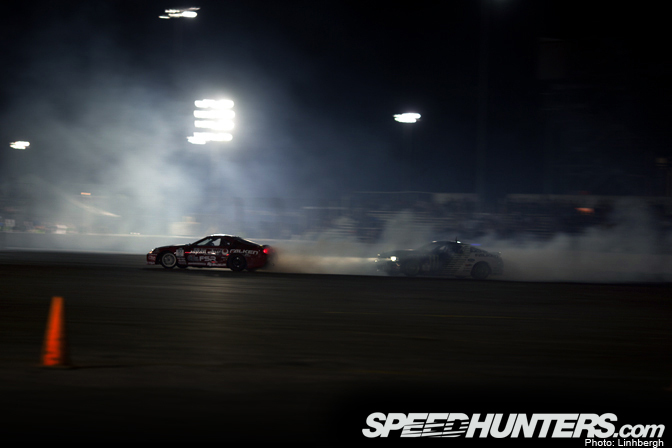 And sometimes, you end up battling yourself…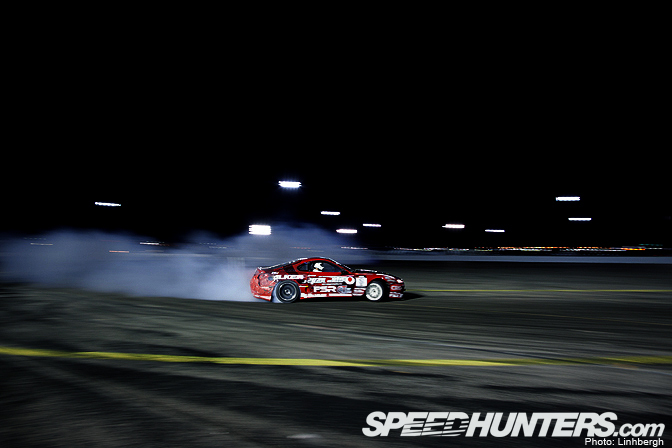 … more than challenging yourself.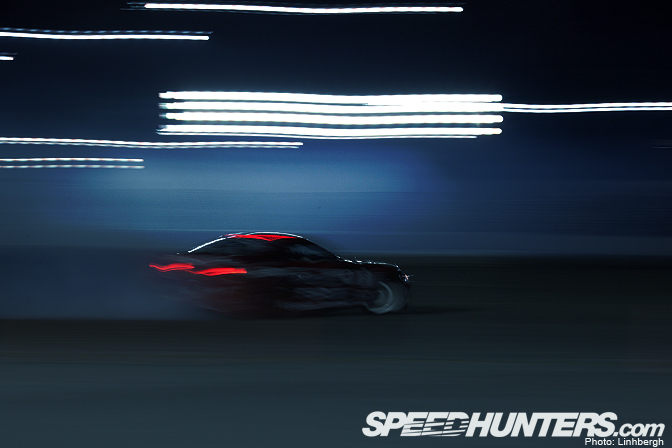 From a competitive point of view, this event was a hard hit for us, with a lot of driver mistakes and some car failures that probably traces back to driver mistakes. I guess crashing into everything you see does not take you very far. But for a learning experience, I'd say this was an 11 out of 10. I drive in Formula Drift to get beaten by the best to ultimately learn from it and I think the hard hits are what teaches you the most.
And on that note, I think the most important thing this event taught me is to never forget why you are doing it. It's for the fun of it! We got to Vegas, and although we returned with no money, and a pretty beat up drift car, we were there doing what we love!
After I got knocked out, my girlfriend Wenche was waiting for me in the pits. She turned around, looked at me, smiled and said: – I'll still marry you. Someday.
So, someday will be the day. For her, me, Chucky and Team Japan Auto FSR!
A huge THANK YOU goes out to every single one of you – friends, family, sponsors, FD followers and last, but not least, my incredible team buddies. You are the best.
Thanks,
Fredric