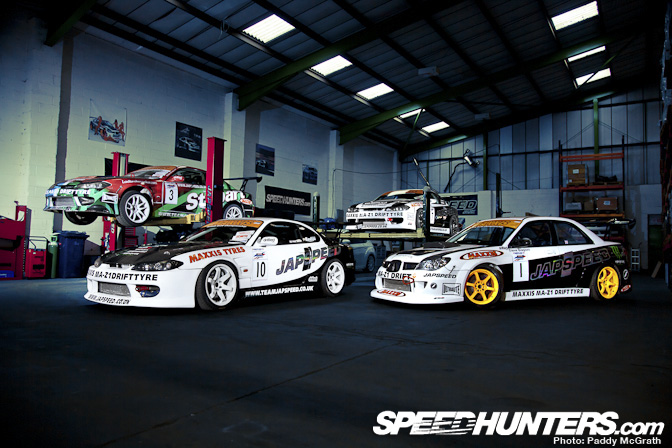 Japspeed were always one of those companies that I knew of, but didn't really know a whole lot about their operation. After Edition38X, I headed up to Manchester to meet up with Paul McCallum, owner and founder of Japspeed to get an insight into their operation. I remember the Japspeed R33 Skylines from several years back but it was only at the first round of the Prodrift Super Series in 2008 that I bumped into Paul and got talking to him about Japspeed. Quite embarassingly, it's taken me this long to finally drop in to their rather large premises on the outskirts of Manchester.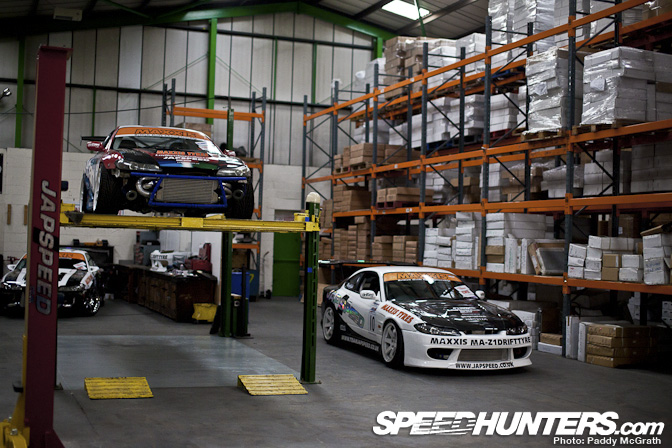 Most of you may know Japspeed from their exploits in the world of drifting. Running a four car team primarily in the BDC, Japspeed have been a great supporter of UK drifting. At the same Super Series event where I met Paul, I remember them donating parts to Dean 'Karnage' Kearney who had damaged his car during qualifying.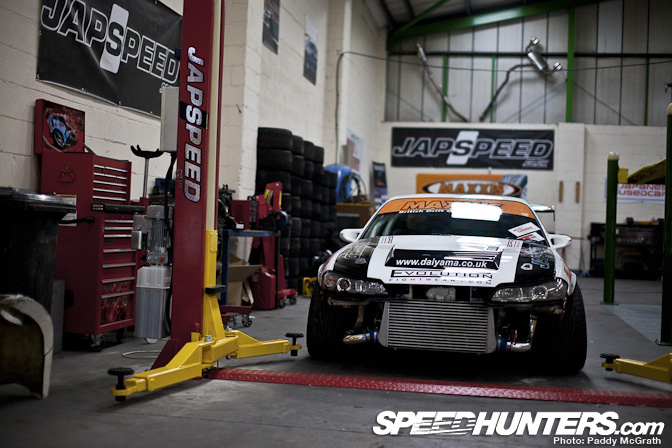 The team consists of Danny Eyles, Shane Lynch and Paul Smith in almost matching S15s (None of which have the same engine RB25, VH45DE and SR20 accordingly) with Steve 'Baggsy' Biagioni in the teams most recent car, a hawkeye Impreza.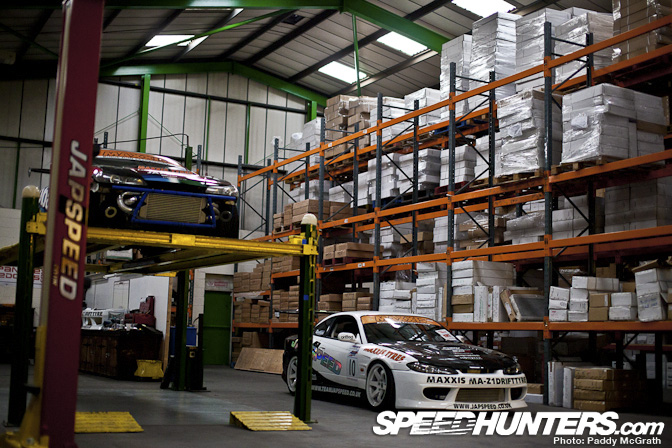 It's more than just a promotional excercise for Team Japspeed who use the cars to design and develop new parts before passing them onto the customer. Sitting around talking to guys and girls, it's clear that they're interest in drifting is one of love. They don't see it as work, they love the sport and listening to them talking about recent events and dissecting each Formula D event through the driftstream, it's clear how genuine the crew is.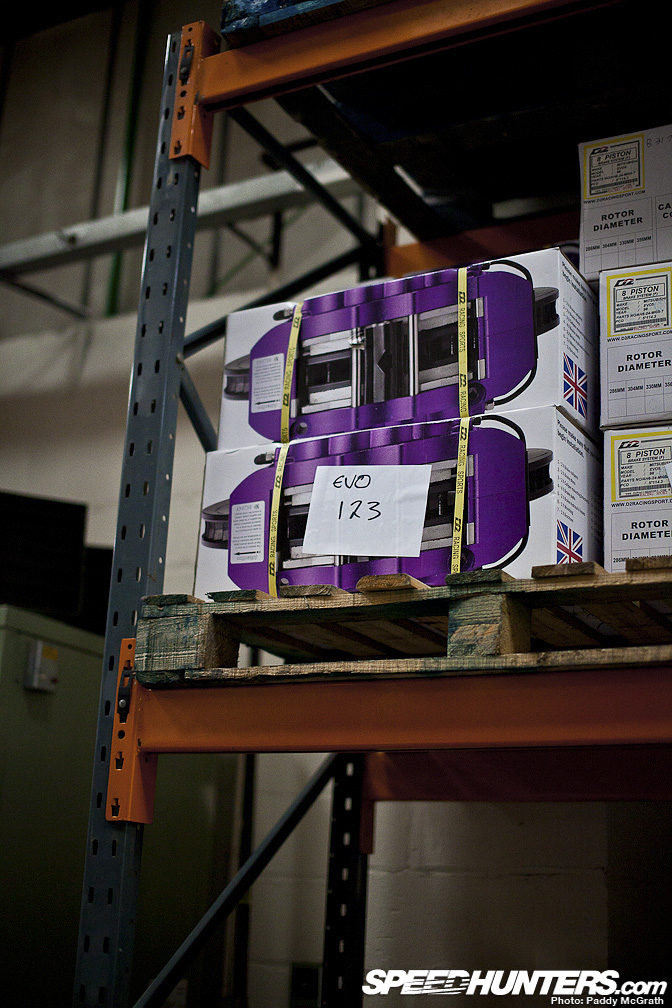 The team cars share an area with some of the stock that Japspeed ship to it's customers across Europe.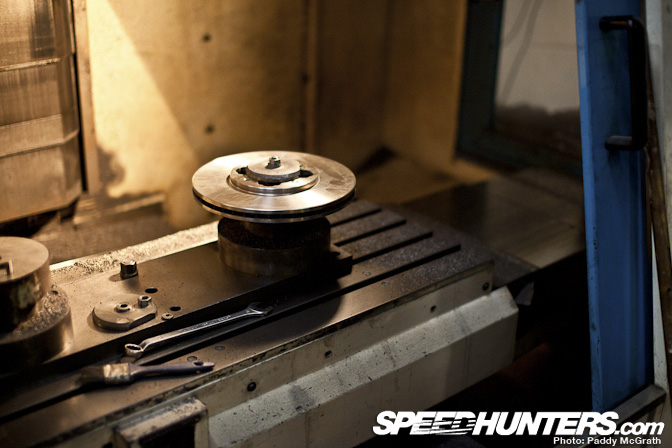 Using their own milling machine, they can drill and groove discs to their customers specifications.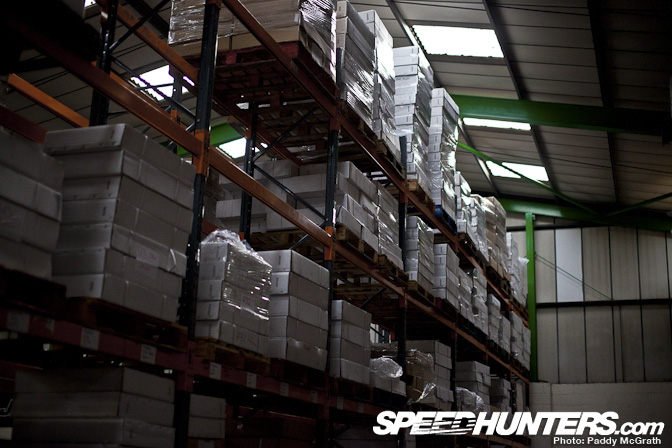 Not only is their warehouse big, but there are three of them side by side.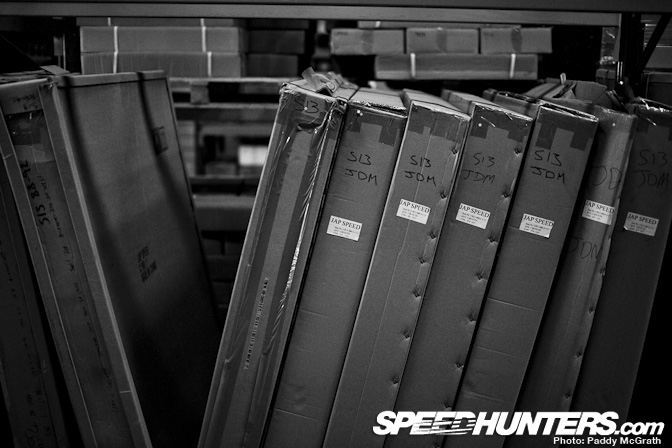 Carbon bonnet for your S13 sir ?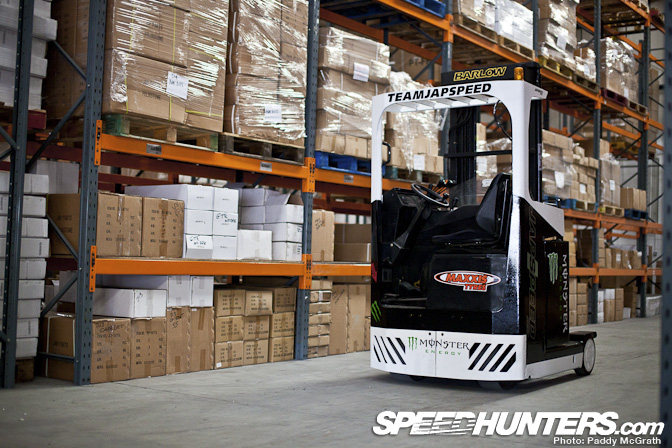 Even the forklift has been given the team colour treatment.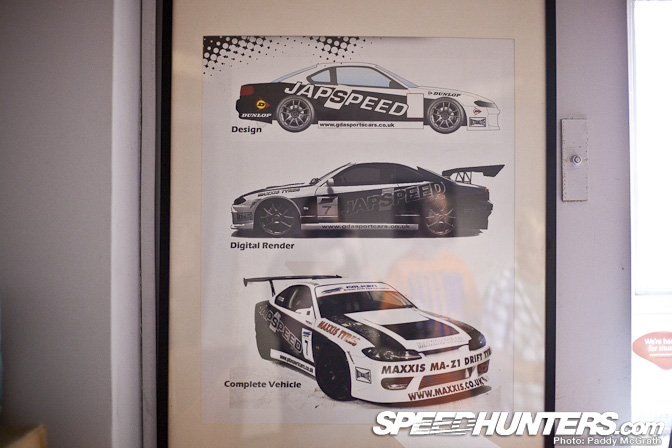 Unusually, everything Japspeed seem to do is done in-house. Product photography, vehicle designs, advertising et al. is all dealt with by the staff. This gives them full control over everything they do, ensuring they retain a strong brand image.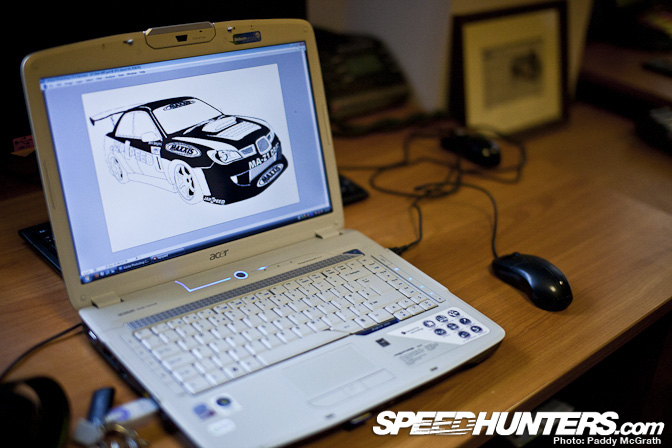 A sneak peak at an upcoming shirt design featureing their new Subaru …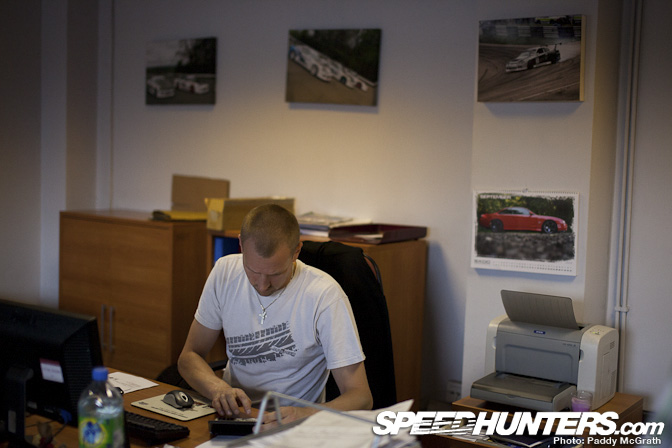 I was actually surprised at how big the Japspeed team is. I've no idea what this guy does but I think Paul will need to have a word with him over his scented candle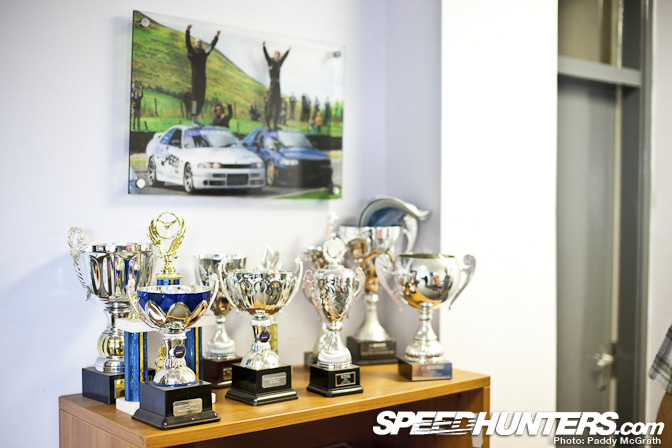 Team Japspeed started out with Shane Lynch and Danny Eyles. There never really was a plan for a team, it just sort of happened. I've a great interview with Paul on the way where he'll fill you guys in on how it all came together.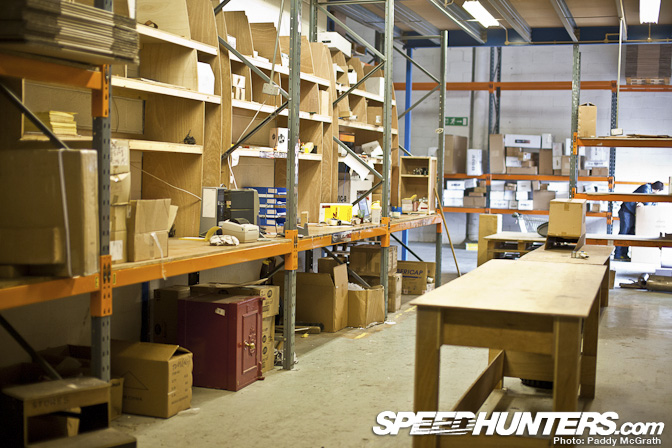 This is the picking and packing area, where orders are sorted and prepared to be despatched.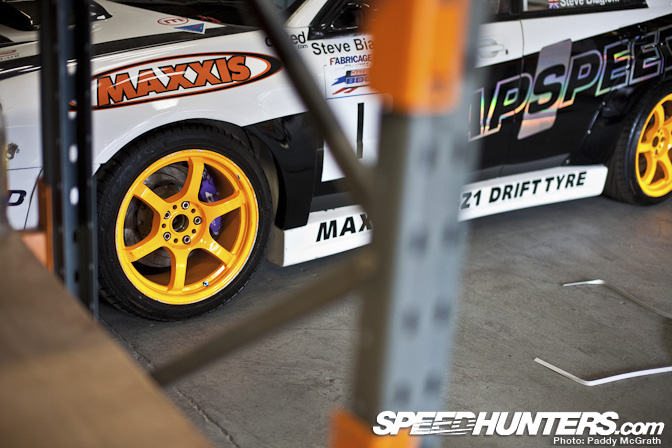 I'm really looking forward to seeing this car once it's out of development and fully competitive. Baggsy is a really sound guy along with being a very capable and highly underated driver. It'll be interesting to see how he performs in 2011.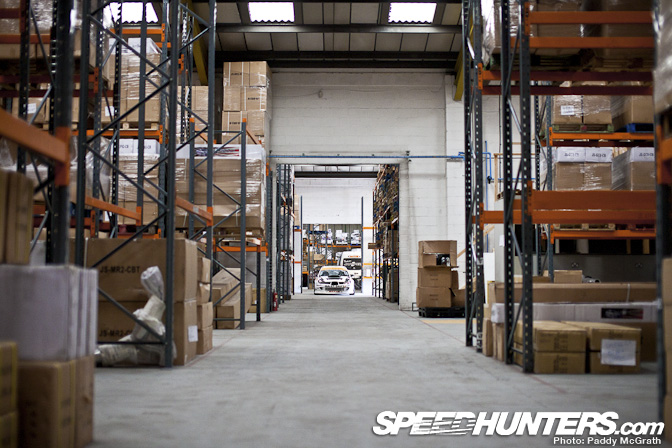 A look through the three warehouses with the Subaru lurking somewhere in the middle.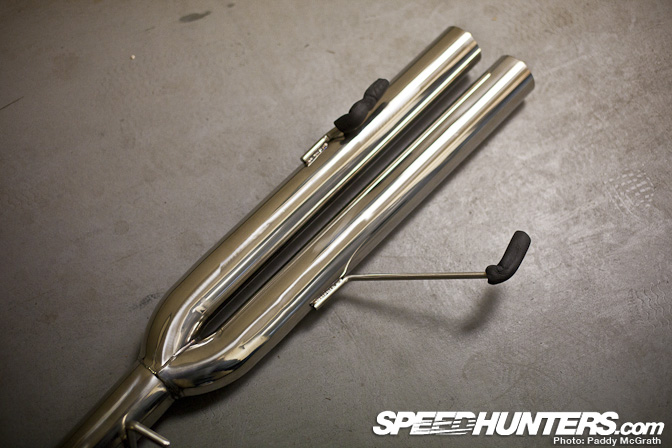 A new twin pipe exhaust the guys are about to release. They've already fitted them to some of the team cars and they sound very, very good.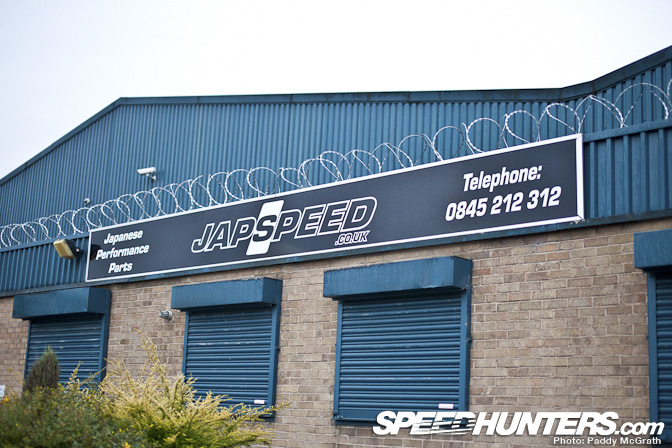 Before I met the team, I never really knew what to make of them. To the untrained eye, it could seem as a company just in it to make a quick buck. But when you get up close to their operation, you can really see the love and passion they put into everything. They don't see drifting as a cash cow, they're investing in it to help bring UK drifting to the next level by supporting series' and drivers.
Look out for the interview with Paul over the coming few days …
-
Paddy