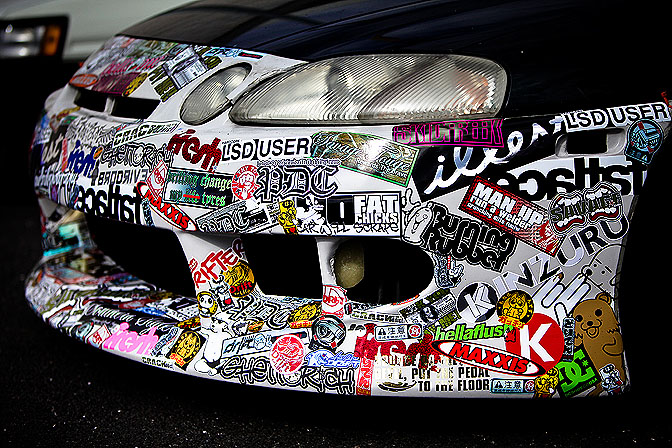 This spring Vaughn Gittin JR, he with no last name: "Linhbergh", Will Roegge and I went to the Tate Modern in London. Although the building is a marvel unto itself, my main reason for going there was to hit up the book shop. I wanted to get some graphics, culture and media theory books to spread around the EA offices back in Vancouver.
One of the books I bought was called "Sticker Bomb". It's an amazing collection of urban style stickers contained in an art book.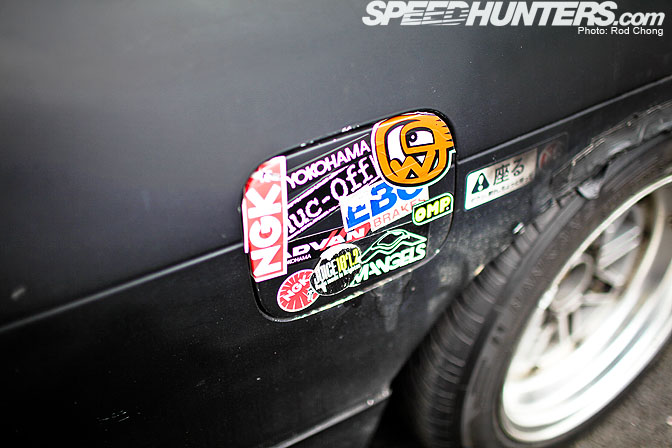 This term "Sticker Bomb" came up again when I picked up the latest issue of Fast Car Magazine at Heathrow Airport on Friday. They were referring to Sticker Bombing as a type of car styling. Interesting.
Although I've been aware of the roll of stickers in Drift and Skate culture for ages (my skater friends were stickering their laptops in the mid 1990s), I've never heard this term used previously. But I could be hanging out with the wrong people… or living under a rock. You tell me.
So let's investigate some more.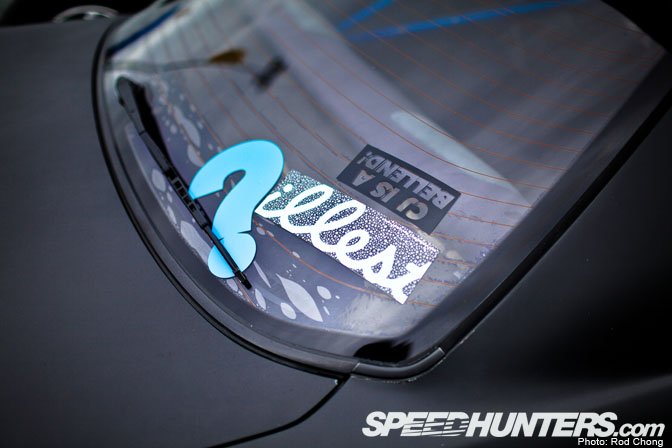 Mark Arcenal gave me one of these Illest stickers at SEMA last year… I've seen them on cars across the US, but I didn't expect to see them in the UK.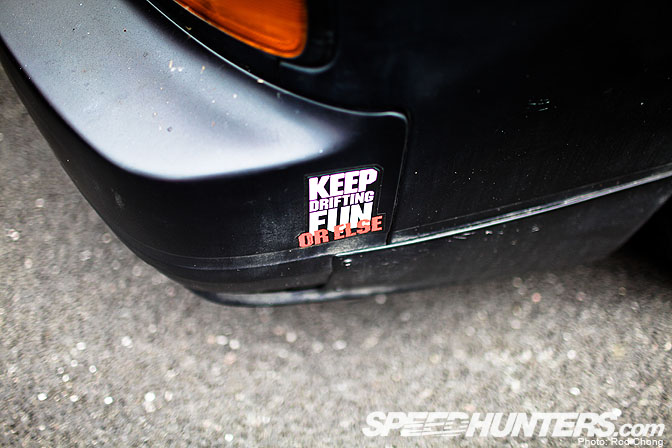 Now what do we have here? A Keep Drifting Fun sticker? Wow cool. Will Roegge was quite impressed!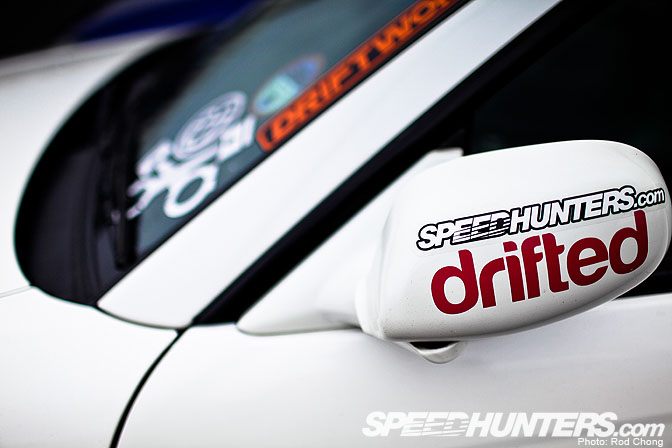 What I didn't see were enough Speedhunters stickers. So Paddy, Ross and I made a point to hand out a big stack of stickers to car owners and drifters alike. Looks like we have a little competition going on with the Drifted crew on this wing mirror LOL.
I hadn't heard of the Drifted website previously, but they seem to be doing a good job reporting on a drift action from around the world. Have a look to see for yourself!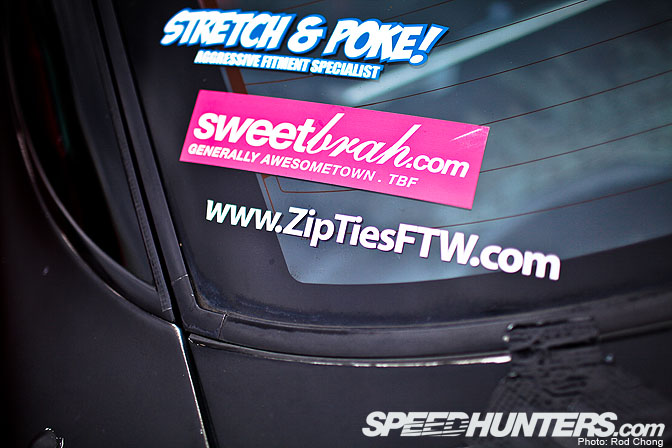 Walking around the car show, it started to become very clear to me that the people in the UK drift community take their stickers very seriously!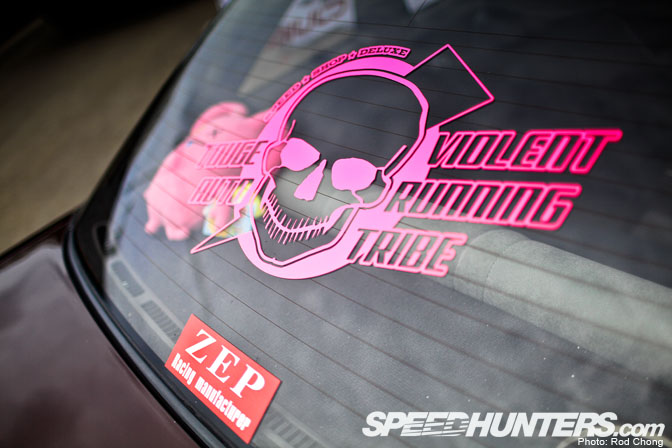 I also started to notice Touge Automotive stickers on a lot of the cars.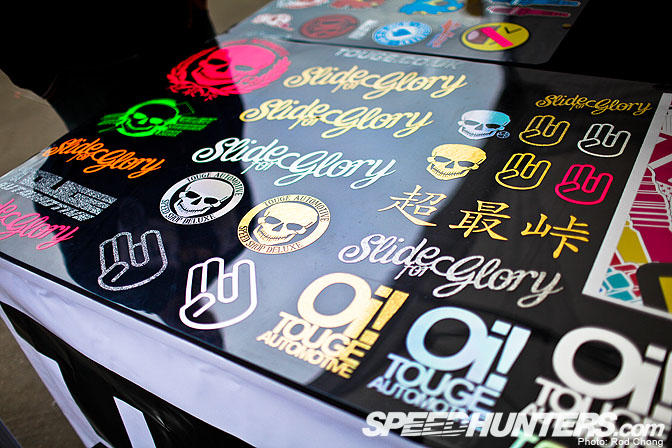 Low and behold Touge Automotive had a booth in the JDM Allstars paddock selling all manner of stickers and t-shirt designs.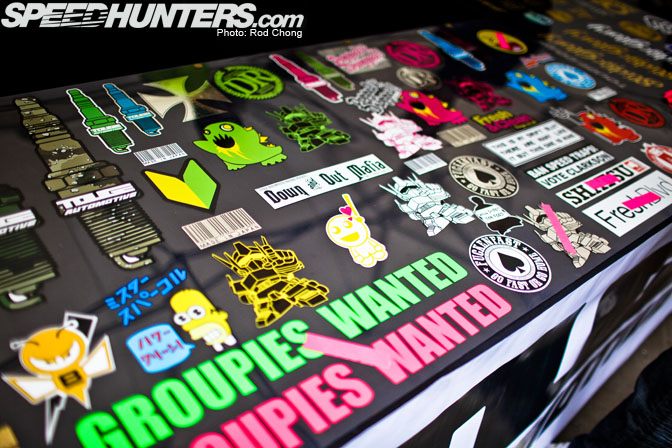 Have a look at their designs. I'm sure most of you would approve yes?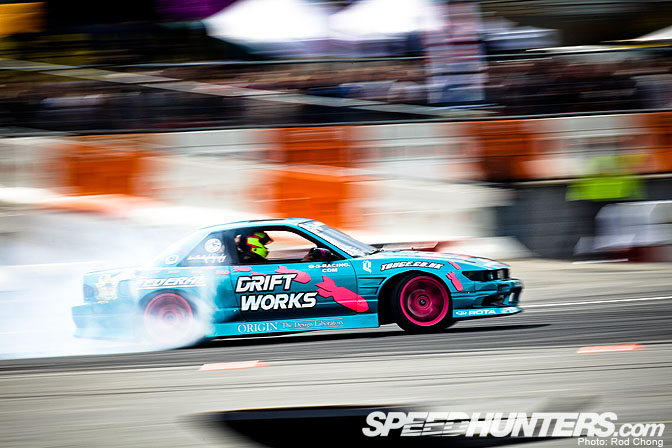 Investigating the trail of Touge Automotive then led me to this car…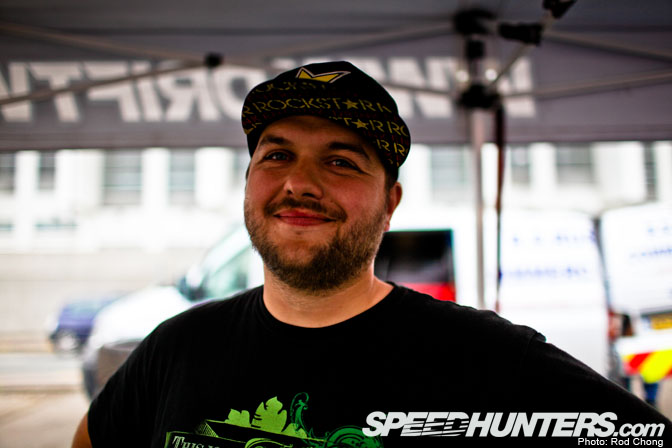 … piloted by Dan Chapman .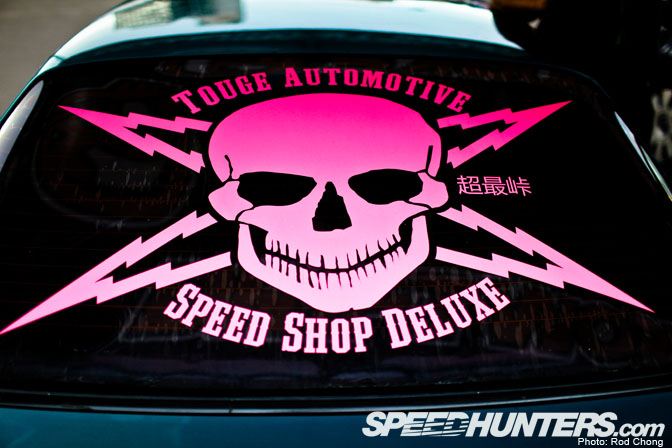 Walking around his S13 I was immediately struck by the Touge Automotive graphics.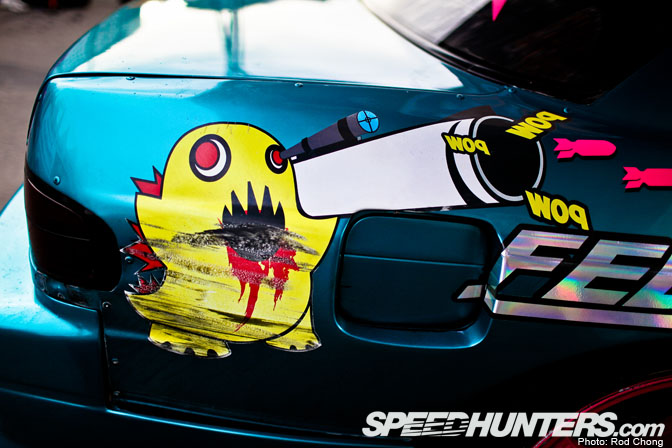 Dan explained to me that this character is called "Turbozilla".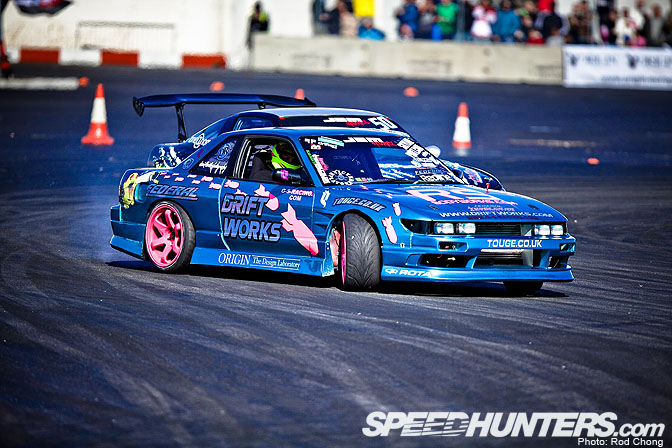 Looking at the full car, you can see how Turbozilla is firing shells across the side of Dan's car.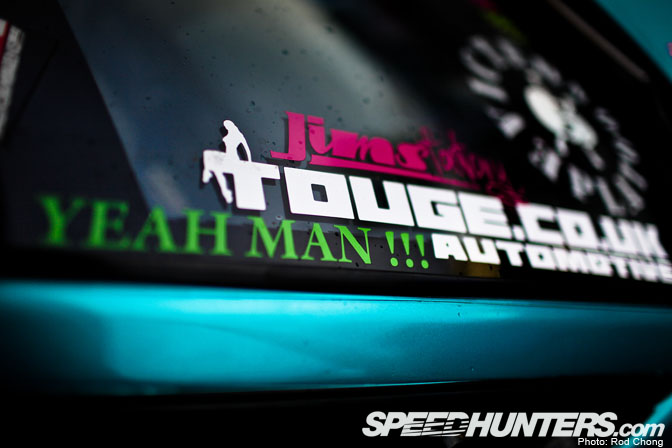 A closer examination of the S13 sees more Touge styles.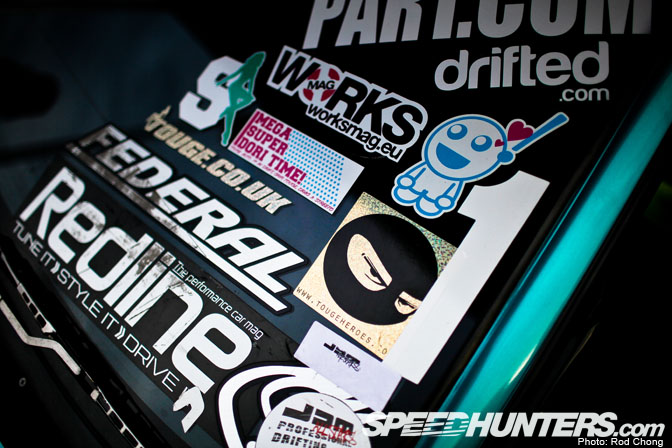 Here too. The stickers in this snapshot is in many ways a slice of the UK scene… if you know the meaning behind the graphics that is.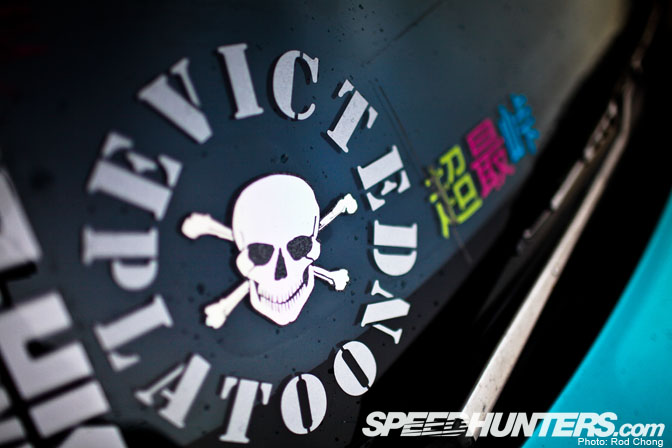 Dan must have thought me mad to take such interest in his car's stickers haha.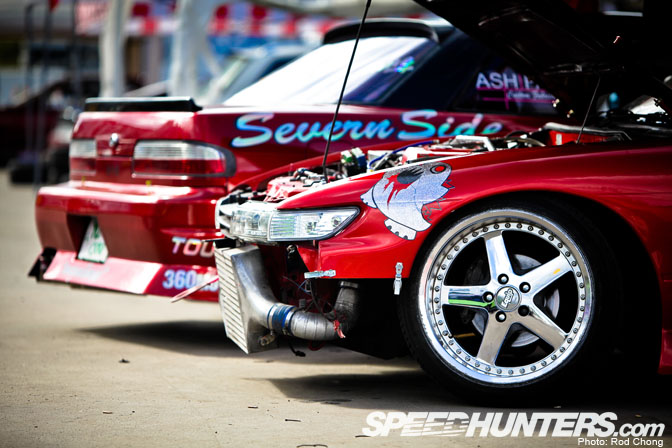 Moving down the pitlane we see more evidence of Turbozilla on the Severnside cars.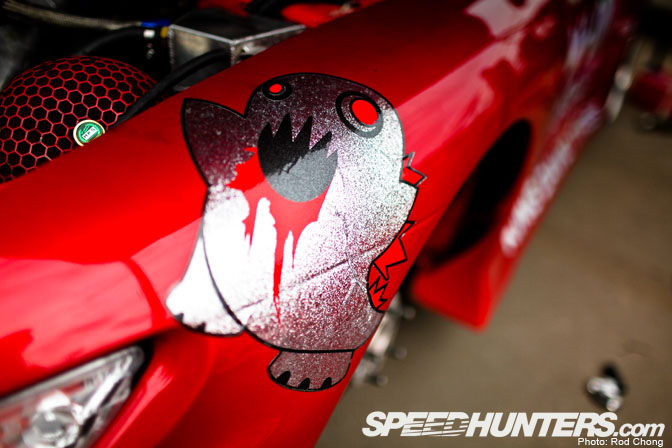 I like Turbozilla a lot… It reminds me a bit of the Japanese Gloomy Bear character.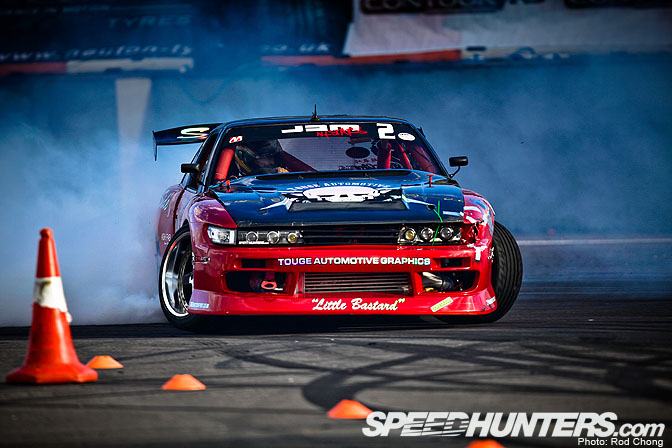 Here is Luke Fink in action from last weekend. You can see that Touge Automotive is a sponsor of the car.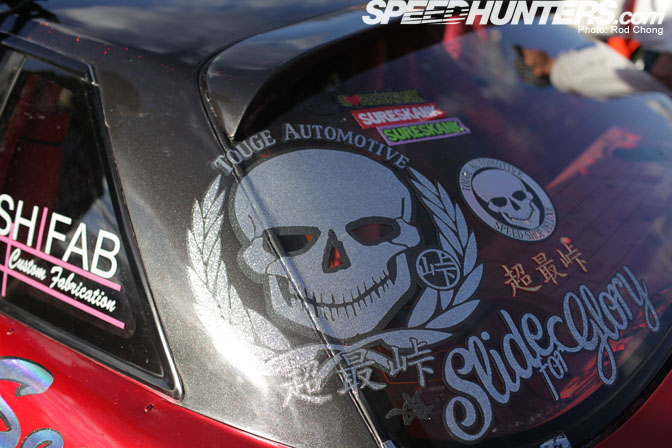 A closer look reveals more of the graphics styles.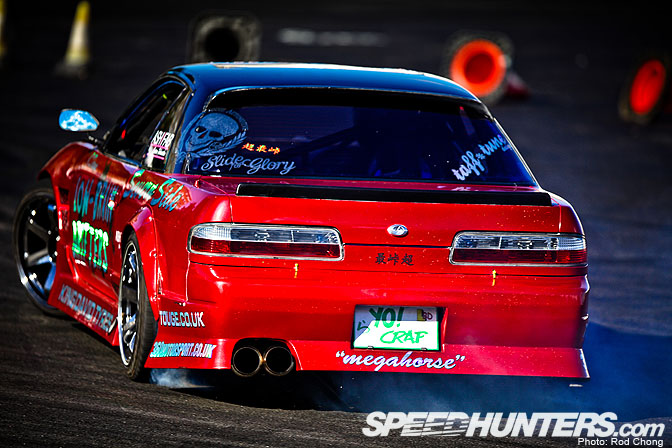 Here's James Deane out on the drift course.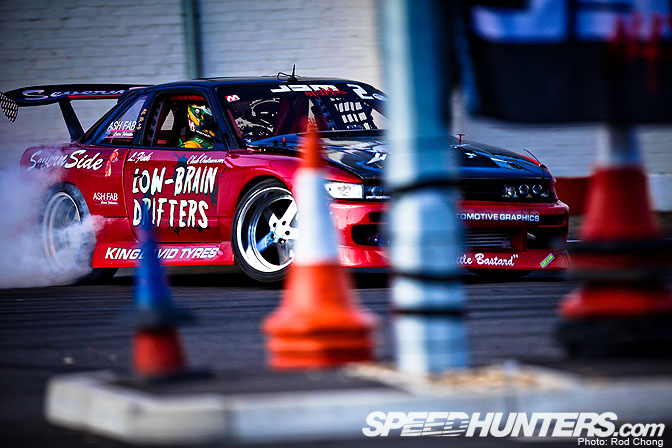 The two Severnside cars were two of the best presented cars on the JDM Allstars grid and no doubt Touge Automotive had something to with this.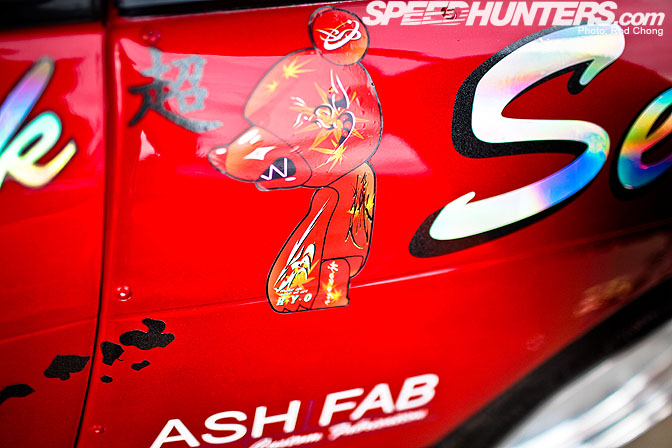 I didn't catch if this bear is a friend of Turbozilla or not!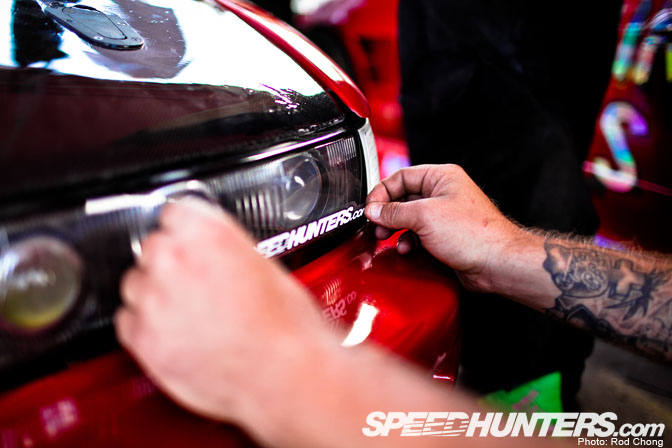 Some Speedhunters stickers were still needed though.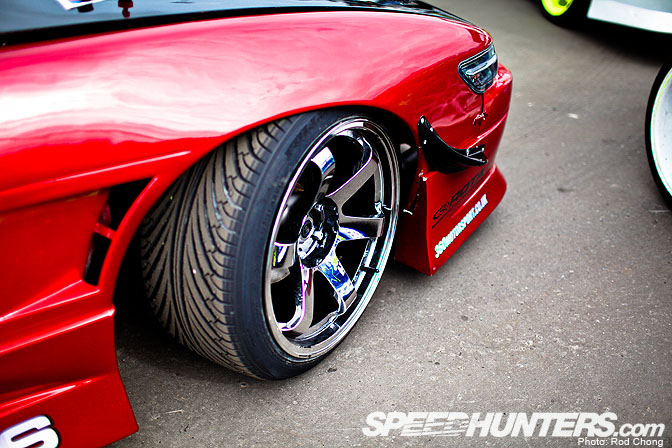 The Severnside team seem to also spend a bit of money on their rims…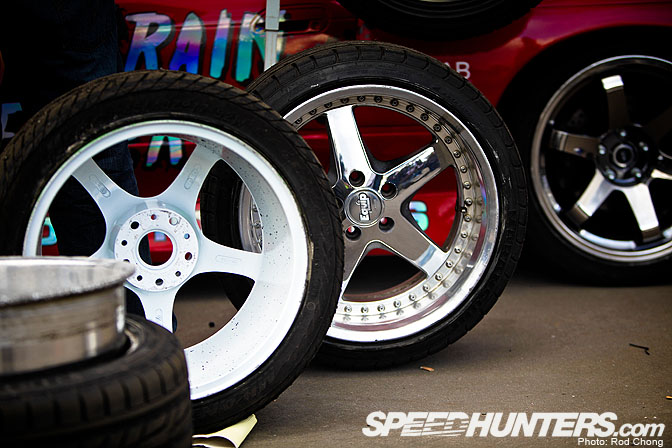 … which no doubt adds to the cars' visual impact. check out those Work Equips! Tidy!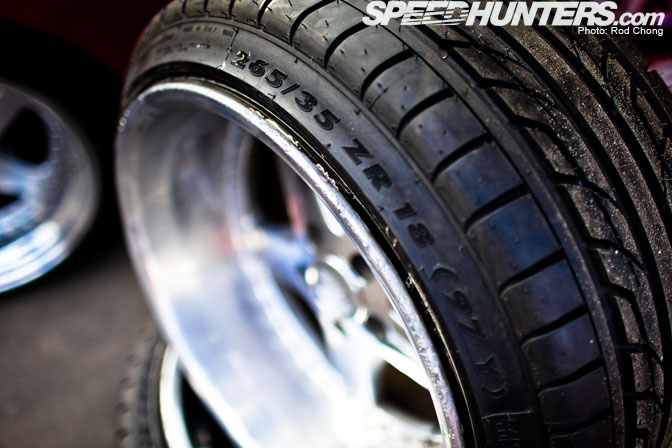 Do you feel the lust?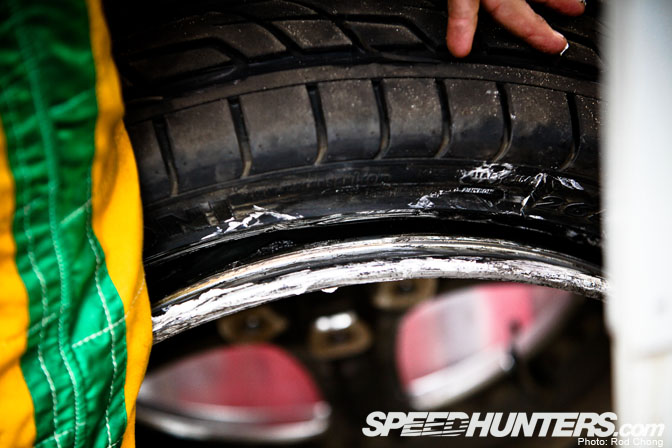 The pain is all the much greater though if a rim gets damaged. Oof… Luke had a tire separate from a rim and the lip got all messed up.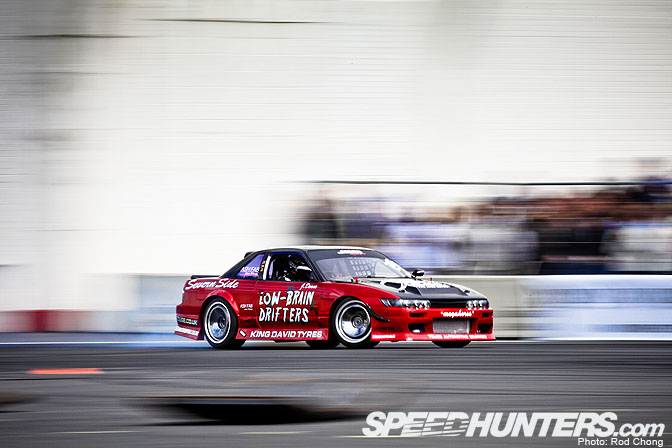 James was suffering from reliability problems all weekend.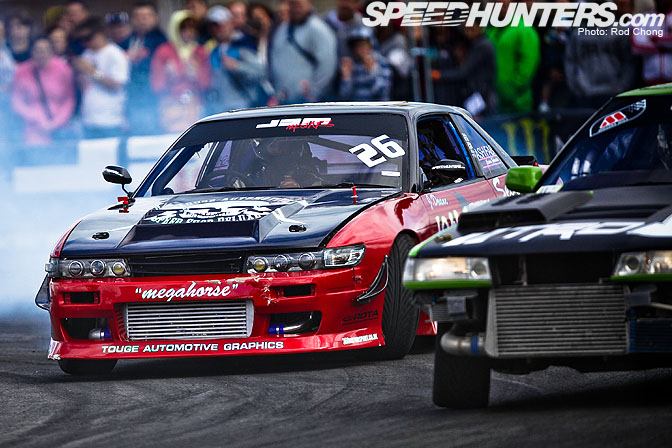 I hope the team get the car get sorted out as he would be tough to beat otherwise.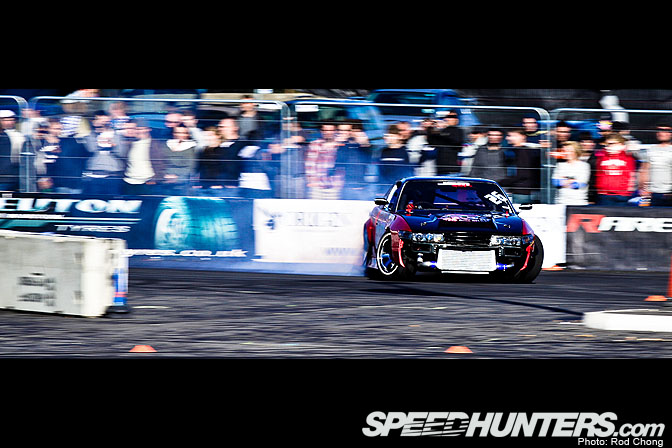 Let's enjoy one more shot of James running the wall.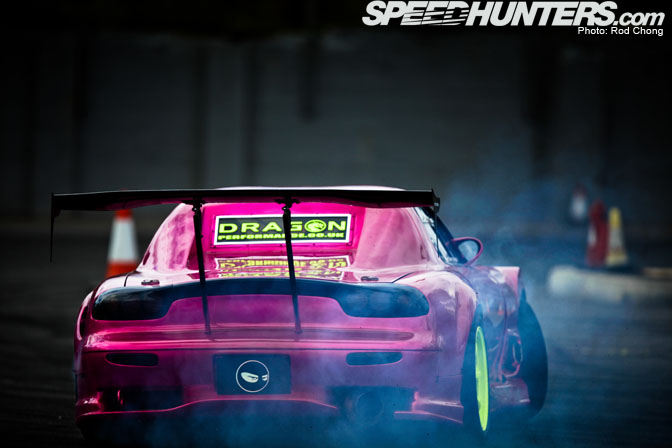 Time to look at a few more cars in the field.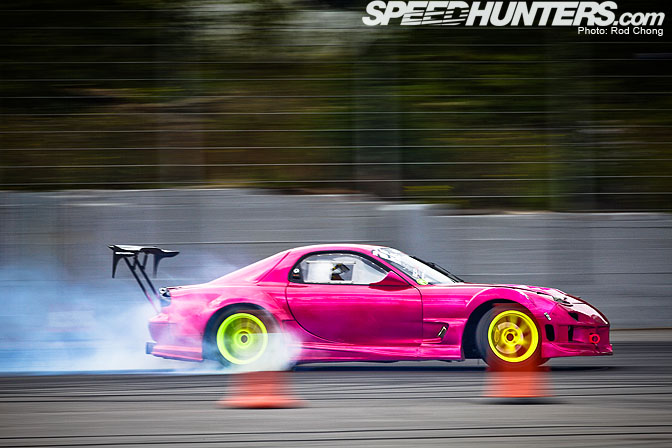 The Dragon Performance RX7 seems to have gone through a bit of a metamorphosis since I last checked in with it.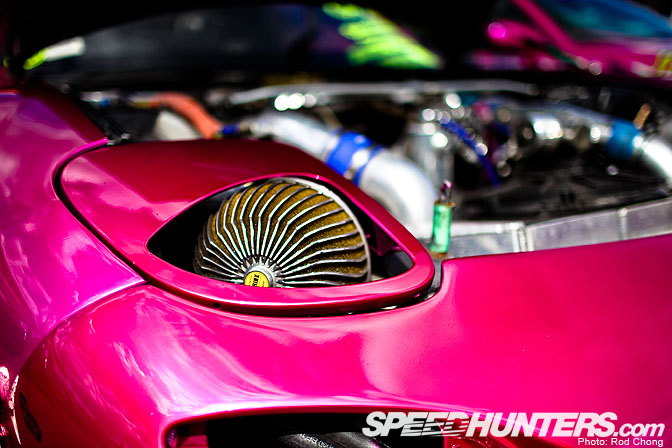 The car certainly looks unlike any other drifting RX7 I've ever laid my eyes on previously!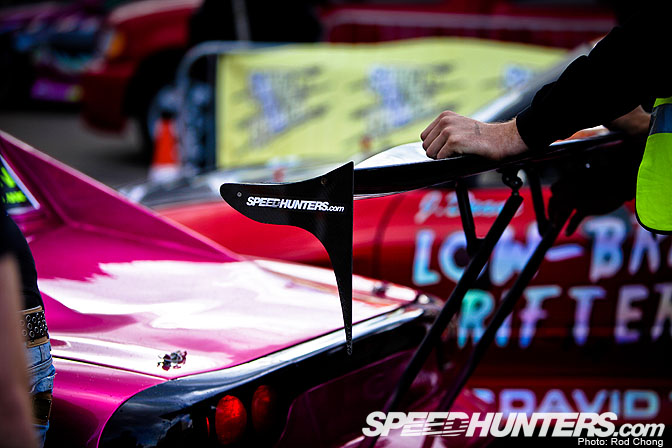 Tx for repping us guys!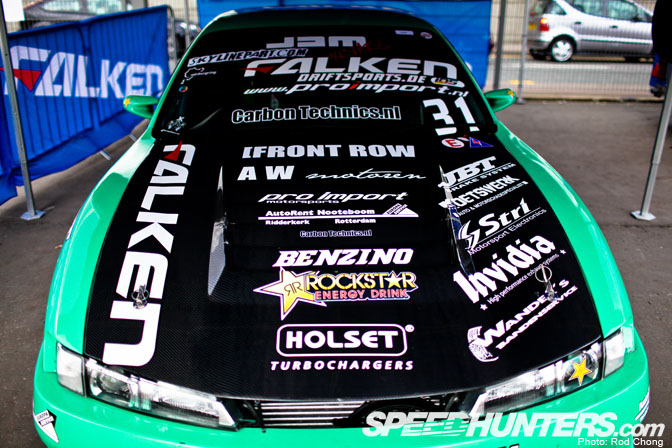 The Lennard Wanders' S14 is a car that we've featured many times on Speedhunters.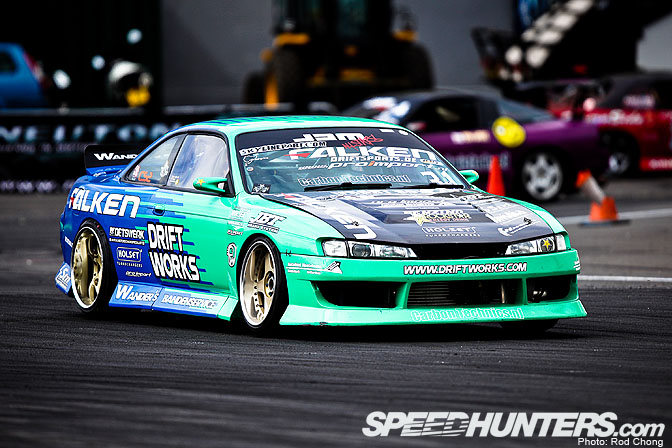 It's one of the meanest looking S14s around. The snarl of its RB power plant only adds to the presence.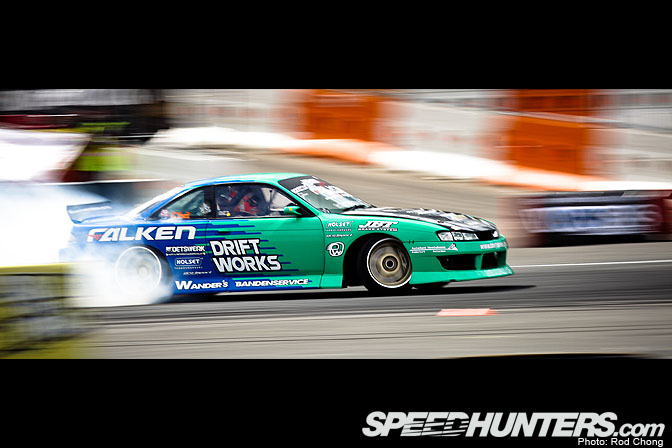 Unfortunately the car just doesn't seem to hook up that well and lacks speed.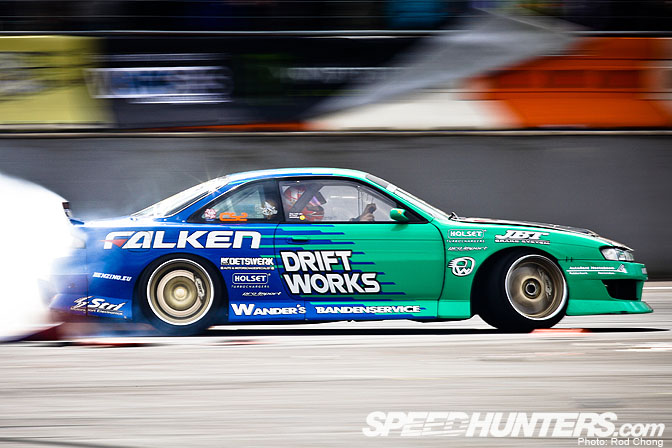 My semi-educated guess would be that Lennard needs to soften up his suspension setup considerably. There seems to be a lack of weight transfer going on here, which in turn means no bite.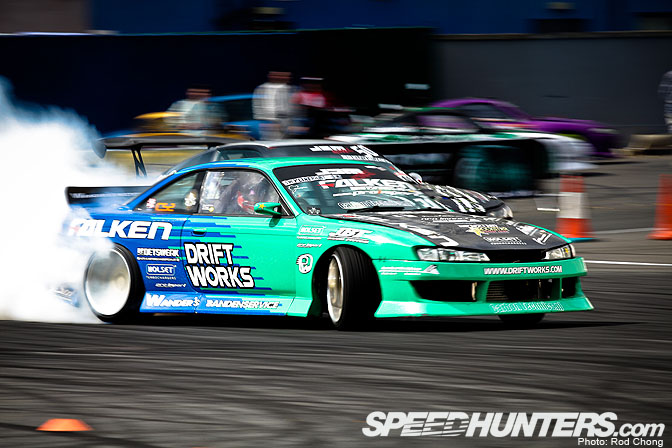 See what I mean? No body roll… I'm no expert, but people tell me that soft suspension is the way forward in 2010 era drift setups. Body roll = traction = speed.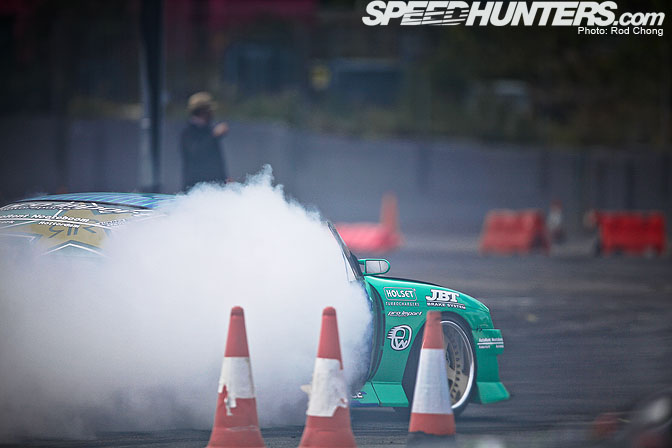 Mr. Wanders sure knows how to entertain! After he was eliminated from the Wembley competition, Lennard did such a long stationary burnout that the entire car filled with thick smoke. He had to evacuate the Nissan just to escape the fumes!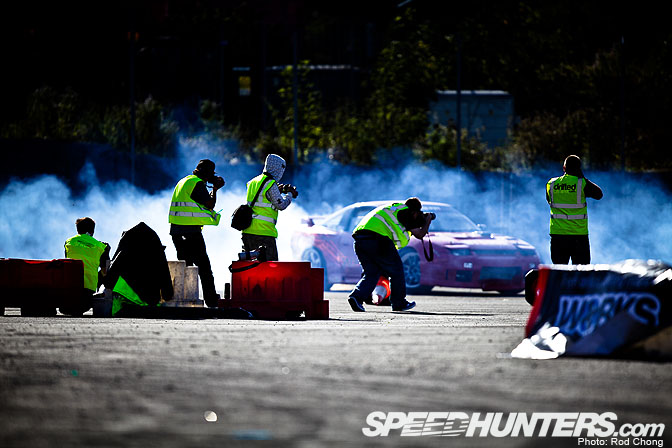 Well I'll wind down my Wembley coverage now.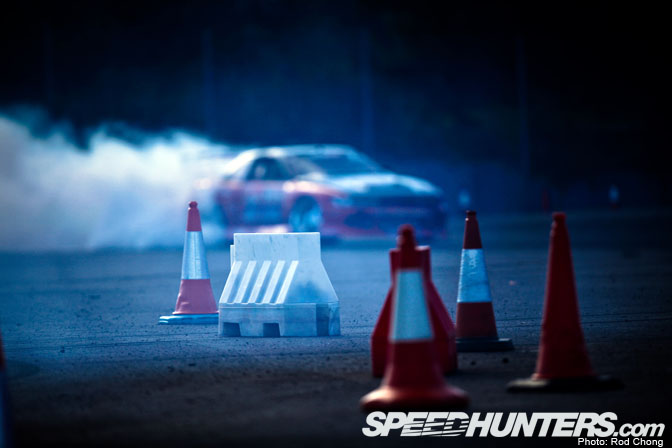 I quite enjoyed hitting up a UK drift event and was impressed with what I saw!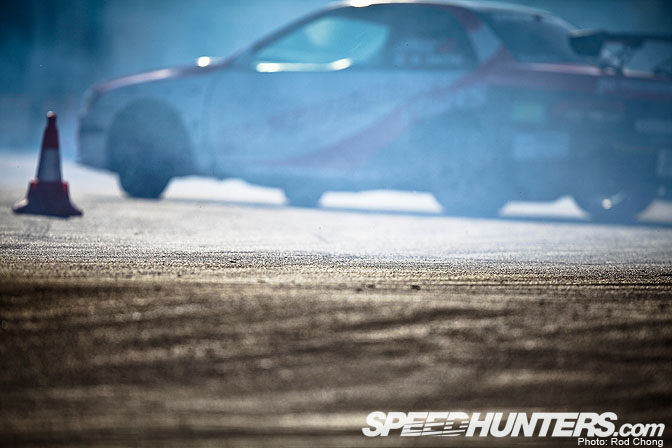 The JDM Allstars Wembley event was blessed with a friendly, open atmosphere. As an outsider to the scene, I felt welcomed by the organizers, teams and fellow media. Thanks to everyone I met.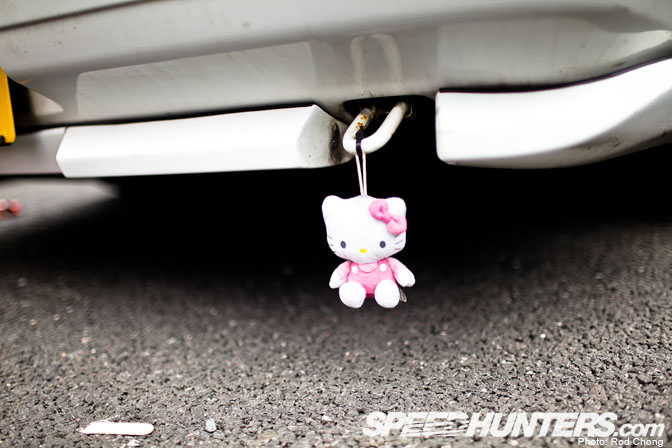 Next stop: Formula D Sonoma.
See some of you there!
:R