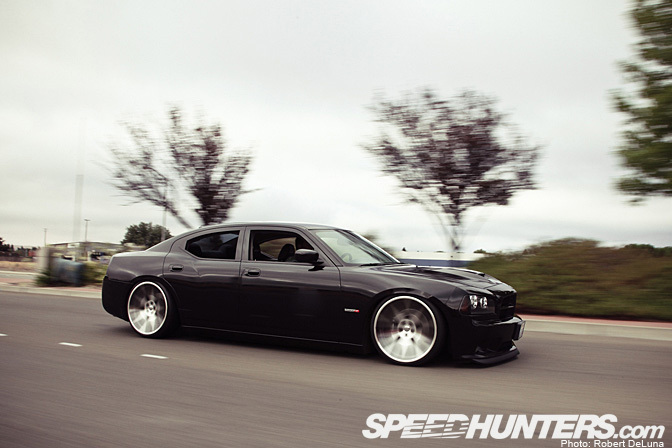 Hey there fellow SpeedHunters my name is Elvis and I drive this 2006 Dodge Charger SRT8. I live about an hour east of San Francisco and I have owned this car since new back in late 2006. In the last year or so I've been so intrigued by the whole "Aggressive Wheel Fitment" movement that so I've not only decided to try out some new things with my car but I actually created Stance:Nation which is a website that showcases rides who are taking the meaning of "aggressive wheel fitment" to another level and running not only super wide rims, but also some crazy negative offsets.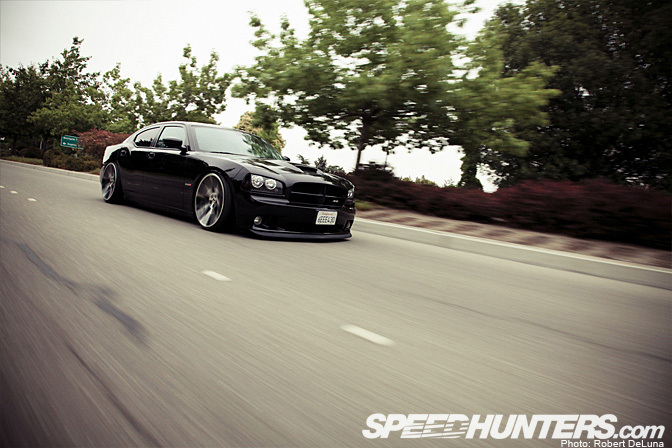 I wanted something different from your everyday Charger, you know, the ones with 26" rims & lambo doors, or your typical American Muscle with the sleeper look, so I took a risk and did something no other Charger owner has ever thought about doing. I dropped the car almost 4 inches (its actually only an inch off the ground at it's lowest point) then I bought these aggressive looking Viper Reproduction wheels and mounted them on.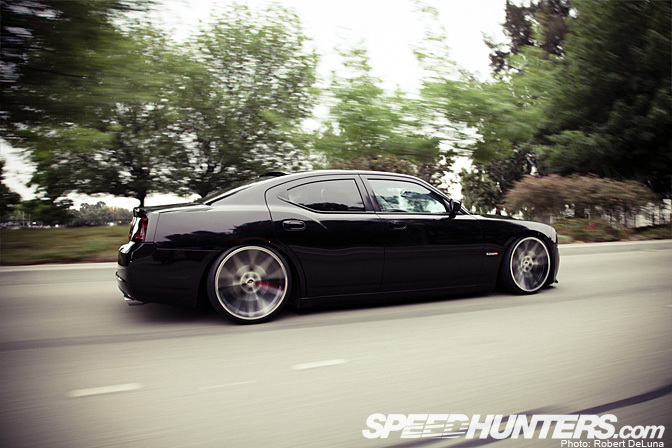 Being relatively new to the scene at that time, I didn't nail it right away, but after a narrower set of tires, some wheel adapters and lots of rolling and pulling of the fenders, it was finally looking like I wanted it to!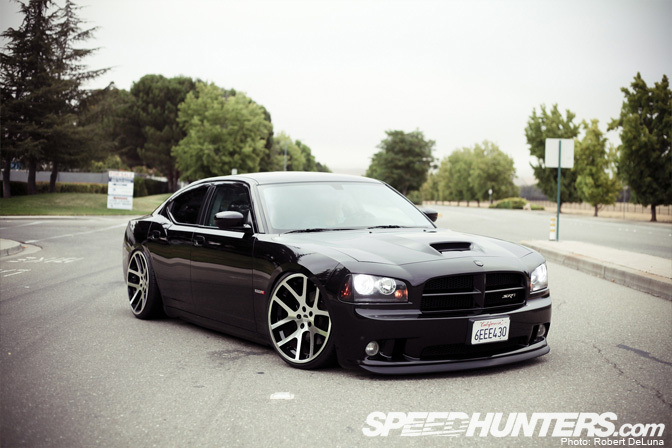 Before anything though, I have to point out that the car is very much "functional", still. Sure, I may not be able to go over speedbumps, or get into certain driveways, but is that really how we define functionality of a vehicle?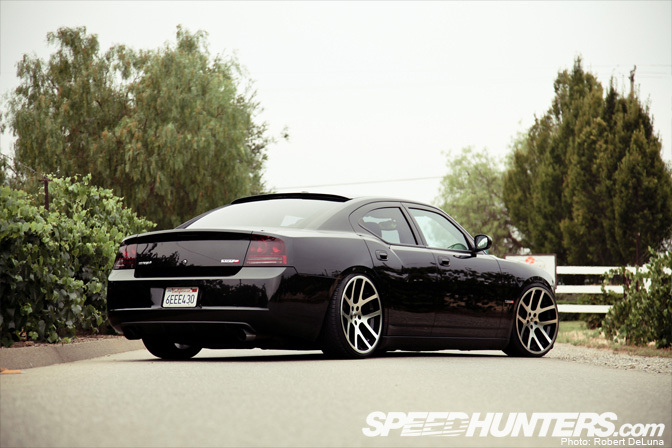 I've tweaked the fitment to exactly where I want it so that I don't get any rubbing whatsoever and I didn't find the need to play around with camber as the car has about -3R and -2 front just from the drop alone. The car will still run mid 12's down the quarter mile, thanks to Flowmaster Exhaust, Diablo Predator, Mopar CAI and other little stuff.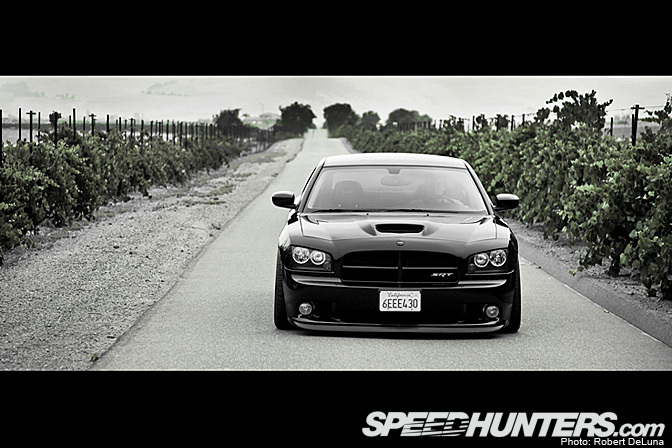 I am currently running BC Racing Coilovers for my suspension and I'm pretty happy with it. My rims are 22×10 all around with a -12R and -7F offset along with a 245/30/22 tire all around.The front lip comes from the Daytona Charger's, and I chose to go wingless just because everyone that has a Charger, has a spoiler now a days. Instead, I've added a small roofline spoiler which is a small but fine touch.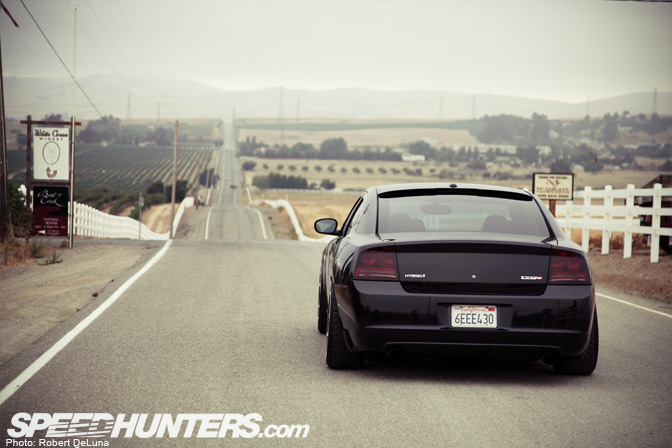 One of the first things people always ask me is, why I bought this car, out of everything else I could have purchased. Well, you see I am a pretty tall guy. 6 foot 6 to be exact, so I need that space and comfort. Second of all, I absolutely love the pressence that the Charger SRT8 has, even before I did anythig to it. And obviously, all that power under the hood was just another reason to buy it! 425HP, stock, what else can you ask for?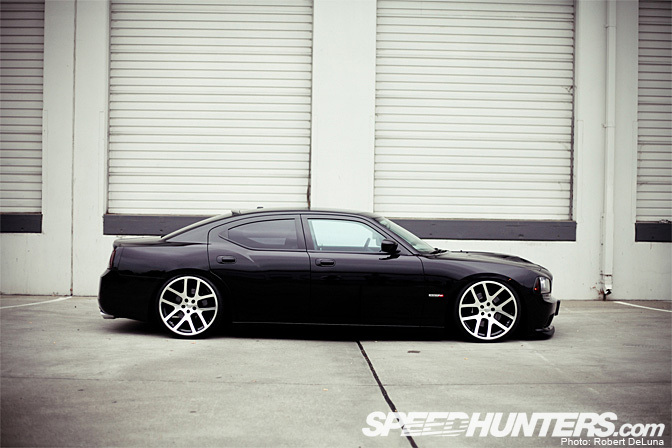 So what's up next you ask? I want to upgrade to some wider rims in the future, and that's pretty much it. I've had the car for over 4 years now and it's time to leave this one in the garage and get another toy I can play with.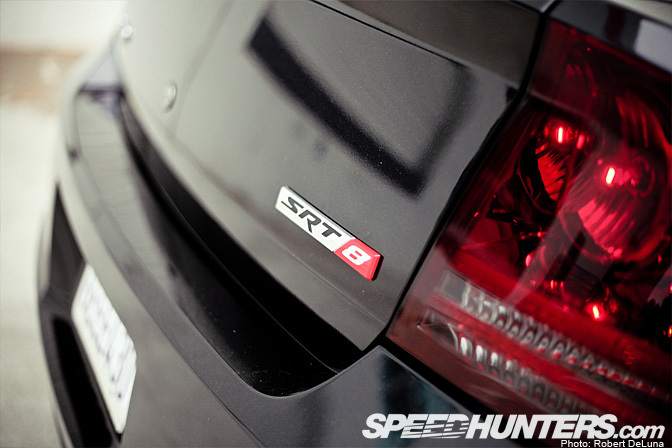 I want to thank SpeedHunters and everyone behind it for being such an awesome and inspirational website to us all, and most importantly thanks to all those who helped me along the way and inspired me to do something different.
-Elvis S.