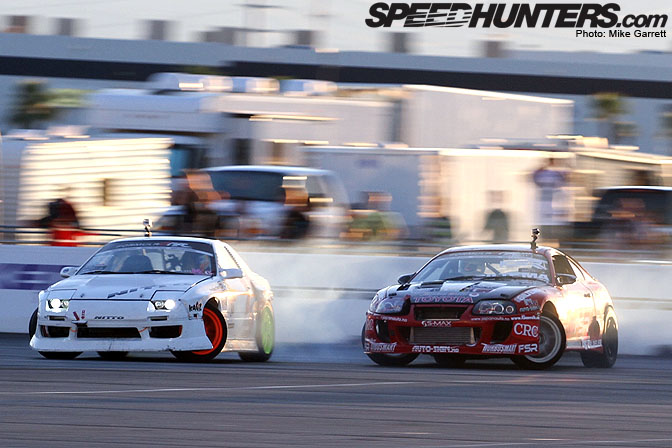 Moving on with our coverage from Formula Drift Las Vegas, it's time for the customary look at tandem competition, starting with the Top 32.
With insane entry speeds and nothing but K-rails and tire walls to stop you, things were sure to get interesting.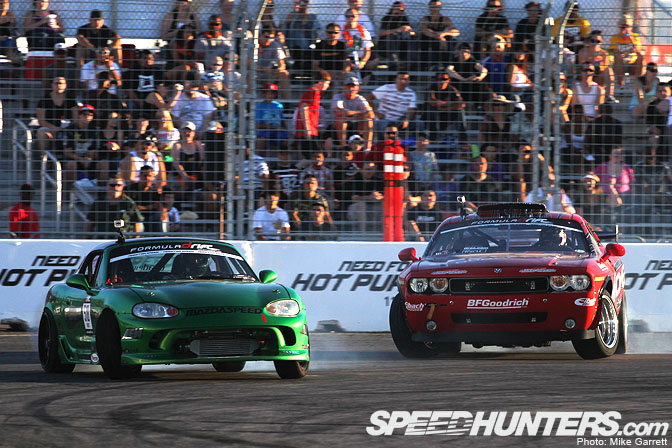 Nothing can better show the diversity of Formula Drift than this photo of Jeff Abbott and Sam Hubinette kicking off the Top 32. Where else in the world will you see an NB Miata going head to head with a hulking Dodge Challenger?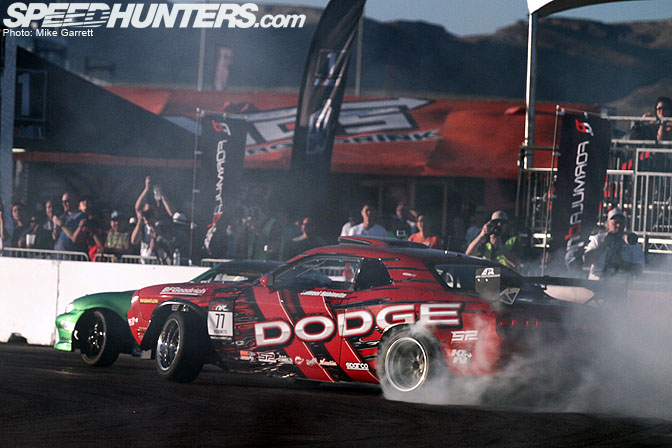 It's hard for anyone to hold off Sam Hubinette, and Jeff Abbott did everything that he could. Still, it would be Goliath who defeated David here. Hubinette moves on.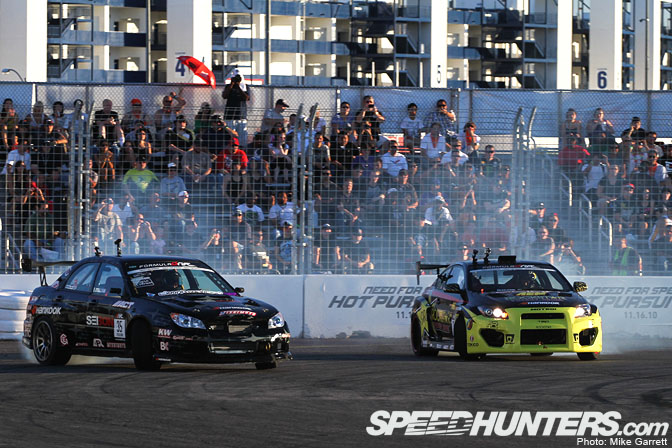 Next out of the gate were Eric O'Sullivan and Tanner Foust. Eric didn't go down easily here, but again it'd be Tanner and the NASCAR-powered Scion that advanced.
Taka Aono would do battle with Dai Yoshihara in the Top 32 – not an easy task for anyone.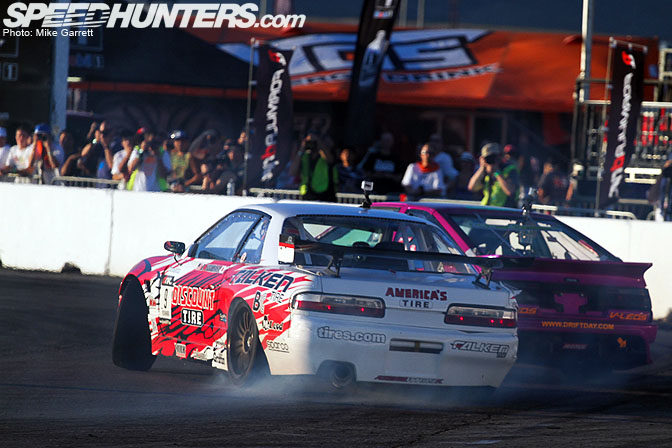 You can see just how aggressively Dai was chasing in this shot. Taka might have lost this one, but the guy's spirit is unmatched after returning from the damaged car and broken bones he suffered in Seattle.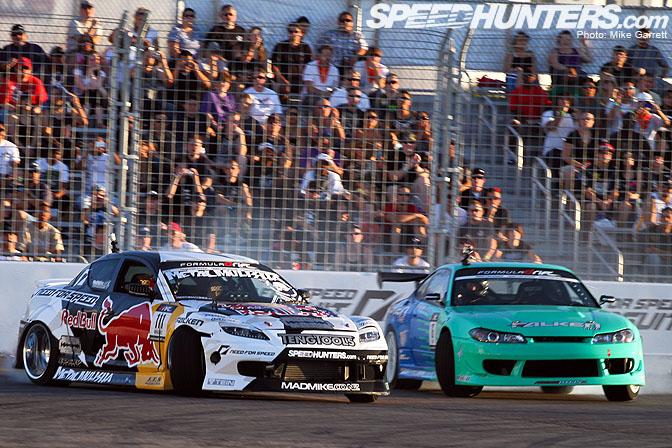 Next up, New Zealand vs. Ireland as Mad Mike squares off against James Deane.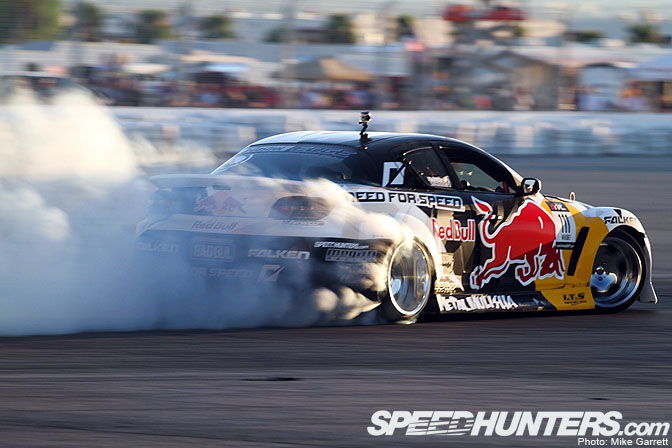 It wasn't easy, but Mad Mike earned the win here – advancing to the Top 16 for the first time in his Formula D career.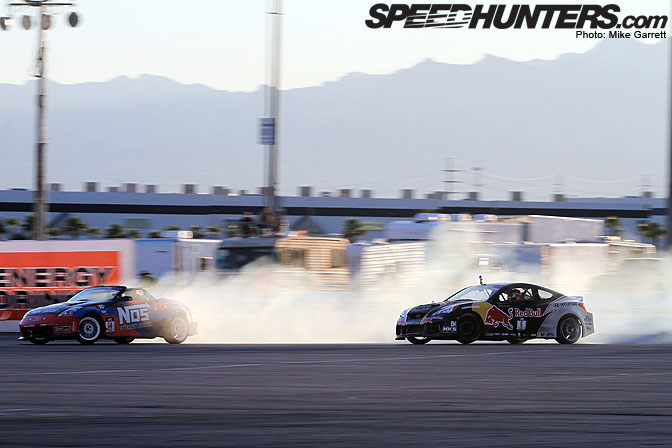 Chris Forsberg's new engine would be put the test next as he faced Rhys Millen's Hyundai.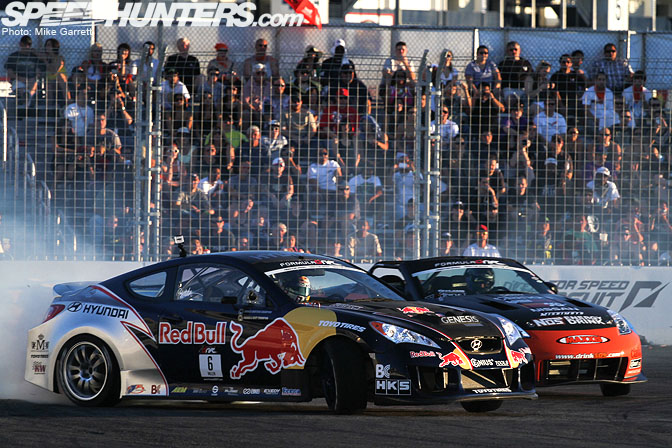 Chris looked solid on his first run, but a botched entry on the second would end up costing him the match. The defending champ was done for the weekend.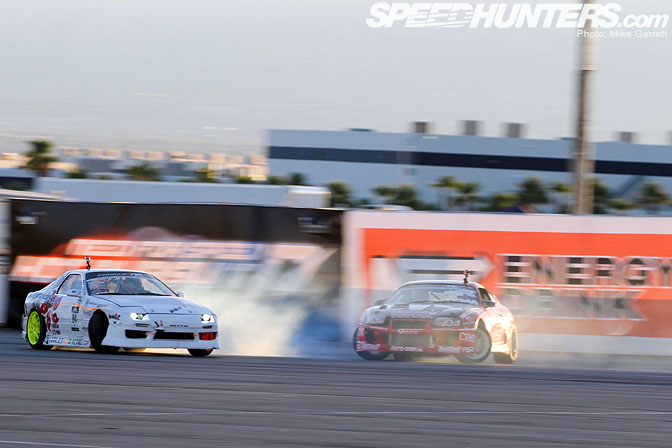 Fredric Aasbo vs Charles Ng was a match we were all looking forward to, but it was pretty much over before it began. Fredric got just a little too aggressive while following Charles, bumping the RX7 and sending into a spin.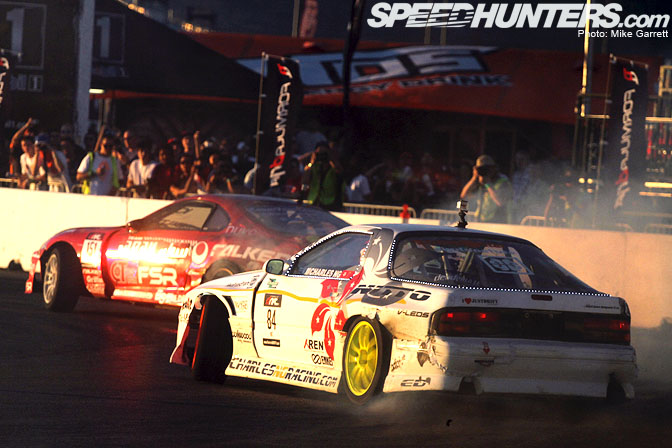 So, for the first time this year Aasbo would be watching the Top 16 from the sidelines, while Charles Ng moves on.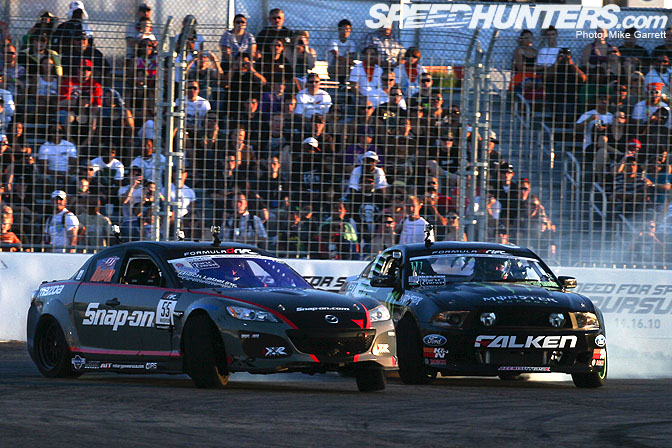 Maryland boys Brian Wilkerson and Vaughn Gittin Jr. went at it next in a four-rotor vs. V8 festival of power.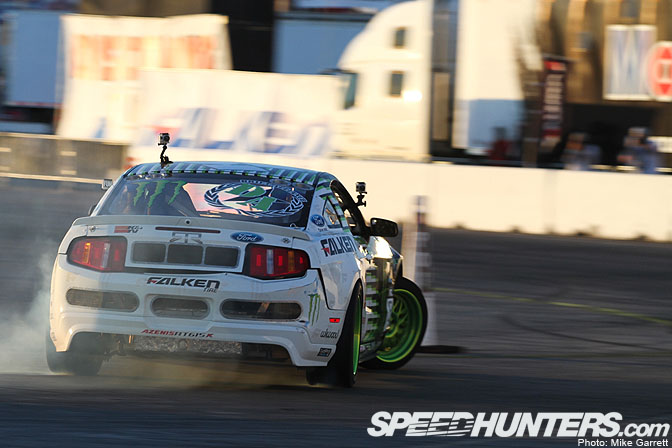 Brian and the BMI RX8 get better every round, but it's hard to do much when you have that Mustang in your rear view mirror. Vaughn moves to the Top 16.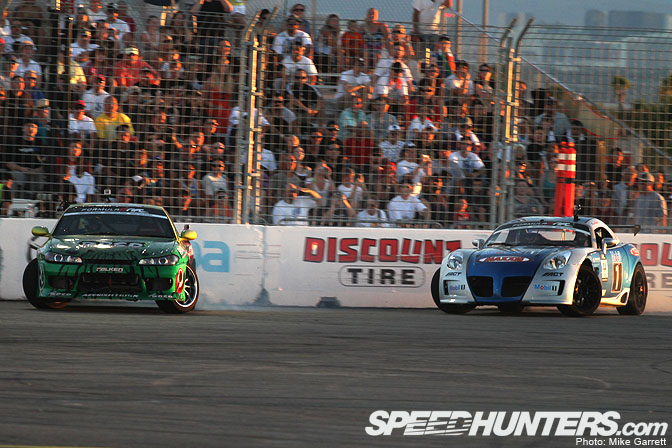 The first opponent for the now V8-powered Solstice of Ryan Tuerck would be Ross Petty.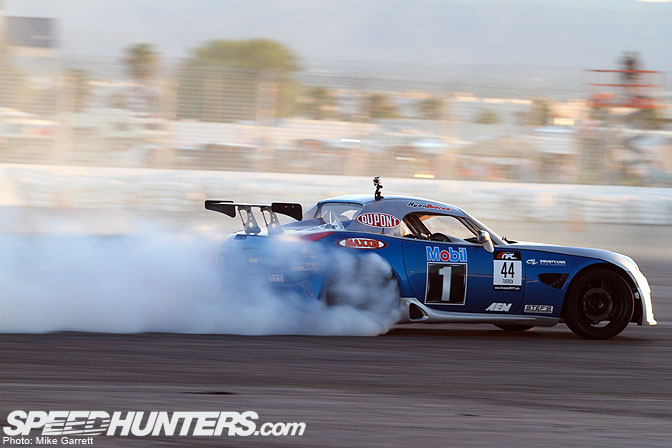 V8 or not, Tuerck is hard guy to beat and he'd be the one who moved on from this fight.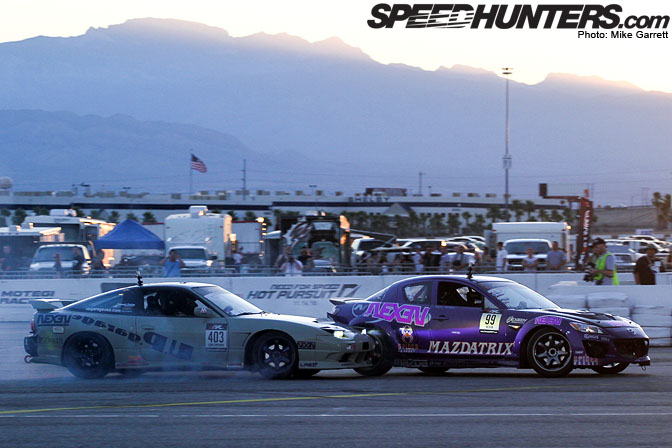 The next run between Nikolay Konstantinov and Kyle Mohan ended rather quickly when Nikolay straightened out in the first corner, giving Kyle a big advantage, and the victory.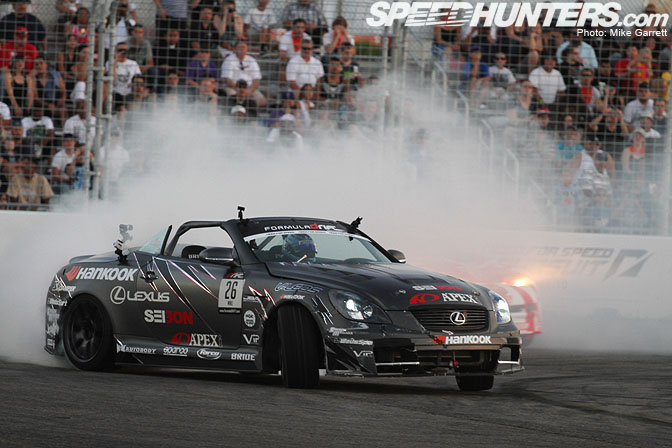 Ryuji Miki seemed to be wrestling with his Lexus SC430 all weekend, and his troubles continued when he faced Alex Pfeiffer in the Top 32.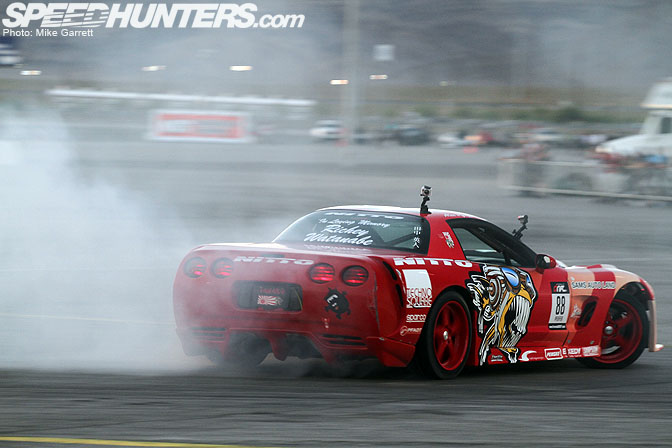 A spin by Miki would end up giving Alex and the 'Vette an easy win here.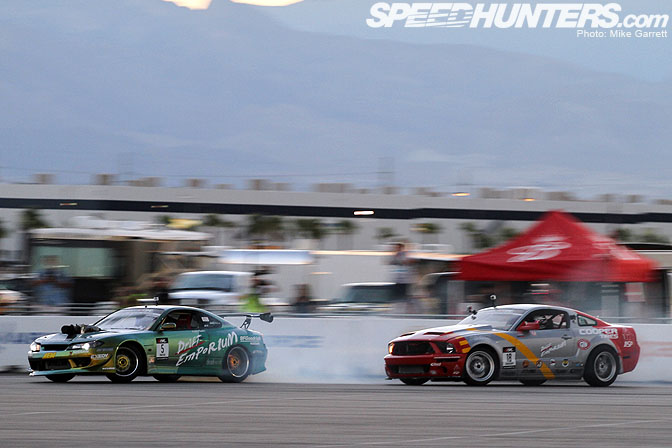 The biggest upset of the Top 32 may have been when Tony Brakohiapa defeated Michihiro Takatori. Takatori's been doing well lately, but Tony B's aggressive driving put him over the top in this one.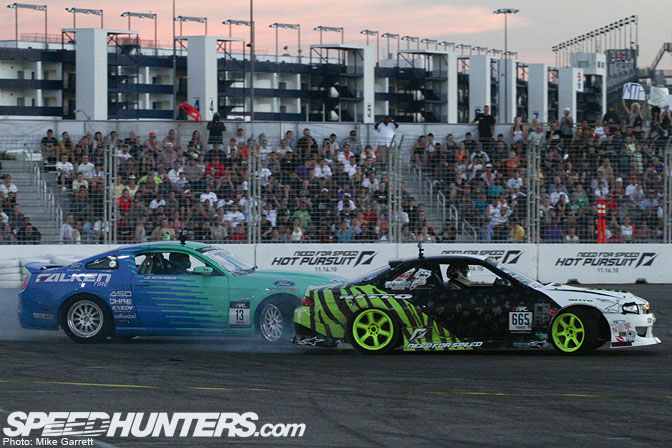 Matt Powers considers JTP to be his favorite driver, so it must have been strange facing him in the Top 32.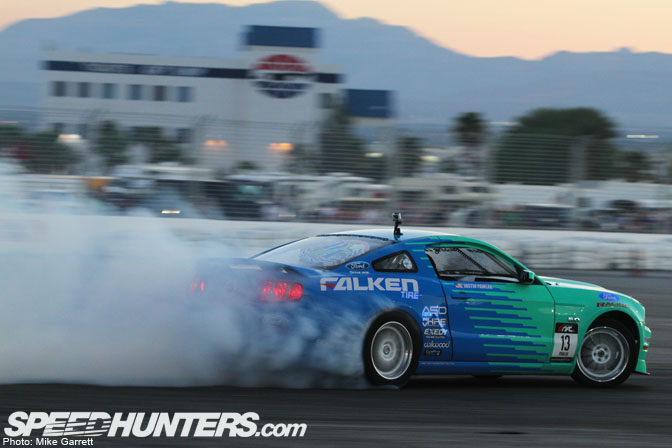 Matt's car looked pretty fast in this battle, but it just wasn't enough to beat JTP and the Stang.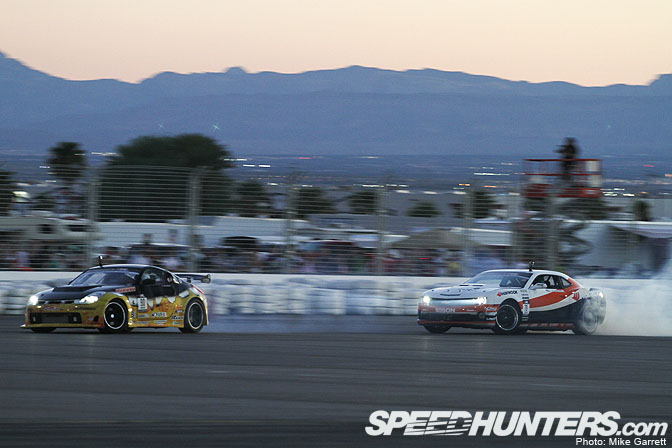 The match between Pat Mordaunt and Conrad Grunewald was a strange one. Conrad spun on the first run, but Pat spun on the second. Hmmm, an OMT should settle it.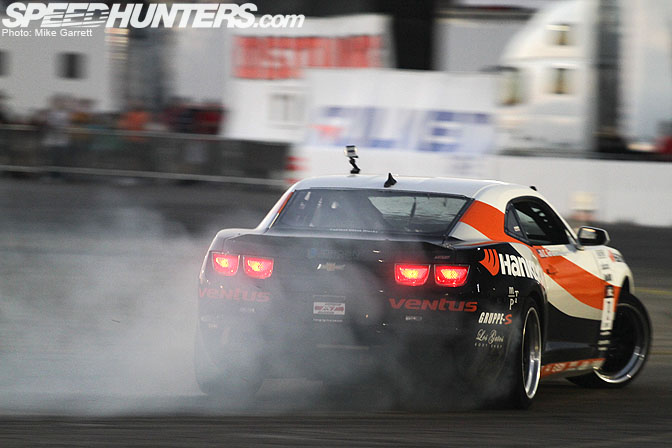 Conrad would advance from the OMT, while Pat must have been quite frustrated to see the victory slip right out of his hand. Such is drifting.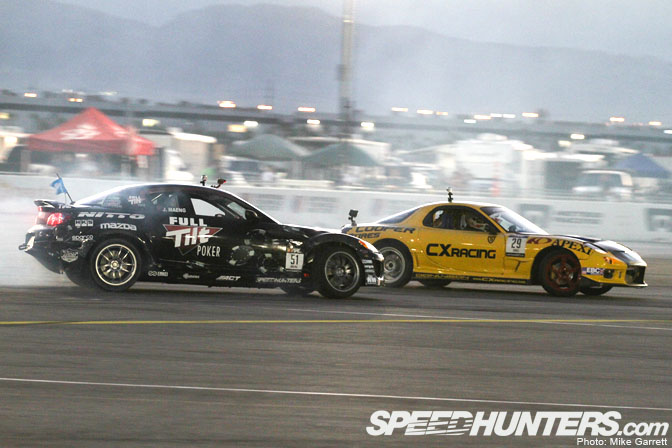 An all-RX battle went down next as Joon Maeng defeated Jeff Jones to earn a spot in the Top 16.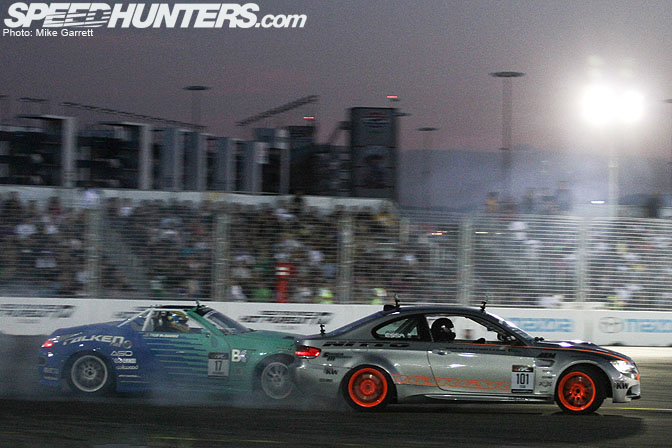 The most heated battle of the Top 32 was the one between Tyler McQuarrie and Mike Essa. Tyler's path to the podium was not an easy one.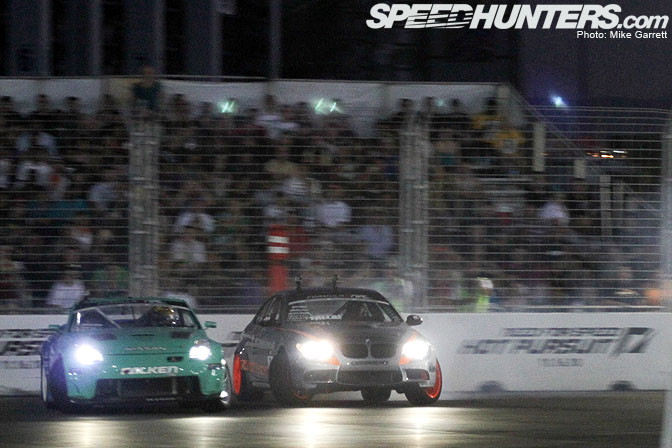 You can see the pressure that Essa was applying here. An OMT had to be called before it was settled.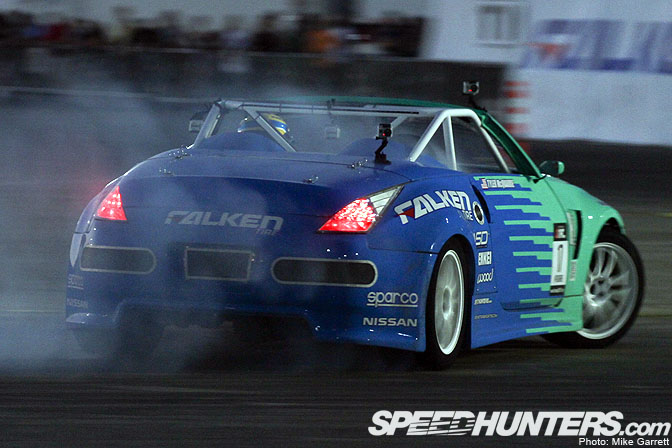 Eventually Tyler built a big enough advantage to earn the favor of the judges. A great fight by Essa though!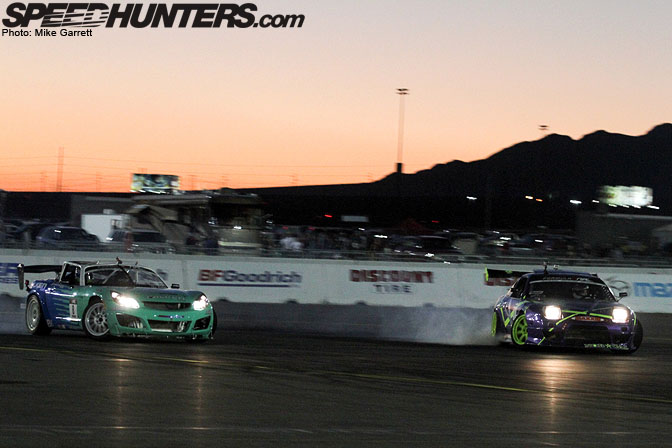 Finally, the Top 32 wrapped up with Darren McNamara defeating rookie Matt Field. It's got to be tough struggling through qualifying only to be matched up against one of the sport's most established drivers.
Again, that's drifting for you.
With the Top 32 over with relatively quickly, it was time to grab a drink and cool off a bit before the start of the Top 16 later in the evening. That's what we'll look at next.
-Mike Garrett