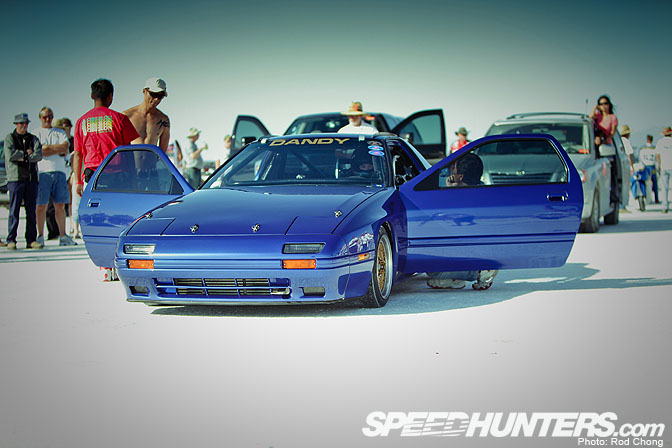 Ahh Bonneville… there must be something very rejuvenating about spending the day out on the salt flats. Each day I leave the event feeling grounded and inspired -kinda like I've had a nice day at the spa. In fact everyone at this event seems to be particularly relaxed.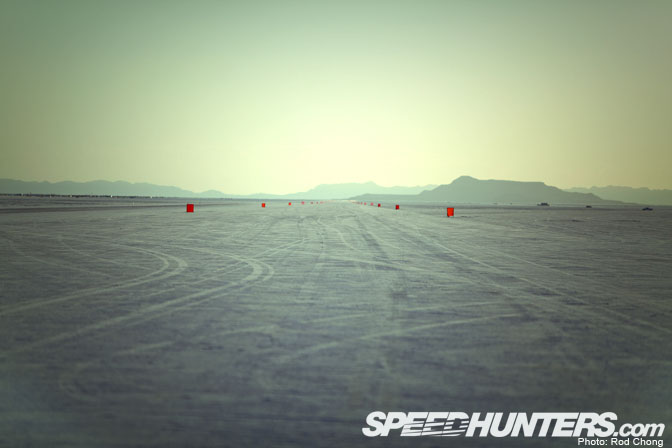 Maybe there's a cleansing quality to the salt…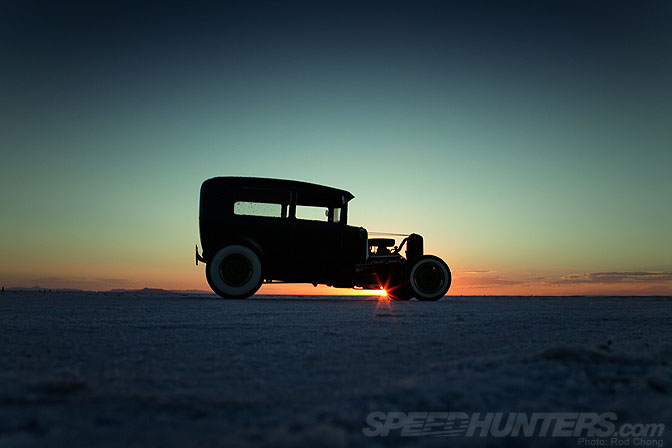 Or perhaps it's the fact that pretty well everyone at the event is living out their passion.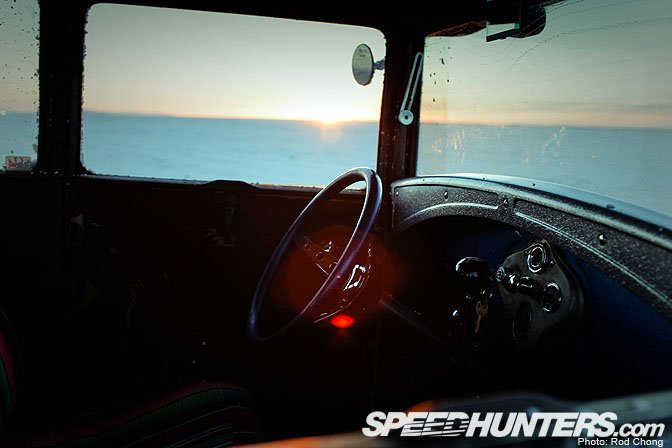 I'm sure the man who pilots this rod must feel like all is well in his world… at least for that moment that he looks into the distance and sees nothing but sky and horizon.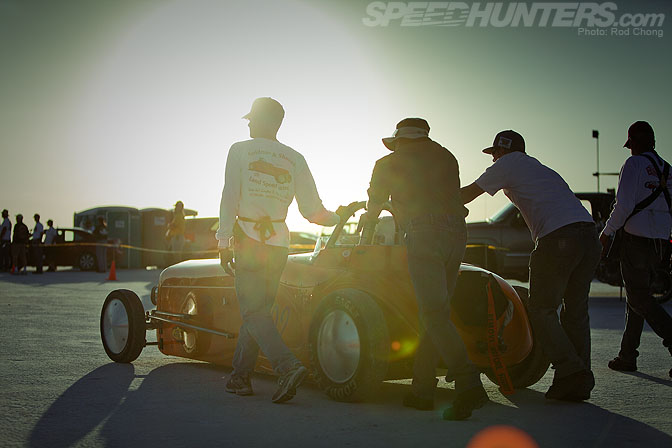 Anyway, let me try and describe for you what it's like to spend 6 hours
straight on the salt. Linhbergh and I arrived on location around 06:30
this morning, just as the late summer sun rose over the horizon. The teams were just starting to get ready for the first runs of the day.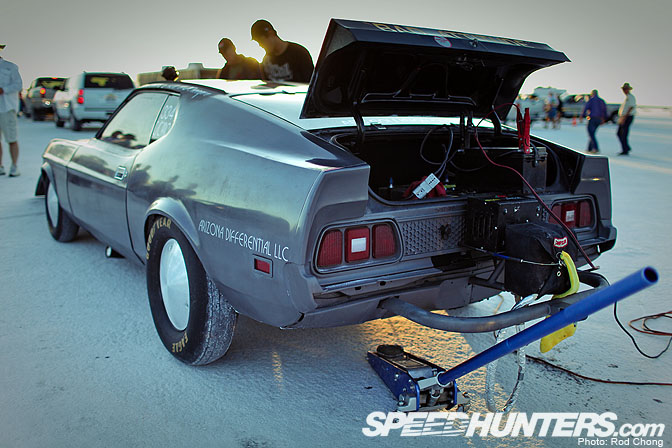 I decided to walk the line of cars queuing up and was instantly attracted to this 'Stang. Although this large 71-73 body-style isn't particularly fashionable with the collectors, it's one of my favs. Less obvious perhaps.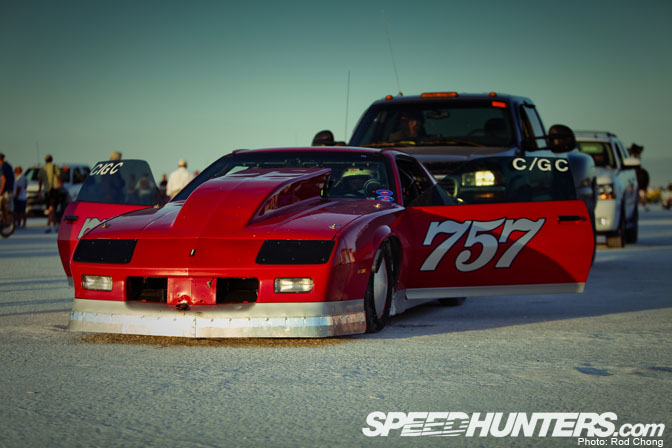 F body anyone? This Camaro is proper slammed and the good news for the purists is that it's for purely functional purposes only. Less air under the car is a good thing here.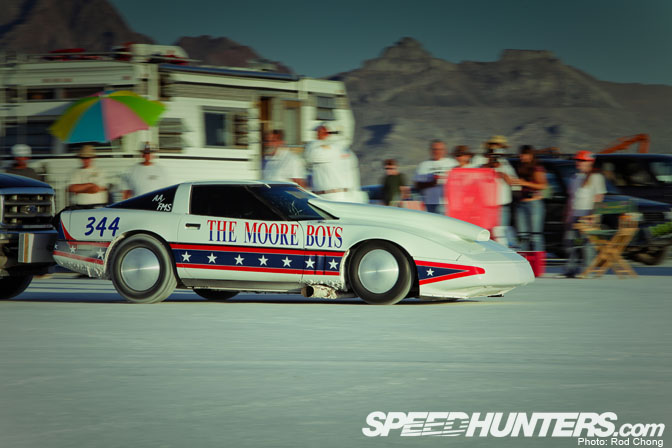 Hanging out at the Speed Week start line is a bit of a slow burn
scenario. There really isn't that much racing action to speak of.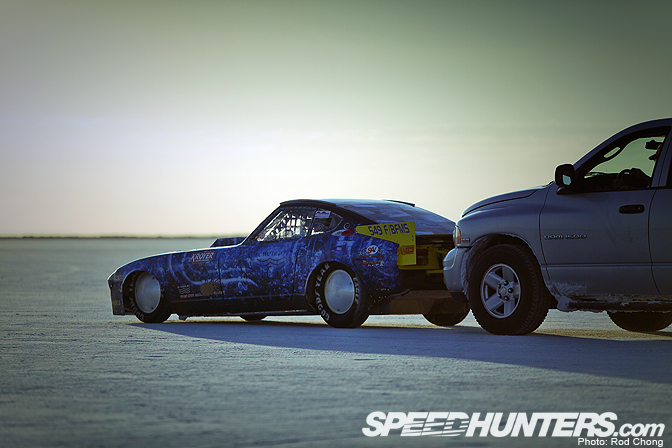 Every minute or so the silence is broken by a car leaving the start-line as demonstrated by this stretched S30.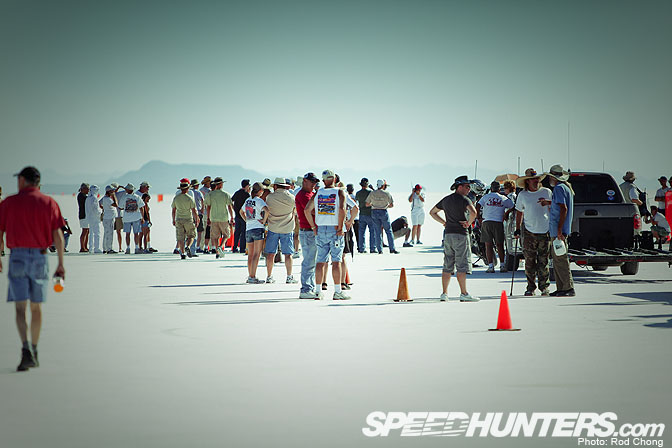 Most of the spectators don't seem to mind. It's a bit of an older demographic, who seem to be on hand to socialize as much to check out the cars. You get the feeling that most of these people have known each other for many, many years.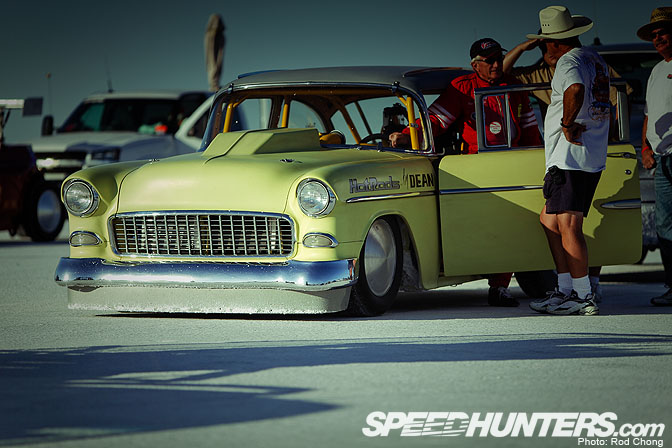 Hey I'm not complaining… I absolutely love seeing all the different types of race cars on hand. You get everything from pure classics like this '55 Chevy…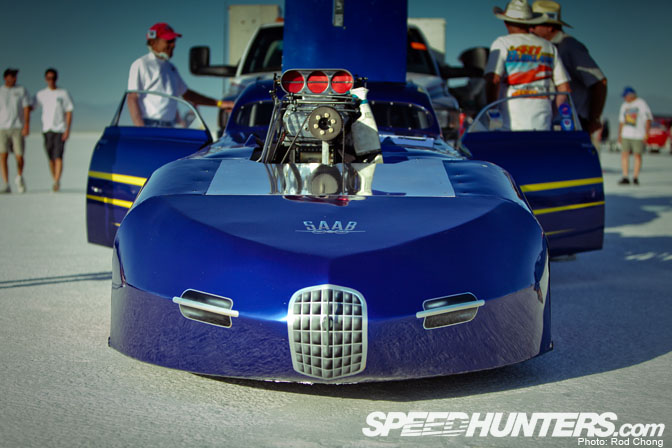 … to insane Blown Fuel Competition Coupes like this stretch nose '64 Saab. 300 mph anyone?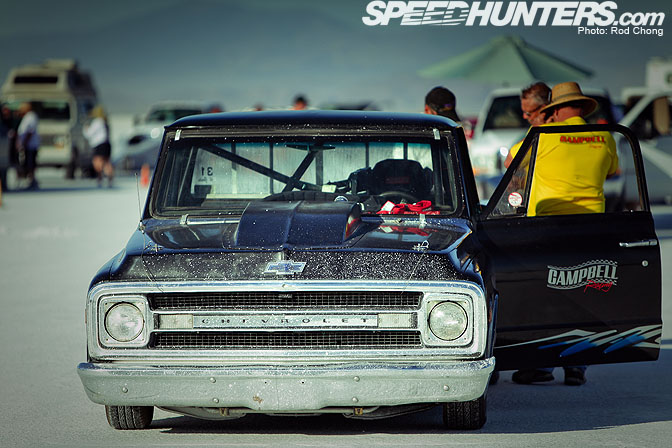 There are also classes for pickups too. This 1970 C10 pickup run by Campbell racing, would need to hit 193.402 mph in order to take home a new class speed record.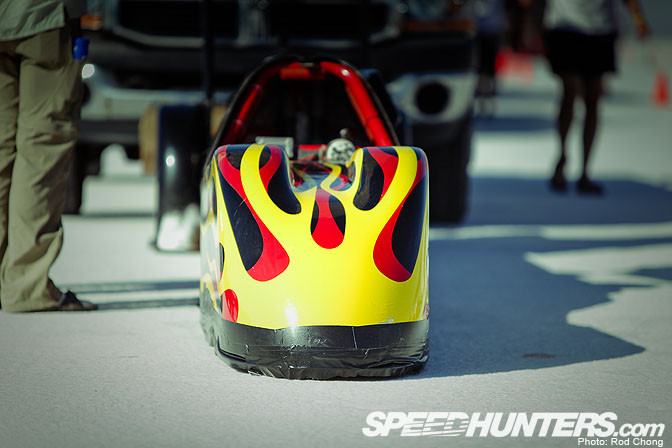 The streamliners come in all shapes and sizes and push the definition as to exactly what is a "car". Some are home brewed, while others are full large scale motorsports teams.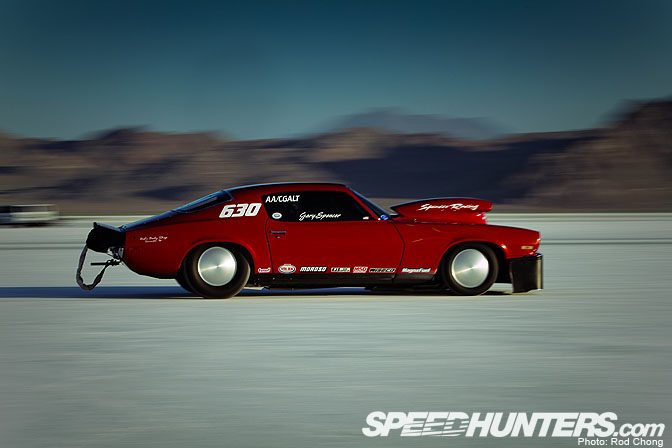 Another launch, another early 70's muscle car, this time of the Camaro variety.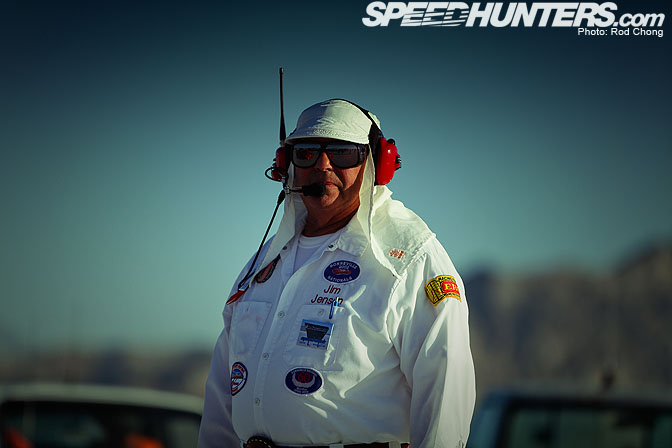 I find it truly inspiring to see the human relationships at play on the Salt Flats of Bonneville. There is no greater evidence to this, than to see the comradeship that exists between the main starter, Jim Jensen and the racers. He has words of encouragement for all the competitors, and is quite clearly friends with most of the old time regulars.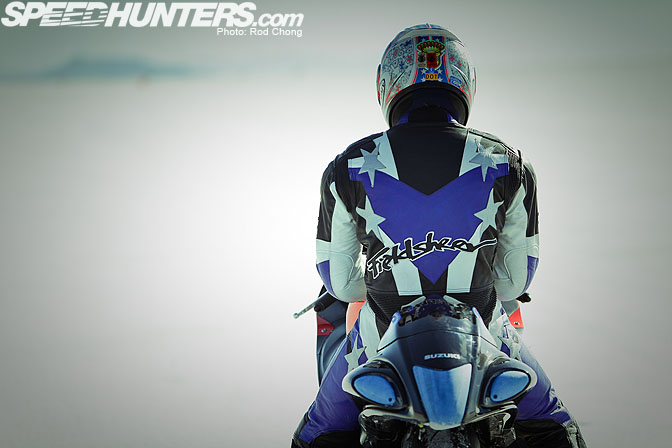 Although not a focus of the site, we do need to recognize the bikes, and the role they play at Speedweek. Here one of the riders contemplates his immediate future.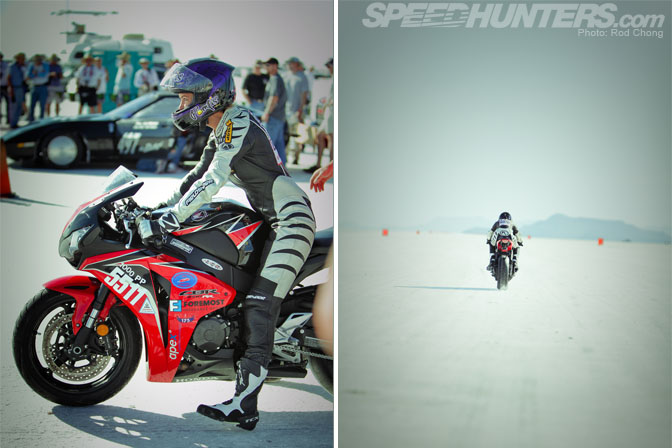 As an observer you can get more of a sense of the rider's emotion and mental state moments before they disappear down the salt.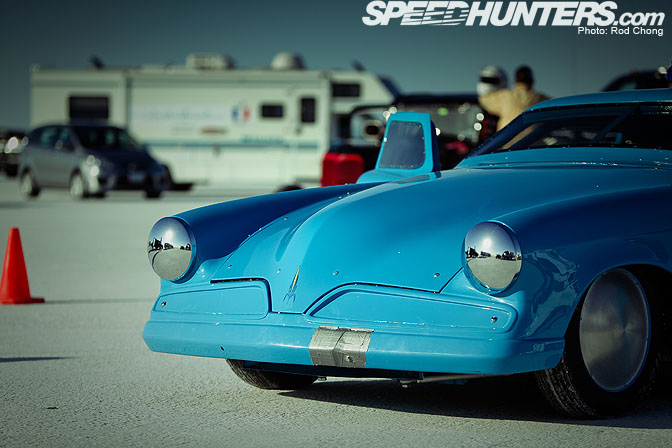 53-54 Studebakers are one of the more ubiquitous cars of choice at Bonneville… probably because of their sleek silhouette.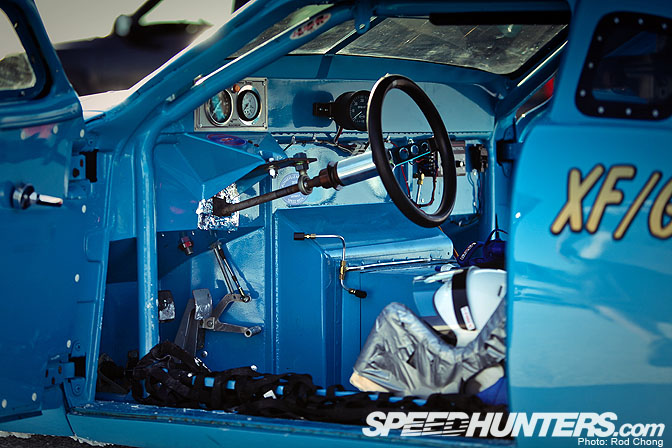 It's hard to tell if any of them contain production car bits though. Check the spartan cockpit styles of this rather monochrome example.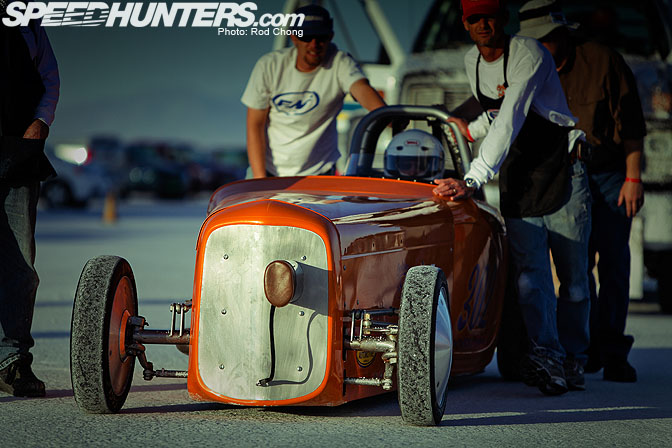 Roadsters are plentiful at Bonneville and come in all shapes and sizes. This particular example is powered by a '322 cubic inch GMC 6 cylinder engine.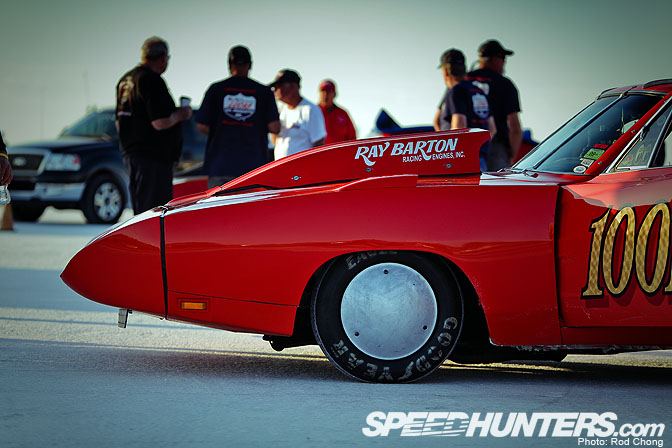 This Dodge Daytona was pretty hard to ignore… how could someone subject such a valuable car to the salt?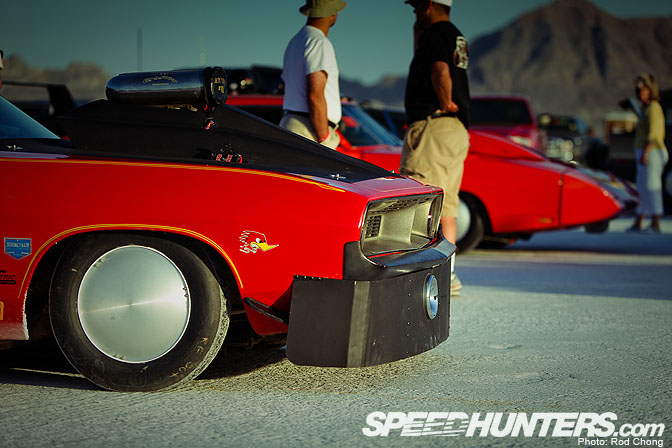 Perhaps it was salvaged from a junkyard to be given a second lease of life as a land-speed racer. The same thing could be also pondered of this blown 1970 Barracuda.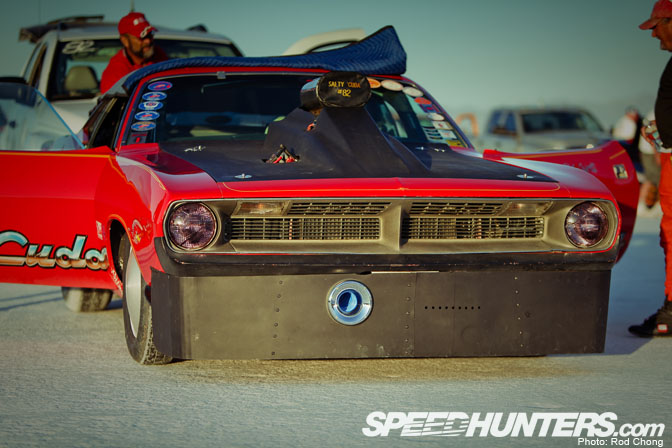 The "Salty Cuda" was aiming to best its own record of 210.208 mph set a few years back.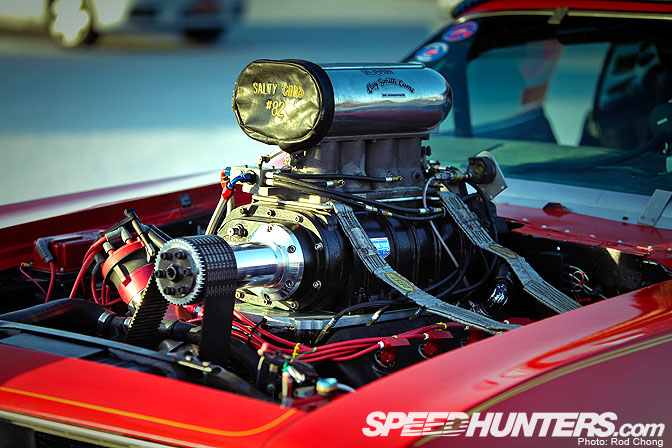 Wow that's a lot of engine! The blown hemi boasts a 426 CUI displacement. I can only imagine the power it's putting down.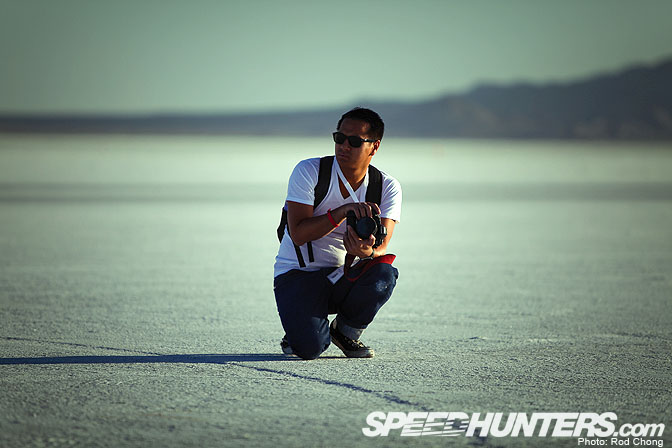 Linhbergh and I decided to wait near the start to see these two muscle cars off…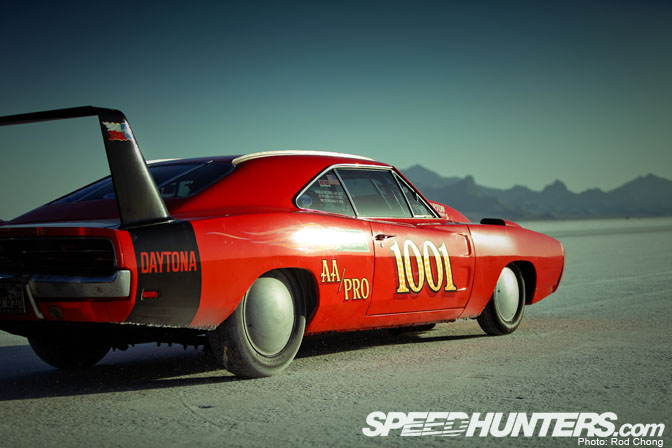 First off was the Daytona.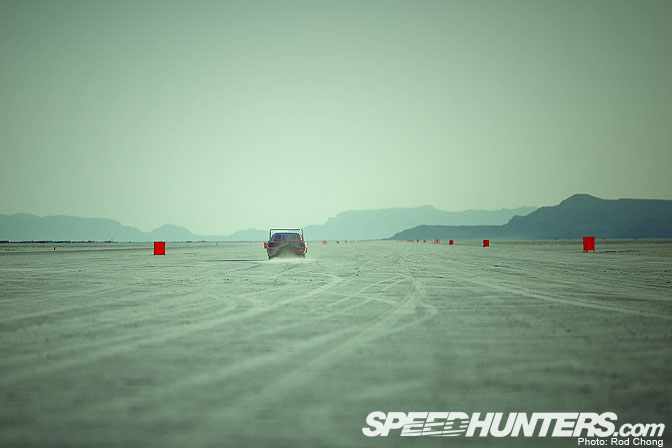 There it goes!… Just imagine the feeling… this car has hit 237 mph in the past… quite a staggering figure.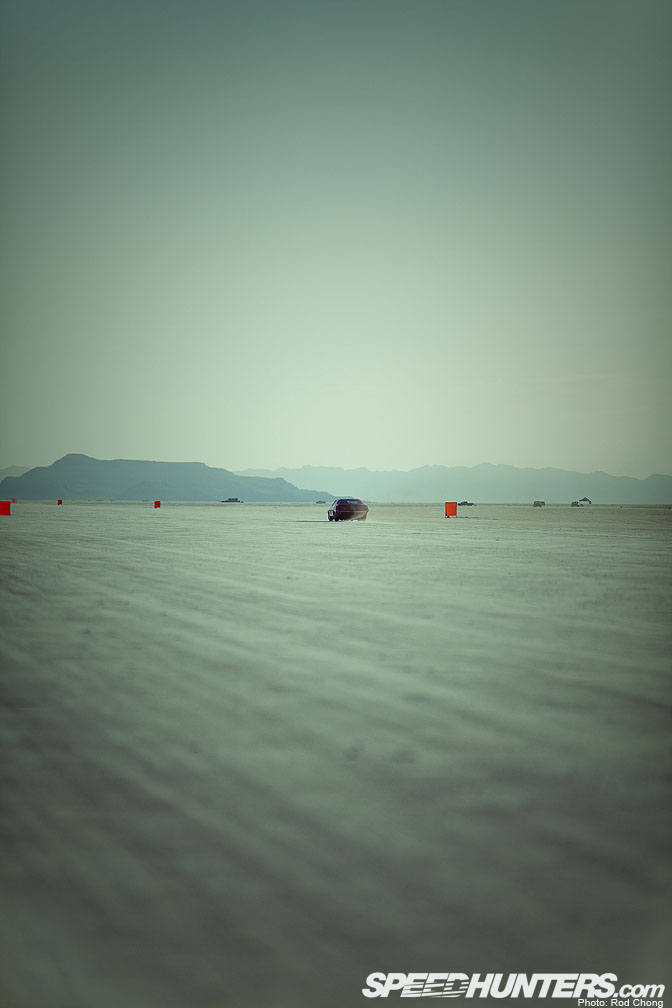 I'll leave you with this shot of the Salty Cuda launching down the salt. This should give you a sense of the vast expanse that is the Bonneville Salt Flats.
Back soon with more.
:Rod