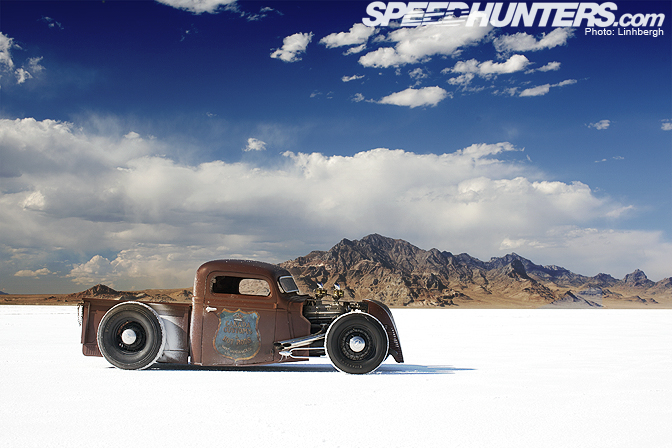 As a kid, I wanted to be an astronaut more than anything else in the world. The thought of traveling to worlds far, far away was a very romantic notion to me. It is now safe to say that my dreams of flying into the dark void of space and landing on alien planets is but a childhood dream. Well, that was until I stepped on whole different planet last year. It was a fantastic planet. The skies was blue and beautiful just like our very own but it's surface was completely covered in a white substance. Further tests indicated (taste test) that it was sodium chloride: salt.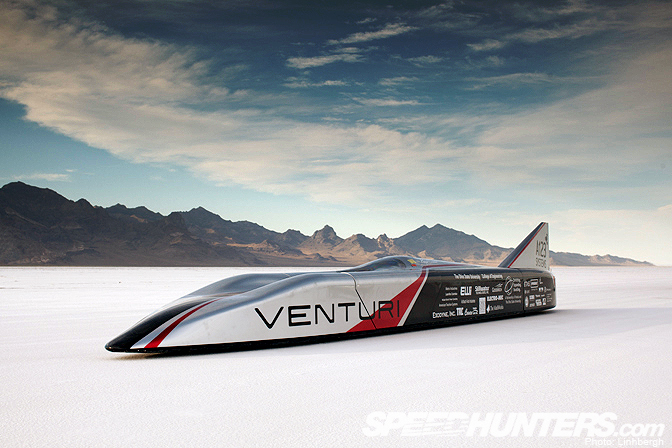 I started to explore this strange planet and found it to be filled with a technologically advanced civilization. This civilization traveled around in fantastic vehicles that we, humans, would think to be space ships. These extremely elongated and beautiful vehicles came in all shapes, sizes, traveled at speeds which boggles the mind. Traveling two to three-hundred miles per hour on land is but a trifle.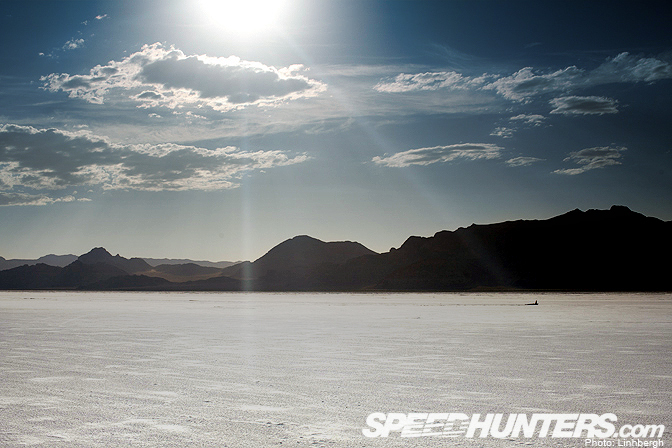 But really, what am I blabbering on about? Speedweek at the Bonneville Salt Flats, of course. It may be located on our blue planet, Earth, but once you've had your "one step for man, one giant leap for mankind" moment and touch down onto the salt, it'll seem that you've instantly traveled light years across the cosmos.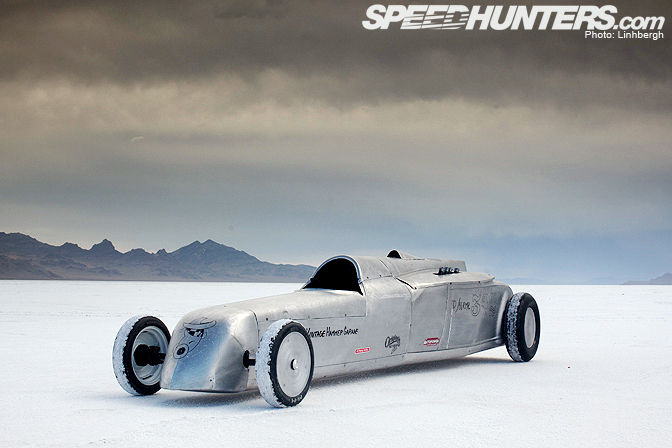 Where else can you see amazing contraptions, like this streamliner, designed to look like its from the future according to the 1940s?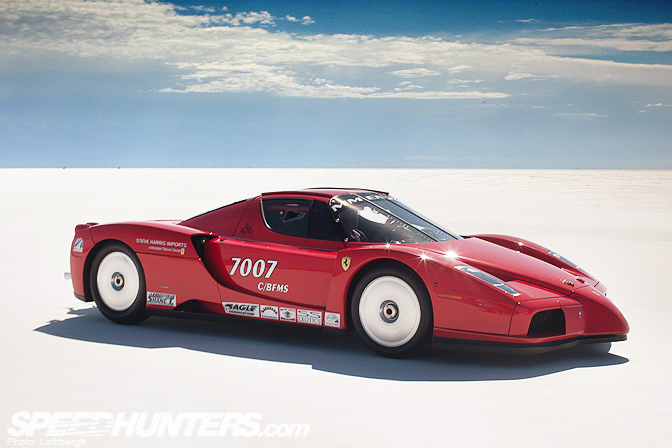 Or, catch a glimpse of a twin turbo Ferrari 
Enzo rebuilt to run at Bonneville?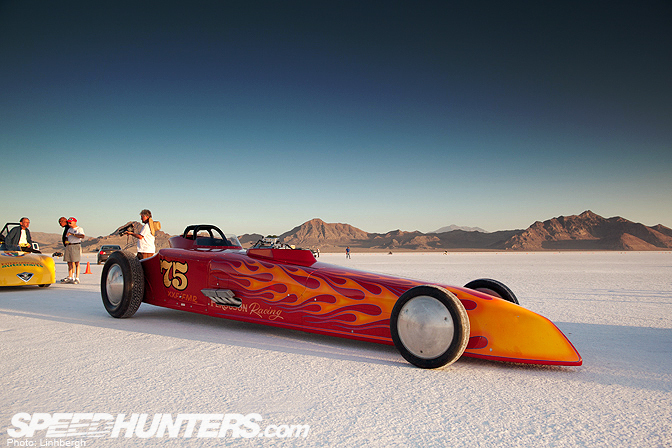 There's a crazy amount of variety here.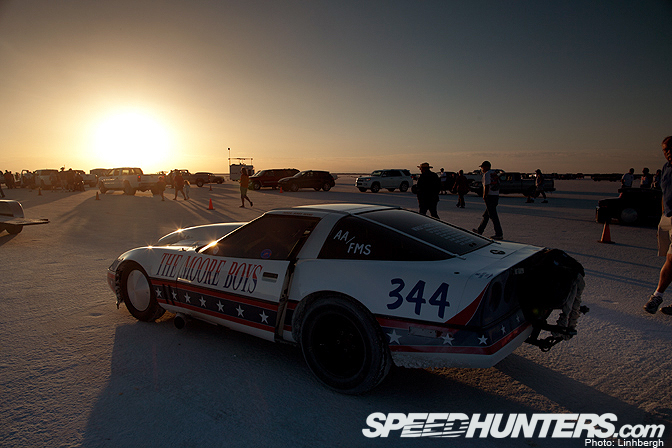 There really is no other place like Bonneville.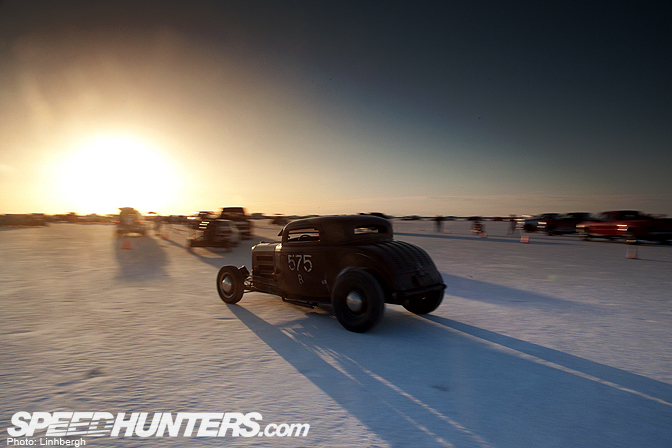 Seeing so many of these traditional and rat rods rolling about the salt really takes you back to another time….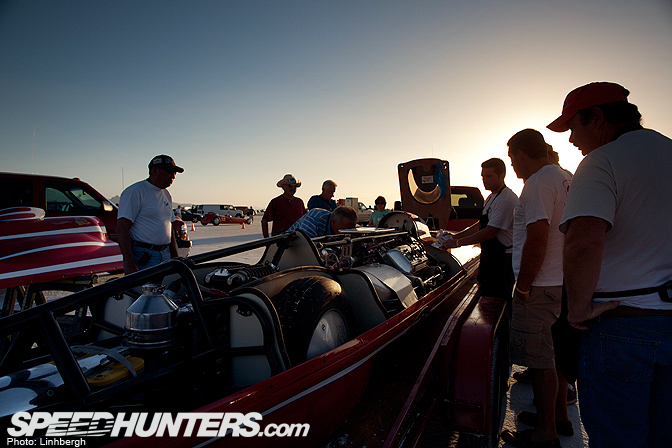 As big and bulky as streamliners are, they're very fragile. After everyrun, they get completely torn down, the salt is removed as much as possible, chassis integrity checks are made, the engine is looked over and prepped for another run.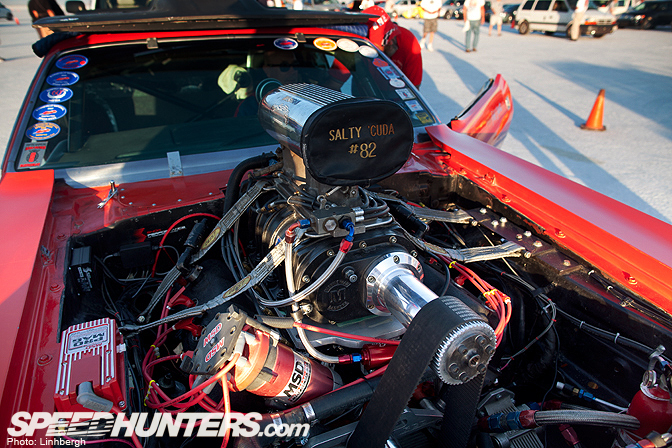 If that's not an engine, then I don't know what is.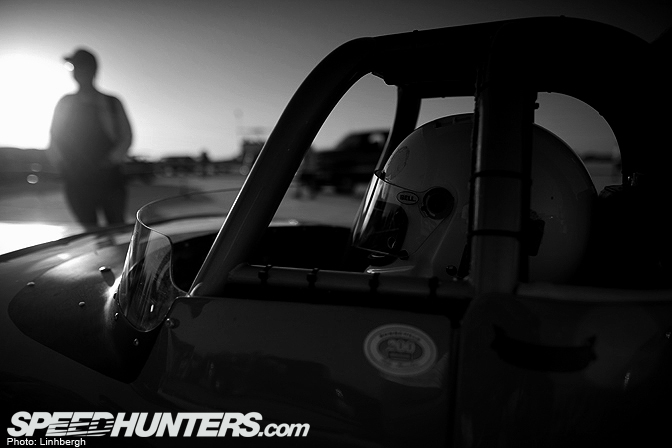 The faint morning light starts to become brighter and warmer as racers sit in their cars waiting for their morning record attempts.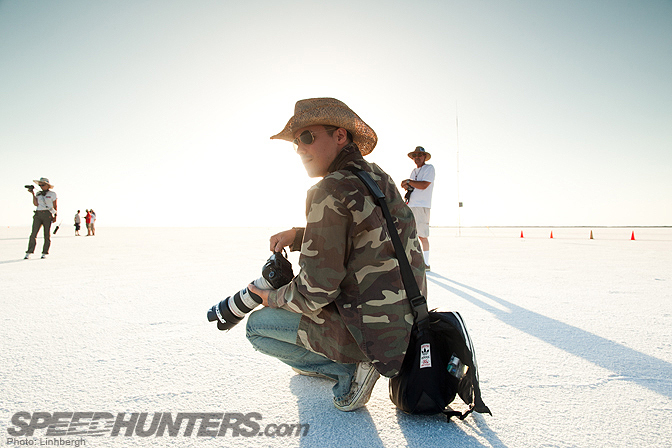 I'm sure both Rod and I stuck out like sore thumbs out on the salt with our strange non-standard-salt fashion: one of us was an asian cowboy and another was an asian greaser….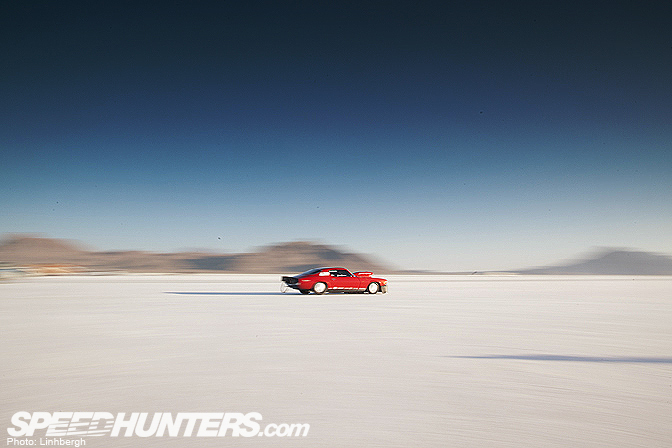 The cars that launched from the starting line without the help of a pusher had a lot more appeal to me.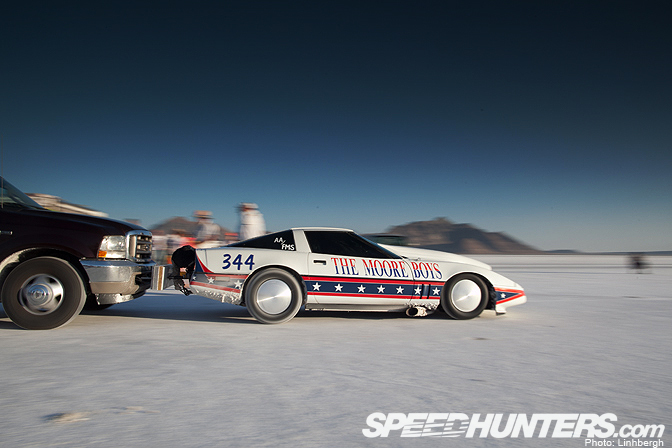 The only draw back to the cars that launched off the line without help is that those cars do not go as fast as the ones that did need pushers, like the streamliner below.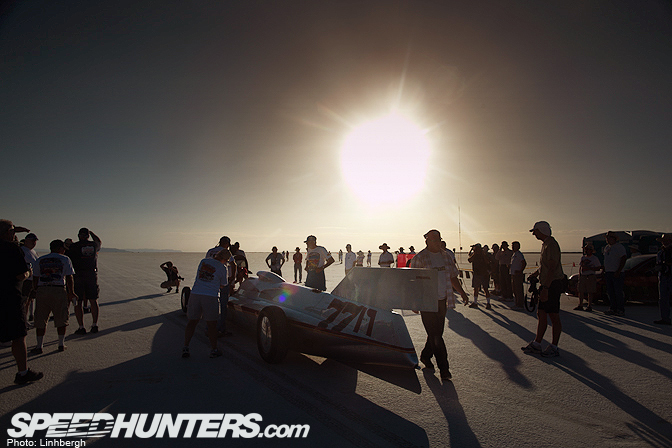 When these streamliners start hauling, they freaking haul hard. Their throaty engine noises resonate throughout the vast expanse of the salt. It's a sound that can only be heard out there!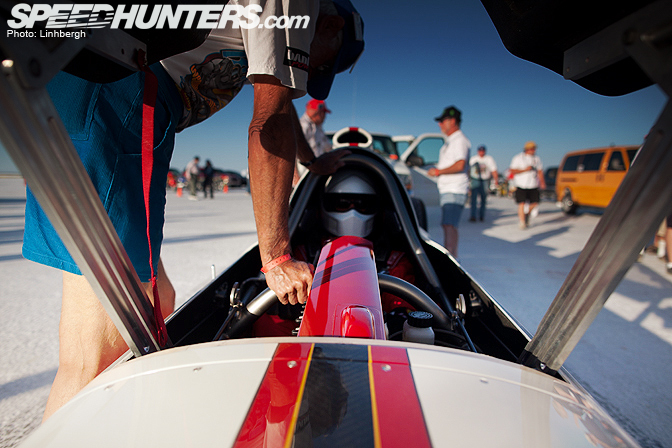 Some say that he feeds his speed addiction by moonlighting as a land speed racer during his TV appearance off time and that he's actually driven at the speed of light on The Salt….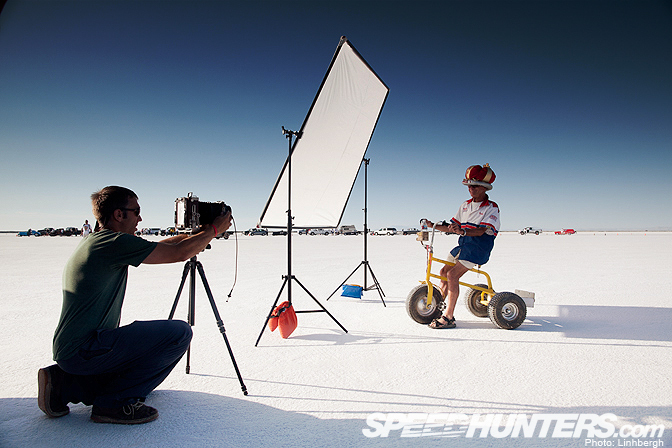 One of the biggest reasons why Speedweek is so special is because of the people. Everyone is a character and everyone is has a plethora of stories that seem just as fantastical as The Salt itself.
The man on the tricycle is Butch. He's been in attendance to Bonneville since the 60s. He's not a driver, nor an engineer, or team member. He's been infected with salt fever and comes year after year for the fact that just loves coming.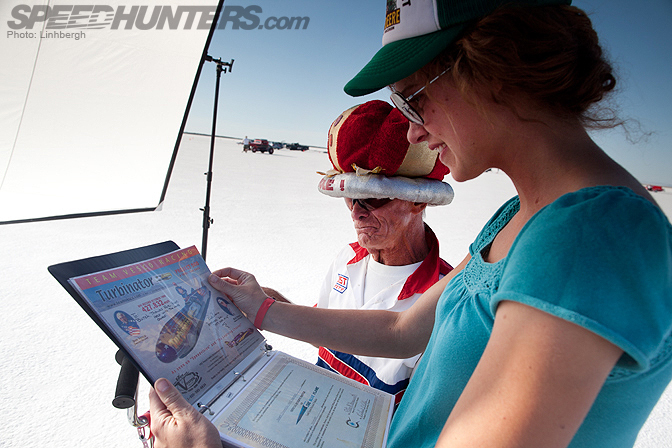 Butch pedals around the starting line, saying hi to all those familiar faces that he's seen year after year while meeting new ones. Here he's showing off his album which he's made. It contains awards, photos and newspaper clippings that have some sort of significance to him. It could be photos of the friends, spectators, signed photos of drivers, or photos of him throughout his salty adventures across the many decades. 
While we were flipping through his album, he would slightly choke up as he pointed out which drivers have passed away on the Salt. It saddens him that he's out lived many of his closest friends.
And that's just the tip of the iceberg of the many people and stories that can be found throughout the Bonneville experience.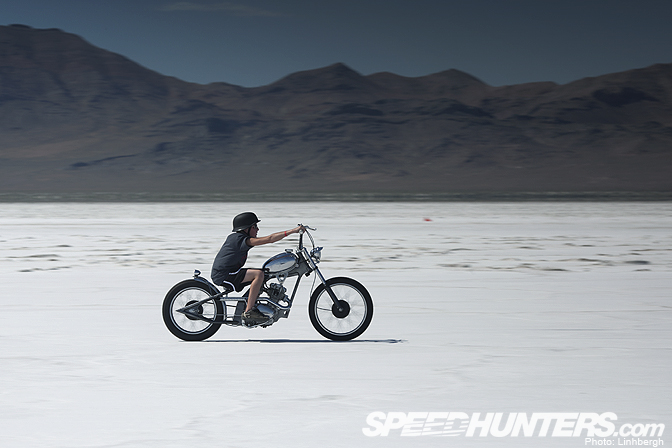 Originally, I posted on our facebook page. But I can't help but share the hardest kid ever once again. This kid is living life and he totally knows it.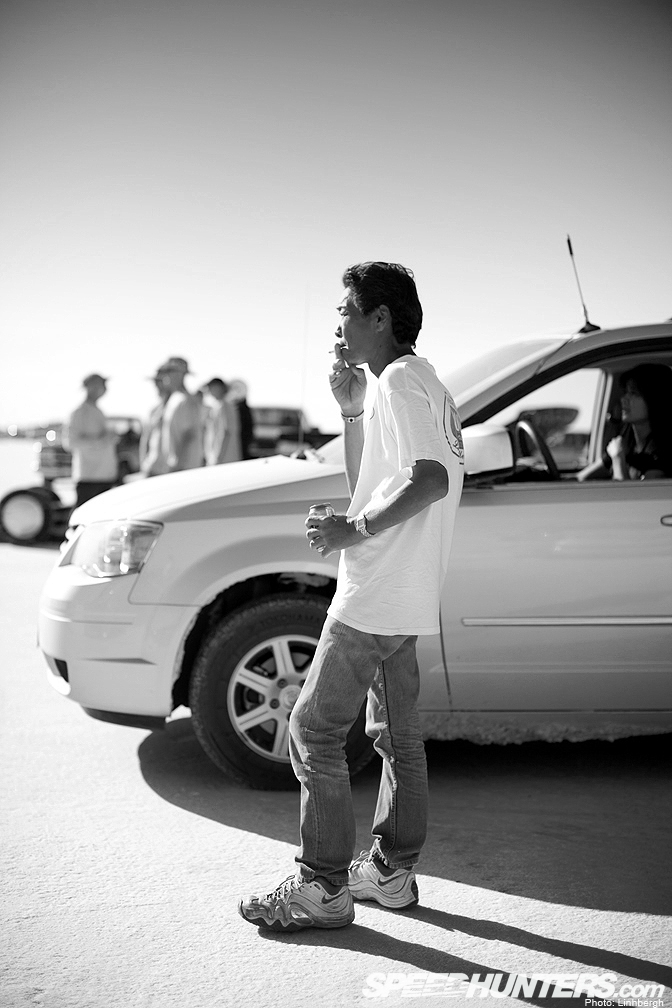 The Dandy team was in good spirits before their run, but father Dandy was a bit more reserved. He's a man that's been out to the Bonneville many times and knows exactly what this place can do to those less fortunate. It is a bit disheartening to hear that their gorgeous blue RX-7 is now totaled.
Let's hope to see them out on the salt next year!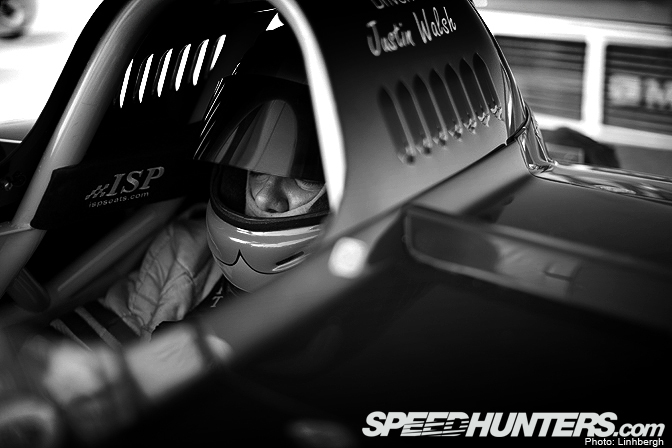 This is a common sight seen in all forms of motorsport. Before any racers goes out to preform they take a quite moment to gather up inner strength and build up concentration. Just imagine the amount of concentration needed to drive at 400+ miles per hour!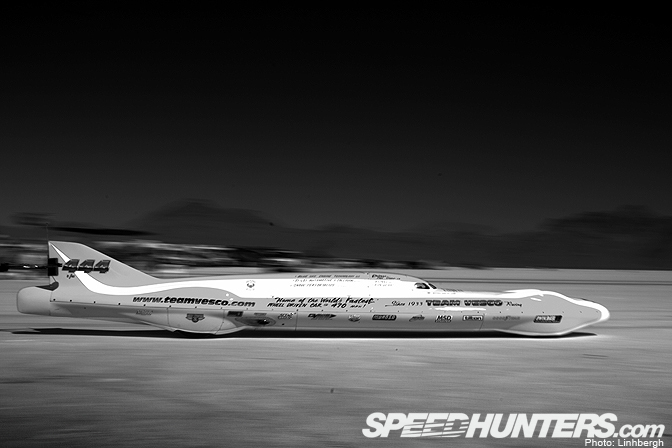 I'm sure every boy growing up, in some form or another, drew spaceships or futuristic cars that looked similar to this steamliner. Some of us grew up and moved on but a few stayed young only to grow up to actually create their childhood drawings.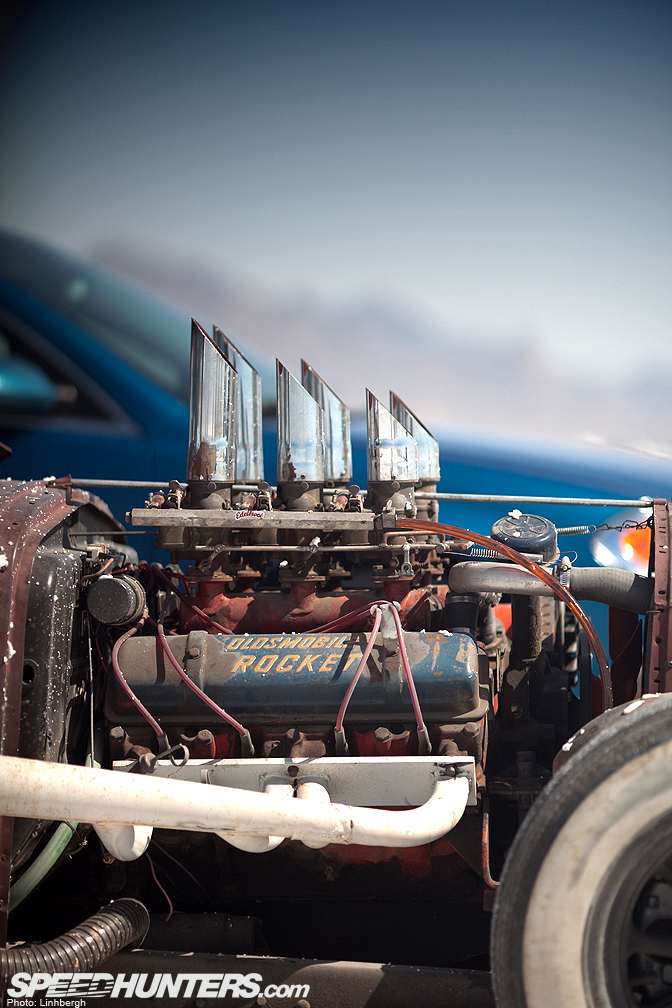 Beautiful engines can be found throughout the event. If my rocker cover had on it "Oldsmobile ROCKET" I'm sure the badassery level would be a bit higher than normal.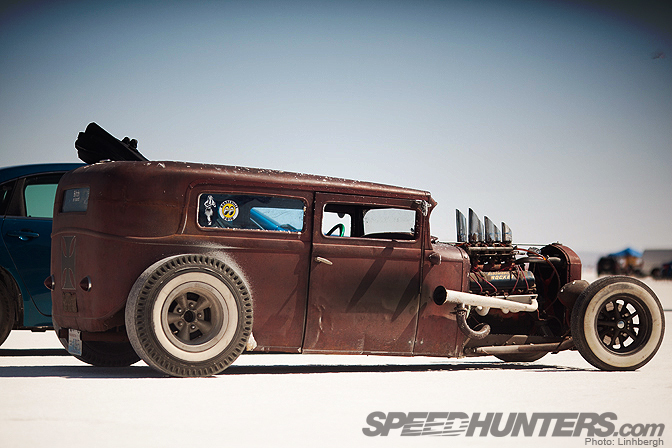 The rat rod which the houses the Oldsmobile Rocket V8. Badass? A whole hearted yes.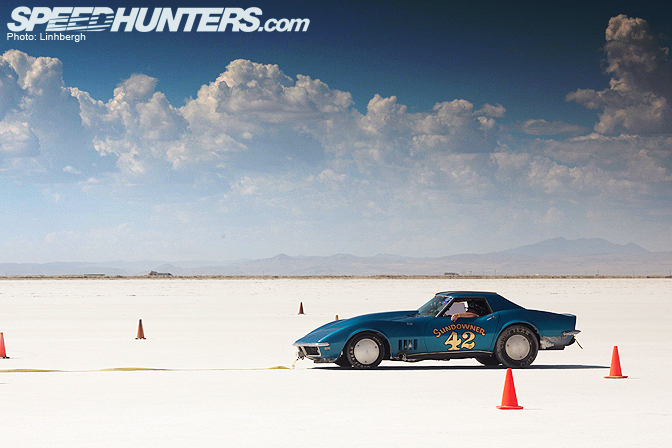 Each day brings different weather conditions to the Salt. Our first day on the salt was a beautiful partly cloudy day –not too hot, not too cold. The second day was an oven of an event with clear blue skies and the third day started off extremely gloomy with thunderstorms, lightning, and rain. And as the day progressed, the cooler temperatures and clouds departed and was replaced with extremely high winds which closed the course for a good couple of hours.
The Salt's unpredictability reminds everyone that it still rules the day.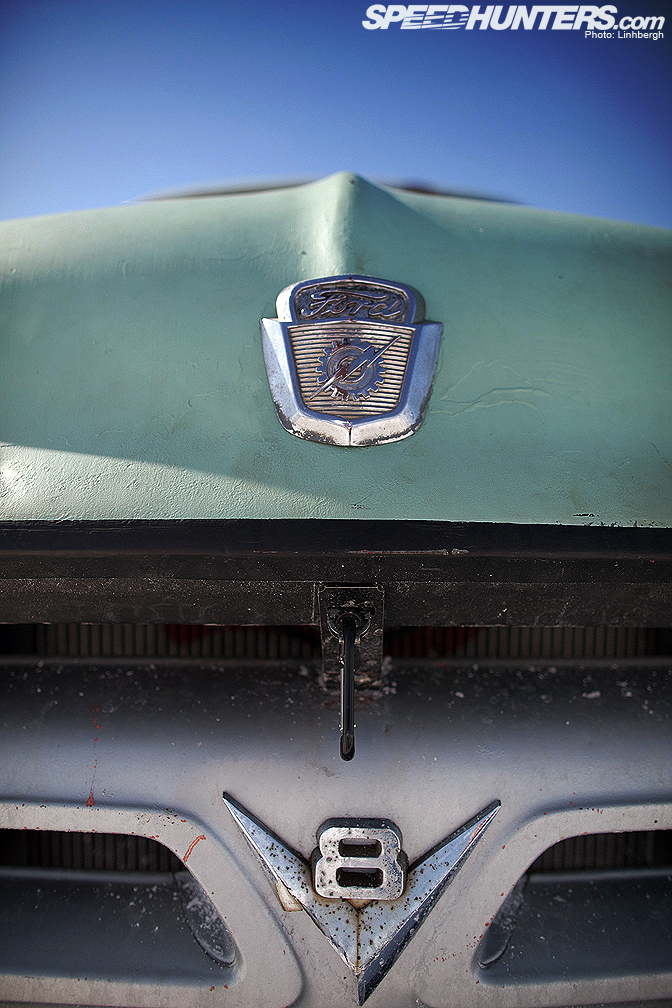 The salt gets everywhere.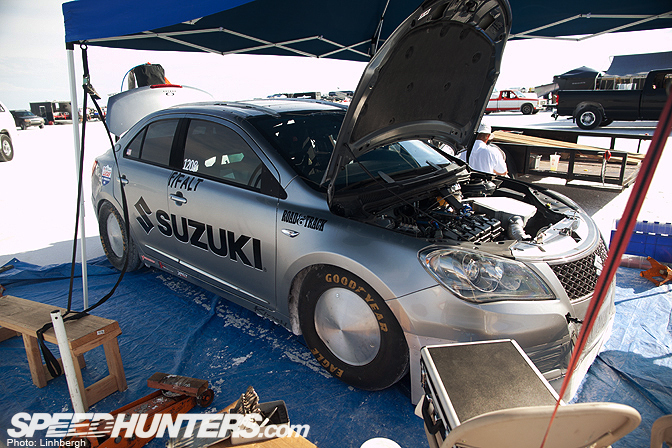 This is the Road&Track Suzuki Kizashi landed itself a new record by averaging 203.72 miles per hour between two runs. Here it is in the pits getting its turbo removed to try to break a naturally aspirated record!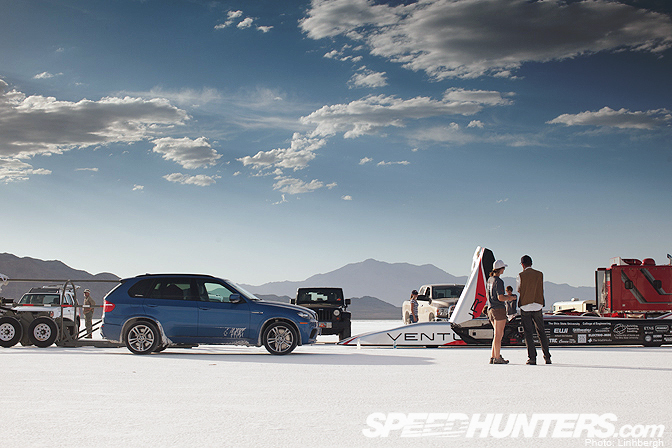 The poor X5M has gotten a good salting in the past few days, but if it had a face, I'm sure it'd be smiling ear to ear. I'm pretty certain not many X5Ms will ever live to see such salty beauty….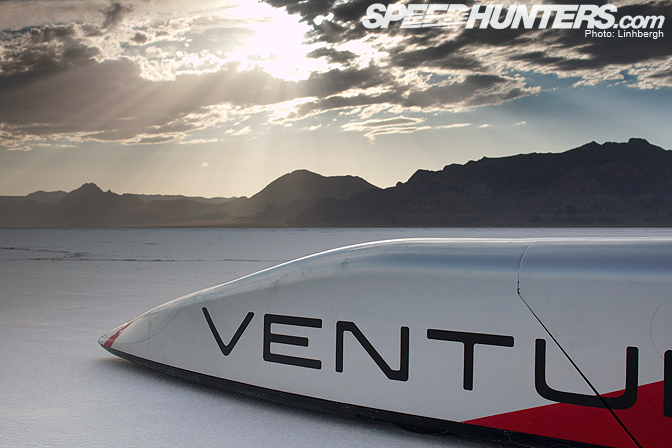 The last day on the Salt was a bitter sweet affair. I'm saddened that I have wait another year before I am once again able to step foot on the, seemingly, alien world of the Bonneville Salt Flats, but also honored that I was able to attend Speedweek for the second year in a row. It's a truly magical place. There seems to be something in the salt because it gets into you. It puts you into a relaxing lull as you go about the event and you somehow become addicted to the place, the cars, and the people around you. And when you do finally leave, The Salt gives you its most important present: its memories.
Throughout the course of the year till this day, I've been asked "what has been the most amazing thing you've done as a Speedhunter" countless times.
And each time, the answer is always the same:
Bonneville.
-Linhbergh