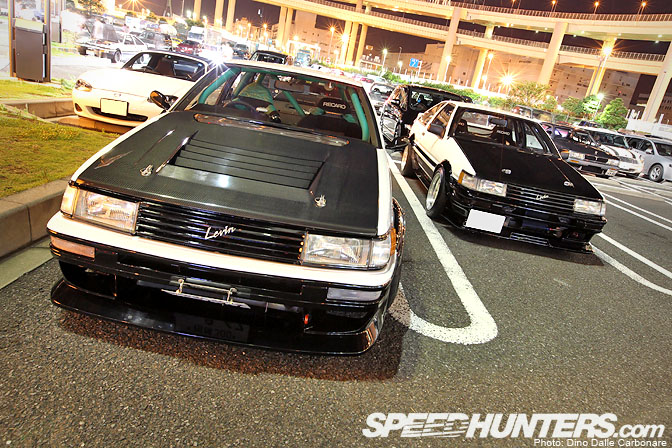 It's back at Daikoku PA now for a final look at the AE86 Day meeting that went down last Friday. The action, yet again, was abruptly cut short by the Police who by 9 pm had already closed the entrance to the parking area in an attempt to keep more loud bosozoku bikers from entering. Since a lot more hachiroku were meant to arrive the meeting began to disperse as people started heading out to Umihotaru PA on the Aqua Line, the usual back-up location when Daikoku gets shut early.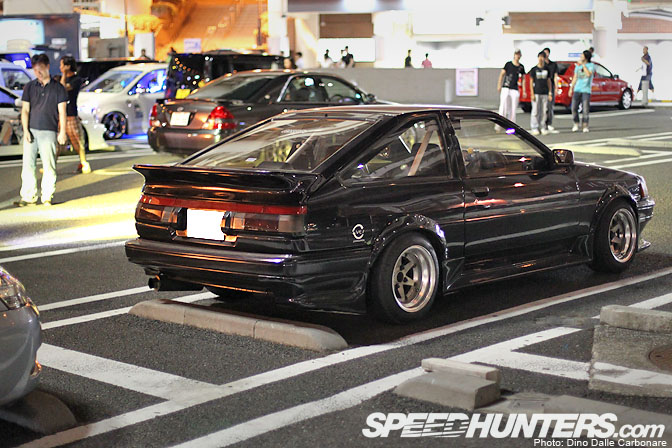 But since I was on a tight schedule and had no time to head on the Aqua Line…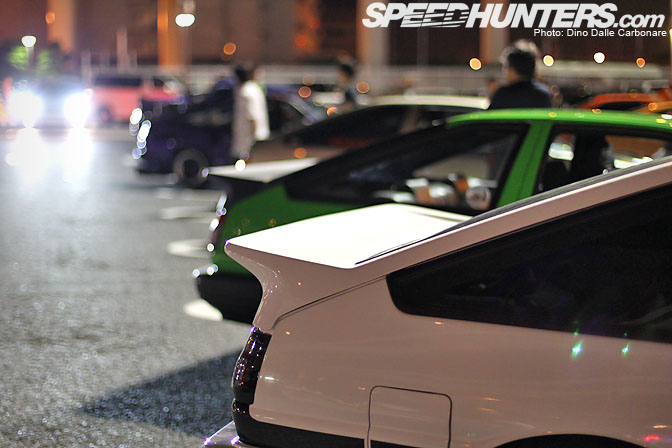 …I did another quick lap of the parking lot to take a few final shots.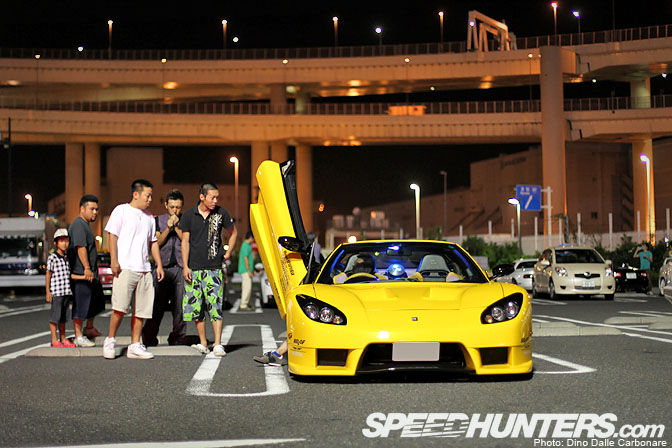 Since some of you are not into the whole AE86 thing I thought I'd throw in a couple of shots of other cars that were present. How about a Veilside Fortune NSX, a car I seem to bump into quite often at these kind of gatherings. One of Yokomaku-san's last creations.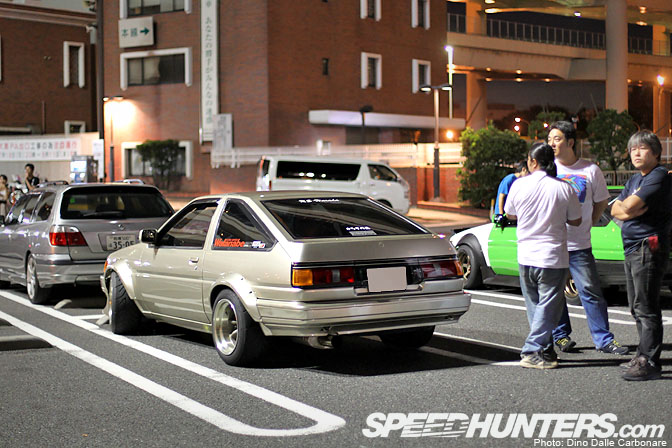 Car guys chatting about cars…the essence of the "Daikoku Meet."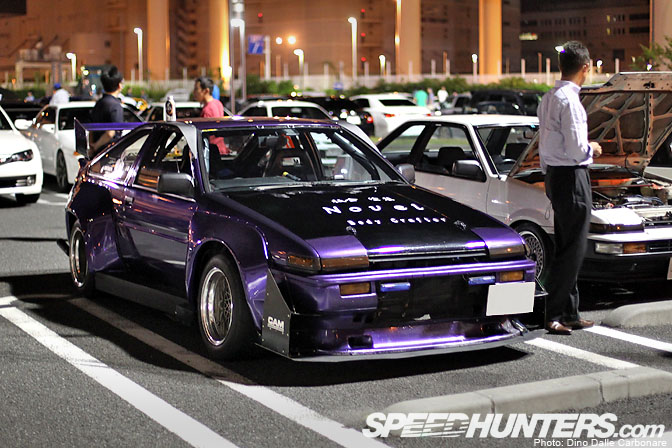 We saw a few shots of this purple Shutoko racer in Part 1…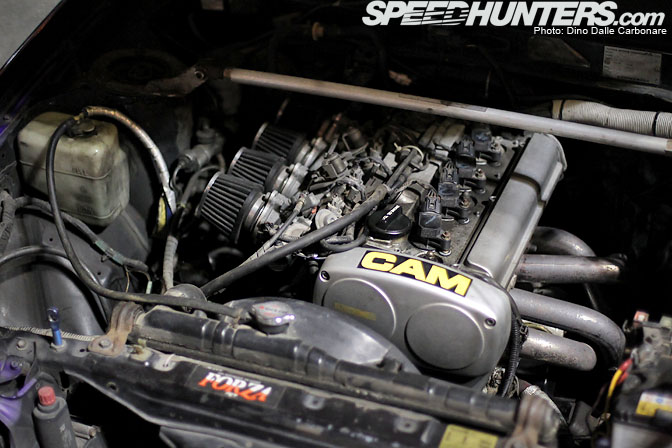 …but I thought it would be cool to show you what propels it. Things might not be *** and span in the engine bay but seeing a silver-top 20-valve 4AG means some serious work has gone into tuning it.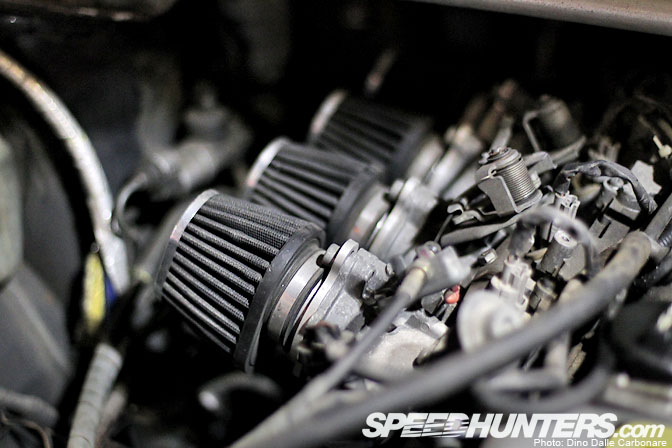 Individual cone filters for each of the four direct intakes.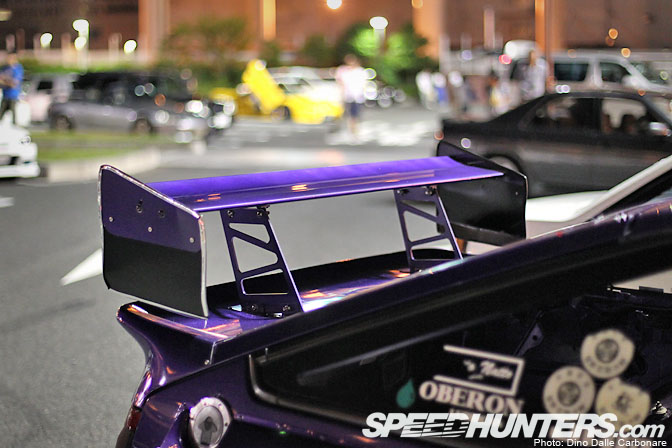 A lot of attention has gone into giving it a very unique grip-look, with countless aerodynamic add-ons like the massive wing…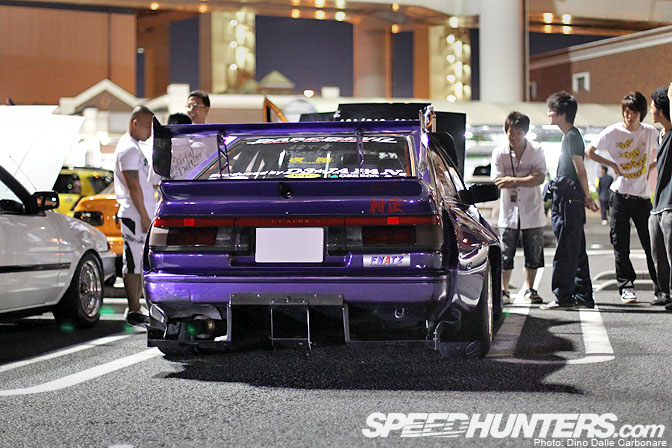 …carbon diffuser…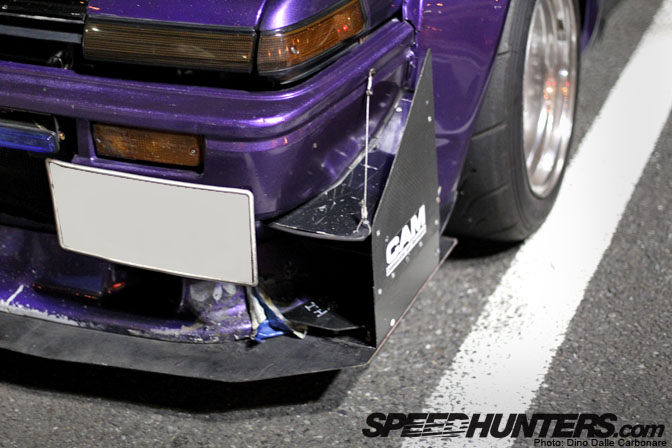 …and a front splitter with custom canards at each corner for better front-end bite.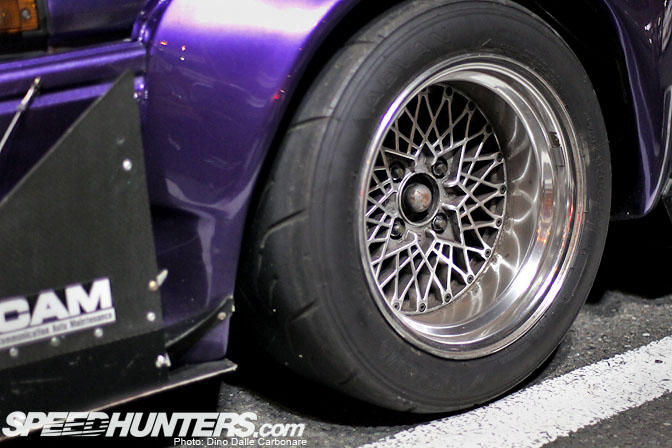 Keeping the car glued to the tarmac through those bumpy corners on the C1 are the chunky Advan A048 semi-slick tires mounted on classic SSR rims.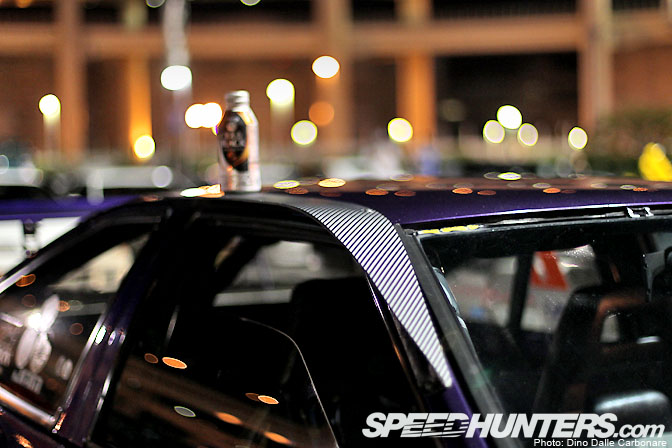 Even carbon fiber spoilers mounted around the window frames…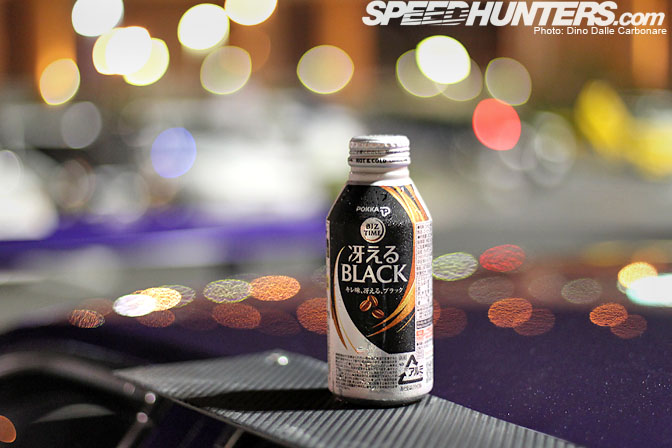 …which come in handy as mini tables on which to place the odd can of Pokka ice coffee!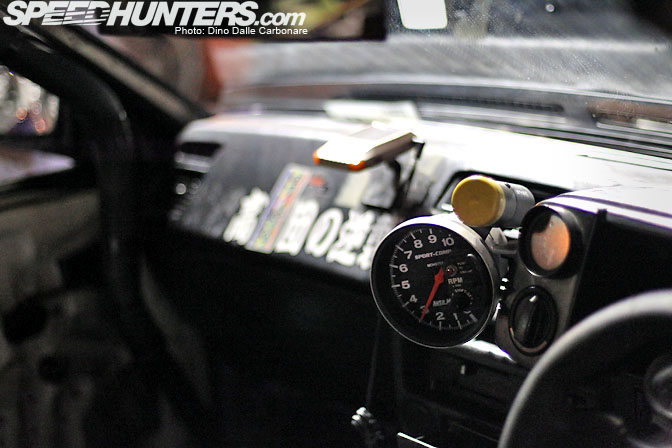 Pure street racer inside with a massive dash-mounted Autometer rev counter and shift-up indicator.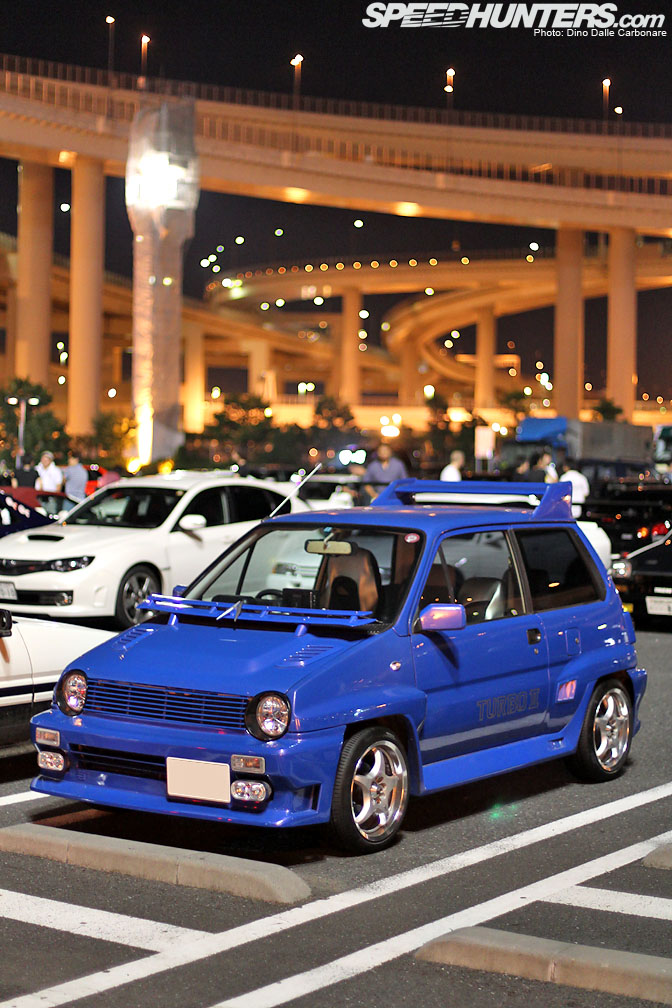 Another little bonus car for those that are not too interested in Corollas, a vintage Honda City Turbo II, in perfect showroom condition and sporting some very curious 80's aero bits. Gotta love the hood spoiler with the massive Acura logo!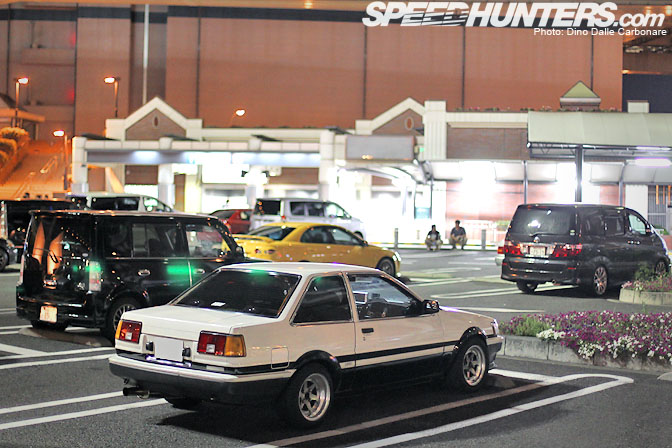 My favorite hachirokus are always the simpler ones, panda coloring, vintage wheels, nice stance and you know you are onto a winner.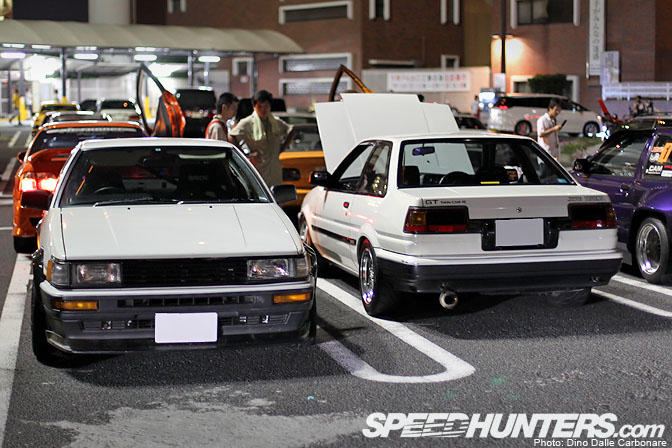 Another few examples like the Trueno coupe we looked at yesterday…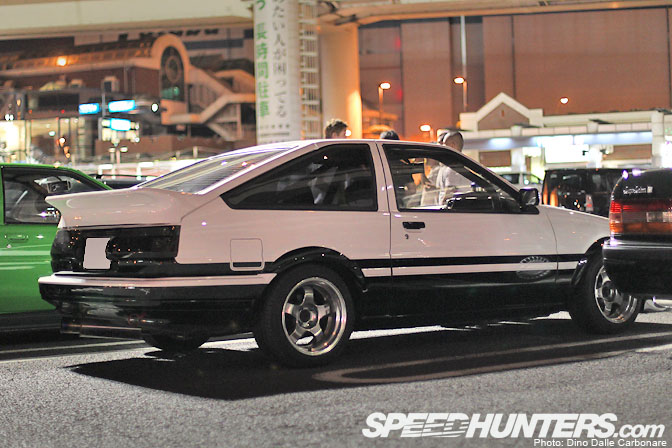 …and this hatchback, one of the last cars to make it into the PA before it got closed.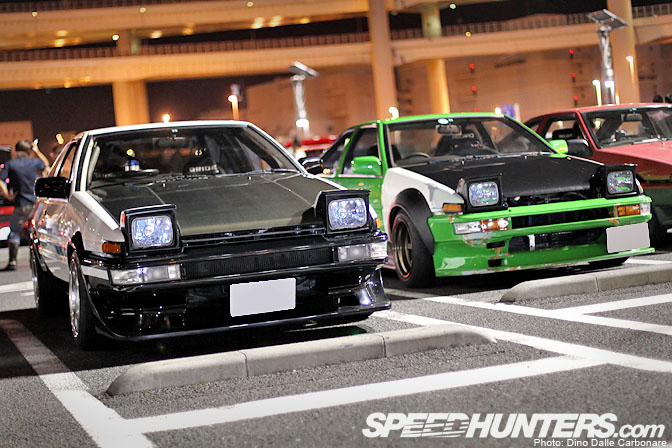 HID conversions or regular bulb upgrades are one of the most popular modification owners like to carry out on their cars. You can see the blue bulbs reflected throughout the headlights of these two cars.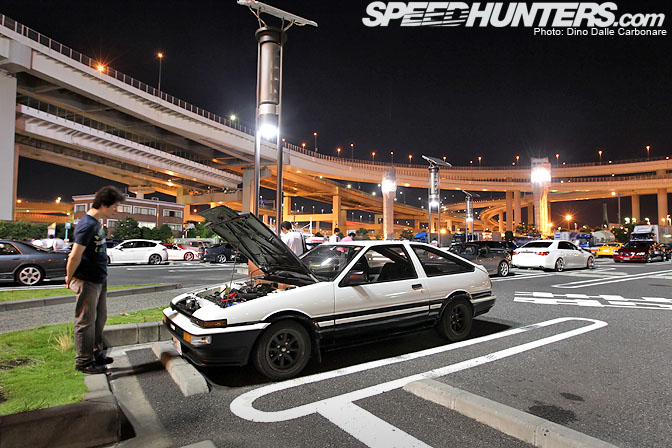 And yet another white on black Trueno…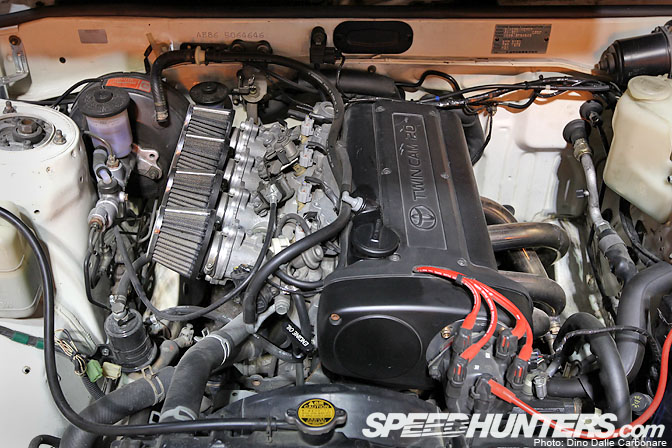 …but fitted with a nice 20-valve blacktop. Me likes.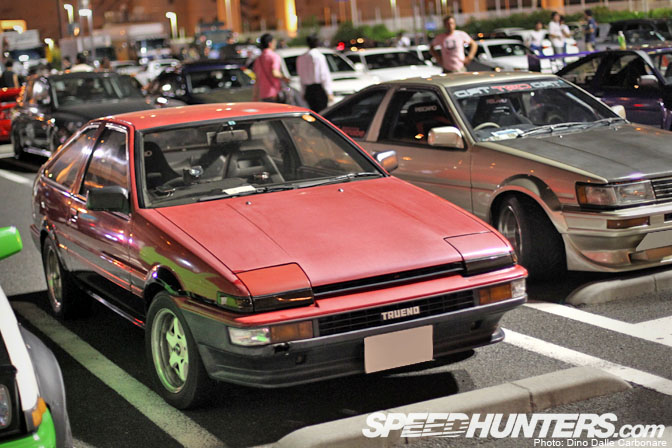 The non-existent clear-coat on the hood of this red Trueno hints that it was still wearing the factory paint.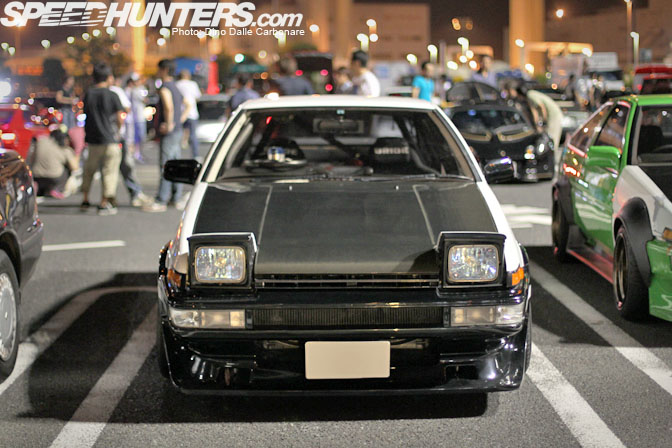 With most AE86 all gone by 9:30 pm I jumped in the car satisfied, and began my long drive up to Fukushima-ken as most of the guys continued on to Umihotaru to meet up with even more AE86s. I would have loved to go, but time was not on my side.
-Dino Dalle Carbonare