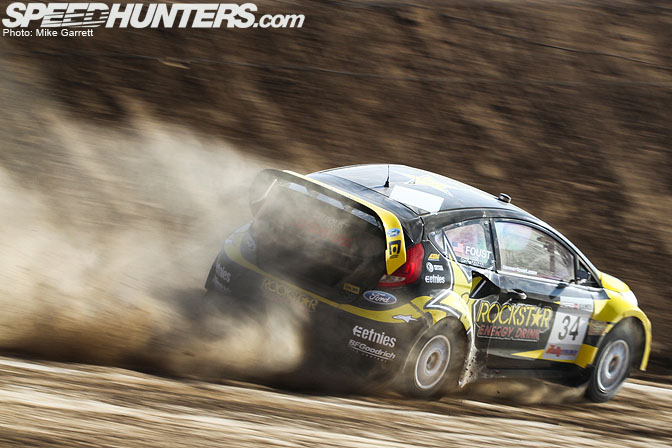 Continuing on with my look at the rally competition from X Games 16, we move on to elimination action on Saturday afternoon.
As we'd soon find out, the biggest hurdle for the drivers wouldn't be their fellow competitors, but the course itself.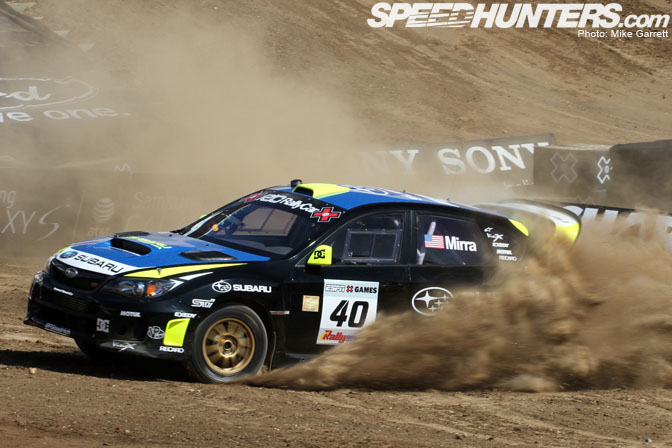 After coming down the ramp into the coliseum, the drivers would do an immediate U-turn back up the hill. The steep transition through the arches and into the bowl would be one of the hardest parts of the course to memorize, and a constant problem.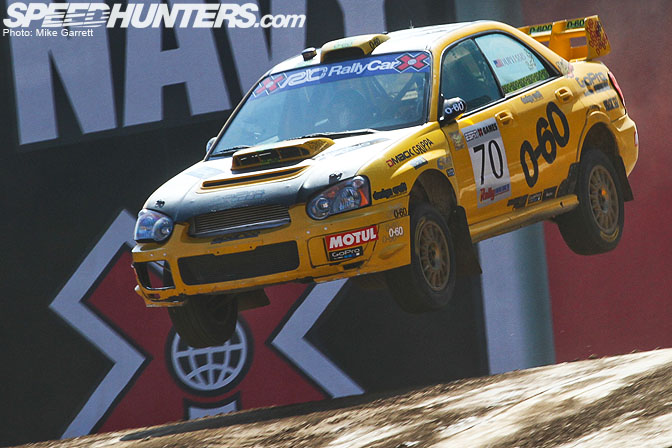 And thus the jump would turn out to be a non-obstacle – compared to the difficulty of memorzing the course.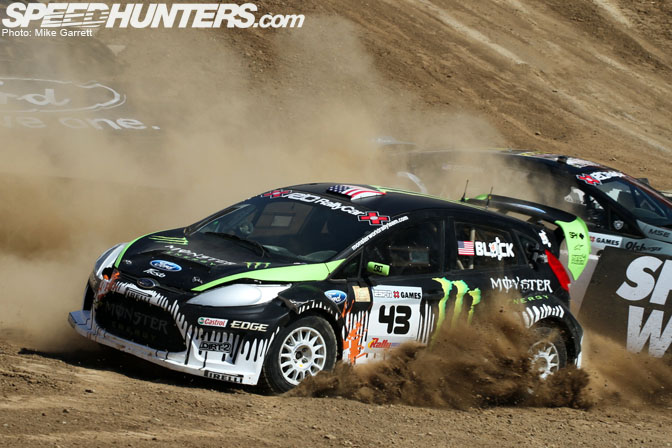 Here we see Ken Block dropping his Fiesta down the ramp during his match against Brian Deegan.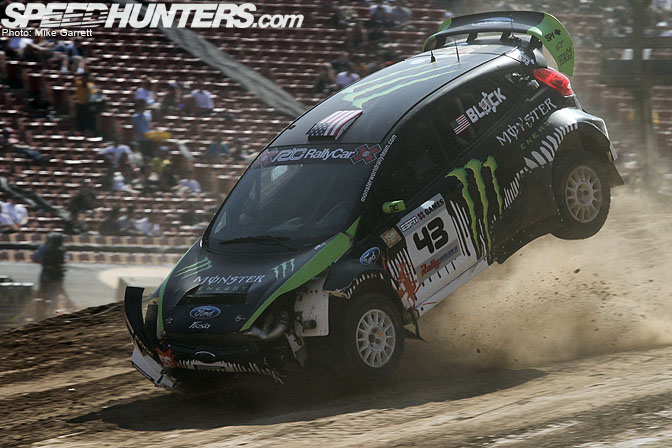 Crunch.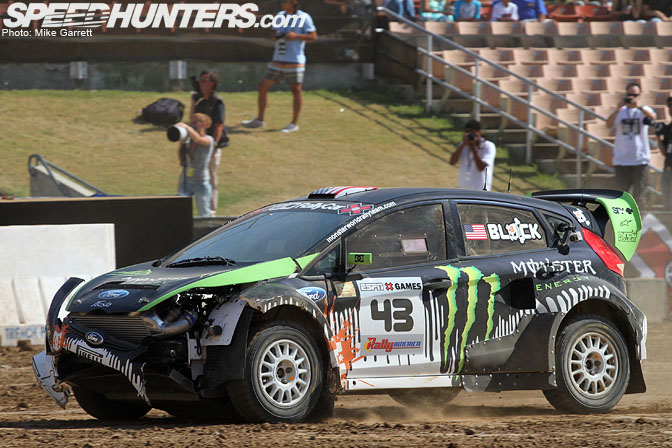 Blocks's Fiesta eventually took enough damage to take him out of the race.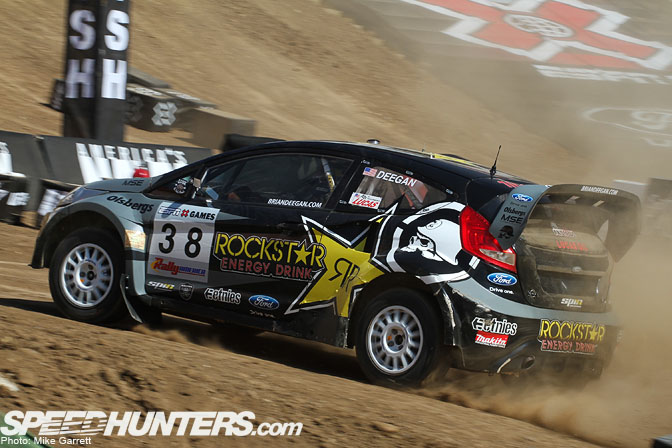 This of course allowed Deegan to advance from the Rockstar vs Monster battle.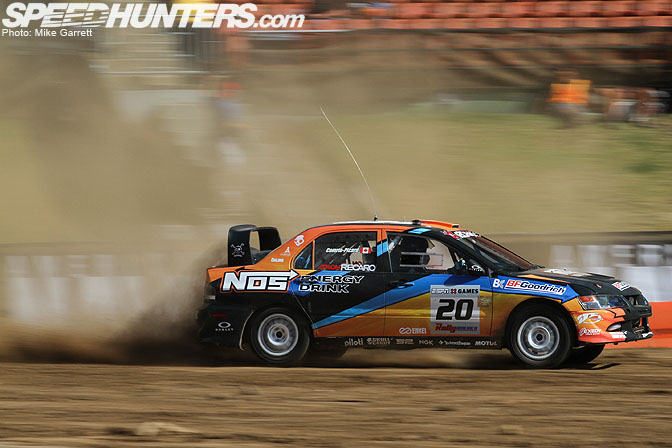 Here's ACP at speed after dropping down the big hill onto the floor of the Coliseum.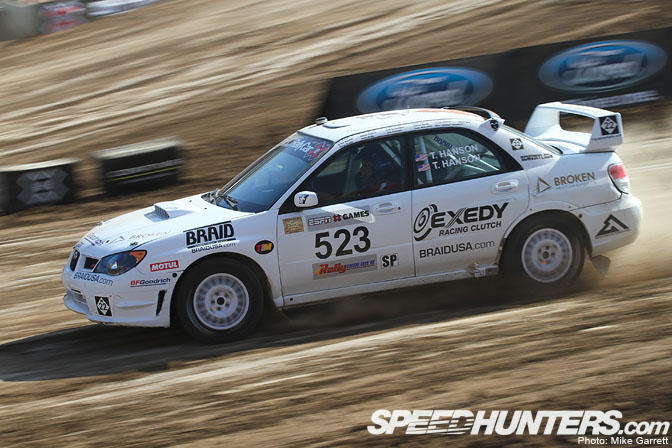 ACP's opponent in the first round was Travis Hanson in his STI.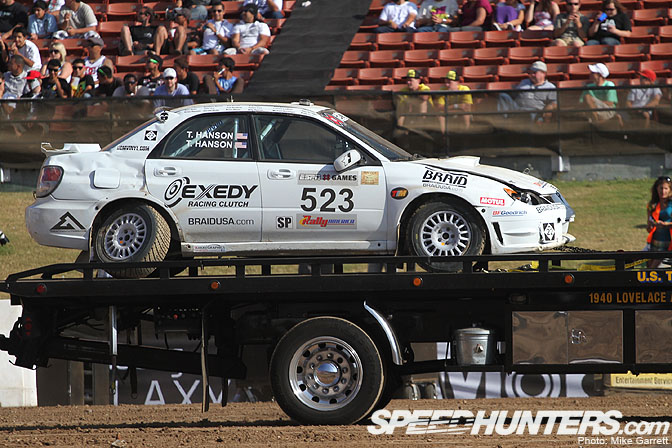 The match was decided when Hanson dropped a tire in the dirt and suffered a slow speed roll-over. A hero's exit for sure.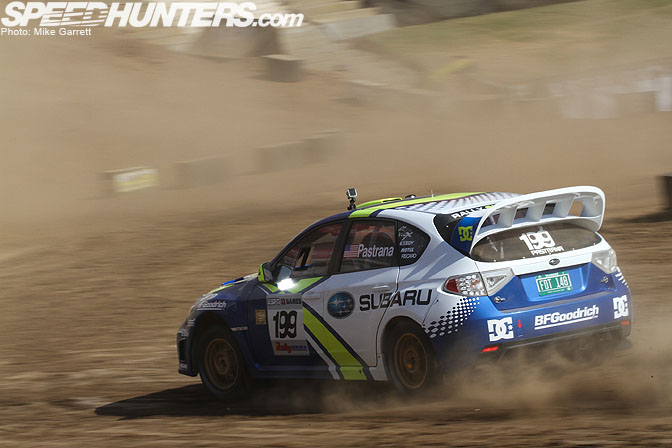 Speaking of exits, Travis Pastrana's misfortune in X Games rally would continue for the second year in a row.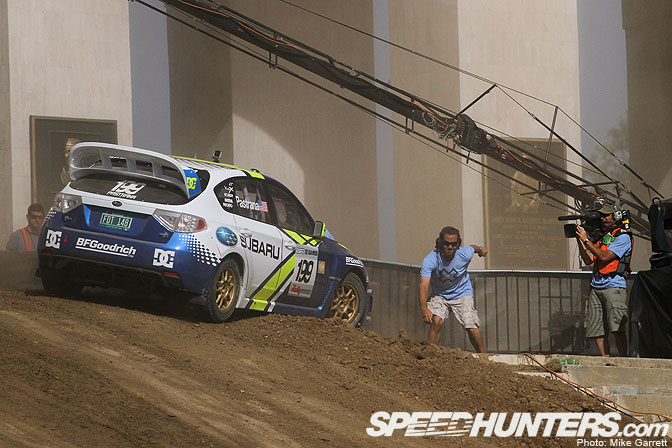 His run would end after losing control coming up the hill, giving the win to Brian Deegan.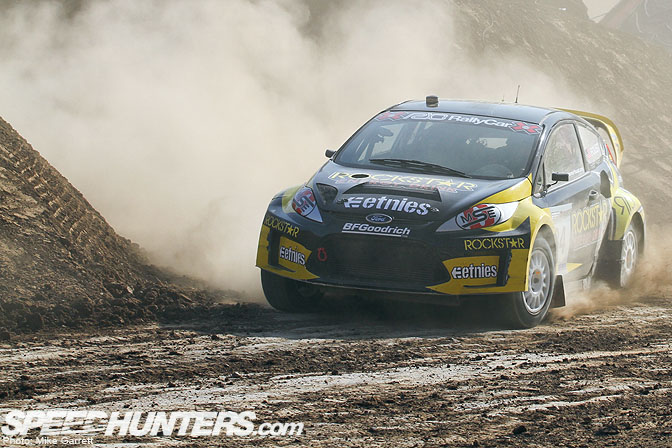 The one driver who seemed to have a firm grasp on the course was Tanner Foust. Not surprising considering his vast motorsport experience.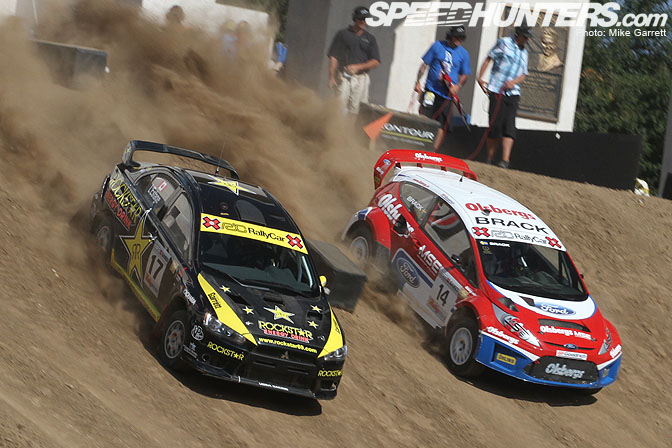 A better view of the drop-in during the quarterfinal match between Kenny Brack and Antoine L'Estage.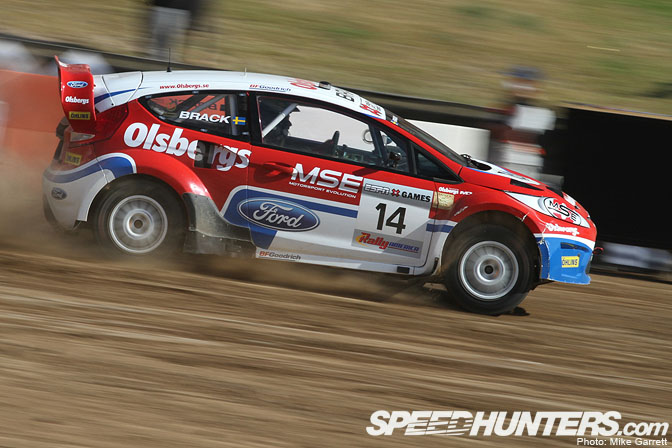 Brack, last year's rally winner would end up being eliminated here.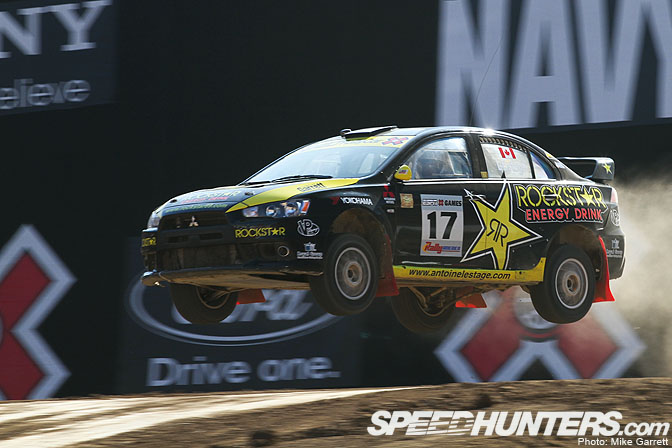 With L'Estage taking the victory in his Evo X. One of the day's better performers for sure.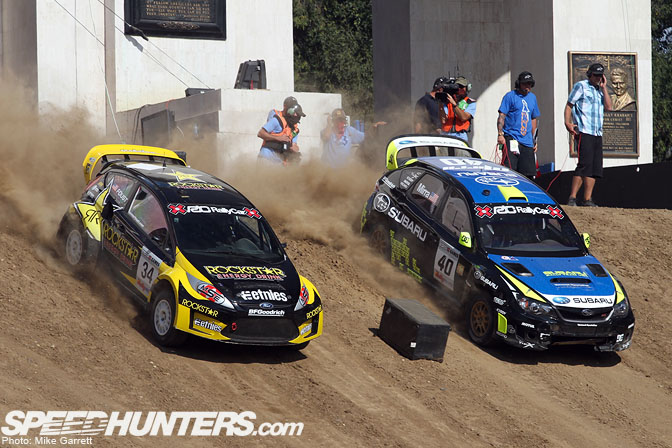 Still it was becoming clear that this was Tanner's event to lose after he defeated Dave Mirra in the quarterfinals and L'Estage in the semis.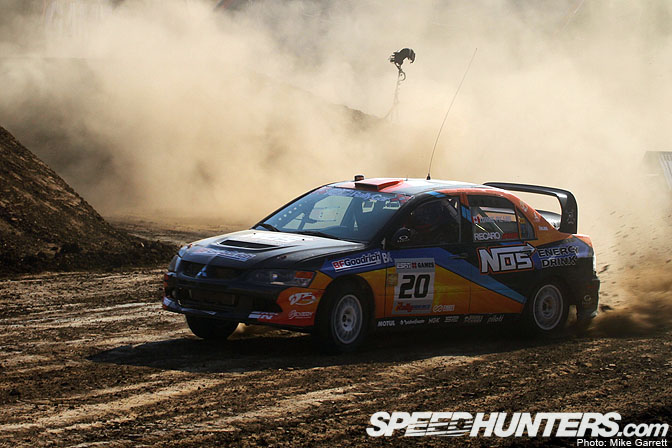 ACP's day would end on a decent note, taking home bronze.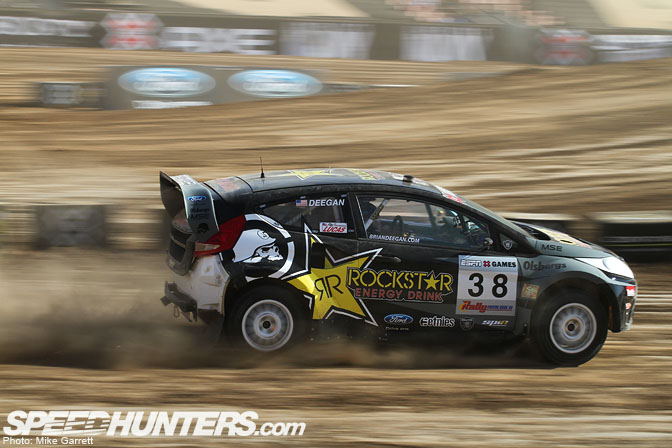 The battle for gold would come down to Brian Deegan and Tanner Foust. Unfortunately – but not surprisingly….it wasn't the most exciting match. Deegan would end up missing a turn early on…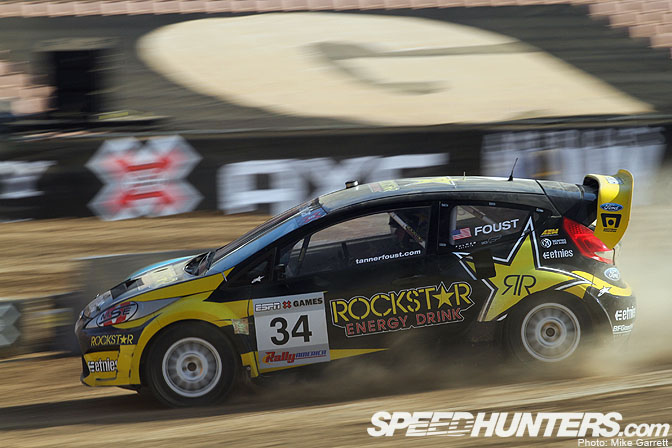 …which sealed his fate, and allowed the rock-solid Tanner Foust to take the gold medal. So that's where the "golden child" nickname comes from.
So after the chaotic and confusing rally car match, it was time to take a short break before the action continued the new "Super Rally" competition.
We'll look at that next time.
-Mike Garrett