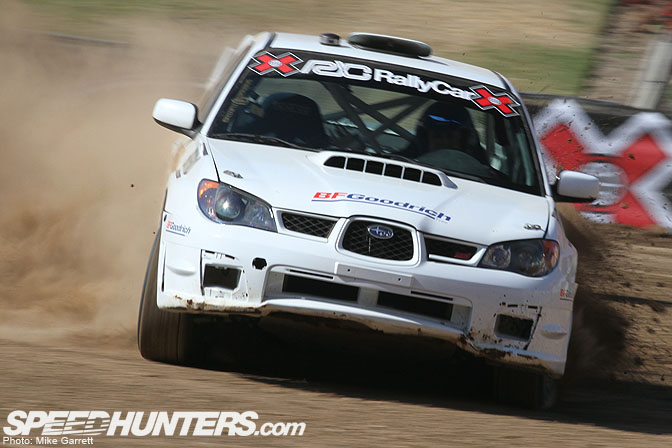 Well, another year of X Games competition is in the books and as I write this, guys are probably hard at work removing all of that dirt from the Los Angeles Memorial Coliseum. Hey, how do they do that anyway?
As you might have heard, there have been mixed reactions to this year's rally competition, but we'll get into that later. For now, here's some of the action from practice on Friday.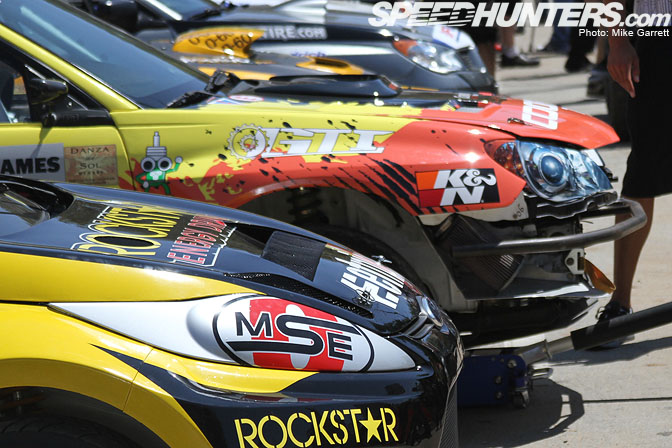 I'm still a huge beginner when it comes to covering rally, so the first thing I did after arriving at the coliseum was take a walk through the pits and staging area. Three different car makes would be represented in the competition at X Games 16, Subaru, Ford, and Mitsubishi.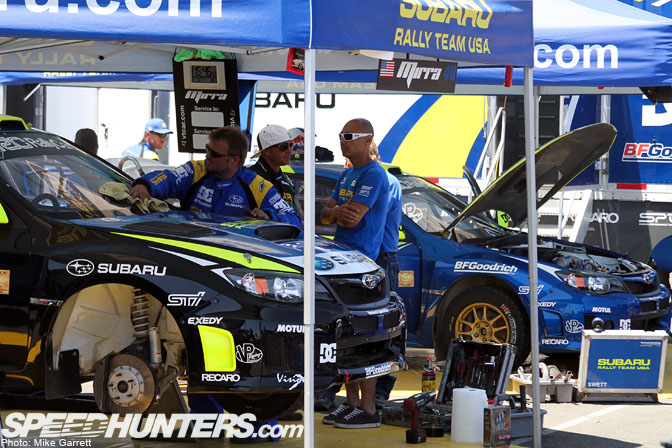 The mix included big factory-backed teams like Subaru, with star drivers Travis Pastrana and Dave Mirra…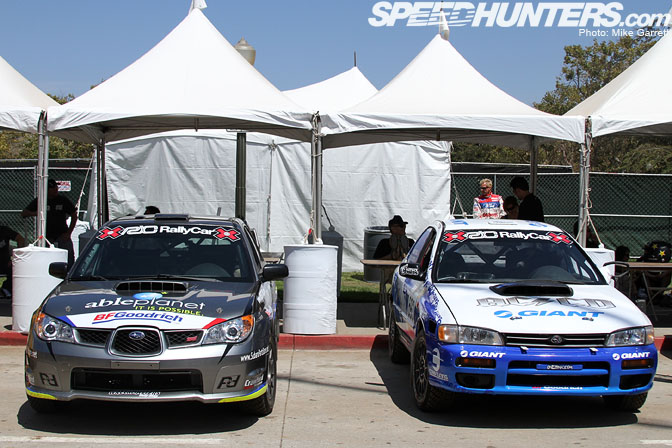 …along with lesser known, but just as dedicated teams from the Rally America series.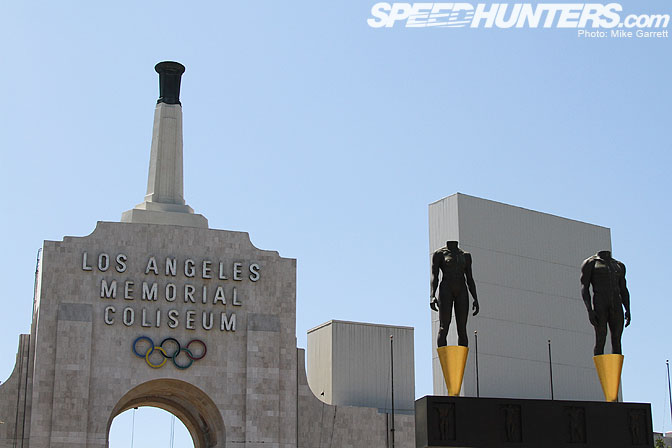 For 2010, there was also a change of venue for the rally competition, with the Home Depot Center in Carson being left behind for the historic LA Coliseum.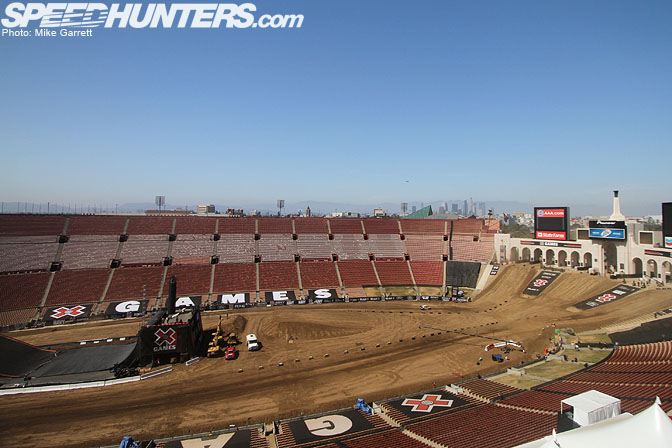 The Coliseum is one of the most storied places in sports, home to two different Olympics, the Super Bowl, the World Series, and countless other events. It would be interesting to see how rally racing would fit in here.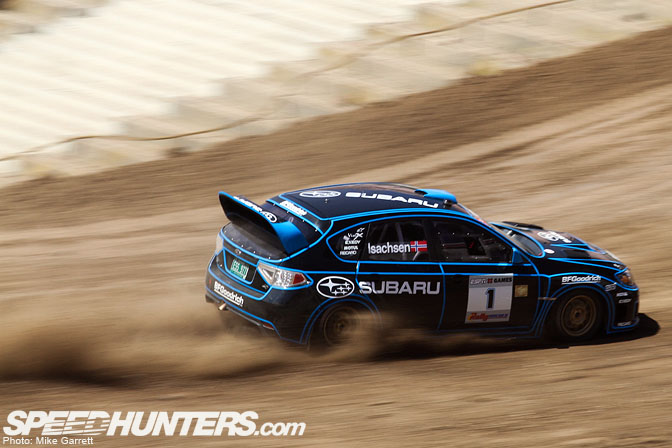 Finally, it was time for the drivers to hit the dirt for practice. Here's the Tron-esque Impreza of Norway's Sverre Isachsen.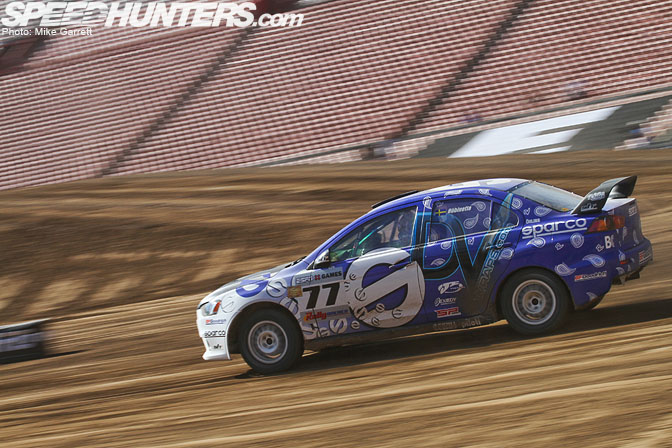 It turns out there'd be plenty of familiar faces from Formula Drift competing in this year's event. This Evo X was driven by Sam Hubinette in the new Super Rally competition.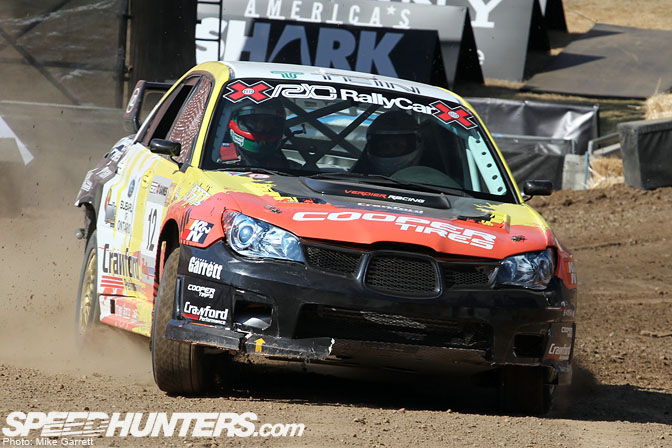 FD driver Stephan Verider was also out, looking very strong in a "hawkeye" Impreza.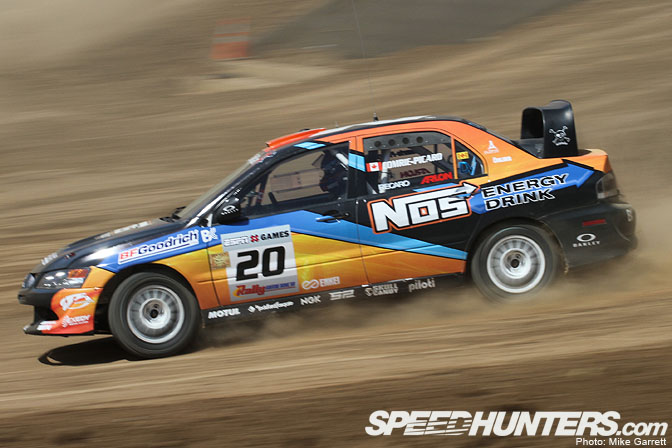 Of course rally veteran and FD rookie ACP was also back in the NOS Evo.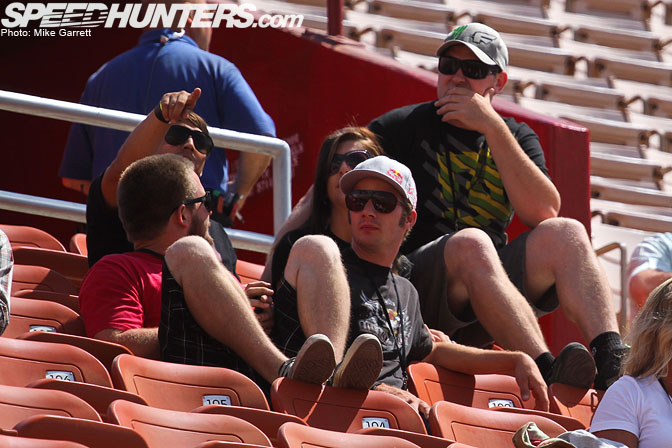 It wasn't just on the track where the FD drivers could be found. Here we see Cody Parkhouse, Ryan Tuerck, and Vaughn Gittin Jr. getting a look from the seats.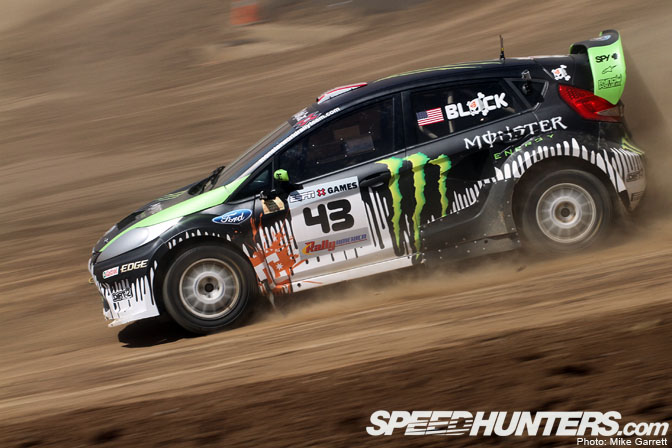 Vaughn was out to support his buddy Ken Block, who'd be taking his Ford Fiesta to the X Games for the first time.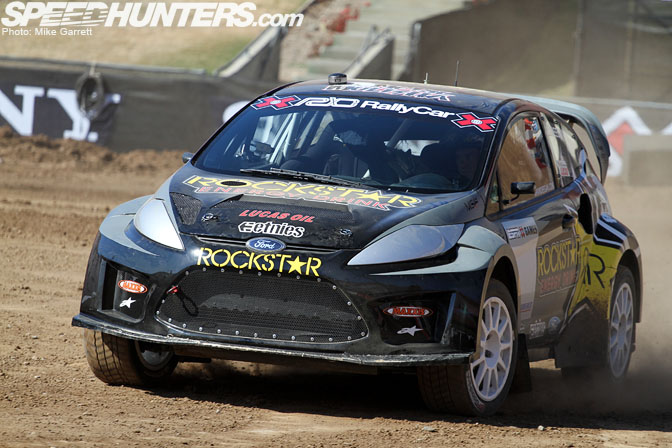 The little Ford proved itself last year in the hands of drivers like Brian Deegan. (No ride height comments please!)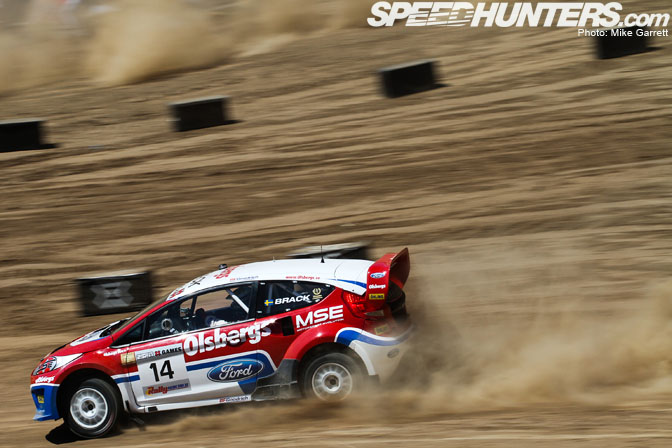 Not to mention Kenny Brack, who drove his Fiesta to the gold medal in 2009.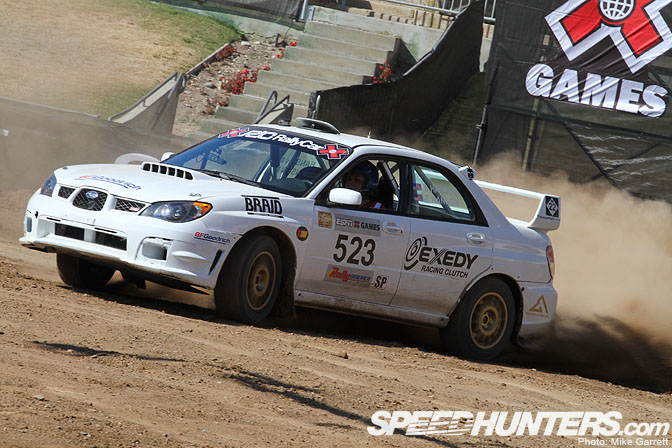 When I hear the word "rally", it's scenes exactly like this that come to mind.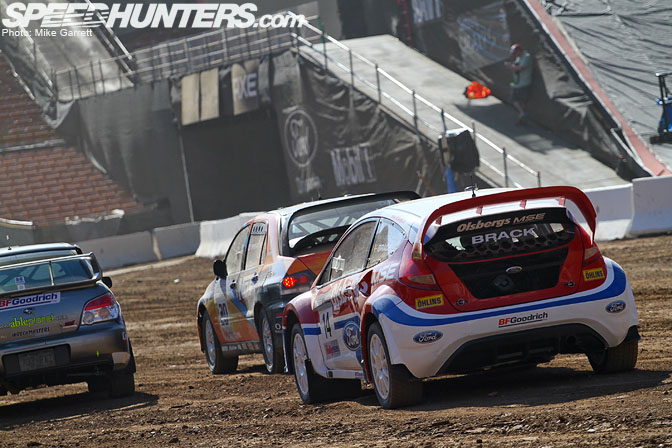 After the drivers had been on track for a while, it was time to open up the jump for practice.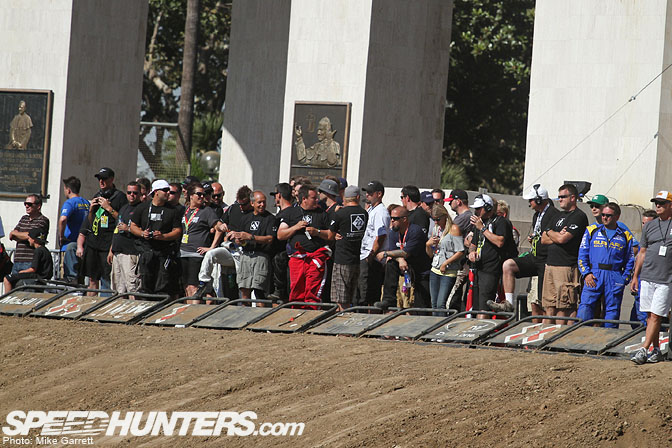 This is considered the highlight of X Games rally, and there was a lot of interest over how the cars and drivers would handle it.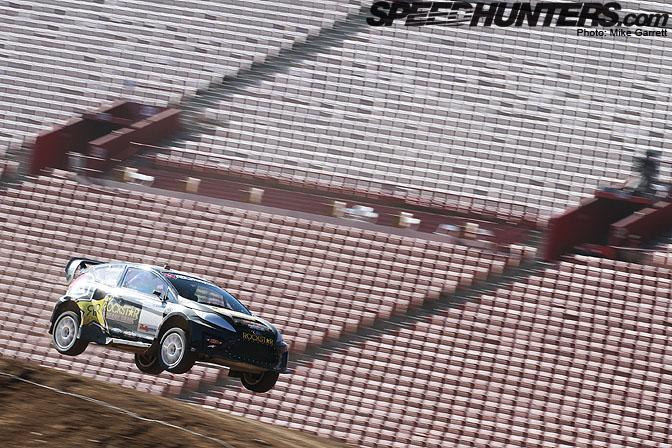 So how did they handle it? Rather easily actually. From my vantage point the jump didn't seem as dramatic as last year's, and none of the drivers seemed to have any trouble clearing it.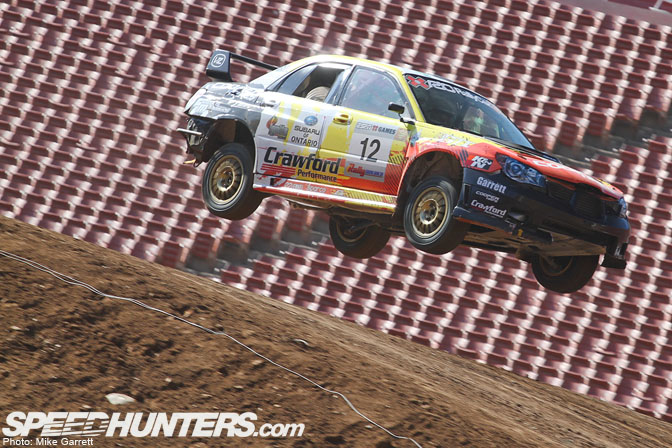 It may have been smaller than last year's, but it's still a jump for crying out loud – and that means it's awesome.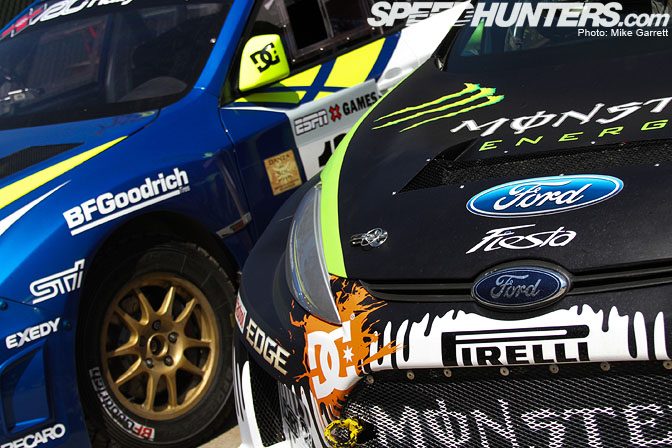 That's a good note to finish on. I'll be back soon with a look at Saturday's competition. Don't miss it.
-Mike Garrett