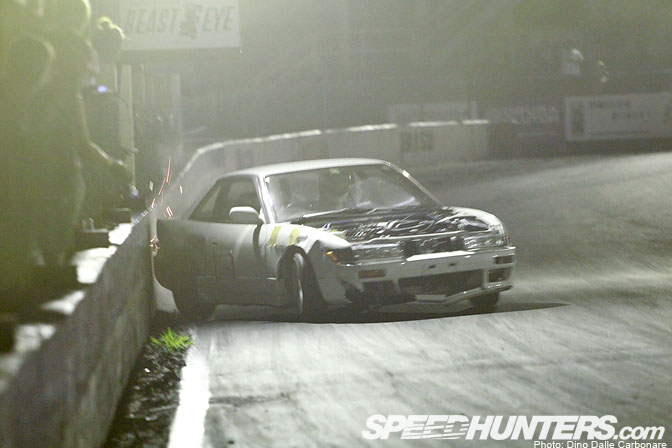 There is something so right about seeing cars drift at night. When drifting was still in its infancy, an underground and illegal activity, it was in the dark mountain passes of Japan that it flourished. Minami and Kita are always the places to check out when darkness falls over Ebisu. Take a look at the above picture of Chris DeJager lightly brushing the wall on the D1 course, creating a very dramatic trail of sparks. This image only begins to summarize the stuff that goes on during these Matsuri nights!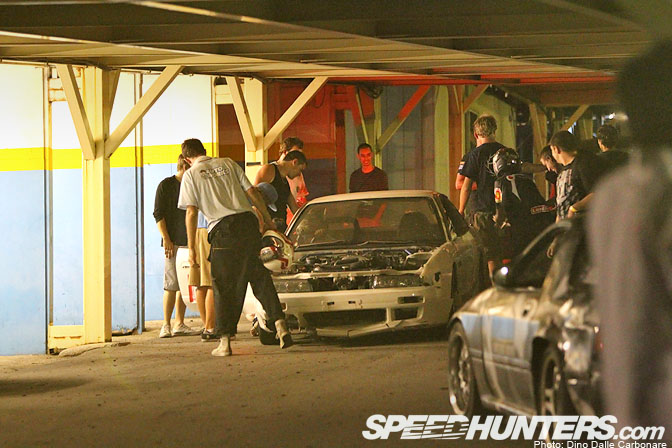 Chris didn't seem too bothered about checking his car after he came back in the pits, that's what having a missile is all about, releasing one's inner hooligan and not caring about what happens!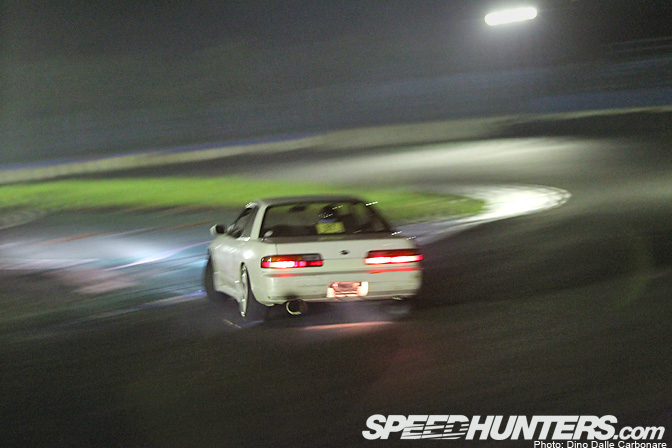 Taking pictures in these low-light conditions can be quite a challenge, especially when certain cars don't have working headlights to focus on. Yes Chris, I'm talking about you! The bright taillights of this S13 on the other hand, kind of gave my camera an idea of what I wanted to shoot!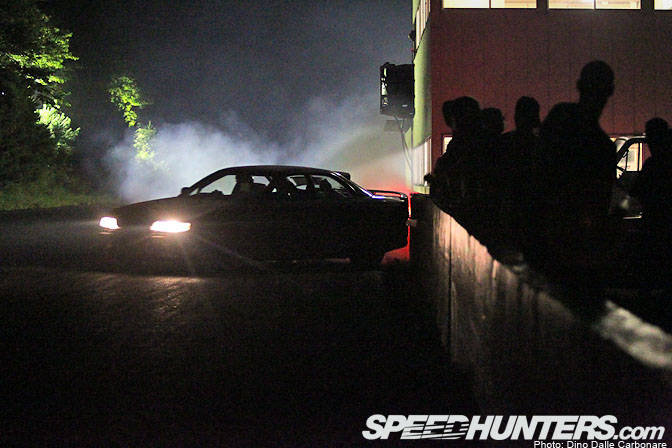 Floodlights are scarce in Kita so this is what most shots will look like. Still, it definitely gives an idea of the atmosphere, as people line up along the wall edging drivers to clip it with their cars.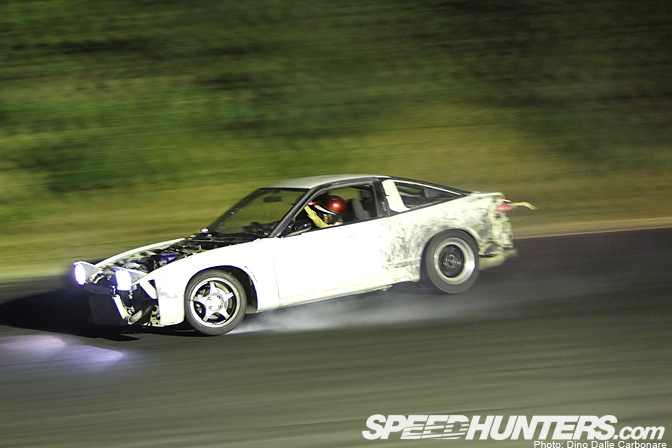 Strategically placed lighting at turn 1 means grabbing some action is a little easier.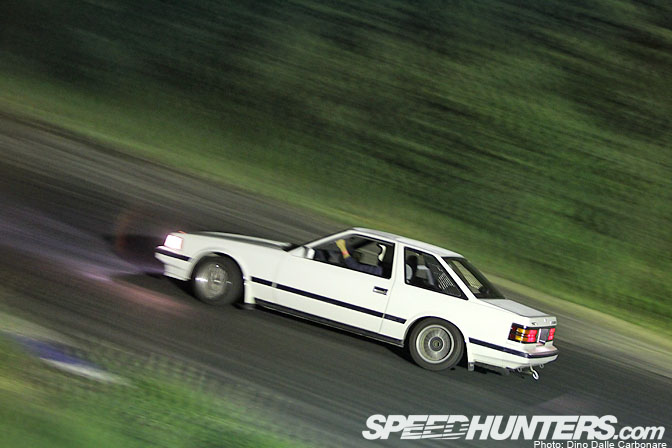 Oldschool Soarer doing its thing.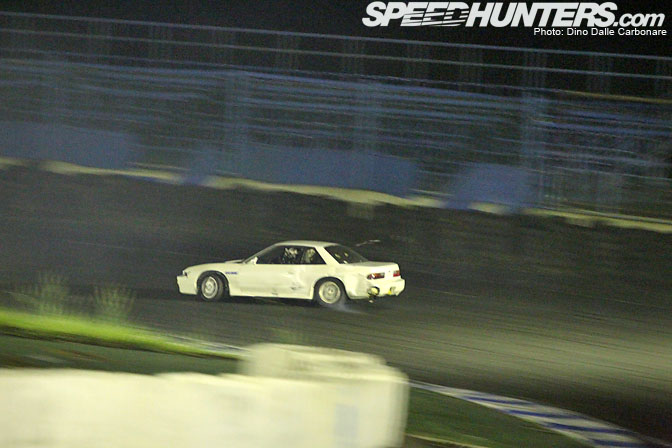 This is probably the last shot I got Saturday night before it was time to call it a day.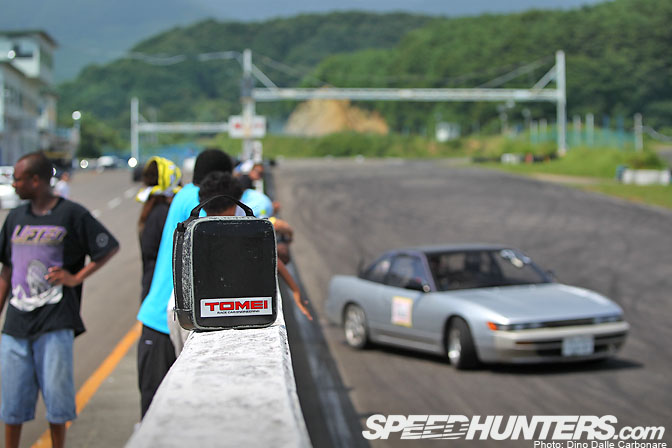 After only a few hours sleep I was back at Ebisu, and headed straight to the Nishi course to check out the early morning action, which is where I found a familiar looking camera bag sitting on the pit wall. This famous and well-weathered relic from the late seventies is what most might have seen Allen Lorenzo from Tomei Powered carry around at events. Allen, drove up the night before with his pink AE86, ready to check out some action and take some pictures for the English language blog he runs for Tomei.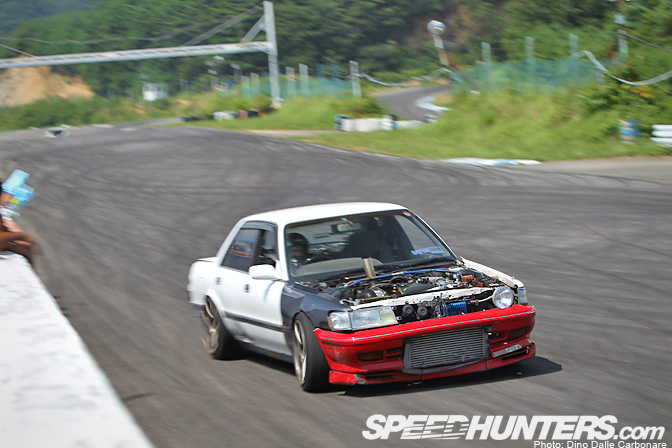 We caught up while checking out the small competition that was going on to find out who could manage the fastest and mot dramatic entry into turn 1.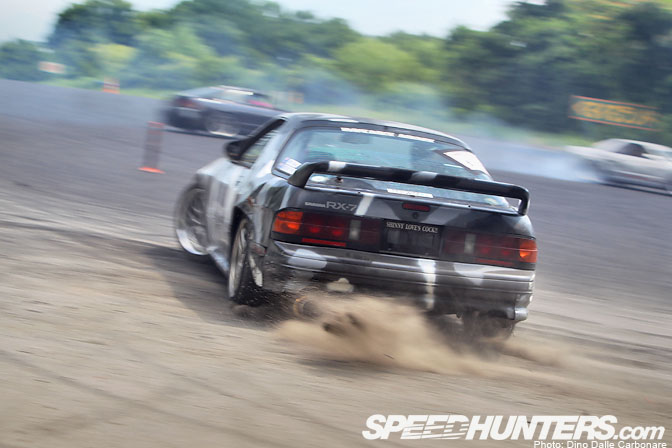 With nothing much happening at Nishi after the end of the competition I heard there was going to be some full on tsuiso practice going on at Minami between Saito and his crew. But before that I stopped at Kuru Kuru Land where I spotted Benny Wilkinson with his camo FC practicing some very tight drifting along with…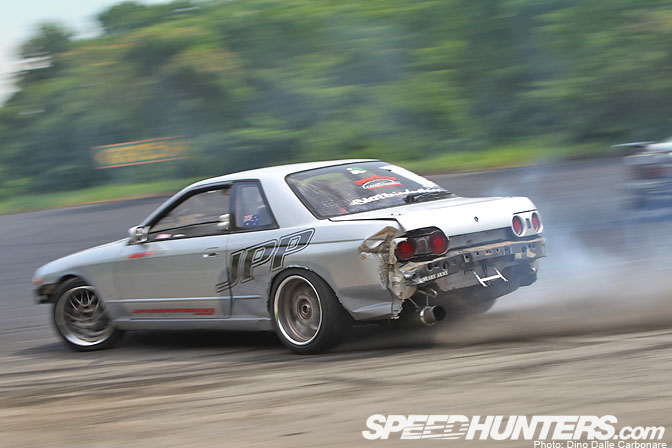 …Shiny Dave in his R32…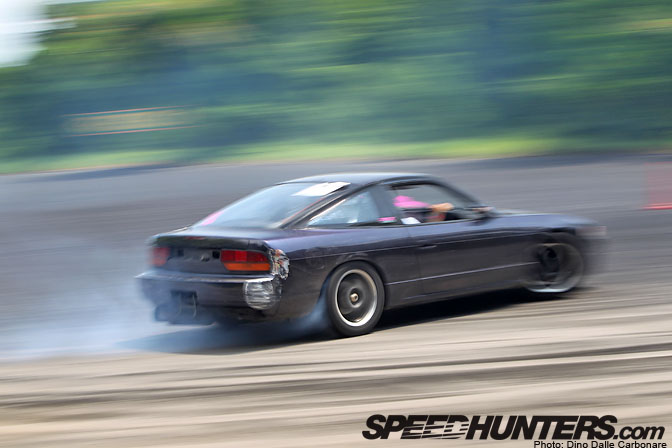 …and Brad Dale with his Sileighty.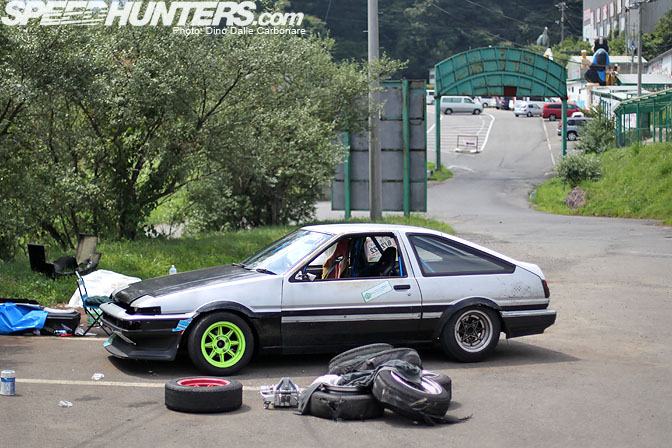 Right before taking the steep access road down to Minami I again made a quick stop to grab some shots of this AE86 I had been seeing all weekend…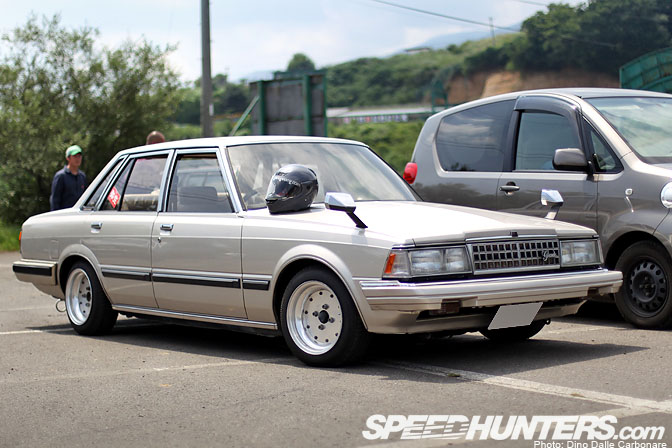 ….as well as this MarkII Grande sedan. These boxy things are great, if you look at them from behind, and squint a little, they look like a Rolls Royce!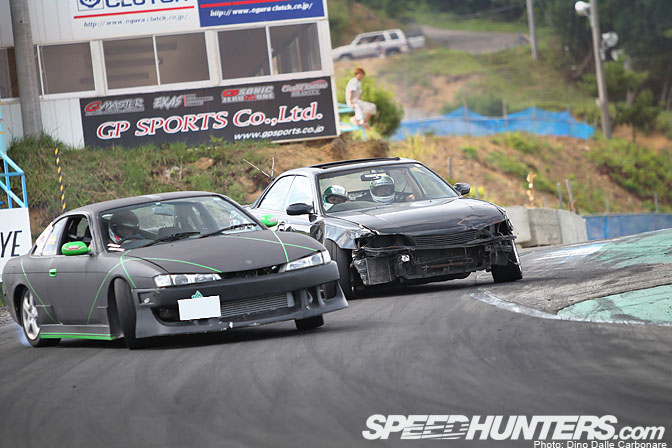 When I got to Minami Saito was already there practicing with this cool matte black S14, a car that has just become Andy's new Powervehicles missile!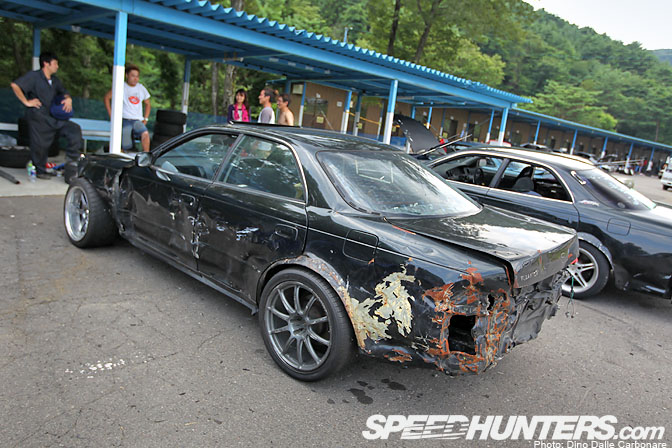 After Saito was done I went to his pit to take a closer look at his JZX90. It's always so easy to spot this car, as it's the only semi-destroyed missile running on expensive Prodrive wheels and Yokohama Neovas!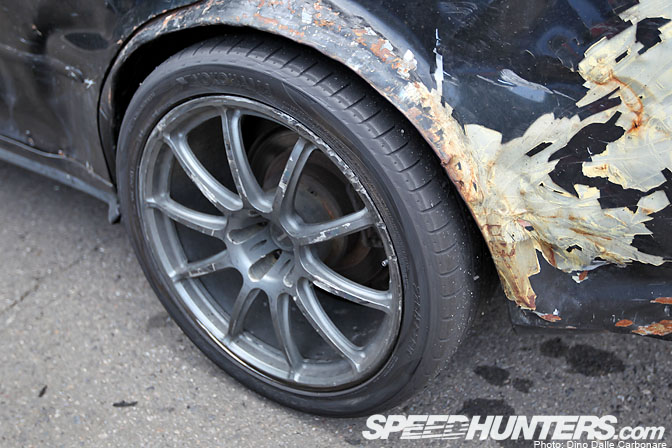 I think by the end of the weekend the supply of 295/30R18 Neova AD08s was depleted so he was stuck using slightly narrower Advan Sports.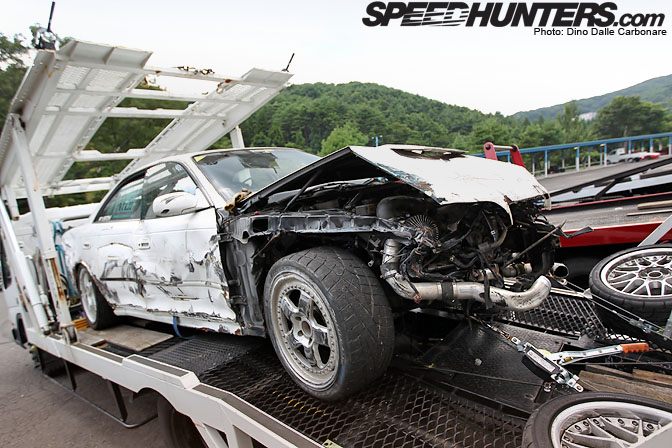 This was a casualty from the early morning, the driver loosing one wheel when battling against Saito and heading straight into the wall.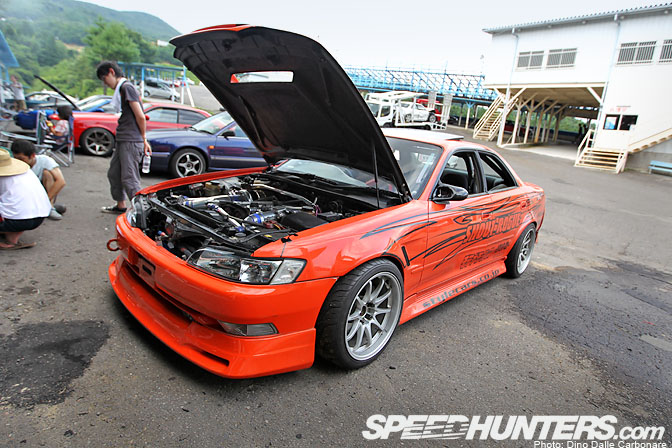 This D1 Street Legal JZX90 was one car that always impressed on track…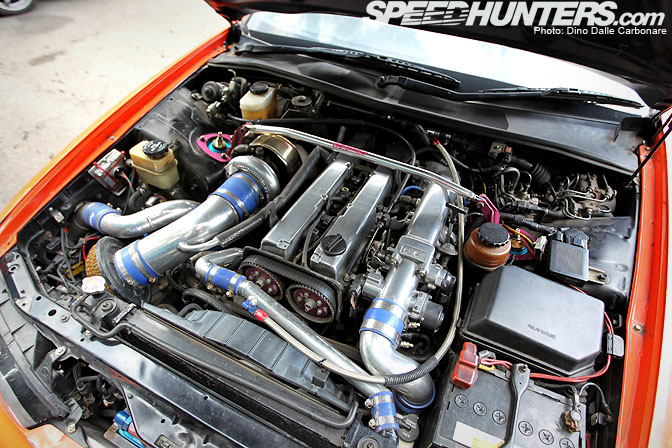 …thanks to the powerful engine…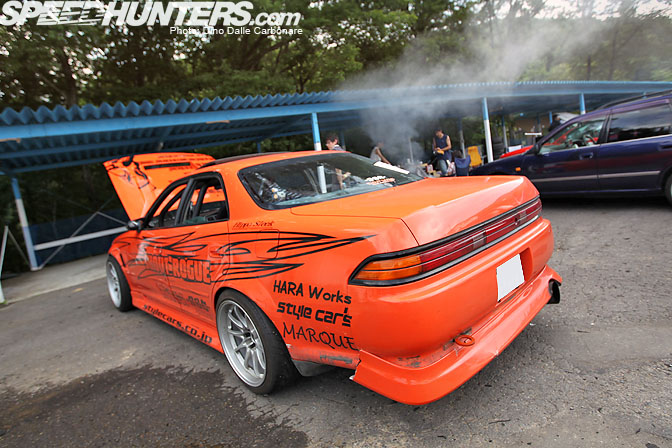 …and well set up chassis.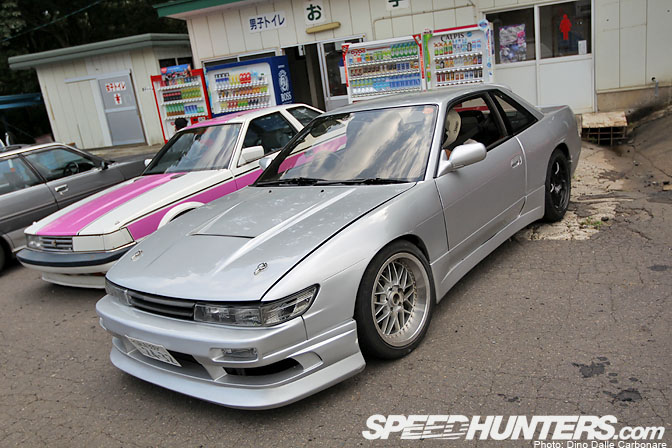 Why do S13s look so sexy!!??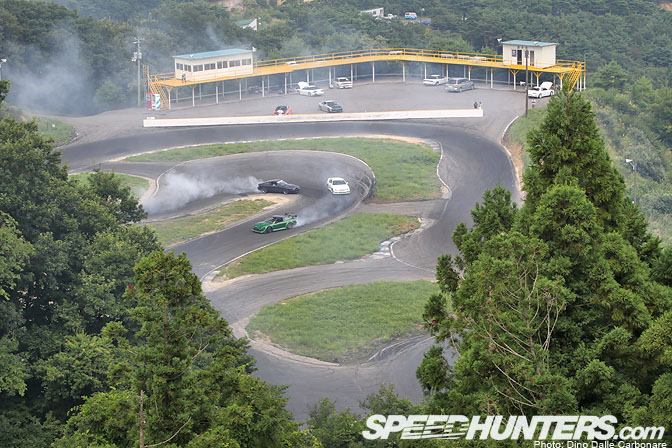 The School Course was usually so packed during past Matsuris that you could hardly get access to the paddock. But this is what it looked like on Sunday afternoon!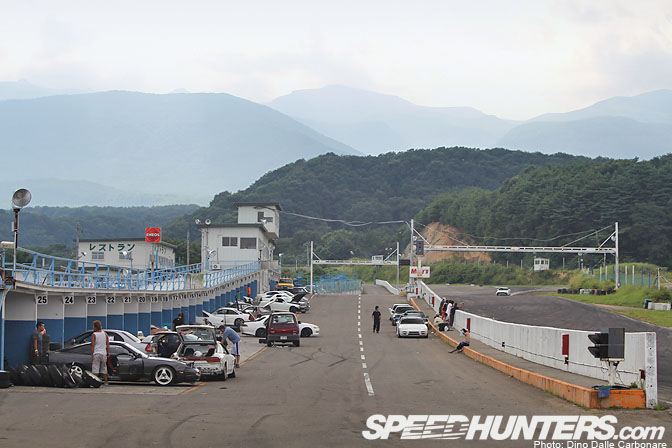 With action dying down at most of the other tracks I headed to Nishi onece again and waited until they opened up the short course at around 3 pm.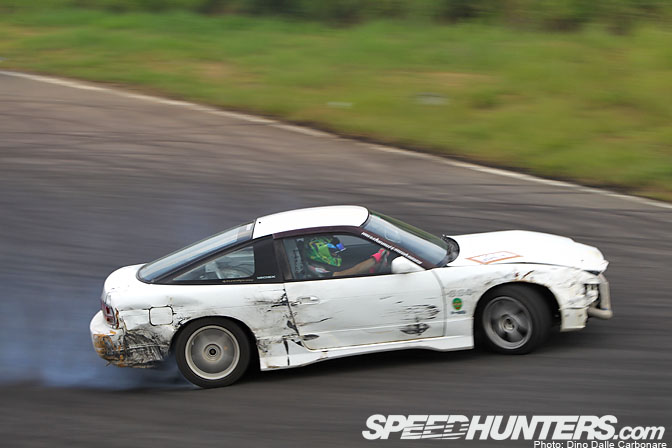 While there I spotted Team Orange driver Sumika getting some last minute practice with her RPS13 missile. Her car looked pretty abused!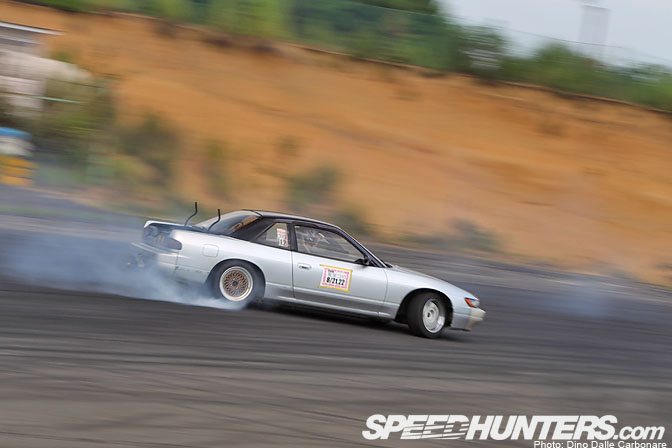 The entry into the first corner on the Nishi long course can be incredibly fast like this S13 driver is proving.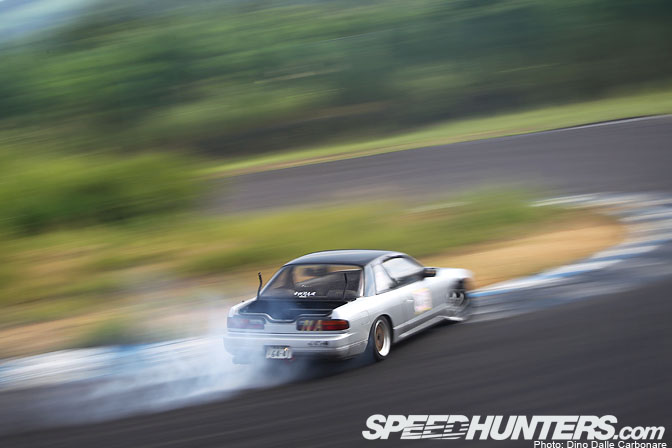 From there you swing around the in-field mix of corners before disappearing behind the last hairpin.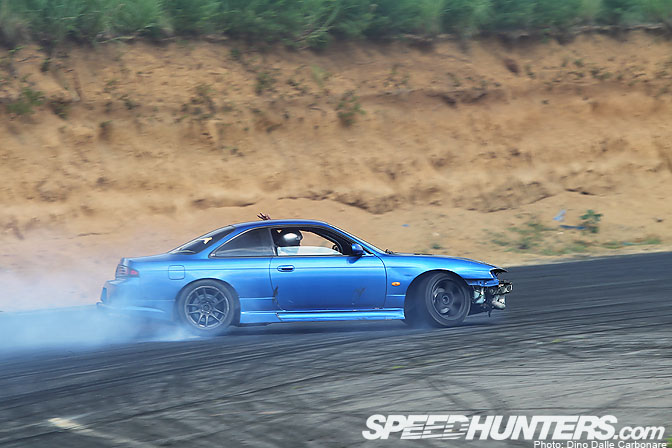 This is Koguchi with his S14 proving that D1 drivers really do operate on another level. He put his car so sideways that when he passed me he was facing me completely head on. I tried my best to pan as he flew by but he was just too fast. The picture above is the best I could manage! 
Next up will be the final post from the Summer Matsuri showing the mayhem from the Nishi Short Course.
2010 Summer Drift Matsuri PT.1
2010 Summer Drift Matsuri PT.2
2010 Summer Drift Matsuri Video by Remi Schouten
-Dino Dalle Carbonare