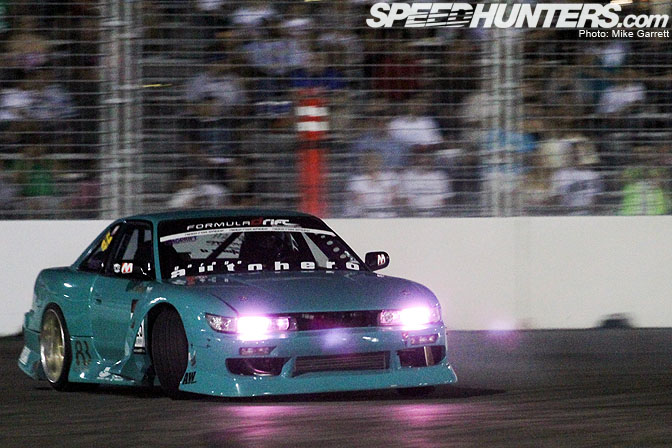 It's Monday morning on the West Coast, and by now most of us are home from Las Vegas after enduring crowded airports and long traffic jams.
A quick note – never drive from Vegas to LA on a Sunday if you don't have a few hours to waste sitting in traffic on Interstate 15.
Anyways, as usual I'll kick off my coverage with a few general observations before jumping into Top 32 action.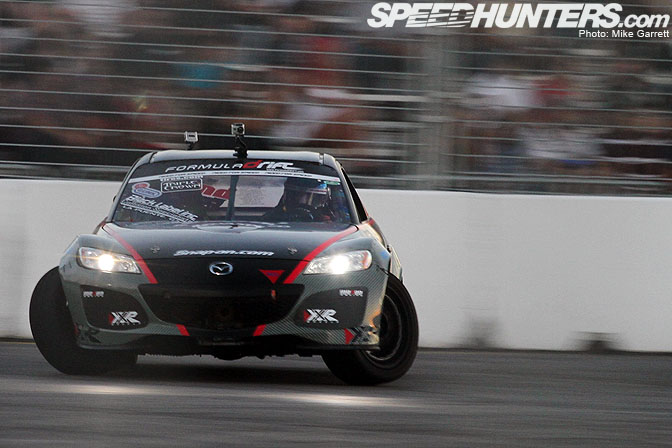 Brian Wilkerson and the BMI Racing crew have made incredible progress this year with their four-rotor RX8. The car looked great in Vegas – quite a contrast from when it was hardly able to link the course at Round 1 in Long Beach.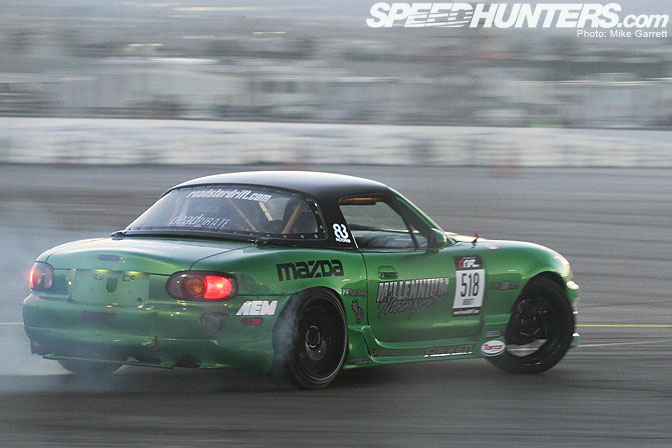 The privateers and pro-am graduates were out in full force this weekend. Here's Temecula's Jeff Abbott in his NB Miata.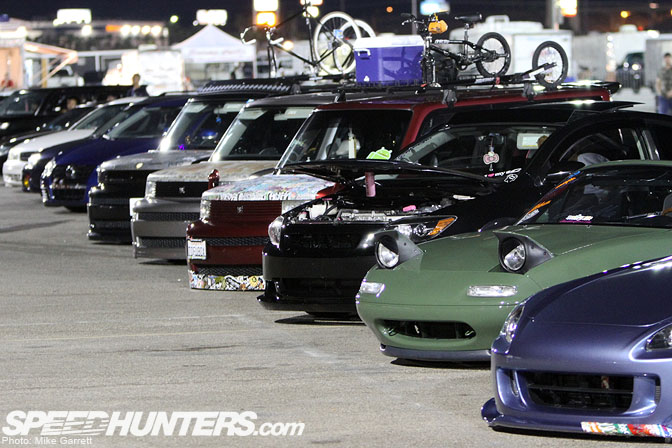 The long break between the Top 32 and Top 16 on Saturday night gave plenty of time to check out the 1 of 1 Car Show – full of interesting local Vegas cars. More on this later.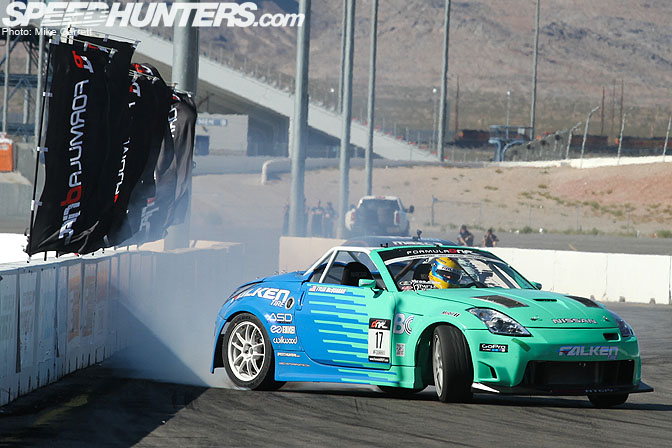 The sun is still beating down on the pavement as Tyler McQuarrie initiates during practice on Saturday afternoon.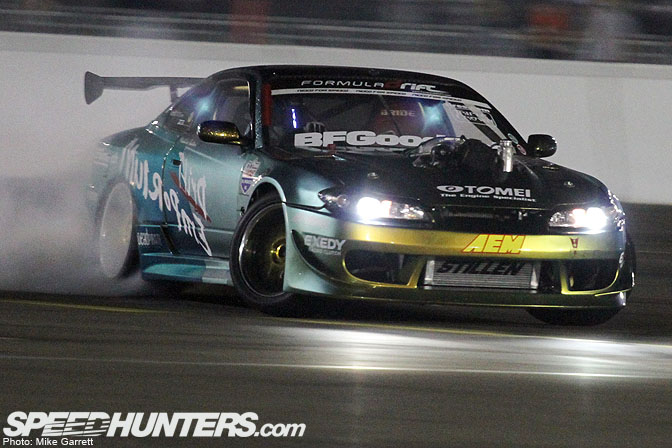 Michihiro Takatori seems quite at home in his Frankenstein S15 this season, regularly cruising through to the Top 16 and beyond.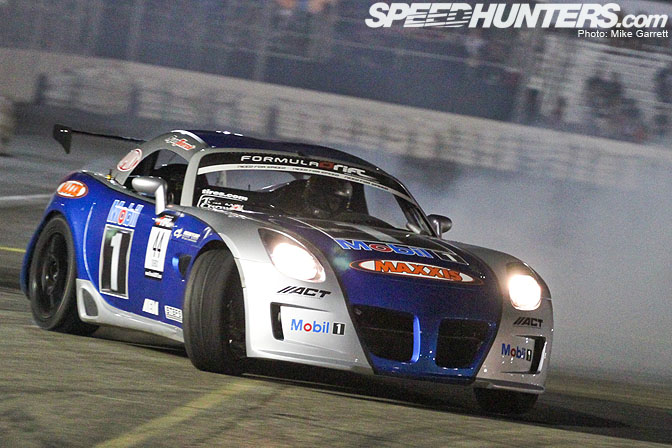 The guys at Gardella Racing decided to drop a new engine in Ryan Tuerck's Pontiac Solstice – just in time for Vegas.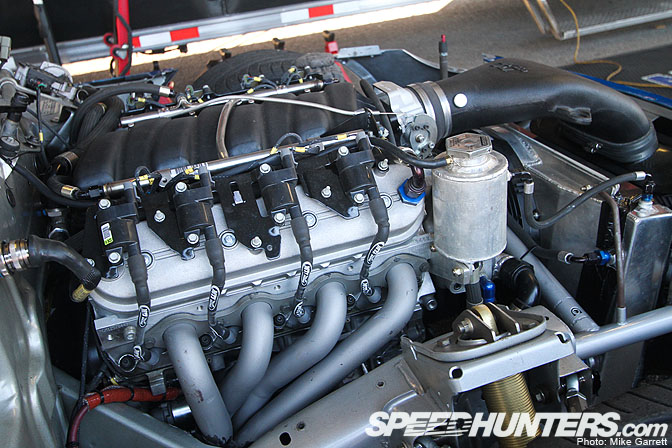 Gone is the EcoTec turbo four cylinder, and in it's place is this thumping LS7 V8. *Waits for discussion on how V8's have taken over drifting*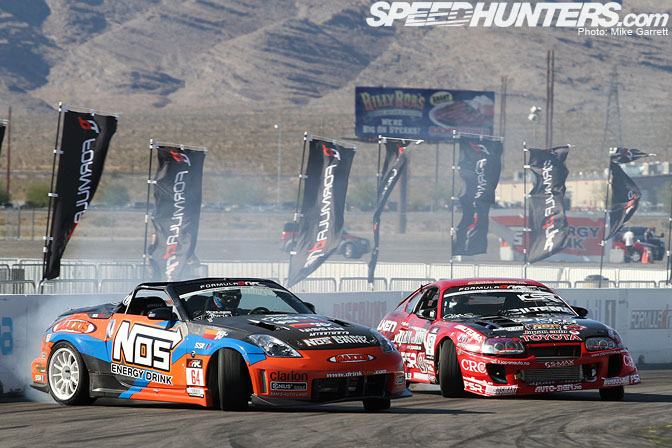 Chris Forsberg meanwhile, has gone from one V8 to a crazier one.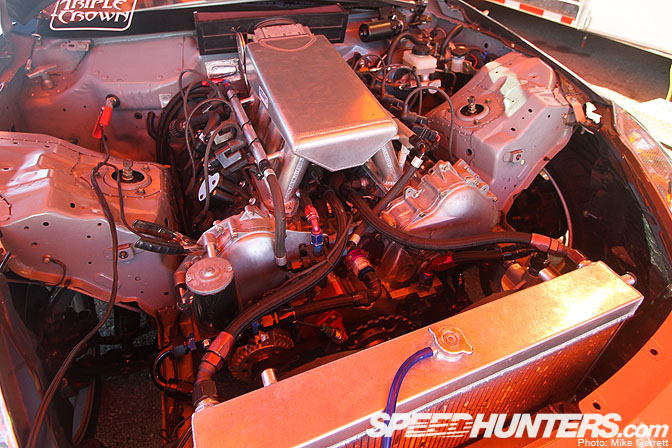 A race spec engine out of a Nissan CORR off-road pickup now sits under the hood of the 350Z. Looks (and sounds) pretty mean…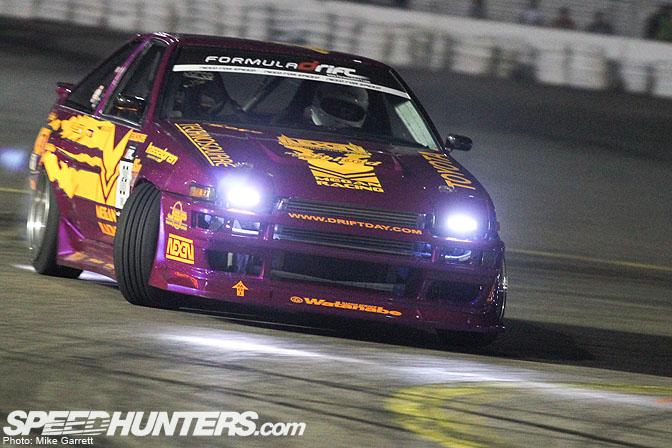 V8 haters need not fear though, because there are still guys like Taka Aono out there.
Since I used the term "off-road" while describing Forsberg's new engine, that's reason enough to post this picture of Big Foot. Seriously, who wasn't a monster truck fan as a kid?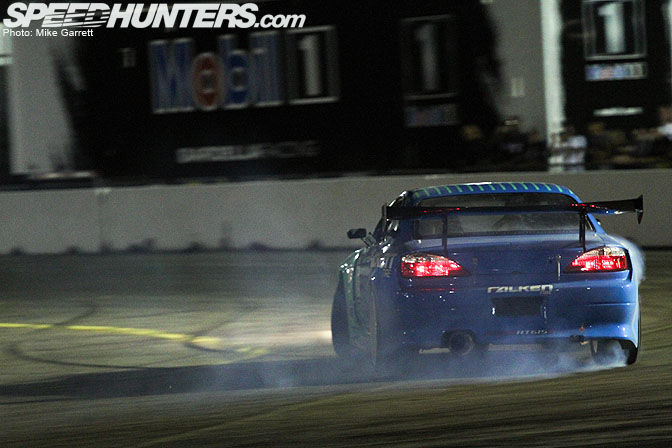 James Deane made the short commute out from Ireland to jump behind the wheel of the Falken S15. He should be back for the remainder of the events on the schedule.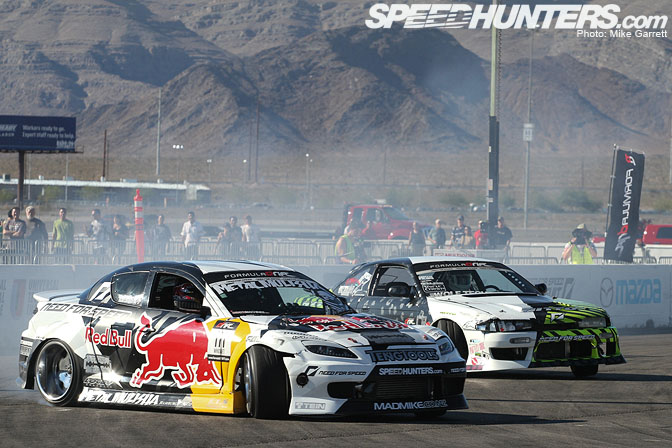 The Team NFS boys use afternoon practice as a chance to tandem up.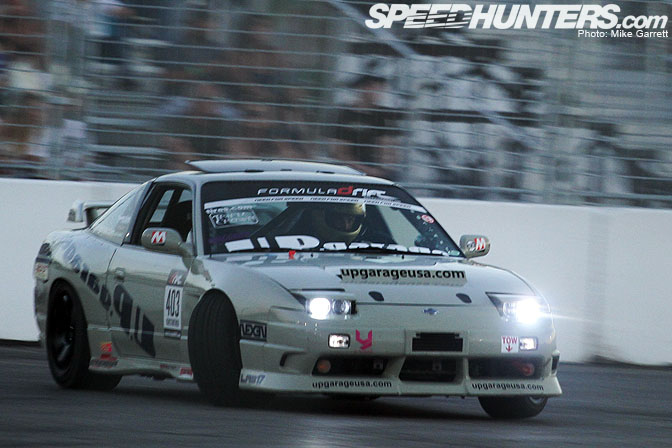 More of that grassroots spirit, with Nikolay and his RB-powered S13.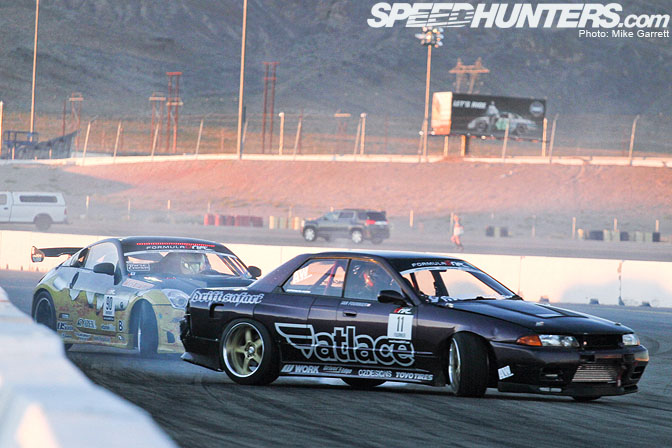 Not to be left out is Ian Fournier and his R32. I can't say how much I admire these guys for towing their cars hundreds and hundreds of miles to compete.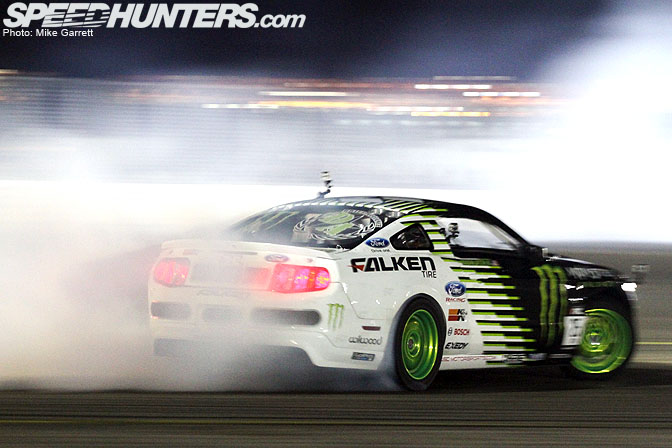 Vaughn and the Brostang cruising through qualifying on Friday night.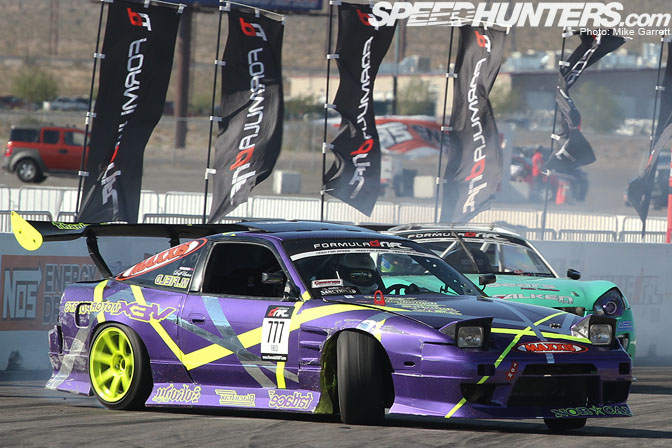 Matt Field came out from Northern California in his big-winged S13 and earned a spot in the Top 32.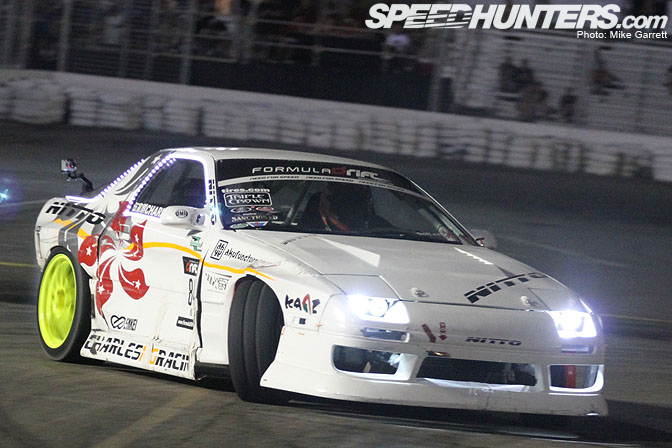 A few run-ins with the wall didn't stop Charles Ng from having the best event of his young Formula D career. More on this when we look at the tandem rounds.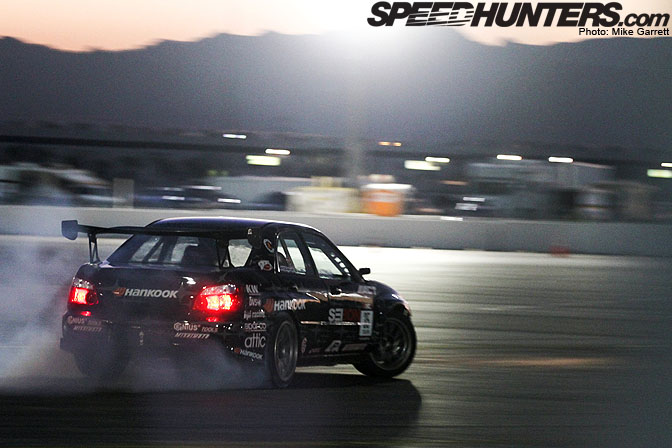 I'll finish with this shot of Eric O'Sullivan drifting off into the sunset.
Much more from FD Vegas on the way.
-Mike Garrett