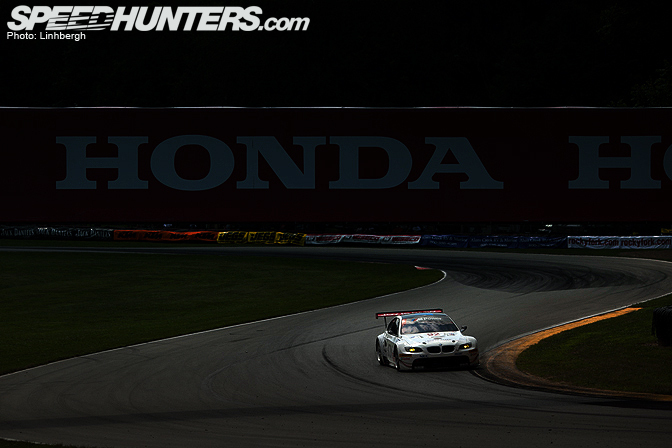 Tommy again! This time from Mid-Ohio Sports Car Course in Lexington, Ohio. Round 6? I think? Yeah, six. This whole month is going to just blend together. Feels like I just came back from Lime Rock and as I type this I'm getting prepared to leave for Road America and the weekend after is Mosport! Anyways, Mid-Ohio is the topic so here we go.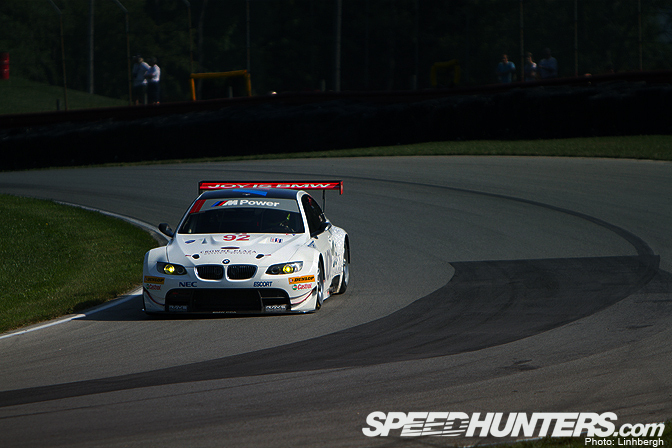 A Lap of Mid-Ohio in our ALMS BMW M3 GT
Mid-Ohio is another busy track for us drivers, just like Lime Rock. However, thankfully here at Mid-Ohio there are a couple places to rest. Everywhere else it's a lot of hard work with some serious pucker factor thrown in. Up over big rises, down into valleys, a high speed corner or two or three, a big brake zone, and some dirt patches to play tricks on the grip situation. Not to mention 'China Beach' at the end of the long downhill straightaway. You've probably seen a few accidents on YouTube there. I've never seen China Beach first hand and I hope I never have to.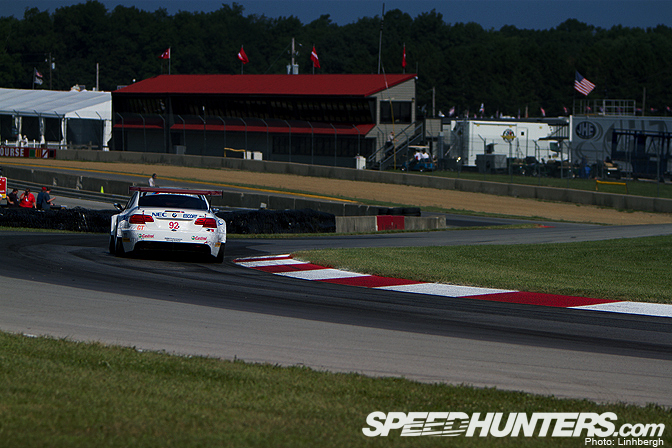 Another tricky part to Mid-Ohio are the different asphalt patches and sealers around the race track. Each different surface and makeup of the track provides different grip levels. The darkest parts of the track had the most grip and all throughout practice I was hunting for the most grip available on the track at each corner.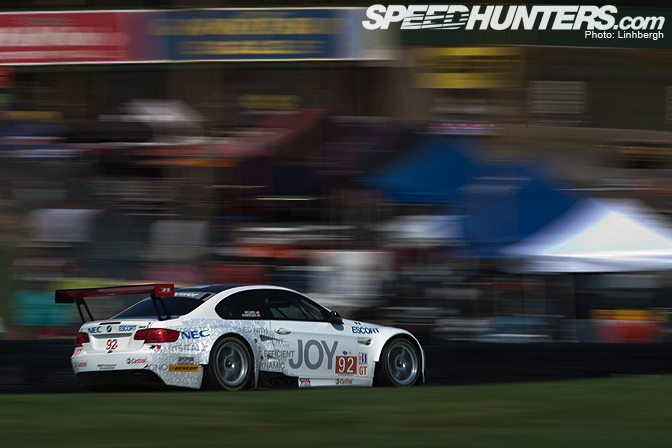 It's also our second race now with our new aero package. While the performance improvement is definitely there, the looks are taking a bit to grow on me. This is one of those rare, rare cases where the bare carbon look of the bumpers wasn't so great. With it all vinyl'd up though, it looks pretty good, right?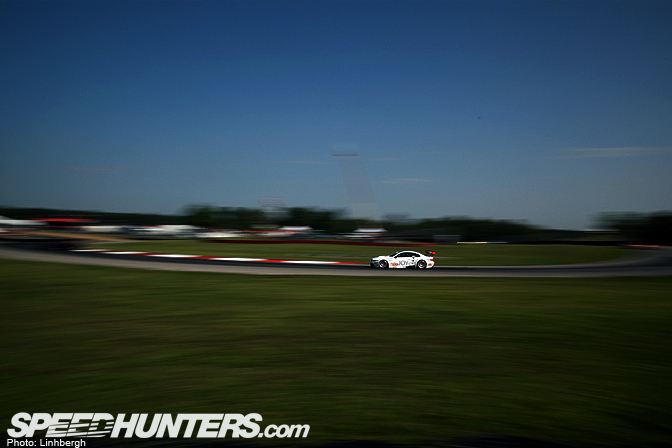 We tried to do a day of testing on the Tuesday before the race and get a few items out of the way for the upcoming races. Unfortunately, it rained most of the day Tuesday and we had limited running. Not enough anyways to give us any kind of advantage come race day.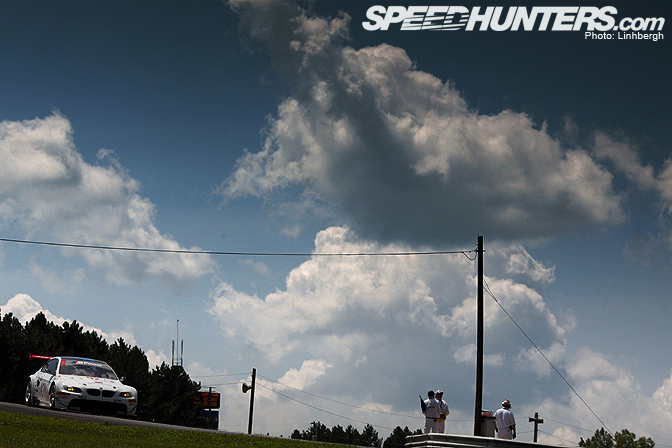 Here I am cresting the hill at turn 5, a slow left up over the hill where the car never wants to turn as much as you want and then is realllly loose coming down the hill.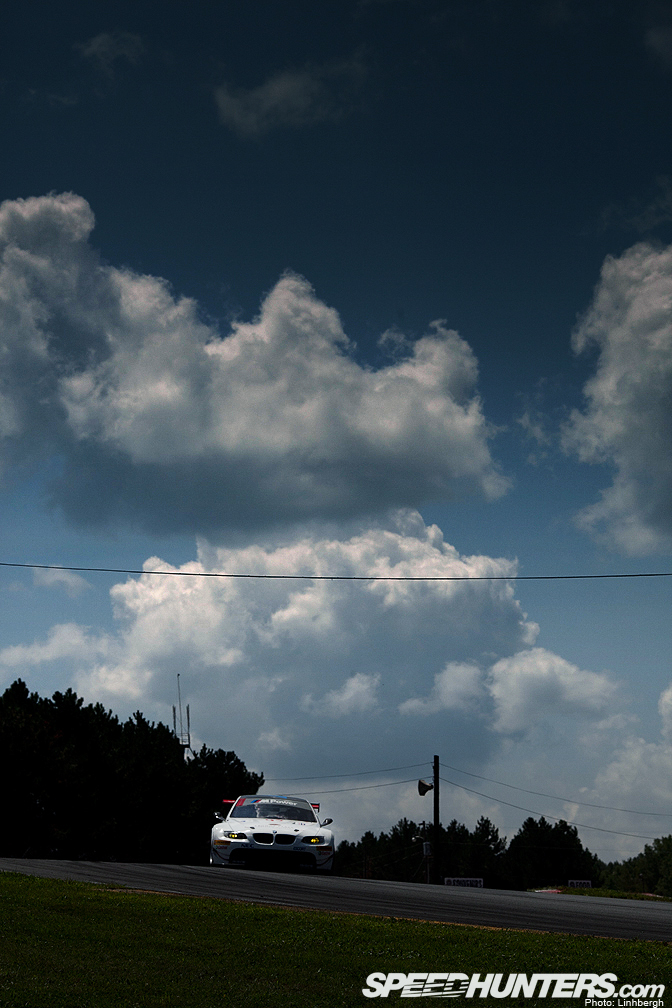 "These clouds are so awesome." – Linhbergh
How about those power lines?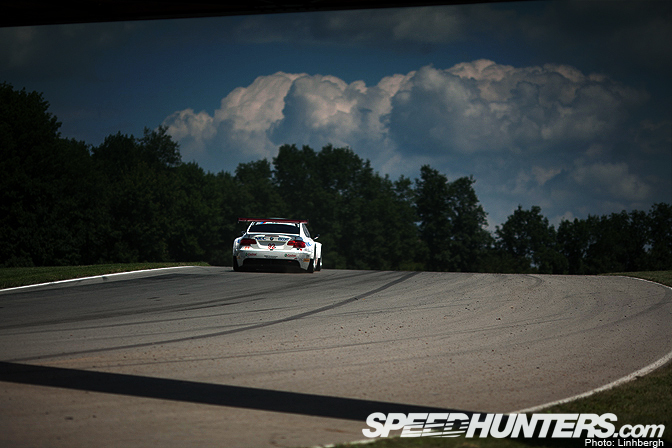 This is turn 7/8 and one of my favorites. You can't see where you're going as you go up the hill and actually turn in to hit the curb at the apex of 8 before you can even see it. The car is dancing around a lot, especially on worn tires, and it's just an awesome feeling cresting that hill. Definitely one of those fun sections of track.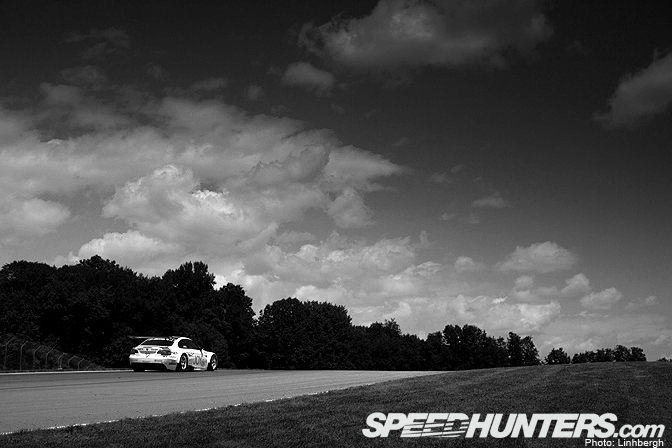 Same sequence of corners…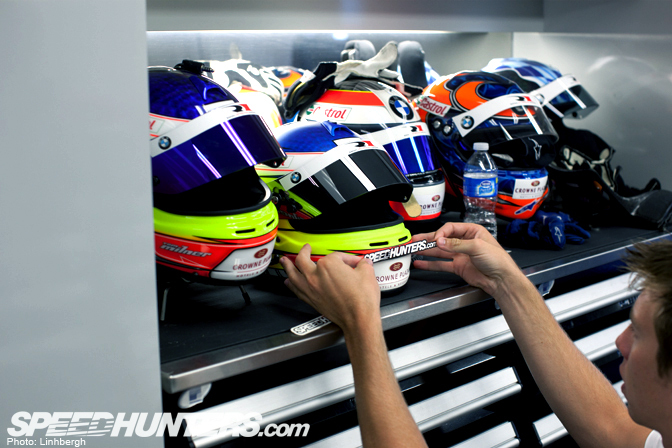 Some Speedhunters.com decal placement before the weekend. The helmet is getting pretty loaded up with sponsor's decals. I suppose that's always a good thing! Speedhunters getting primo placement, of course.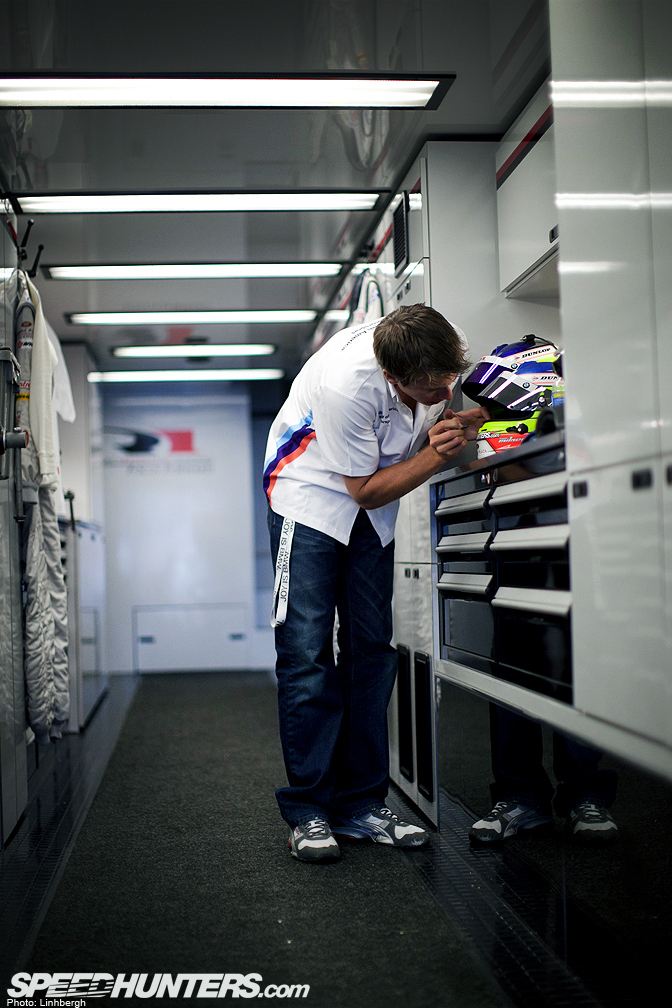 It needed a little adjustment so, as delicately as possible, took a razor blade to my helmet. Not fun. Those things are like my pseudo-children.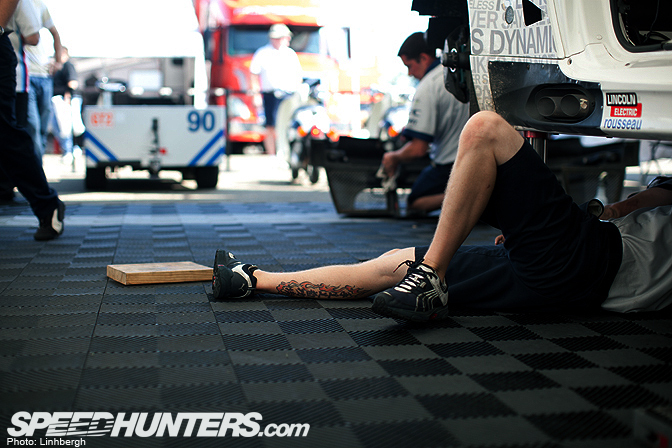 It's the home race for the whole Rahal/Letterman Racing crew and a lot of them had friends, family, and significant others at the track on race day. These guys almost become family themselves and it's always cool to meet and hang out with them. They all offer to have us in to their homes for dinner and a place to stay. The racing community is a tight knit group.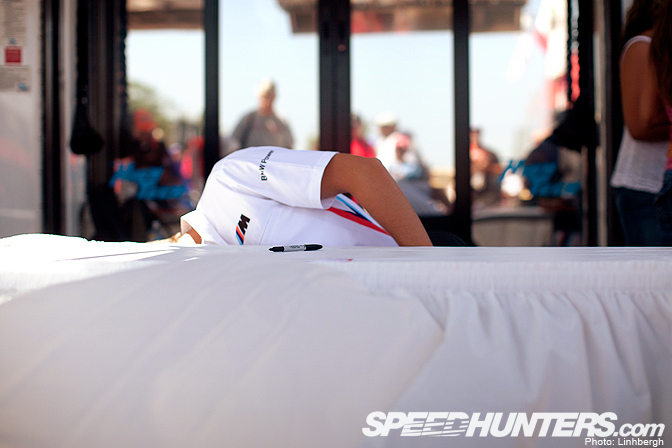 Not exactly sure why, but Linhbergh was determined to get a little more personal this weekend. I'm probably picking my nose out of sight of his camera.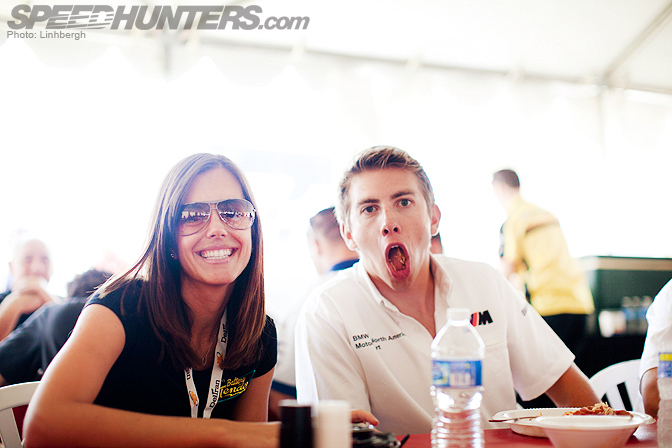 And begin the stalking pictures… Here with my girl at lunch before the race and ruining the picture as usual.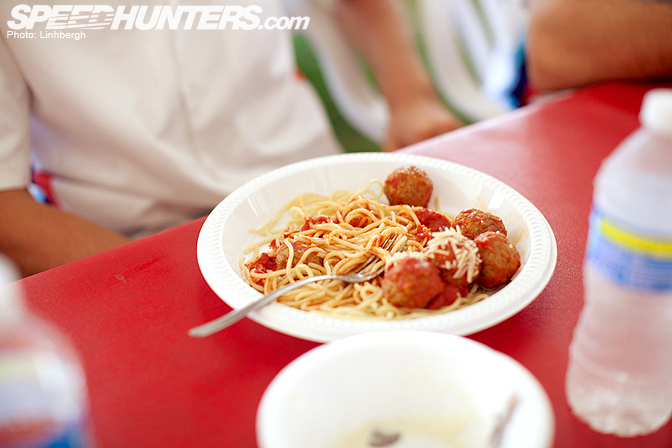 Before the race I like to keep it a little light on the portions and almost always go with some standard pasta and sauce. I'll throw in a few meatballs every now and then if I'm feeling crazy. I'll grab a granola bar or something before the race for a last minute boost. Joey said he's tested the theory, that a driver is 3 tenths slower after lunch than he is before. True or not, I don't wanna chance it.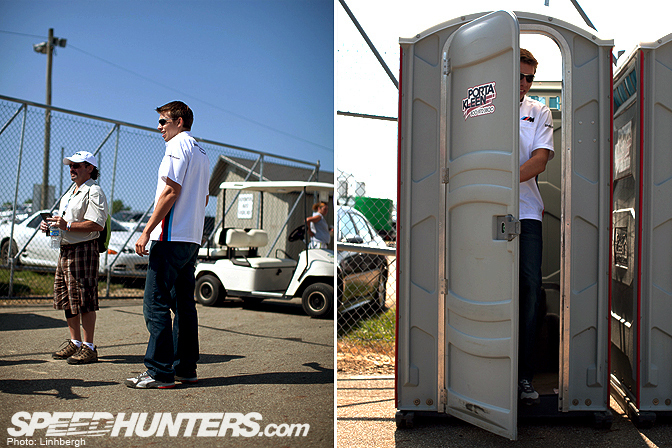 The worst part about the race track. Sharing two Don's John's with half of the paddock and having to wait in line. On race day I drink 4 or 5 waters before the race so I'm pretty familiar with them. Usually the first item of business at a track is to find the real bathrooms. Mid-Ohio's are too far away from where we were paddocked to make it worth it. So these grey boxes of death are the only choice.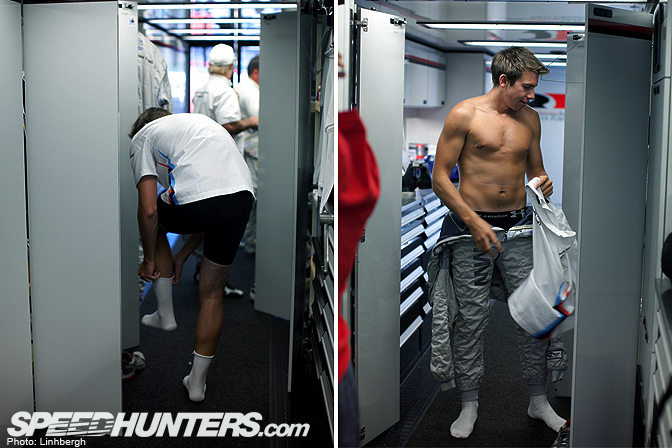 I wouldn't be surprised if you followed me back to the bed and breakfast I stayed at, Linhbergh. Hahaha.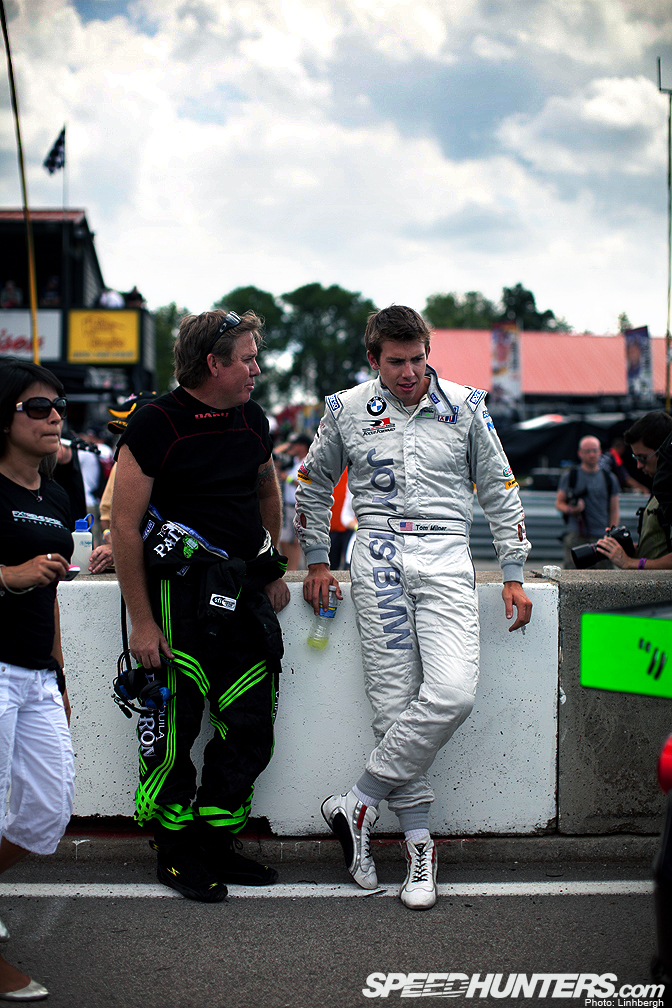 Enough of that stuff. On to the racing. I had the duties of qualifying again this weekend. I was feeling confident, as I was at Miller. I was the quickest driver in the morning practice and was only 2 tenths off of the quickest car in practice 2 before qualifying.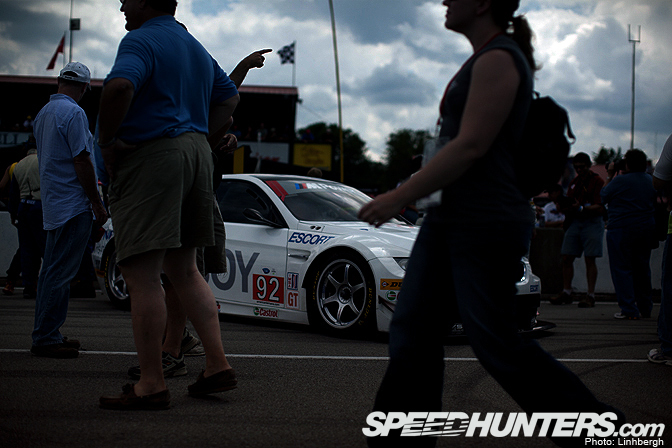 Seventh. Disappointed to say the least. I was slower in qualifying on 4 brand new Dunlops than I was in the practice before when I ran with only 3 new tires. Something was different with the way the tires "came in" from what I was used to and my fastest lap was my first flying lap. Usually our best lap comes on the 3rd or 4th timed lap. Initially, I was excited to see my first flying lap and then severely disappointed when I saw the next few laps which were all about the same time. I could have kept trying and trying but I knew there wasn't going to be a better lap.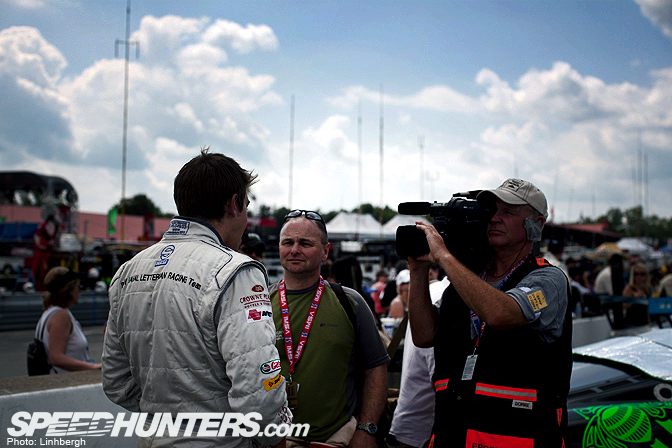 We always seem to lose just a bit of ultimate lap time to the other cars in our class come qualifying but we almost always pick up time. In any case, starting 7th isn't great, however I knew we had a great race car and I just looked at it as more cars I get to pass at the start of the race.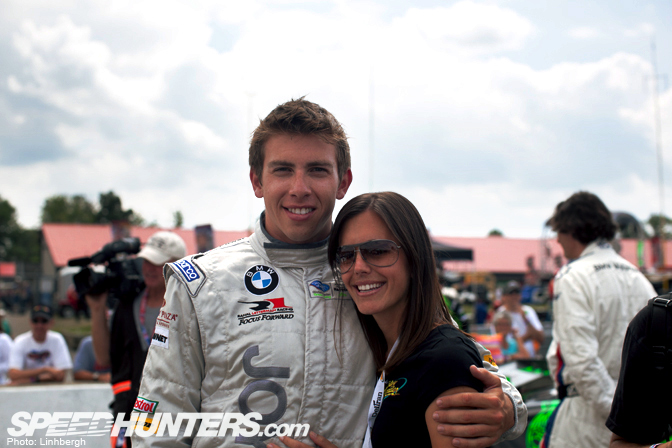 The girlfriend will be happy to see I didn't ruin EVERY picture together.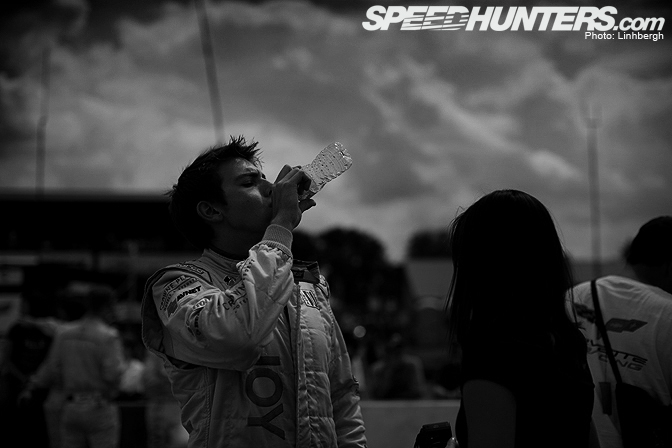 Go time. At this point, I'm trying to calm the nerves a bit and just relax the soul a little. The racing in GT right now is just insane. There isn't another championship out there with the caliber of drivers, teams, and crews all firing on all cylinders that the ALMS GT class has right now.
Current and former F1 drivers, sports car drivers with years of experience/championships/wins, and younger guys like myself with nothing to lose and everything to gain. There are legitimately 7 cars that have the ability to win, and another 2 or 3 with an outside chance. You can have a really good day in the car and end up 6th or 7th. A podium is not a guarantee at all.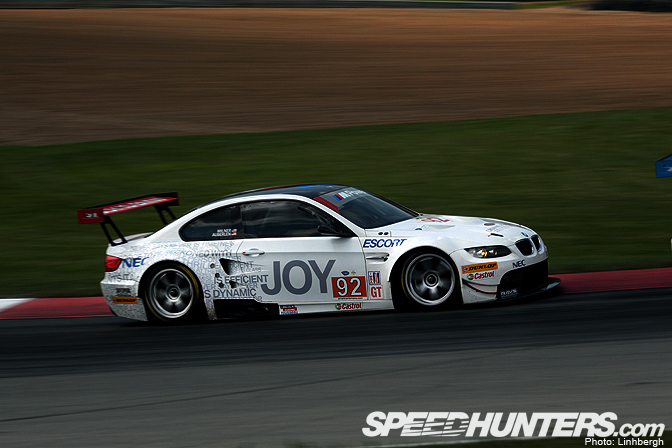 I say how tough it is and yet the ONLY acceptable result is a win at this point. I've been on the podium 4 times in 5 races this year with Bill and our No. 92 crew and yet finishing 2nd and 3rd has lost its excitement. We are only looking for wins and we'll do whatever we have to do to achieve that.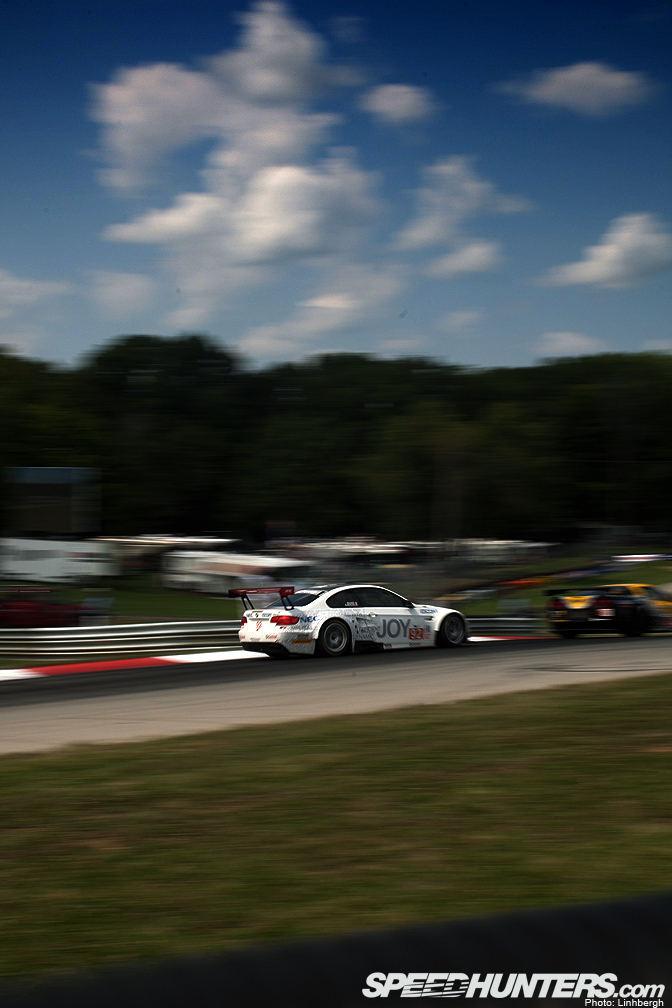 The start of the race was hectic. I was passed even before the start of the race by the No. 45 Porsche, which is obviously illegal, but the series doesn't always catch everything. It didn't matter because I was quicker than Long in the No. 45 car and was by him again soon after. I got by him and the No. 01 Ferrari actually in one shot, around the outside in turn 11. Joey, who started the race in the No. 90 M3, even after the race wondered where I came from all the sudden. I was pretty pleased with that.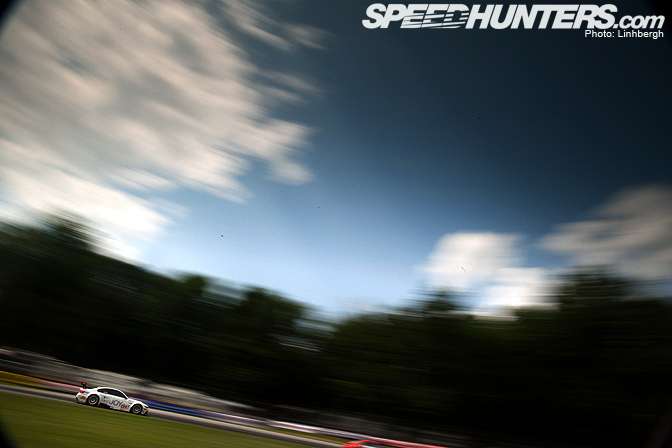 Our car was fast. I was quicker than the few cars ahead of me for sure but the traffic was all stopped up and no one was going anywhere. Finally we stretched out a bit and we could go racing. Joey snuck by the Corvette ahead of him and I began my pursuit afterwards. Unfortunately all of this running in traffic got the temps hot in the car and the nature of the cars now in GT, with a lot of downforce, meant that my window of opportunity to use the speed available out of our BMW M3 GT and our Dunlop tires was getting pretty small.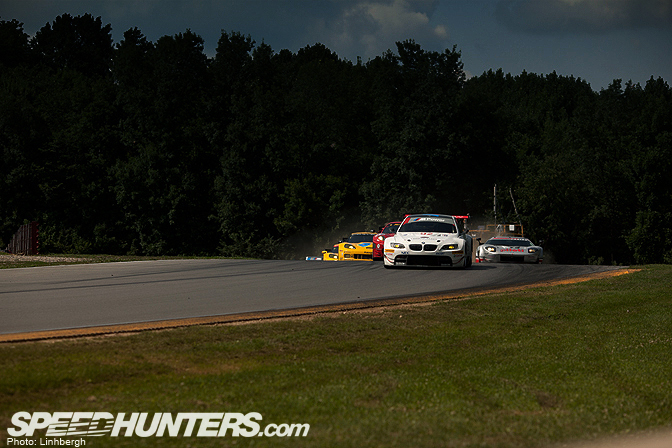 As soon as I caught the Corvette and was in position to pass, my left front tire was starting to grain. That means the rubber on the slick starts to roll up into these rows of rubber and the grip level drops dramatically. Just as quick as I had worked my way up to him, I started to drop backwards. I watched helplessly as the pack of GT cars I was just running with started to drive off into the distance.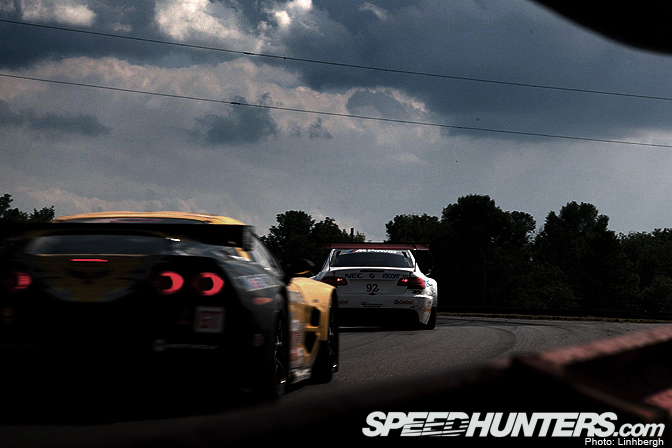 Pause for one of the coolest shots ever. Sick.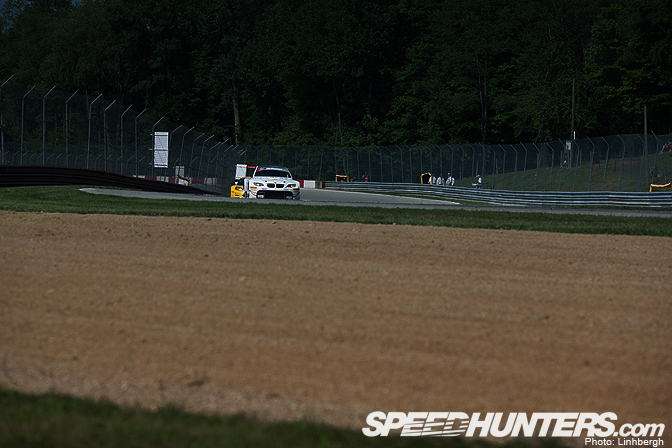 Long in the No. 45 Porsche was soon on my tail. I had to do everything I could to keep him behind me without blocking. Blocking has become a big talking point in the Series and I knew they'd be watching. I knew where I was fast and where I was slow. I took a defensive line wherever I had to. After 8 or 9 laps of Long hitting me in the bumper in every corner, the clean air ahead of me cleaned up my grained tire and I was able to resume my normal speed. Good timing too because I was getting warnings from my team that the No. 45 car was calling race control for 'blocking.' I never made multiple moves to keep him behind me but it's always better to not give the officials a reason to call you in. Best way to do that is just go faster. The tires let me do that.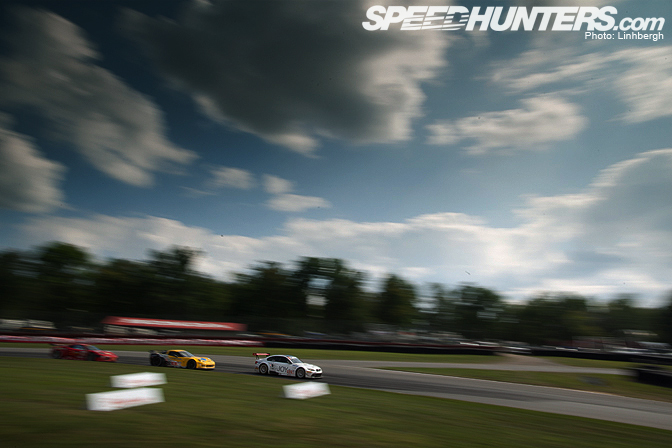 I kept the gap then at that point to the lead pack ahead of me. It was about then that a car ended up in the gravel and our GENIUS strategist, Scott Roembke, called me in for a full service stop. Tires, fuel, driver change. We snuck in before the pits closed, got our stop done, and when it went yellow and everyone else pitted, we cycled to the front of the GT field and we were sitting pretty.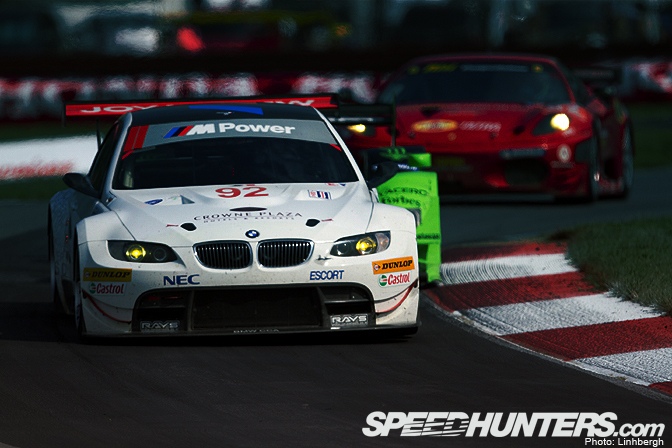 Bill was in and it was his turn to wring the neck of our M3. It was a pretty short stint for me, only 47 or 48 minutes. I was ready to get back in if the opportunity presented itself.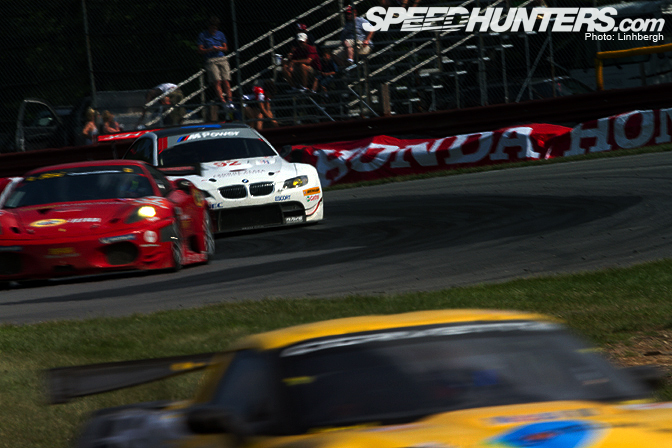 Bill had to work his butt off to keep some really fast cars behind him. He lead for a number of laps and then as the race went on, with the traffic, etc. lost two spots to the Corvette and Ferrari. Both of those cars were really quick and at that point they just had the best of us.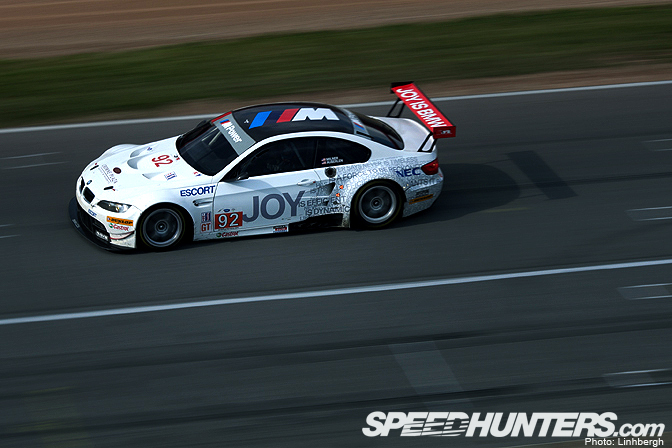 Bill had probably one of the toughest stints all year. Twice, through pit strategy calls, we were shuffled to the front of the GT field. He had to fend off not once, but twice, the ENTIRE GT field. Not an easy job for Bill there.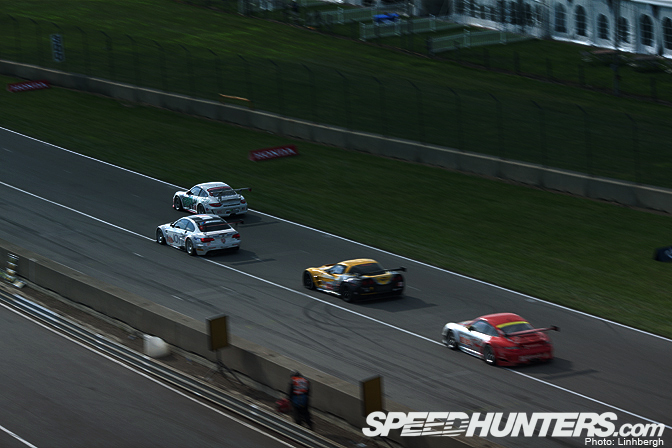 I would say we needed to keep the Porsche behind us, which we do, but we need to keep everyone, Corvette, Ferrari, Porsche, Ford, and heck, Jaguar for that matter behind us. It's so close right now that to win this championship we have to win races.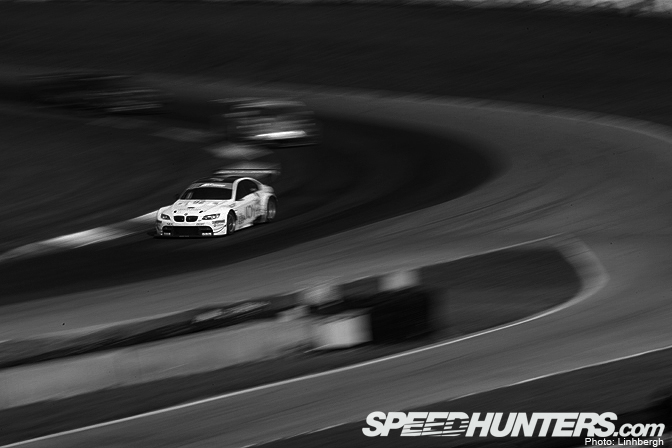 Unfortunately, 3rd was the best we could do today. 3rd is great but not quite good enough. No one left the track that day satisfied finishing 3rd. Everyone is working hard to get every last tenth out of the cars. From BMW Motorsport and RLR, to Dunlop and us drivers. We all have a challenge to win races and so far we haven't achieved that.
It's like football. We get into the redzone and bang home field goals all day. We need that touchdown now.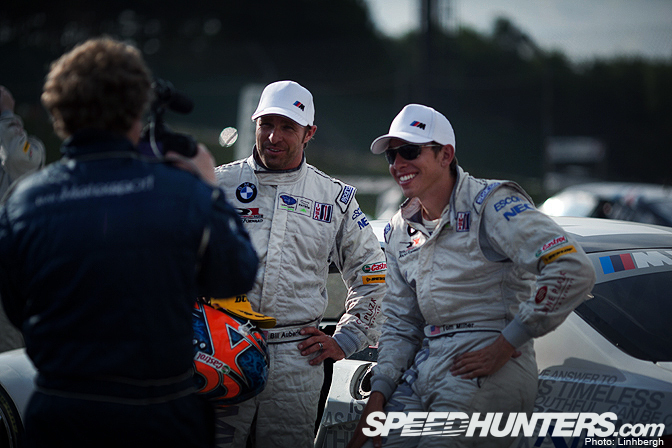 Happy to be on the podium and keep ourselves in the hunt for BMW and some post race interviews for YouTube.
Post-Race Interview with Bill and I.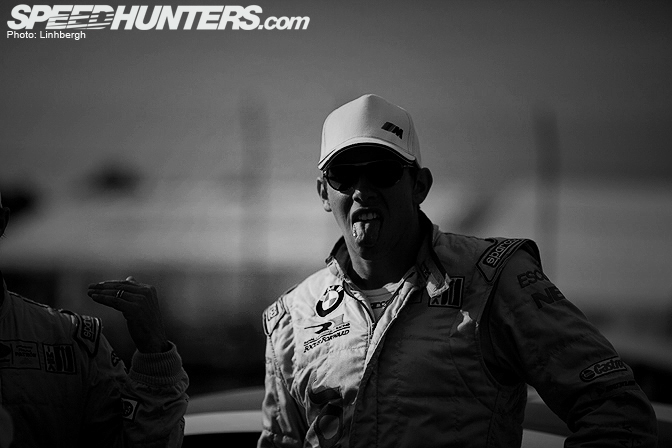 Regardless of the disappointment now, I'm still driving the coolest car, in the most competitive GT series in the world, with some of the best co-drivers. It's not all bad.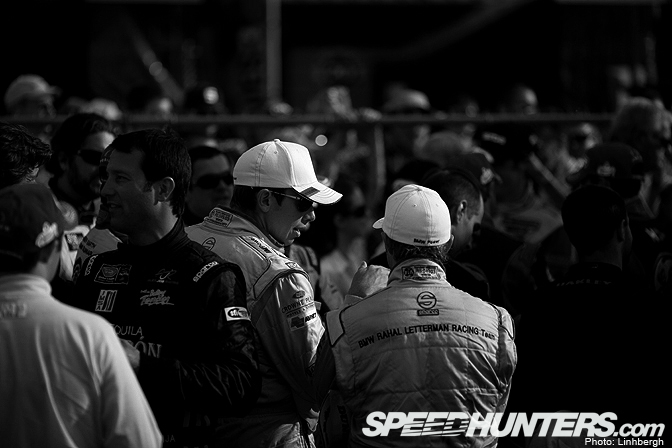 Bill and I comparing races before we head onto the podium. We always have some stories to tell after the race.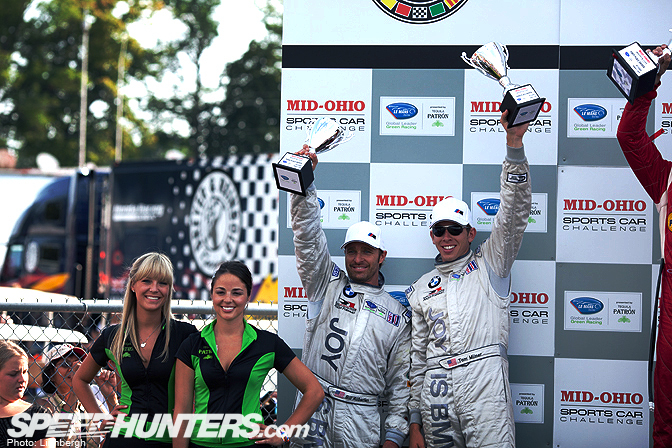 On to Road America this weekend. We finished 1st and 2nd there last year as a team. Our Dunlops seem to like the track. Our M3s certainly seem to like the track.
We all have one goal. Win.
-Tommy