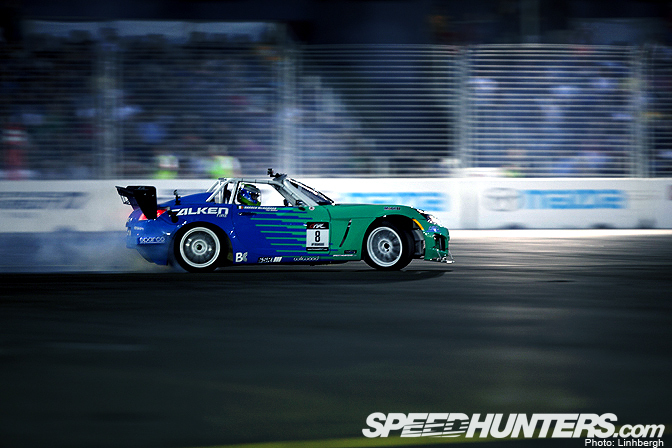 Hello Speedhunters and welcome to my Vegas Blog. Life is pretty busy at the moment with the Need for Speed D-Mac 86 taking up all my time back home. These FD events seem to come around pretty quickly. But, what better stress relief after 12 hours on a plane than sitting into a 800hp drift car and ripping up some Azenis 615K's!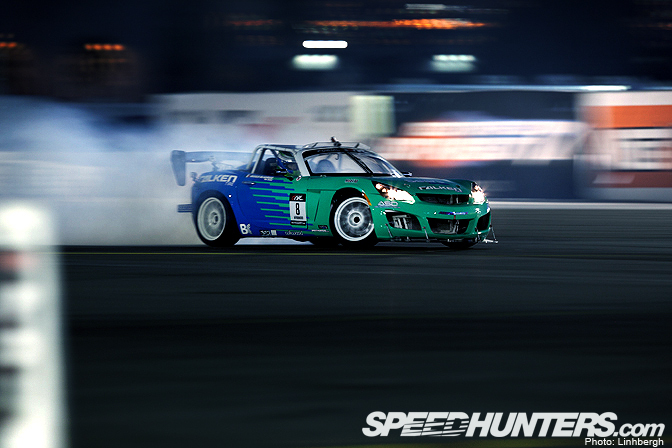 The Saturn Sky looked great as usual! Its a credit to the guys at ASD its like they re-paint it between events. It never ceases to amaze me how much work these guys do preparing four world class drift cars for four lunatic drivers.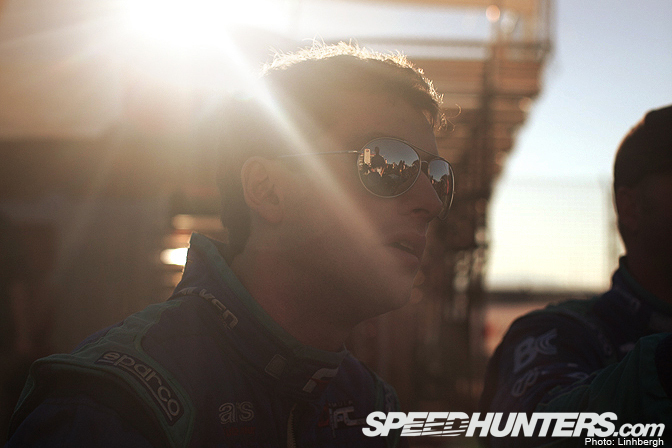 Truth be known I was more nervous at this event than any other in a long time. I have had no luck at Vegas and I really mean that. The first year I didn't even make it into the country (don't ask), and the second year we had an engine failure after building up a 28 point lead in the driver's championship.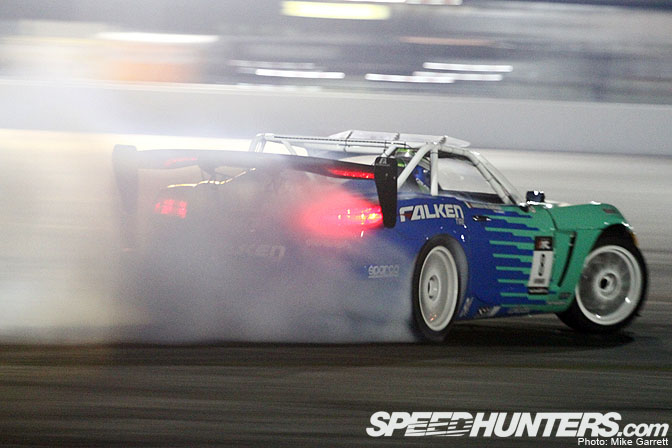 But practice was going quite well. I only had about six runs total on this track from last year but our setup was very good out of the trailer which allowed me to get quite a few runs in.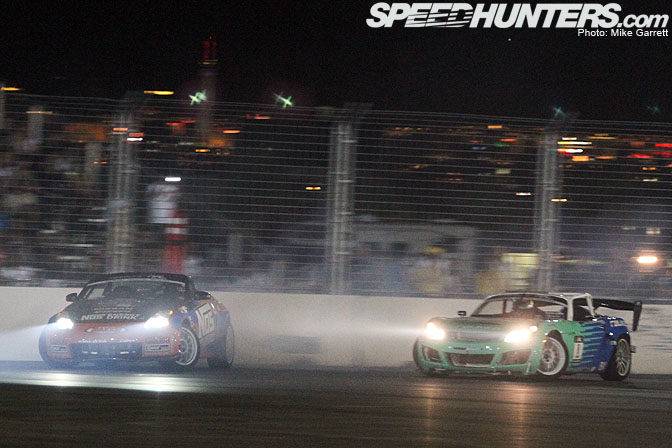 There is a lot going on in this picture. Both cars are reacting very differently. The 350z seems to be leaning completely over on 1 wheel while the Sky is staying almost completely level across the front. Am I the only one who looks at pictures like this??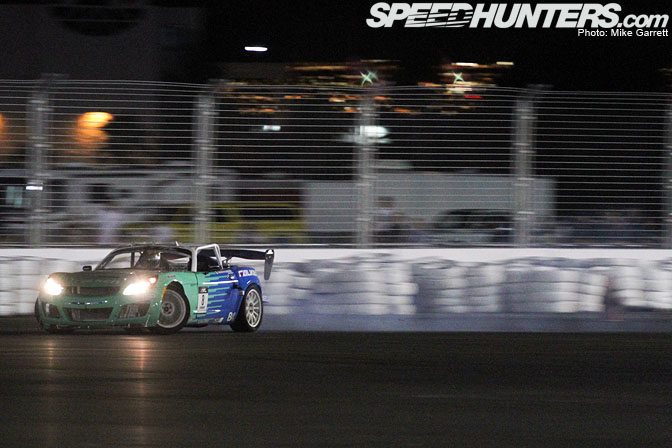 Okay, onto qualifying and what a disaster that was! On my first run, I decided to take it a little easy but my car started to over rotate and I didn't have the entry speed to pull it off……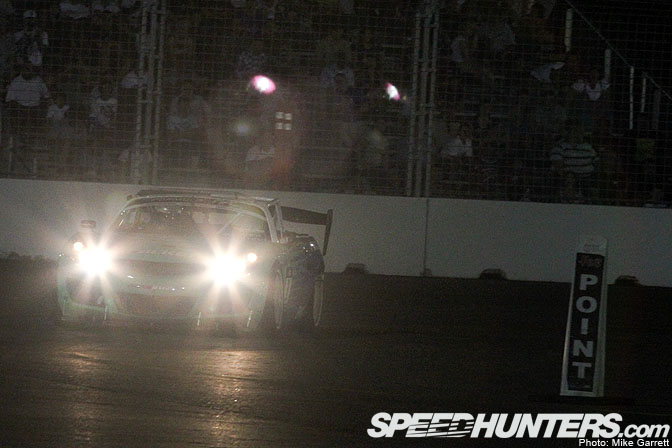 So it was either straighten or spin, I decided to abort and get very upset with myself.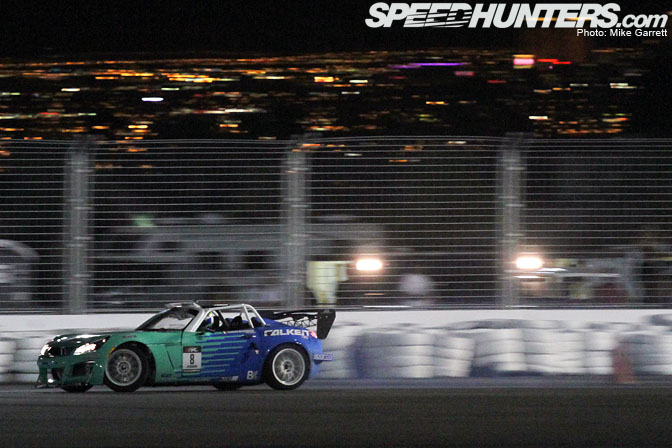 Having a zero heading into your second qualifying run is very nerve racking. I couldn't help thinking to myself I had a Vegas curse!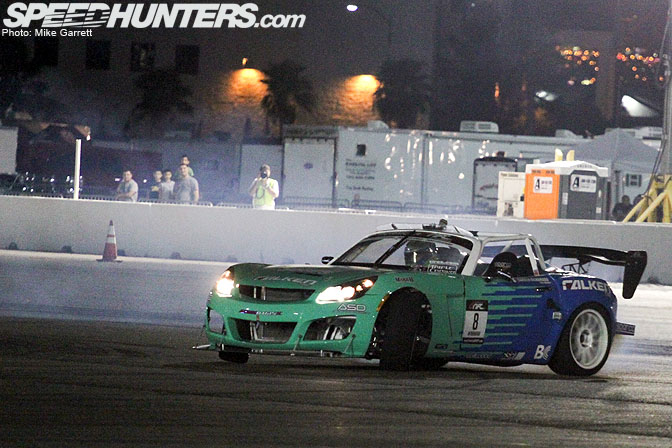 But from the moment I entered I knew this was a pretty solid run and we ended in something like 10th or 11th position, I didn't really care…… I was going tandem drifting in Vegas!!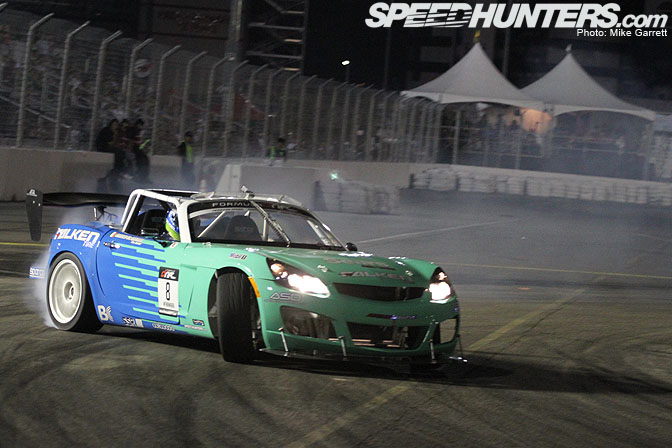 On a serious note. I really believe the ability to handle pressure is the difference between a good driver and a professional.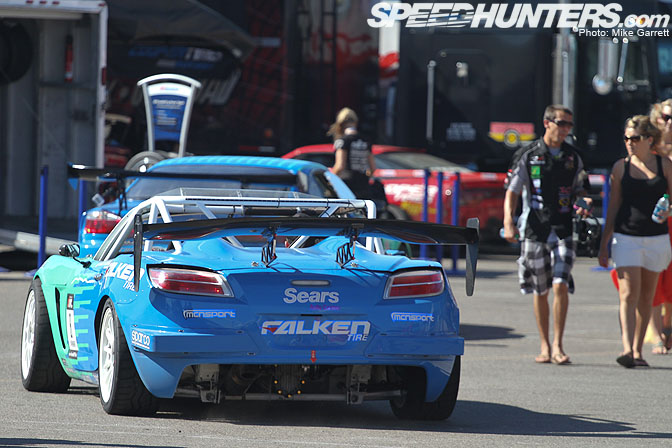 Here's me and my buddy James heading off for Saturday practice. After seeing the Top 32 bracket, I knew I had a great chance of gaining some serious points in the championship race. The pressure was back on.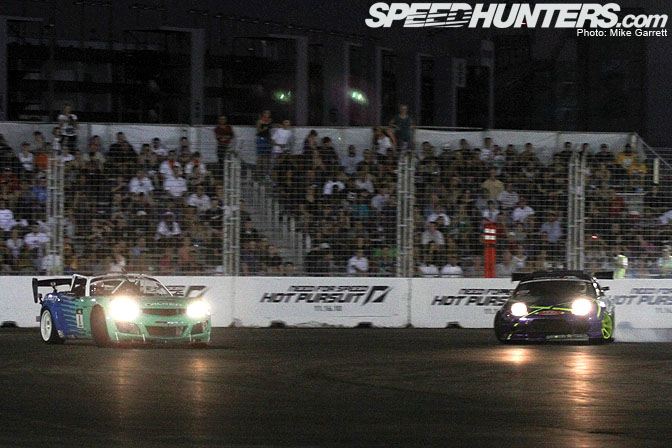 I have to admit that I knew very little of Matt Field before our Top 32 battle. So I didn't really know what to expect. But thanks to my awesome team, I had notes on all of his practice runs.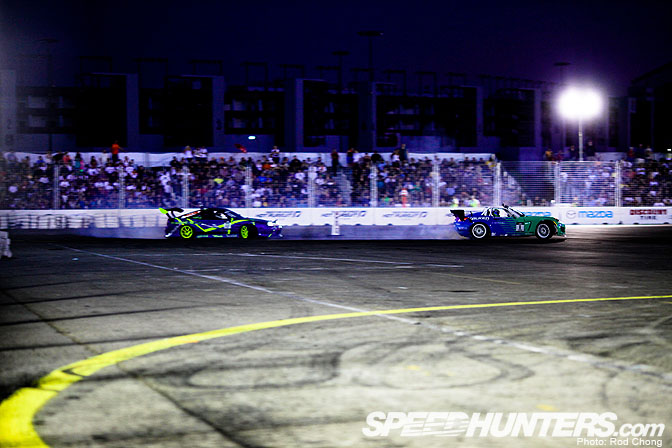 But it was my job to lay down a solid lead run……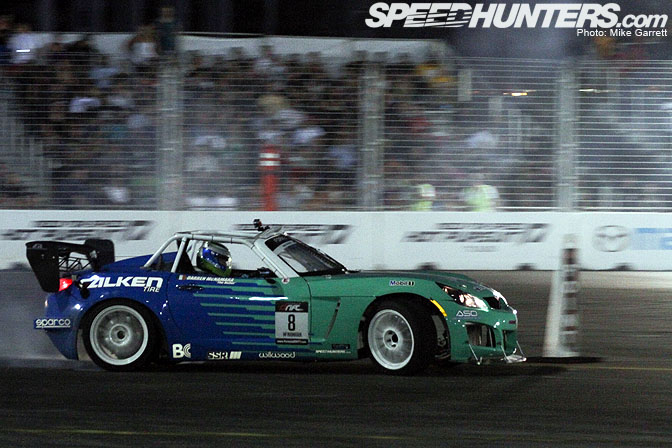 So, I concentrated on modulating the throttle or trottle as we say in Ireland…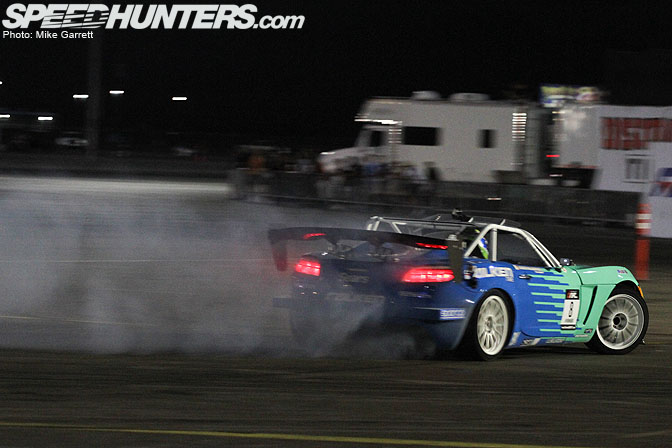 …use the grip from my Falken Tires or Tyres…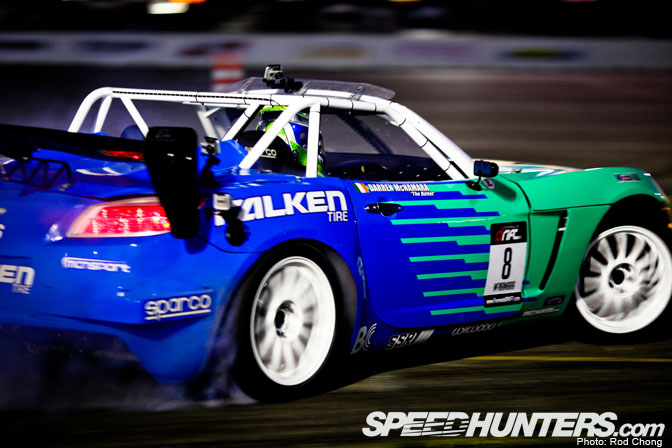 …and finish as close to Rod Chong as possible.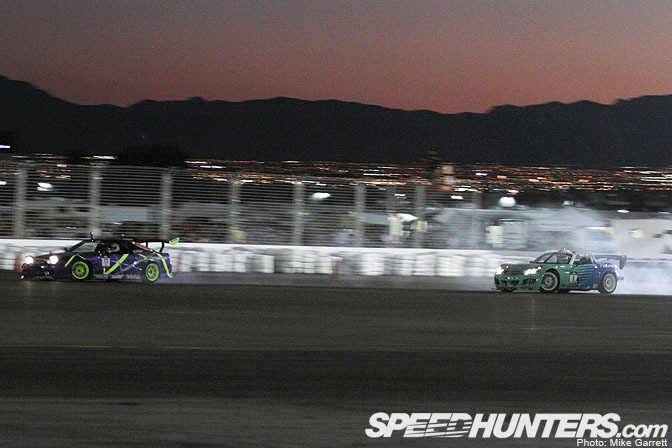 On my chase run, I gave Matt some room as I didn't know exactly what to expect. I decided that I would try to close in from there.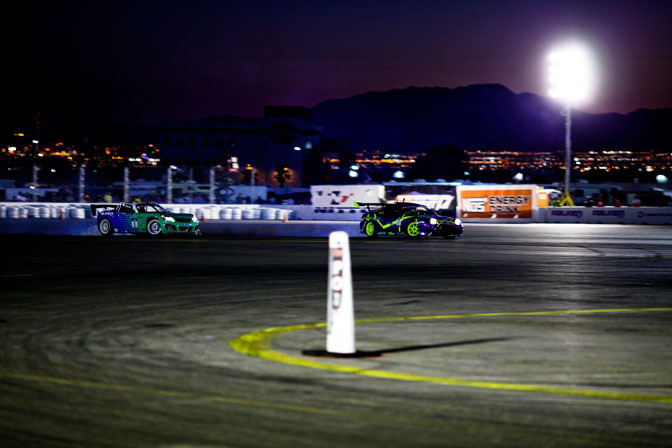 I closed up on the first clipping point, pulled back……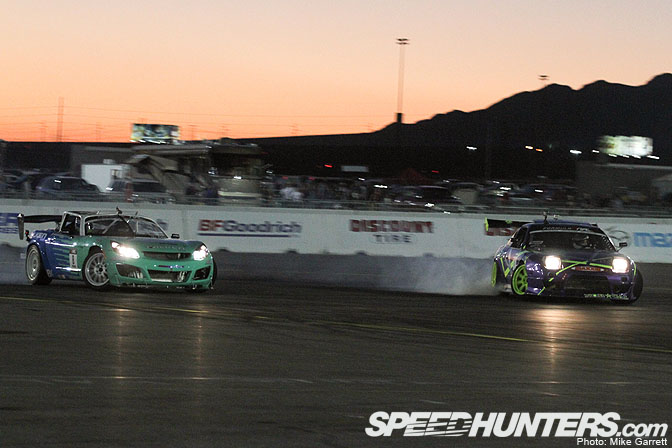 ….and closed in again on the second.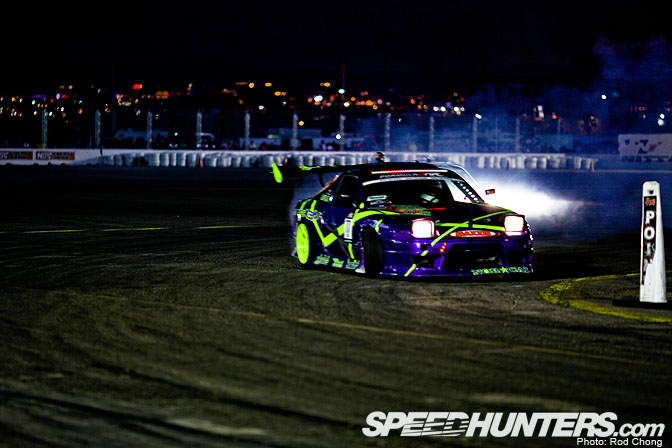 Transition and power through the finish. Thankfully we'd done enough to progress to the top 16 and a showdown with my Falken team mate, Tyler McQuarrie.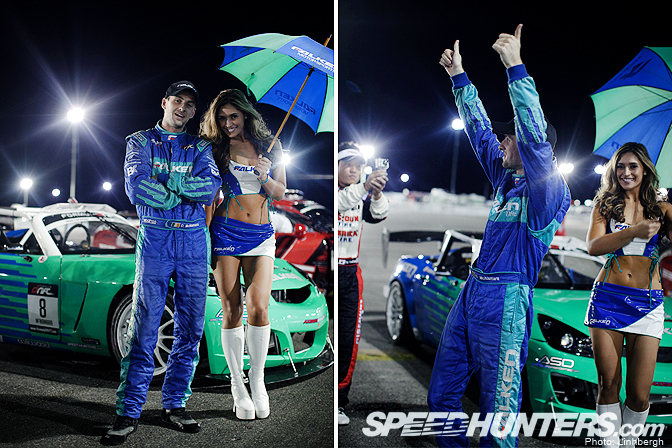 Opening ceremony time and two thumbs up to the Irish flag in the crowd! Am I the only one who notices that Dai Yosihara is always filming stuff? He must have quiet a collection.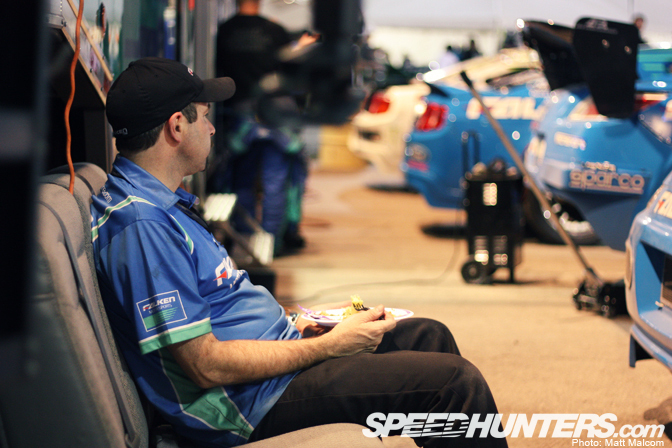 Back the the pits and my mechanic Peter "Flash" Gordon was re-fuelling before the main competition starts. Big shout out to this guy he busts his ass every event.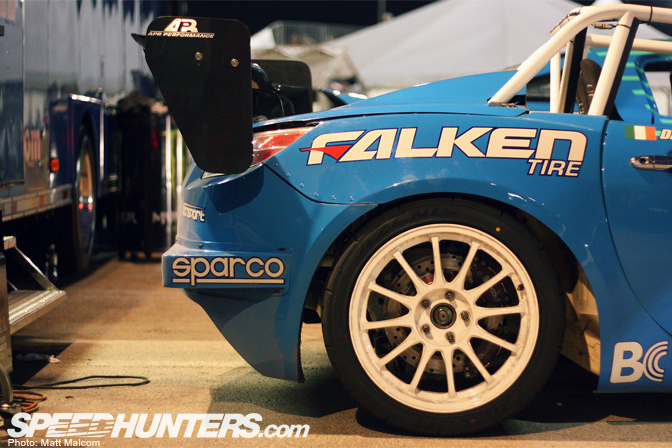 He had already prepped the machine. Sticker 615K's and a top up with race fuel and she was ready to go!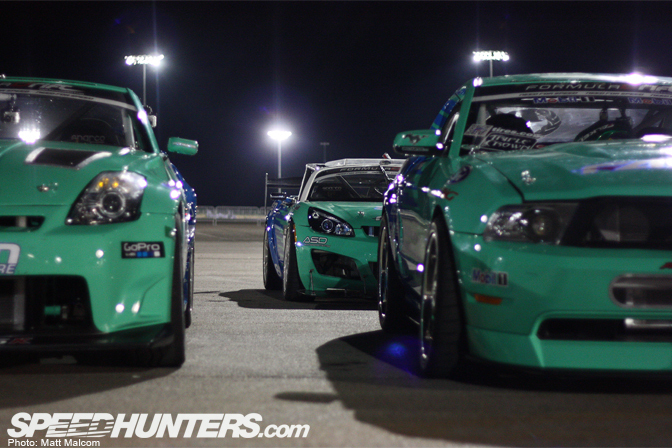 The Blue and Teal presence was very strong and you couldn't really get 3 more diverse cars. 24 cylinders here and about 2200bhp. Pretty impressive figures!!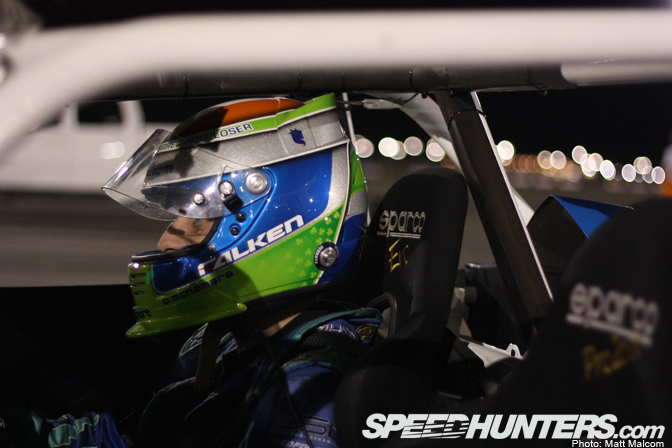 OK…….. its warm up time. Helmet on, time for a quick chat with my crew chief, adjust my shock settings, make sure the motor is up to operating temp and, lastly, warm up those 615K's!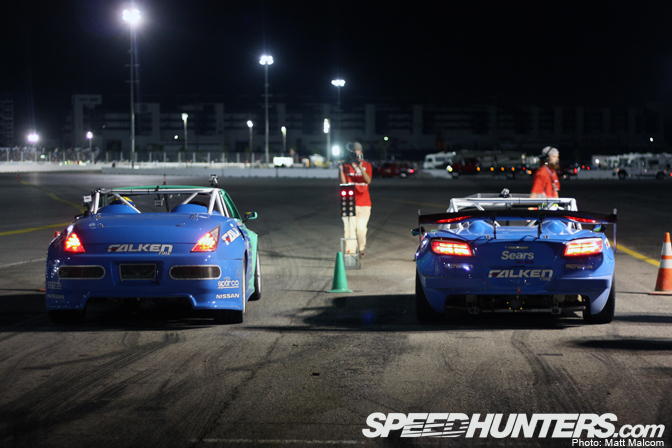 Right so this is it. Whoever got through this battle had a great chance of going all the way. At this point, Foust, Tuerck and Forsberg had all been knocked out and I had a major chance to jump up the points table………..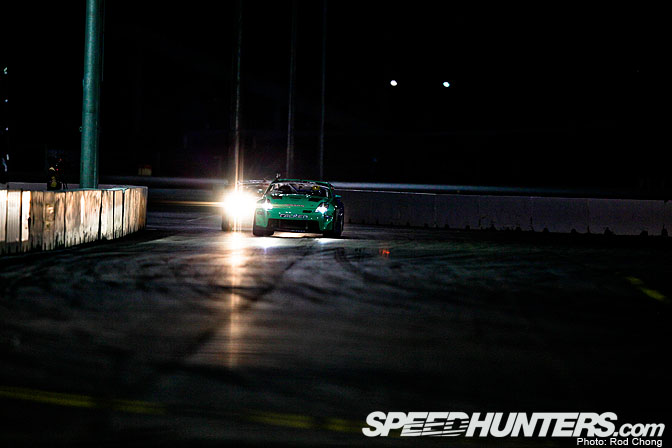 As you can imagine, with all the horsepower available here, entry speeds were pretty high. Tyler and I had both recorded low ninety mph entry speeds. Tyler had a slight weight transfer entry and I concentrated on not letting him get away with a more straight line.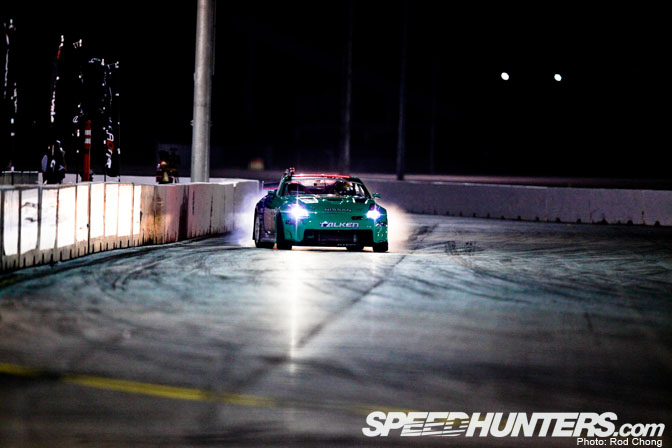 And so he made his move……..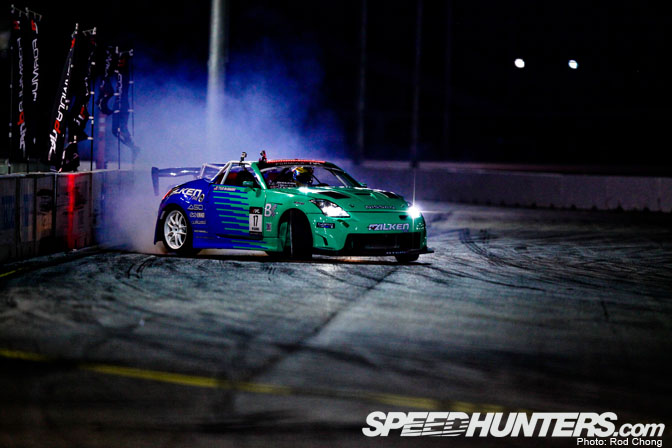 And I was right with him………. (Doesn't Tyler's car look much better with a GT Wing? haha)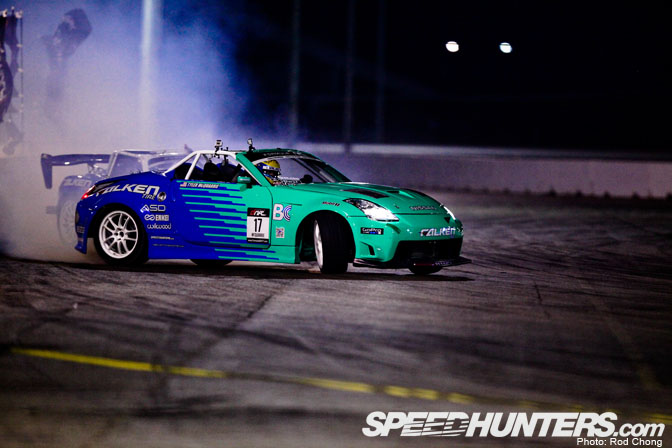 I was determined not to let him get away from me…………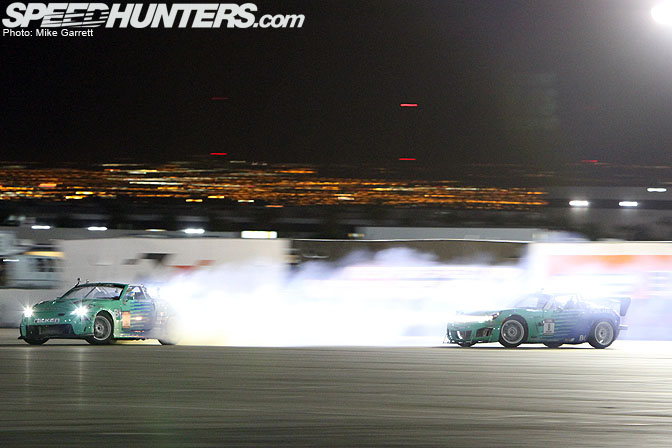 Tyler was first on the gas and opened small gap………..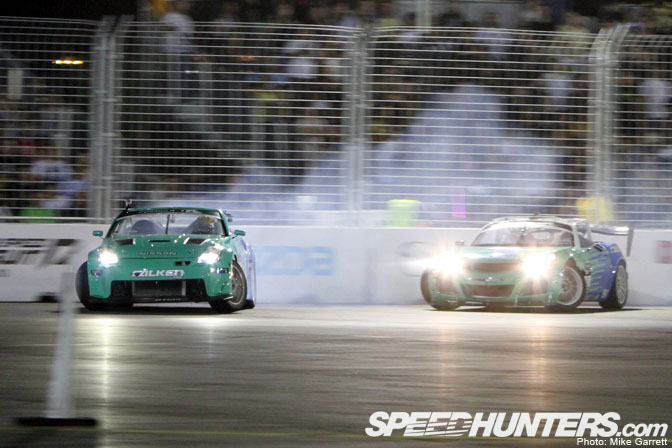 But I was right with him approaching the outer clip……..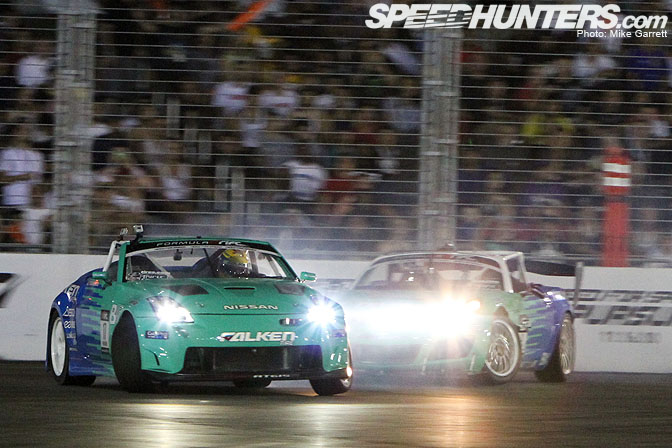 I expected him to take a much wider qualifying line and he caught me a little off guard…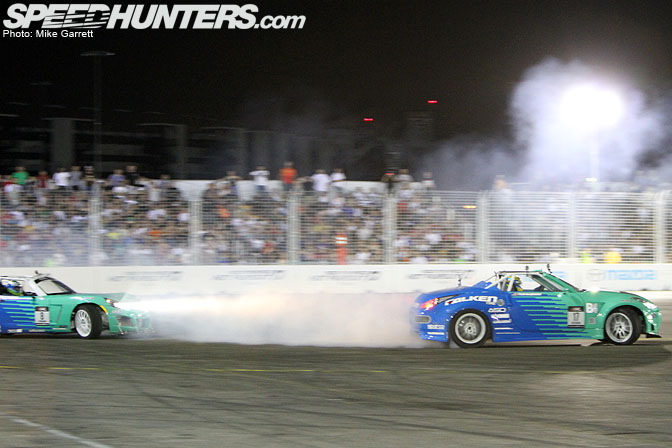 …and managed to pull away a little. I was not a happy boy! All I could do here was close up the gap to the finish and start thinking ahead to my lead run.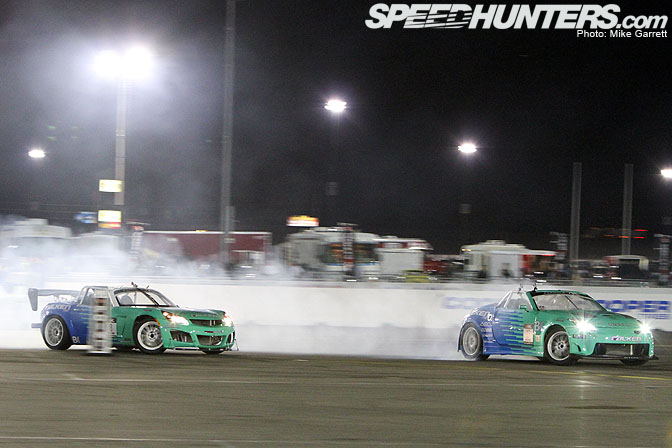 I managed to reel him in by the end of the run but I knew he had an advantage. It was time to lay down one serious lead run!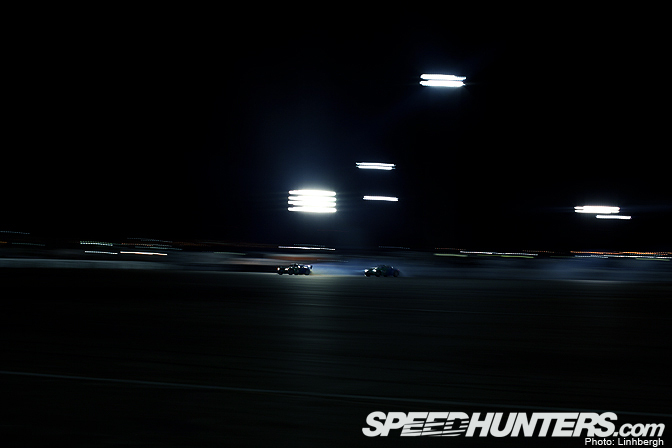 I accelerated harder down the straight than I ever did before trying to suck him into the first corner and cause him to make a mistake.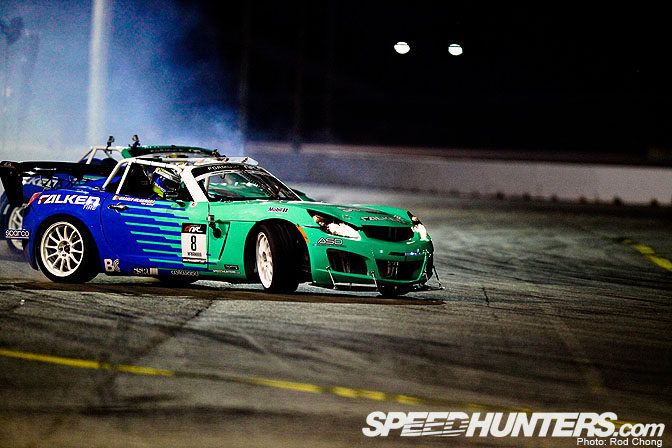 I entered very fast. This was pretty scary stuff!!!!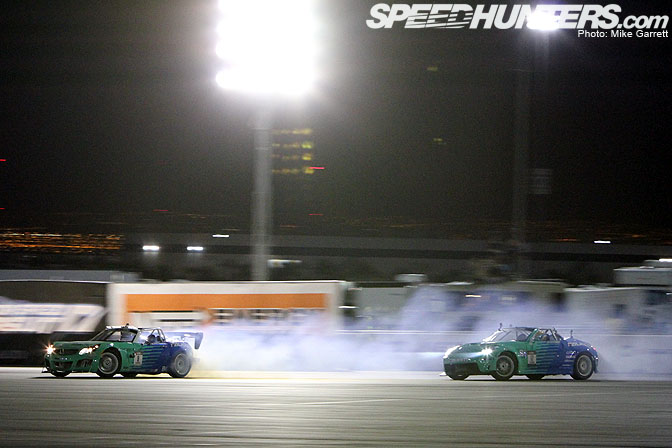 After releasing the e-brake, I pinned the throttle to create as much smoke as possible.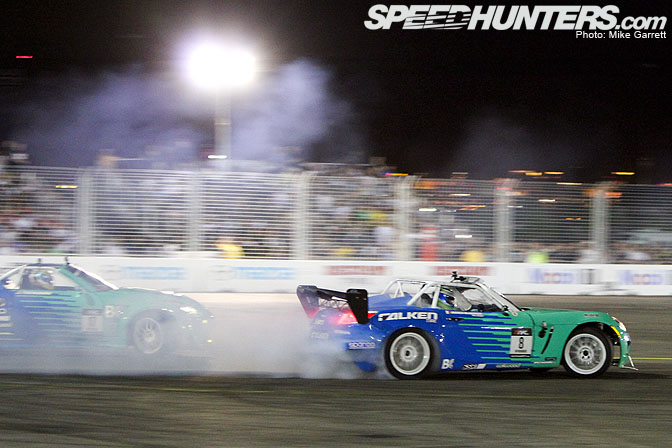 Tyler stayed with me the whole way. I left the Sky in top gear and gave it a hard clutch kick instantly releasing 800bhp and the trademark Falken smoke……..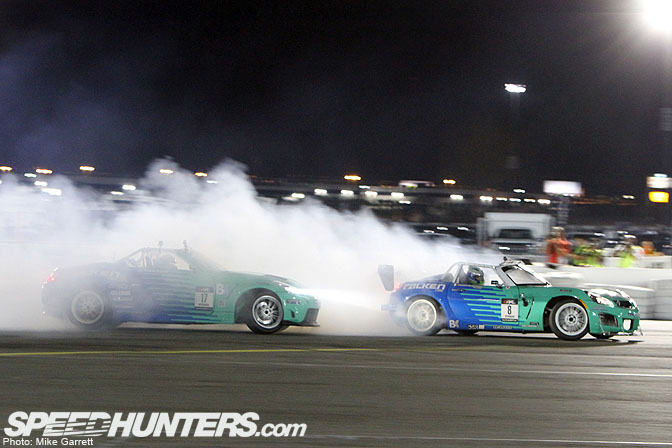 I don't know if I blinded Tyler but this was where he made his mistake, drifting wide on the second inner clipping point.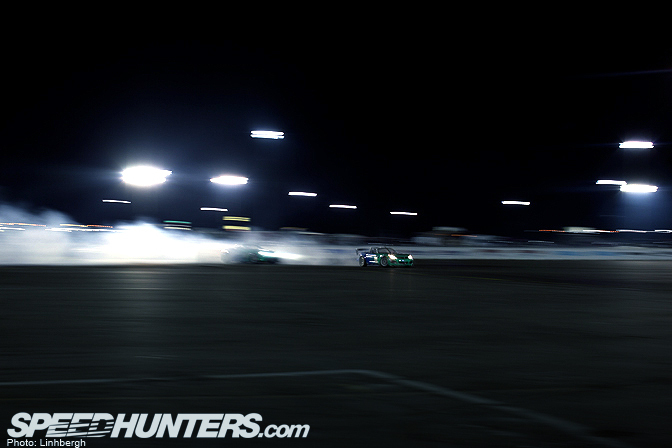 And I managed to pull away to the finish!
We all thought there was no clear winner and would go one more time. When the start marshall pointed to Tyler and gave him the win I felt utterly devastated. 
I had the opportunity and I let it slip through my fingers. I felt the Championship Title slip away and it took me quite a while to come back to reality. We all know Tyler went on to win the event, and deservedly so, but it was hard to watch him on that top step of the podium when I felt it could have easily been me.
On a positive note, Falken claimed our second sweep of the podium, so proud and I now have a good feel for the Vegas track after 3 years of trying and some good data for 2011
See you guys next time in Sonoma!
D-Mac