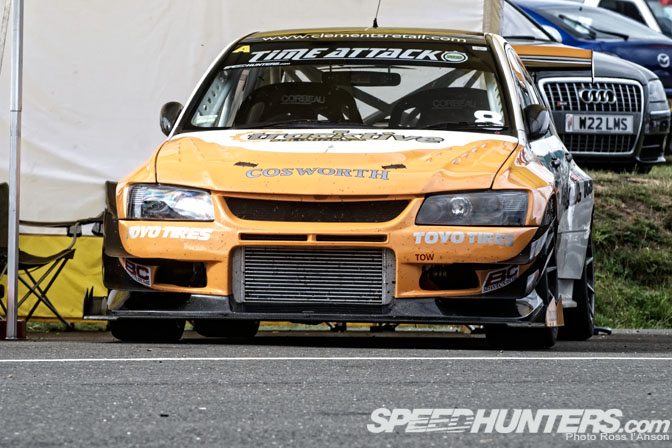 Just another EVO? Think again. This UK Cyber Evo belonging to Robin Duxbury is just a little bit special. Robin was recovering from an accident sustained during competing in rally raid when he first discovered the Time Attack series. During his year long recovery, a crash damaged Mitsubishi Evo was sourced and shipped to the UK. On arrival every last nut and bolt was stripped and the car was put back to exactly how Mitsubishi intended and then registered for UK roads … Then the Cyber Evo build started !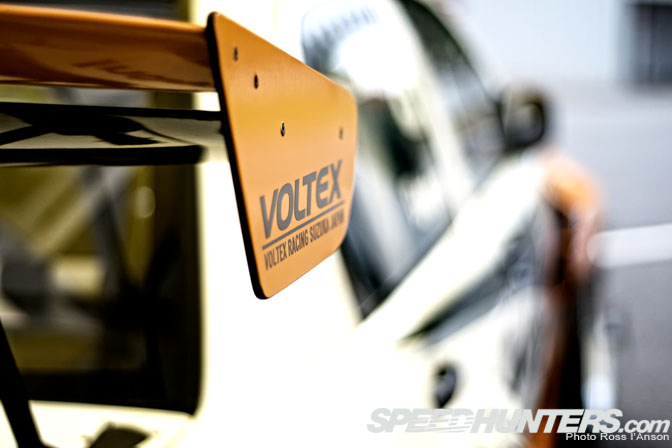 Just glancing at the car you would be forgiven for thinking it's just a well prepared Time Attack car, look a little closer though and the details just keep coming and coming. The aero fitted is a rare Voltex fully wind tunnel tested kit, 1 of only 4 made.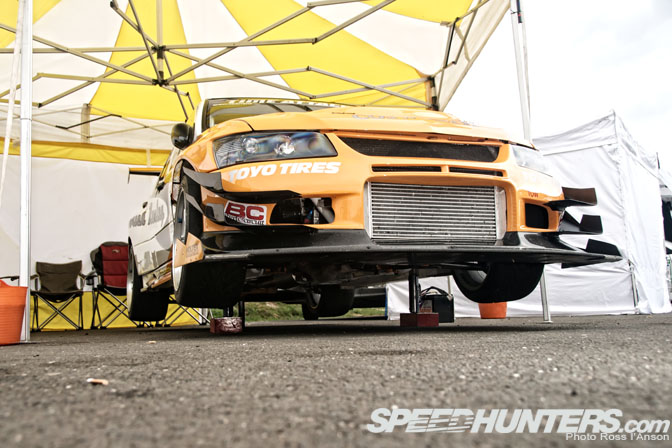 The chassis has been modified so the side exit exhaust sits flush enough for the future addition of a full flat floor. And of course an air-jack system has been fitted.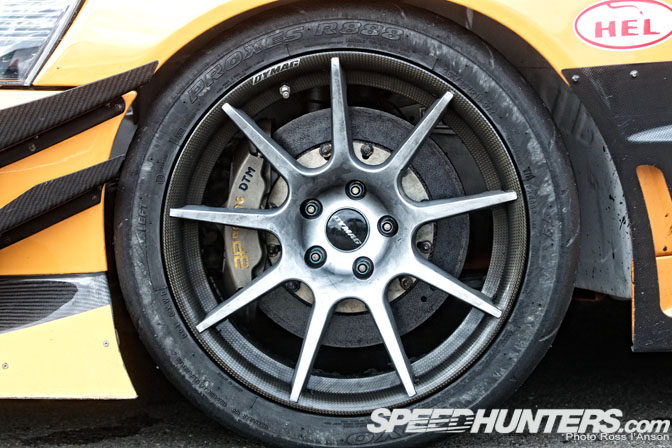 Stopping is handled by a full carbon AP set-up usually found on a Mercedes DTM car, wrapped in Dymag carbon magnisium rims held on with titanium nuts.. well when you have gone to these lengths skimping on your nuts would just be rude.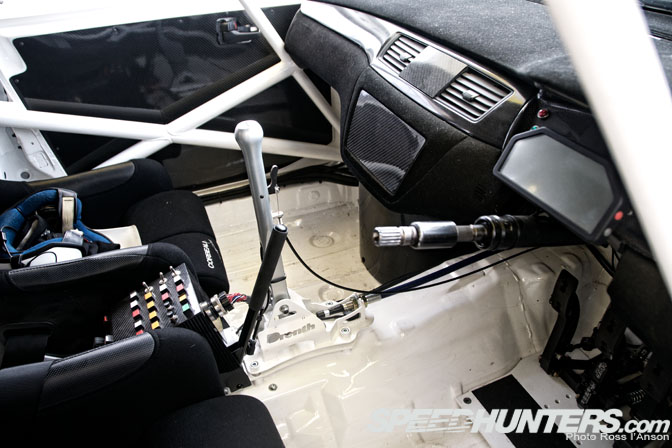 Inside its super clean and functional, The Drenth 5 speed sequential shifter immediately catches your eye then the details just keep coming. Floor mounted peddles, digital dash and carbon inserts everywhere and wired together with a touring car loom. The finish is just stunning.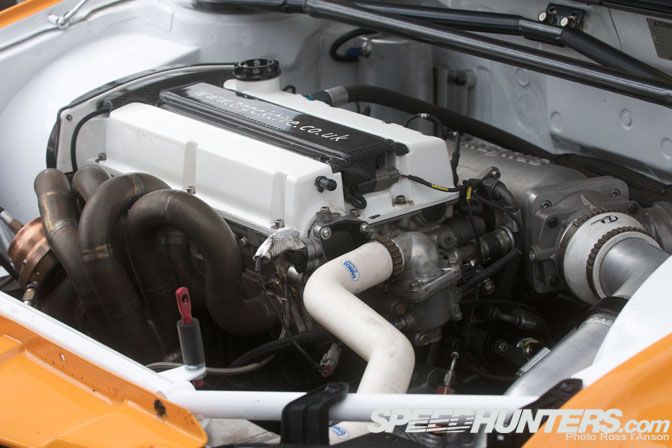 The clean finish is extended to under the bonnet, Just looking you would never guess that the engine has been moved back 30mm and lowered by 20mm to aid weight distribution, thats the level of attention to detail put into this car. Every fluid connection is on a dry break connection,not only speed up a engine change but also a great safety feature in the event of a altercation with the scenery. Power steering is actually a electric item off an Renault Clio and the alternator is driven off the rear diff so no engine power is sapped up driving ancillarys. Power is delivered through a fly-by-wire VAG throttle. But perhaps the engine bays piéce de résistance is the fuel lines. Made by non other than Mclaren F1, they are full carbon items and only weigh 5% of the original lines weight.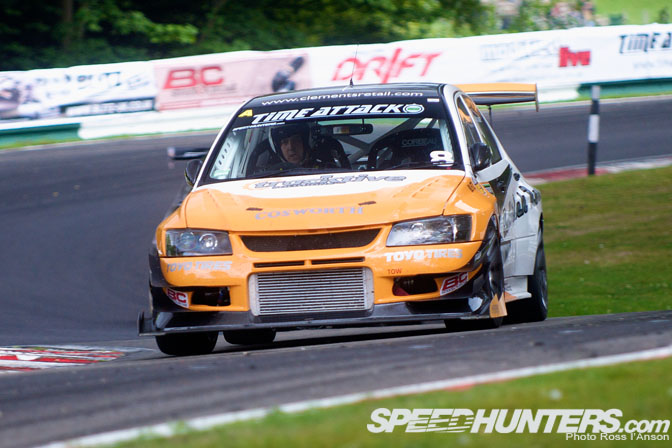 Power wise i suppose you could call the engine 'lightly breathed on' only producing 450hp … Strange, since i have been working for Speedhunters 500hp+ cars are the norm so a 450 hp Evo does not even raise a eyebrow any more..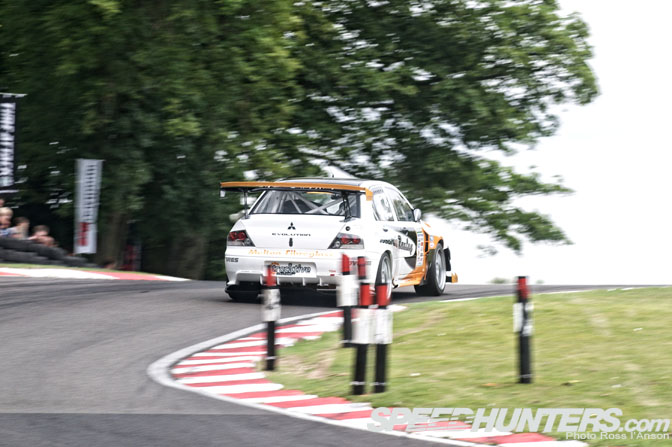 ..The 'meager' power output is just temporary though, The UK Cyber Evo is in a year of development to prove the aero, and WRC EX-TC suspension all work together as a package before the addition of big power.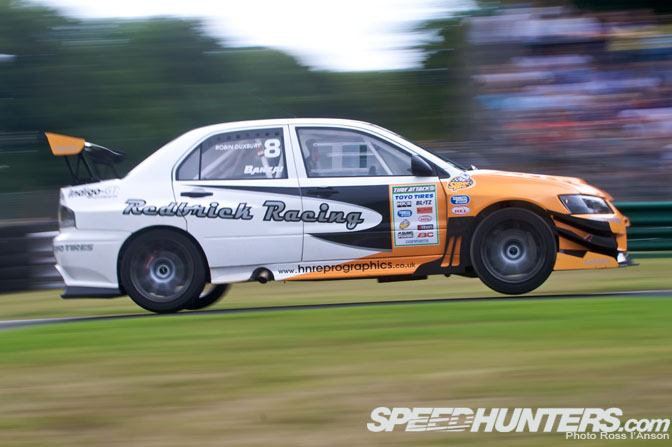 What developments are on the cards ? Well there is a 900hp engine sitting on the bench waiting to be fitted, as well as a paddle shift system to complement the 5 speed sequential already installed and the aforementioned flat floor. With proven results already achieved during the 2010 Time attack season against vastly more powerful machinery, the UK Cyber Evo will most certainly be a force to be reckoned with in 2011. 
 – Ross