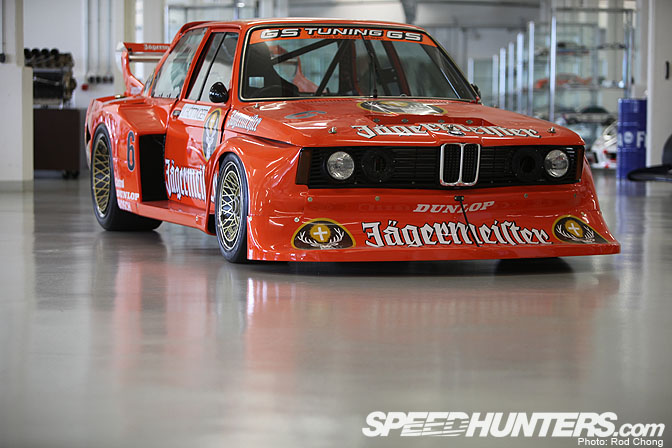 I've been communicating with a chap in Belgium who is in the middle of building up a Group 5 style BMW E21 street car. He's been pinging me on Facebook asking for help to source photographic references for his crazy project.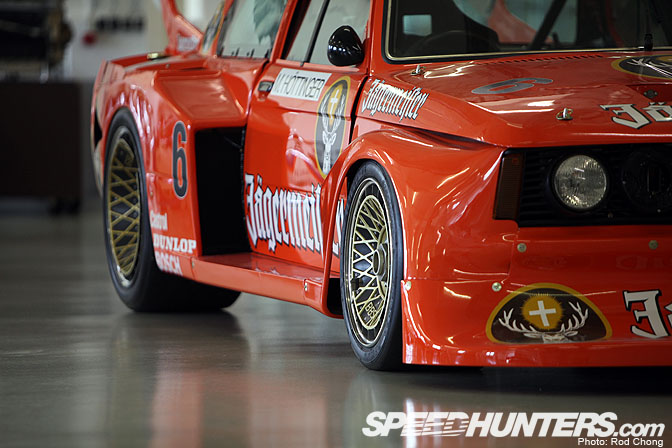 So I dug through my photographic archives to find the original full size shots of the McLaren BMW IMSA 320i Turbo, I shot almost exactly a year ago at Rahal Letterman Racing in Columbus Ohio. I also happened to unearth these photos of a DRM Division II BMW, which I shot last September at the private BMW Group Classic collection in Munich.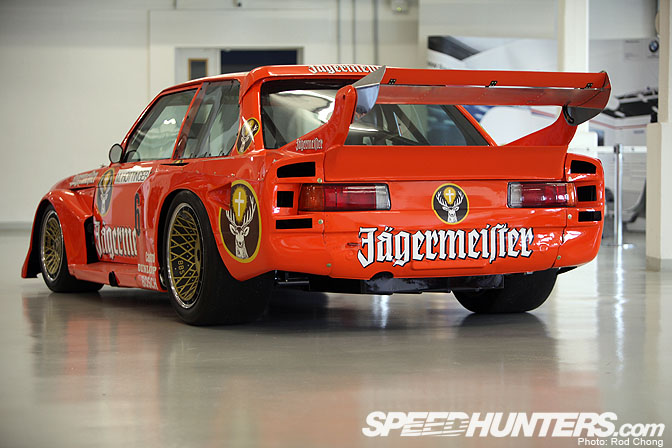 As far as I can tell this particular car raced in the 1979 German DRM Series and was campaigned by GS Truning for driver, Markus Höttinger. One series victory was recorded at the ADAC Hessen Cup at Hockenheim on September 9th 1979, where this turbo 320 managed to defeat the might of the Zakspeed Capri.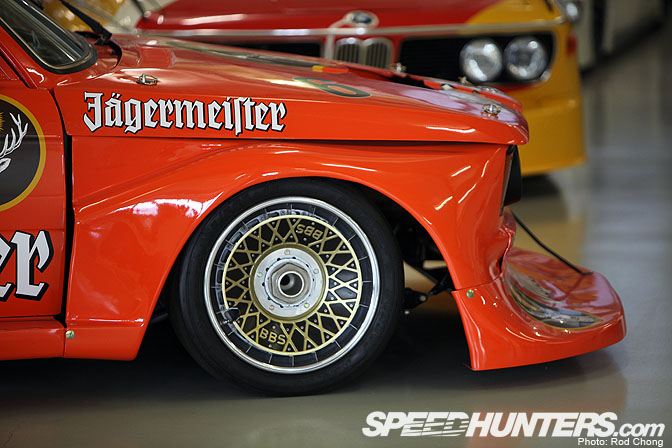 I don't think you need to hear me drone on yet again about how much I love Group 5 cars. They are truly wild racing machines.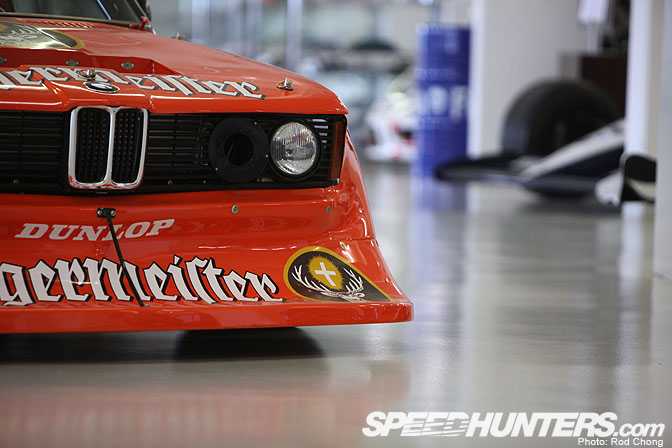 BMW told us we could feature any cars we wanted but I just knew that this car deserved a closer look…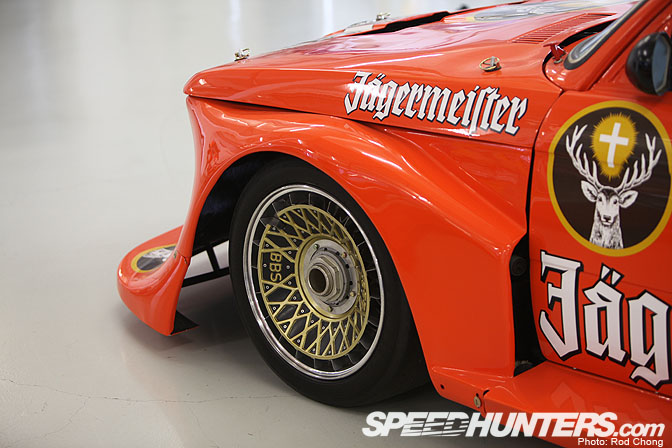 Which make it seem a bit silly that I forgot about these shots…. Anyway they fit nicely into the Old School theme that we're running this month on Speedhunters.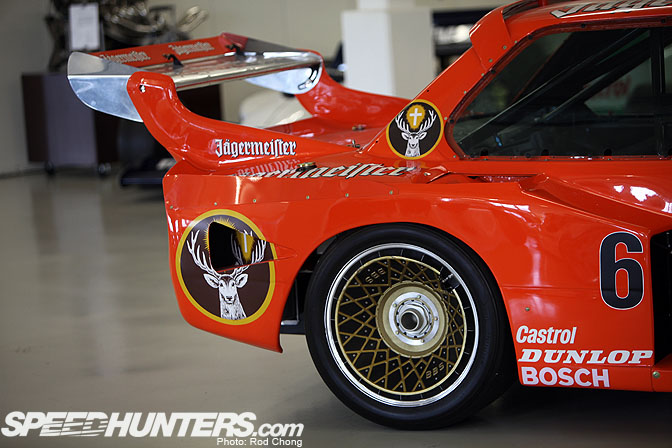 Aerodynamics in the 1970s was perhaps more of a black art than the science that its become these days. Most of the private teams that ran in the different Group 5 series around the world, had their own aerodynamic concepts they put into use with varying degrees of success.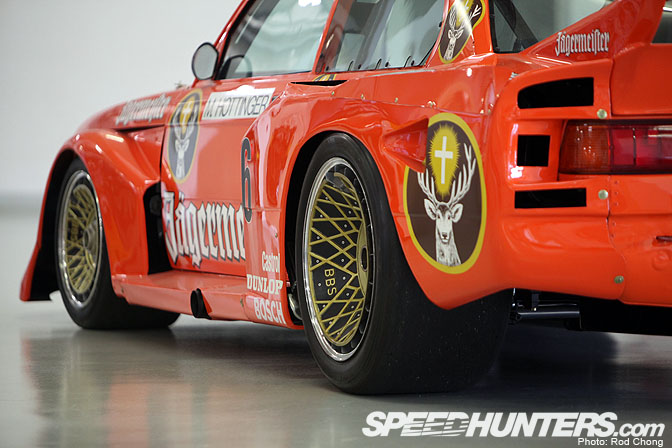 No two BMW 320i Group 5 cars are alike either. You can see here, the aero detail work is quite different to the E21 BMWs you'll see in this older Speedhunters story here.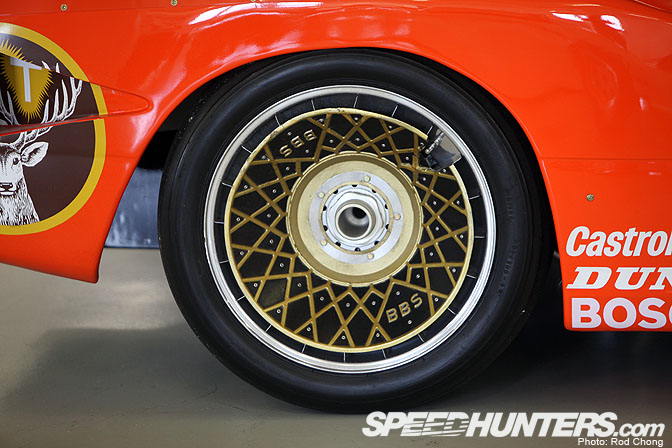 19′ inch meats… not all retro cars need to run on tiny little wheels you know. Back in the day, big rear wheels meant that the rubber contact patch was larger and allowed these boosted monsters some small hope of putting their power to the ground.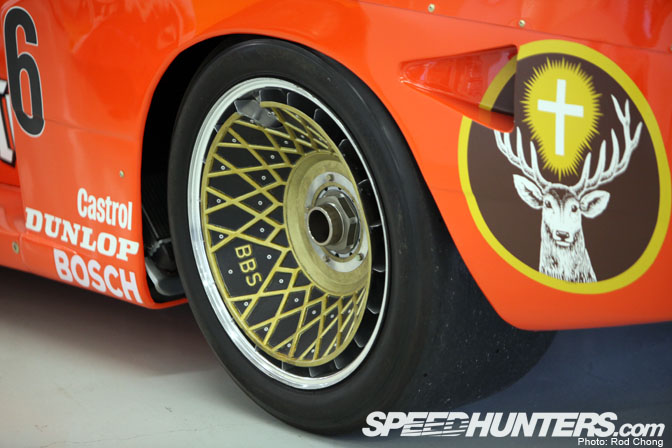 The wheel covers are extremely cool. I'd love to see this style on a street car!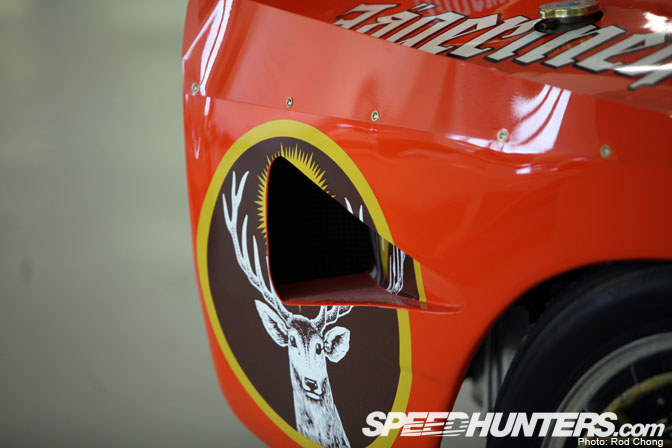 There are a few Drift cars in Japan, Europe and the States which have moved their radiators to the rear of the car for better weight distribution.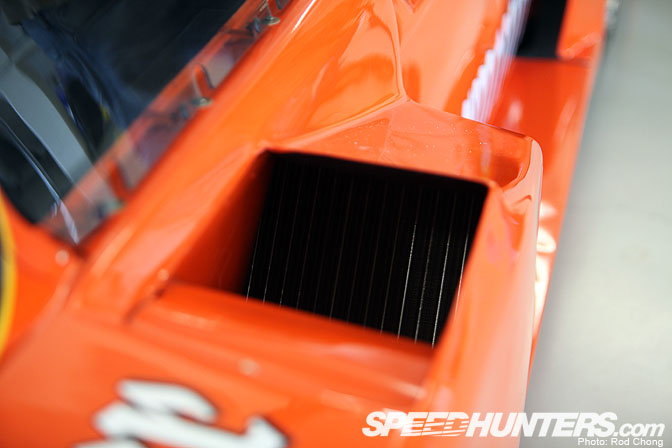 This is not a new idea though -as you can see by the cooling systems inside these 1979 era rear overfenders.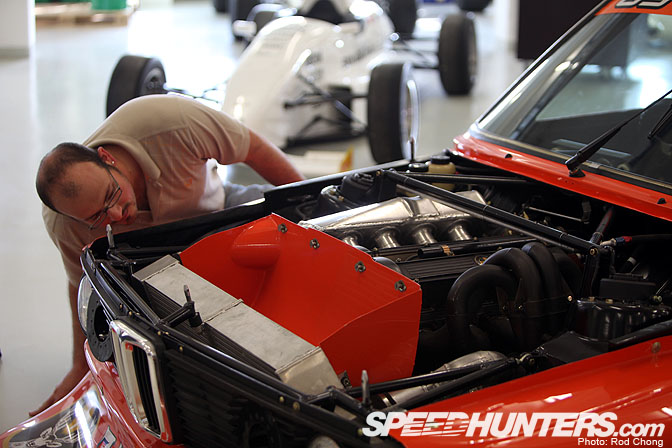 The turbo intercooler remains up front, but the rest of the coolers and radiators have been moved to the back of the car. Here Dino takes a closer look.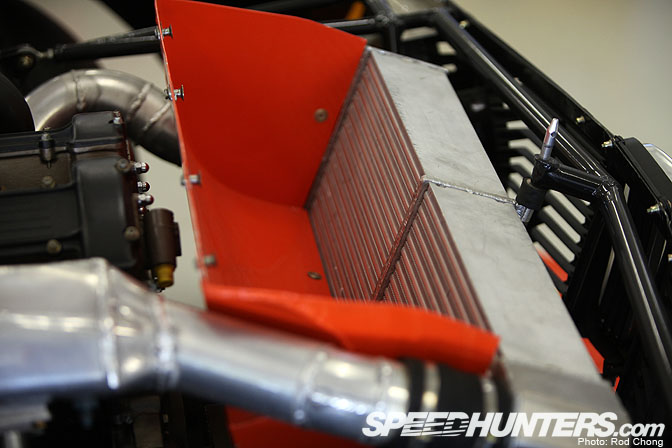 A close up of the intercooler setup.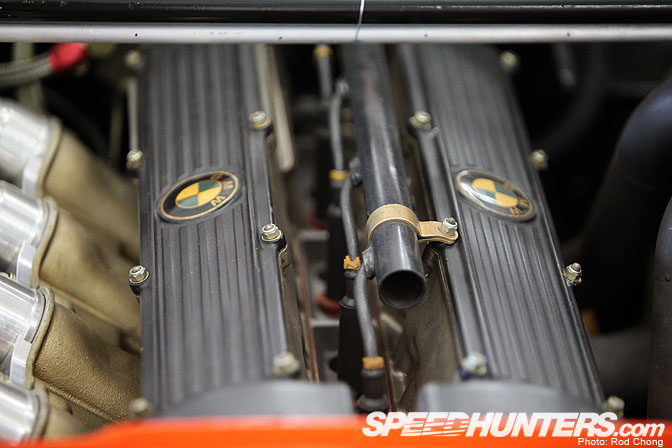 … And a shot of the famous M12 engine at the heart of the car.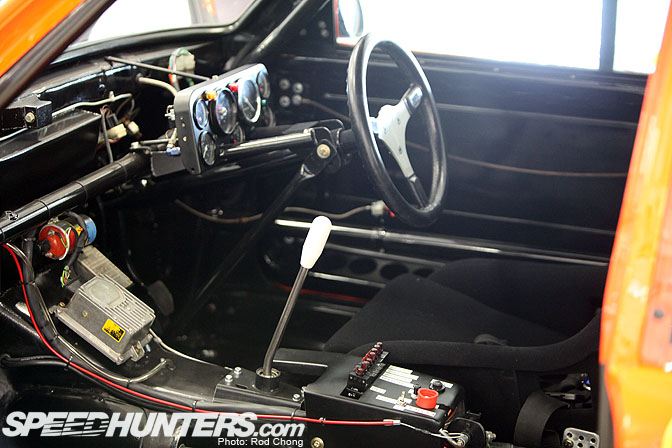 Moving to the cockpit we can see a pretty spartan setup.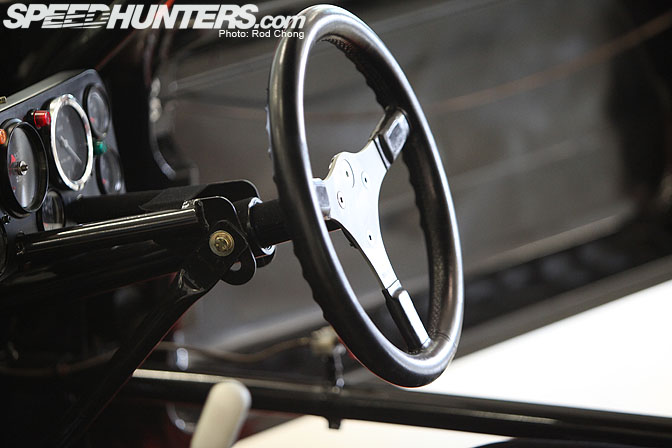 It looks very basic by today's standards… but this is part of the charm…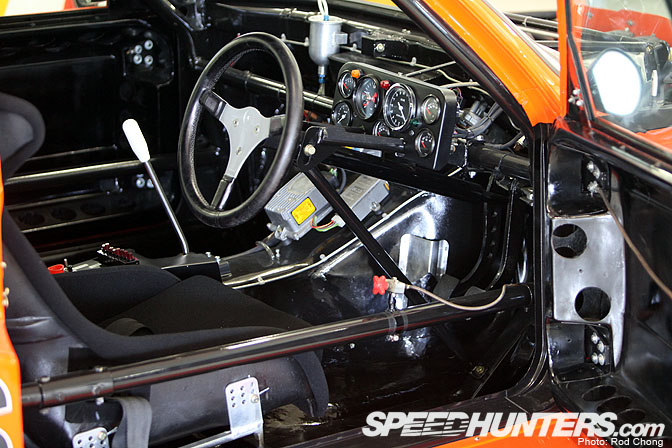 You can see how the original production car has been sliced and diced away to create this racing machine. Later version of these race cars had their entire floors cut away, but this machine isn't quite a full silhouette.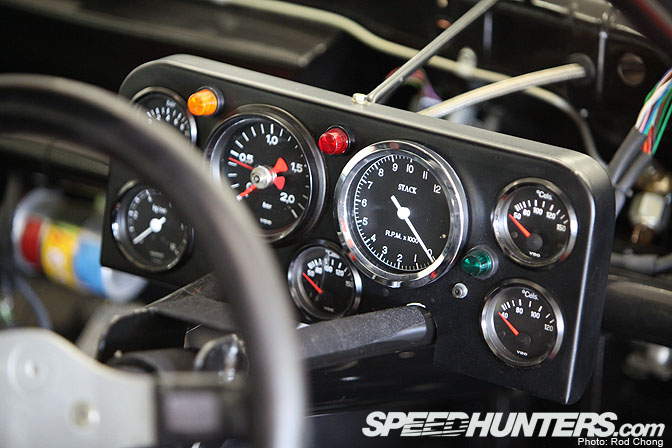 Control central. I suppose you need to have a bit of an analogue mindset to take in the information what would have been on display here.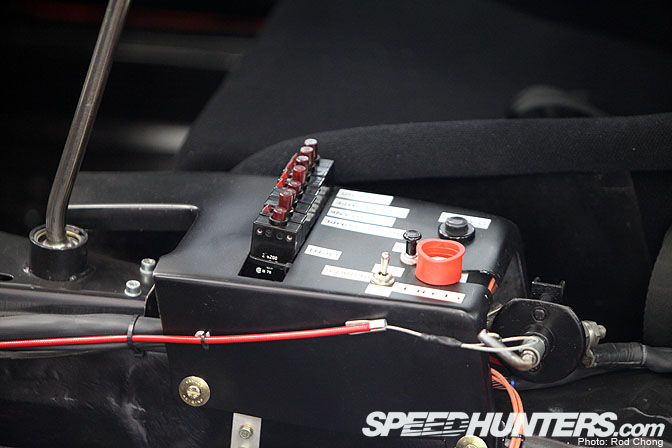 More controls.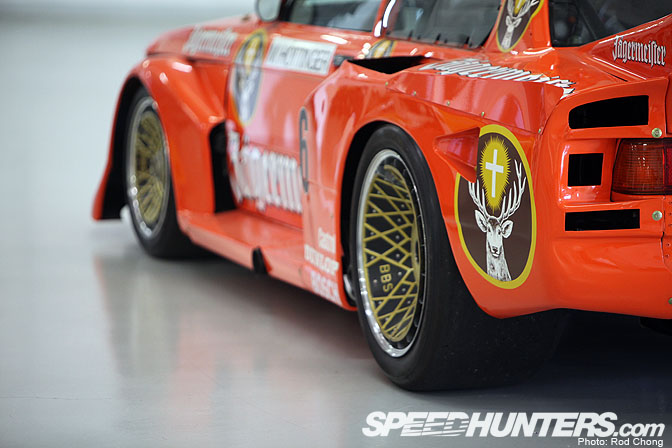 I hope you enjoyed this quick look at this little surviving piece of race history and what must be one of the coolest surviving BMW E21 based race machines. Now let's see if this guy in Belgium can capture the essence of these Group 5 machines in his street car project. We'll keep you posted.
Ttys.
:Rod