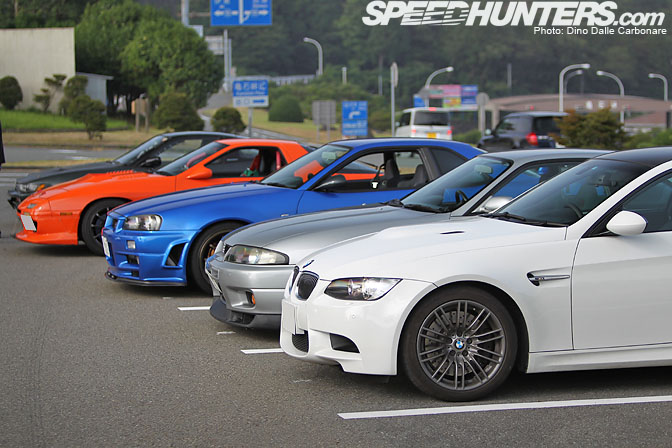 Living in a cramped metropolis like Tokyo can be quite stressful, especially if you are into cars. I see all kinds of exotics on a regular basis around the city, all traveling at a max of 30 mph, or sitting in traffic. I don't get it. Why would you even bother? On top of the obvious show off factor, driving a sports car around built up areas in Japan is nothing short of pointless and that goes for the outskirts too, which most times are even more crowded than the heart of the city as there are far less roads available. This is precisely why I don't even bother getting my R34 out of the garage if I know it isn't going to be used in the way it deserves to be used. Dealing with a twin plate clutch and extremely low ride height makes it a pain in traffic or when you need to park, which is precisely why I have driven it very little in the last year or so. Save the monthly trip to Daikoku PA for the GT-R meeting, it has been sitting in a semi-dormant state.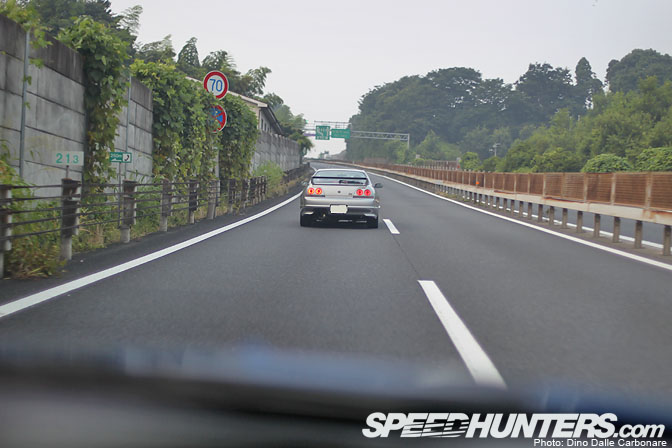 But when some of my friends began talking about organizing a morning drive down to in the Izu Peninsula I knew the time had come to blow the cobwebs away and flex the "san-yon's" muscles. The meeting time was set, 5:30 am at a small Parking Area on the Atsugi-Odawara road, which would give us a very early start to avoid the packs of tourists that usually flock to the picturesque areas of Hakone and Izu. So after reluctantly managing to open my eyes at 4 am without waking up the wife, I got on the road, filled up the car with Esso's finest high octane brew and jumped on the Tomei Expressway. I met up almost straight away with Aki, the owner of the pristine Mine's tuned R33 GT-R you see above, and we proceeded to head towards Odawara to catch up with the other four cars that would join in the fun.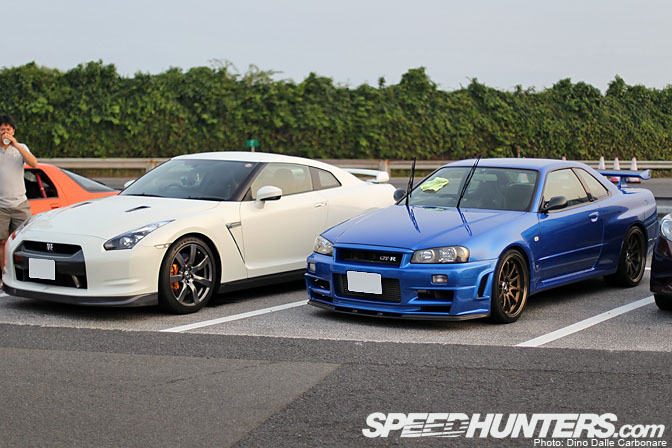 Waiting for us was this stunning looking R35 and a highly tuned orange FC3S RX-7 you can just about see on the corner of the frame. I apologize for the yellow towel on the windscreen of the R34 but I was in the middle of cleaning the filthy glass when I realized I should be taking more shots! LOL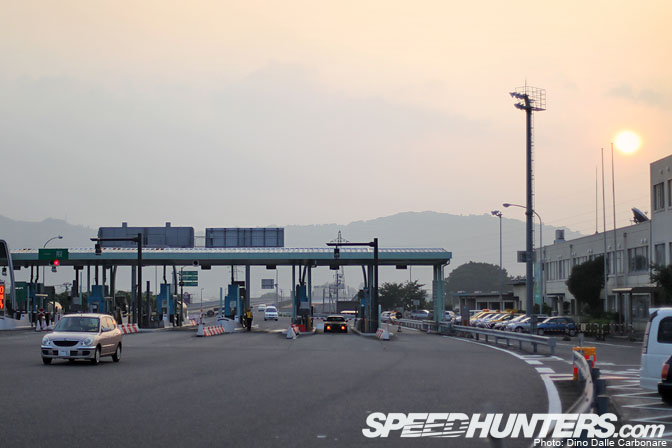 As the sun became visible over the horizon the fifth car in our group arrived, the tiny Sileighty above, passing through the toll-gates with the hazards on.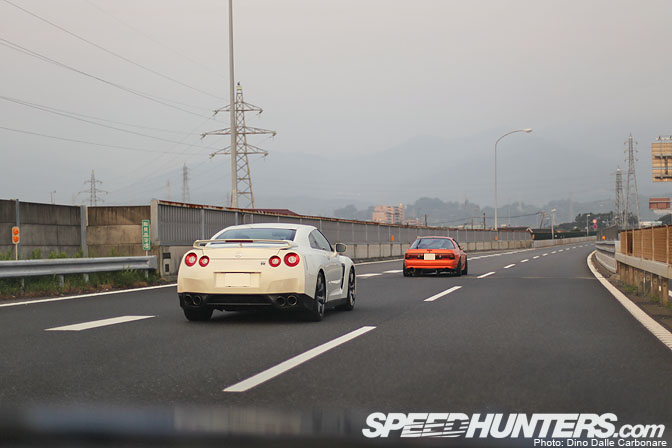 So it was then off towards Odawara to jump on the Hakone Turnpike that would take us to the top of the mountains where we could access the Izu Skyline toll road, our destination. This is the last we saw of the FC & R35 as these two guys shot away in clouds of poorly catalyzed exhaust fumes. Myself and the other two cars took it easy to conserve fuel and avoid potential sneaky undercover Police cars that continuously patrol this stretch of road.
We eventually all met up at one of the parking spots along the Izu Skyline where we gathered for a little rest and to allow the cars to cool down a little.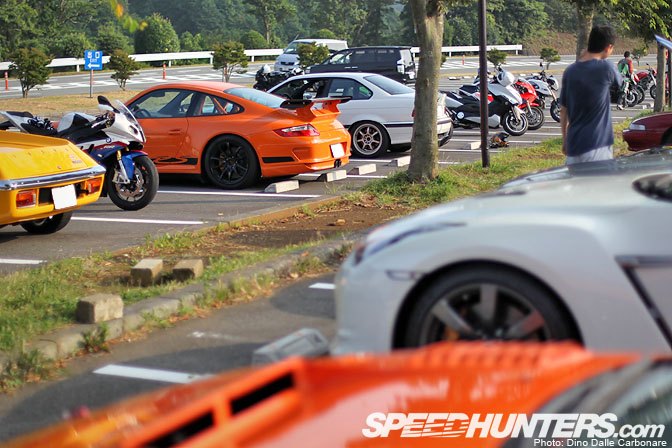 The parking resembled more a paddock at the local track than a rest stop on a regular mountain road! Cars kept arriving and taking off and it was still before 7 am! I especially liked that GT3 RS on black wheels, it sounded nothing short of glorious. That was one of four I saw on the day!  You got to give it to the Japanese, they know how to enjoy their cars!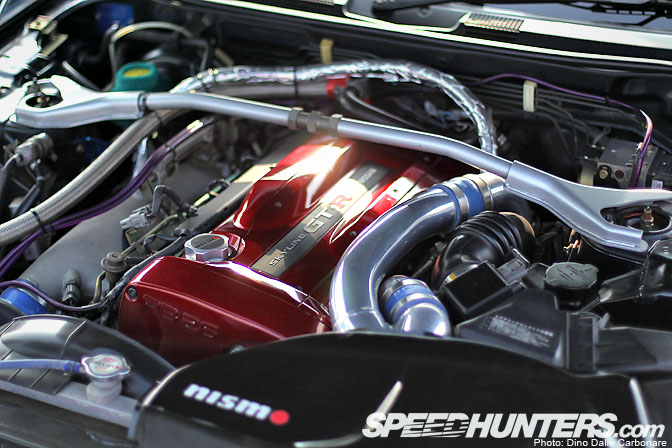 Letting the RB26 cool off. With ambient temperature already close to 30ºC and extremely high humidity it was beginning to become a scorcher of a day.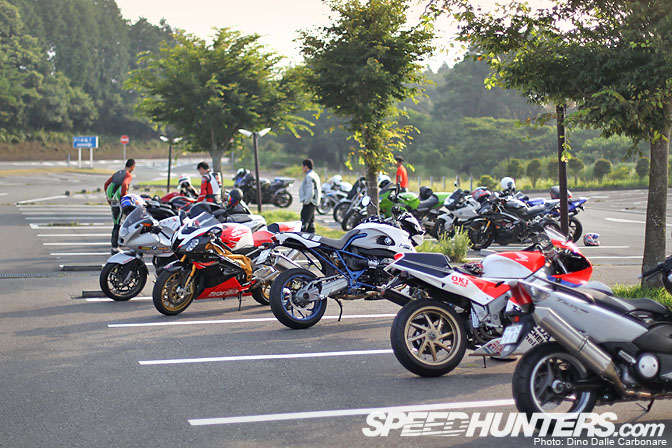 All riders had their full leathers on, and I saw a few get the knee down in the tighter bends!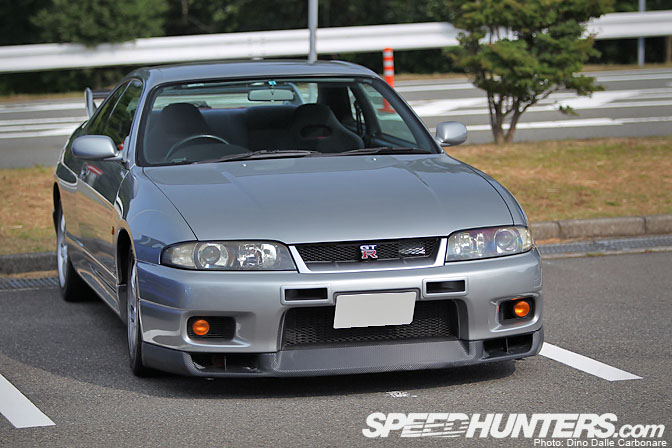 This must be the cleanest R33 GT-R in existence. Aki is nothing short of a detailing otaku and over the last year I have caught the bug too. We talk as much about racing lines and suspension settings as we do about abrasive polishes and crystal coating for our wheels. Yes, we are losers.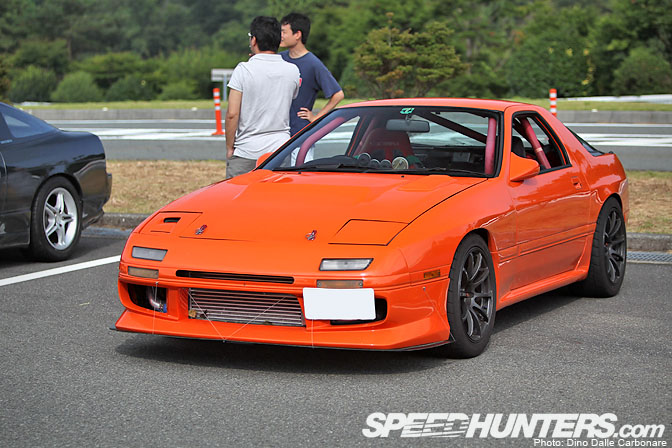 Finally, the blindingly fast FC was stationary, a great opportunity to grab a few shots! This thing has been fully stripped out and built up for serious action…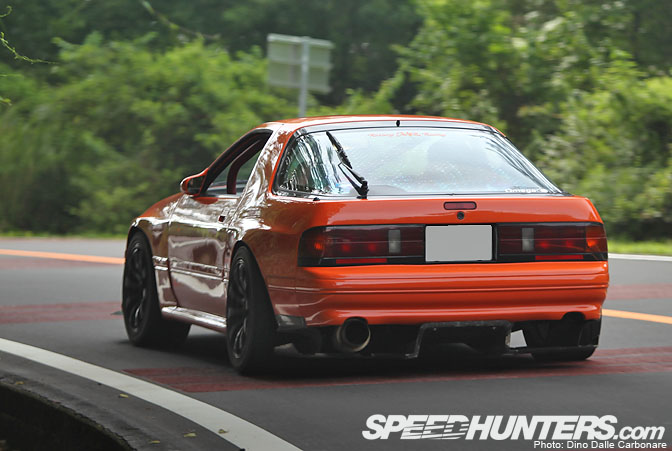 …and was literally killing us all on the day. At one point I was following it into a corner and it entered so fast I stupidly assumed the heavy R34 could handle the same entry speed, which of course it didn't. The brakes saved me! From then on I drove at my pace, which is always what you should do in these situations, we might have had semi-deserted mountain roads to play on but we weren't on a race track! Keep it safe I say!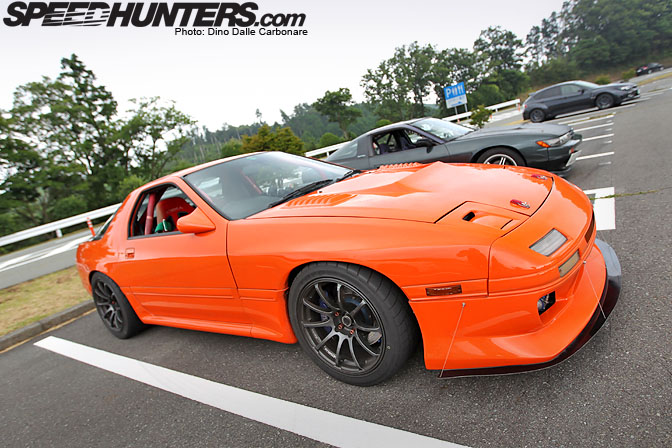 Gotta love the Yokohama RG's and the big Endless 6-pots up front!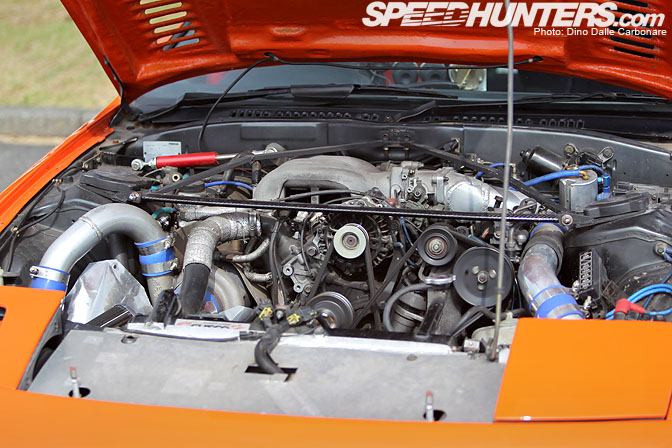 I mean seriously, look at that! That's just not fair, LOL! Bridge-ported 13B with a big single turbo good for 500 HP (running 400 HP and low boost on the day).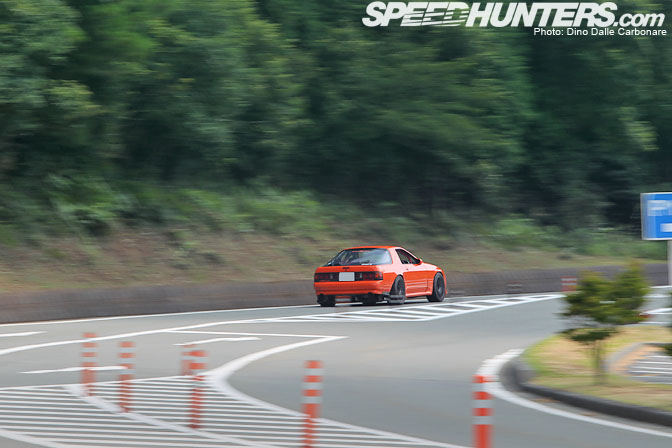 This is the view most of us got of the orange beast!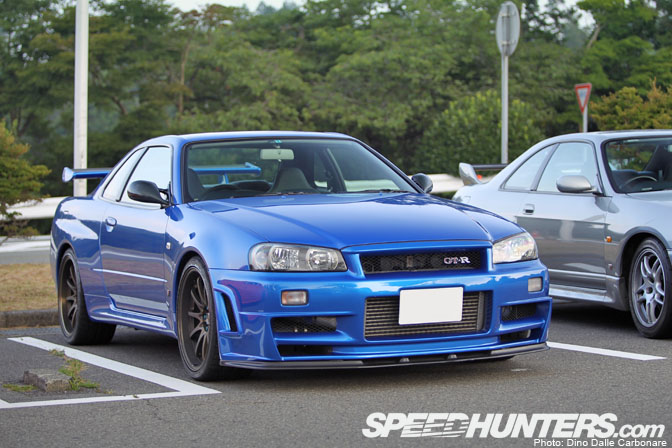 Which brings me to the R34. This is a 1999 V-spec and currently has just over 50,000 km on the clock. Only exterior mods are the Nismo Z-tune front bumper, old-school GT-R emblem and Mine's carbon mirrors. I like to keep it simple.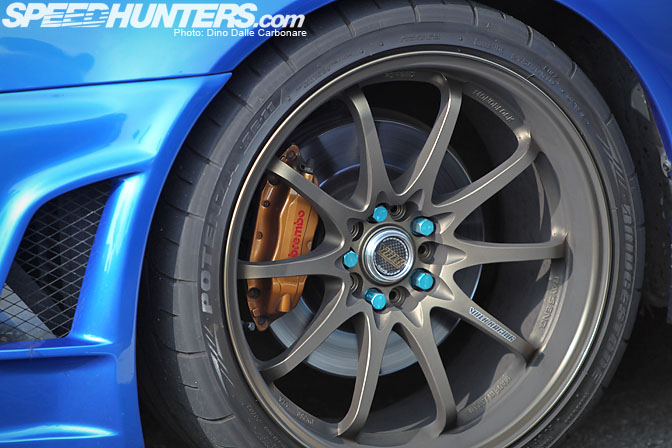 The bronze CE28N's were beginning to change color as the Project µ Titan HC+ pads threw out dust like no other pad I've ever seen. They also happen to be the best pads I've used on the stock Brembos and despite overheating them they still responded with enough braking force to keep things safe. I think I might have cooked the rotors too as they turned a nice shade of blue. As for the tires, the best street radial out there in my opinion, sticky Bridgestone Potenza RE-11 all the way!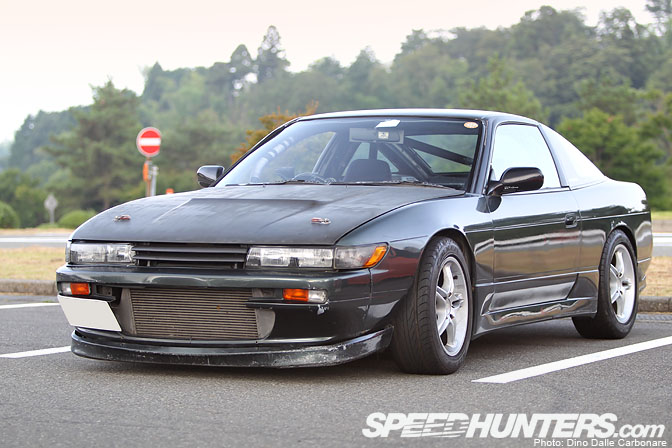 The S13 fronted RPS13 was sporting a total drifter look, with a mangled front splitter barely hanging on with a couple of zipties.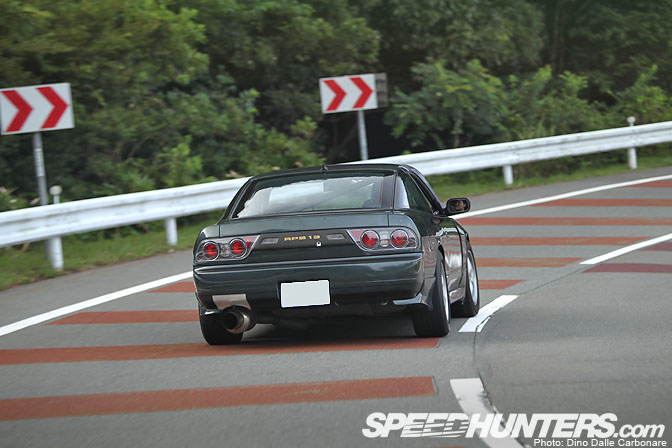 It didn't have the power to keep up with the AWD GT-Rs but I'm sure the driver was enjoying himself!
Quick flyby in front of the rest stop.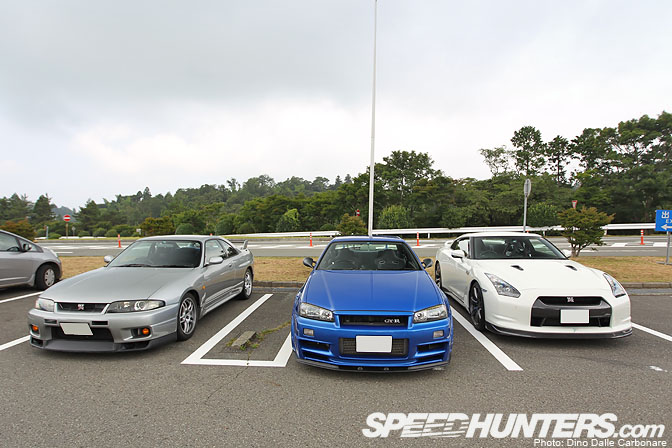 Man if only one R32 had shown up, we could have had the complete set!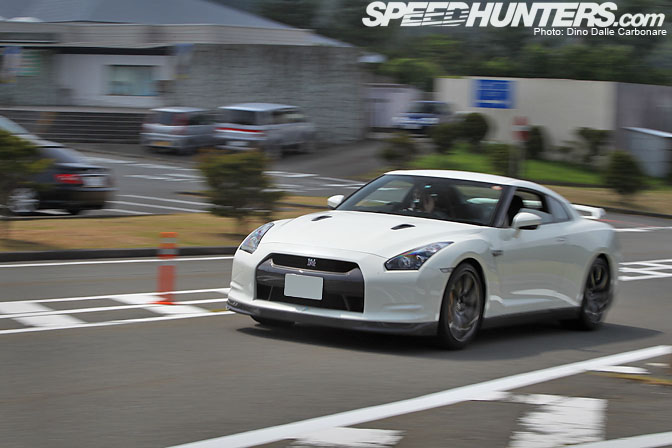 The R35 that joined in the fun is fitted with a Nismo Sports Resetting ECU, which gives more power and response as well as a re-calibrated cruise control (max 140 km/h). This is the only car that could keep up with the FC! It might be heavy, but boy does it go!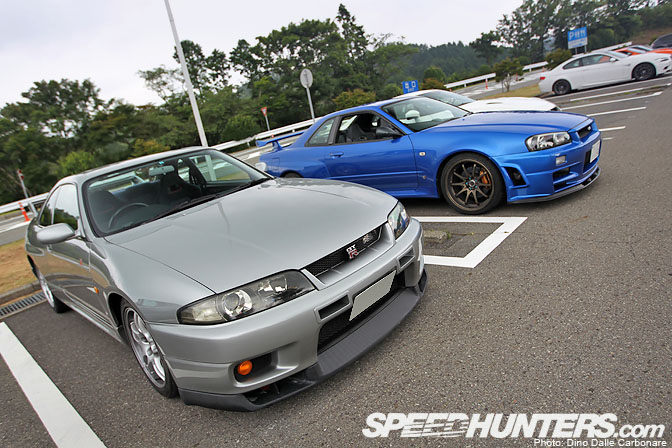 Aki usually has RE30's on his R33 but thought the stock R33 seventeen's with street spec Dunlops were more suited than the Yokohama semi-slicks on the 18-inch Rays. I'm of the opinion he should change those front & side orange turn signals indicators for clear items, but his purist side disagrees with me.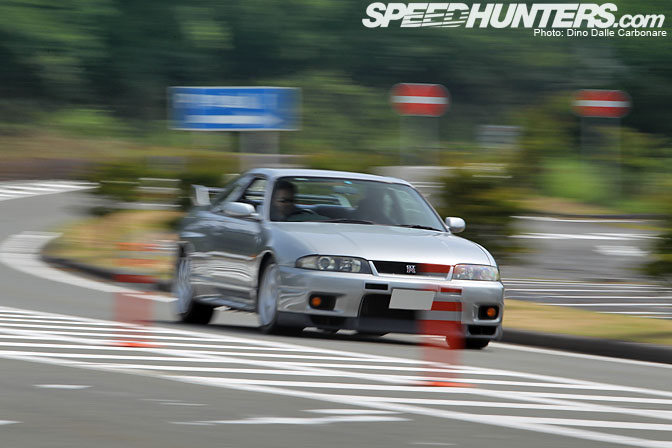 Out in action the Öhlins suspension, Nismo roll-bars and circuit links keeping the car extremely flat through the corners.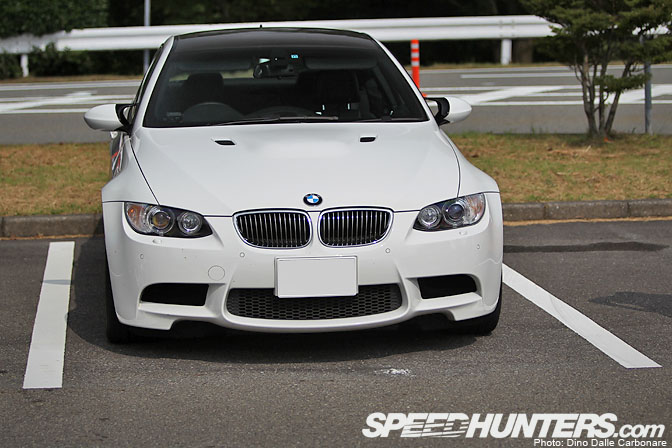 A late arrival to our group was this new-gen BMW M3, equipped with a 6-speed manual transmission.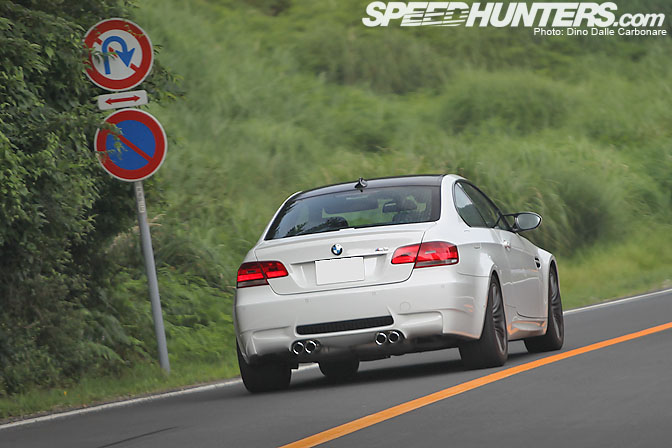 A very fast and capable car out on the twisty roads…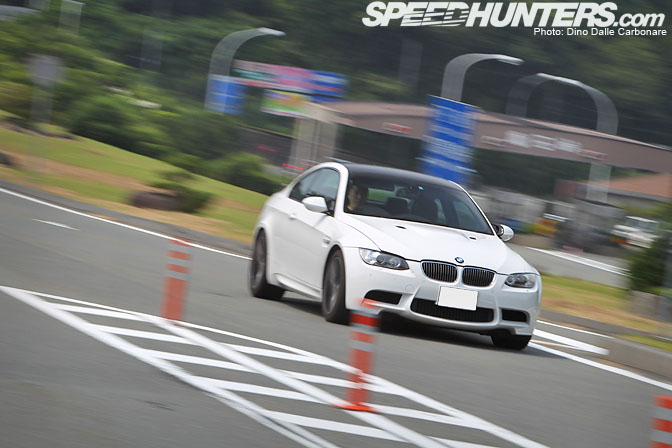 …but the owner noticed that it was moving around a lot under power and braking even with the stability and traction controls on. Tricky car to drive on the limit.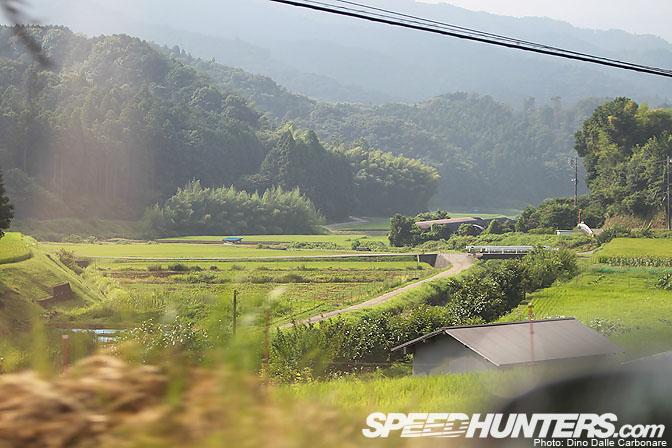 A view at some of the nice places we drove through. This valley couldn't be more "Japan," with hazy mountains, thick vegetation and rice paddies.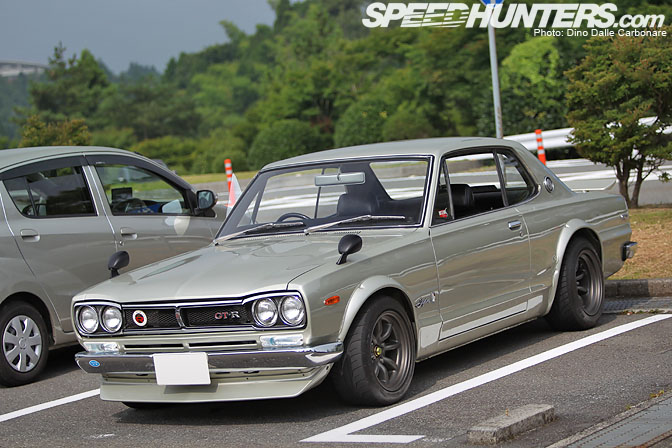 After taking a nice long drive until the end of the Izu Skyline and then driving all the way back we returned to the rest area we were using as a base and found this beautiful Hakosuka. Nice, but we were all quickly distracted by…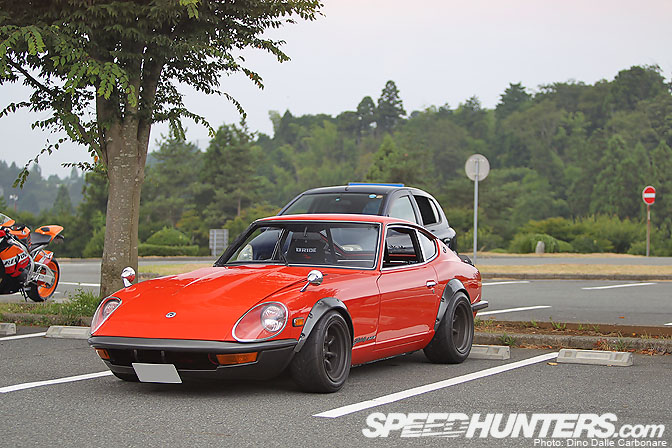 …a spotless 240ZG that had rolled in for a quick break.
So there you have it. This is what "car-guys" do in Japan; they get up at 4 am, drive a few hours across beautifully smooth mountain roads and drive back home in time for lunch!
I know you guys love seeing this behind the scenes stuff from Japan, as there are no other sites that offer this kind of direct coverage. I'll be trying hard to post up more posts of this nature, giving you a deeper understanding of car culture in Japan. More to come very soon!
-Dino Dalle Carbonare