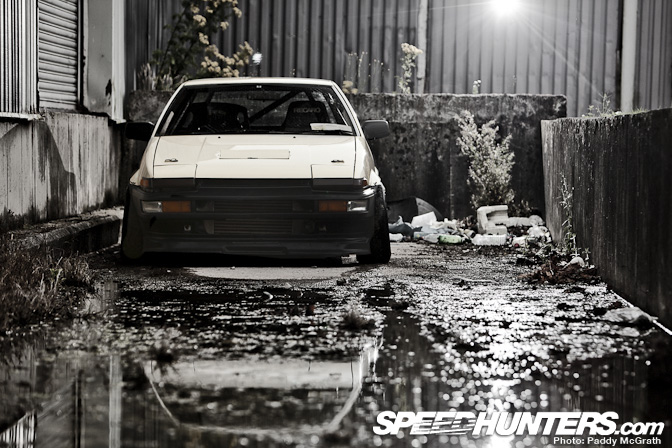 Resurrected – to be restored to life. Like all good cars, this one has a story too. Some of you may remember the Nexen Tires purple AE86 that competed quite successfully in Prodrift for a number of years in the hands of one Dennis Healy.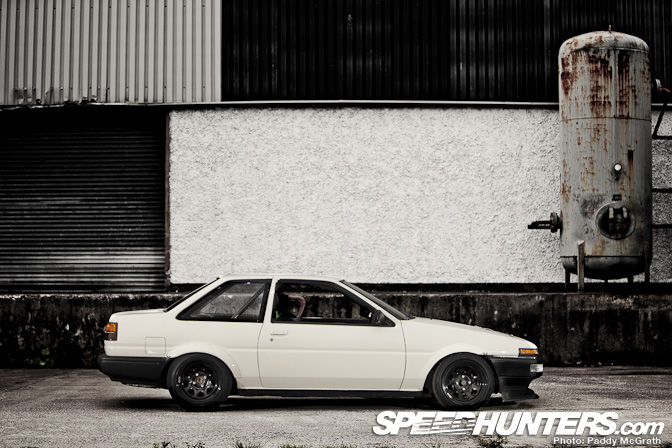 The car you see in front of you is not that car. The car affectionately known as 'Barney' (as in the dinosaur) met it's end last year at the top fourth gear into a tire wall.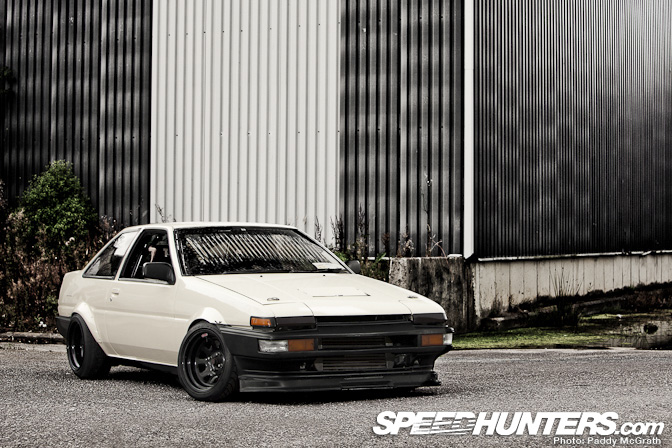 Needing a break from competition but still wanting to have a competitive and capable car to have fun in, Dennis reshelled Barney into this 1983 Trueno.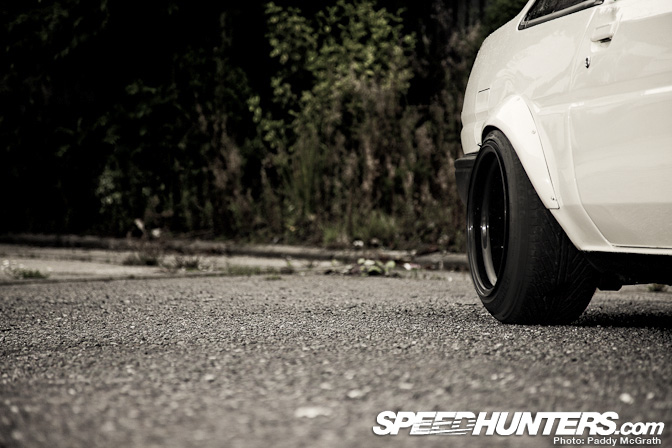 Taking cues from his previous booted BEAMs powered Levin, Dennis styled it the only way an AE86 should be styled. The simple way.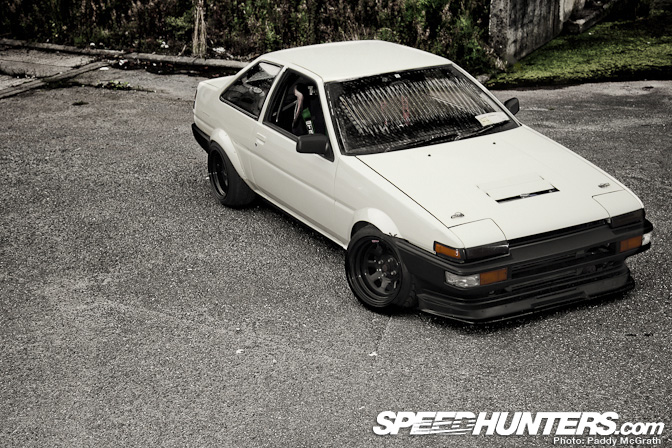 Black bumpers, cream bodywork and a set of dished wheels. An '86 needs no more.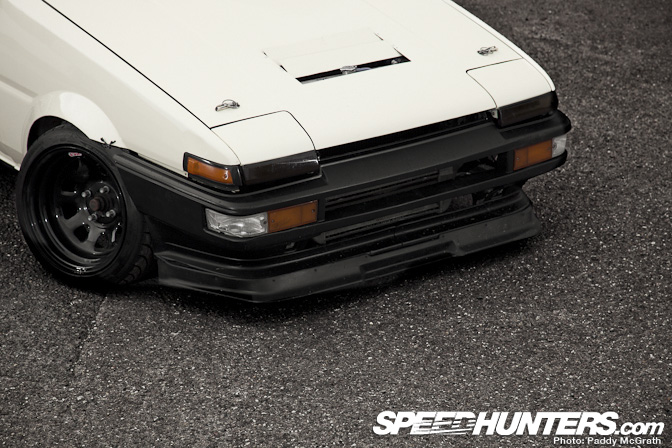 The bonnet vent is functional as it allows the heat to escape that little bit easier.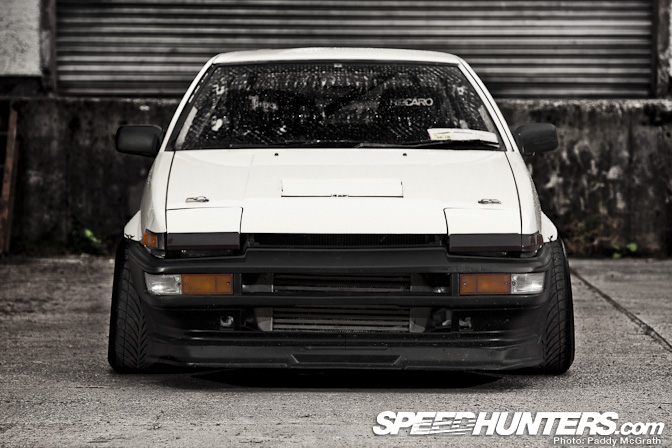 The 15×8 -25 Diamond Racing Wheels gives this simple car ample stance.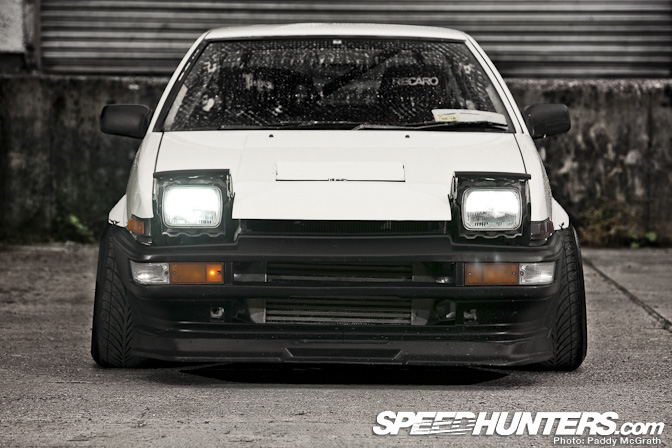 Although some choose the Trueno shape so they can remove the front lights and motors to save weight, Dennis has retained them with a HID light install.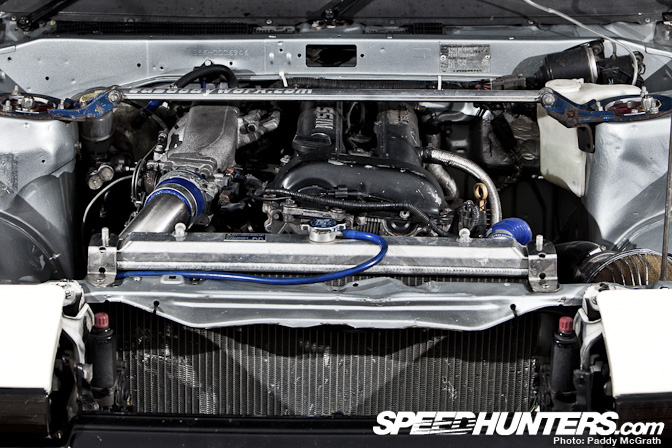 Under the bonnet is the ever reliable SR20DET motor. I can hear the gasps of the 4AGE purists but even they'll have to agree that the SR20 swap is the easiest and cheapest way to get a shed load of horsepower into the lightweight Toyota chassis.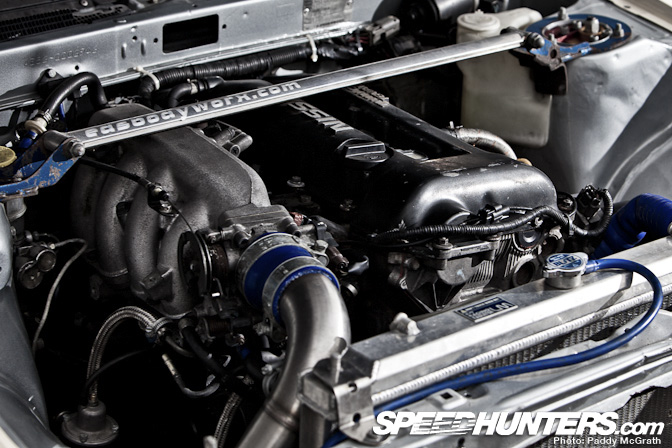 550cc injectors, Koyo radiator, Apexi front mount with custom piping by Hade Motorsport, aftermarket filter and a remapped ECU are all that is needed to power this AE86.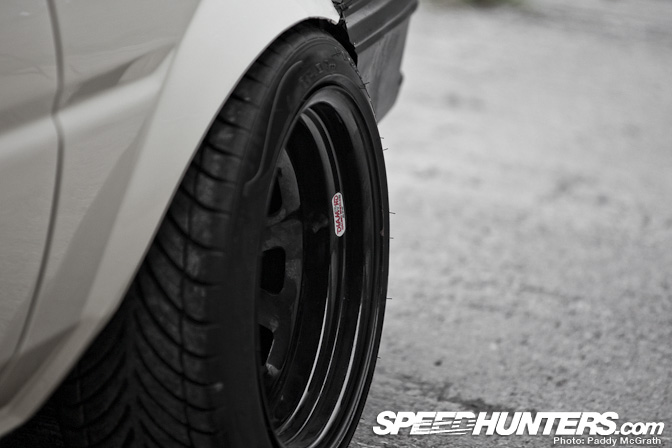 The Diamond Racing Wheels are more commonly found on stockcars but they look great on this '86. A welcome change to the usual array of JDM wheels. Although they are heavy, the Nissan engine has no problem lighting them up.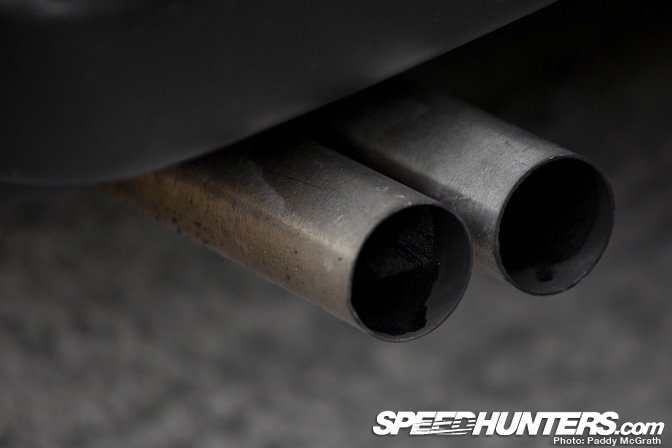 On idle, you know this '86 isn't packing the traditional 16V. The sound is much heavier in the air at low RPMs, but once it comes on boost you can instantly identify the engine by that distinctive SR20 rasp.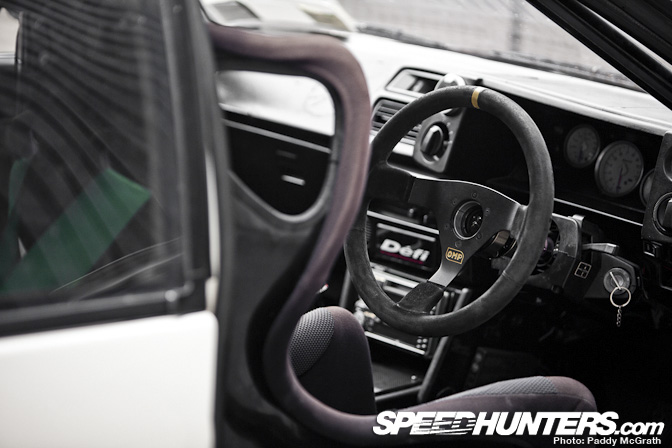 Inside it's pretty much all business. Although I will spare Dennis' blushes by not showing his cassette deck. OMP snap off wheel, bolt-in rollcage, the appropriate kill switches etc are all found inside.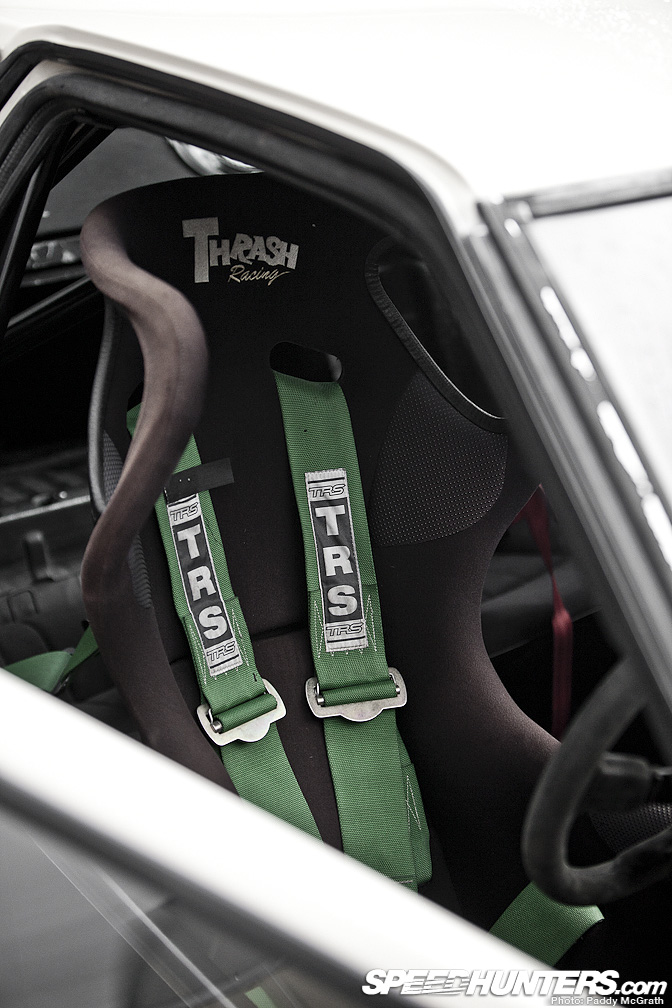 The Thrash racing seats may not have the JDM bonus style points of the likes of Bride & Co. but I know of a few drivers who won't use anything else now as the Thrash seats does exactly what they want from a seat – to hold you in place.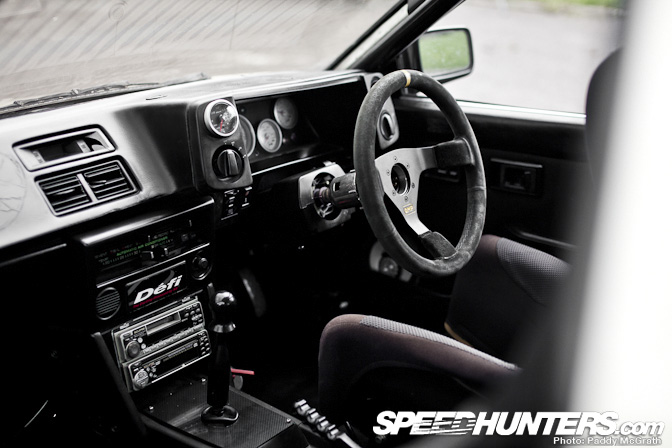 The entire interior is very civilised.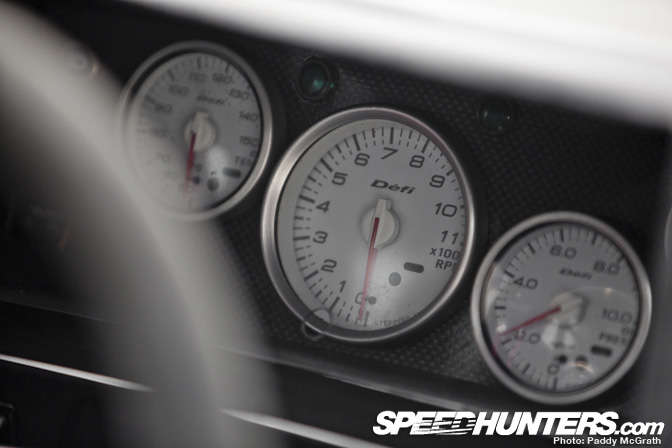 The Defi gauges have been carefully mounted on a carbon plate.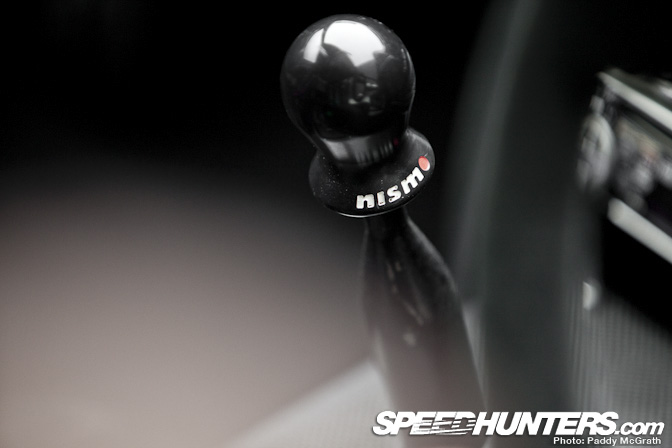 At the business end of this Nismo shifter is an RB20 gearbox. The shifter is also a custom unit which reverses the gear selection.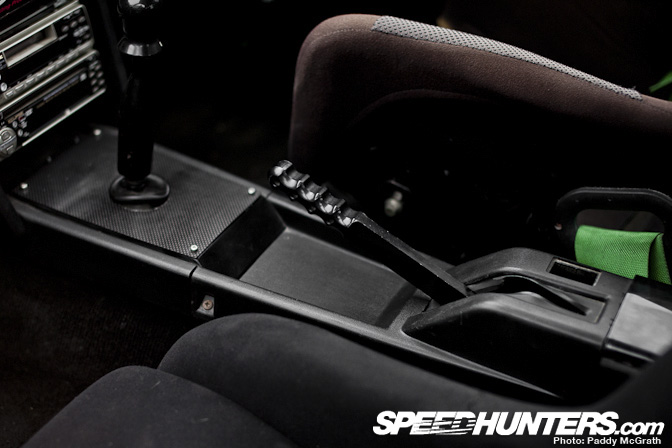 A Wilwood hydraulic handbrake has been cleverly installed in place of the original unit.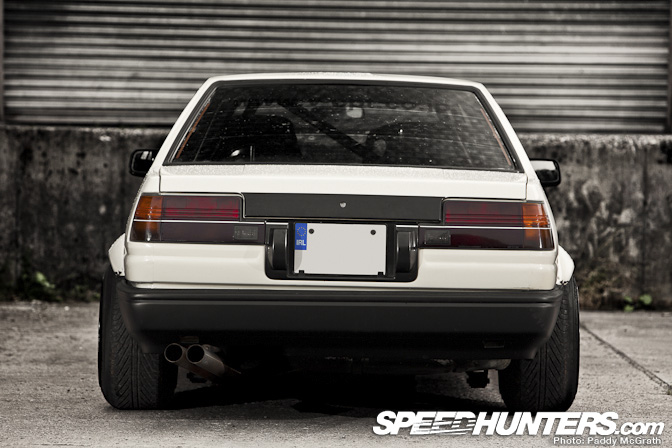 All these little details are important with a road legal car. There is nothing enjoyable about spinning around in a stripped out race car. Just the bare essentials are all that is required to retain a respectable amount of civility.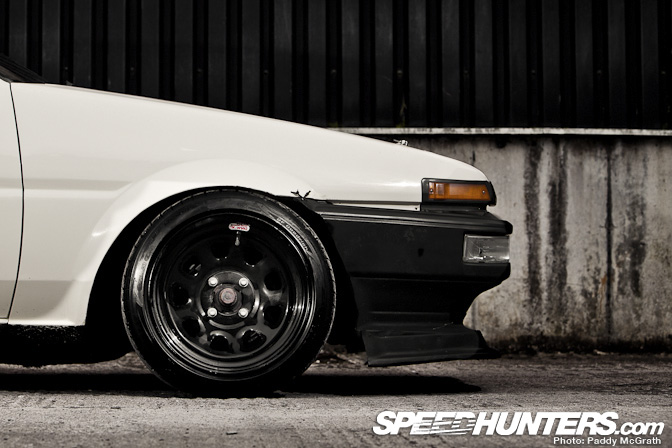 I got to admit, I'm really liking these wheels especially with this colour combination (Even if it is a PITA to shoot)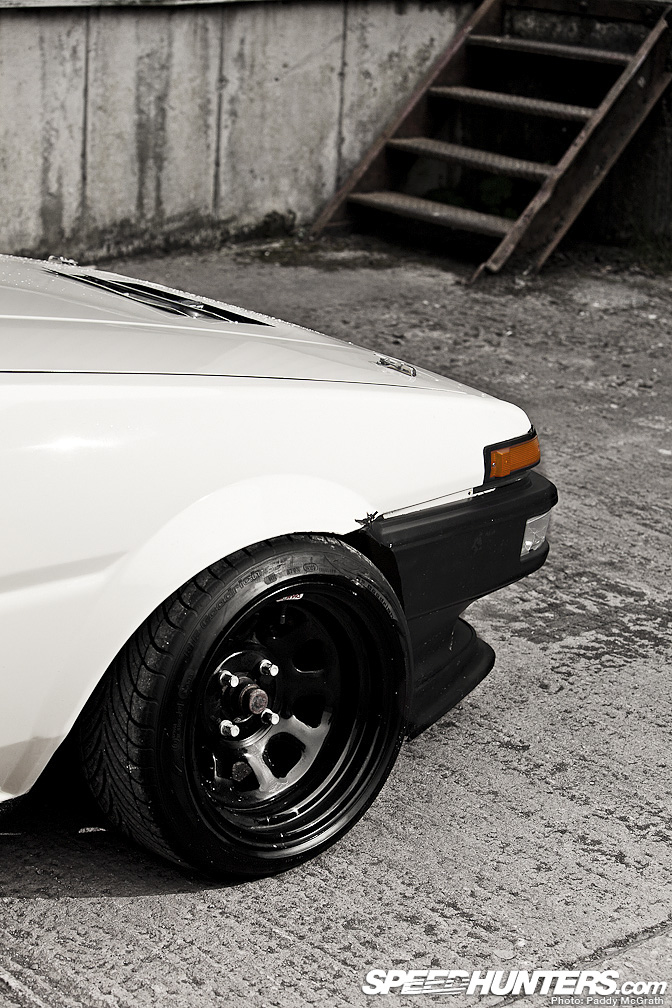 BF Goodrich 195/45s provide the front end grip.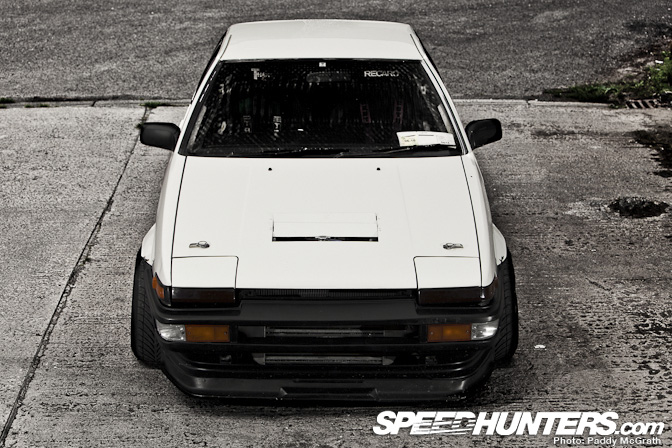 It's not hard to see why the '86 still has such a following even after all these years.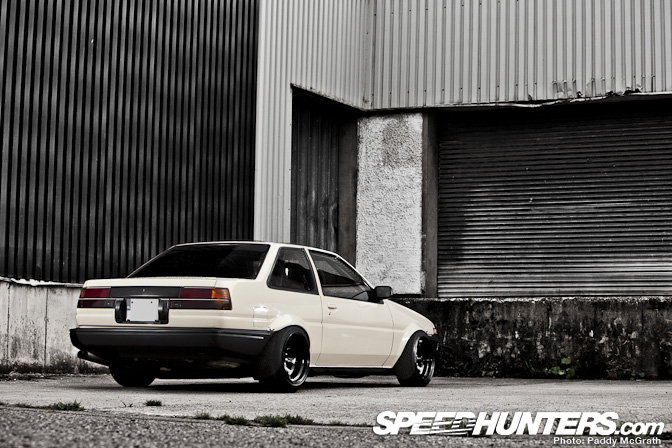 Although the booted version isn't as popular as the hatch / coupe, it still definitely has its own charm.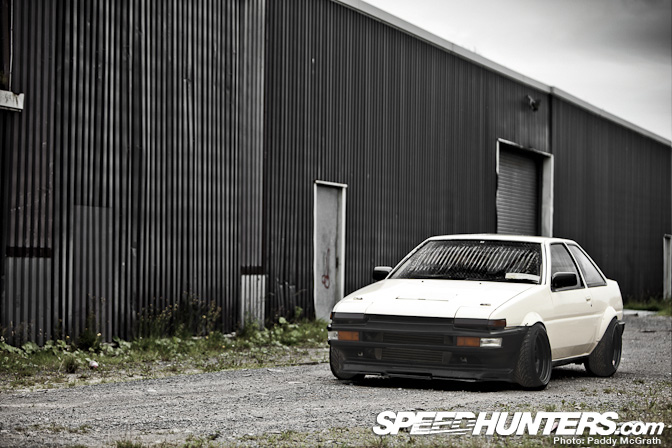 Allowing the car to run this stance are T3 coilovers with 8KG springs. TRD anti-roll bars, PS knuckles and AM outer tie rods complete the front end.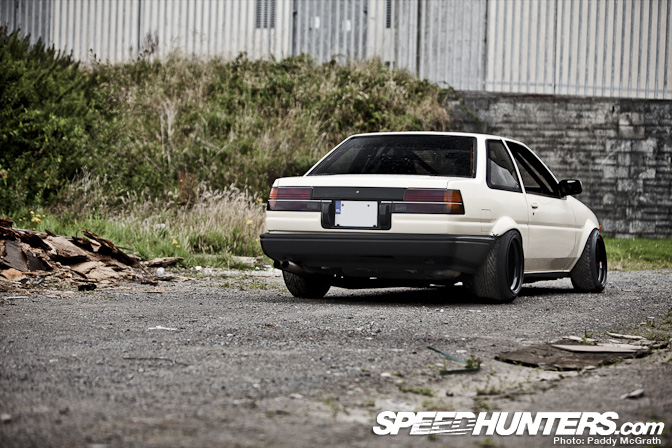 At the rear there are HTS 102 shocks with 6KG RSR cut springs, Cusco Four Link and a TRD anti-roll bar. The power is transferred to the rear wheels via a Vanette rear axle with a welded 4:1 differential.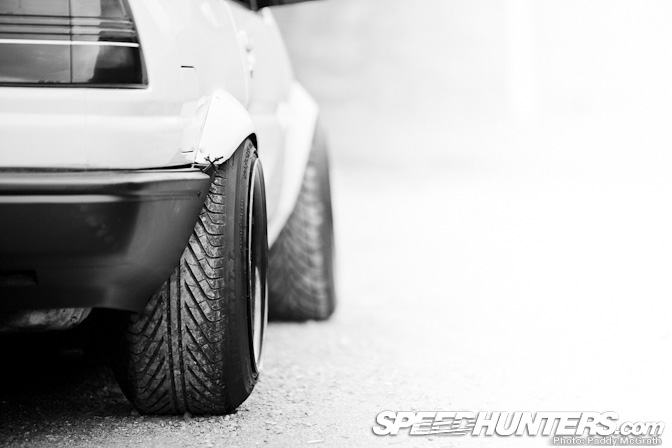 The rear wheels are 15×10 -25 with 195/55 tires.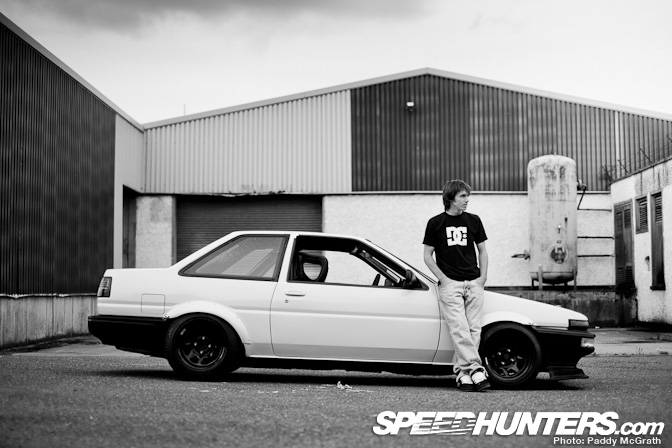 It takes restraint to build a car like this. It would be so easy to add a bodykit, maybe a GT wing and before you know it your '86 is no longer what an '86 is meant to be : a simple front engined, rear wheel drive car that puts a smile on your face everytime you get behind the wheel.
Paddy