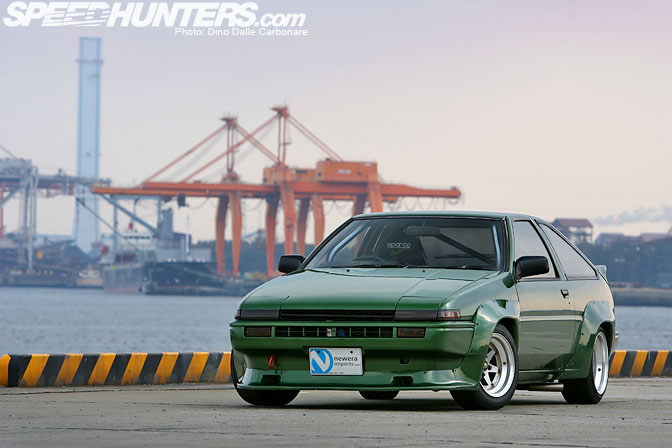 It might be hard to believe but this very clean, and uniquely colored green AE86 has recently become a donor car for a rather special project. Miguel of Newera Imports, one of the most respected Japan-based car exporters, picked up the Trueno hatch a while back and as soon as he did I rushed to shoot it at one of his yards in the Tokyo bay. Laying eyes on it for the first time I thought it was the perfect hachiroku, clean inside and out and sporting very aggressive TRD N2 overfenders, something you don't see on street cars so often.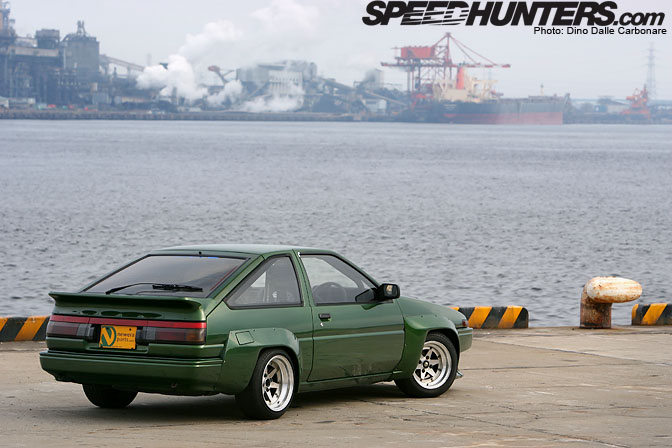 It could definitely have done with some "stancing" but was purposely left riding high to make it easier to load on a ship, ready to be exported to it's new owner.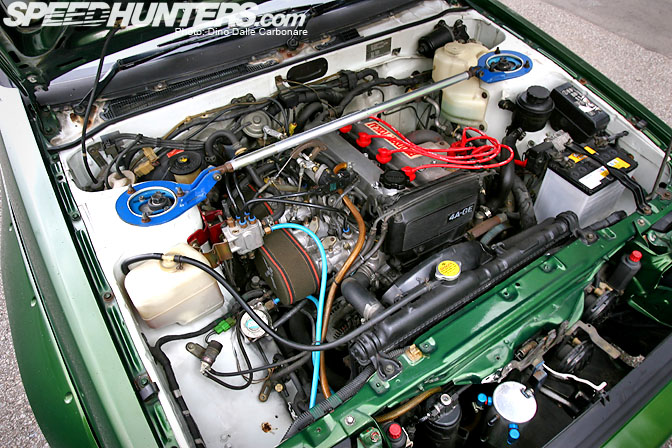 Under the hood the later-gen A92 4A-GE engine breathes through four Sanyo Sports individual throttle bodies with the Pipercross filters. Miguel didn't get exact specs on the head but judging from the idle and how strongly the motor pulls there are definitely aftermarket cams fitted. Other upgrades include the AW11 distributer with TRD ignition leads and a Freedom ECU mapped by Kimizu Motor Services. On the exhaust side RSR headers connect up to a free-flowing and very loud N2 system!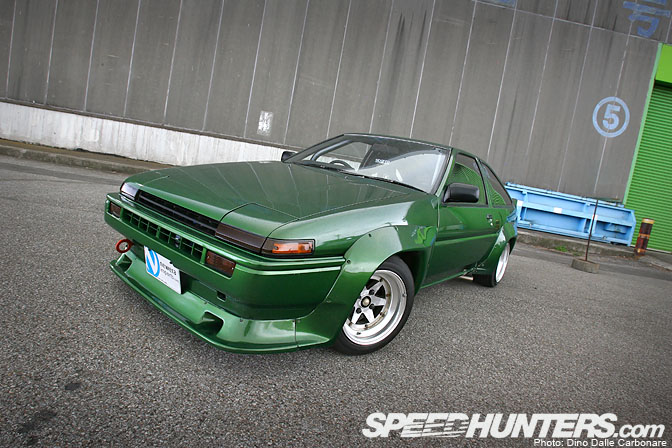 The full TRD N2 body conversion adds so much character to the AE86…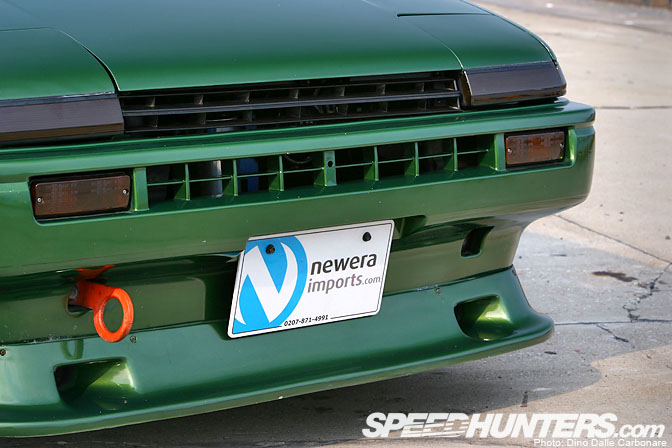 …and there is so much attention to detail with a color matched lower lip spoiler and smoked orange repeaters.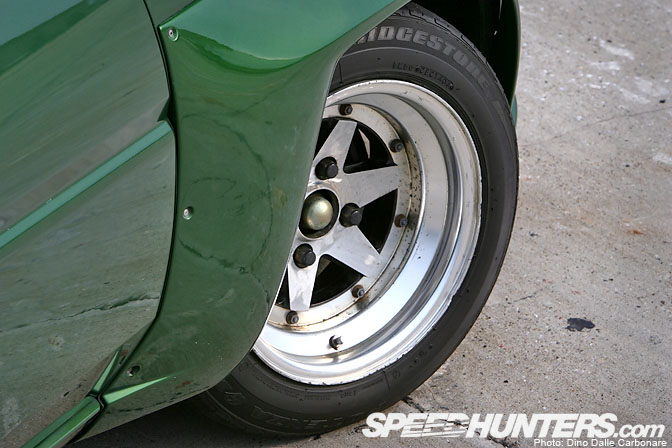 Longchamp XR4s are always a good choice for any hachiroku, and on this car are fitted in staggered sized with 14-inch at the front and 15-inch at the rear.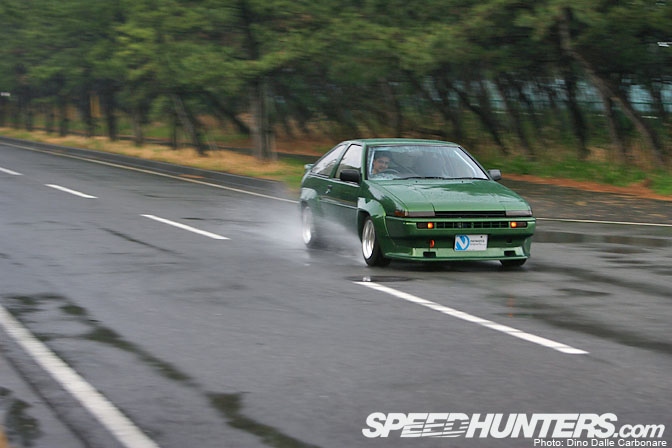 Notice the amount of front negative camber! That's thanks to the adjustable Cusco pillow ball top mounts which are mated to TRD dampers at each corner. An upgraded rear lateral support bar and Cusco rear tie rod set allows more control when pushing hard through the corners.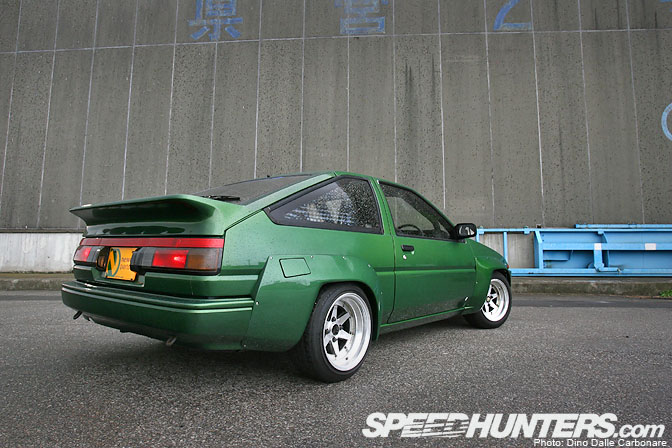 The TRD rear spoiler really complements the lines as do the kouki tail lights.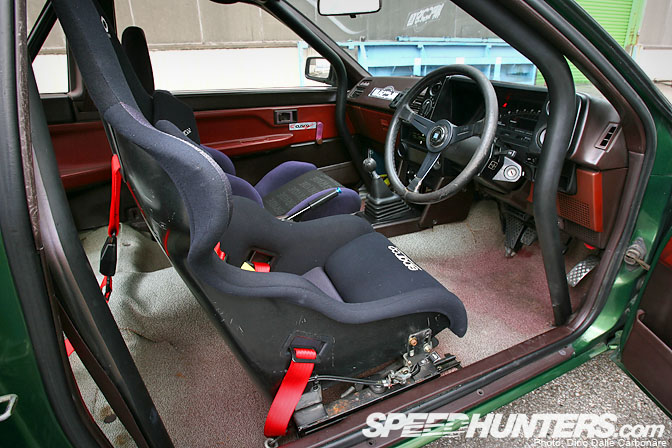 First thing you notice in the interior is the Cusco bolt-on roll cage, a kind of necessary item in these older cars to help introduce a little more chassis rigidity, and of course safety. The Sparco driver side bucket seat is joined by a reclinable Bride one for the passenger, while to save weight the rear seats have been eliminated. Miguel reckons this AE86 weights about 950 kg.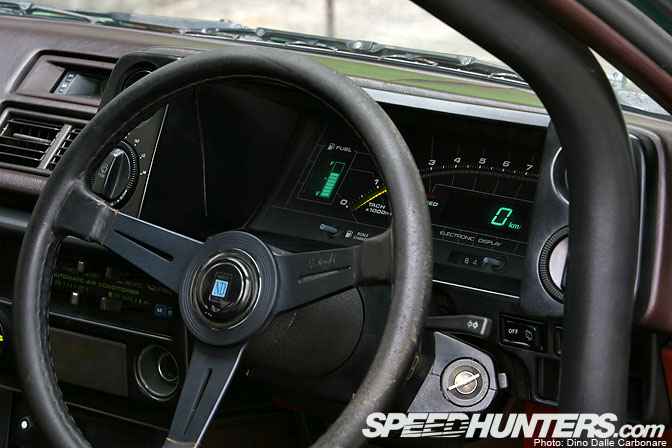 Can't get more oldschool than the stock JDM digital dash! A simple Nardi steering wheel is always a nice touch.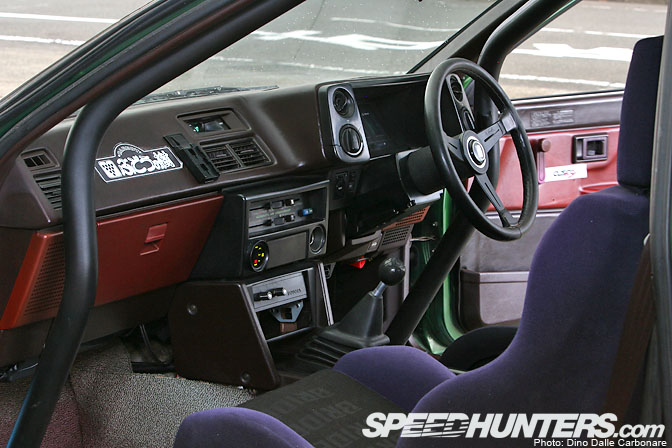 Aside from the digital A/F gauge fitted to the center console the interior still retains a stock feel…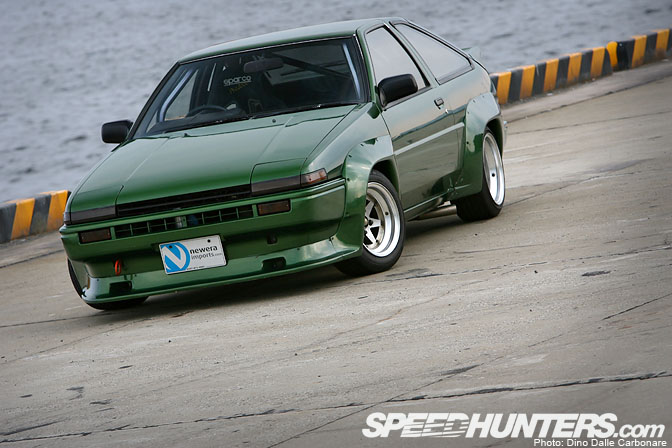 …but since the owner of the car has decided to go a little wild, everything we have seen so far has been completely changed! The idea was to make it similar to Miguel's own AE86 but things got carried away and it's now on the way to becoming quite incredible. The shell was stripped down to bare metal and spent 3 months getting restored, stitch welded and repainted in the same 3M sealant Super GT teams use. The green is gone, now highlighted by a very catchy Lexus IS-F blue paint job…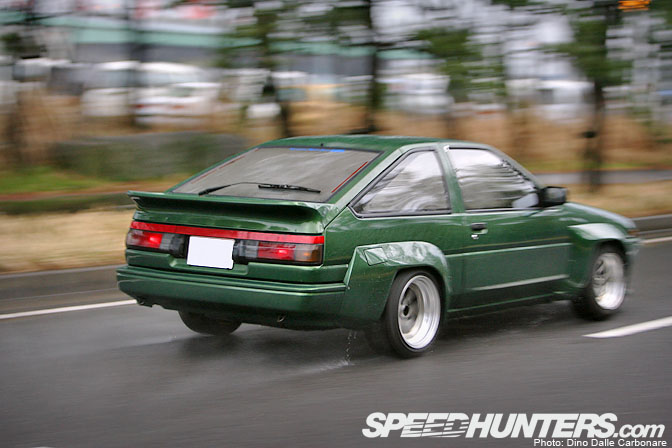 …while the engine has been sent over to the masters at Techno Pro Spirits which have turned it into a true N2 race monster capable of revving to 10,000 rpm! Miguel is taking his time with the build to make sure everything will be perfect and when the "Second Stage" will be completed I will have to drop by to take a look and maybe grab some snaps! Make sure you don't miss the next installment!
-Dino Dalle Carbonare