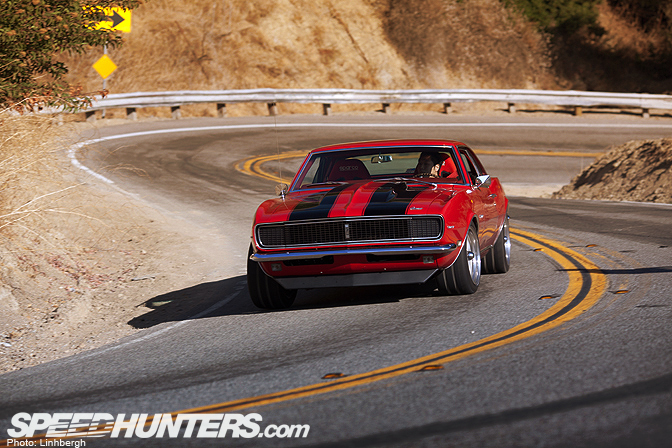 Twenty minutes was all that I needed. Actually, scratch that. It was that first spirited corner which convinced me. The other nineteen minutes and fifty-eight seconds was a pounding-the-point-into-my-cranium experience. I was sitting passenger in a car that would normally cower at the brief mention of anything corner related.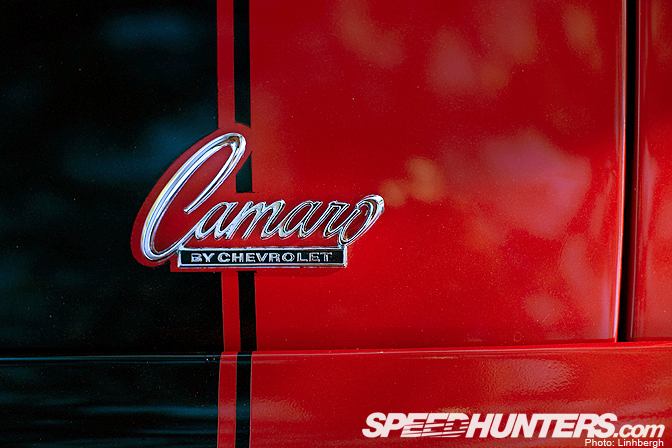 But not this 1968 Chevy Camaro RS.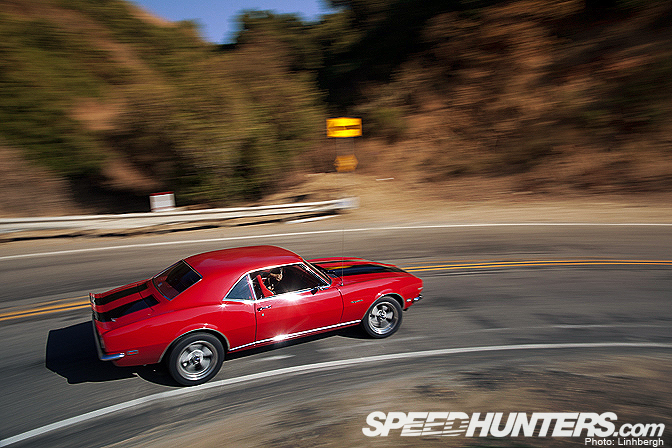 This particular lady, dressed-to-the-nines in Traffic Violation Red, has been completely redone from the ground up to do very un-muscle car sort of things: to take corners and doing it well in the process.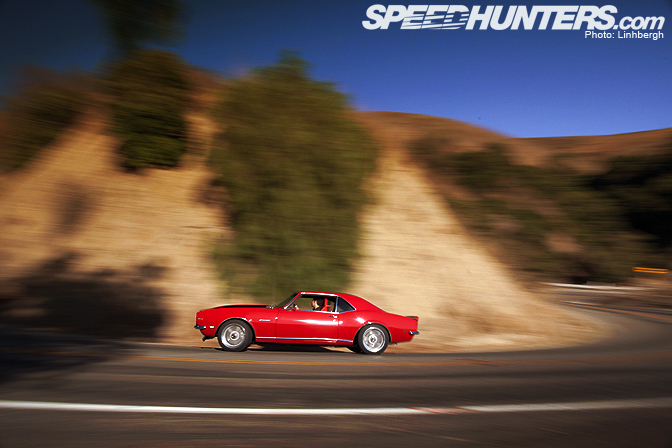 You can't deny just how awesome this car looks, can you?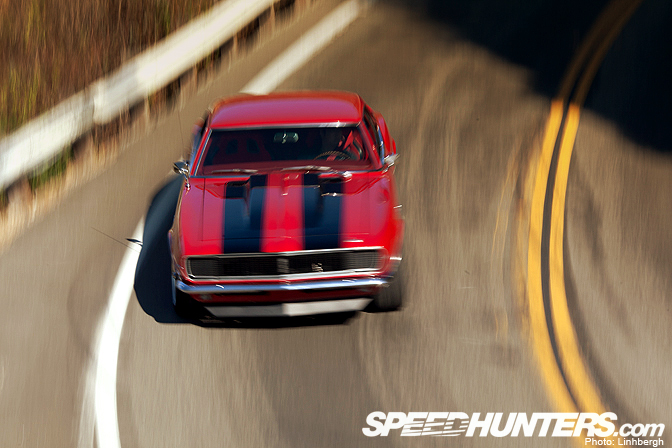 Every car has a personality. Some cars can have a very serious personality, whereas others can feel a bit lethargic, whimsical, or even dangerous. Carl's Camaro totally screams out "I'm old, BUT THAT DOES NOT STOP BE FROM BEING TWELVE" at all times.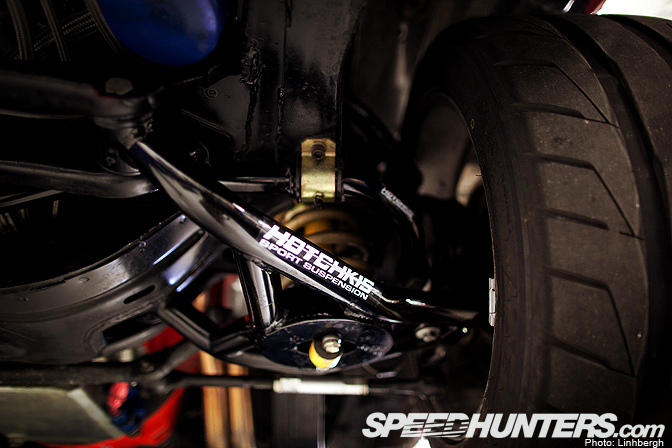 And where does that kid-at-heart personality come from? A look under the car reveals just that. The Camaro's original suspension has been completely replaced with a Hotchkis Total Vehicle Suspension kit. The front suspension sports brand new top and bottom control arms, sportier springs, Bilstein shocks, and heavy duty tie rod sleeves.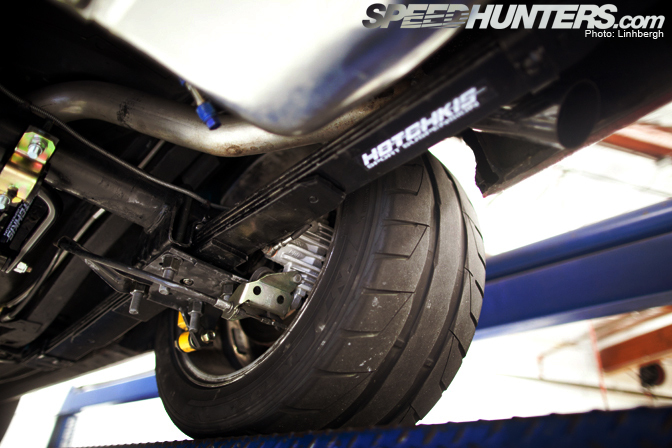 The rear of the car sports a set of Hotchkis leaf springs.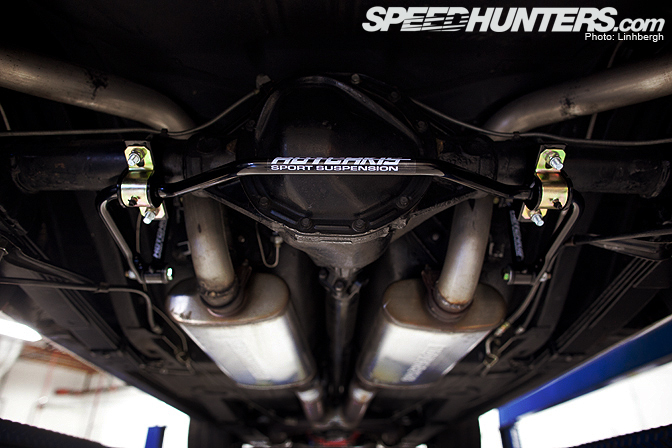 The car also has a set of Hotchkis sway bars in the front and rear of the car. 
All those suspension upgrades makes car feels like it's a teenager again. Ten bucks says it still loves to eat microwaved chicken nuggets and drink Kool-Aid too!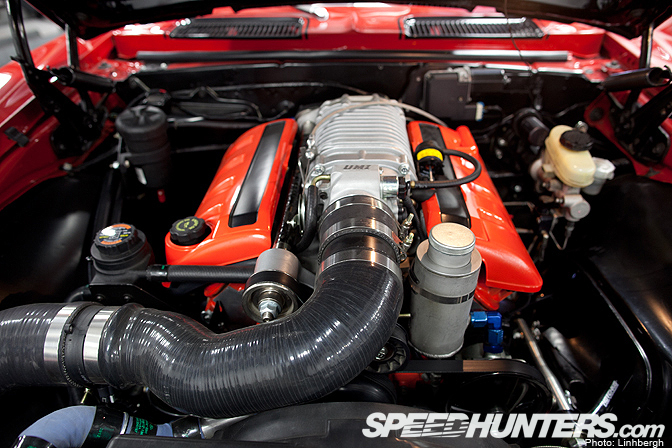 So with the character-making suspension characteristics out of the way, Carl then looked into replacing the tired old chevy big block. What now sits inside the pristine engine bay is a 2002 Z28 LS1 that has been supercharged with a Mangacharger system. The engine is relatively stock except for a Lingenfelter GT2-3 camshaft, Ferra exhaust valves, and ARP fasteners.
That engine setup makes a groin-pleasing 465 wheel horsepower and 460 wheel torque at 6.5lbs of boost. With a muscle car, you'd expect muscle car fuel economy correct? Nope, not this car. How does 25 highway and 15 city miles per gallon sound? Those numbers would almost please the Californian legislature –almost.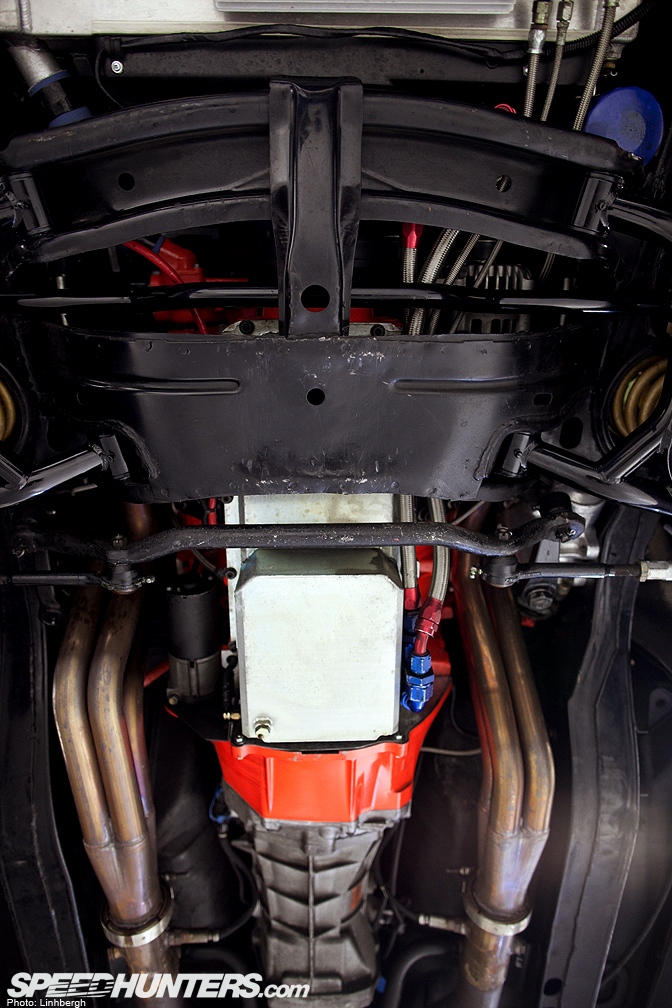 The car has a stock T56 six-speed transmission with an LS2 flywheel, LS7 clutch and hydraulic.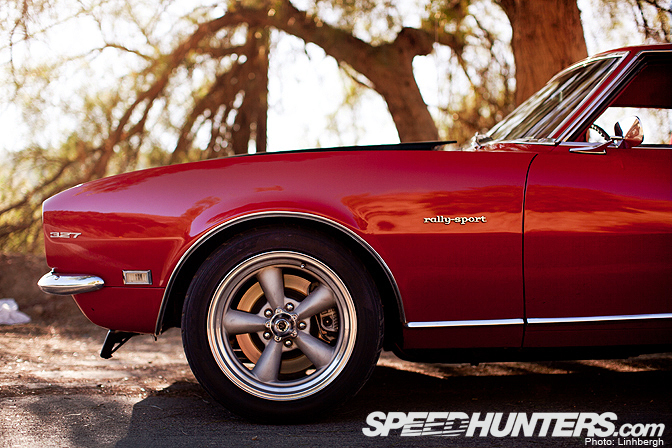 Carl kept the car looking classically correct with a set of Vintage Wheel Works V45 17×9.5" with 275/40/17 Nitto NT-05 tires on all four corners. The Camaro's eons-old drum brakes have been replaced with 13" Corvette C4 calipers and rotors in the front and 1995 Z28 calipers and rotors in the rear.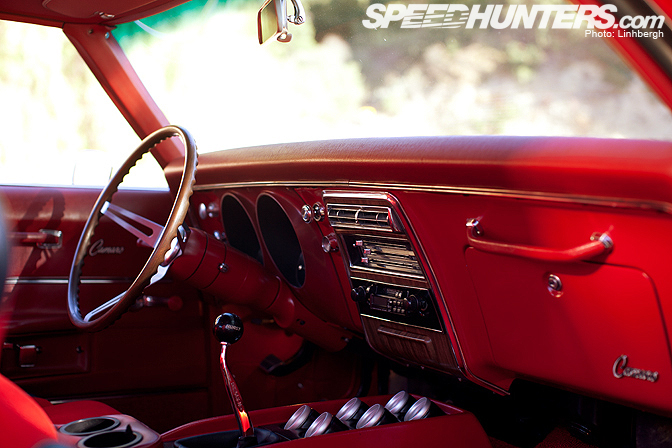 The interior has been restored to an almost show-room quality sheen. Everything is pretty much stock deluxe except for the two Sparco seats in the front.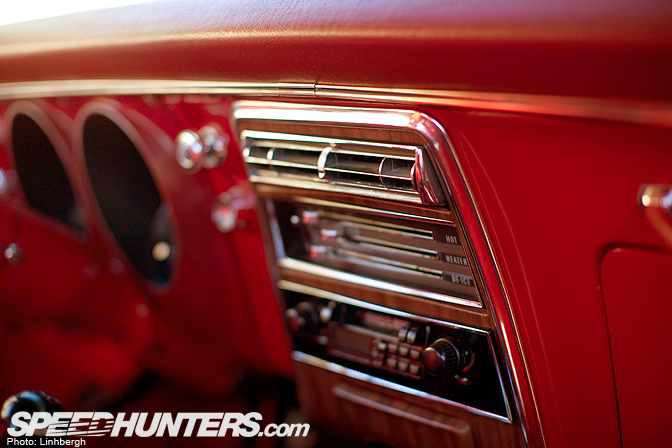 The cabin is such a classy place great place to be. You can almost feel what this car has experienced throughout its life.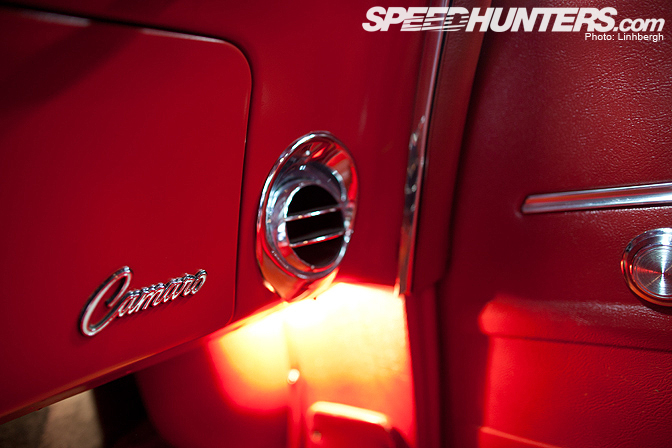 The working interior lighting gives a great touch to the car when the door is open.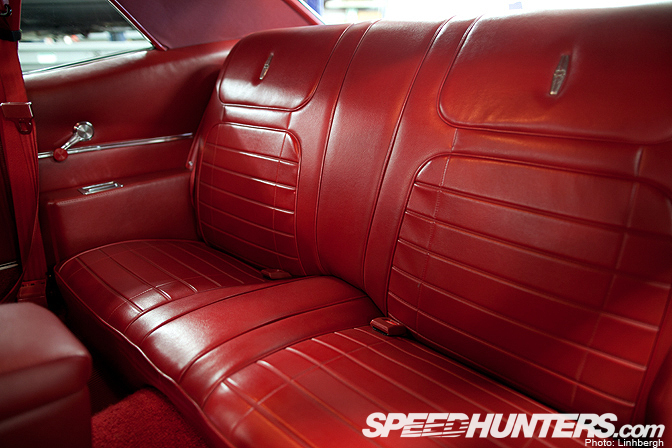 These back seats are drive-in movie theatre material.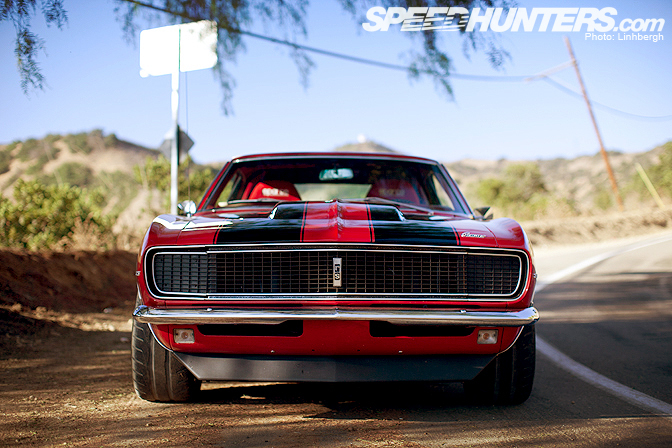 The car has been under the ownership of Carl for the past 32 years which was originally owned by his father whom traded their family '53 Ford truck for the Camaro. It then went into the ownership of his sister in 1978 till 1982 when when Carl traded his '71 El Camino for the Camaro. Carl talks about the early years with his car the best:
"It was the best trade I ever made. It had the 70's period 14" American Racing mag wheels, two-barrel 327 engine, and a Powerglide transmission. It took me everywhere in high school and college and only left me stranded once. At 17 years old a blown timing chain left me stranded in front of a house that was throwing a party that I was not supposed to be at. BUSTED! I got to know the car very well after two engines, three transmissions, two differentials, and numerous weekend wrenching sessions with my buddies."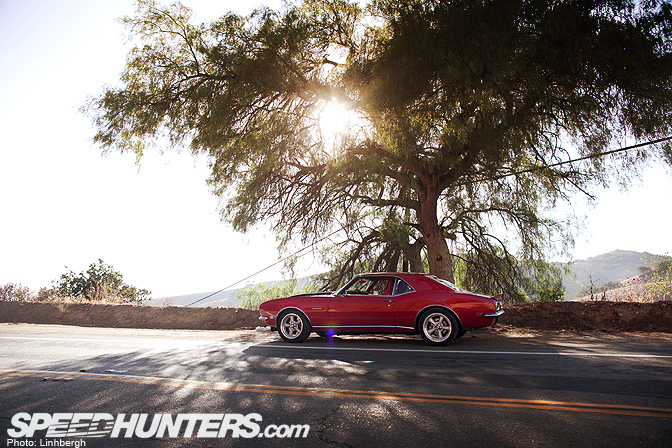 The Camaro had a good many years under the ownership of Carl. It tracked a good 384,000 miles by the time 1996 rolled around. The car was then completely dissembled and would not see daylight again until 1999 when the car fired up for the first time once again. But this time, fully restored but still sloppily rolling through corners like any normal muscle car would.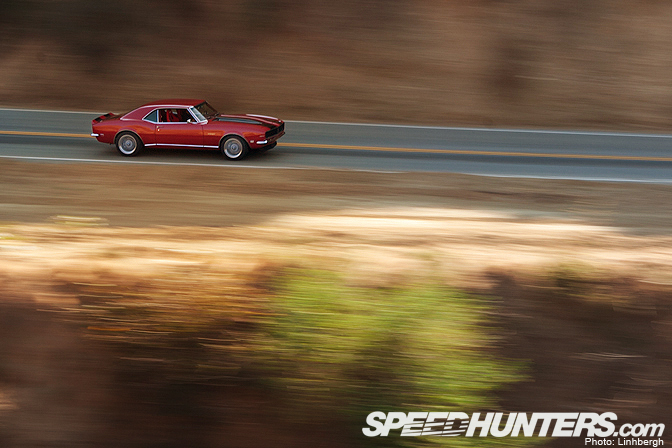 In 2002, Carl was invited to a Hotchkis track day at Buttonwillow Raceway Park which he attended. Here's Carl once again talking about his experience there:
"Hotchkis hosted a High Perfromance Driving Event at BRP that featured a variety of different cars, many of which had Hotchkis components installed. This was my first track day, and I did what most do. I used the pedal on the right too much and got myself into trouble more than once. My passenger and instructor, the legendary David Pozzi, will never be the same after that experience. Even though the power steering failed, the brakes overheated, and the front tires almost ruined, I was hooked. I needed more.
Not long after my first track day I started re-tasking the car. I was a nice cruiser, but it lacked what was needed to make it fast and reliable on the track. 20 minutes of hard driving on road course will find every weakness in a car. With this in mind the modification began, and since then the car has evolved into its current state."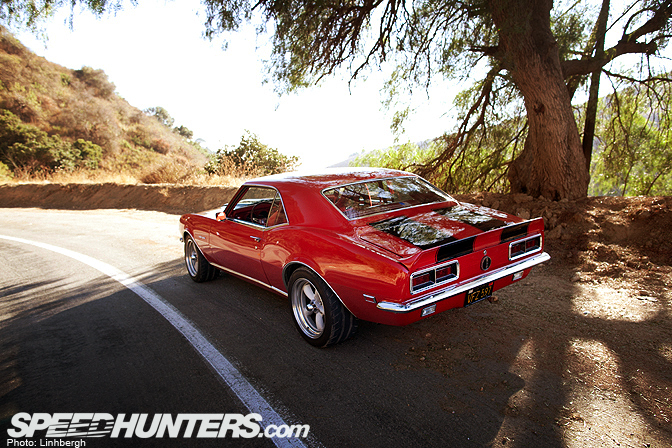 And from that point on, Carl was hooked on making his car handle well.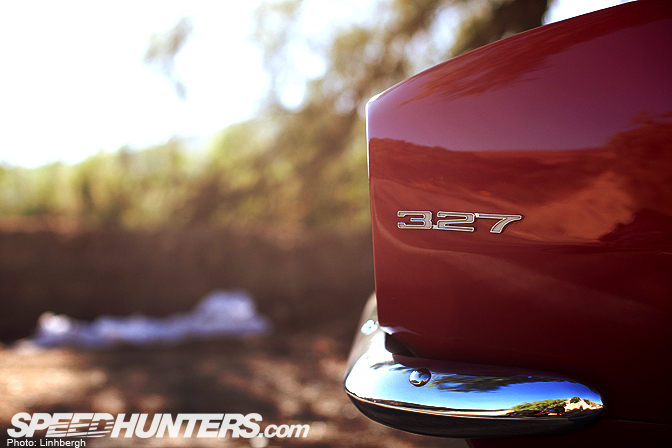 And that brings us to the present day with me taking a ride in Carl's Camaro with one of Hotchkis' engineers, Aaron Ogawa, behind the wheel at a local back road.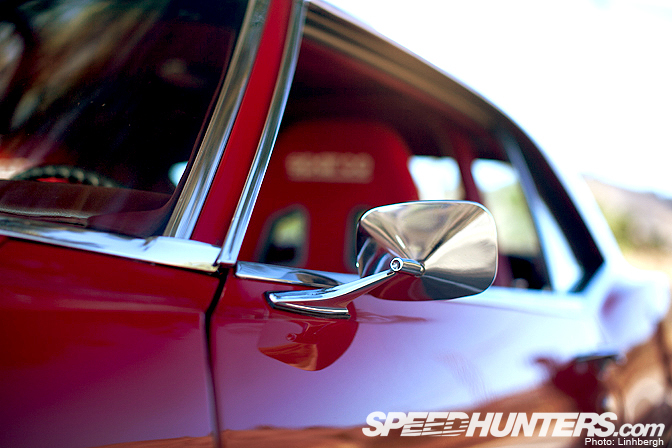 A few months back, I attended a Hotchkis track day at Willow Springs International Raceway which I had the opportunity to drive a few of the Hotchkis tuned cars on the track. Those cars under my non-professional racing skills were definitely not getting their beans pushed out. 
But when there's a skilled professional like Aaron behind the wheel, the car came alive. I've never felt any Muscle car move so quickly.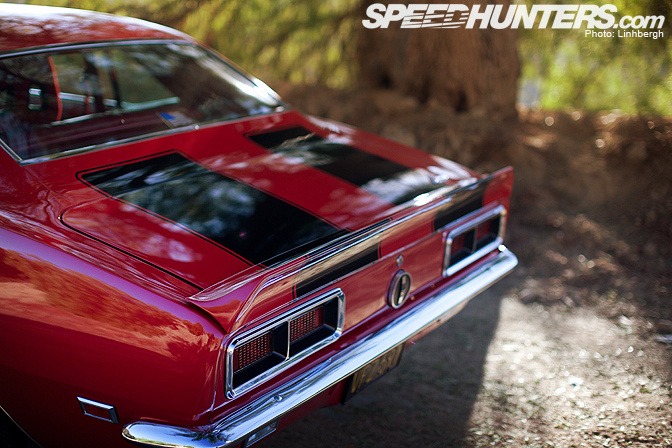 Believe me when I say that the car felt nimble –it was light on its feet. It danced the dance and did so extremely well. The car still felt like a heavy brute, but with the fully upgraded suspension and quickened steering (made possible by a Saginaw 600 steering box with Moog steering components), it was a brute that moved like a ballerina.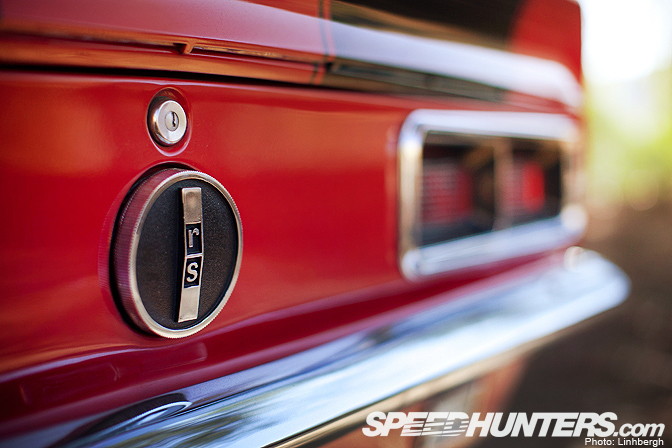 The smooth power delivery of the supercharged LS1 blasted through the straight bits of road.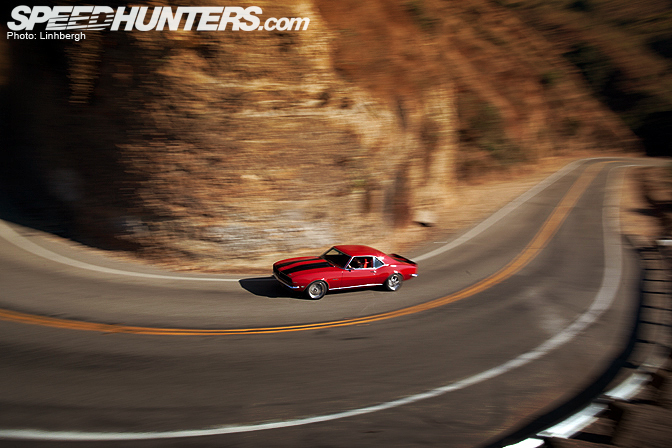 This car ticks off all the right tuned street car boxes. It's surprisingly comfortable to drive on the street. The engine has the right amount of V8 grumble without being deafening, the power delivery is smooth, predictable and tickles the nether region of your pants when you plant that right food down. The car's sporty suspension does not destroy your kidneys, and most importantly, you look and feel extremely cool when you sit behind the wheel of this car. Because really, isn't that what a tuned street car is all about?
These fun cars are should always put a smile on your face. So how about this Red Camaro? Well, how about we say that it'll keep a smile on your face beaming from ear to ear all day long?
I mean really, the Camaro's paint is named Traffic Violation Red!
-Linhbergh