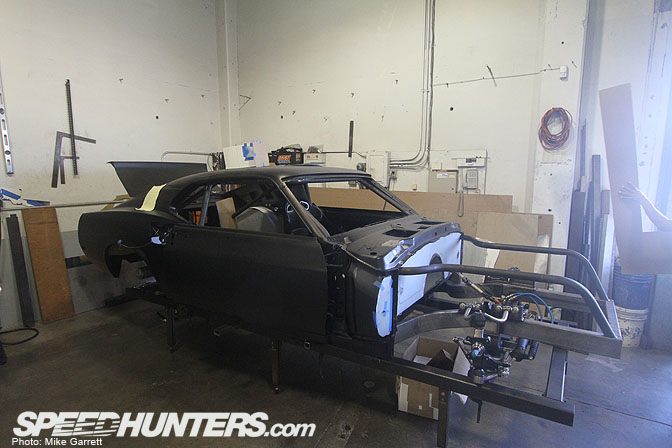 The RTR-X build is full-steam ahead. Gary and his son Jayson at Steen Chassis have been working long nights and weekends to keep us on schedule, which at this point is helping us buy some time for the final stretch before SEMA. We need all the extra reserve time we can get for any unforseen issues. At this point, every single day until load-in for SEMA is alloted to complete the car so it can be ready to drive into SEMA.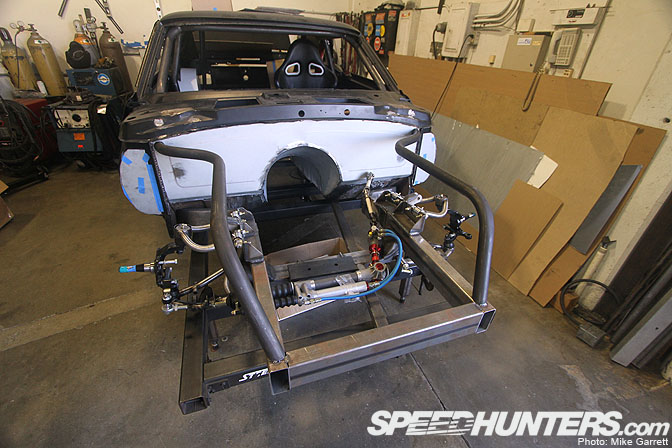 As you can see from this picture a lot of progress has been made on the the front of the car since my update. A custom firewall and transmission tunnel was fabbed with the goal of getting our new 5.0 and Ford Racing transmission to sit exactly where we needed it to sit for performance and work with the extremely low ride height.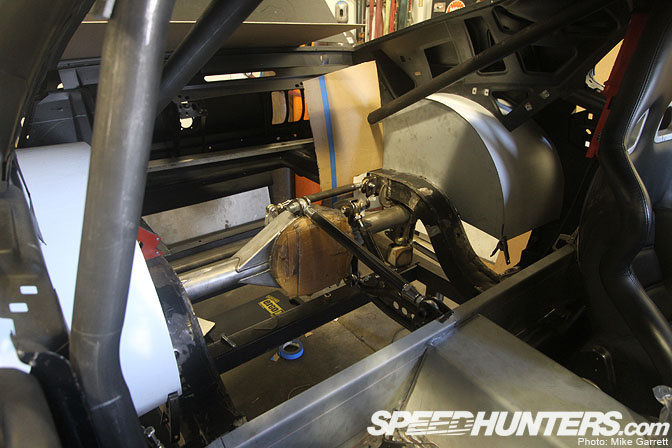 Once things started getting put in place in the rear of the car and it was set at ride height, we ran into our first unexpected issue.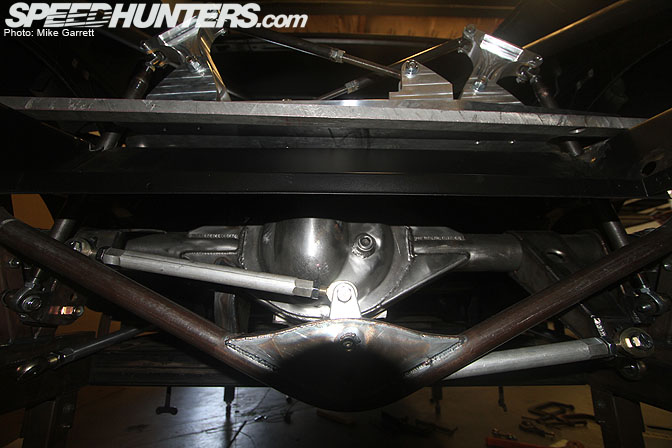 If you remember the original picture I posted here on Speedhunters showing the watts link setup from the off the shelf Maier Racing rear suspension setup we are using you will notice that the brace sits a bit lower then the rear, which is fine for an average lowered car. However the RTR-X is just a we bit lower then your average '69 Mustang :). Needless to say Mike Maier didn't design his impressive suspension package for a car with a raised floor that had a 4 to 5 inch ride height and we ran into some clearance issues.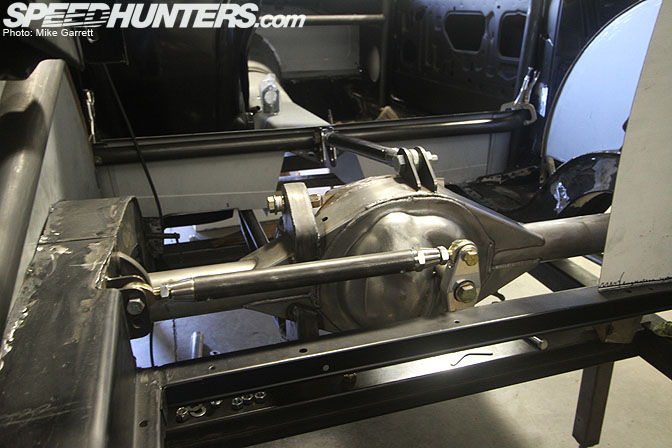 Not to worry… Gary Steen re-engineered the suspension be a three-link eliminating the the torque arm that would have been bouncing on the bottom of my seat. You can also see how he re-enginered the Watts link to eliminate the clearance issues. This picture is just the final mockup which is why there is no bracing on the rear end housing mounting point.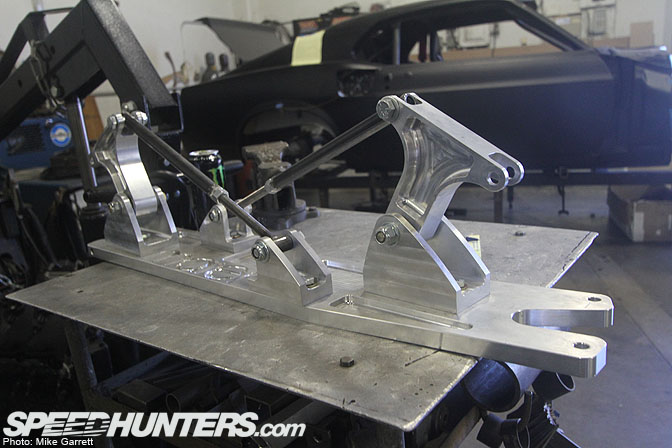 Now that the rear suspension was re-engineered it was time to build the structure to hold this piece of art. Again Mike Maier built this setup to bolt into any average '68 to '69 Mustang, however it was not engineered for a car that required the floor raised five inches so that it could be dumped on the ground!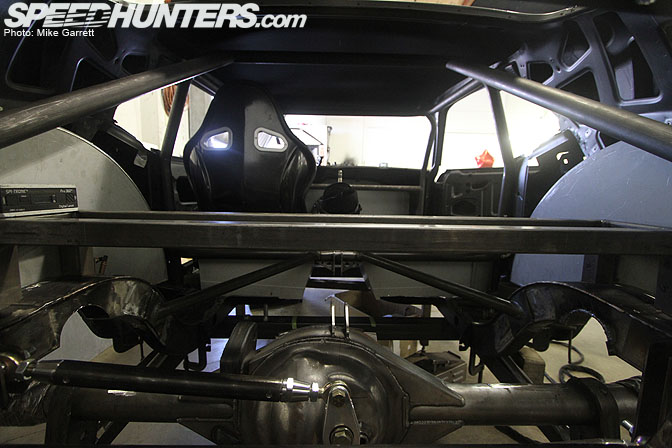 This picture will give you an idea of how low the RTR-X will actually ride. The frame rails are the height at which the rocker arm style cantilever suspension was designed to sit on an average lowered car.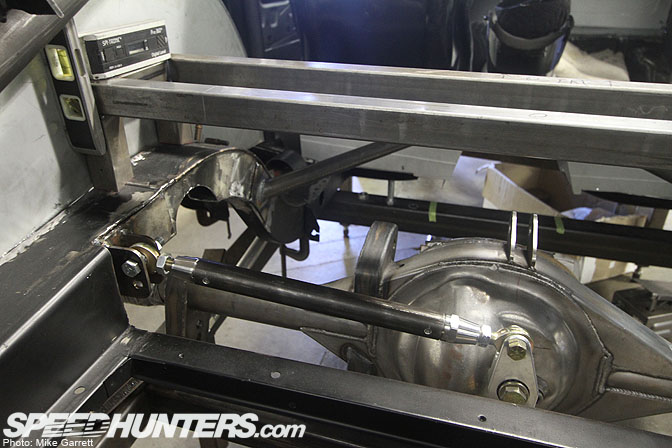 This support above the frame rails is where it needs to be to aquire our goal ride height. Looking at these pictures I am more and more impressed with the crew at Steen Chassis. I hope you will agree these dudes are simply metal wizards.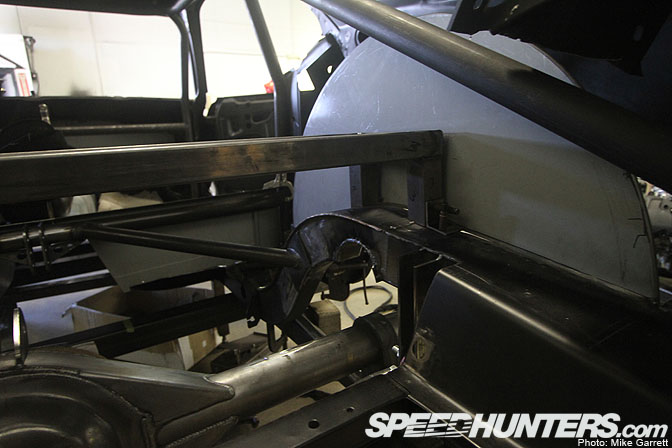 Here you can see where the frame was knotched to allow the rear to clearence the frame under bump.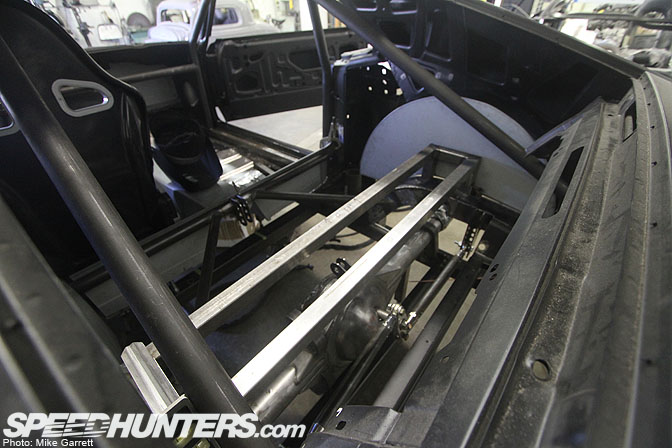 Completed and ready for the raised floor to be fabricated.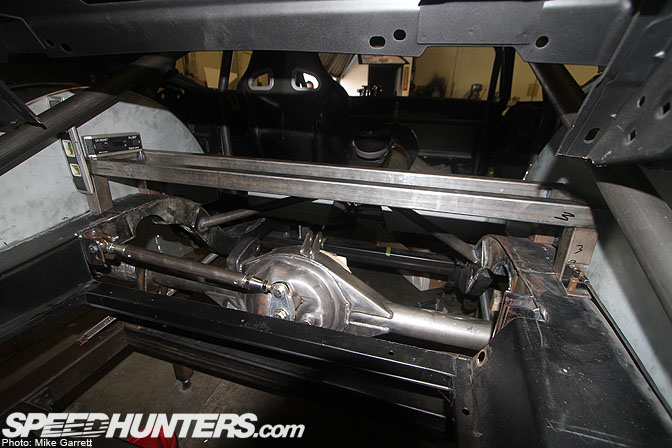 Did I mention we had to raise it five inches? I know… I just like saying it!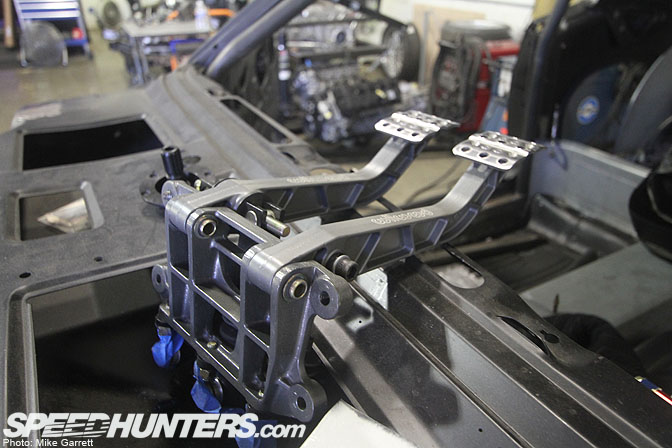 We got our hands on one of the first production sets of Wilwood's brand new forged billet pedal assemblies.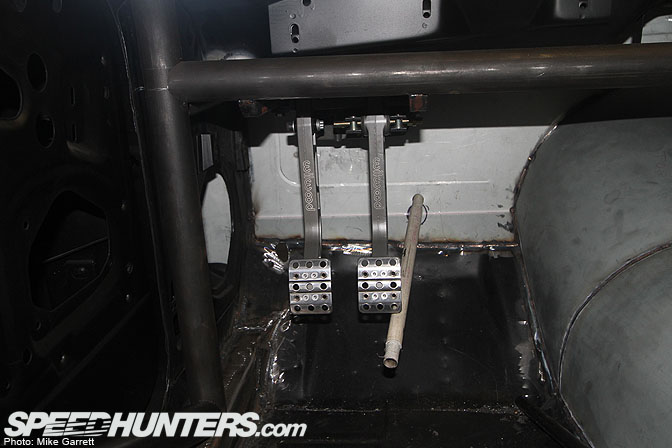 This is a serious pedal setup that has adjustable stainless pedals ready for some serious clutch-kicking!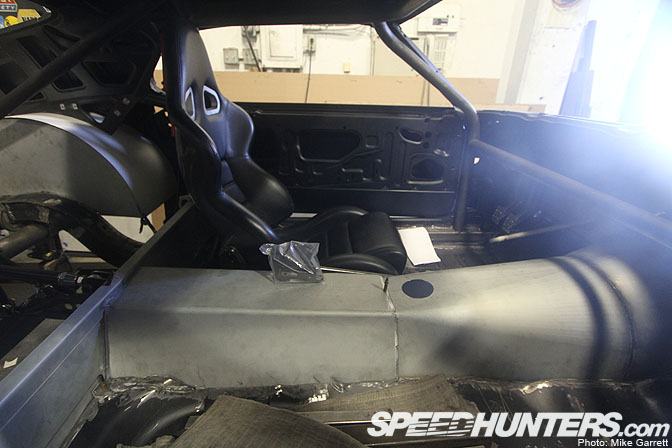 Here are some good shots of the tunnel which of course was raised for the driveshaft and gear box.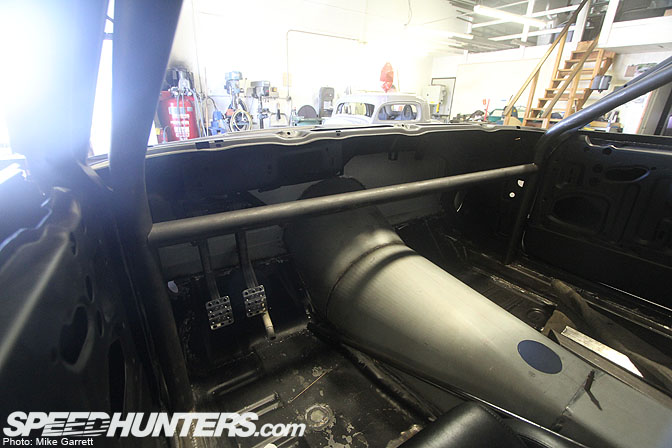 Next up… steering fun.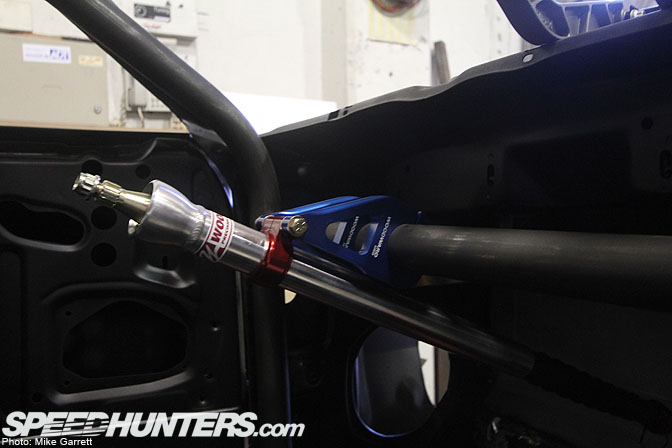 I decided to go with a collapsible steering shaft in the case I ever bend the RTR-X up real bad, I don't want this going through my chest. On second thought, maybe I will want it to if I ever crash this thing that bad! A captain never leaves his ship right?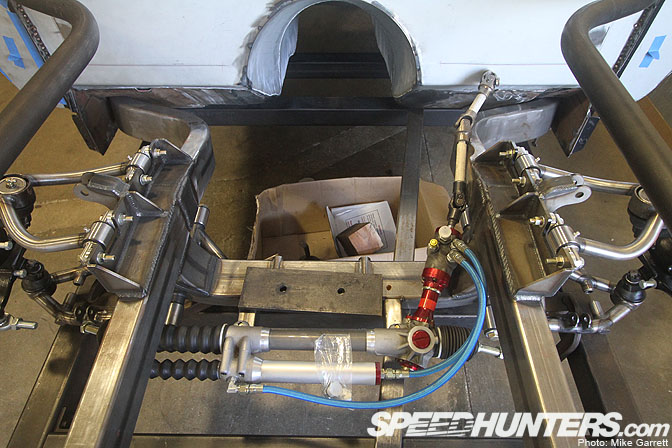 The linkage snake to the steering rack.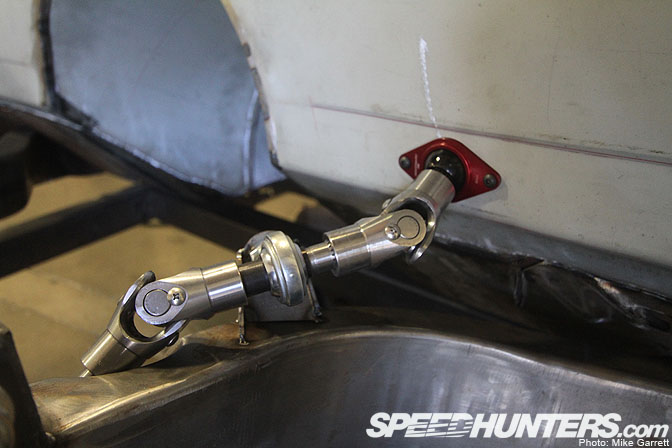 It's amazing a linkage with these angles can feel so smooth at the wheel.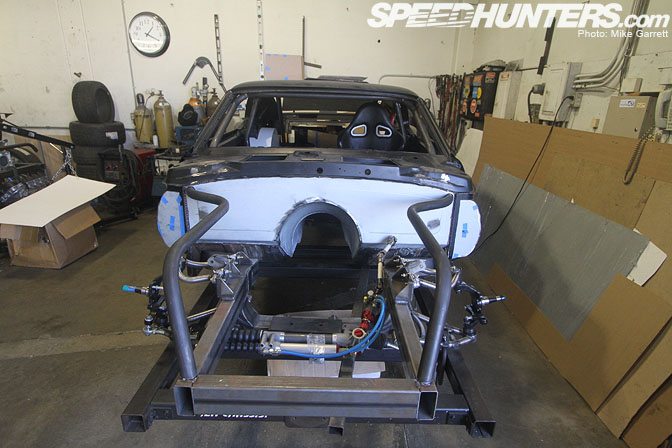 The Art Morrison subframe and front-end suspension components are pretty much all together at this point. We are waiting on our custom shocks and hubs to arrive.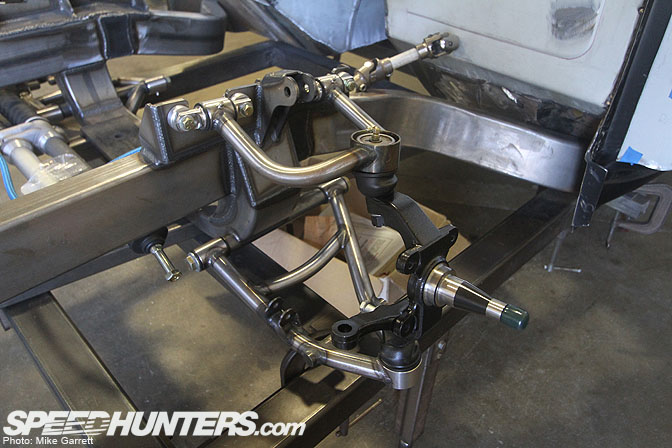 These control arms from Art Morrison are just beautiful, those guys are no joke! We will be converting the upper arm to an adjustable type heim setup in the near future.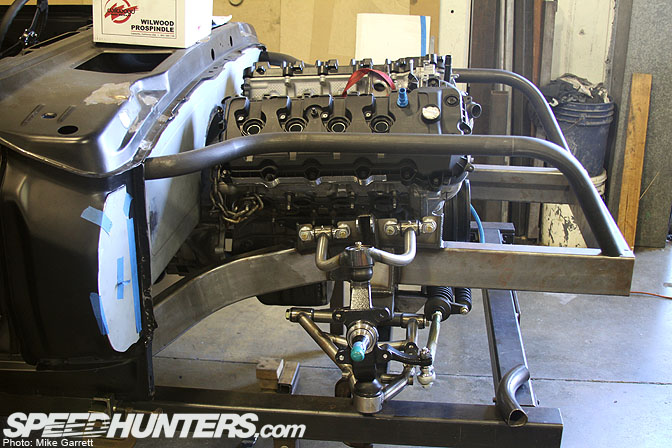 Next up was making mounts for the engine and transmission.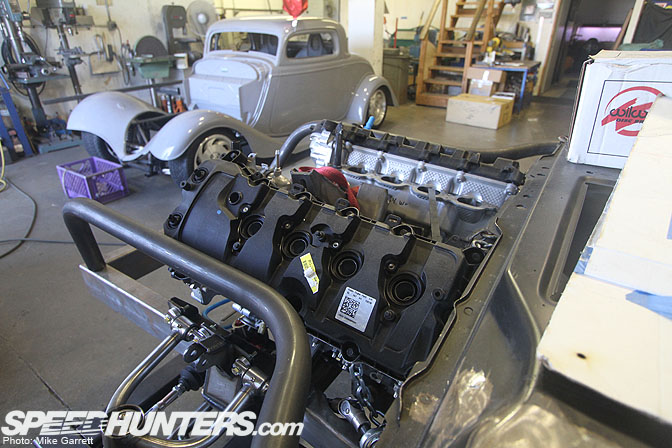 You can see from these shots we moved the new 2011 Ford 5.0 V8 quite a bit farther then where the factory motor would have sat.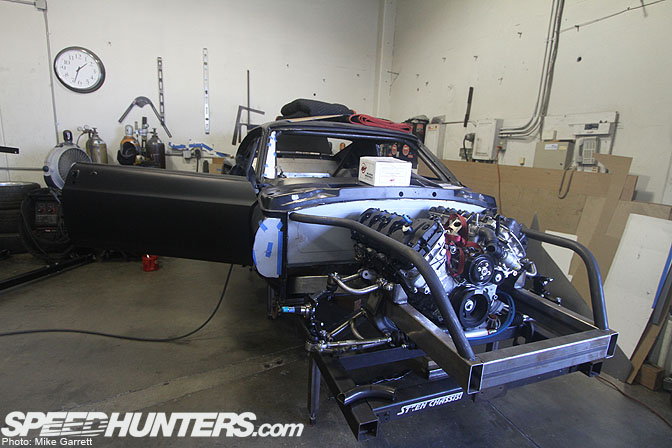 As you can see the RTR-X is rapidly coming to life. While all of this has been going on, the Twins and I have been working tirelessly behind the scenes planning, ordering parts, and choosing partners wisely to make sure the next steps of the build go as seamless a possible.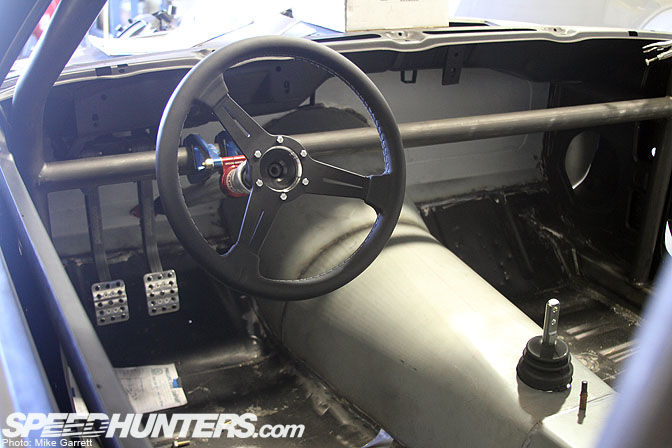 In just three short months I will have my hands wrapped around this wheel, banging gears on that shifter, and kicking that clutch pedal with a vengence!!! Stay tuned… in the next post you will see the RTR-X sitting at ride height!
- Vaughn Gittin Jr.