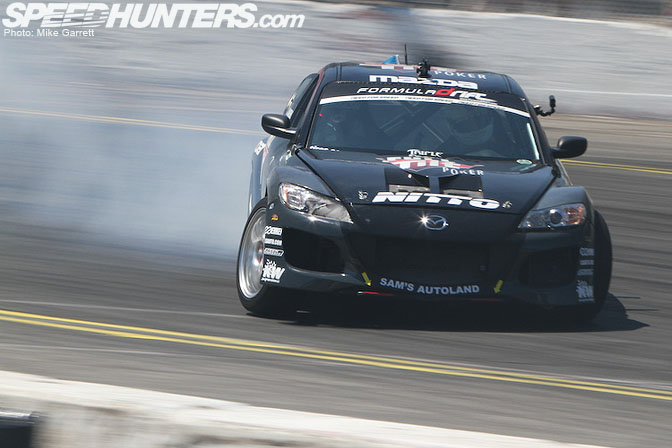 High 5 Speedhunters fans! Thank you very much for logging in and taking the time to read how it's like to live the dream as a drifter! Now, being part of Bergenholtz Racing, it's like icing on the cake because the team is exceptional and the Full Tilt Poker Mazda Nitto RX-8 is phenomenal!
Being that it's my favorite track, I've always enjoyed Evergreen Speedway. But this time around, it's not only the track that is memorable, but also the surprise birthday celebration that will always have a special place in my heart. I may not have gotten podium at this round, but the happiness and gratitude I felt went beyond an anticipated victory.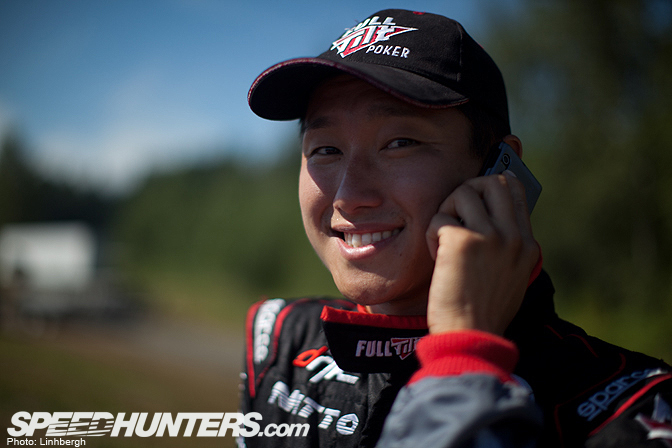 It's a priority to call my girlfriend Amy and give her updates; if not, she'll worry, not so much about the competition, but about whether or not I slept well throughout the night, if I ate or not, if I took my vitamins, if I applied sunscreen, if I'm keeping myself hydrated, and my state of mind. We end our conversation by my listening to her words of encouragement. She believes in me so much. I'm so blessed and grateful to have her in my life.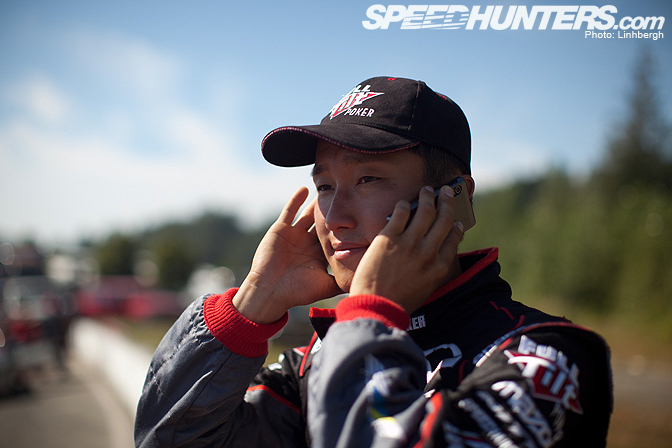 Most likely, I'm chatting with Tom who's with Lucas Oil. His company is one of our sponsors and he called to give his support. I was pleasantly surprised by and thankful for his call. Thanks Tom!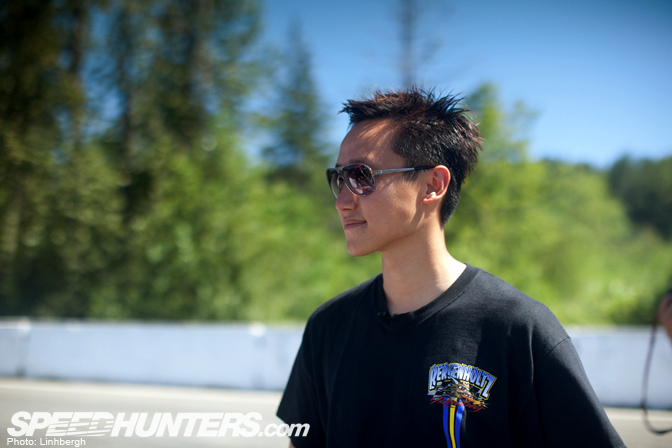 Like my shades?! I do, too! My girlfriend bought them for me a day before flying out to Seattle for my birthday. Besides the obvious, they mean a lot to me and let me tell you why. Months before my birthday (and unbeknownst to me), she saved up money for my gift by sacrificing food. So, if she wanted coffee (and she drinks coffee like water), the $1.50 she would normally spend on coffee would be set aside for my birthday gift. If she wanted Panda Express, she would set aside the price of the meal she wanted to go towards my gift. She stayed true to this method until she saved enough to take me out and buy these shades for my birthday. Normally, I don't care much for stuff like this but these shades are an exception.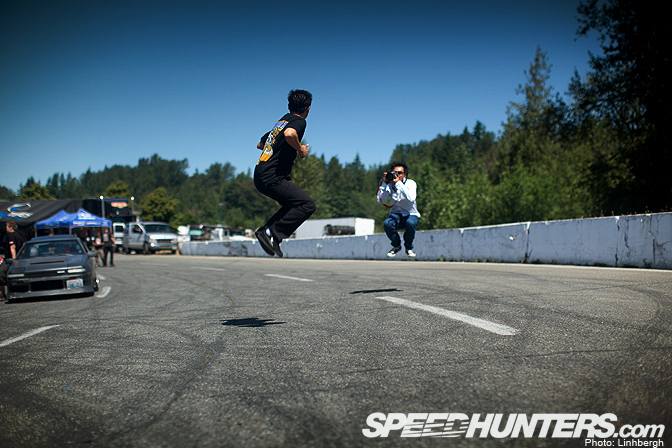 1.2.3. Jump!!! 
Larry Chen @ Driftfotos is well known in this industry for his art in photography. Doing shoots with him is always fun and refreshing because, as you can see, there's a definite uniqueness to his photographic method.
Thank you Larry for every picture you've taken of me, my team, and the car. Since 2007, you've supported me. Thanks Larry!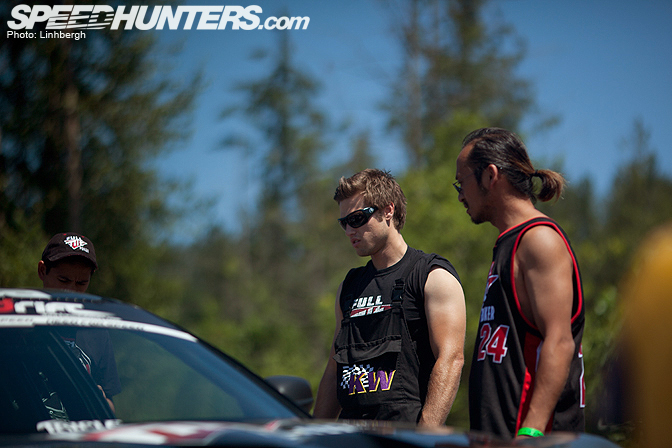 Starting from your left, Ed Bergenholtz (Chief of Data Analysis), Brian Benson (Crew Chief), Ron Bergenholtz (Team Manager) and I were waiting in line for Formula D's mid-season technical inspection. The day was set aside to accomplish this from 10 am to 10 pm. Seriously, much respect goes out to the inspectors Tony Angelo and Doug Artus, as well as FD staffs, who went through the laborious process of inspecting each and every car that was competing this round.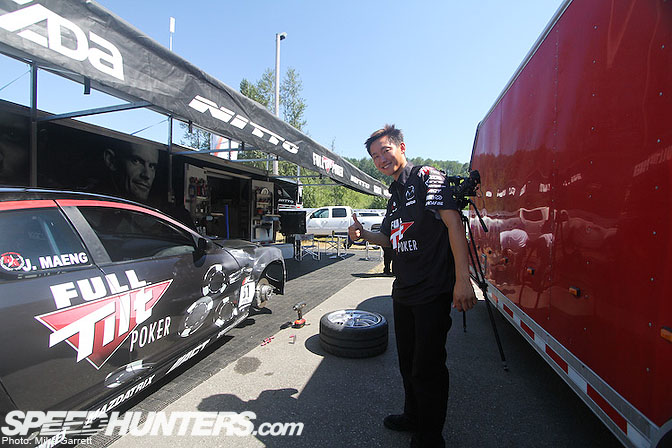 This is our pit area and, to your right is our neighbor Dennis Mertzanis who drives the Kenda S14.5.
Team Bergenholtz and I share numerous commonalities, one of which is waking up before the crack of dawn to get to the track and start the day. The previous night, we had a team meeting and listed what needed to be done and who needed to do what, so sacrificing sleep to accomplish our goal for the day is a component of what defines success in our book. For instance, after the meeting, I went to bed and, around 2 in the morning, Ron knocks at my door and, with data analysis on the computer screen, asked me about the performance of the car at each point on the graph. Ron was determined to mold the car to my drifting style so he was brainstorming as to how to do just that with the information I was providing him. Do you think that I got annoyed with Ron disturbing my slumber? Absolutely not!!! I loved it! My hunger to win was there but, after what Ron did, I was pumped up more. What he did fed my hunger. I had a difficult time falling asleep again because I became so eager to get back out there. I prayed a prayer of gratitude to thank Him for providing me this awesome team. He is good. He is so good!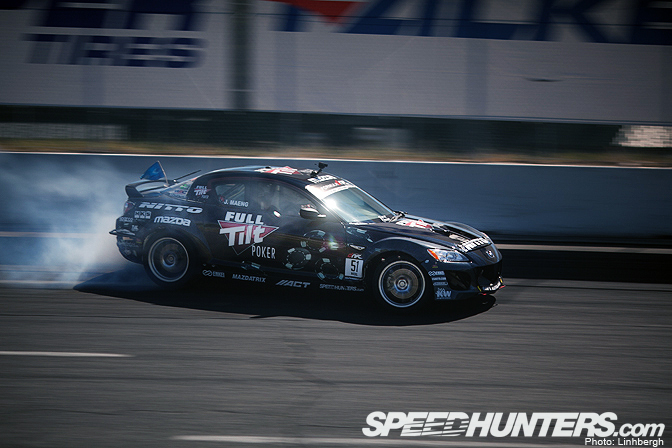 Upon arrival, I walked the track multiple times to build a connection with it; my goal was to familiarize myself with the track's wall, entry, layout, color, odor, debris, etc.  I got to give it respect because it gives life to my car, allows my car to display its personality, and, most importantly, the track will underscore the performance of the car, which signifies the diligence, determination, and dedication of the team. 
I must've really put forth a lot of concentration and effort out there because I was drenched in sweat after I finished. Of course, the hot Monroe morning contributed to my excessive perspiration, too. Still, I felt exhilarated. I knew it was going to be a good day.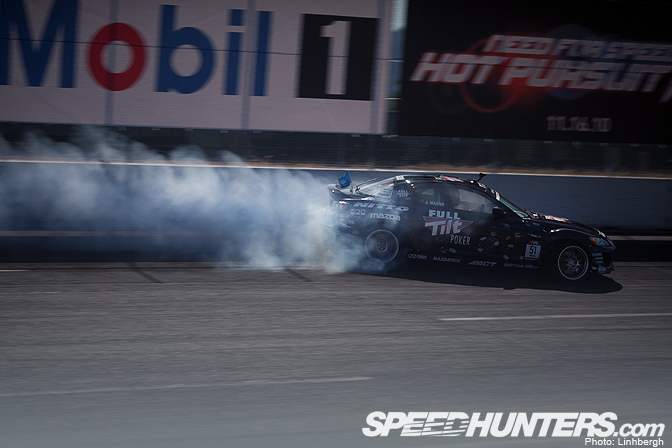 During practice, the Full Tilt Poker Mazda Nitto RX-8 felt reliable and sound. It's a beautiful moment when the car is ready and willing to follow your instructions. Again, Bergenholtz Racing made this happen. Their insatiable hunger to have the personality of the car match to a tee with mine is evident. I felt good, the car felt good, and the team felt good; it was a perfect combination. 
I was ready for the competition to begin!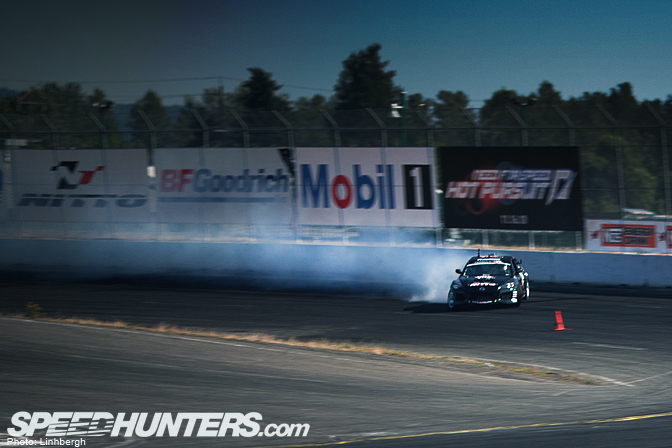 For practice, my game plan was to put forth a reputable line, go faster, and get twisted angles. Slowly but surely my game plan was unfolding. I figured that if I felt like I was driving on the edge, then, the spectators and fans would be able to feel it, too. Every run, I was doing my best to channel that energy.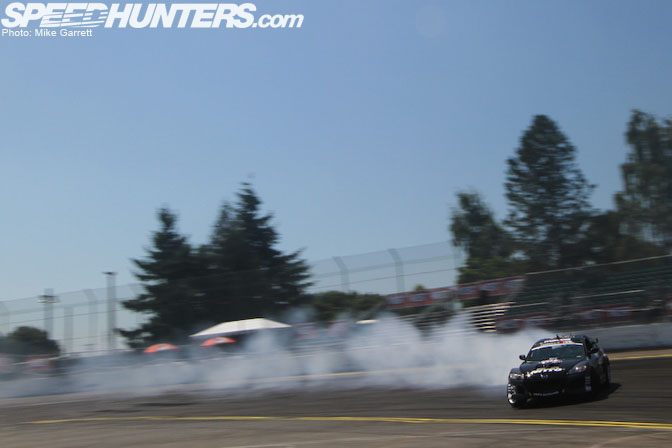 The KW Suspension worked great and the handling was second to none. Adjustments were made between runs and the car felt better and better. Wider Nitto NT05 tires were used for this round and they performed uber well, too. Every factor in play contributed to the overall awesomeness of the car.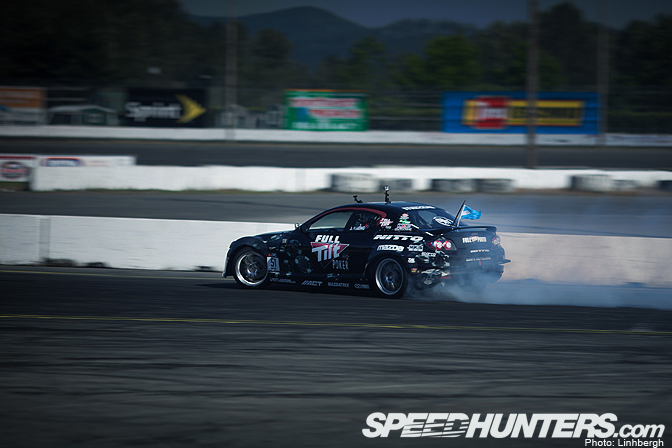 During Friday's practice, I treated every run as if it were my qualifying run. I had a game plan and, dang it, I intended to stick to it!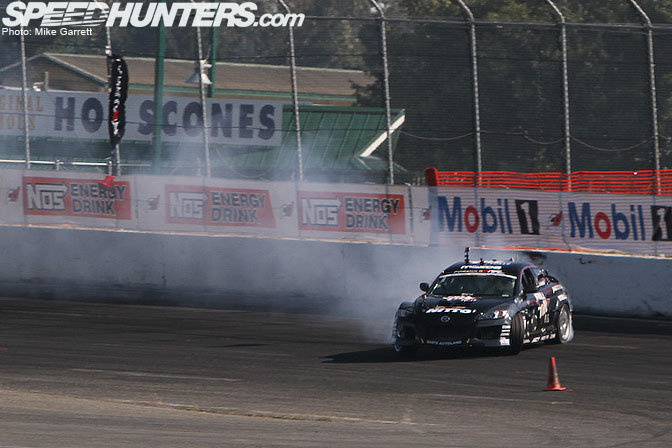 Evergreen Speedway rundown from start to finish: 1st gear 60% throttle, 2nd with 70% throttle, 3rd gear modulation at 70-95% throttle, 4th gear at full throttle, kicked the ACT clutch right before the bank to target the RX-8's butt to the wall, full throttle on the bank, decelerate towards the exit of the bank, downshifted the HKS sequential transmission to 3rd  gear while slightly feeding/adjusting the Sparco steering wheel to the on-track bumps, mashed the throttle through the power alley, transitioned and fixed my eyes on the ideal/imaginary line, hit all the clips right on the nose, and downshifted to 2nd gear before the last clipping point. 
I was curious about my speed on the straight-away before the bank and Ed (the team's famous chief of analysis) pulled out the data from the Motec M800 from which it read 92 mph prior to drift initiation! Wow~ That was thrilling! I wish I can give you a ride-along so you can experience the rush for yourself, instead of experiencing it vicariously through me. Words can describe so much.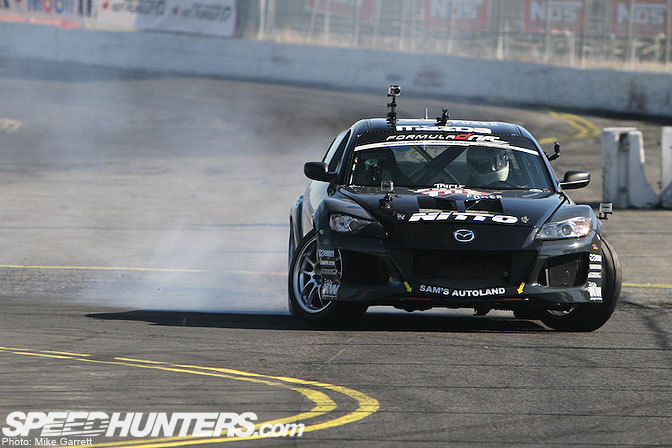 The 3 rotor engine was screaming @ 8,000 revolutions per minute, shooting out fire balls from the exhaust. Qualified 14th with a score of 76.8 point on Friday.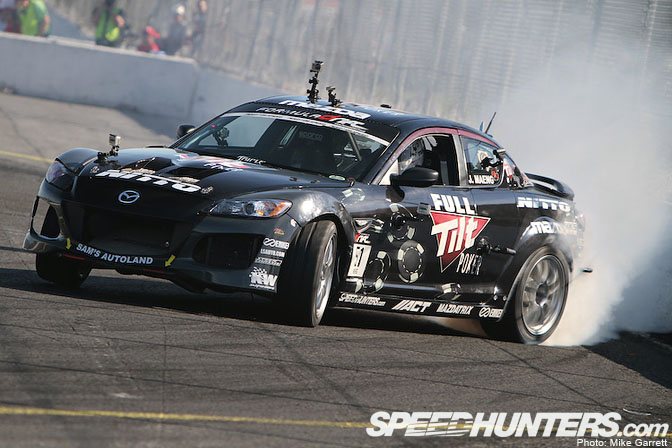 I normally don't like hitting the rev limiter, but the Mazda RX-8 has a unique pulse and sound to it, so I enjoy hitting it when possible.
Since the beginning of the season, so many fans commented on how they enjoyed seeing the exhaust's fireball and hearing the noise from the car when the 3-rotor engine banged at the top of its peak. 
At the drivers' meeting, Jeff Jones, who drives the Apexi CX Racing Mazda RX-7, mentioned how he loved the harmonic sound of the 3 rotary at its best, but the judges think otherwise and don't like it when drivers bounce off the limiter. So, once that announcement was made, the change was made accordingly. Sorry fans, no more fireballs.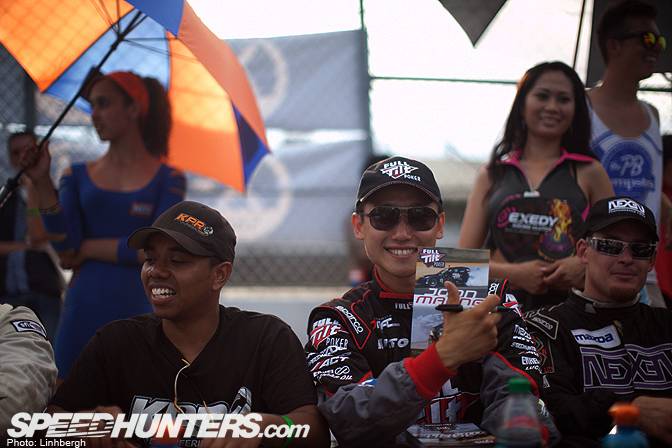 Here, I am taking my place at the table getting ready to meet the fans and sign autographs. To your left is Victor Moore who drives the KP Race Engineering S14. To your right is my fellow Mazda RX-8 brother, Kyle Mohan. I had the privilege of sitting between them and had a blast.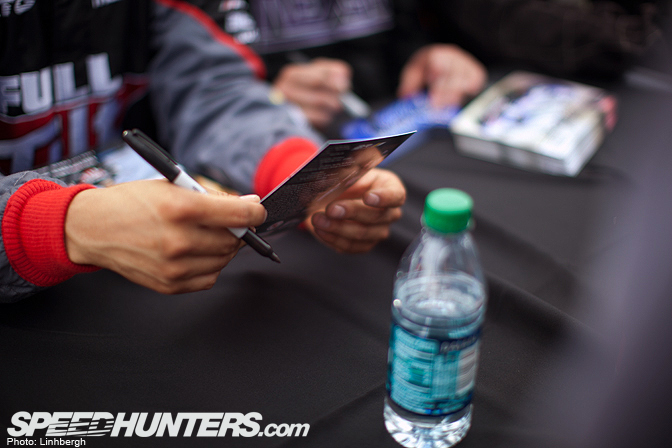 Till this day, there's this weird feeling that creeps up when I look at my hero cards because everything on them is about me. The faces of the members of the team and their history are absent and they are the ones who should be on them. Ron, Ed, Brian, Derek, Rommel, Kurt, Vince, and Sav are the brains behind the Full Tilt Poker Mazda Nitto RX-8. They make it possible for me to go out there on the track and drive my heart out. For the next autograph session, I'm going to ask them to join me because the fans have the right to meet and know a remarkable team.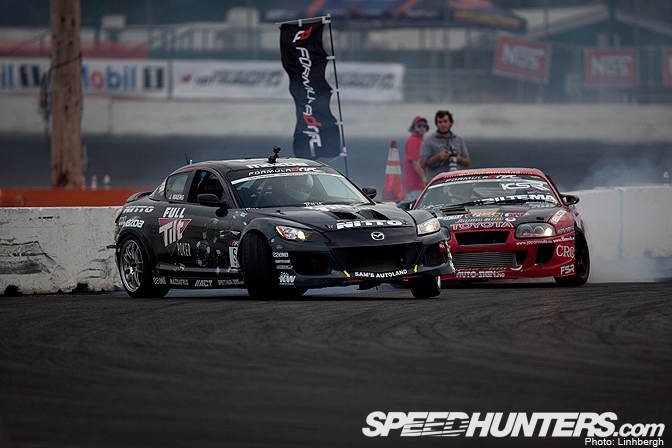 During practice, it was fun driving with 2x Nordic Drift Champion Fredric Aasbo and his Japan Auto FSR Supra! Aasbo truly is a top driver and a top person; I had the privilege of befriending him over a game of billiards at the house of 2009 Formula Drift Champion and fellow Drift Alliance brother Chris Forsberg, who drives the famous NOS Energy Drink Maxxis 350Z. Not only is Fredric an awesome driver, but he's quite good at billiards, too; he beat me! I want a rematch, buddy!
But all jokes aside, keep up the great work Fredric!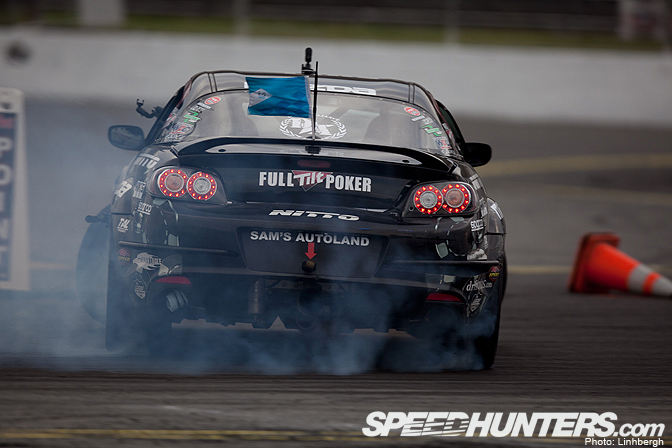 Fresh paint and body work thanks to Sam's Auto Land in Gardena, Ca. I would also like to take this time to give a written shout-out to my other supporters (in no particular order): LS Automotive, Mazda, Mazda Speed, Mazda Trix, Full Tilt Poker, Nitto Tires, Lucas Oil, ACT, K1 Speed, CFR, Sparco, Golden Eagle, Enkei Wheels, KW Suspension, Genius Tools, Motec, Baker, Seibon, NGK, The Driveshaft Shop, Garage Graphics, XS Engineering, WPC Treatment, HKS, Contour HD, Tial, Burns Stainless, RC Fuel Injectors, Steen Chassis, CSF and, of course, Speedhunters. Thank you guys for your support!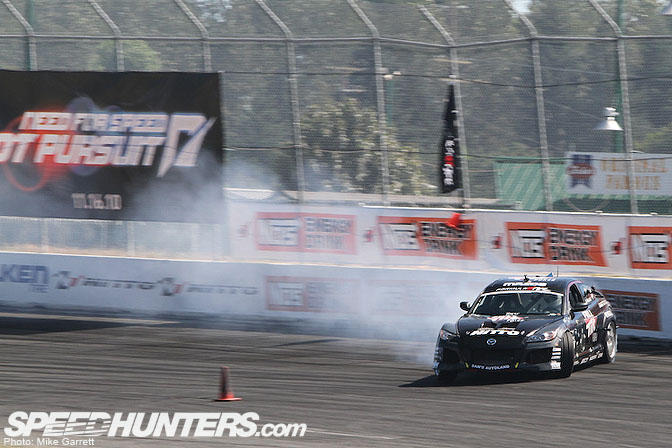 I really like this shot. The car looks nice and tight, the driving appears to be on par with my expectations, and, overall, it's wonderful. I look at this and it reminds me of my BR brothers: Ron, Ed, Derek, Brian, Rommel, Kurt, Sav, and Vince. I can't emphasize enough how grateful I am for them. Without their faith in me, I wouldn't be the one in the driver's seat, representing the team and all that they stand for.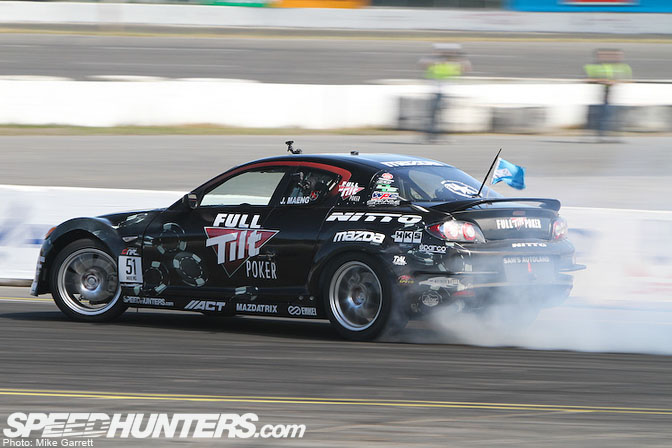 During Saturday's practice, I ran four or five times. During each run, the reliability of the car remained consistent and I felt confident. It's an amazing feeling to have the level of confidence on your car be proportional to or reciprocate the level of confidence you have with yourself. Wait, I think I mentioned this earlier… Anyways, I felt great and was stoked for battle!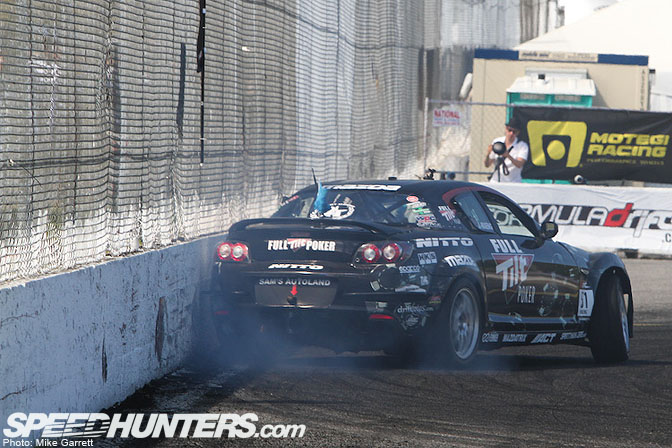 Wow! Crazy shot! Again, it's all thanks to my team that made the possibility of maneuvering the RX-8 in such ways. 
This was happening during Top 32 when I was up against my Nitto Tires Teammate Mike Essa. I was leading, which meant that I was the moving clipping point that Mike had to hit and close in on. My strategy was to mimic a 100-point run and cover every square inch of that track as possible. I also remember wanting Mike to be door-to-door with me, to feel that pressure. I must be a pressure junkie.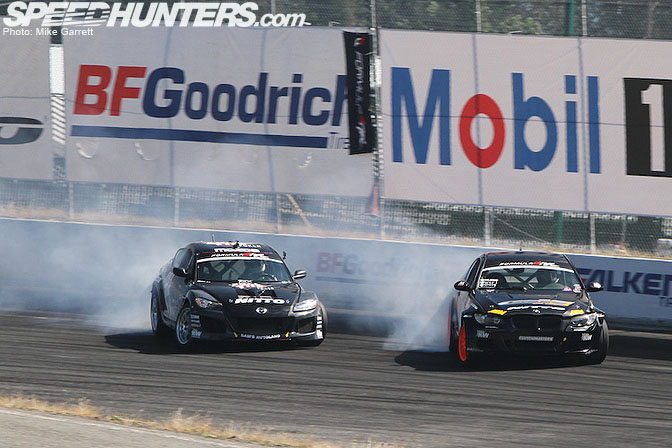 Then, it was my turn to chase. Mike is a talented driver and he knows what to look out for. My strategy as chaser was to trail right behind him and stay there! It was a tough battle from the beginning but I held my confidence and had fun.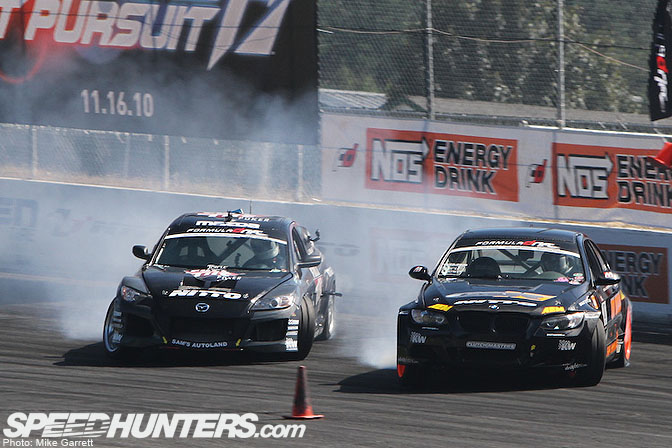 Essa had a good lead and I went all out. Fear and preoccupation didn't hold me back from what I had and wanted to accomplish. My objective: to do Mike Essa what JB Weld does (No offense, Mike).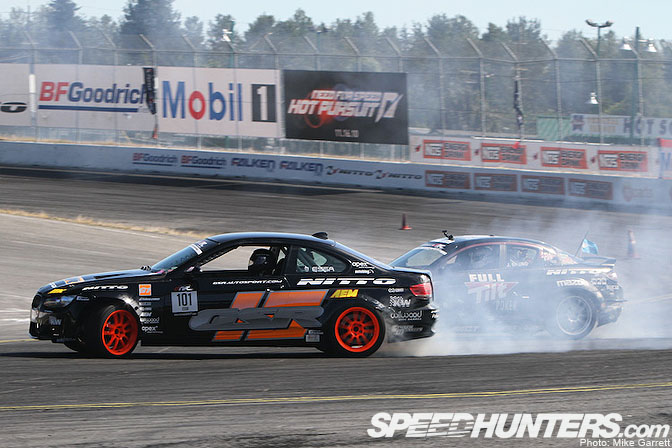 Getting closer…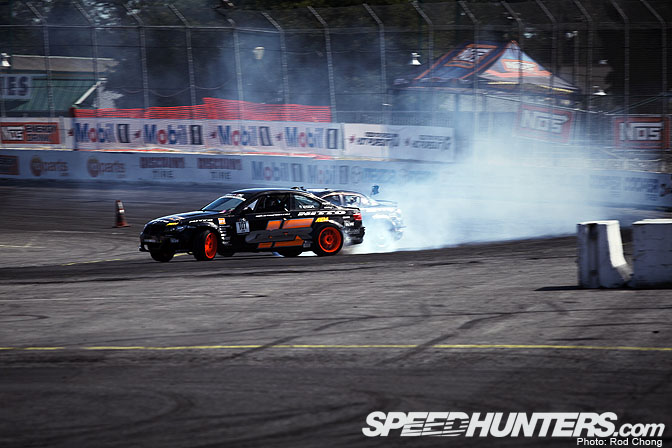 … to get closer. When I saw and felt the debris shooting out of Mike's Nitto NT05 tires, I estimated that there was a two feet gap between us. Still, I itched to get closer…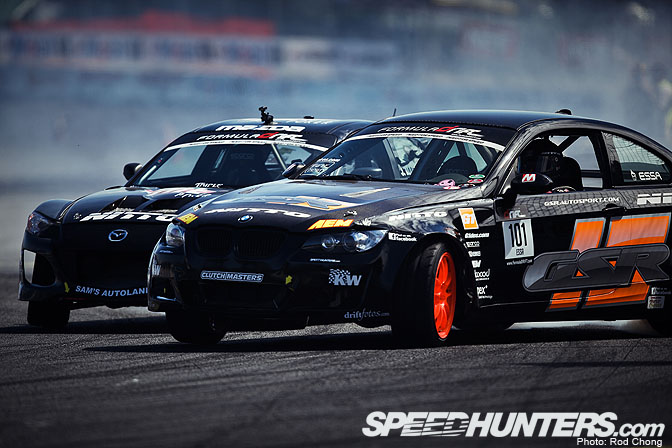 …and closer. It felt close enough, but was it enough? I was aware of Mike hitting every clipping point and zone. He accomplished the task and did it very well.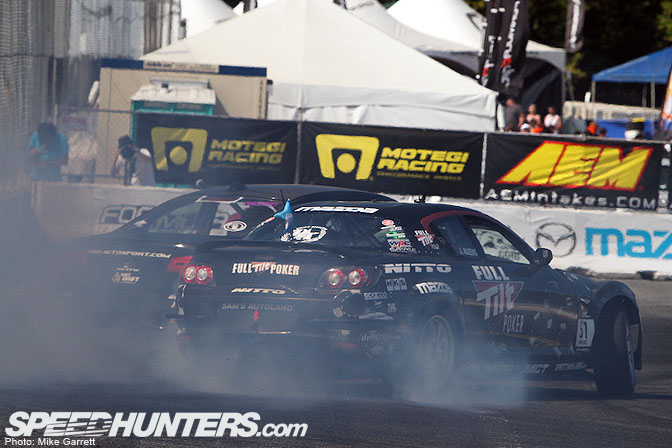 Frankly, what I remember most is how fun and exciting it was to compete against Mike, especially as the chaser. 
After the winner was announced, I went over to Mike's pit area and gave him a high-5 for an awesome run. It's hard to bask in momentary victory when your opponent is an amazing person and you know that he deserves it at much as you do. Thanks Mike for a great run!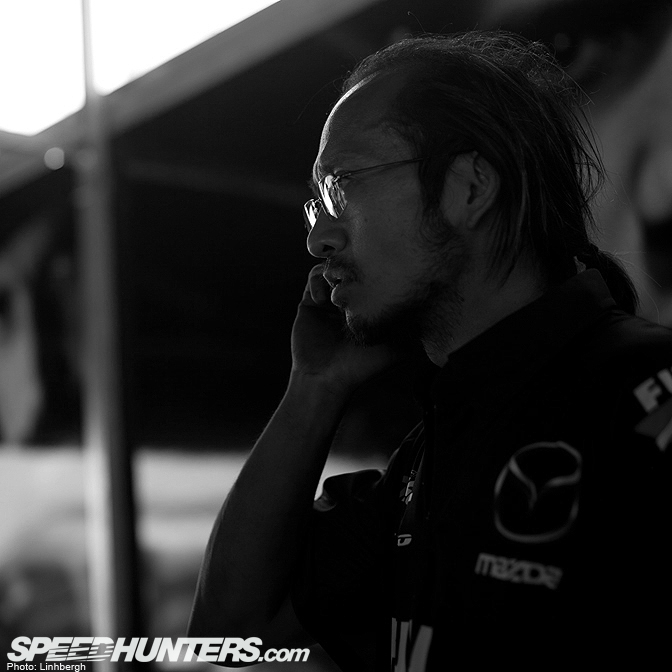 Ron looks intense as he's chatting on the phone, like he's ready to throw down a serious business deal that's unprecedented in the industry. 
But, prior to this call, Ed, looking very serious, asked if we could chat and we ended up on the track with him talking to me about something serious. I wasn't able to grasp his words because he made me really nervous and, by that time, I didn't know what was going on and didn't understand the crux of Ed's explanation. Then, his phone rings…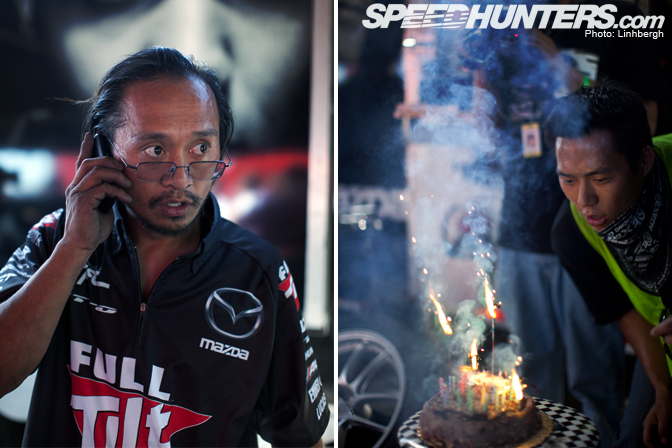 … it was Ron calling, urging us to return to the pit area because there was a big problem with the Full Tilt Poker Mazda Nitto RX-8 and we had to forfeit running in the Top 16. My heart sank and then, as fast as it sank, it began to beat at a crazy rate. Ed and I ran as fast as possible to our pit area and, upon arrival, I saw a smile on Ron's face and I knew right then and there that something fishy was going on! What happened was there was a plan unfolding, a plan for my birthday. Ed took me out to the track so that the pit area could be prepped behind my back to sing me a happy birthday song.  
To your right is Kevin Lee @ Nexus Visuals lighting the birthday cake. We go way back; we knew each other since the beginning of high school. He was there supporting my dream, too, and came out with me to Road Atlanta in 2007. I'm very blessed to have friends like Kevin who encouraged me since day one to go for my dream when everyone else discouraged me. Thanks Kevin and I'm really happy you were there!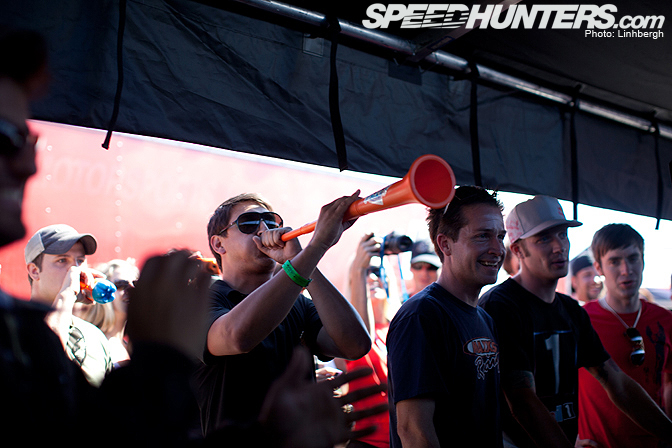 It was a big surprise! It left me astonished, breathless, and very close to tears. Everyone I care for and who cares for me came to wish me a happy birthday! There were several times when I had to hold my breath in order to prevent myself from shedding tears of joy. I really want to take this time to thank individually all those who sang me the birthday song, but, in fear of leaving anyone out, I won't. I dare not make the mistake of omitting those who were there to share this unforgettable memory of my life.
To everyone, thank you very much. Over and over again, I thank you.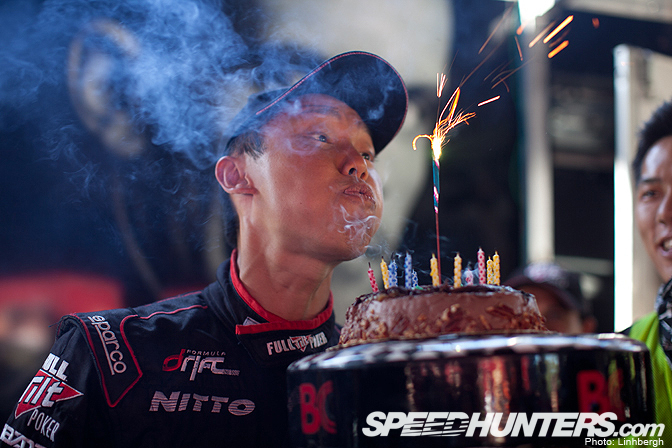 Jay Joo from 29 Frame joined us for this trip. He's making a documentary/film about drifting to bring awareness to Koreans in the motherland.  
That morning, the team went to Fred Meyer's Super Market to replenish our food source for the day. When we were ready to leave, Jay told us to go on ahead without him and that he was going to meet us back at the track. Well, he stayed behind so that he can purchase the cake without my knowing. He did a good job in keeping it a secret because I was surprised! Thank you Jay for the delicious surprise!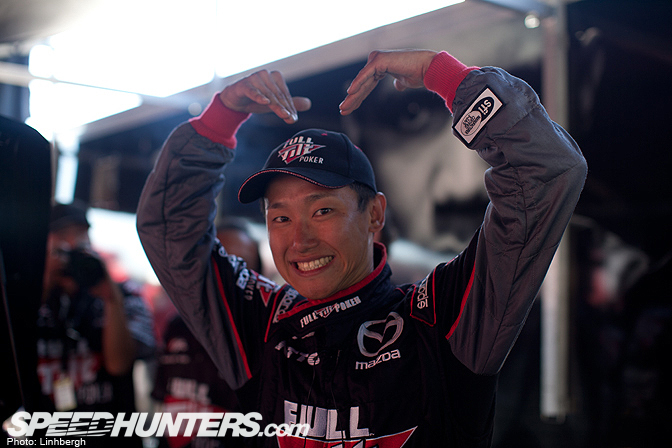 A little corny, right? I felt so much love from everyone and didn't know how to else to express my gratitude and love back that this is what I came up with: a shape of a heart with my arms and my smiling face in the middle of it. Yes, it's corny, but isn't love corny?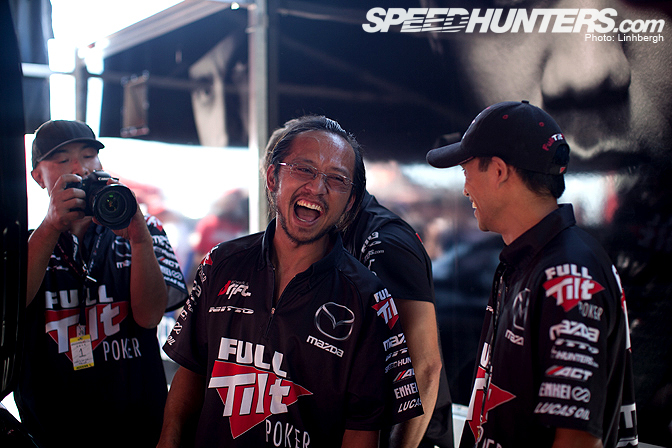 There's Ron and Ed laughing it up and having a good time. Seeing the team like this touches my heart. They know exactly when to work hard and play hard, when to take life seriously and when not to. They are enjoying what's happening and living in the moment with me. I learn so much from them and I'm constantly reinforced by them that I am a good driver and that, soon, victory is ours and it will be sweet! I know that I stated this countless times but I have to do it again. I LOVE BERGENHOLTZ RACING!!!!! We're family and I'm so honored and blessed to be their driver. 
To my team: Thank you for having my back on and off the track and for this unforgettable birthday surprise! I love you!
By the way, the team member with the camera is Jay. I'll keep you updated with his work.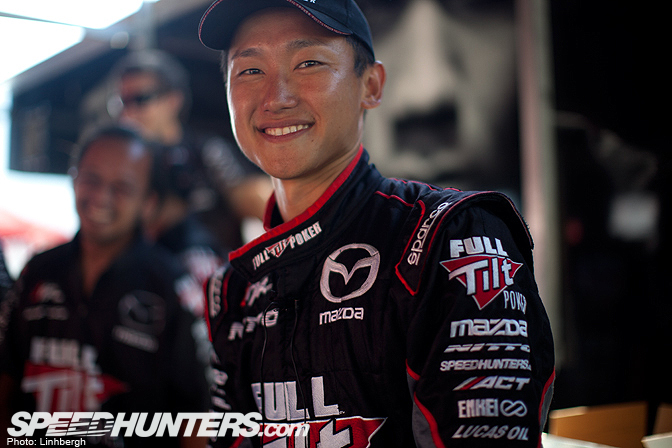 The smile of a happy man.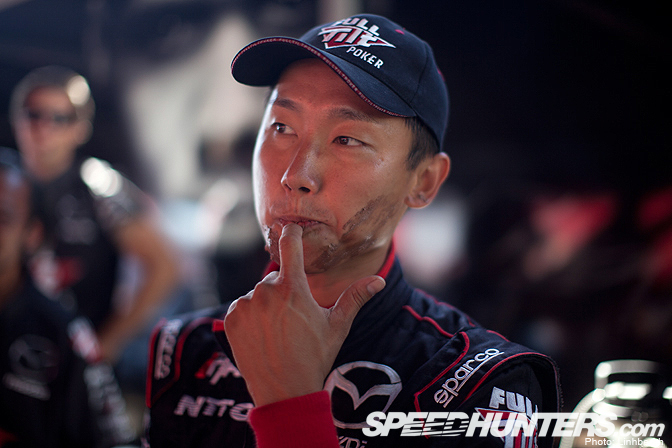 As tradition dictates, I got smashed in the face with cake. To tell you the truth, I don't remember who did it because there was so much excitement in the air and I was on cloud 9. But, the cake was delicious.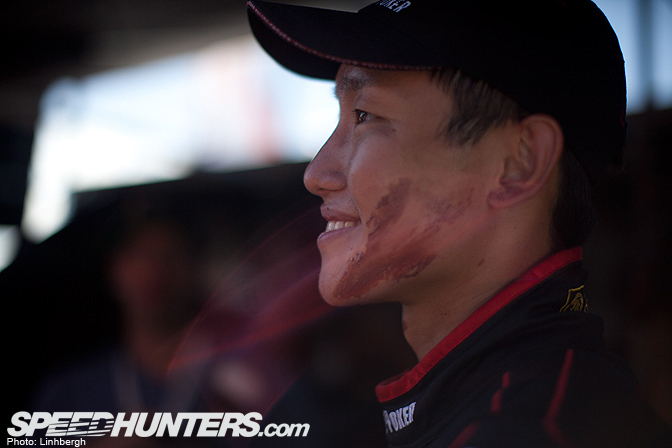 This indescribable birthday surprise has reminded be that He is always good and, therefore, my life is good. As I reflect, I'm ashamed of ever complaining or harboring negative thoughts. The memory of this day will encourage me to stay grounded and give more than I have received in hopes of others having the opportunity to feel what I have felt on this day. But, there's a person whose presence would've made this moment complete and perfect, my girlfriend.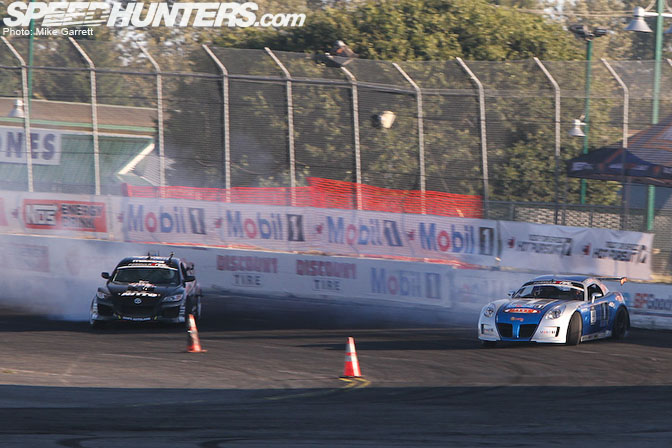 I was excited to be a part of the main event, especially after not qualifying in the previous round at Wall Speedway. Unfortunately, my excitement was short-lived when I had to compete against my DA bro Ryan Tuerck. As usual, Ryan was on fire and he really tore up the course!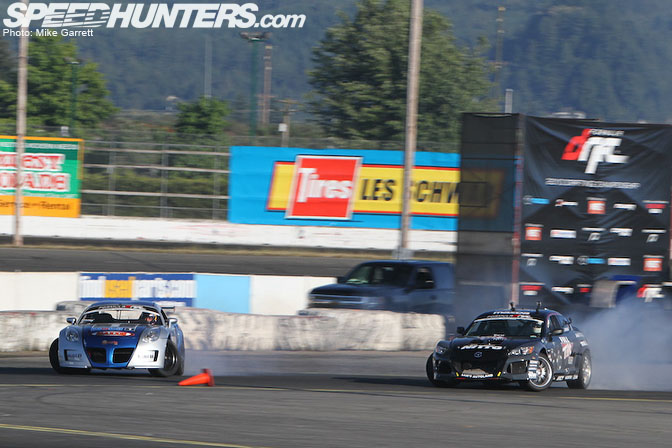 The distance between us was unacceptable so I did what was possible to inch my way closer to him. In the process of doing just that, the Full Tilt Poker Mazda Nitto RX-8 felt different in the sense that it didn't feel the same as it did during qualifying and practice. Once I passed the finish line, I radioed my spotter Ed to enforce the 5 minute rule and shut down the car to make a superficial inspection. Within two minutes, we honed in on the most likely culprit to the problem and knew that there was no way that it could be fixed within the remaining minutes allotted to us. Instead, we debated on whether or not I should continue or throw in the towel. And, continue on we did.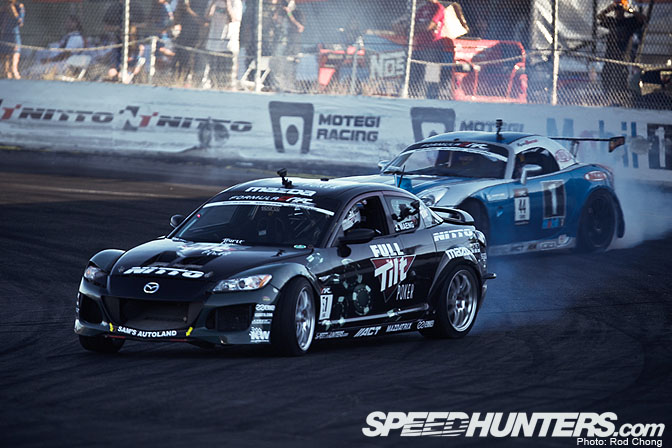 It was definitely unstable exiting the bank and I fought with the car to have it drift and keep it in that state. It was a struggle from start to finish but I was still happy to be out there doing what I love best, drifting.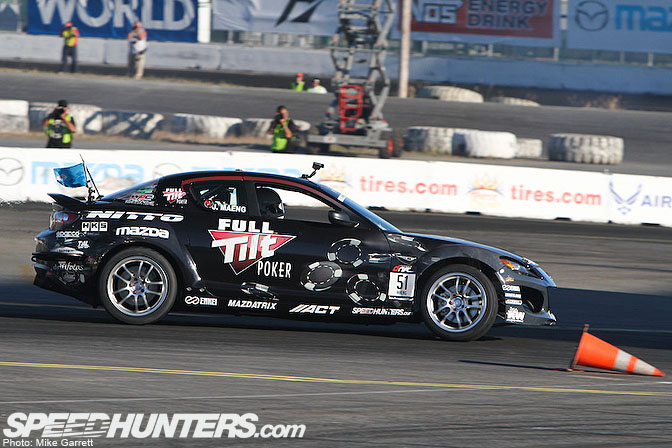 So, this is what happened; the driveline had a mind of its own and decided when to work for or against me. When it gave me problems, I would yank the e-brake to keep it in drift. Ironically, it decided to completely die on me at the last clipping point from which I was left stranded. Congratulation Tuerck for finishing 2nd!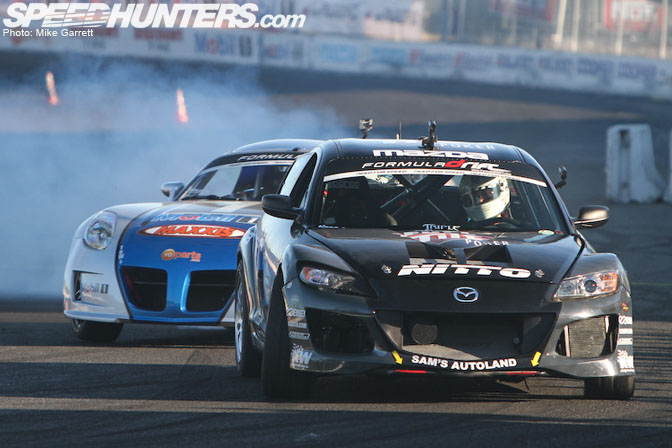 At this point, I didn't have enough momentum to make it back to the pit area, so I decided to move out of the way so Tuerck can exit the track. 
Although we didn't advance, the team and I remained perky (I had that phenomenal birthday surprise, remember? Nothing could put me down after that). The team and I, as always, put forth our best effort and, at the end of the day, that's what matters. We thought as a unit, moved as a unit, worked as a unit, and fought as a unit. It's a remarkable process that ameliorates our bond.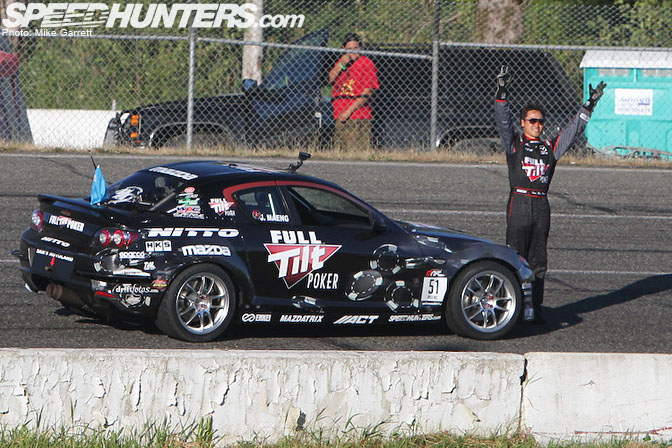 When the Full Tilt Poker Mazda Nitto RX-8 broke down at the end of the track, I knew this car was for me; it didn't want to leave the track! I had to laugh and pat it once. It was funny. 
It's unexplainable but I was compelled to get out of the car and say thank you to everyone by waving. I appreciate their support and their acknowledging me as substantial drifter. Where would I be without my supporters? Really, thank you.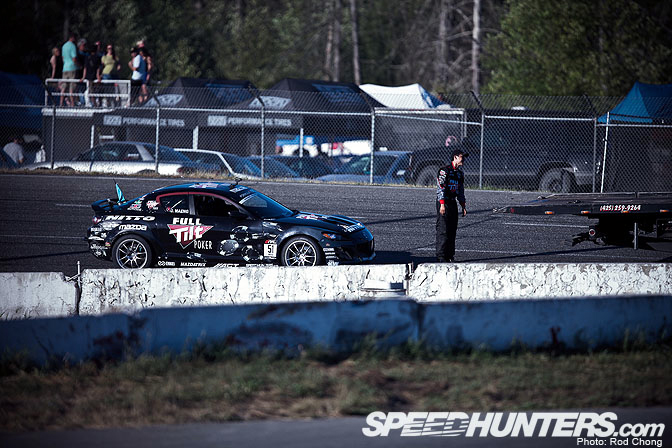 Boy, was I happy to see the flat bed! When I realized that I was holding up the competition, I tried pushing the car off the track myself. 
In the meantime, Ed kept apologizing over the radio for what had just happened and I replied that there are no worries because all is good. The team and I didn't half-ass anything; that's not our style. I couldn't have asked for anything more. 
As your reading this, adjustments are being made to the Full Tilt Poker Mazda Nitto RX-8, one of which is a CSF radiator, in preparation for round 5 in Las Vegas. I'm so excited and it's going to be great! 
Take care, stay cool, eat well, and be safe. 
And, as always, thank you for your support!
Sincerely,
Joon Maeng