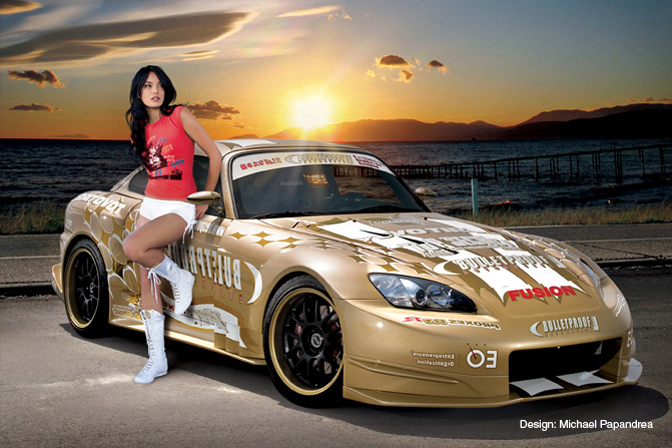 With this month's photography theme coming to an end, Rod came up with the idea of showing a different aspect of digital photography: the art of post-processing. So here's an insight into some of the work that went into Auto Salon Magazine's covers.
Post-processing is something you tend to either love or hate. I know a lot of traditional pro photographers who see it as 'cheating', but there's also a whole new generation of digital photographers that have grown up using it, and who couldn't imagine life without Photoshop or Lightroom. During my time at Auto Salon Magazine (which was sadly axed earlier this year), post-processing was a way for us to achieve features that we couldn't afford to do. We simply never had the budget to fly models, stylists and make-up artists to a location, so we often resorted to image editing software to artificially stitch our covers together.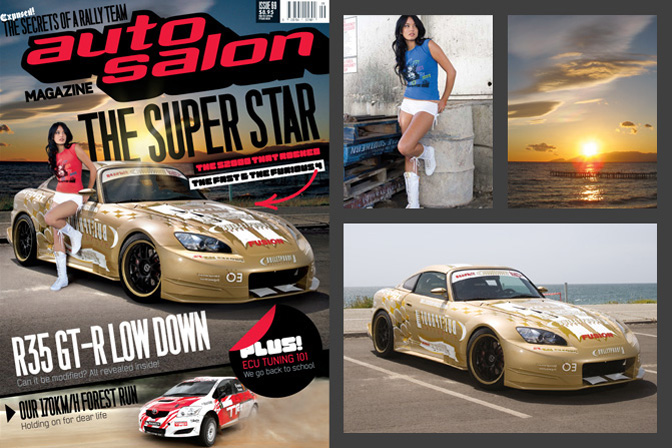 The images used for ASM's 69th cover were taken by three different photographers. Scott Dukes snuck a shoot of Ben Schaffer's S2000 in between its obligations on the Fast & Furious set, the beautiful Monique was shot by Peter Collie and the background is a stock image. A lot of time is spent selecting which images to use because you need similar perspectives and comparable lighting. The lens used and even the photographer's height can make an otherwise ideal photo unusable.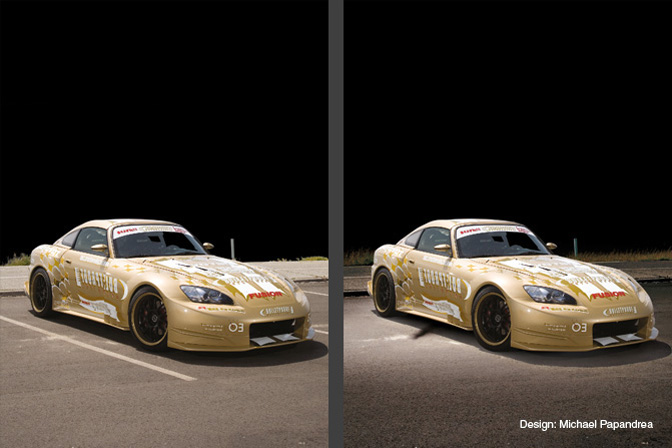 ASM's Art Director Michael Papandrea handled most of the covers, and his Photoshop work begins with deep-etching the image so that the car, background and foreground are on separate layers. In this comparison you can see that the parking lot lines have been removed, grass has been added and the ground has been burnt in.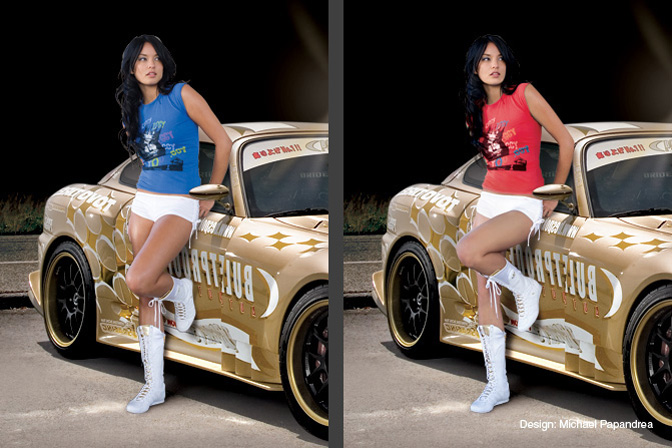 To tell the truth, the idea of incorporating Monique into the cover came about while we were sorting through the images from her shoot. We found a shot of her leaning against an oil drum so we experimented with putting her against the S2000. The perspective was off – her foot looked like it was pushing through the door – so we grafted in a leg from another image and painted in a new knee. We also changed the color of her shirt to complement the mast.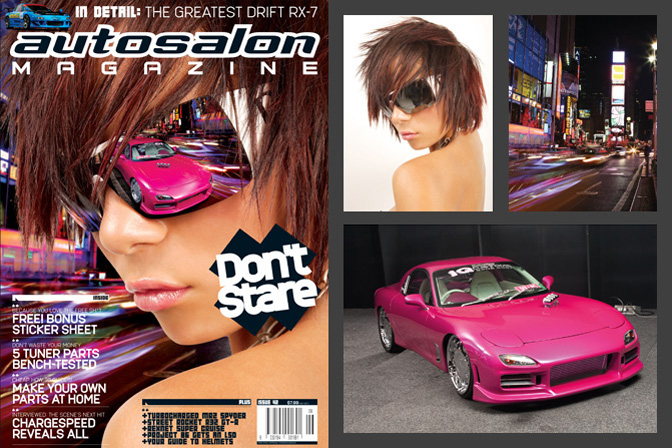 There's a little story behind this particular cover. In the days leading up to the deadline, I had to yank our intended cover car because we found out the owner was trying to double-dip (this is when a car owner attempts to get a feature in two rival magazines). As the replacement car wasn't as strong, we decided to do something left-field with the cover. Alan Miles was ASM's Art Director at the time and we had been toying with the idea of having a cover with a Neo-Tokyo feel, so we tried it out with this issue. One thing led to another and we ended up using a reflection of the car in the model's sunglasses.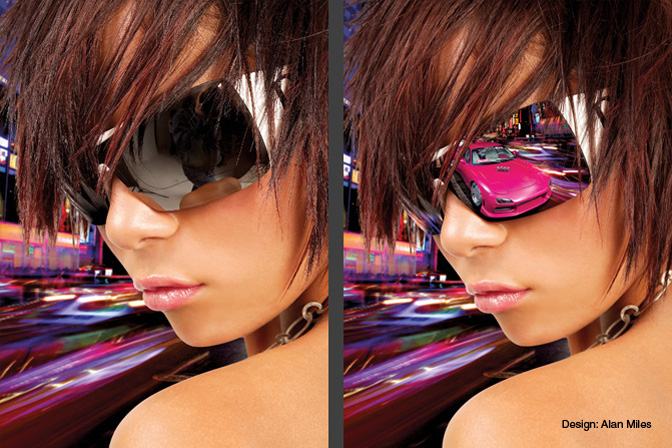 We did this cover nearly five years ago, so the results aren't that spectacular by today's standards. But back in 2005 it certainly created a buzz when it hit the shelves! As a result of this cover, the model landed a contract with an eyewear brand and we were also a finalist for the Bell Awards Consumer Magazine Cover of the Year award.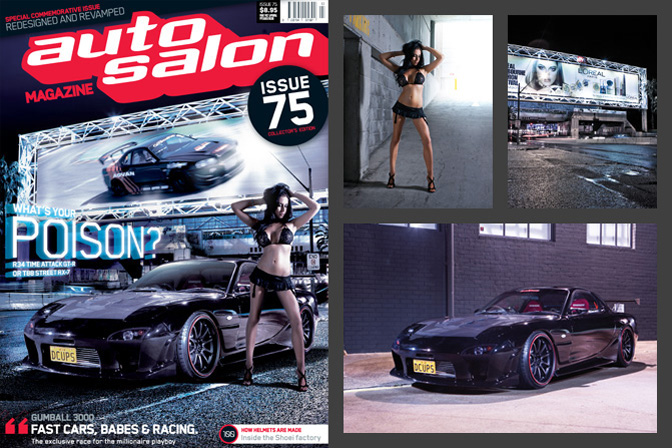 This was the cover for our commemorative 75th issue. Unfortunately, nothing went right that month. Every time we attempted to shoot the cover we were met with monsoonal thunderstorms, and at the eleventh hour we resorted to creating our cover image in Photoshop. Having a black-on-black car on the cover can be a gamble as they don't stand out on the newsstands (especially if they're shot at night!), but we believed we could pull it off if the image was lit sufficiently. Here are the shots that are used in the composition: Chesta's 'D CUPS' RX-7 (shot at our office), model Angelina (shot in our office parking garage) and a background image taken by Mark Pakula near Sydney's domestic airport.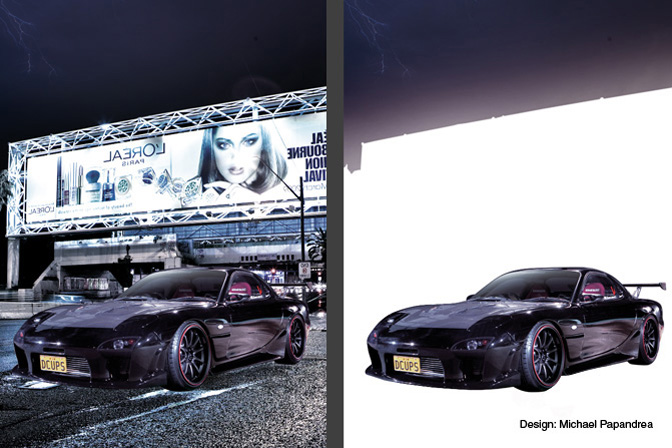 Once the car has been etched, it's placed over a selection of background images to identify which is the closest fit. We ended up flipping a background to find the closest candidate. All of the signs in the background had to be reversed so they faced the right way. Only a few color corrections are made at this point, as the majority will be done once all the assets are in place.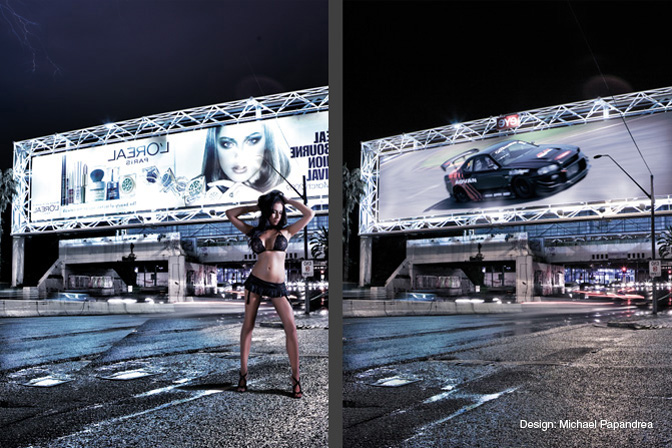 The etched model is brought in and sized proportionally. Notice that the road in the foreground is taken from another image and will be blended in at a later stage. On the right, Hi-Octane Racing's R34 GT-R is skewed into position within the billboard.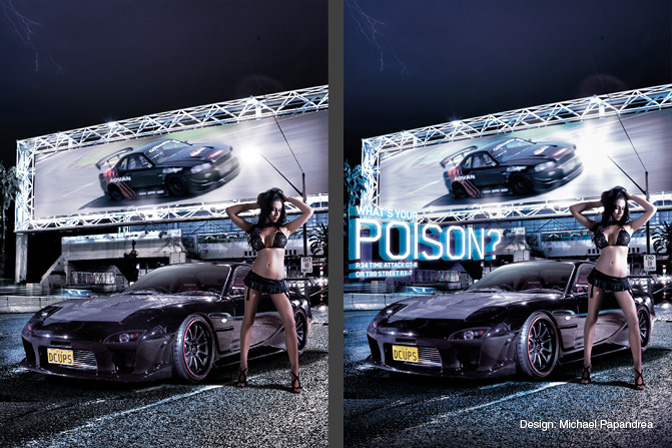 Here the final image starts to take shape. The brief was for a Blade Runner-esque mood, which explains why cyan has been added. The model receives touch-ups and shadows while light flares are introduced on the billboard.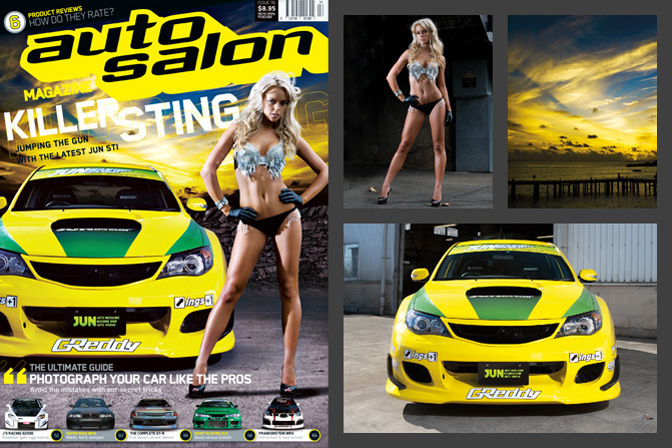 As we only had an hour to shoot JUN's STi after Tokyo Auto Salon, we didn't have a shot that screamed 'cover material'. So we 'chopped one together using a model from Sydney and a background from Europe. On the right you can see the three original images that were used. A fourth is also used to create a break between the foreground and background.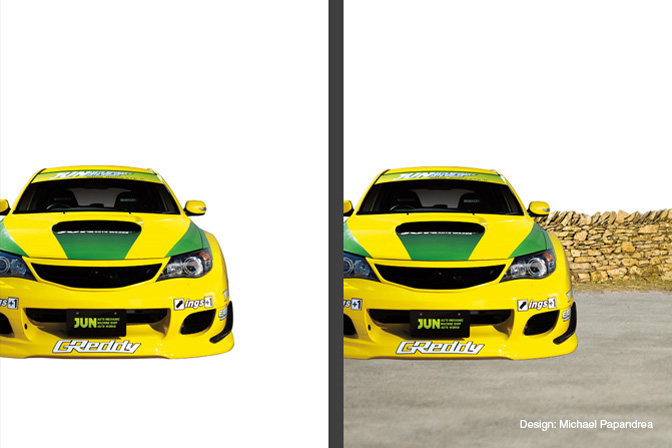 With the car etched, a dummy page is created so we can visualize the composition. On the right you can see there's a problem with the ground, as it's out of focus while the car is still sharp. A new photograph of asphalt is taken to fix this.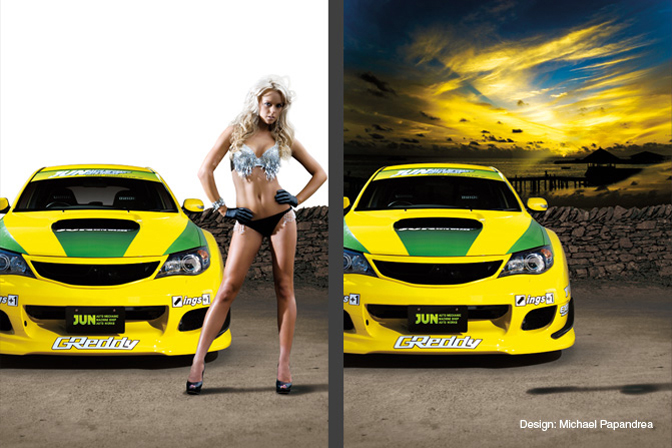 Shadows make all the difference and once added the image starts to look more realistic. You'll probably notice that the lighting of the car and model are different, and we tried to mask this by introducing a light source from behind her right shoulder.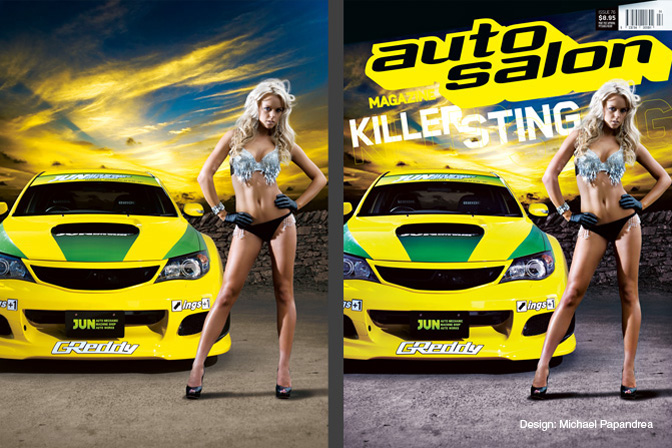 The background is pulled down behind the brick wall before final color corrections are done to make the cover more vibrant.
Today, you'll be hard pressed to find an image in a magazine, billboard or advertisement that hasn't been tweaked or touched-up. But when we started to manipulate images back in 2002, we were stepping into unknown territory. Looking back, some of our techniques are prehistoric in comparison to what can be achieved with the editing software of today. A big thanks to Michael Papandrea, Alan Miles, Garth Ivers and the photographers for allowing us to reveal some of their tricks of the trade. Hopefully it shows what's possible long after you've released the shutter.
- Charles Kha