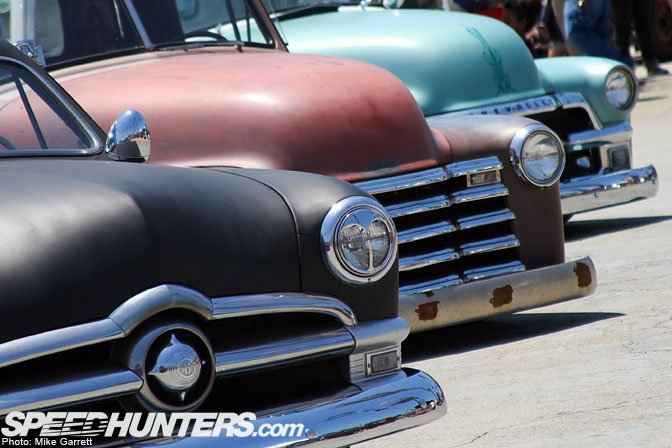 Last Sunday's Mooneyes Summer Show at Irwindale Speedway had no shortage of camera-friendly vehicles  That means there's plenty of material left for another batch of photos from that blazing hot day in the San Gabriel Valley.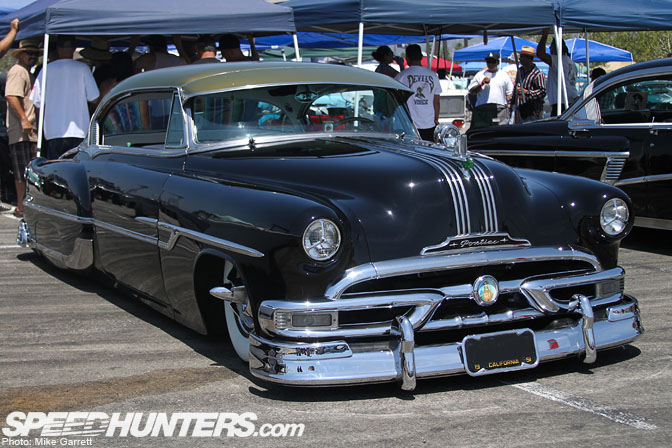 Early '50s Chevys are one of the most popular vehicles in this crowd, but other GM vehicles from the same period aren't seen so often. Here's a wicked looking Pontiac hardtop.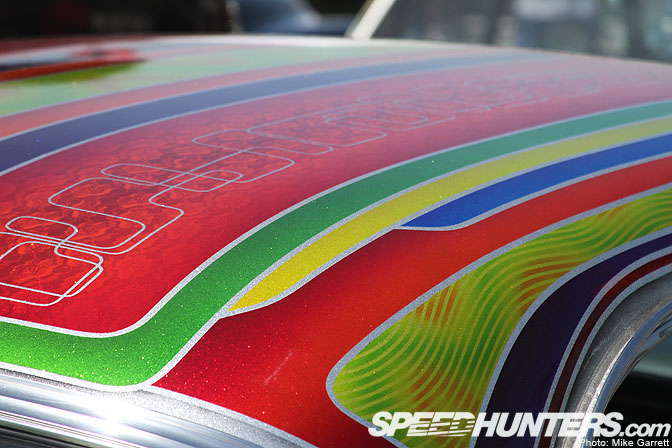 Seeing this paintwork, one is reminded of legendary painter Larry Watson – who just passed away this week after a long battle with cancer. Rest in peace Larry….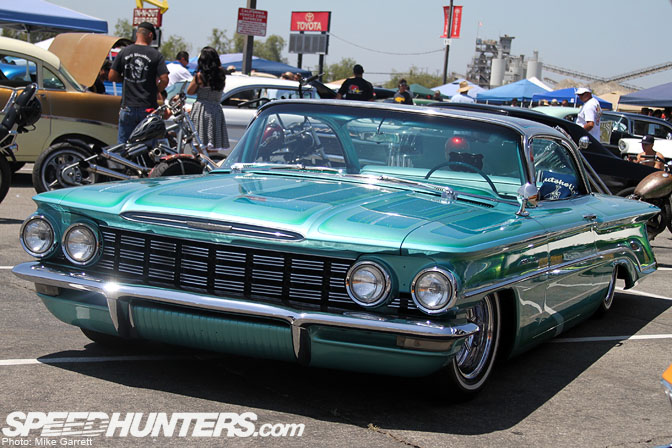 Another build inspired by the work of Watson, the Starlite Garage '60 Olds.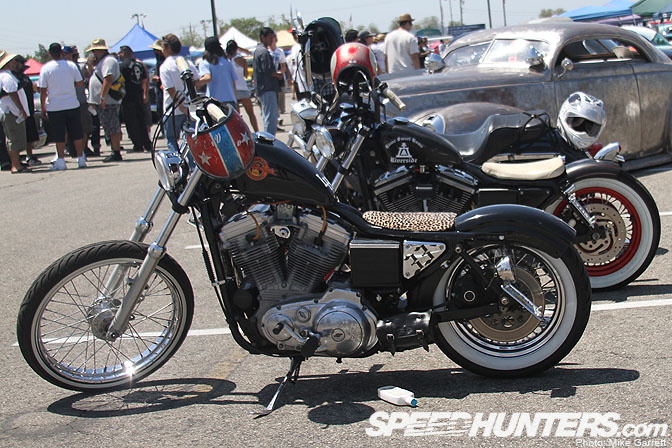 More bikes. Every time I see them I like them more…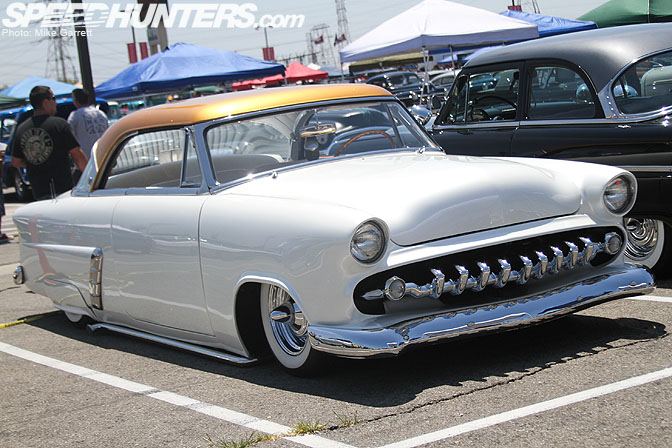 Beautiful example of mid-late '50s custom style right here. Love the lake pipes and gold roof over a white body.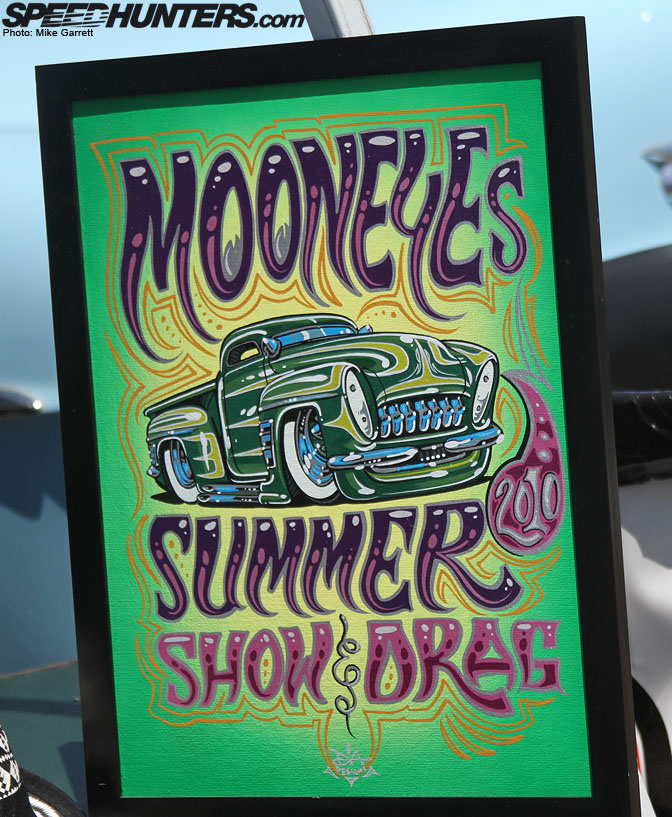 Chances are your event posters aren't as cool as this one…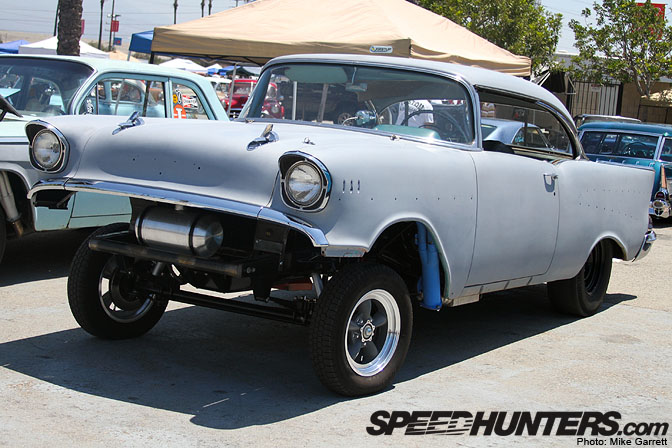 This little '57 Chevy is undergoing the full blown gasser conversion.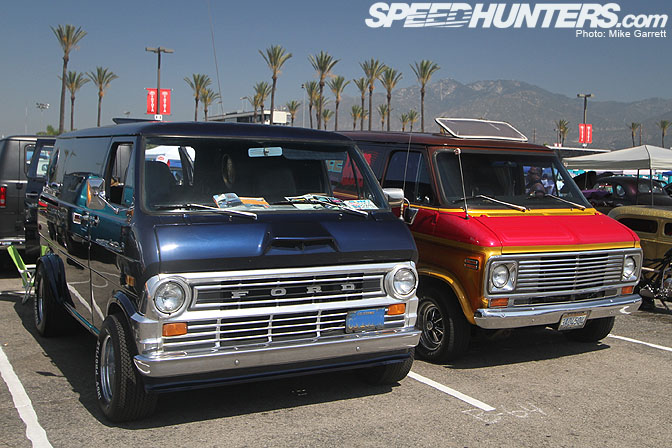 One thing I noticed on Sunday was the amount of fixed up vans around. Are we starting to see a full-fledged comeback?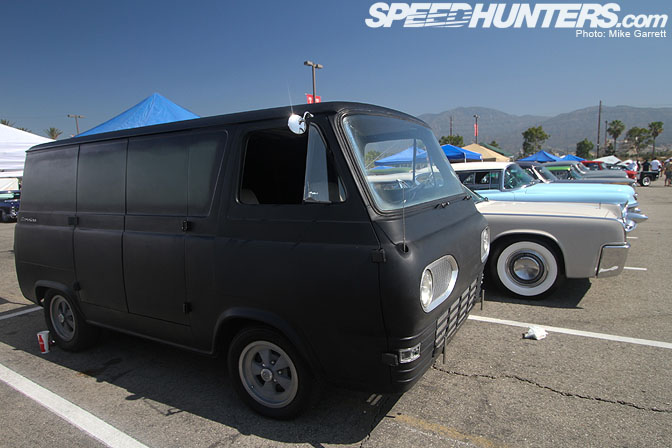 Older models like the Ford Econoline and Dodge A100 have always had their followers…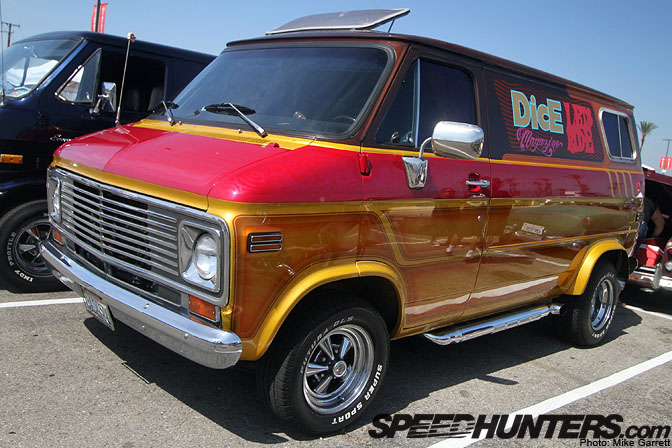 …but it's the newer models from the late '60s and '70s that could be poised for a major comeback. Van geeks unite!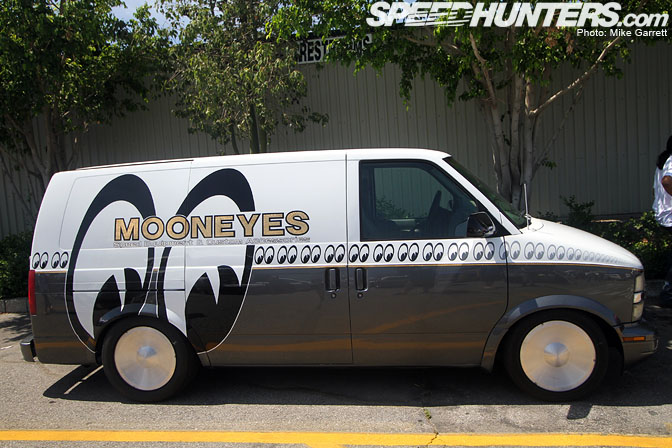 Even the Mooneyes Chevy Astro delivery van is pretty sweet.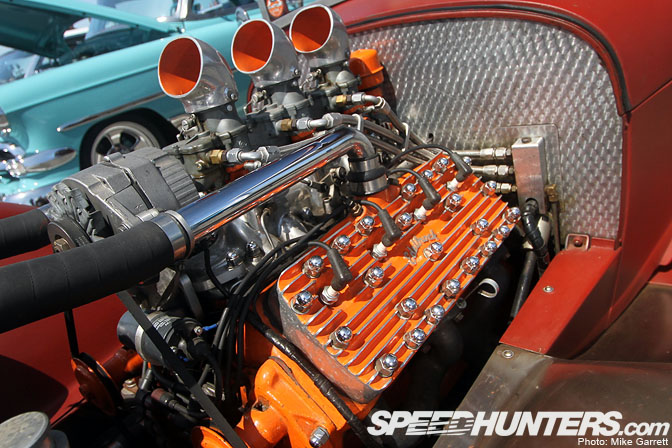 Flatheads forever…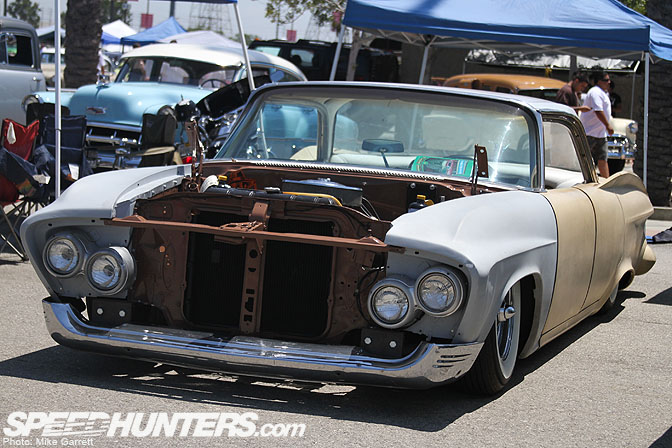 This big Dodge four-door looks like a very promising work in progress.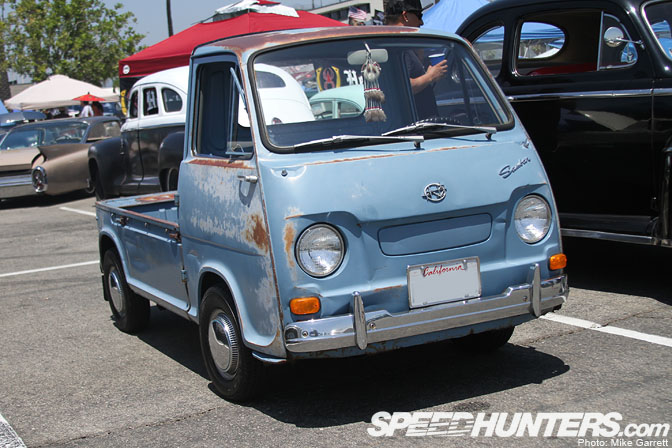 Meanwhile, this little Subaru Sambar pickup would probably fit into the trunk of the Mopar in the previous photo…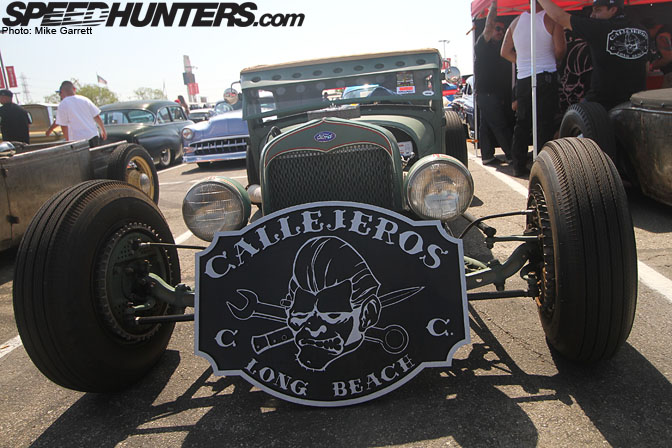 The LBC doing it big.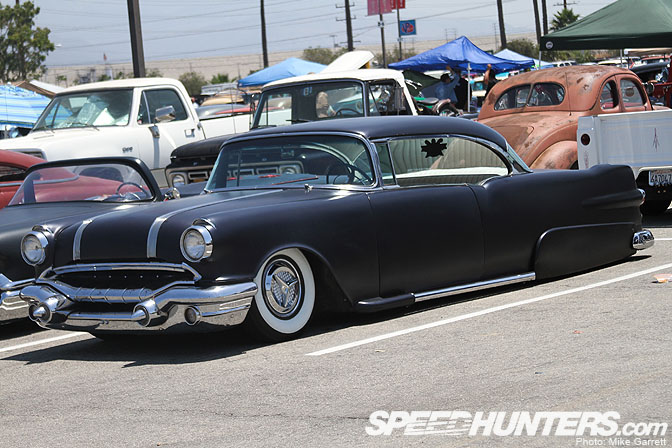 A skirted and shaved '56 Pontiac looking mega gangster.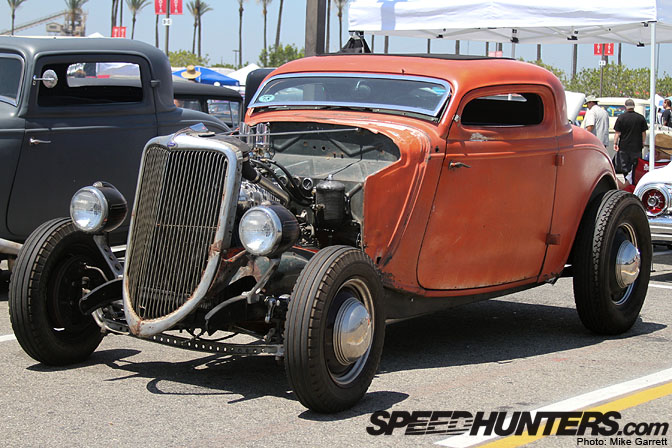 A chopped coupe on skinny steelies and hubcaps – as traditional as it gets.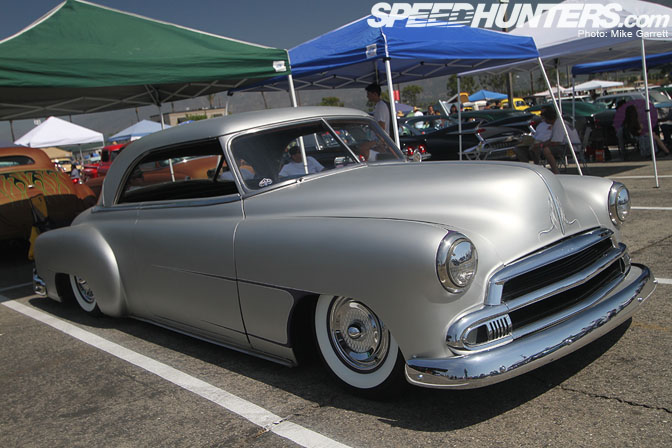 This Chevy is another very period correct build, save possibly for the slammed stance.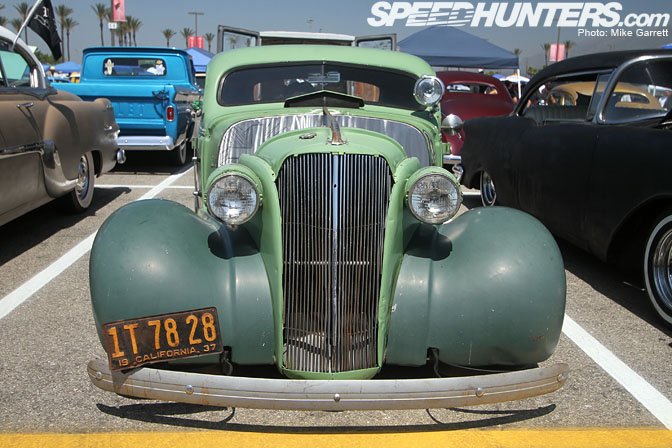 Hope you enjoyed my coverage of the Mooneyes Summer Show.
We'll be doing it again in December. Hopefully it won't be pouring rain or 100 degrees out there…
-Mike Garrett