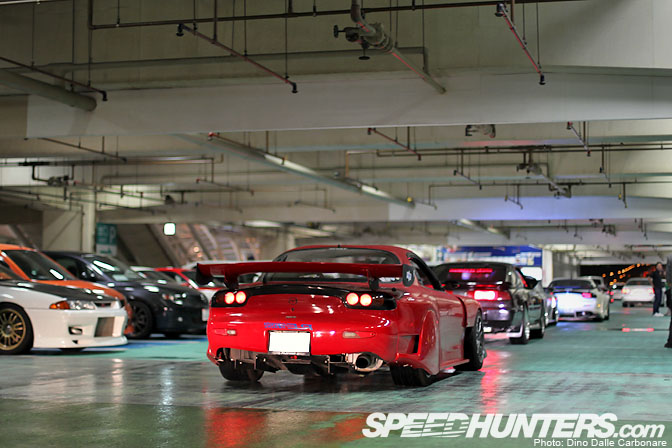 With the Police pretty much bringing the party over at Daikoku to a rather abrupt end, understandably so, the masses of RX-7 owners were just not going to end things at 8 pm. So, like most years, it was over to one of the coolest locations in the bay, literally. Umihotaru sits on an artificial island bang right in the middle of the Tokyo bay, right where the tunnel portion of the Aqua Line pops up and turns into a long bridge until it reaches the shores of Chiba-ken in Kisarazu city. The ¥3,000 toll is always a bit painful, but worth it to guarantee a peaceful location on which to chill out and chat. Since the rain was coming down stronger than ever it was also a great place to stay dry!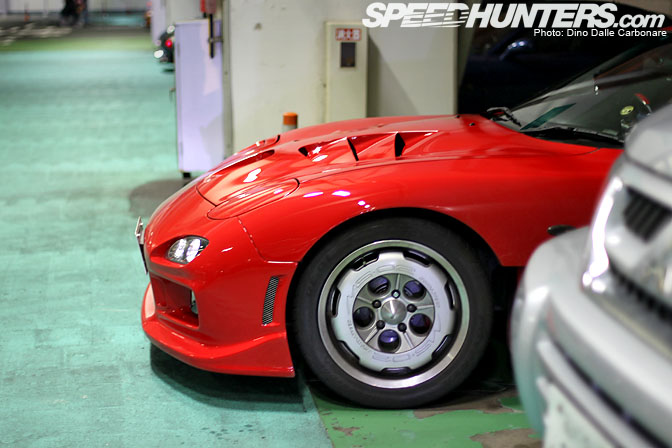 Old school Mazda Speed wheels.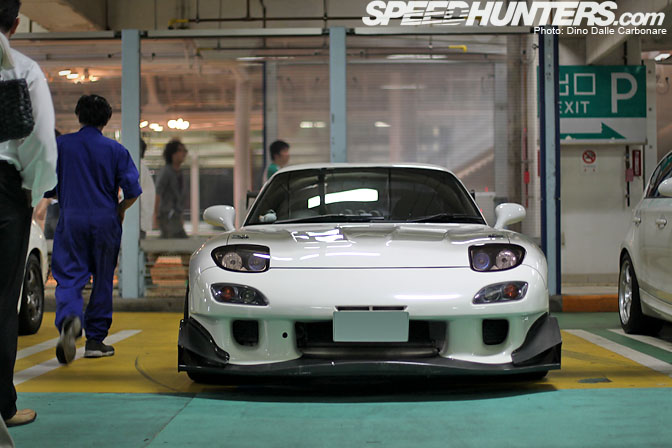 Now that is one mean front that just screams get out of my way!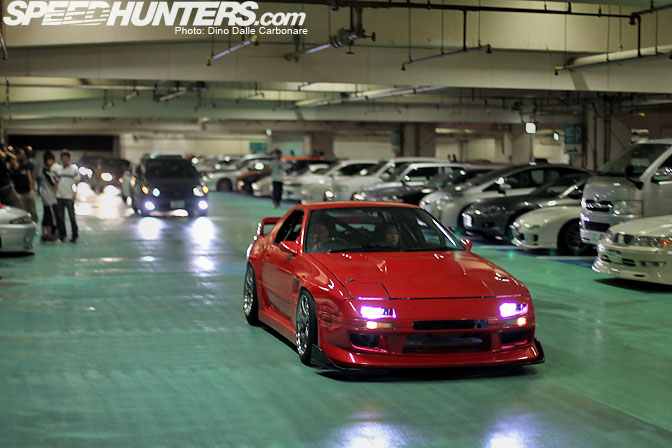 I left Daikoku as soon as I noticed cars leaving, which allowed me to arrive at Umihotaru right in time to see most cars roll in. This FC looked so impossibly clean from the front…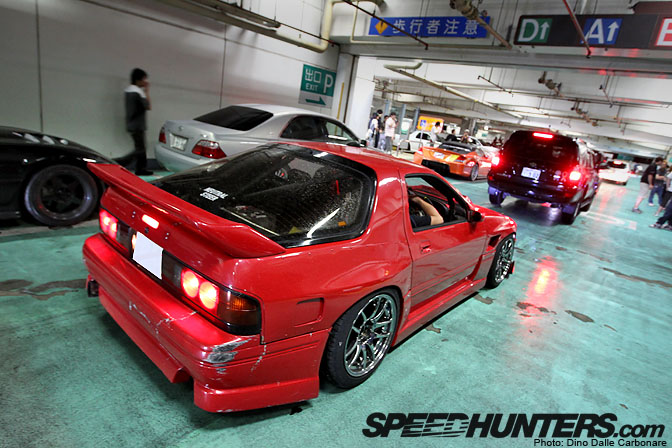 …but the owner has obviously been having some fun with the rear end!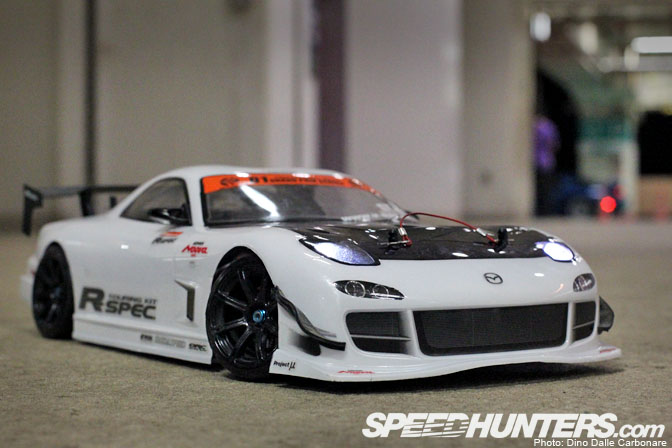 While Russ from RE-Xtreme still searches for the perfect FD to base his new build on this is the car he was having fun with on Wednesday night! Russ is quite the skilled model and RC car builder and this is his recently upgraded Yokomo drift car sporting one of many cool bodies he has created.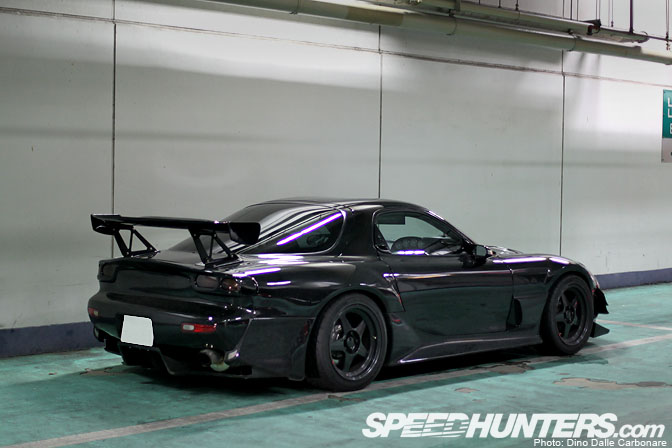 Black on black never ceases to impress.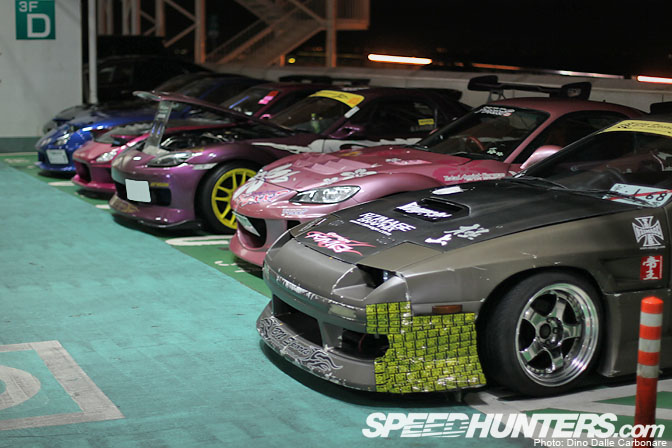 The drift corner. Lesson to be learned, when zip ties won't do a good helping of Drift Tengoku tape cures even the nastiest body damage!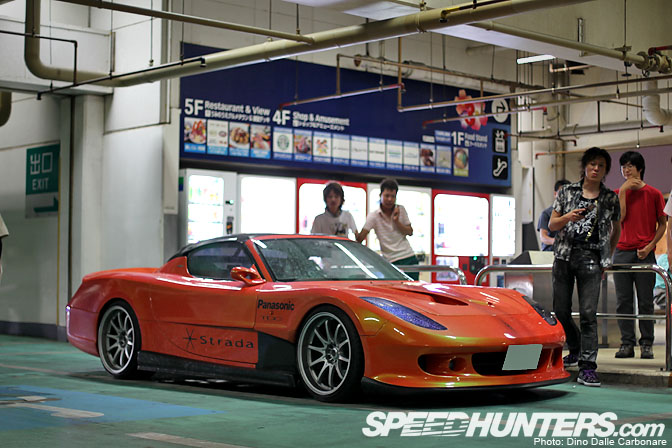 Since you guys seemed to like the Tamon designed cars from the previous post I thought I'd post a few more shots of it…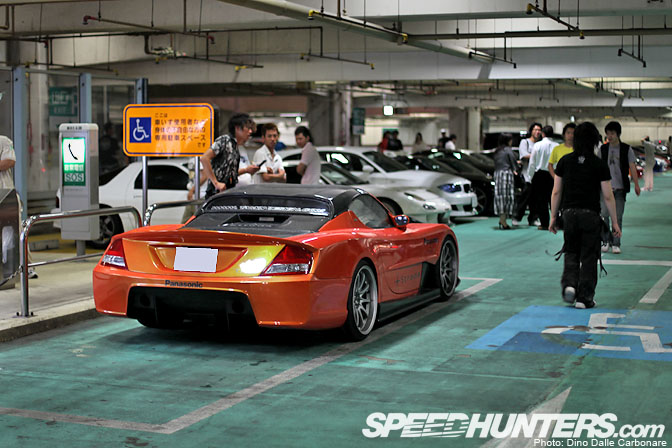 …under a slightly different light.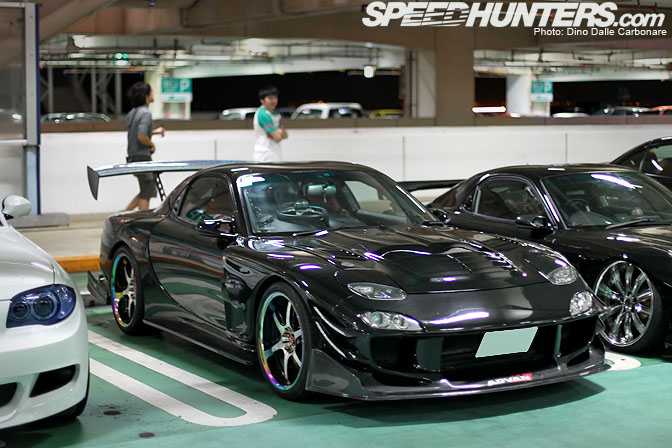 Check out the titanium lip on those rims!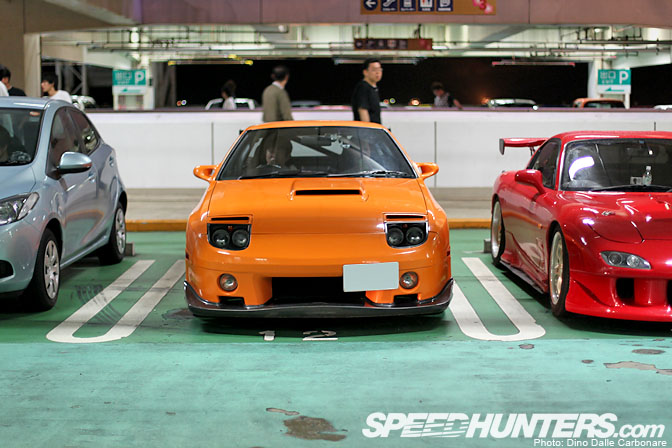 More FC love. Apologies to the owner sitting inside, but I just had to get a shot of your car, too cool!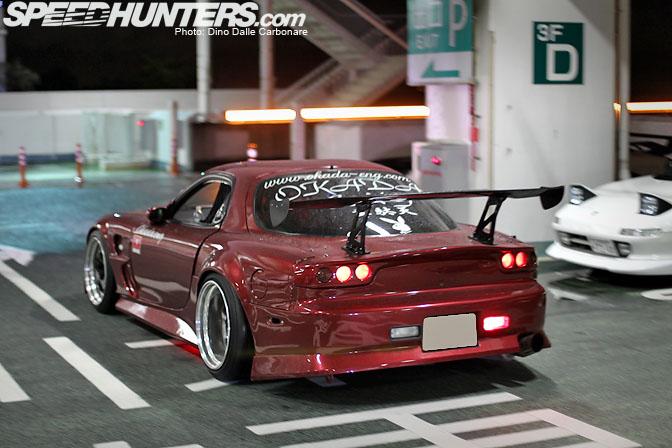 In no time the first level of the Umihotaru car park was filled and cars began circling around to see if "regular" motorists that were still parked among all the rotaries were leaving.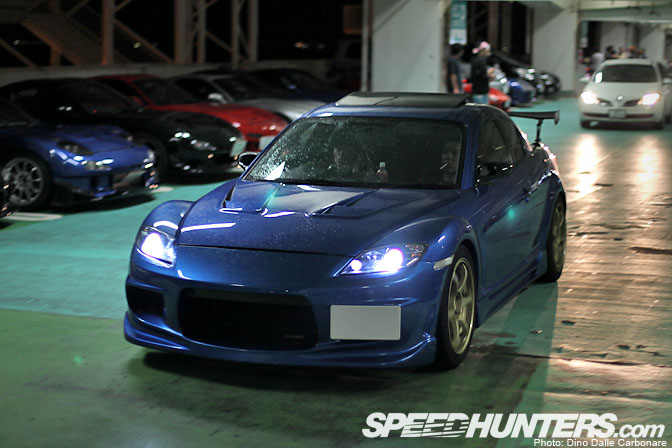 Might have been a 7's day but it would be too rude to not give a little space to the 8s too!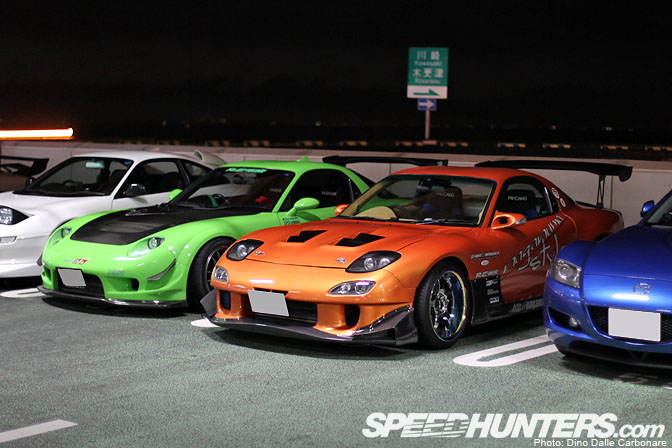 That green FD is the 2009 Hot Version Touge champion built by RE-Amemiya. It's a lightly tuned street machine and one we will be looking at in the future.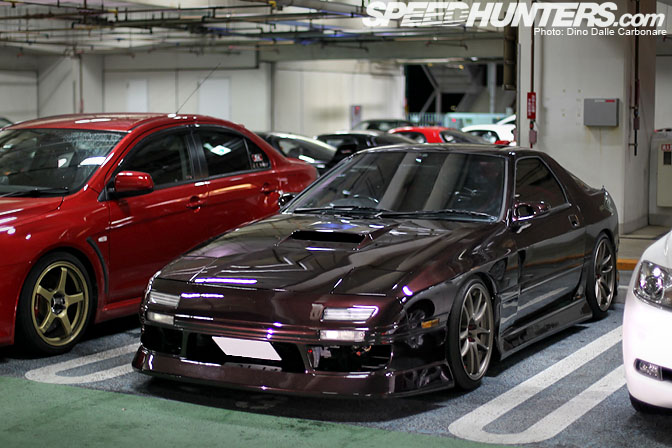 I have a thing for metallic brown colors, but they sure are hard to capture in pictures! Check out the spoiler-less Evo X next to it.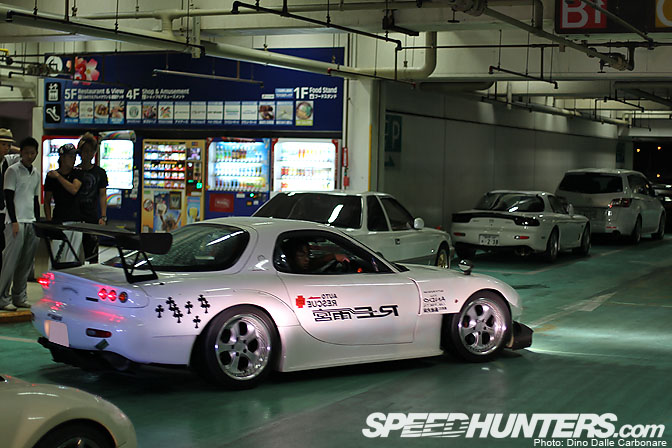 Every time one spot emptied it was a scramble to get it!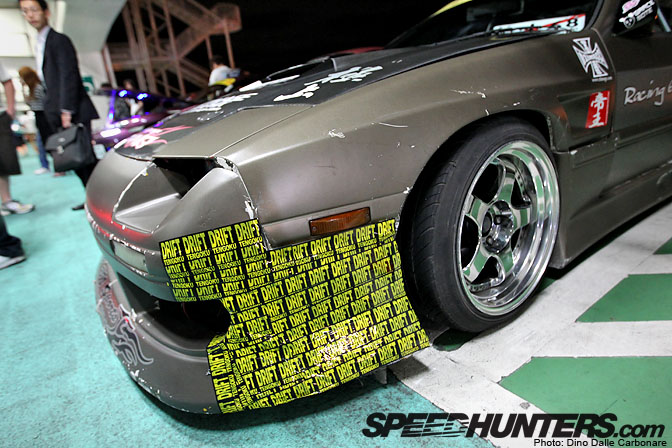 See what I mean about the Doriten tape!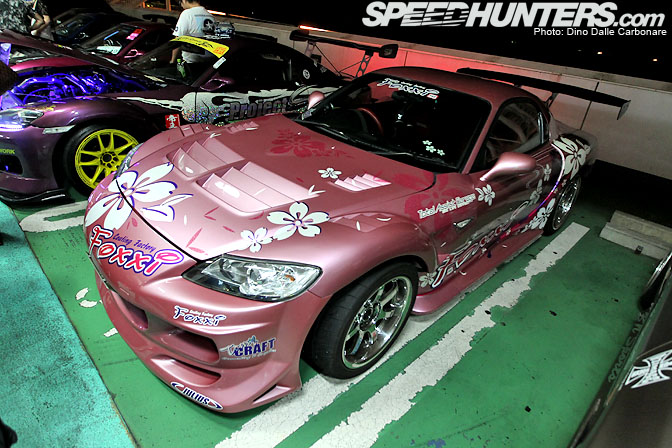 FDs are just begging to be converted in some way or another, like this RX-8 front Foxxi demo car…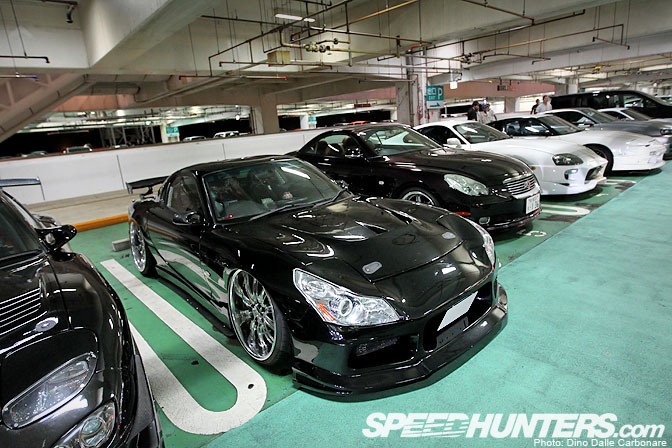 …to more show car oriented looks. Let's see if someone can spot what headlights have been used in this particular front-end conversion?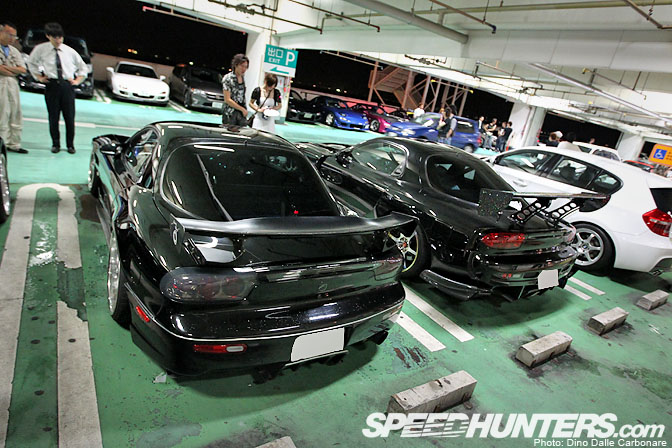 The rear end is more sedate with factory looking taillights. Don't miss the final part of the RX-7 gathering for yet more rotary goodness from Umihotaru.
Hope you rotary fans are enjoying this!
RX-7 Annual Gathering – Daikoku Pt.2
RX-7 Annual Gathering – Daikoku Pt.1
-Dino Dalle Carbonare