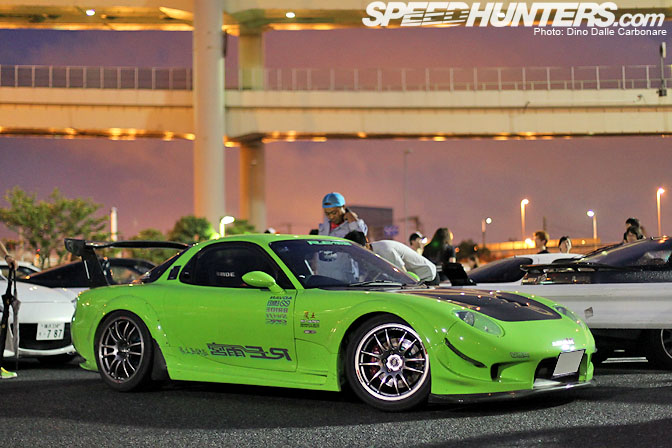 It's that time of the year again and what a special annual RX-7 gathering it all turned out to be last night. I've been going to these meetings for years now, held religiously every 7th of July or "7-7," at Daikoku PA, but before it all got started I was really getting worried. With the rainy season still doing its best to spoil the summer season here in Japan it was not looking too good with on and off showers throughout the day. The 7's meet gets going very early compared to what we are all used to, so I made sure to get down to "the Bridge" at around 6 pm. I thought this would be early enough to secure a nice parking spot and wait a bit as cars slowly arrived.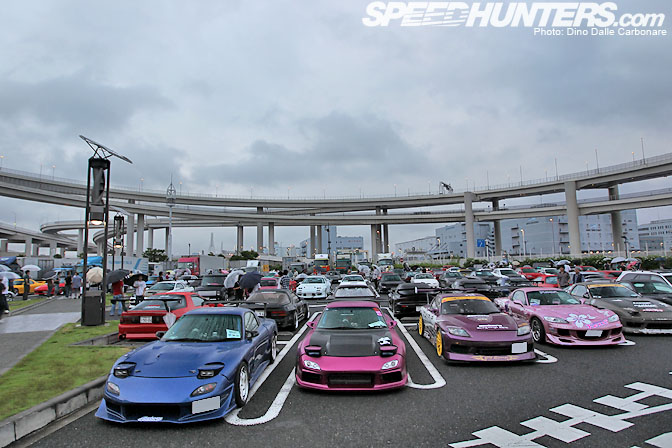 Boy was I wrong! Even by that time empty car spots were almost non-existent with the whole of the parking area brimmed full of RX-7s of every generation, including quite a lot of RX-8s along for the ride (they will get their own meet on the 8th of August!). I have never seen anything like this.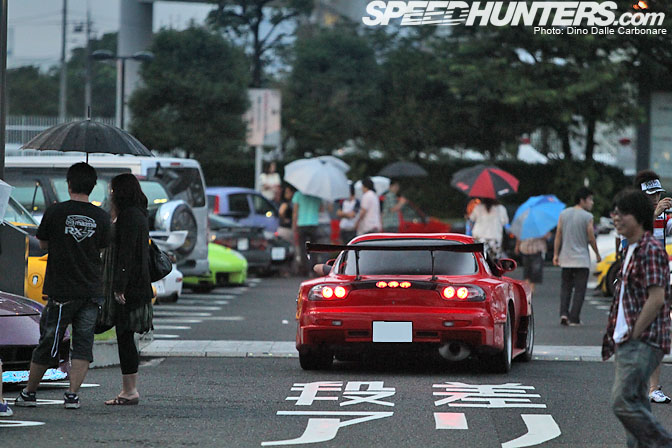 Cars kept arriving and it was all looking more like a paddock at a race track than a public truck stop along a busy highway!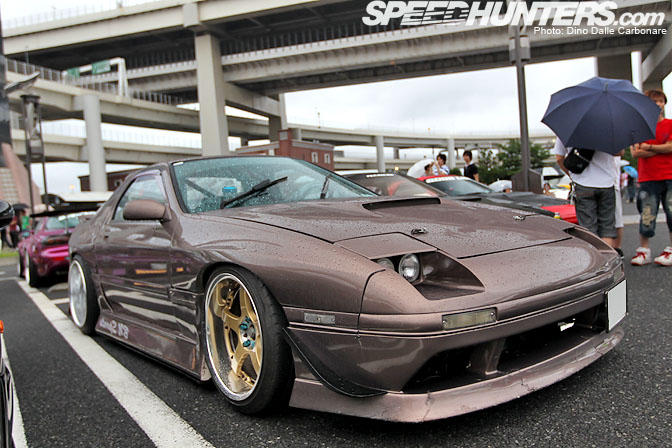 With rain intensifying at times I had no choice but to start shooting as the menacing gray clouds above didn't give much in the way of hope. I spotted this drift oriented FC straight away running impeccable stanceness. (yes, I just made up a word!)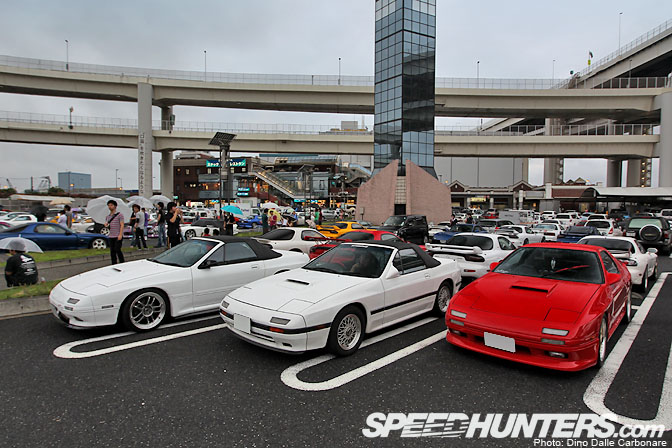 As ever the convertible FC crew was present but unlike past years they had to keep those folding soft-tops up!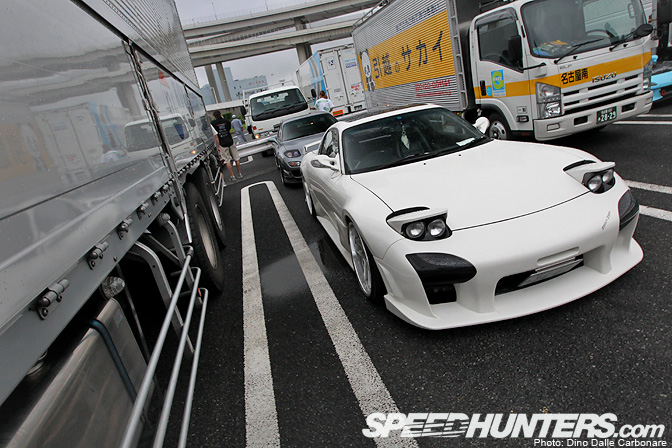 A-spec goodness.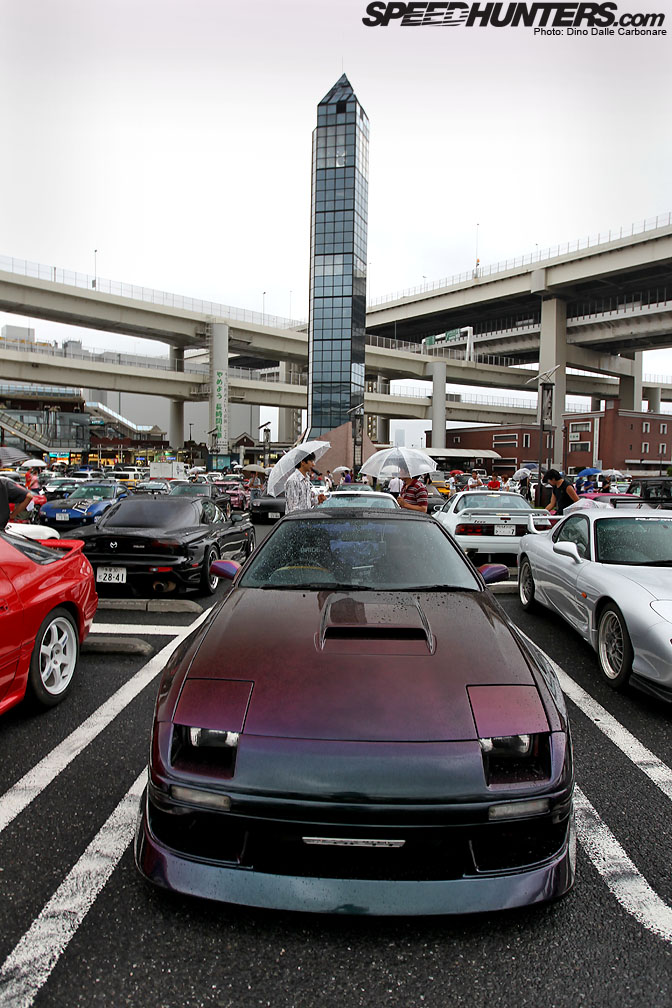 The evil light conversion and TVR-ish chameleon paint on this FC drew me onto it from across the parking area. Stunning.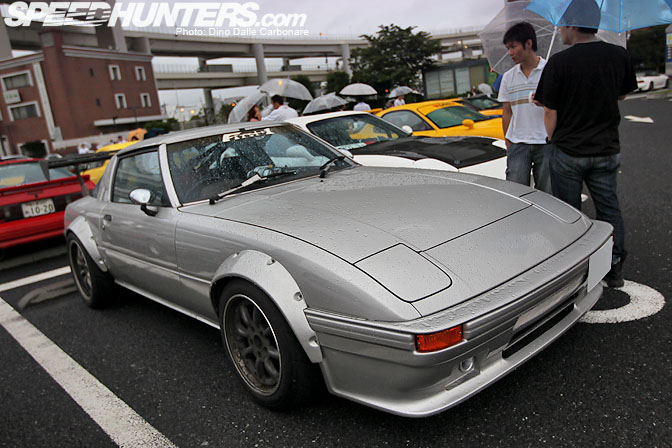 I think Mike has a shot of this exact car on 22C Works meeting post, gotta love the over fenders!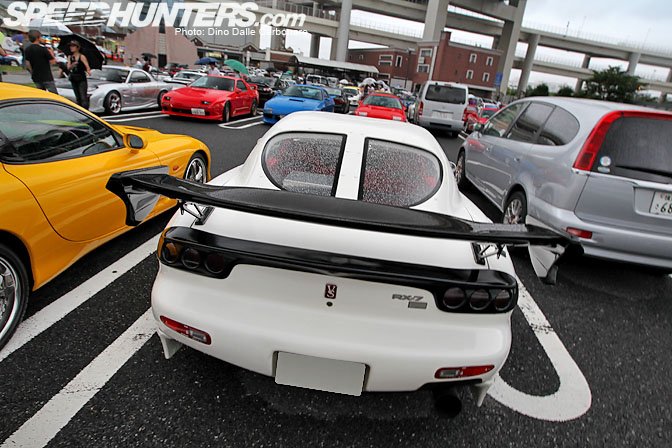 For all you FD lovers I found this rather rare oldschool example, an ex-Veilside demo car fitted with their full aero conversion kit. This was made way before the Fortune kits we all saw in those movies…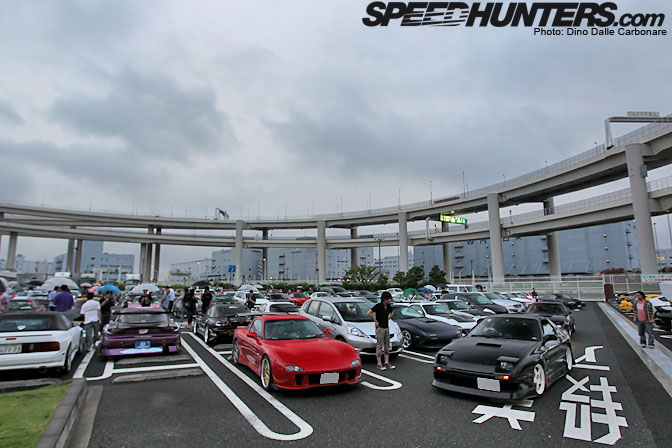 Menacing clouds but they just kept on coming. That empty spot right there was saved for Mr. "illusion-pooh" the man behind this massive internet-forum organized meeting. In fact you can see him in his black FC right here ready to swing the car into the space.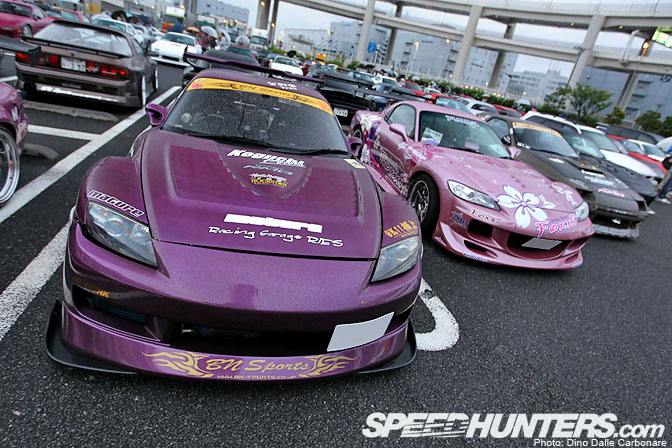 RX-8 fronts on FDs…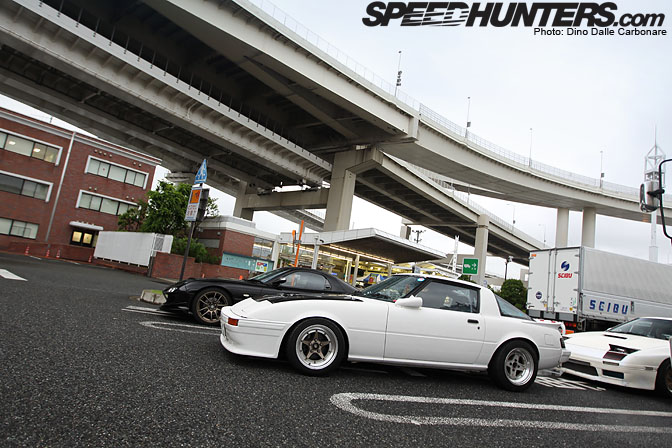 This SA was just so period correct in every way.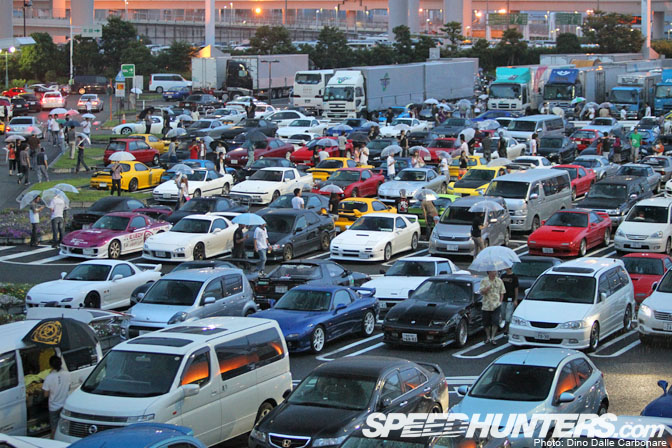 RX-7 owners literally had nowhere else to park so started to take over the far side of Daikoku, which is usually reserved for trucks and buses.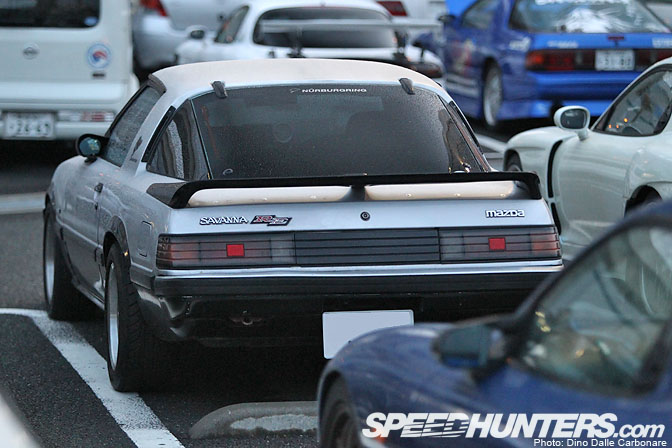 The stock look works just as well. Love the original badges.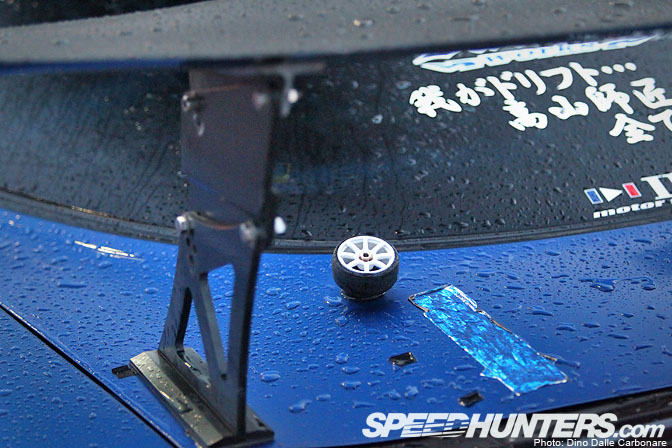 Russ from RE-Extreme spotted this little detail on a drift FD.  Avery cool way to cover the bolt that held the rear wiper in place. That is off a Yokomo RC drift car. LOL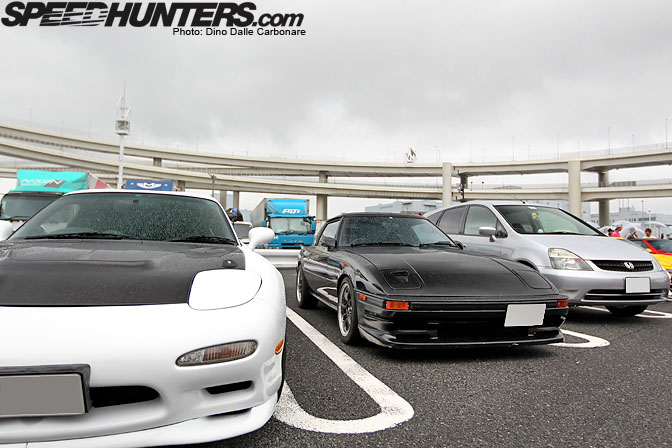 Yes I was feeling the SA love yesterday!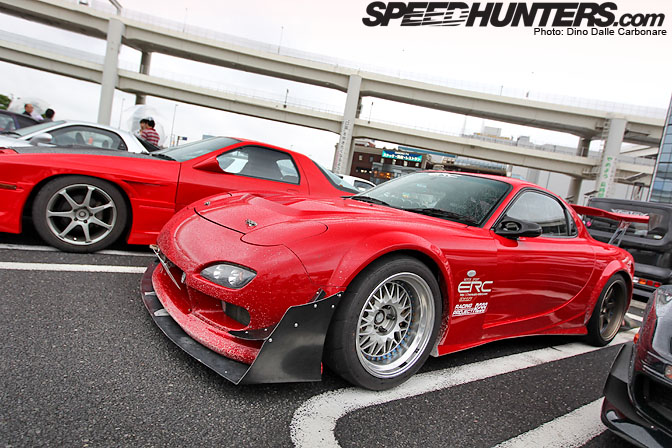 Probably the meanest looking FD at the meet. One glance at that front bumper and you know this car gets used properly.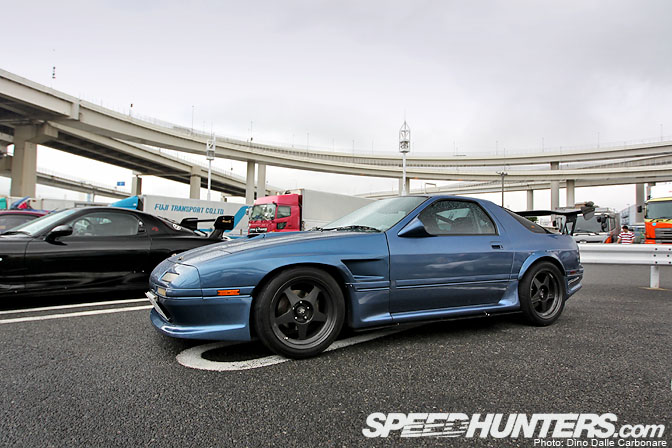 That's how we park in Italy.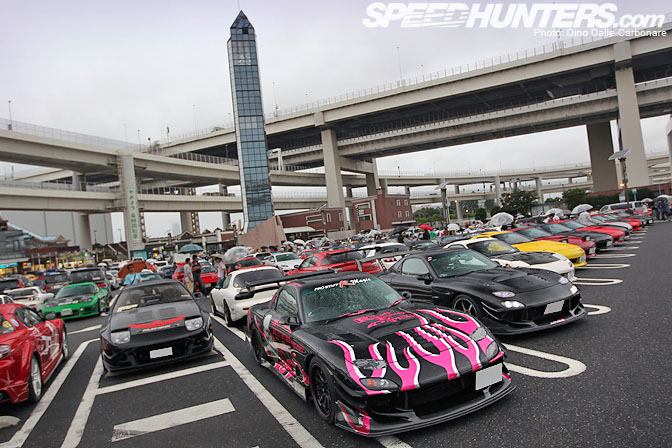 Sometimes you routinely cover events like this so often you don't really compute what is going on in front of you. At times you just have to take a step back, have a good look and just say, Holy Sh#t!!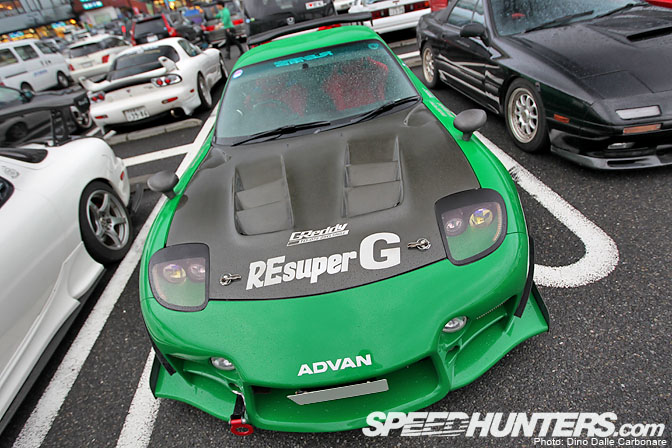 This green RE-Amemiya Super GReddy perfectly exemplifies just how much the look of the FD can be altered. But believe me this isn't anything compared to what I still have to show you!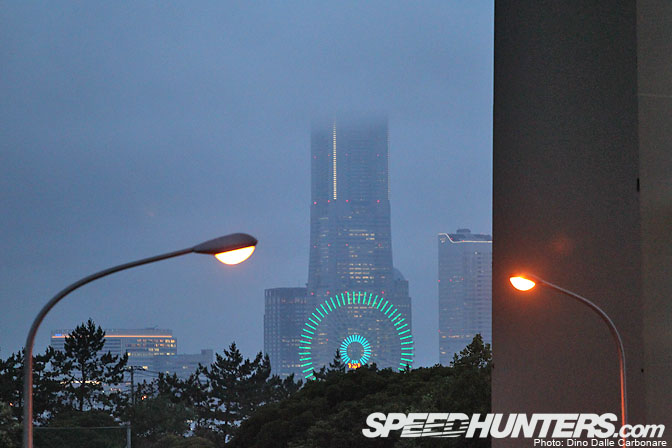 At around 7 pm this is what the Landmark Tower over in Yokohama city was looking like. There is a good more of it somewhere under those clouds.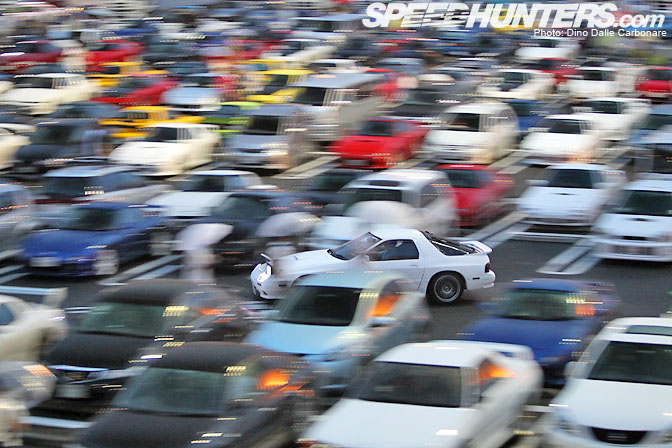 While I was standing high above the PA I spotted Amemiya-san arriving with D1 driver Suenaga in the green FD in the opening shot.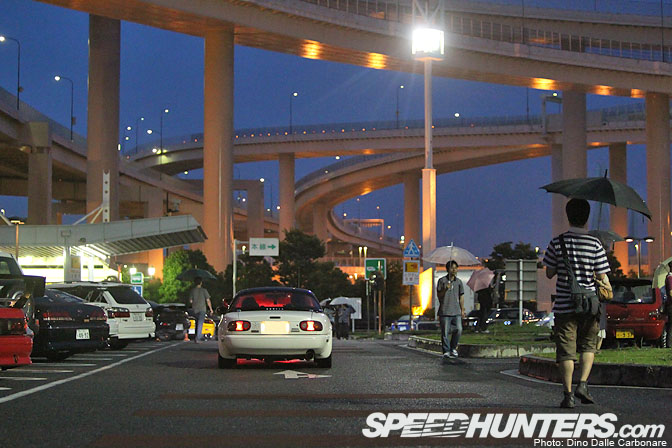 Mazda lovers just couldn't keep away.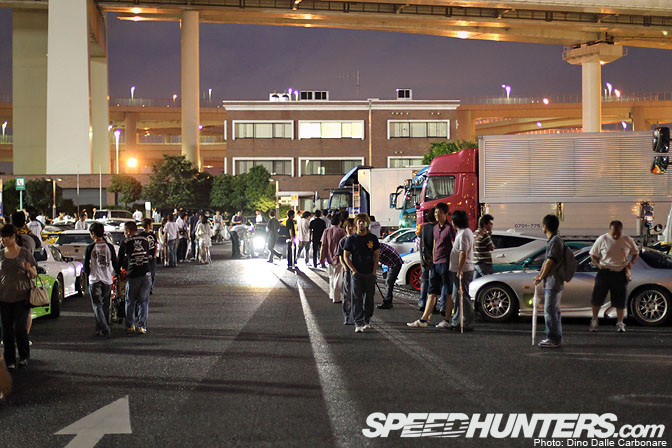 As the light began to fade, the meet went into another gear. This was only the beginning. I've got tons more for you guys, so check back soon!!
-Dino Dalle Carbonare