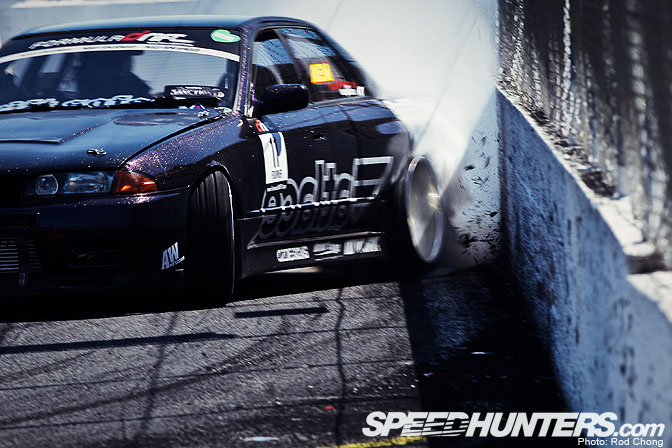 As I type this I'm sitting in the abnormal Seattle heat listening to the booming sounds of the NFS Electro Lounge at Evergreen Speedway. Today was practice and qualifying at Formula Drift Rd. Four, and as usual it's time to show some of the day's highlights.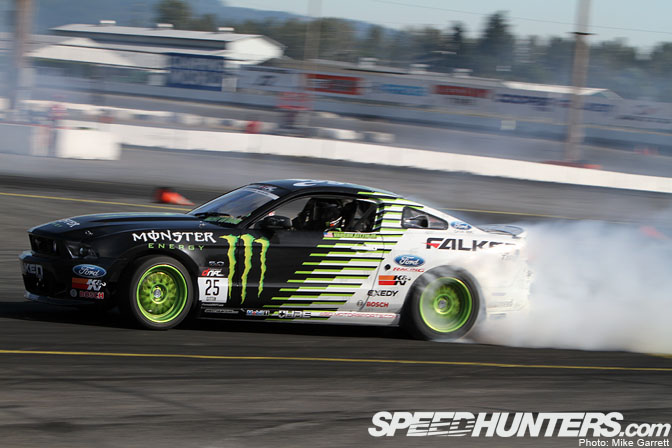 The Brostang Express is steaming right along, as points leader Vaughn Gittin Jr. claimed the top qualifying spot with a 90.6 point run.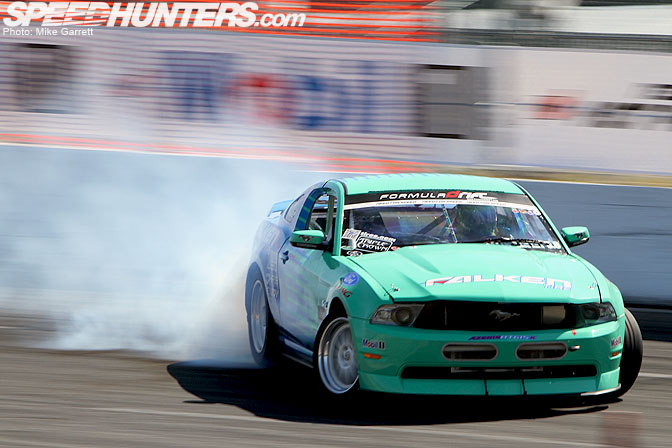 And right behind him in second place is Justin Pawlak, whose 88.5-points were good for the top spot until Vaughn's final run.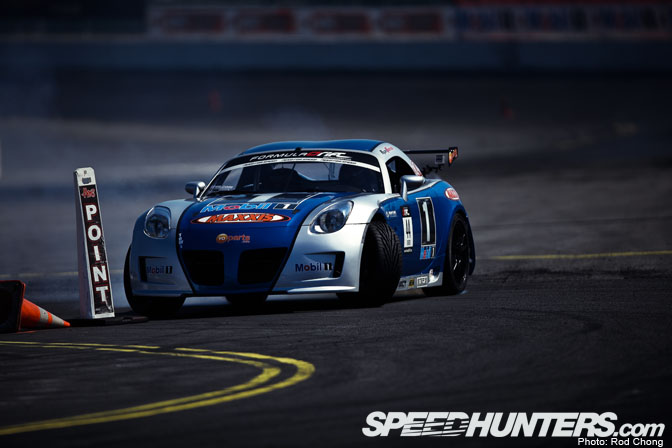 No surprise here. Ryan Tuerck qualifies third overall with an 87.1.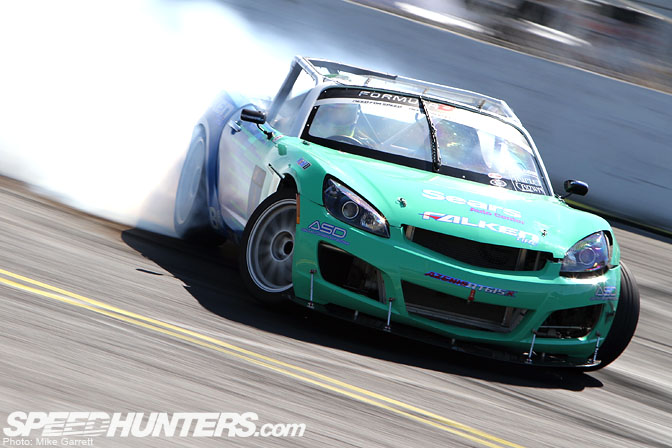 Darren McNamara takes fourth with an 86.5.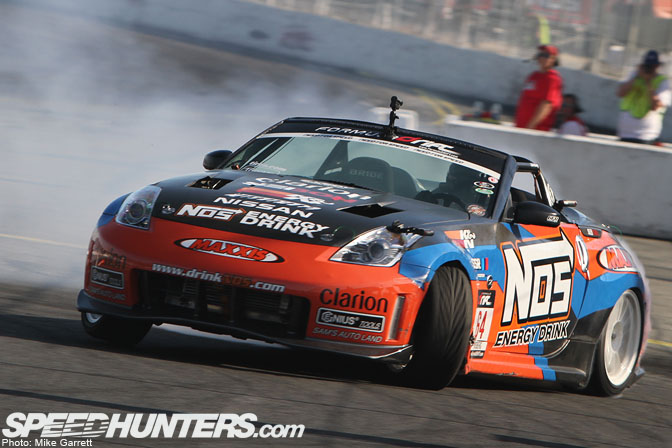 While the defending champ Chris Forsberg winds up right behind him in fifth with an 86.3.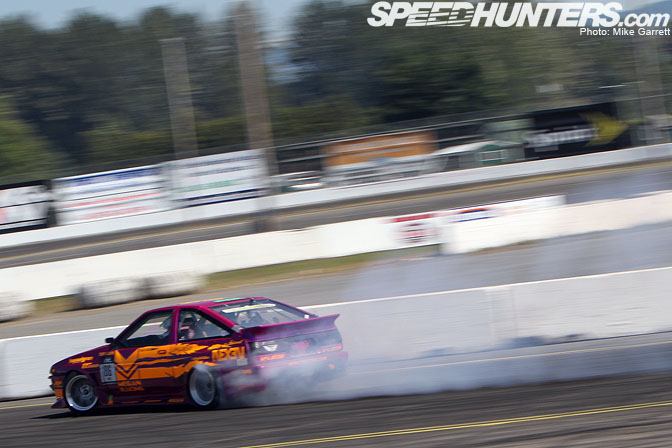 Taka Aono had a fine day, putting his 86 in the sixth spot with an 84.6-point run.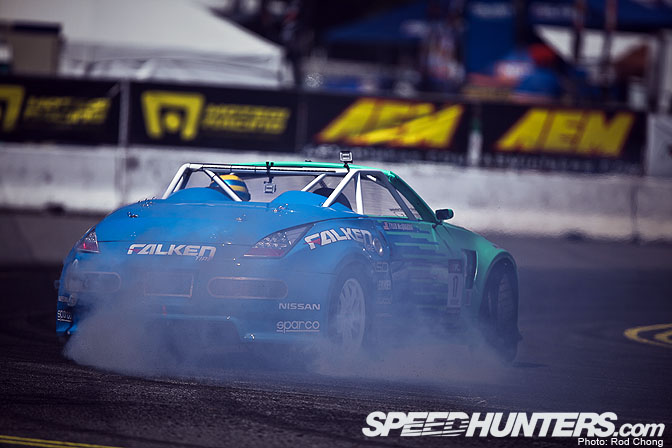 Tyler McQuarrie always does well at Evergreen Speedway, and it showed in his 83.5-point run, good for seventh.
A mistake on his first run meant the second was do or die for Tanner Foust. He got it together and ran an 83, good for eighth.
Ninth goes to Sam Hubinette, who drove the big Dodge to an 82.8-point run.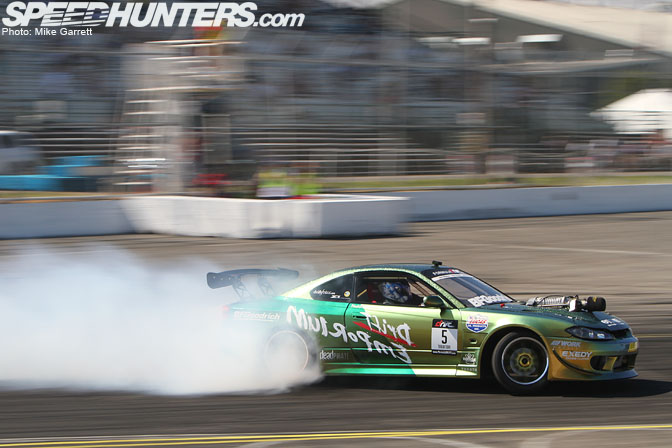 And rounding out the Top 10, Michihiro Takatori who ran an 82.3.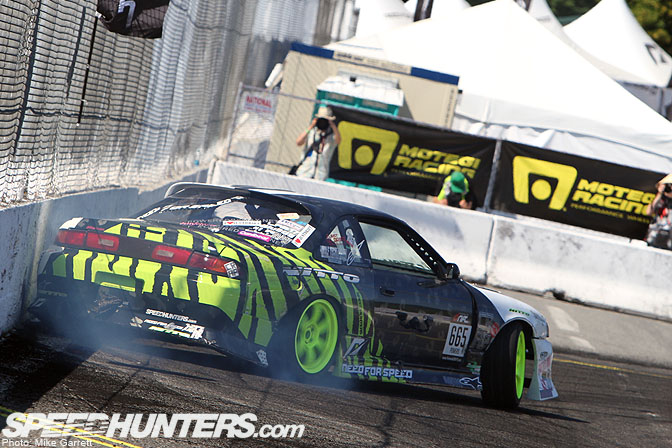 Both of the Team NFS boys made into the show as well. Matt Powers in 20th with a 72.6…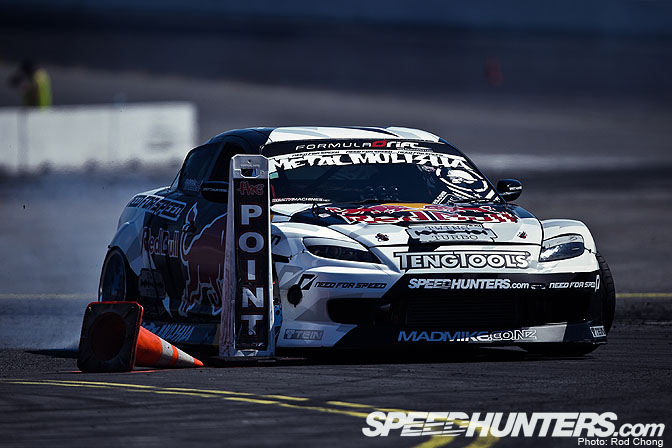 …and Mad Mike in 24th with a 71.9.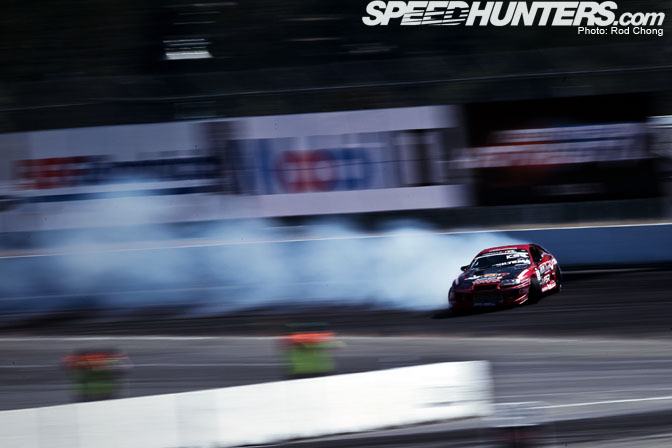 Fan favorite Fredric Aasbo had a solid 74.2-point run, good for 16th overall.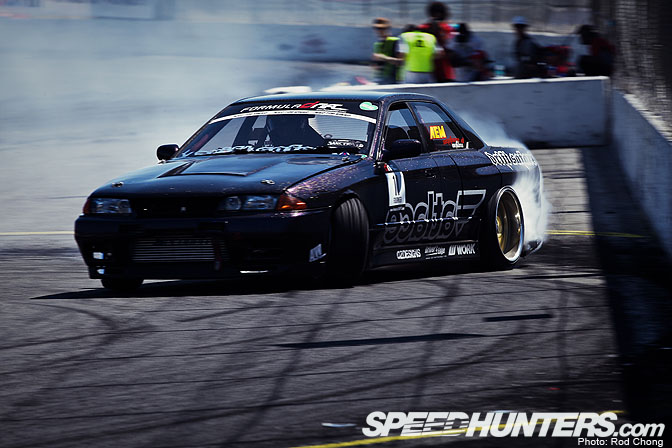 Ian Fournier's R32 Skyline looked positively awesome out there, but unfortunately he didn't have quite enough to make it into the Top 32.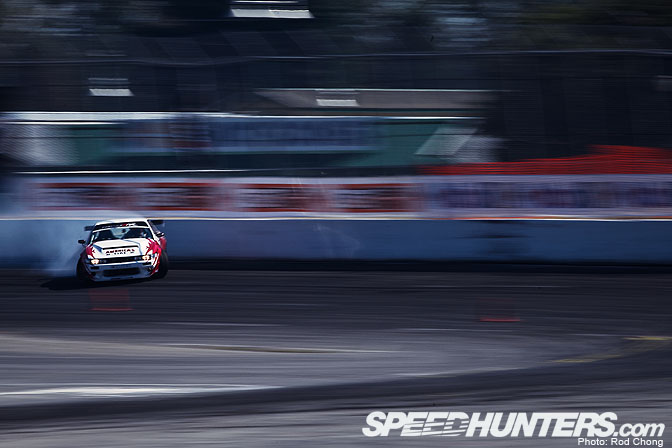 Finally, a great shot of the  Dai Yoshihara on the bank, as captured by Rod.
OK, time to check out evening practice a bit, then head back to the hotel for a shower.
More on the way.
Complete Qualifying Results from Formula Drift.
1 V. Gittin 25 90.6
2 J. Pawlak 13 88.5
3 R. Tuerck 44 87.1
4 D. McNamara 8 86.5
5 C. Forsberg 64 86.3
6 T. Aono 86 84.6
7 T. McQuarrie 17 83.5
8 T. Foust 34 83
9 S. Hubinette 77 82.8
10 M. Takatori 5 82.3
11 C. Grunewald 79 80.7
12 D. Yoshihara 9 79.7
13 R. Millen 6 78.4
14 J. Maeng 51 76.8
15 K. Gushi 33 74.4
16 F. Aasbo 151 74.2
17 P. Mordaunt 90 74.1
18 C. Parkhouse 562 73.4
19 M. Essa 101 72.7
20 M. Powers 665 72.6
21 R. Nishida 31 72.6
22 N. Konstantinov 403 72.4
23 R. Petty 808 72
24 M. Whiddet 111 71.9
25 F. Wang 30 70.9
26 D. Kearney 43 69.7
27 C. Ng 84 65.5
28 E. O'Sullivan 25 65
29 S. Verdier 12 65
30 K. Mohan 99 65
31 B. Wilkerson 55 63
32 A. Pfeiffer 88 62.5
-Mike Garrett