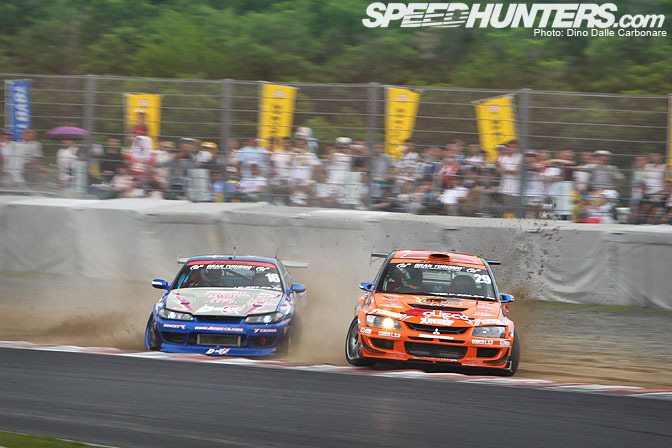 We will all have to wait until early next month for the next round of the D1 Grand Prix as the championship heads up north to Fukushima-ken, for a double-rounder weekend in Ebisu circuit. So why not take a look at some more tsuiso battling from last week's round in Okayama where drivers, a you can see from the opening shot, were really trying to push well over their limits. Both Nakamura and Suenaga ended up going into the gravel in this Best 16 run, with Nakamura moving onto the Best 8 after a much more in control leading pass.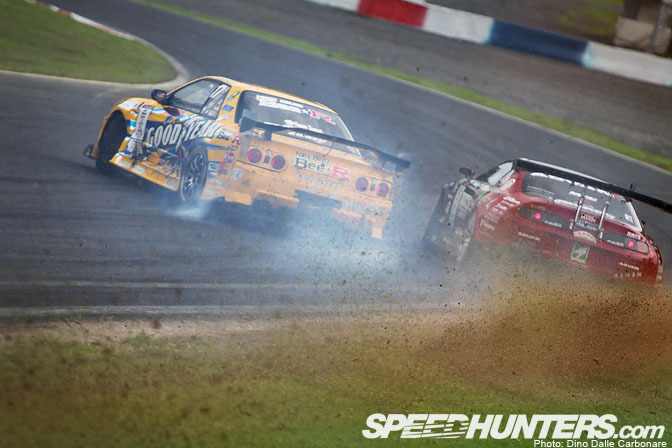 This was so close! Orido took the win here as he tries desperately to avoid Tezuka's Bee-R R32 GT-R after the main judged corner.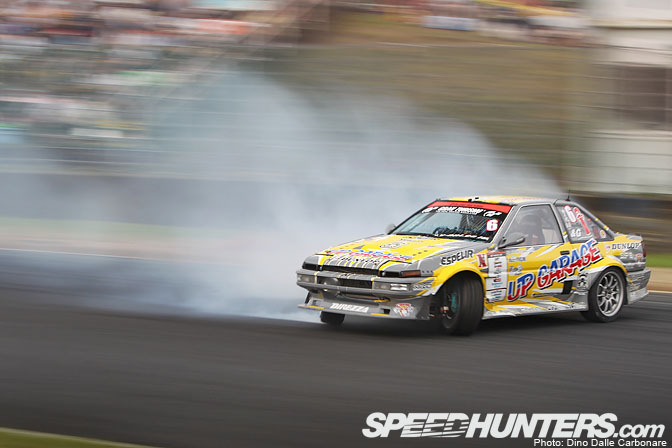 Full counter-lock down the straight!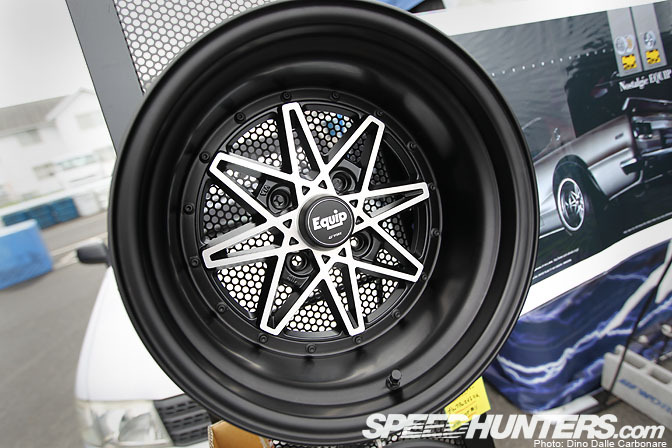 Spotted these beautiful Equips 03s on display in the paddock at the Work Wheels booth. I don't know if I preferred them in matte black…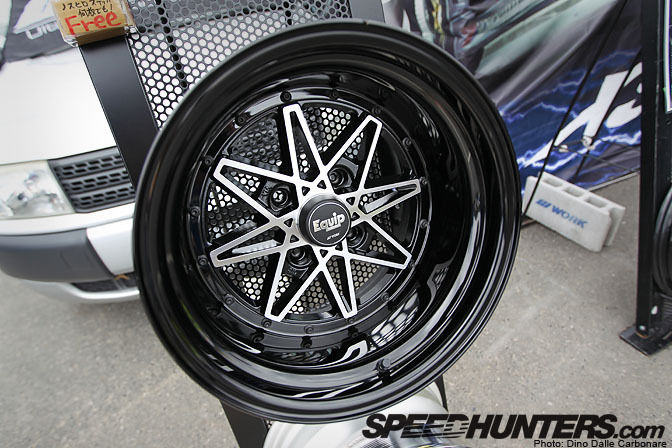 …or glossy!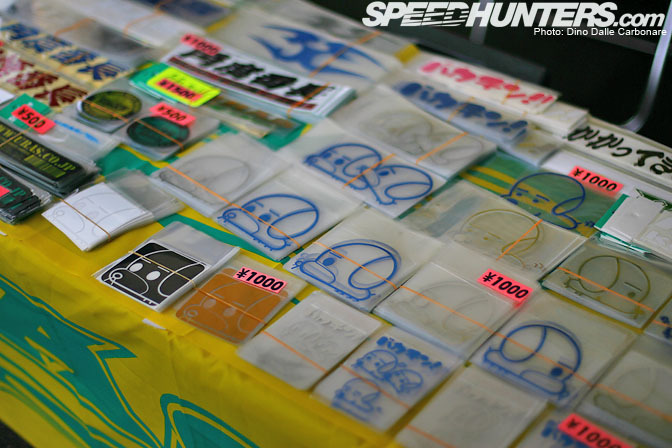 As usual Nomuken's URAS stand was buzzing with people buying anything from t-shirts to caps not forgetting his trademark stickers.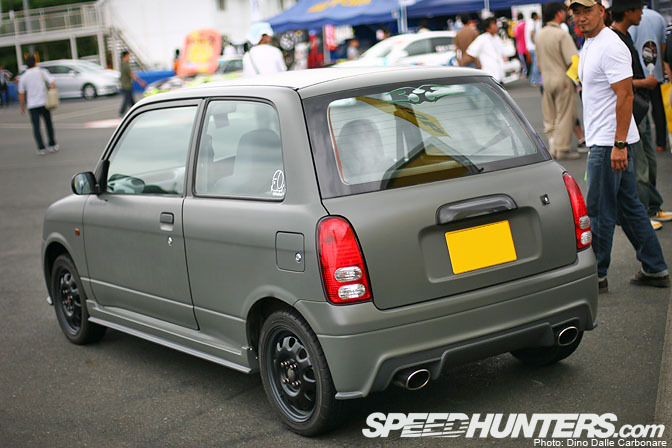 This matte gray kei-car is the latest demo car for Uras.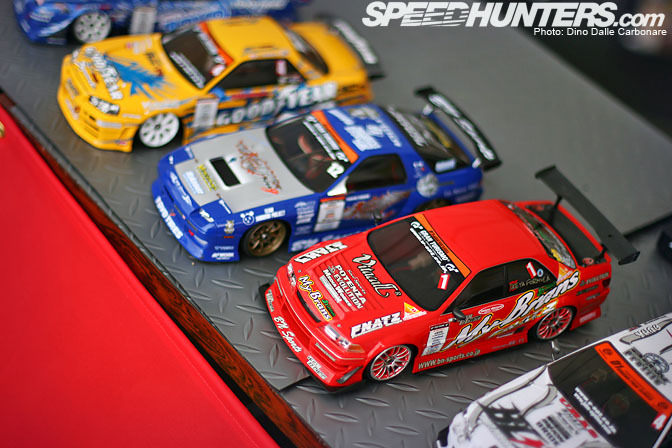 The Yokomo line up of RC drift cars keeps getting bigger, especially the smaller 1/16th scale "Ichiroku" models you can see here.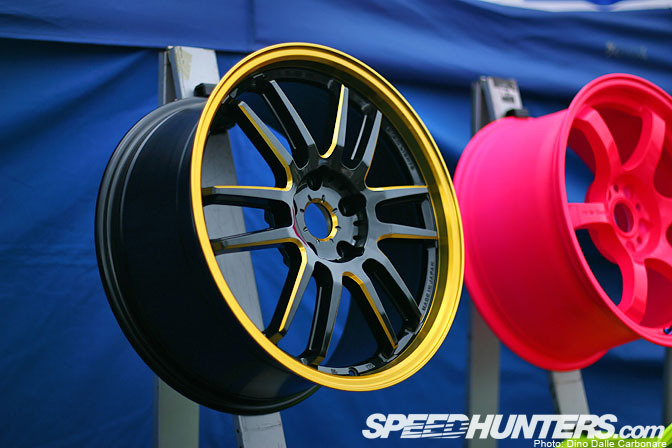 I spotted these Gram Lights 57 Ultimate fitted to Matsukawa's SC430 sporting an all new anodized yellow coloring.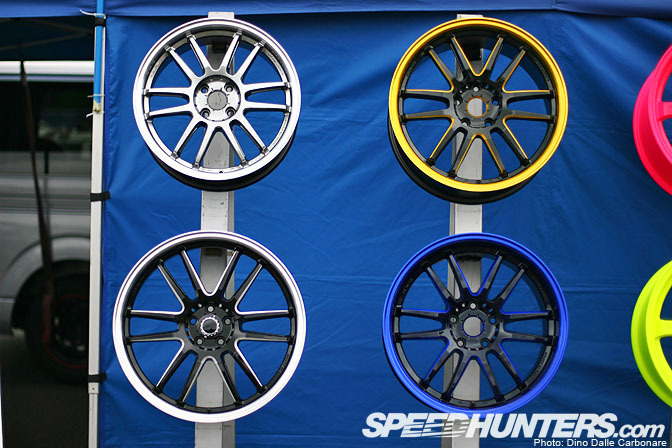 There are also other hues available, or if these are too sedate you can always go for the florescent Grams!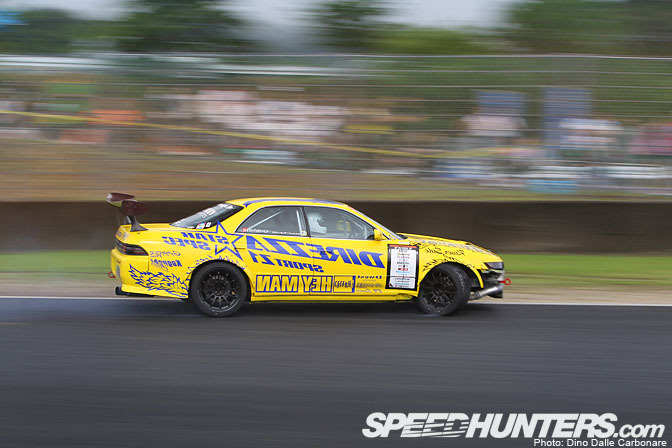 One of Minowa's first practice runs in the morning while the track was still wet didn't go quite as he planned. He ended up missing the gravel trap by inches as he skidded towards the outside of turn 1.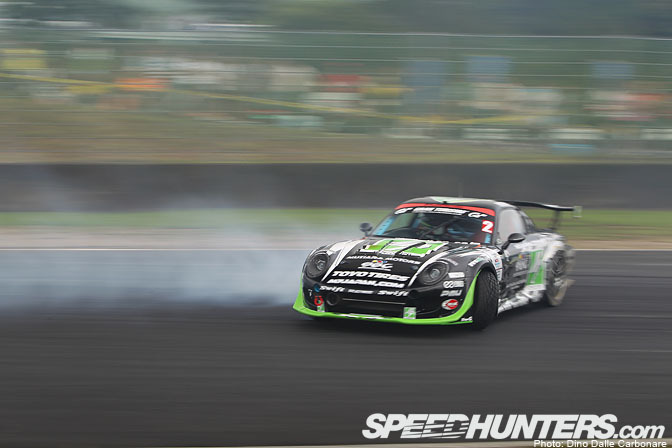 It might be bard to believe but Suenaga actually nailed the apex a split second after this shot was taken, and straightened the FD out with a boot-full of power.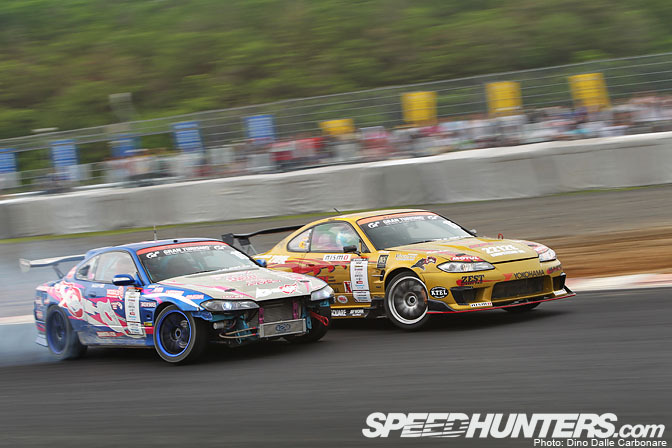 Nakamura is a wild driver, he pushes so hard compared to anyone else on the D1 circuit, always staying glued to his opponent's car.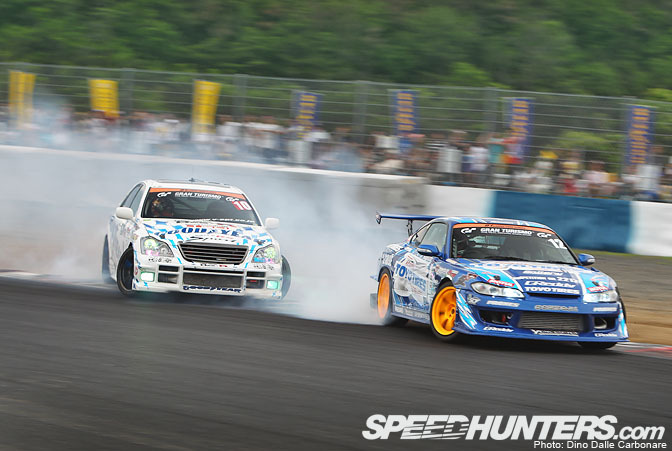 The well fought Best 8 battle between Tokita and Sakuma was a pleasure to watch. Tokita moved up to Best 4…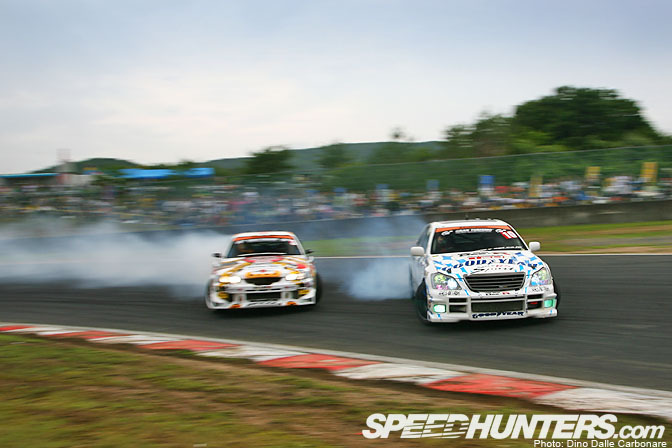 …where he met Nomuken who looked like he was just not feeling the track at this round.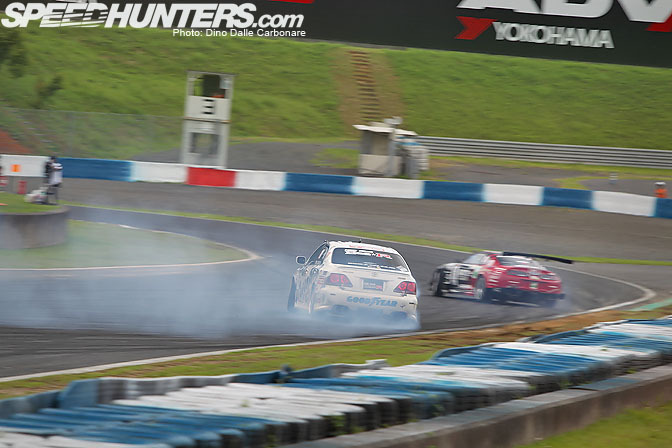 It was then on to the final against favorite Manabu Orido in a series of impossibly close repeat runs.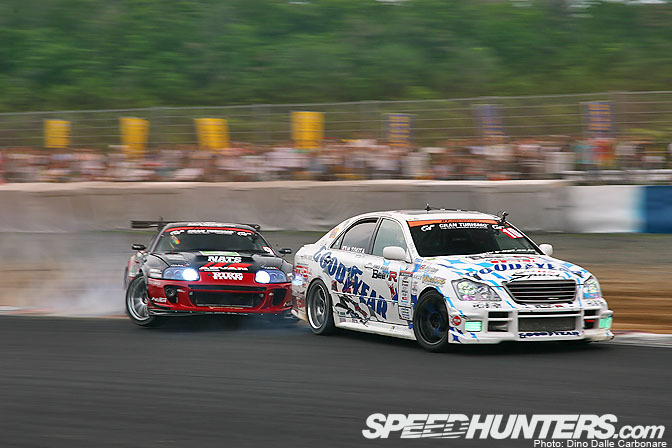 Orido ended up pushing a little too hard, dropping his rear wheel out into the gravel and ripping off his rear overfender.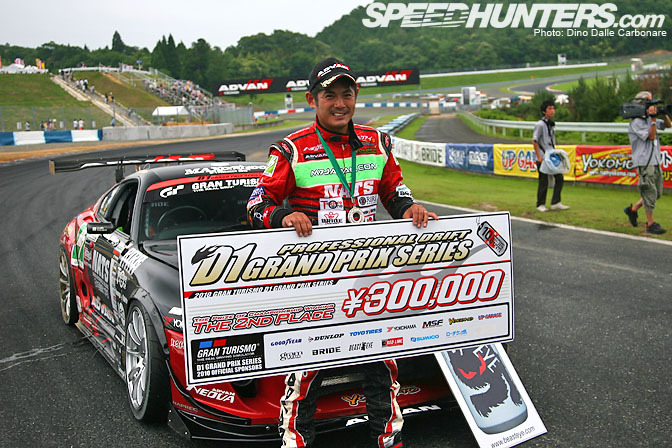 Despite coming second he looked more than pleased with his result…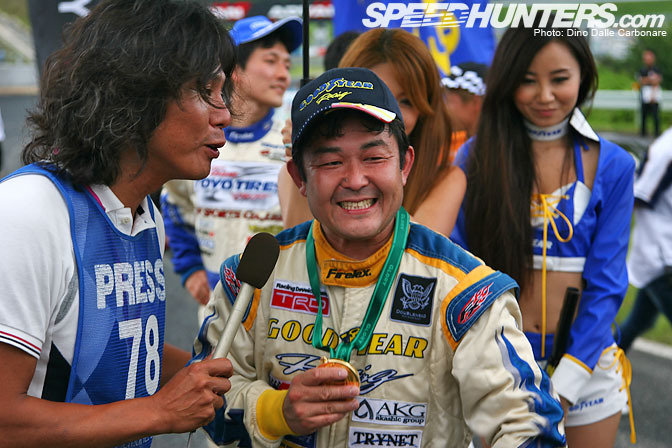 …and very happy to see Tokita secure a well deserved win.  These are how the Top 10 standings are looking after Round 4:
1. Imamura       81 pts
2. Suenaga       57 pts
3. Nomura         56 pts
4. Kawabata      56 pts
5. Tokita            47 pts
6. Orido             44 pts
7. Koguchi         41 pts
8. Hibino           34 pts
9. Takayama    34 pts
10. Saito           33 pts
With the upcoming two rounds in Ebisu circuit anything could still happen, although Imamura has a pretty solid advantage over RE-Amemiya driver Suenaga. Can't wait till next month!
-Dino Dalle Carbonare