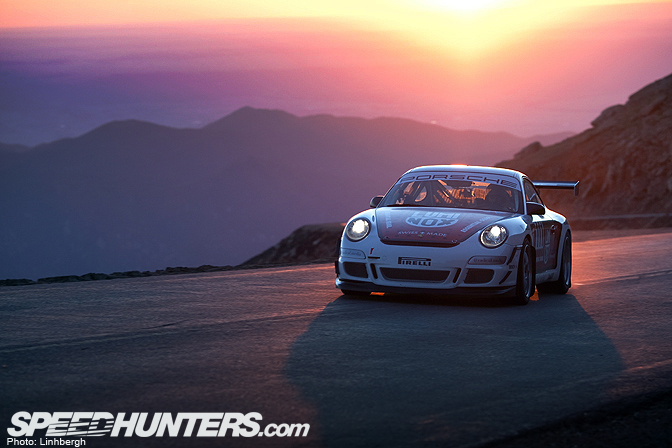 People ask me all the time what I do. Its funny, for the most part I race, but the racing is focused in so many different ways. I am a Commercial Film Director who specializes in high action.  I work on location all the time and I am "racing" to get everything done before I run out of light each day. I work globally for a production company named @radical.media, and  travel the world directing television commercials and I am usually "racing" to and from airports. Because I am a "high action" director, I am always figuring out ways to "race" the camera fast enough to keep up with the live action.  Then there is the real racing, which started in rallying and eventually led to many forms of motorsport.  Most recently, my racing has involved the Pikes Peak International Hill Climb which I competed in this year.
Pikes Peak has been a central theme to my racing. I started in the SCCA Pro Rally Championship, in which I was Open Class National Champion in 1990.  It was only natural to run Pikes Peak, after the first year I was hooked but I wanted to come back with something more interesting to drive than the Mazda 323GTX.  In 1993, I put together a program to run in the US Pro Rally Championship in a Carrera 4 built with all the Paris Dakar parts left over from that factory program. The next year, we decided we had the car developed enough to run it at Pikes Peak. Porsche Motorsport loaned me a single turbo 550-hp motor to run and we won the Open Class in 1994 at Pikes Peak. From that point on, until 2003, we ran the latest greatest Turbos from Porsche and that resulted in six class championships. During that time, I also ran a couple ALMS events and even a few Baja 1000s, and in one of those, I won my class in a Porsche powered buggy. The last Porsche factory effort I drove was the TransSiberian Rally in a Porsche Cayenne. I put together the US team for Porsche North America and Rod Millen won overall and I finished 8th in class. That event was a stage format race from Moscow to Ulaanbaator, Mongolia, over a period of two weeks.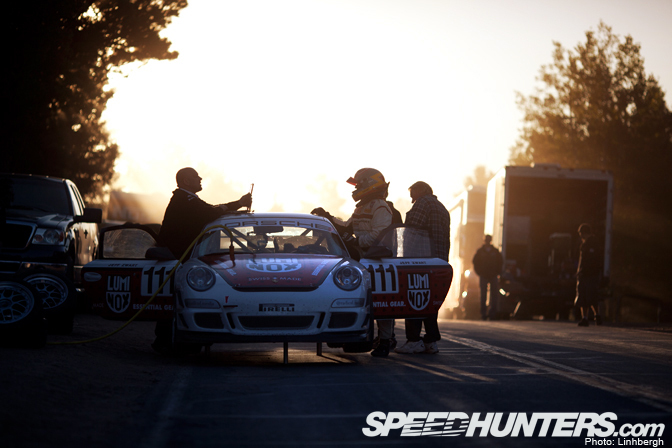 Pavement has become the inevitable at Pikes Peak, sad but true. In 1994, when the Peak was all dirt, everything came together in the road condition department and that gave us one of the fastest roads in history of the race.  1994 was the year that Rod Millen ran a 10:04. That record stuck for 13 years. I broke the record in Open Class that year too. Since then the road has changed and recently each year we have a little more pavement, the thing that we have to remember is that Pikes Peak is a 14,110 foot high living organism. It changes day to day, from rainstorm to the heat. it is a crazy place.  Even with more pavement the 10 minute mark has yet to be broken.
Lately, we keep thinking with the addition of pavement the course is going to be better but something else always bites you.  This year all the hype was the mile of new pavement at the top. The pavement was great. But in practice, any advantage that  the top pavement was going to give you was taken away by the two miles of dirt that lead to it.  I had never seen that section so slippery, it was just loose and sloppy everywhere on top.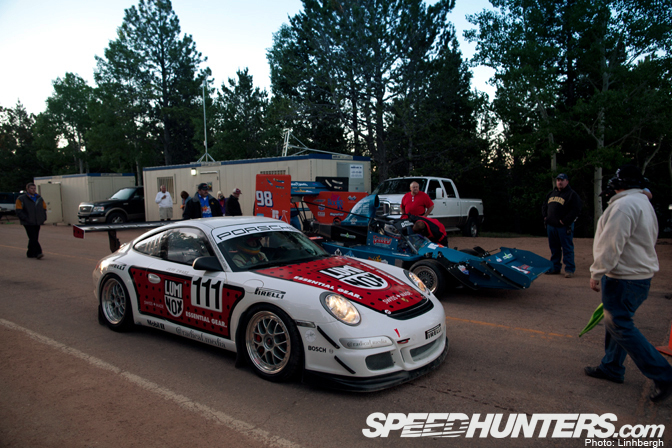 The night before race day, I drove the course and it had rained. Suddenly that slippery stuff was gone and it was packed fast dirt! Again, it had changed, but this time it looked like it was going to favor my 2WD car.  I don't worry about what the new pavement is like, what I look for is what has changed in the dirt areas… this will gain or take away time very quickly if you read it right or wrong.  The pavement is just that…. pavement. 
I have been trying to bring the Road Racing based Porsche GT3 Cup car to Pikes Peak for about 3 years. I saw it as the future. With the paving going on it was clear that the Road Racing based cars could soon have the advantage and I wanted to prove that. Pikes Peak is about 65% paved now so it seemed right to get one there this year. I was shooting a Mazda commercial at Sebring and I bought a 2007 Cup Car down there from the Patron series. Porsche Motorsport North America got behind the program and updated it to 2010 specs. They replaced the 3.6 liter with the latest 3.8 and few other bits to make the car more current.  WIth short gears, the car was awesome to drive at sea level in our first test. The question was how it would run at 14,000 feet without turbos. My goal with Porsche Motorsport was to figure out a baseline for the Cup Cars to create a class just for them in next year's running of Pikes Peak.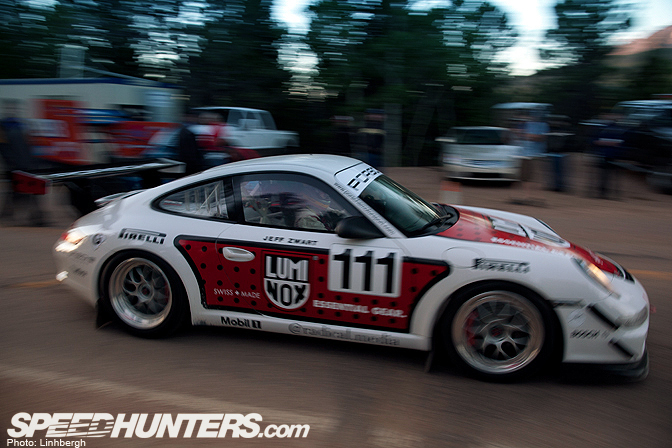 What did we have to do to build up the Porsche for the peak?  Well, I knew that things are not exactly race track smooth up on the mountain so we went with a slightly higher ride height and a softer spring rate.  We did some moderate underbody protection to take care of some expensive / fragile bits under the car. Per the rules, I had to run a passenger seat and I went as light as possible with a fiberglass go-kart seat. I looked to make the car as fast as possible on the dirt without taking it out of its comfort zone on the pavement. The car ended up great.  I brought in Dennis Boada, who was the same crew chief that had run the car in the Patron series.  This way I had a someone who did not just know Cup cars but knew this one very well.   Dennis was a one man show and saw the car through the week perfectly.
A major key at Pikes Peak are the tires, so I teamed up with Pirelli. We agreed that the best tire to use was a racing "rain" tire from their Grand-Am series. It was going to be soft enough to work well on the dirt but give us very good wear and grip on the 8+ miles of pavement. The Pirellis turned out to be the perfect choice. We fooled with tire pressures but the rest of it was super easy.  I have always had to groove tires in the past and these tires required nothing. It appeared that we had the package of car, engine management, suspension, transmission and tire that would work well for the future class in 2011, now we just needed to run it in the Time Attack Class on race day.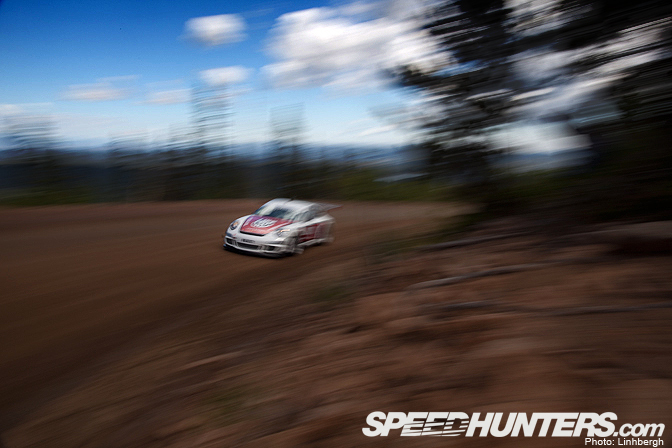 On our very first day of practice, I knew we had chosen the right tire.   Tires are so important at Pikes Peak and that it was one question I wanted answered. One of the coolest parts of the tire was how compliant they were to all the surfaces you encounter. Literally, it felt the same everywhere. It just had different levels of slip based on the different surfaces. It was very predictable everywhere. When the tires stepped out on the pavement, it felt the same as if it was on the dirt. 
The car was awesome on the first day of practice (which was the middle section). This is known as the W's and they have thousand foot drop offs and one straightaway after another that lead to hairpins –eight hairpins actually. The sequential gearbox in the Cup car made it magic. You can flat upshift. This meant that you can leave your foot to the floor and just pull back on the shifter. It shifts so fast and really proved itself in these hairpins.  Downshifts require clutching but I literally had a 5 minute learning curve in the car.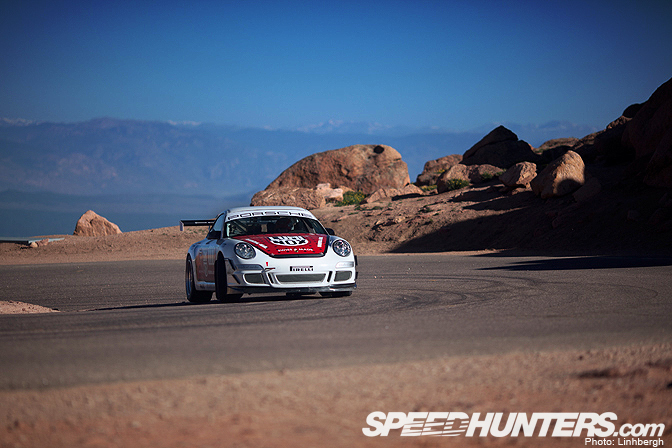 The next day was the top section, which is high speed and very tricky. It is very easy to get it wrong up on the top and there just  is no space to get it wrong. This section is about carrying speed. The most amazing thing for me was that I was driving a non-turbo car, but it seemed that it lost hardly any power even at 14,000 feet!  Porsche Motorsport had sent out their best engine guy, Andrew Gregory, and he was very good at chasing things in the engine management department. But really, the car ran great everyday. There were just little tweaks to add and once we ran a section a couple times our data would come back perfectly.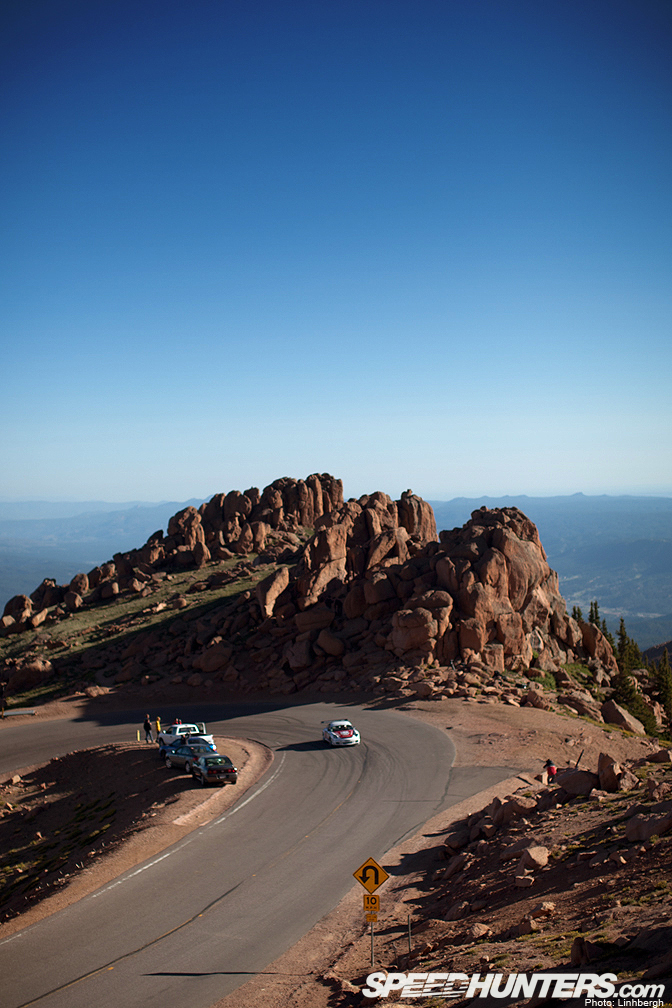 The bottom section is always my favorite. I just attack it. It is so much fun. By the third and final practice day, I had the car dialed and knew we would be good down there in that section and I was confident that we at least had the Time Attack record down on the bottom covered. The car was the best car I had ever driven on bottom section. I was seeing 118 mph going into Engineers corner and again 117 up Picnic Grounds. It was deceiving how fast the car was and the biggest adjustment I had to make was my braking zones. It was a great three days of practice that culminated in breaking Rhys Millen's qualifying record for the Time Attack class.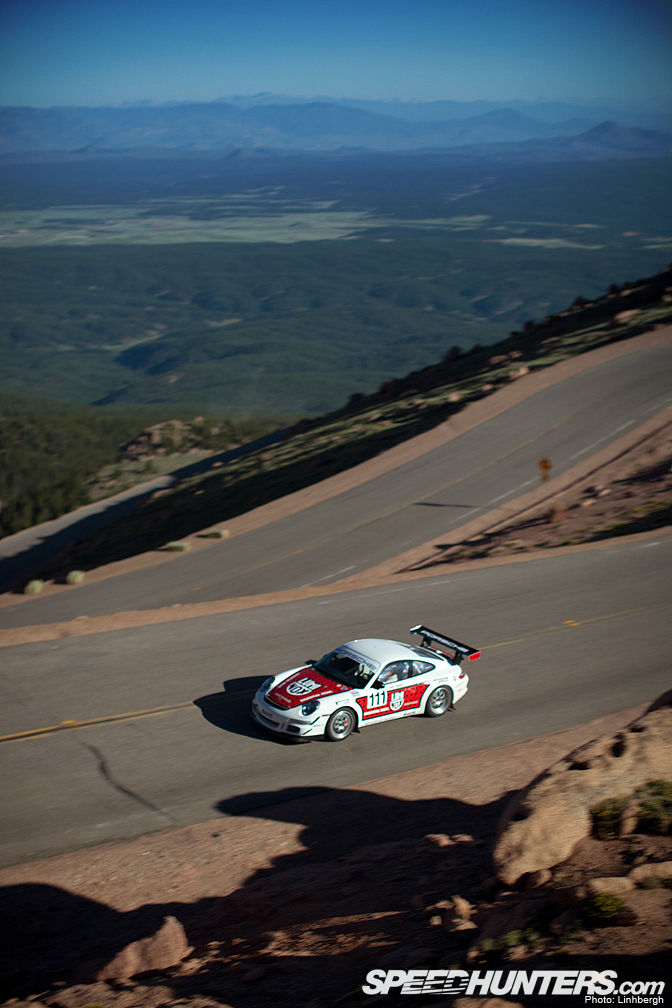 Race day on Sunday… I just didn't want to think about anything. I knew I had a good car. In my mind I had been racing Rhys Millen's record from last year all week.  Even though we were not in the same class this year, I did want to break the awesome record he had set last year in my class. Rhys and I and the whole Millen family have been close friends for years and years.  We race each other on everything, and have for years… quads, snowmobiles, cars, mountain bikes — everything.  I will say that Rhys can always beat me on a Mountain bike but the rest is fair game.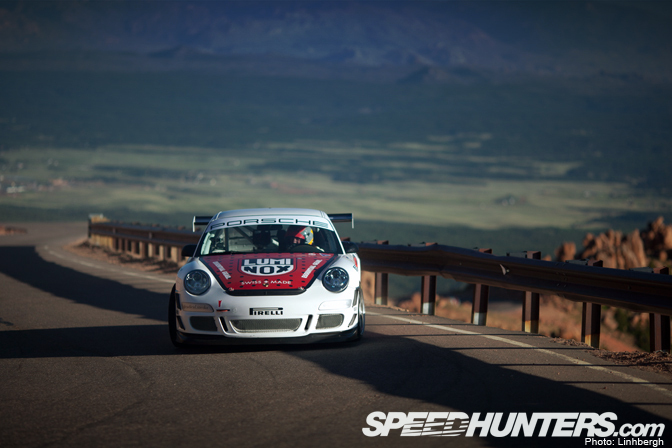 At Pikes Peak, Rhys has won 4 and I have won 4 in the 8 times we have gone head to head. We have a great rivalry at this event and this years Pikes Peak was no exception.   Rhys was calling me on the first day of practice in early June, just asking what my times were.  
I loved being back at Pikes Peak this year and watching Rhys run his new car with which he was going after the overall record.  It was fun to race with everyone again.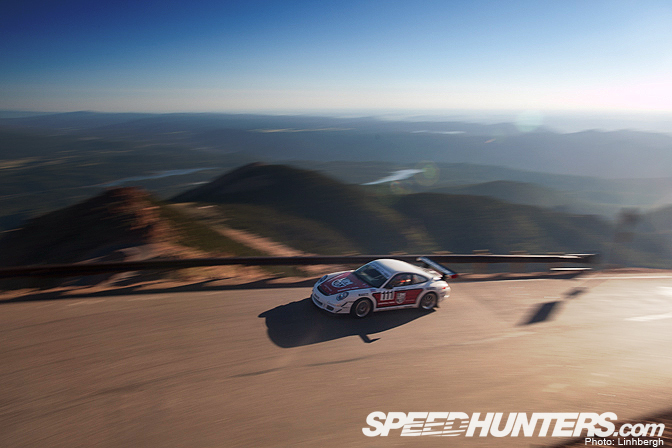 On race day we wanted to beat Rhys's 12:09 record from the year before, that was the only goal.  My target had been to just get into the 11 minute range.  When I roll up on the line… I am thinking of nothing. The first 5 turns are all the feedback I need. I drove them fairly carefully looking for how my tires and everything else felt.  From then on, everything is based on that initial feeling.  As I raced towards the summit, I pushed harder than I had in the bottom section.  I am very much one to save the car for the last half and push harder at the top towards the finish. I know from years past that it is the top that takes biggest toll on the cars that race here.   So the last thing I remember thinking as I left the line was that target to break the record.  
OK, one thing did cross my mind just before I left the line was that to beat Rhys' record.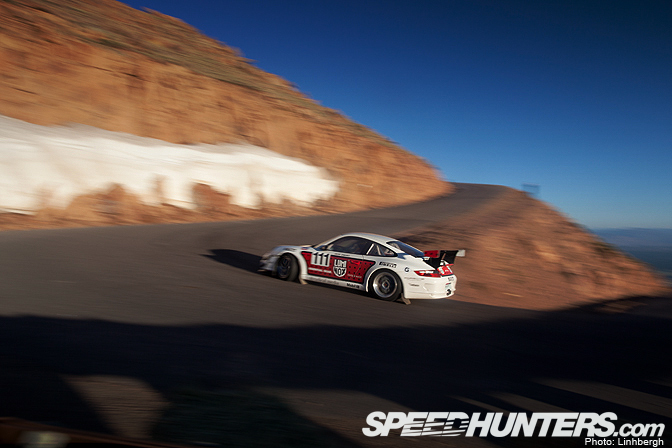 Because of the time of day we leave the line on race day, the temperature is about 20 degrees warmer than any day of practice  There was a number of delays before my run, so I ended up getting out of the car and trying to stay as cool as possible. I hate waiting in the car with all my gear on. It's just not worth sitting there and heating up, so if I have the option to get out I do.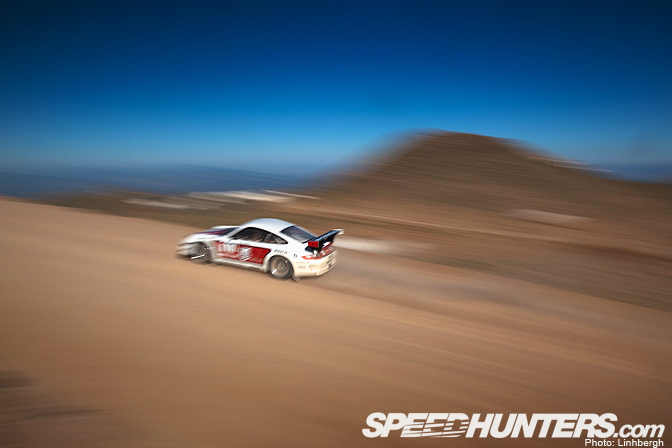 I find the longer you sit the more you think. I wanted to just go and attack. Being I was running a non-turbo car, I wanted it to take in as much cool air as possible to develop as much horsepower as it can. It was warm already, so I was a little antsy to get the run started. On the bottom section, I had committed to keeping the car as straight as possible. I wanted to make sure that I had as much tire as possible when I hit the dirt.  I told myself to not slide,  I just wanted to take the car to the limit of adhesion and not past that.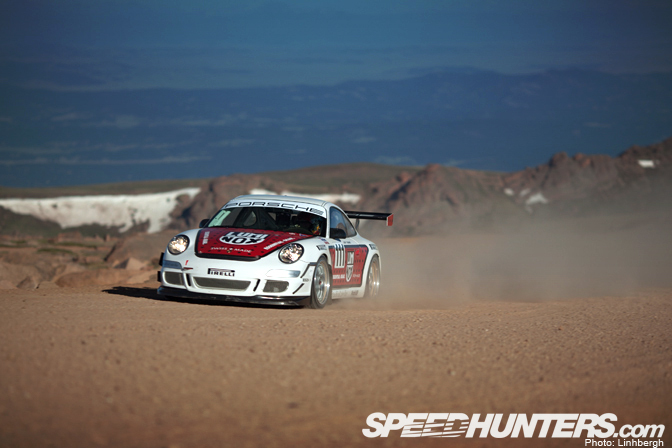 Once I hit the dirt I needed to attack and the tires were perfect. The Pirellis had come off the pavement with perfect wear and temperature. The dirt felt great and I concentrated on looking for the cleanest sections of the road for the best grip. The braking zones had changed a bit overnight so I had to look for new ones and make sure that I did not get into any turns too deep. When you get too deep into a corner you end up sitting on the outside in the loose stuff, hating life, knowing you are losing time to traction.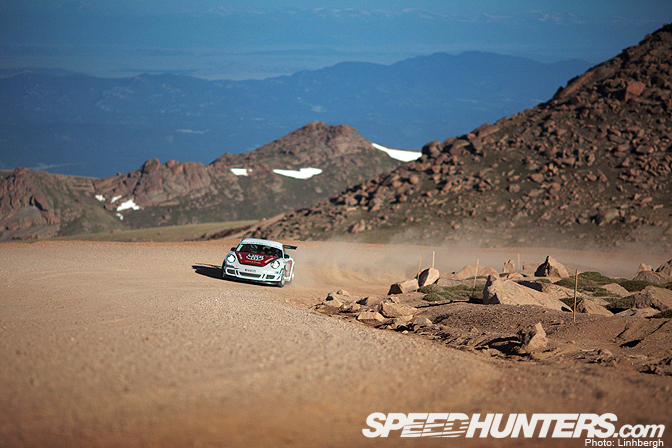 Back to the pavement in the middle and it is a sprint from hairpin to hairpin. The car felt great in the middle and the engine seemed to produce just as much power as it did on the bottom. At each hairpin, the car would hang itself out on the exit and I knew that I only had a few more hairpins to go before I hit the dirt again.   This section you are just turning against the sky with very few reference points.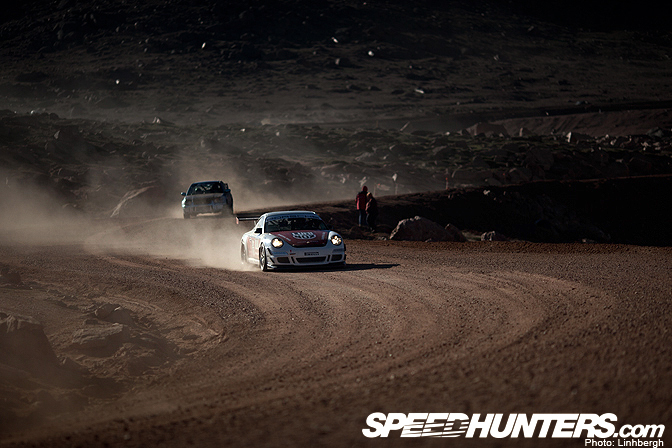 The top was fast and flowing. The track was 100% better than it had been in practice. I drove the top faster than anytime all week. Big drifts, looking for the cleanest parts of the road and making no mistakes. Three turns from the top I was surprised how much power the car had, I just was not noticing the lack of turbos like I thought I would. One turn to go and I was wishing the road had another 12 miles in it. Once over the finish line, I was not even winded at the top like I so often am at 14,000 feet. I knew I had had a very good run but I have been fooled before. I felt like I had broken the record but Pikes Peak is a moving target. I waited about 5 minutes and when I finally heard my time I could not believe that we had set a new recored by 38 seconds! It was the most satisfying run I had ever had at Pikes Peak. It was made all the better by the fact that I had Porsche Motorsport people there including the president of Motorsport in North America. We also had a few Pirelli people present so it was great to have this result with all in attendance. It was just a great culmination of things from the whole week.   Only 5 cars beat us, three Unlimited cars and two Open Wheelers, this was the first time a production based car had finished so high.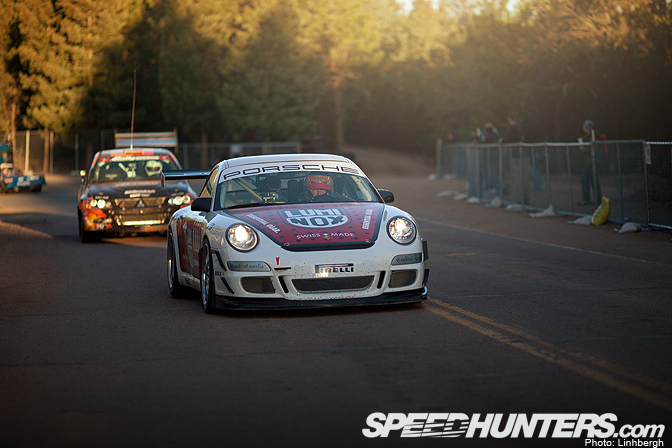 Pikes Peak is a place you dream about all year. It's 156 turns and the 14,110 foot finish makes it a unique race in the world of motorsport. I had wanted the bring the GT3 Cup car here for so many years that it really made this years event even more special. We now have a great package to create a class next year just for Cup cars. It will be great to see 10-15 of them compete against each other next year if we can pull off a class and the interest in entries.   The fans kept saying that I had the best sounding car on the Peak this year.   I just watched the helicopter footage late last night and I could hear the car over the sound of the helicopter. It sounded great. Pikes Peak is magical. While Rhys was unable to break the 10 minute mark this year, he put on a great show and I congratulate him on his effort in his awesome new car.
But for now, I have got his record in Time Attack and next year is another year for both of us.
-Jeff