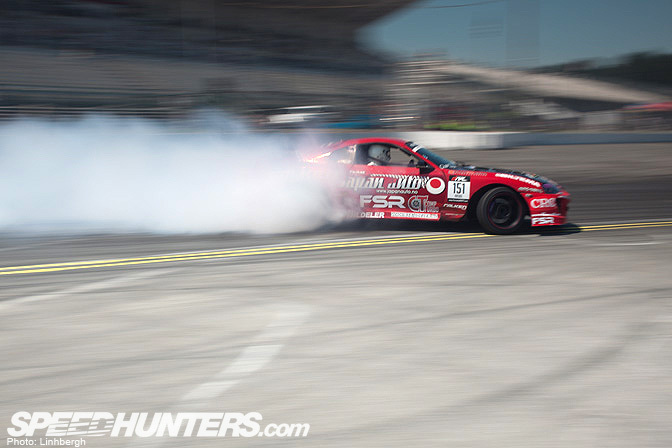 Dear fellow Speedhunters,
Thanks for tuning in! I am Fredric Aasbø, a 24 year old Norwegian drifter competing at select Formula Drift rounds this year, trying to get a program going for the full 2011 season. Here's my driver blog from Formula Drift Round 4, doing what I love the most!
After watching Formula Drift round 2 and 3 from the sideline (a.k.a. the awesome Driftstream) back in Norway with our friends, my wing man Steffen and I finally made it back to the US and Formula DRIFT Round 4: Throwdown at Evergreen Speedway, Monroe, WA. We got a fourth place finish at Round 1, Long Beach, and that was the raddest experience I have ever had!
I know a lot of people wanted us to even surpass that result this time around, and as much as I deeply appreciate all the nice comments and encouragement we were given, there was no way we could expect to just slide in from the side and go all the way up there in the world's most competitive drifting field. Our small team entered the FD Round 4: Seattle event like we always do: To have a lot of FUN and learn as much as we can.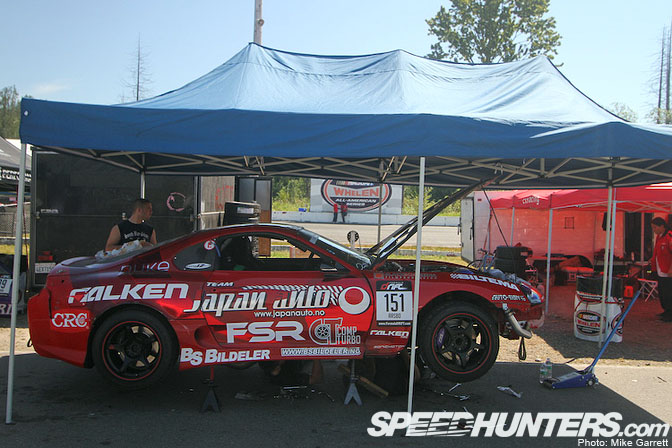 After Long Beach, we got rid of the stock JDM twin turbos in favor of a new, simple Comp single turbo kit. I am very glad we did so, because the stock twin turbo compressors had started to melt due to all the boost we had to force through them! We installed the kit over a short week at partner shop and Supra specialists FSR Motorsport Creations in Montclair, CA, and we got ready just in time to take off for the long trip all the way up to Seattle. I could not wait to test out the new kit and see if I could get the hang of the slightly banked Evergreen course. I was told it had a long portion of on-throttle action and that proved just right – I loved it!! However, as the event kicked off, our hinders started showing up.
With the newfound power, we noticed the clutch started slipping a little bit. When we had finally got all the way to Seattle, there was no way we could afford having the clutch go out! We started making phone calls. Mr. Kiyo Enari at Carbonetic USA and Japan Auto owner Tom Ole Svendsen decided to step up for us, giving us a deal on the awesome Carbonetic three disc clutch kit – thank you!!! Our friend and US helper Devin (standing in the back of the picture in the South Bay Skaters shirt) had already booked his flight from L.A. to Seattle that same night… In Devin's usual "I can do that, no problem!" style, he kindly went and picked up the clutch kit in South L.A., packed it in a suitcase and brought it with him on the flight. Thank you, Devin!! My wing man Steffen, local mechanic Marc (thanks, Marc!) and I jumped on the car to replace the clutch throughout the night.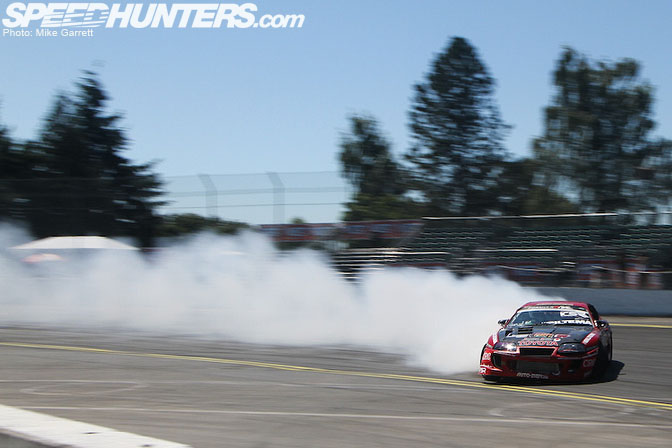 The Evergreen track is simply awesome. It starts off with a fairly long launch straight, followed by a fifth gear looong, sweeping right hand bank. Coming off the bank, judges wanted to see full throttle action and at the same time have drivers creep in and taking an inside line leading up to the second outer clip and left hand turn. The final turn is a hairpin right, followed by an outside clip. I went out there having Steffen on the radio, testing at a decent pace and trying to get the hang of the course little by little.
It's funny how you can tell the speed by how much the front bumper is flexing. Looks like the exit of the first bank is quite fast, haha!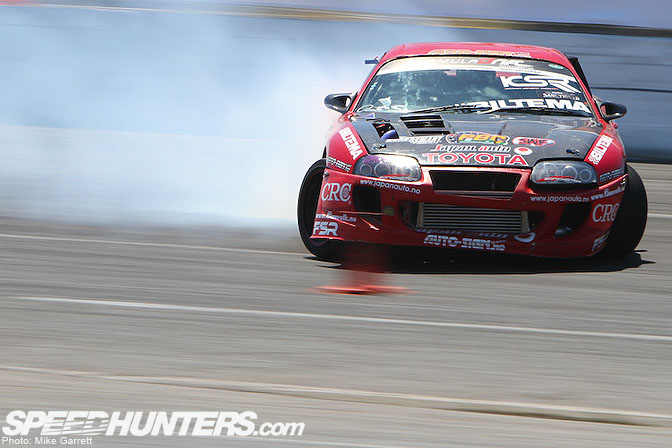 This is it – months of preparation culminating in two qualifying runs. I think every drifter out there knows what I am talking about when I say that qualifying is very tense. You have 2 x 20 seconds to do your best – one slip, and you'll be out in a heartbeat. For me, this is what I live for. I am nowhere near the top FD guys when it comes to qualifying run performances, but I am out there doing my best.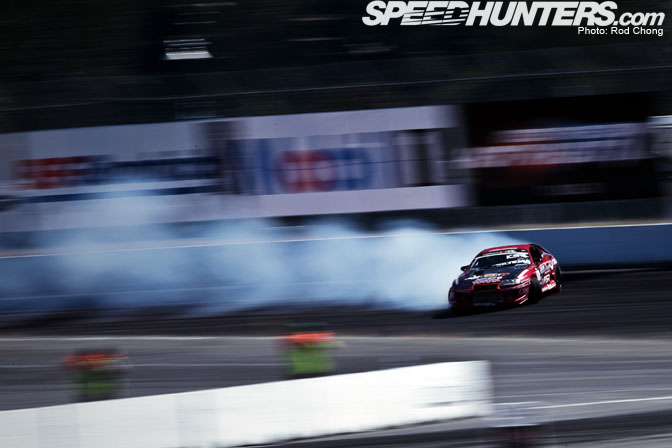 I think Rod Chong's awesome pan picture really captures what I feel about my first qualification run: I went in full throttle with fairly good angle, but I was too low on the bank and I dropped down too early. the rest of the run was all too soft. Your qualifying run is definitely one of those instances where you don't want to be soft. I knew it wouldn't cut it!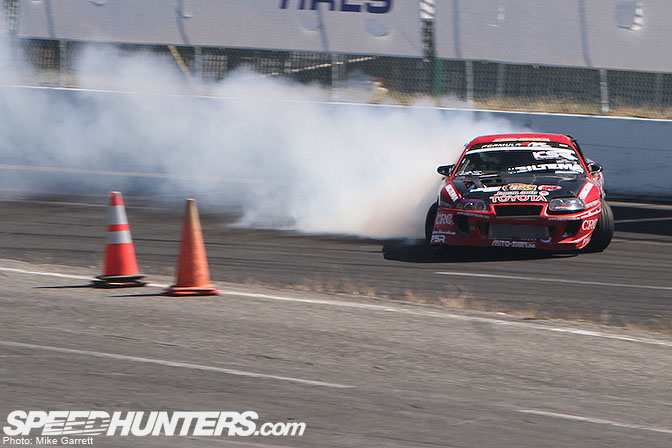 You can tell I dove in a little to early…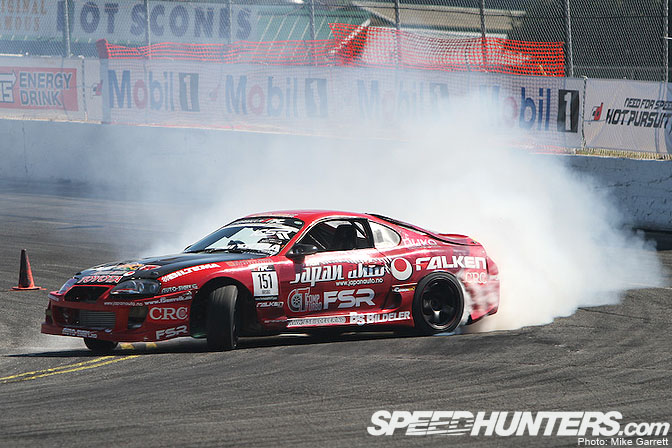 … aligning up okay for the next outer clip. However – my run really lacked some flair!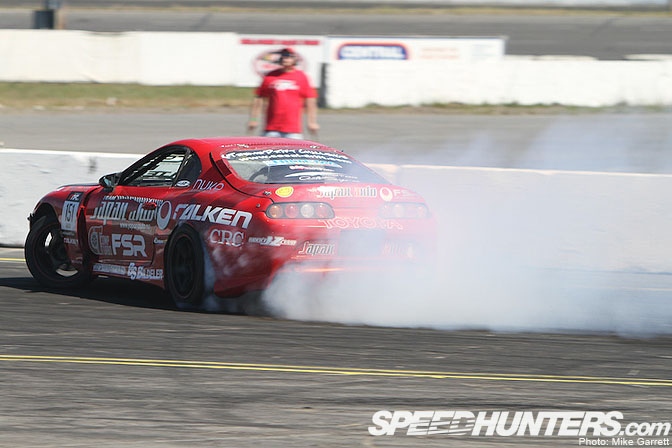 I got back to the grid, went through the course once again in my head, preparing myself for the second run. All or nothing!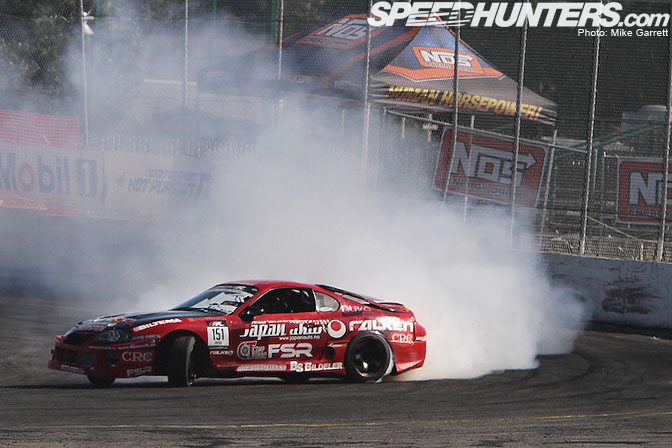 Once again I entered the bank as fast as I could. Launch in second, make it grip, third, fourth, fifth, flick, full throttle, hold it, hold it, hold it…
This time around I got to stick to the wall a lot better! I held it to the floor for as long as I could, and let off for a small second to avoid loosing the line down the power alley.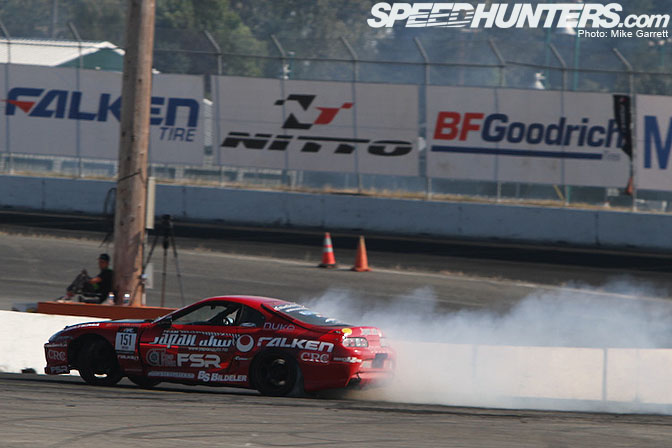 Reapplying throttle through the power alley, I managed to whip it hard into the next left hander. YEAH! However, it was a little too hard… I misshifted into fifth rather than third, kicking the guts out of the Carbonetic clutch, trying to maintain the drift, but to no avail. I straightened out. Boom, there goes my Seattle trip and view of competing in the finals, I thought.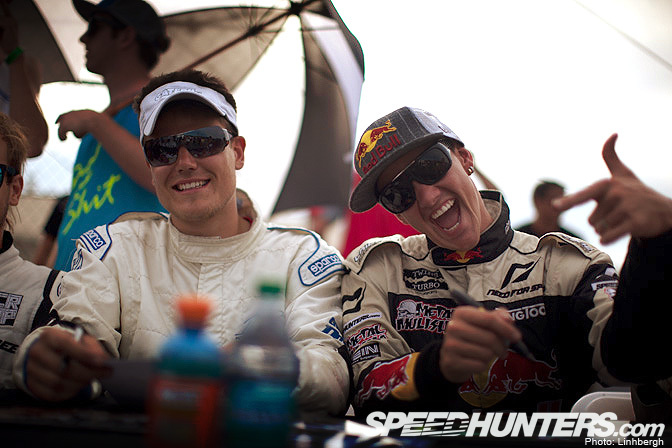 Sitting in between the two Need 4 Speed homeboys and all around top guys Matt and Mike at the autograph session, all kinds of thoughts and emotions were flying through my head. I was smiling and chuckling from Matt's "I only sign faces" and Mike's "YEEEEAH!!" comments, exhausted from the last couple of weeks and at the same time relieved. My wing man Steffen and I had been going at it full throttle on our shoestring budget for the last three weeks trying to get everything together prior to FD Seattle, and it turned out it had paid off. WE WERE IN FOR THE MAIN COMPETITION!! My first qualification run and the one where I did not mess up had put us in the 16th qualification spot, in the middle of the Top 32 wolf pack!!
I got a good nights sleep after the Autograph session. The car was finally good to go, so it was time to man up and get ready to rock for the next day finals.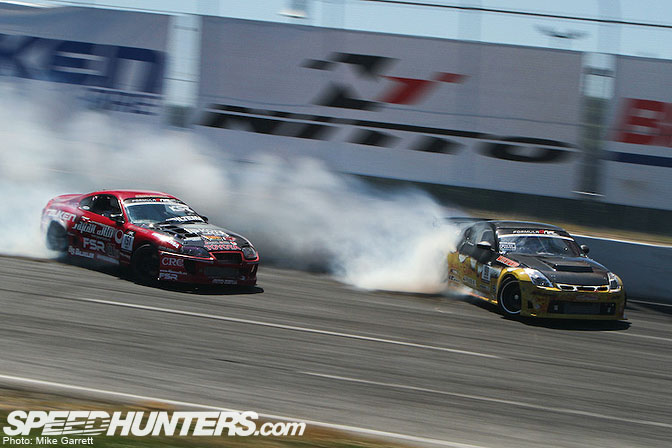 We were set to meet Pat Mordaunt in the Top 32, and I couldn't wait to get started for the morning practice! Pat asked me if I wanted to practice with him, and so we did! Here we are, chasing each other. Pat is a great driver with the future in front of him, and in this run I am a little shallow behind him. To say I was looking forward to the battle is an underestimation. I couldn't wait!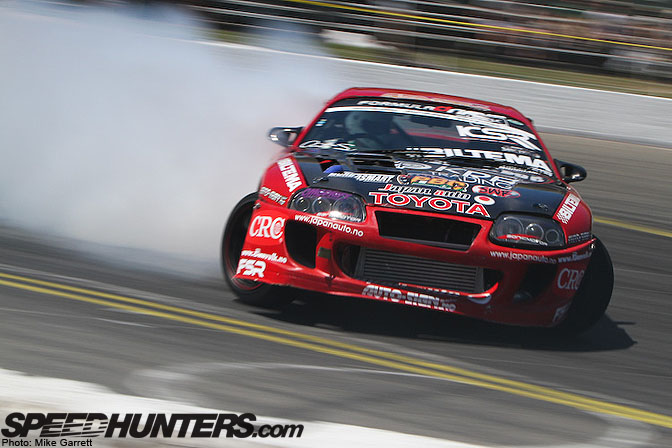 I also battled several other drivers during practice, and here's a sequence with Joon "Gentle" Maeng. Joon is one of the many characters I am very fortunate to have met through drifting. Joon is probably the most generous guy I have ever met, and at the same time he has an extremely competitive spirit which I got to know last year when I beat him in a round of Billiard. I suck in Billiard and it was by default, since he put the 8-ball down the wrong hole… And this is exactly how I feel for him in his 2010 season so far – he has just not had his share of luck, but Gentle-Maeng will get there eventually! Best of luck, Buddy!!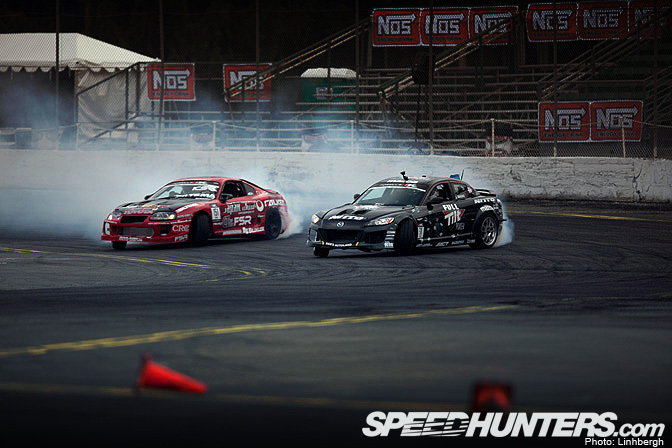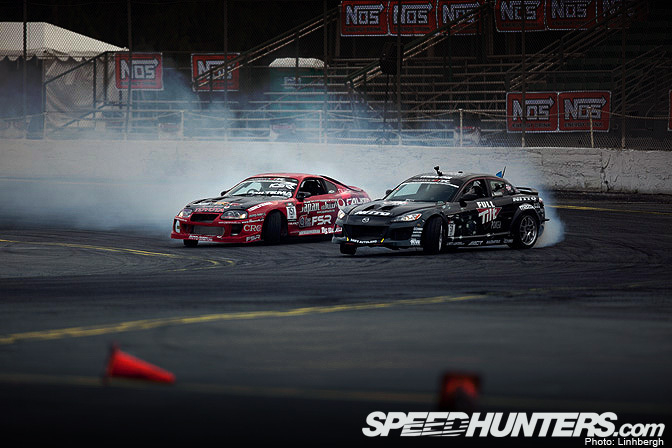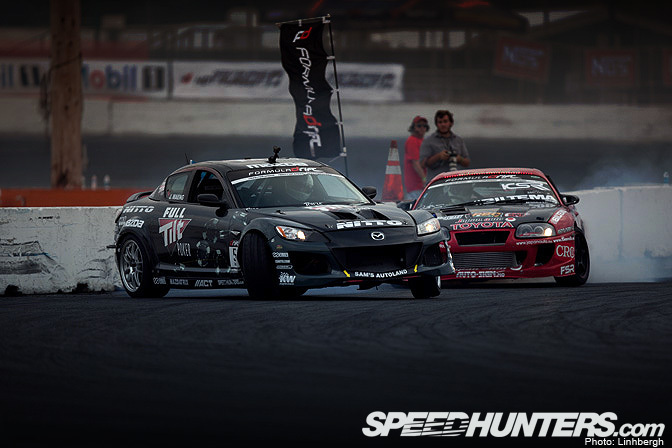 I really like this sequence by Linhbergh. The setting, lighting and atmosphere really shows the cat and mouse game that drifting really is: The agile, rapid mouse leading the course, with big, fat Lucifer lurking in the background doing his best to chase down the goods.
In Top 32, I were in the second battle out. The heat was on, and I lined up against Pat. Thumbs up from both of us, and we headed out full throttle!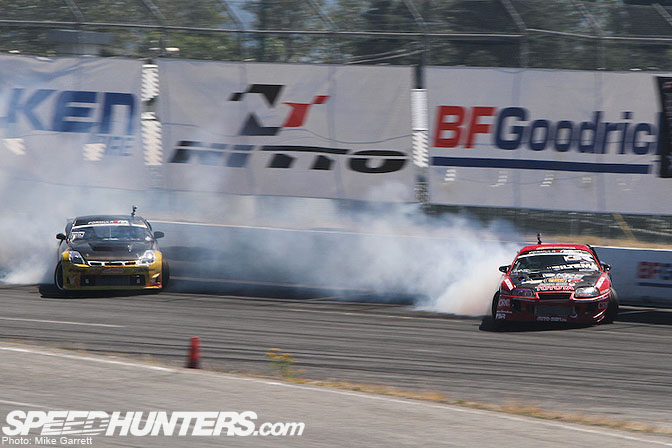 I led the first run and took a calm start to give him a pace as I did not really know Pat's launch speed.  From then on, I managed to put on a decent run, being close to the outer clips. The first outer bank is so much fun to drive, it literally shoots you out! I love it!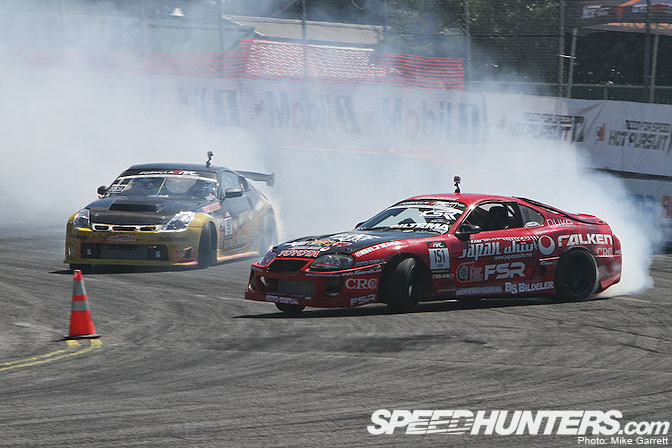 I kept my foot planted through the Power Alley. Yeehaw!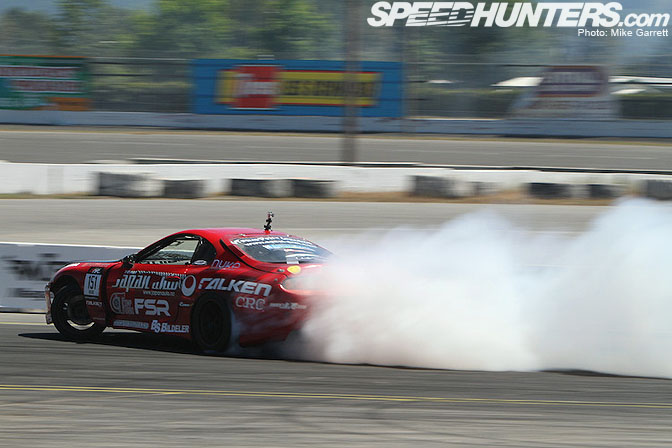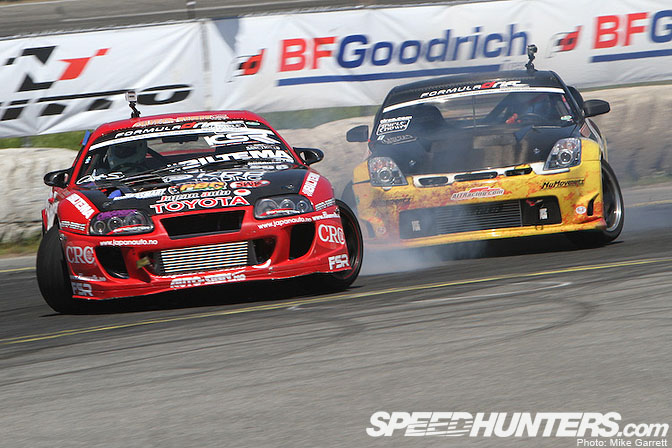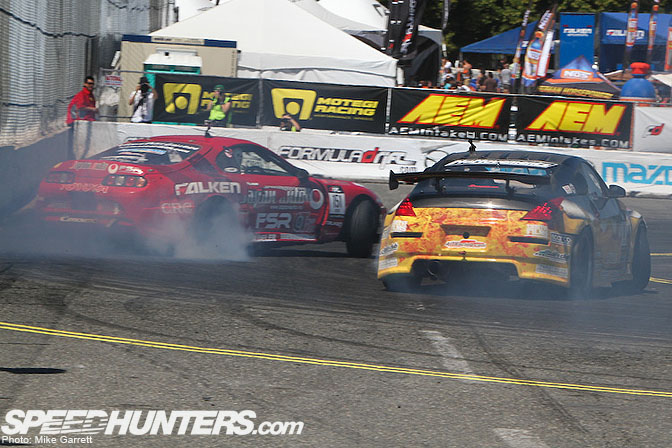 Pat followed close. Albeit being a little bit shallower at certain points he matched the pace and my line in an awesome way!!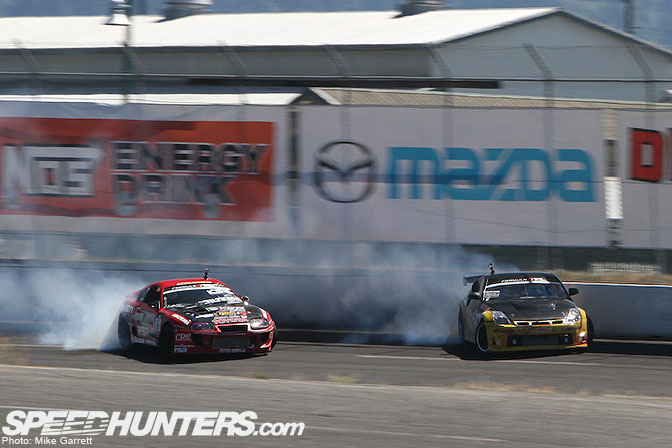 Then, it was Pat's turn to lead. My goal was to get closer to him through the course. I spun once following him in practice due to the speed differences coming down from the first bank, and this time I wanted to stay close without hitting him. Just barely sweep him, if I could.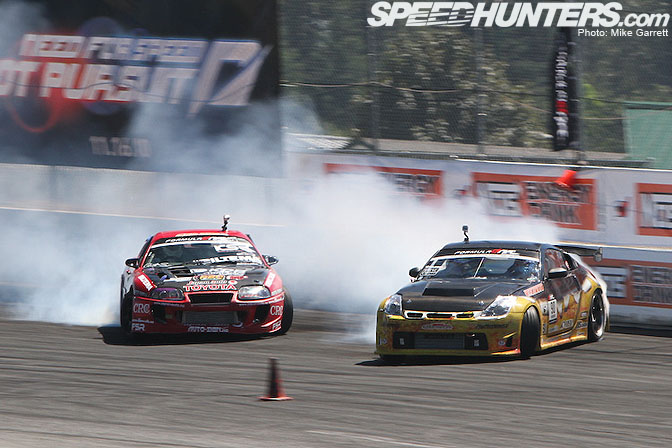 I was lit, though, and blasting through the Power Alley I gained speed and got close to him. Then Pat spun!! A crash was unavoidable, and my door hit his front fender. That was the first of many hits to come this weekend.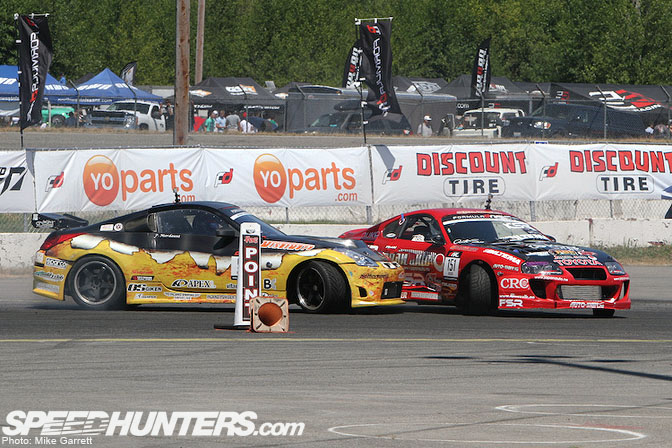 As much as I was happy to move on, I felt sorry for Pat spinning out. I admire Pat for being a very straight up guy and fair player, giving it all he's got time after time! He gave me a couple of super sweet tasting Tuna bits that morning, and I owe you Bro. Best of luck for the next rounds,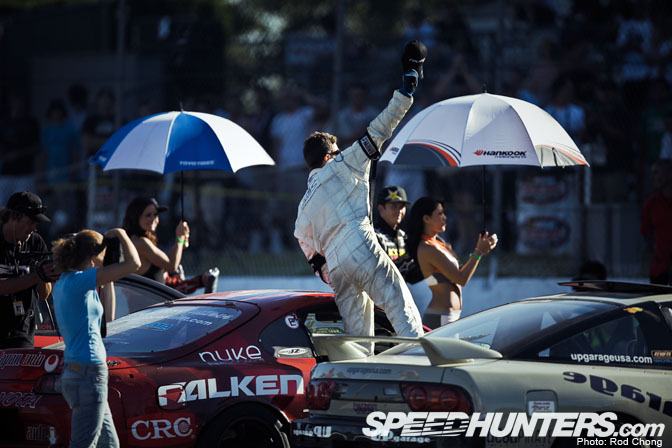 At the opening ceremony, I was so happy that we had finally gotten where I had always dreamt of being – in the Formula Drift Top 16!! I brought along Marc Luzuriaga, our mechanic and helper for the weekend that came to us after I posted up an online "Help needed – fun guaranteed!" post at Supraforums.com. We rolled out with Nikolay Konstantinov – the local hero that helped us out the night before lending us a torque wrench to swap out the clutch. Nikolay told me he had followed our way to the fourth place finish at Long Beach, and right now he was trying to hold back his tears standing there at the Top 16 opening ceremony. It was his first FD round ever, and it sounded like all of his family, friends, and even Mother Russia itself was up there in the grandstands cheering him on. THAT's the kind of moments that makes it all worth it!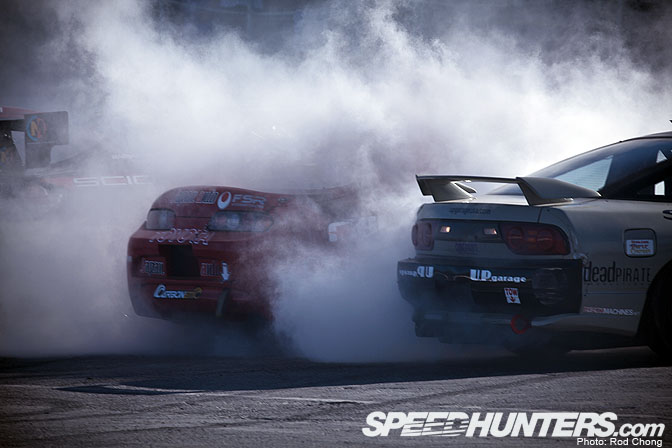 However, Nikolay and I quickly understood we had to man up for what was next to come. We felt like two boy scouts being sent to war, armed with zipties, duct tape and maybe a seasoned AK47 up our sleeve.
And war was exactly what we got.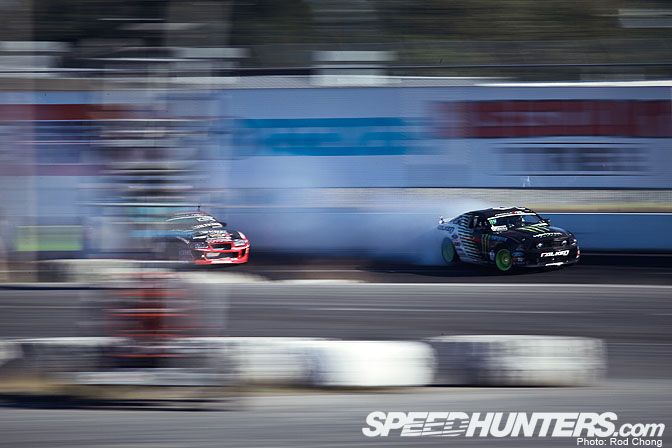 In Top 16, I was to meet Vaughn Gittin Jr. and his Monster Energy Falken Tires Ford Mustang – the man that currently sits in the #1 spot in championship standings.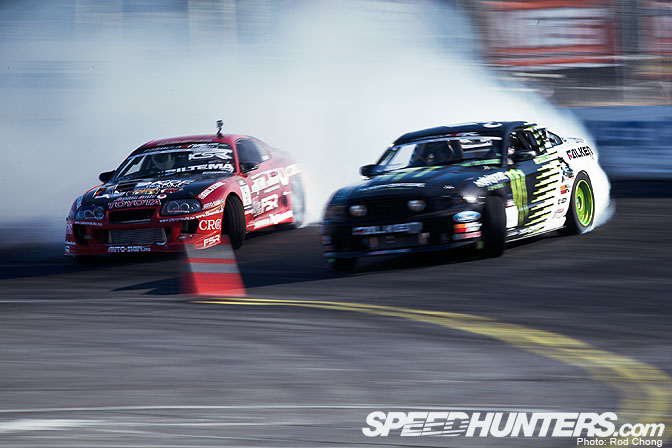 JR also qualified at the #1 spot at this event.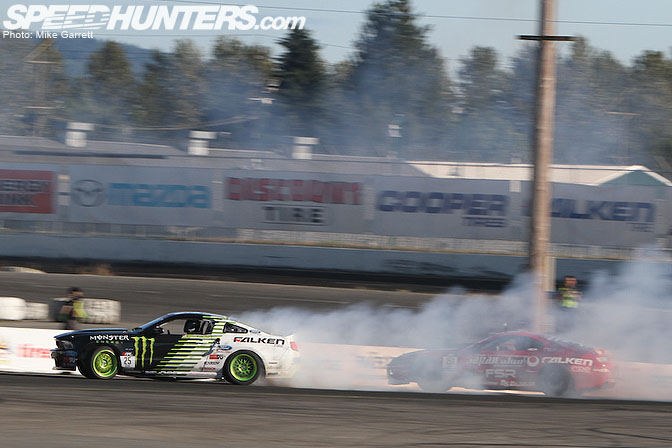 JR has had three consecutive podiums this season – one victory and two second place finishes. The only guy that had beaten the JR Mustang power package this season, was Falken teammate Daijiro Yoshihara.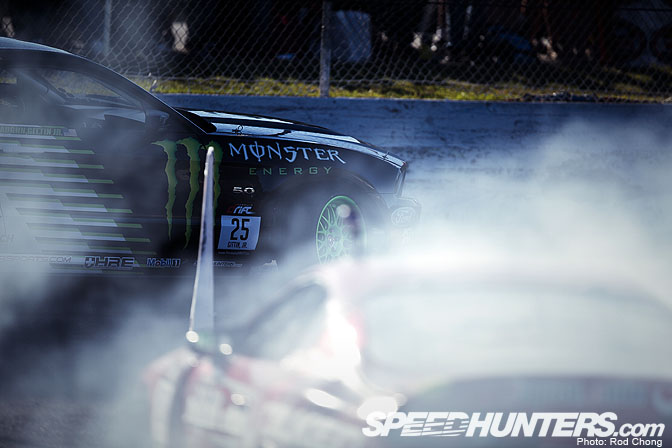 My wing man and spotter Steffen was so anxious and nervous for this battle that he had to look away during portions of the runs.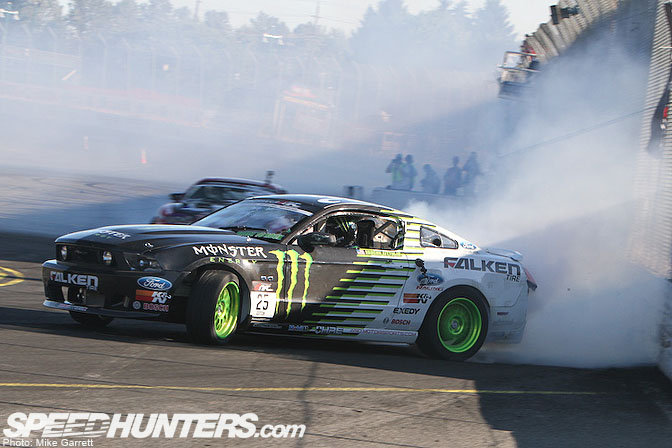 "One thing is for sure," he told me, "I will not get old from this drifting lark."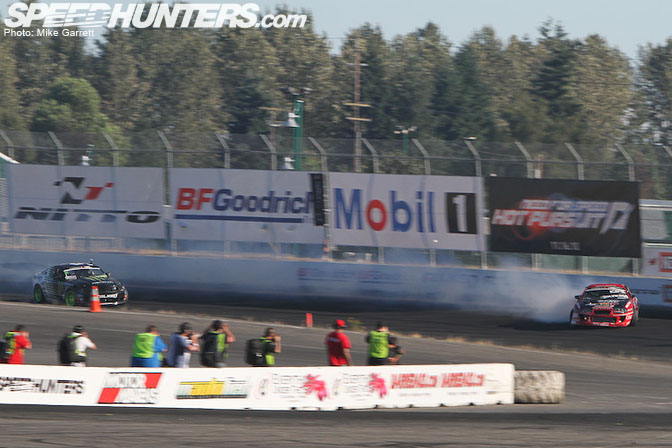 I gave it all I had. And a little more, bashing the rear quarters in the process and putting the world renown "Toyota Quality" saying to test.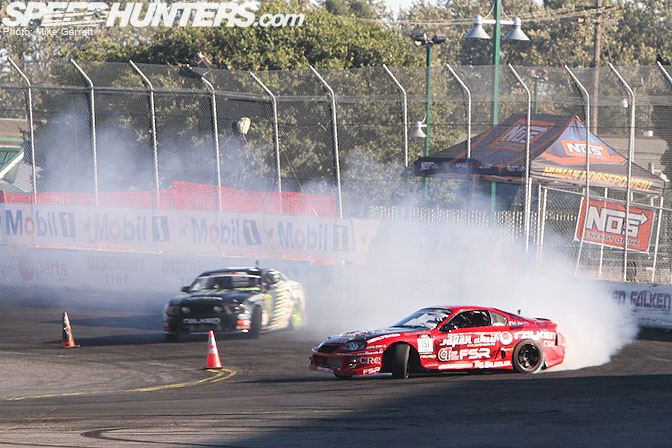 My jaws were bolted together – It's stupid, I know, but it happens when I am focused.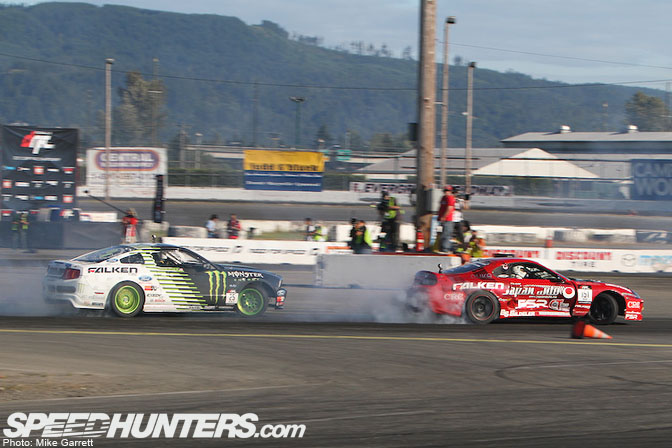 I had the time of my life – literally being pushed up against the fence, with nowhere to go but full throttle forward. The only thing to do when a Monster is chasing you!!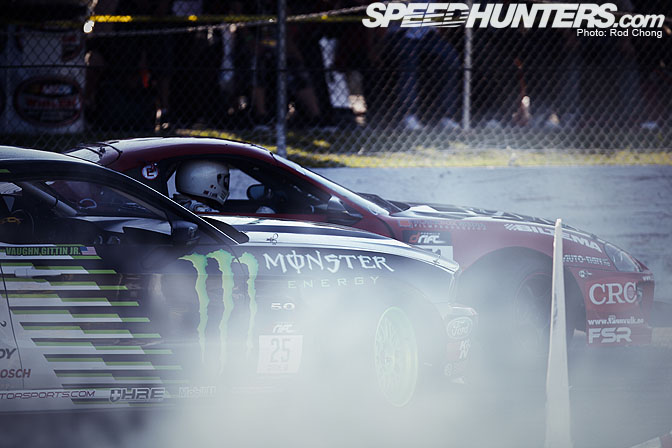 I really like the above picture. Thinking about it in hindsight, it gives me quite a bit of goosebumps. I don't remember much of what went through my head during the runs, but if this picture does not give you a slight sense of intimidation – then I don't know what does.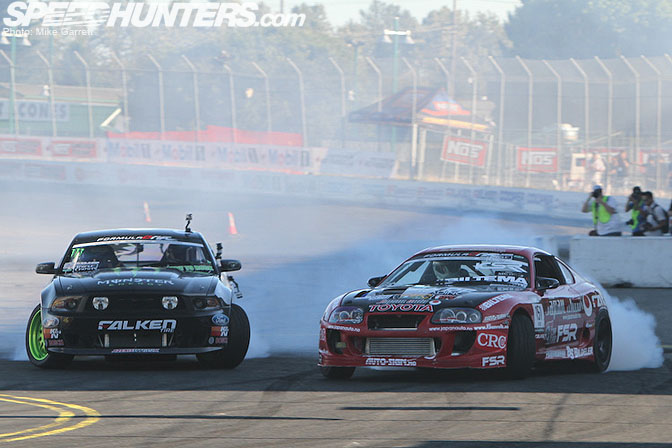 I knew I had straightened out in my chase lap from a slight misshift, and it turned out JRs runs were not pristine either. Apparently I had harder transitions, weighing up for my mistake. The judges called for a One More Time, JR called for a 5 minute break to have ASD adjust his rear end, and me? I was at the verge of fainting out.
You know how most days feels like just another day at the office? Well, for me, this day felt like pretty much the exact opposite – to put it mildly.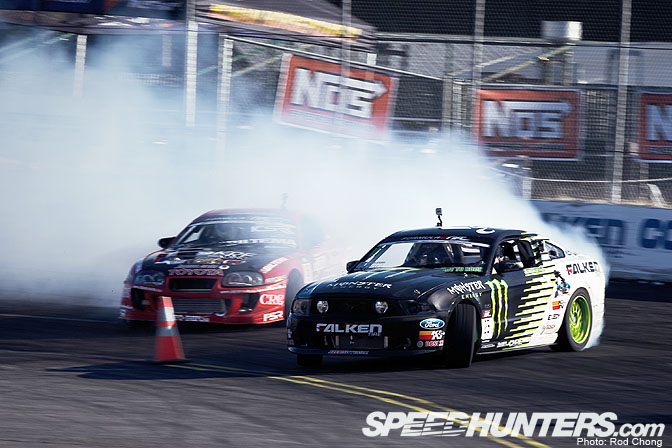 We headed back out, and this time it was no longer pedal to the metal – it was pedal through the metal. I had nothing to loose!
"Imagine this is at Gatebil back in Norway, and you are just enjoying yourself!" Steffen told me over the radio. And so I did.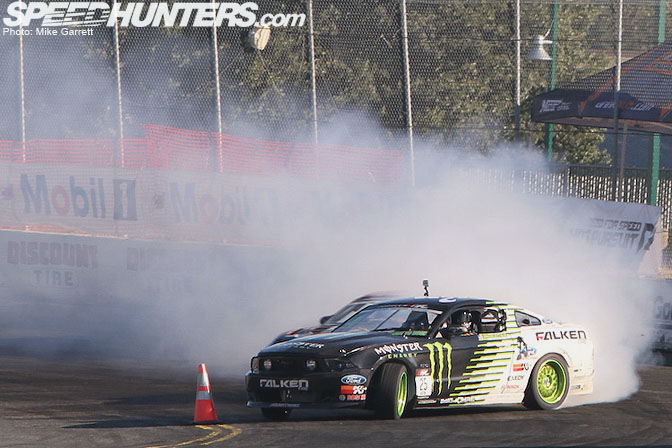 We were here to have fun, and learn – and in all seriousness – what is better than going full throttle in balls out cars, chasing the top guy and the driver you admire the most? I'll answer that one for you: NOTHING.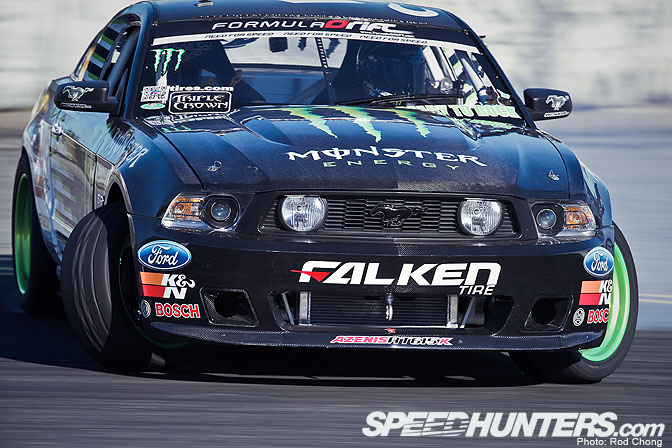 JR set up for a straight up gangster hard transition into the left hander, and following him I remember thinking "oh boy, this is drifting!!"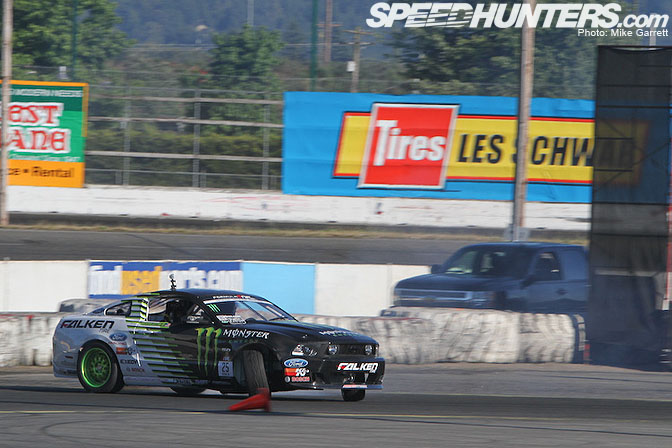 Unfortunately, his transition never stopped. JR rotated, rotated some more and spun in front of me.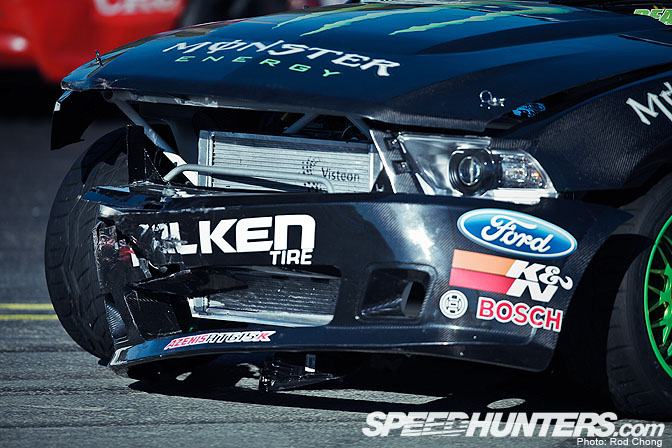 I remember closing my eyes. I were too close and had nowhere to go. Boom! I knew the hit was hard and when trying to drive from the spot, my right rear wheel rubbed hard and the car drove sideways like a Nascar. I could hear Steffen jabbing along on the radio, half shocked and half trying to inform Devin and Marc and have them ready in the pits with a couple of sledgehammers and pry bars. It was evident we had to bend back the right side door and the rear fender to be able to go out for the next run. Ash and Jason came to the spot helping us out, and the next couple of minutes saw some real tense body prep being carried out… Both JR and I eventually got ready, we lined back up – and took off.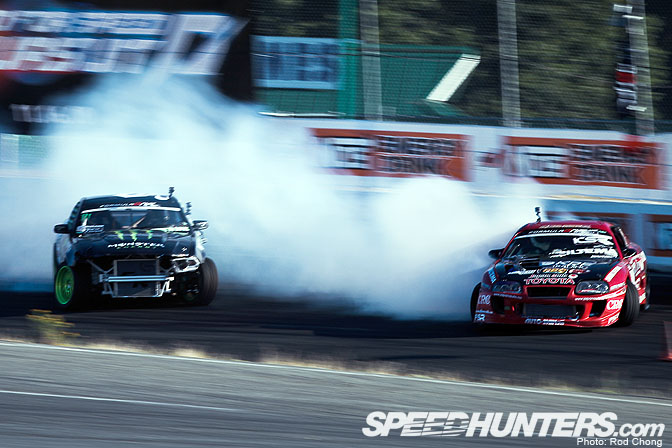 I was alive!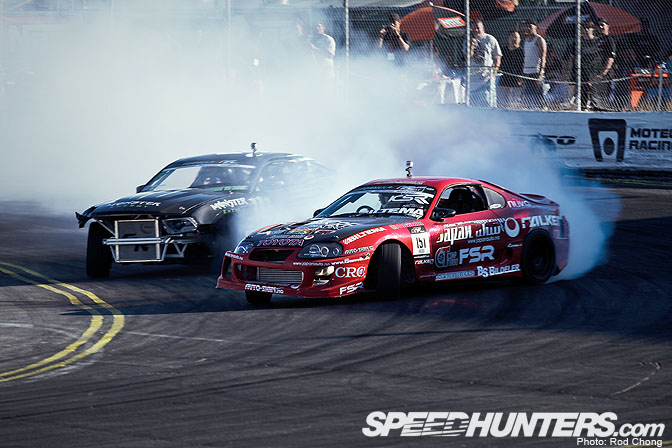 And so was JR!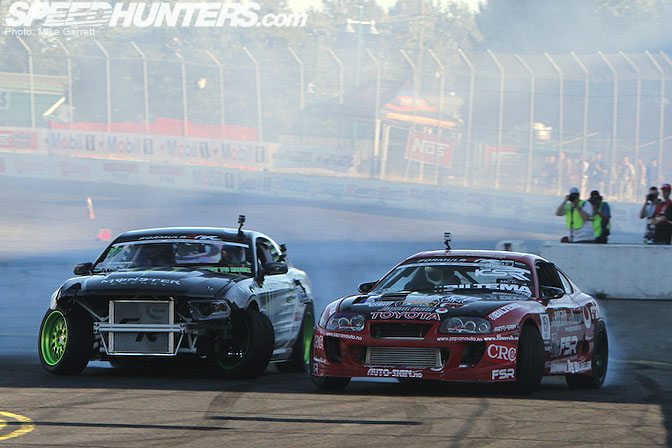 I gave him a little room round the last clip and he was right there, proving why he has become the top Formula Drift contender.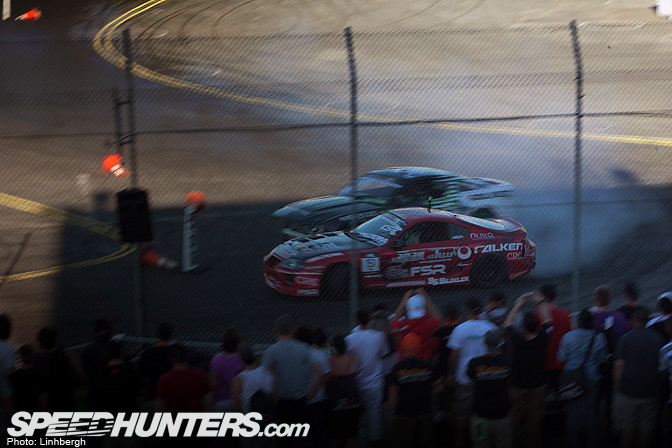 I could hear and feel the presence of something black besides me.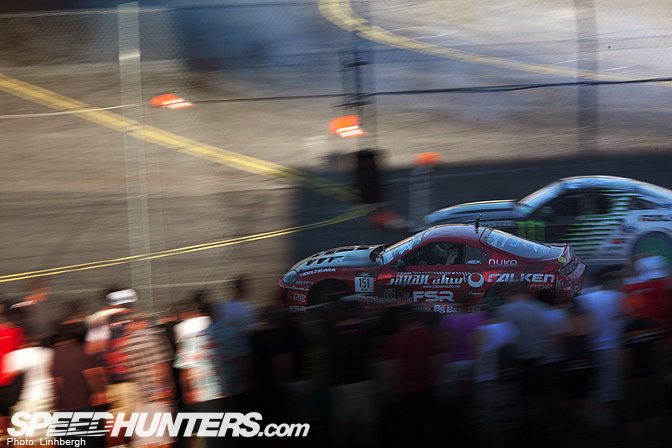 I floored it all the way through the course exit like there was no tomorrow, and I was through.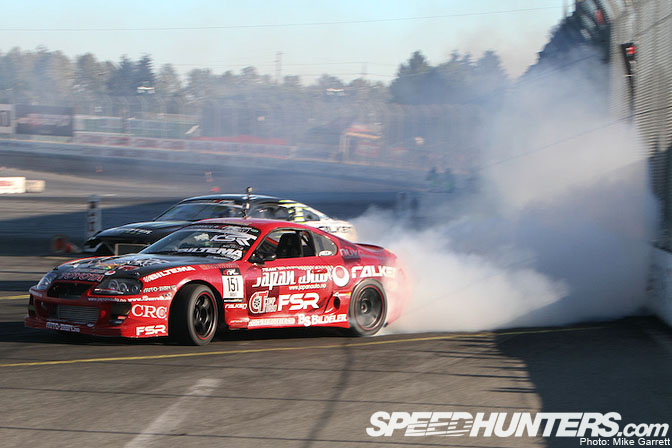 Actually, Team Japan Auto FSR, and WE MOVED ON TO THE TOP 8!!! While Jarod deemed me "Champ Killer", I got speechless. And I still am!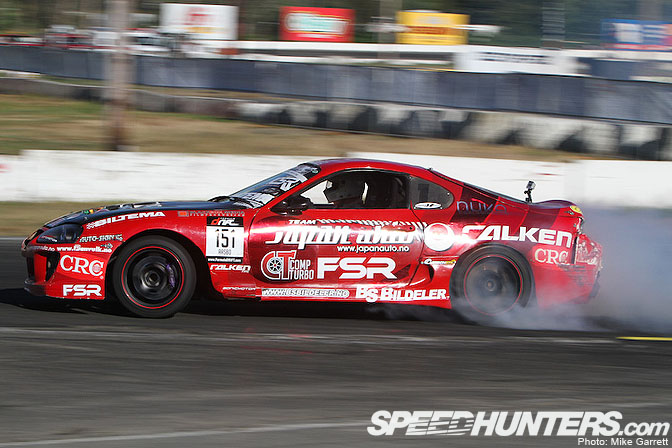 A huge shout out goes to the entire Falken Team, including JR himself. Right before our Top 16 battles we needed to weld back together our Wastegate outlet as it had come loose. Falken stepped up for us without hesitiation, lending us their TIG welder and the tools we needed so we could head out there battling their top guy. There should be medals for that kind of spirit.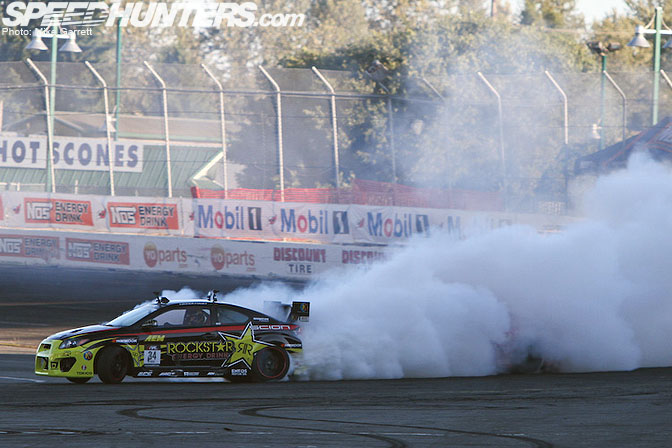 We were in Top 8. That's top 8 out of 43 drivers and teams participating, and only the cream of the crop plus our ragged car and team were left. We were up against Tanner, and if the battle against JR wasn't intimidating, well – this was!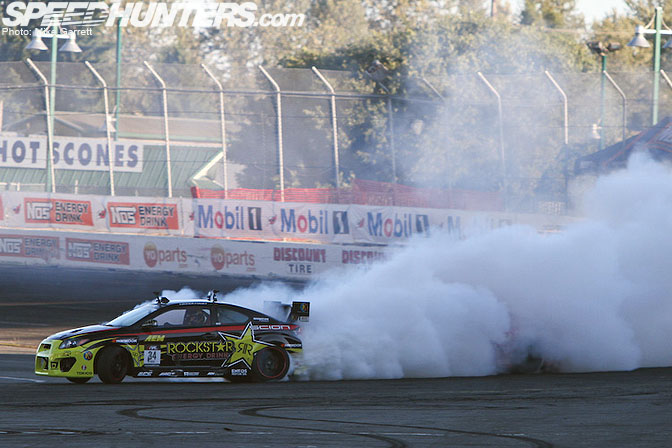 "Houston, we have a problem"
"What is the problem?"
"Well…."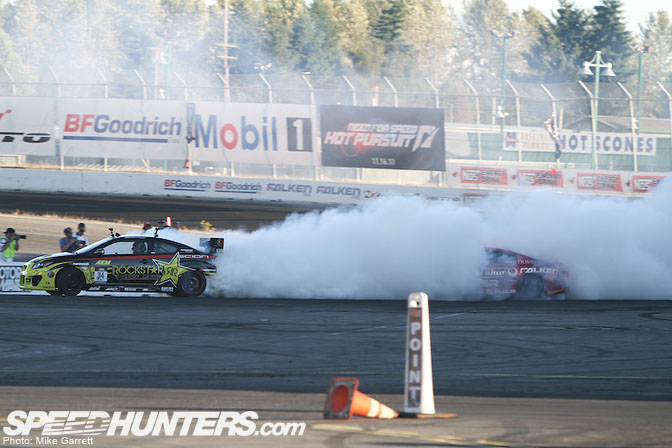 "…it's hard to see."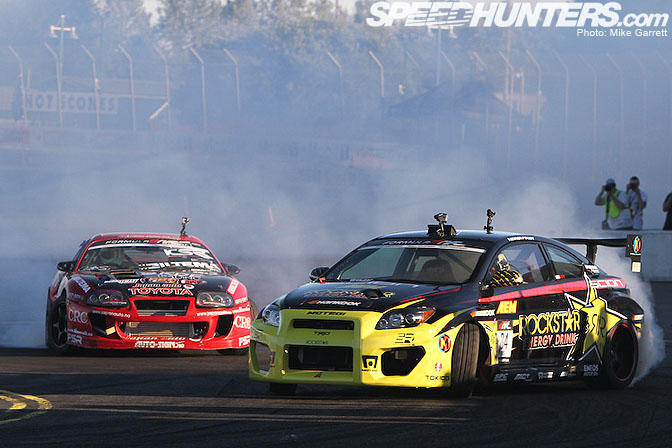 One thing I really admire Tanner for, is he's ability to adapt. He can adapt to any car, any driver and any course, and I feel so fortunate to be able to go up against a guy of his caliber. I learnt so much from battling him in Long Beach!
And I learnt a LOT from battling him at Evergreen.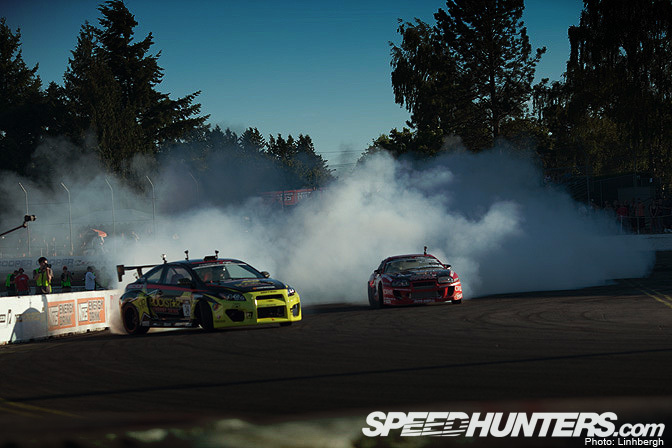 I had one major mistake in my chase run, where I dropped down from the bank too early.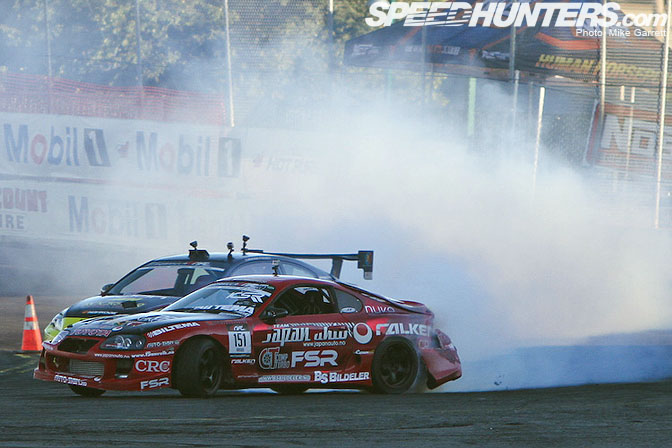 My second mistake was in my lead lap, where i overshot the exit from the bank, going way wide into the Power Alley.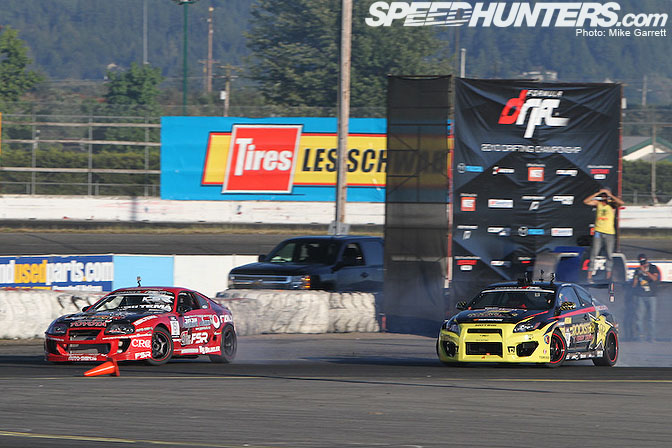 But I have to say – it's better to overshoot, than not shoot at all.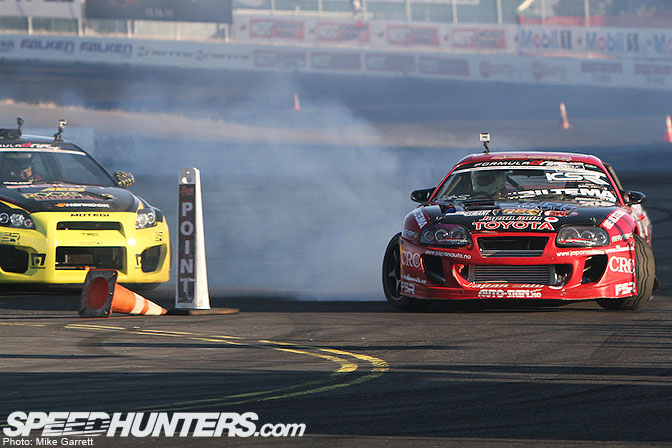 Prior to heading up to Seattle, Ian Sai-Ngarm, owner of our second home FSR Motorsport Creations, told me good luck in his very own, patriotic way, "In football, players leave it all on the field. In drifting, you leave it all on the walls."
Well Ian, I can assure you a followed you on that one!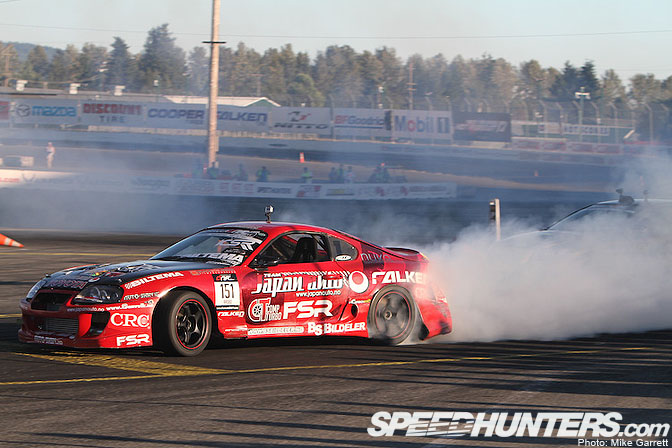 We did not move on from battling Tanner Foust in the Rockstar Energy Drink Scion tC, but we had one judge vote for a One More Time. Tanner eventually moved on to win the event – a great job and a well deserved win in my eyes!
Tanner came up to me prior to the race and he said he had met many friends of mine the weekend before at the Swedish round of the European Rallycross Championship. I think it's great how a world of gear heads and racing enthusiasts can bond together just like that!!
I really appreciate all of the nice comments we have been getting from people greeting us and saying they enjoy having us compete in FD. To be honest – the encouragement we have been receiving from people is so overwhelming that I don't really know what to say other than A MILLION THANKS!!!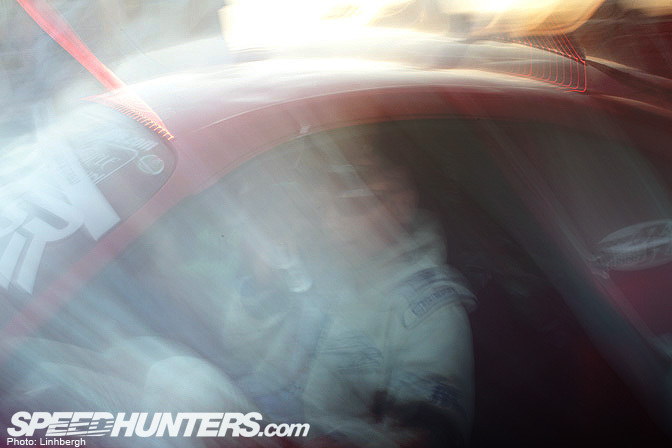 I can assure you right away – for me, there is no better feeling than holding your foot down on full throttle, running some of the most sticky tires around, in fifth gear, on the edge next to a concrete wall, going sideways, next to another maniac, well, actually one of the worlds best drivers in his field, going deaf from the engines screaming and on top of that not being able to see anything due to tire smoke everywhere – and you are still holding your foot planted to the floor.
That's when I feel alive.
We may not have the best car, we may not be the best team and I am certainly not be the best driver. But we do have a Japan Auto FSR Supra, and you can be assured we are putting our hearts into it and giving it all we've got. In respect of all our sponsors, friends and family that have helped us out along the way – thank you, I love you all.
HOLD STUMT.
Thanks,
Fredric