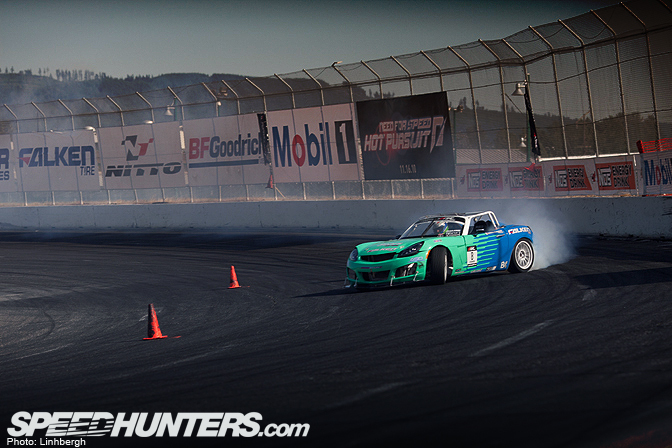 Hello Speedhunters! Welcome to my driver blog of Formula Drift Round 4 Seattle. I think this event will be remembered as the turning point of the season. What was needed was the top two in the championship to have a below par finish and the rest of the grid to grasp the opportunity and claw back as many points as possible.
That's exactly what happened.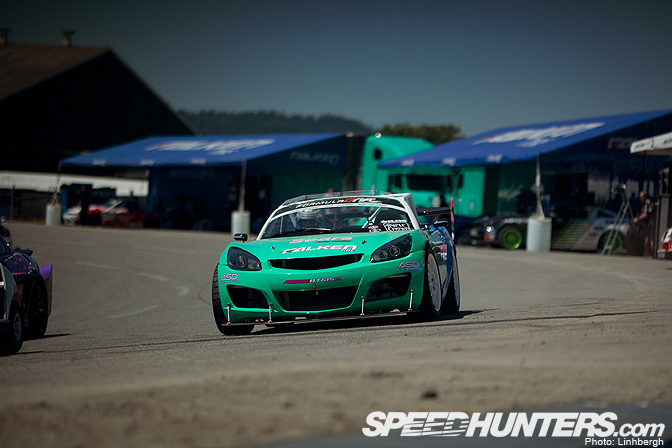 The Saturn Sky was back in pristine condition after my argument with the wall (and Tanner) in New Jersey. I was getting a lot of stick from the guys at ASD for giving them paint and bodywork to do after every event. So far this season its been kinda wreckers or chequers attitude.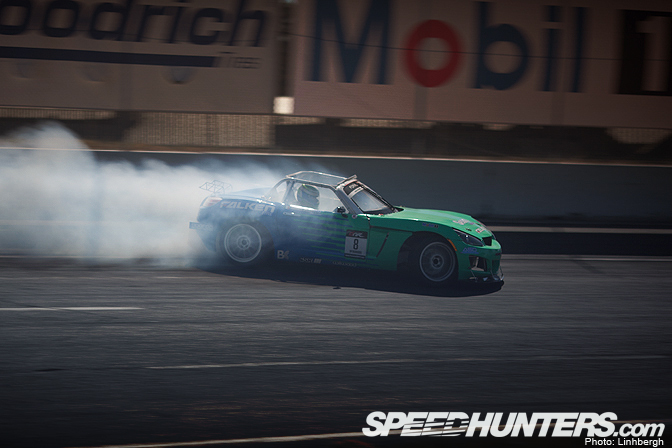 So, let's go clutch kick and ride the wall of a banked oval at 80mph…….. not much chance of damage here right??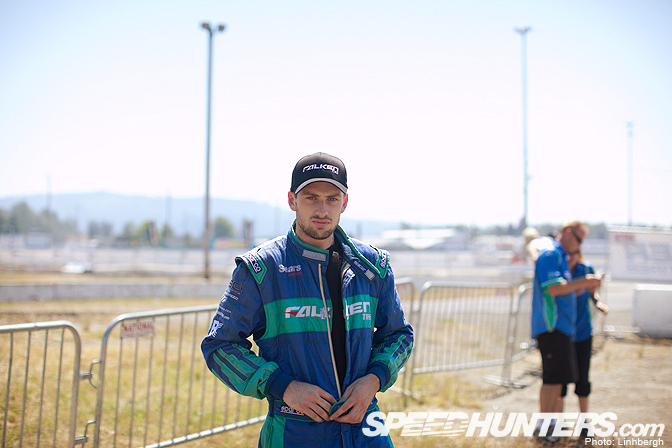 Now what is it with the weather at drift events this year? I thought to myself, "Great! Seattle will be nice and cool, a welcome break from the heatwaves of Atlanta and New Jersey" I even brought some jumpers in my luggage. But no, it was crazy hot once again and Round 5 is in Vegas! It never ends….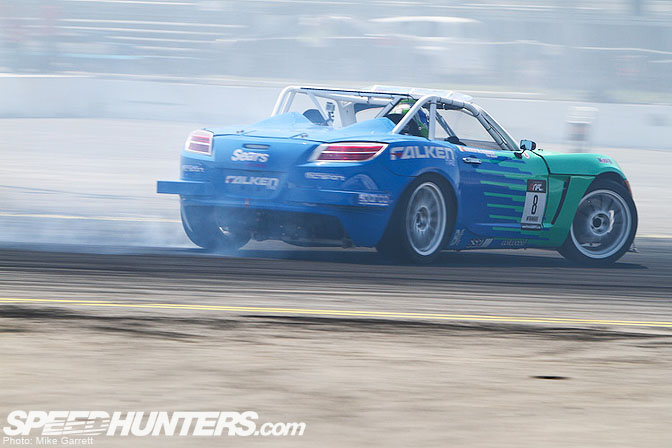 You may notice the Sky minus its rear wing. We did a lot of setup changes on the Sky throughout the weekend and the one we went for in competition didn't require the wing. It amazes me how sensitive to changes these little cars are!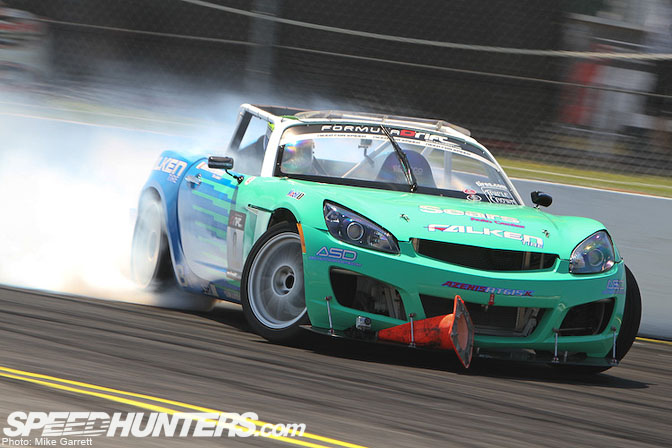 My cone catcher was working perfect. That must have looked good on the GoPro….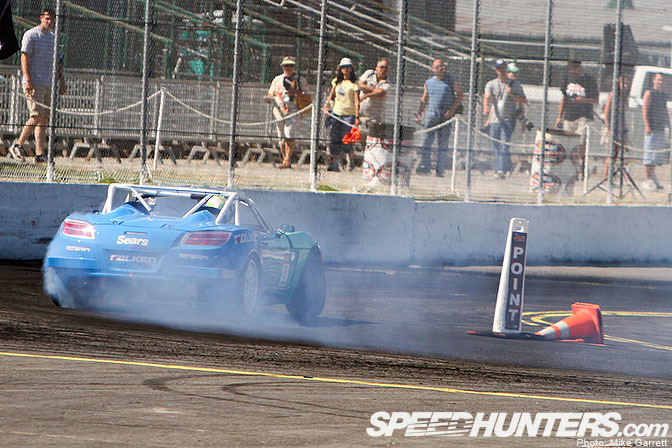 Usual qualifying tactics have served me so well over the years. A solid first run…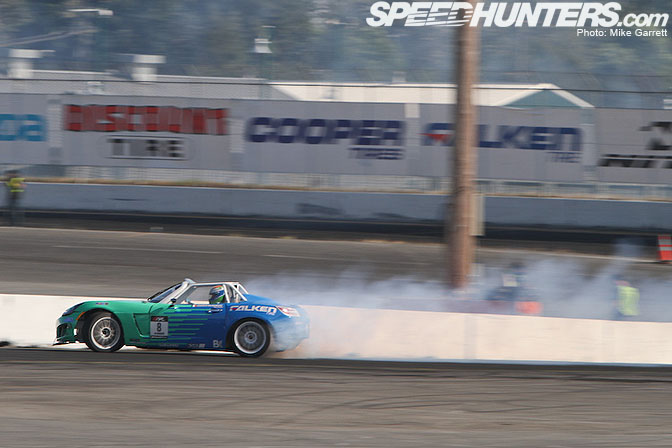 …and gangster second. Qualifying actually went better than I expected. Some of the guys, like JR and JTP, were riding the wall the whole way and the judges were loving it. It's way more difficult to do that every time in the Sky with so little overhang on the rear. You often end up getting the rear wheel into the wall and at 80mph that's pretty scary.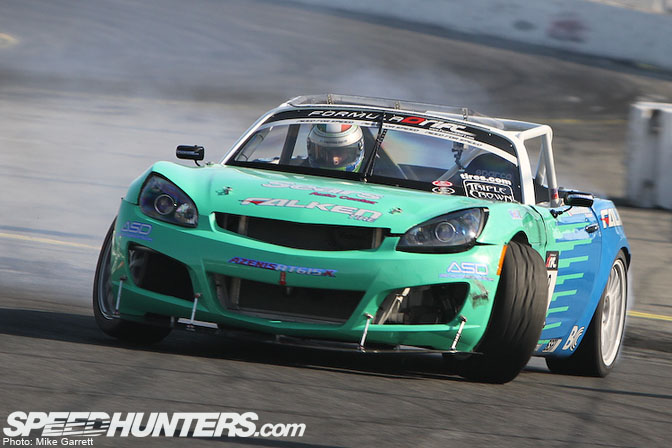 So when it was my time to man up, I tried to run as close to the wall as I could without actually getting touching it and sending one of my bumper corners flying. This coupled with my infield speed which was 12mph faster than anyone else gave me 4th overall. Well happy with that!! You may notice front panel gaps are gone a bit mad, that was from pushing a Camaro in practice, sorry ASD……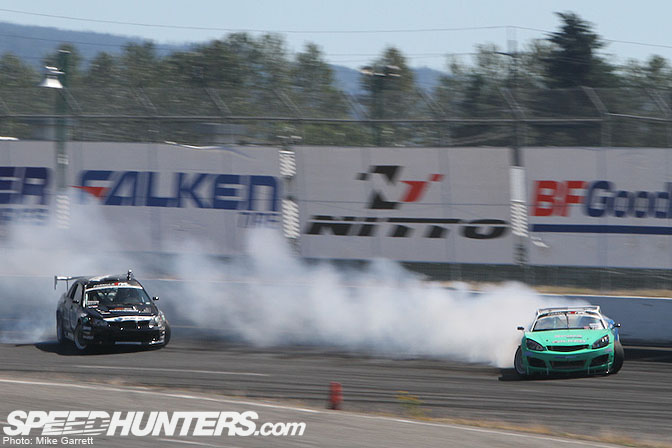 Moving on to Saturday, my Top 32 opponent Stefan Verdier got to chase me during practice. I guess tactics come into play here some bit. A lot of people don't want to show what they got and sandbag in this situation. Others continue running hard and dialing they're car in. I wonder which one am I???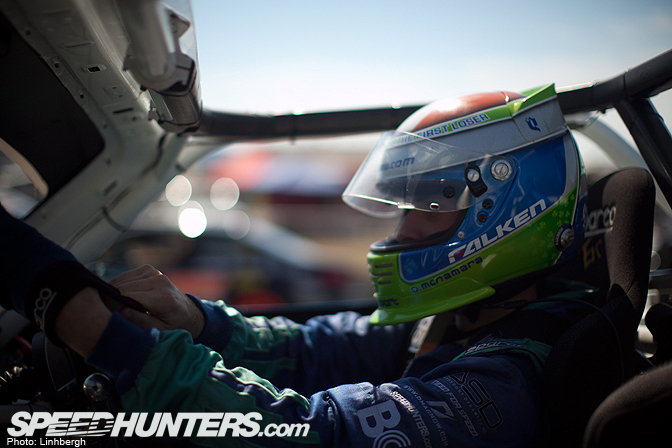 Gloves on…….its business time!!!!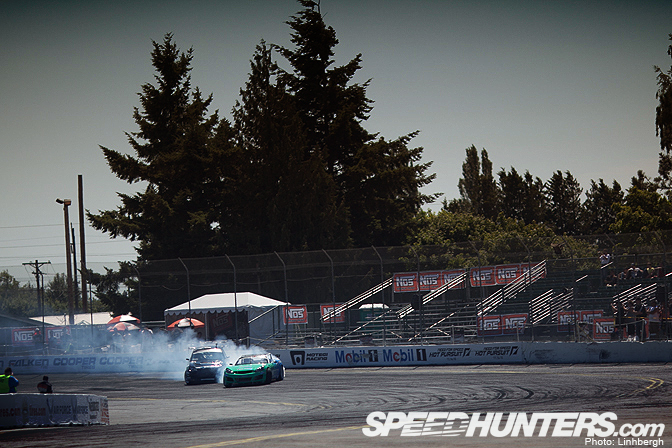 The top 32 is so nerve racking! If you get knocked out the you don't even make the opening ceremony. Thankfully, I haven't had that feeling in a while.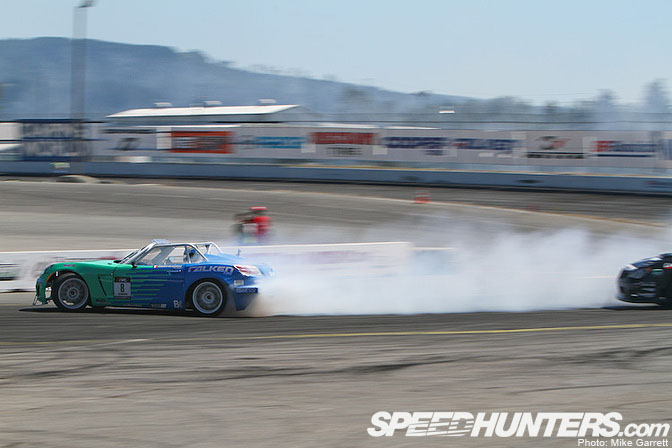 Looks like Stefan ran a little wide as I power towards the second outer clipping zone……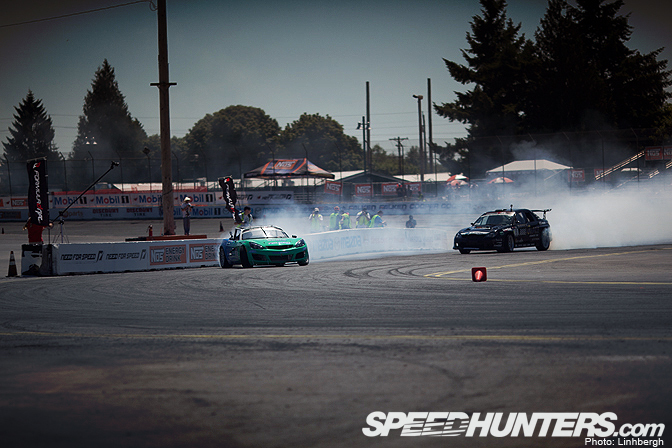 His little error gave us the advantage we needed.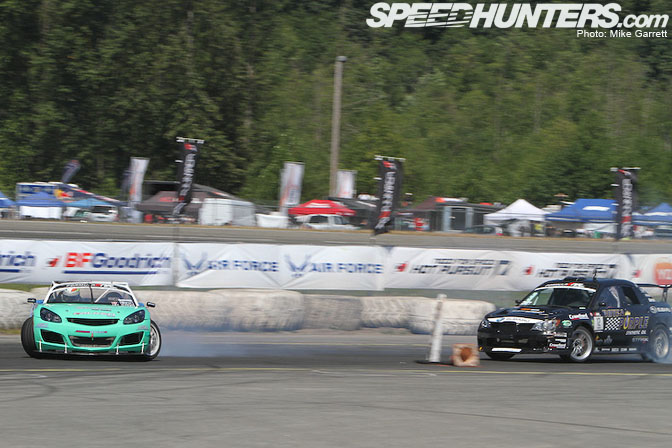 Big angle from the Sky, almost ninety degrees to the clipping point.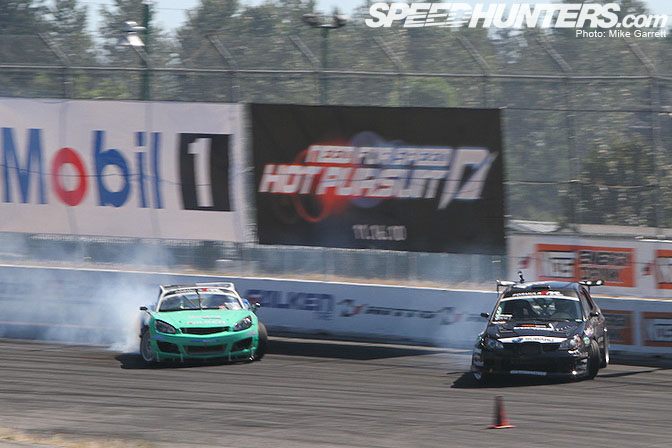 Time to chase….I gave Stefan a little gap on the bank, the last thing I wanted to do here is knock myself out.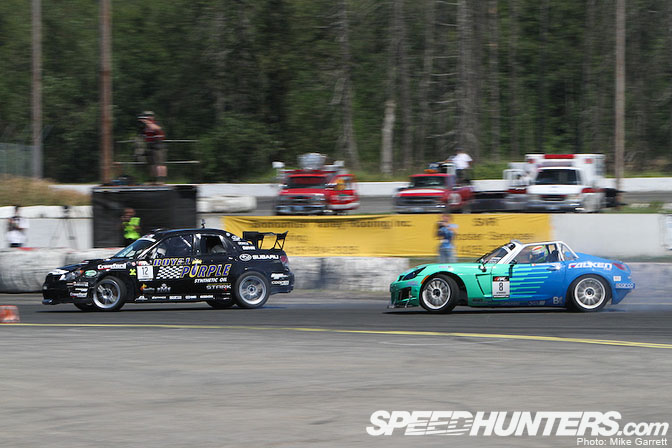 The Sky was feeling good and my confidence was starting to build. I felt like I could place it where ever I wanted.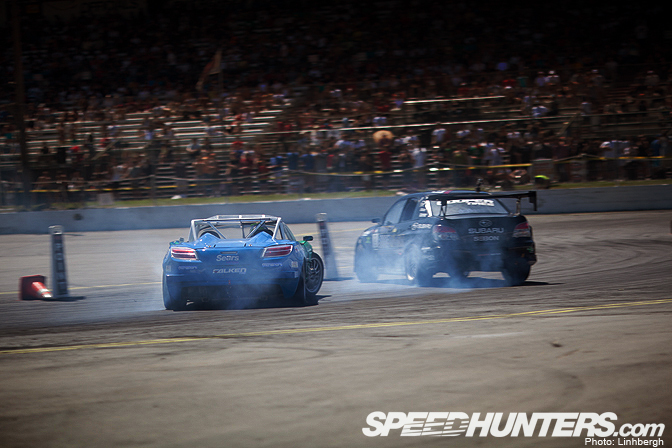 If I could close in tighter on the final two clipping point the battle was surely mine…..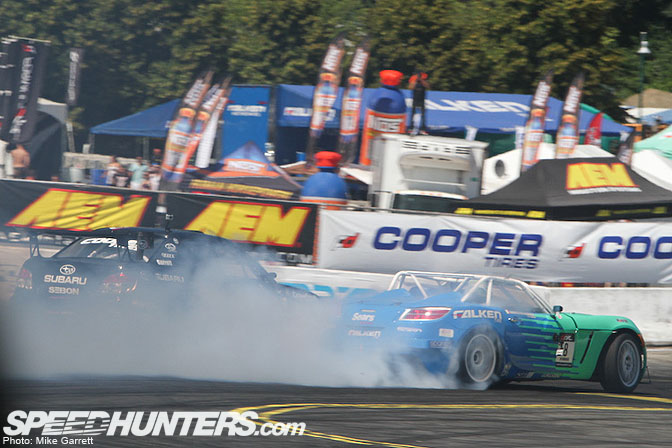 There we go! And finished off those Azenis RT615K's while I was at it. We were only getting 2 runs from a pair of brand new 275/35/18's.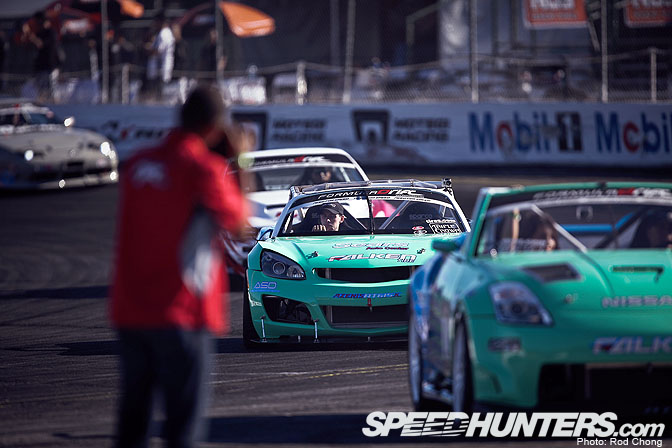 Time for the opening ceremony and all Falken cars are in the grid. I got no girl in my car though, I wonder what happened there????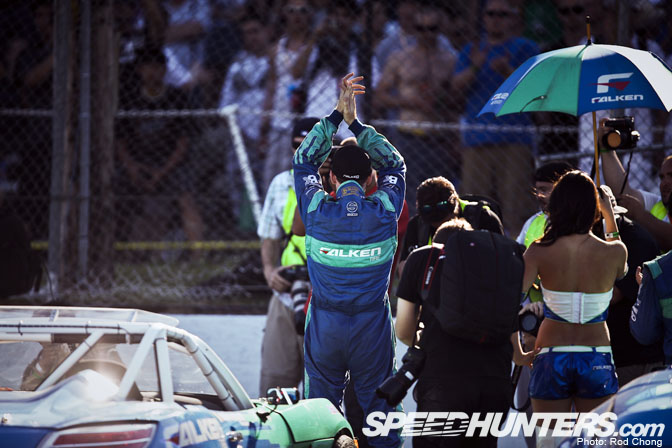 The crowd in Seattle was awesome! The place was completely packed out and they were about to get they're moneys worth. Carnage and some of the hardest fastest drifting ever lay ahead. And for me? Top16 versus Mad Skillz Millen….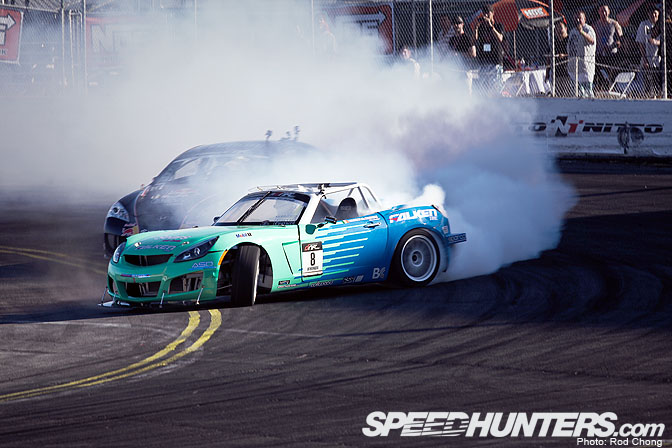 I lead for the first run and left the bank a bit early in an attempt to fog out my opponent with 615K smoke.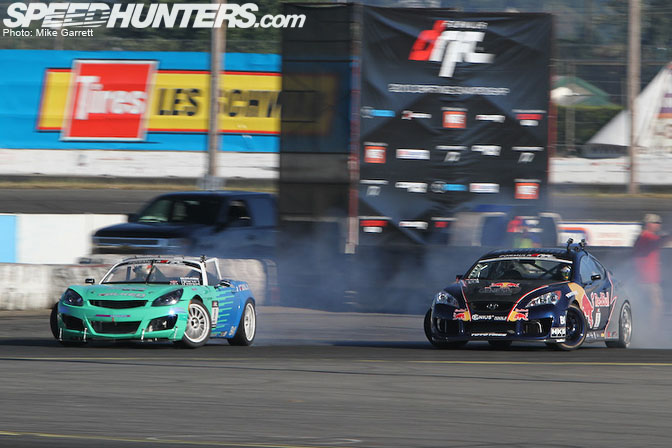 Rhys was right there. The most I could pull away was one car length!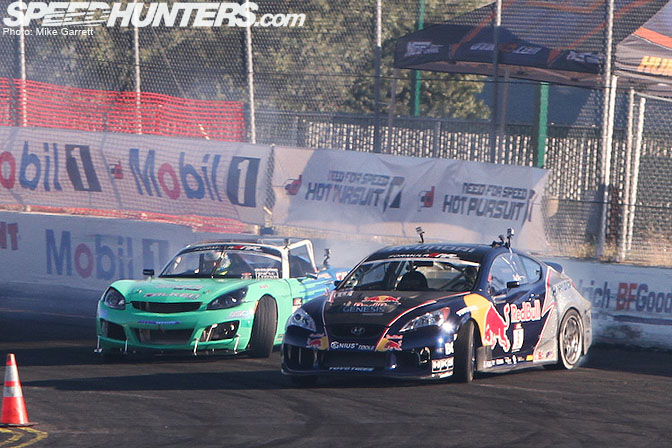 My crew chief radioed me after run one and told me he was right on me. I was gonna have to chase hard if I didn't want a OMT. So, I was not going give Rhys an inch and try and make myself the clear winner.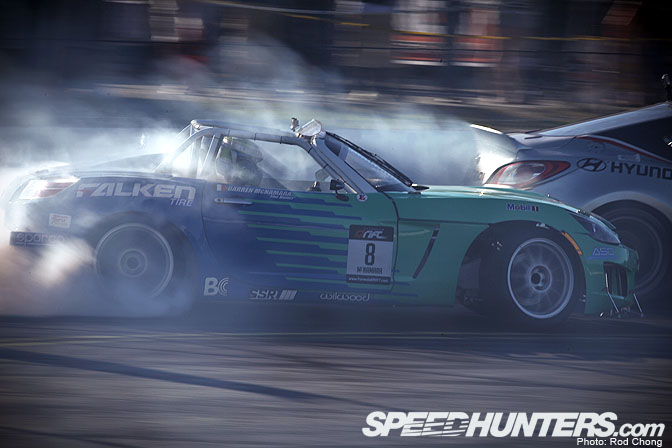 Thats almost perfect!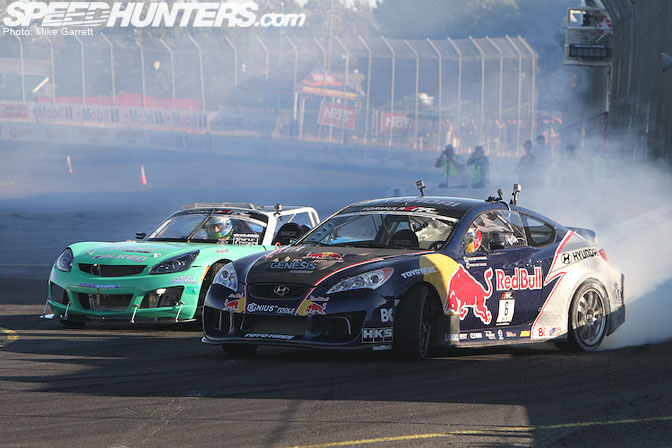 Job done! My close chase run gave me the win and a match up with current champion Chris Forsberg. Man this was one tough bracket I got!!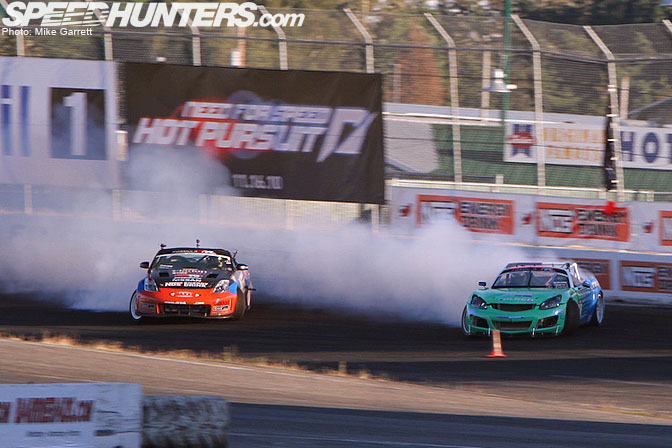 Time to lead again. Is it really an advantage for the higher qualifier to lead. I remember chasing on the first run in Atlanta and I loved it. Maybe the higher qualifier should be given a choice??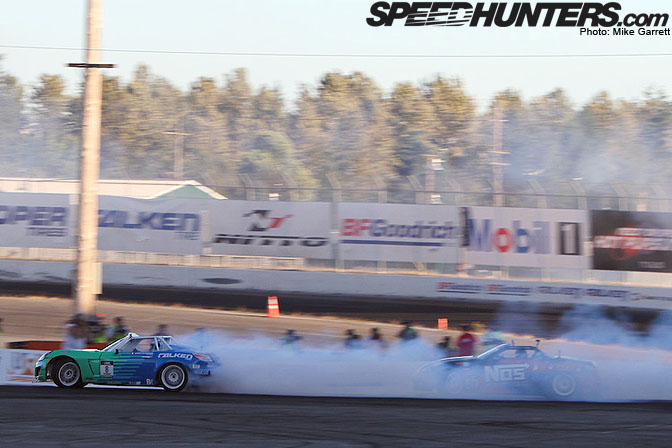 I was able to pull from Chris under throttle….
But he was doing a good job under braking.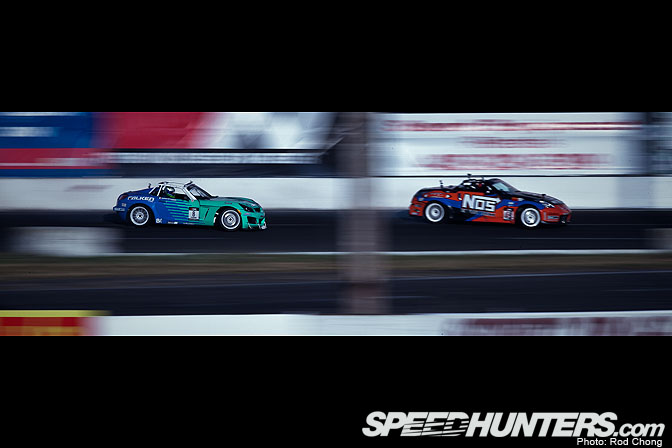 Time to chase again. I was determined not to get caught out like I did last year. Chris can add so much angle so quickly and scrubs a lot of speed. You have to really predict what's going to happen and make sure you're ready for what it.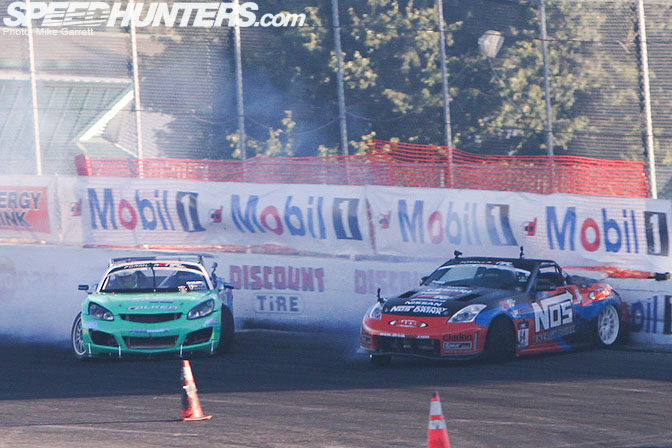 See what I mean!! This looks like an accident waiting to happen…..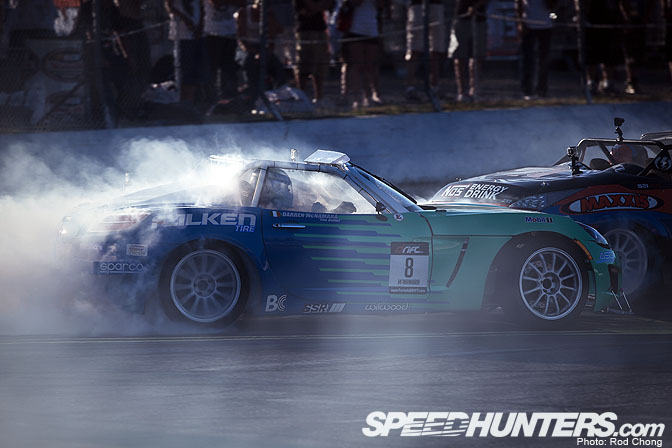 Now it was time to reel him in through the infield and finish strong!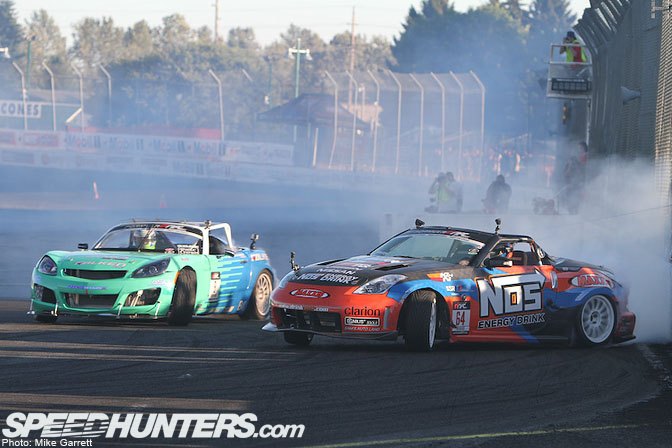 And we got the win! now time for the Final 4 and that Foust fellow…..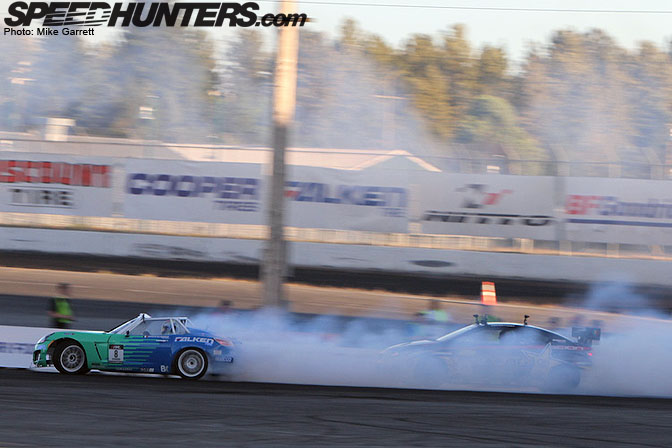 Now every sport has its rivalries: Senna and Prost, Earnhardt and Waltrip. Dare I say Tanner and I have the biggest rivalry in the sport right now??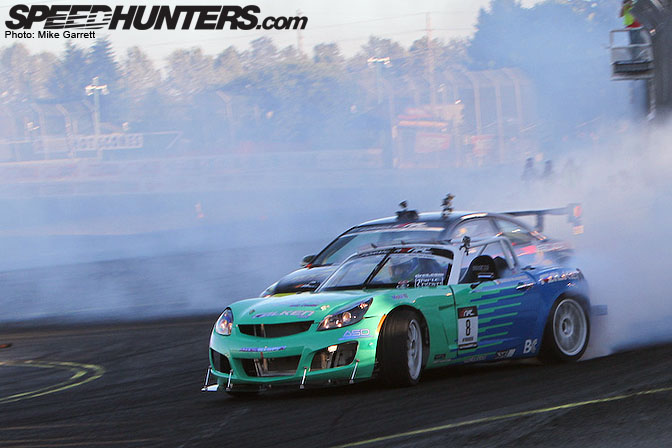 These runs were the most amazing of my career so far.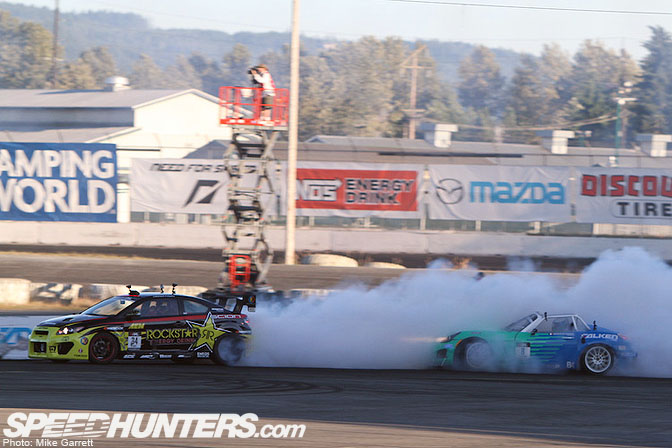 We just ran again and again –wide open throttle. From midway through the bank the sun went in your eyes. Combine that with all that tire smoke and visibility dropped to zero. I kid you not. I was listening for Tanners engine note to drop and then I knew it was time to hit the brake.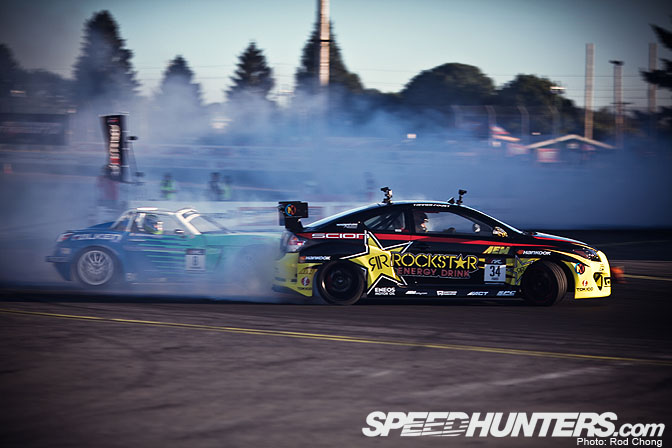 …and neither of us gave an inch.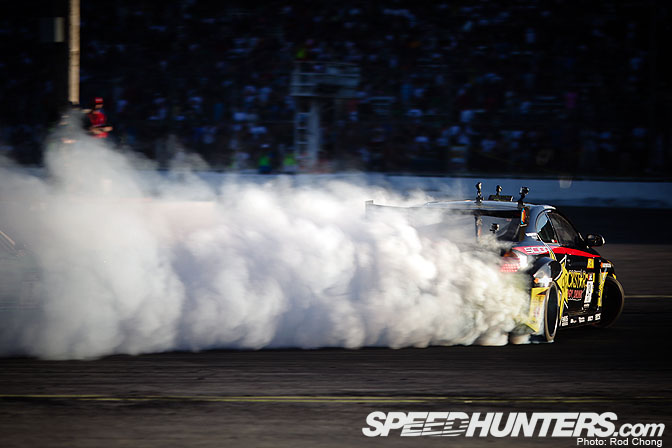 I'm in there somewhere….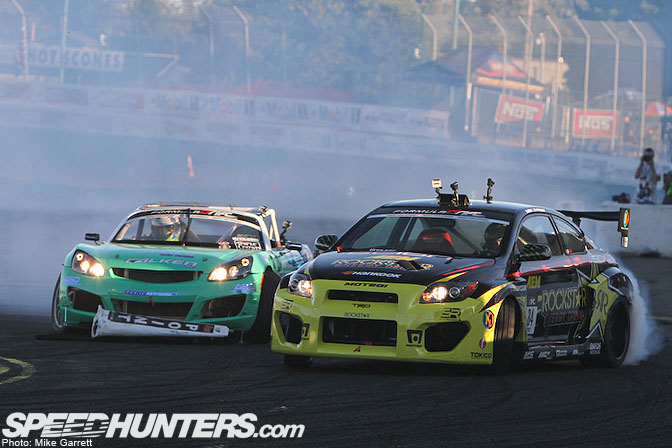 A one more time was called to try and decide a winner.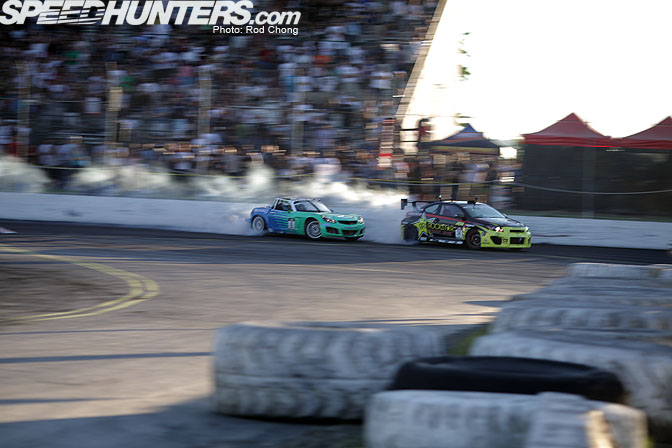 And we just kept on running….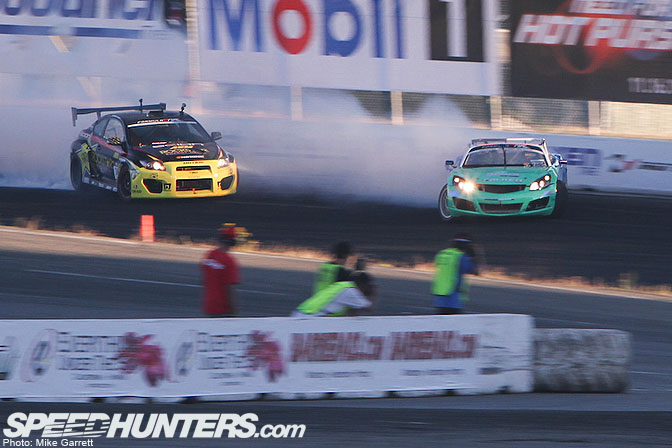 It must have been spectatular to watch and listen to with 1500hp on track going 100%!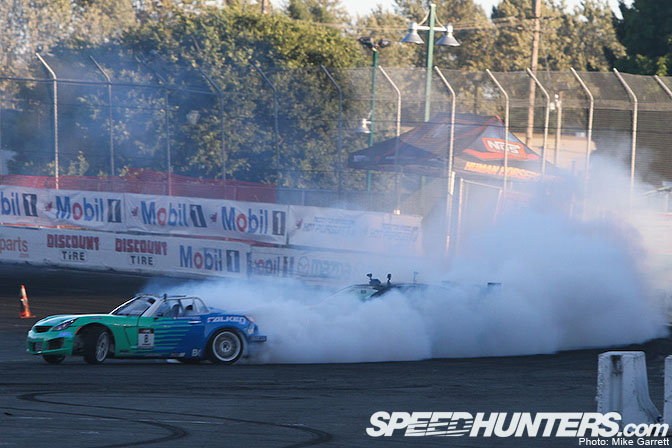 Take some 615K, Foxy!!!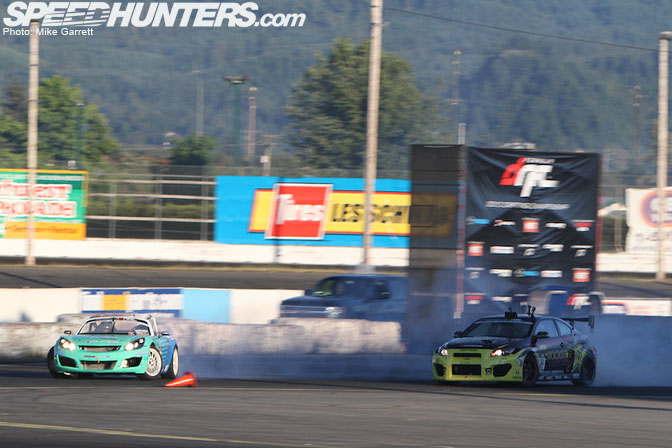 I really thought we had an advantage on the first OMT run. I managed to pull one to two car lengths on Tanner and I definitely was not going to let him get away on the chase run!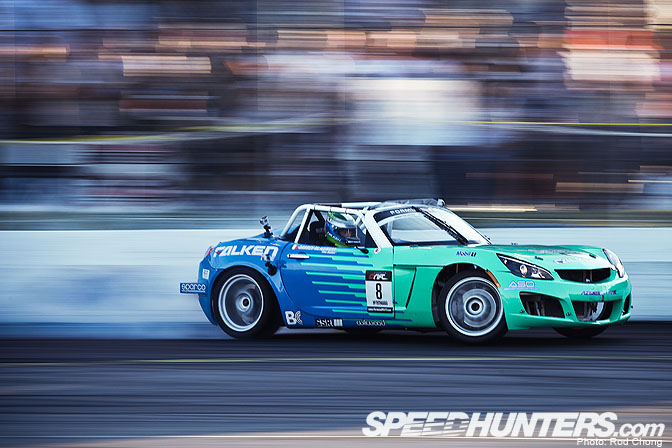 I set off ready to chase him down and get pay back for New Jersey!!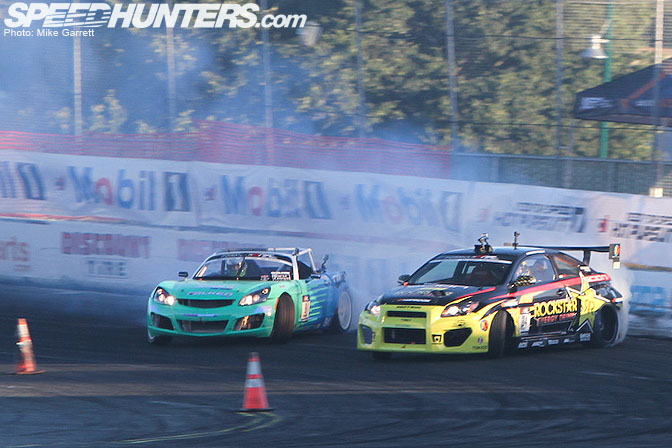 And I chased him off the bank hard!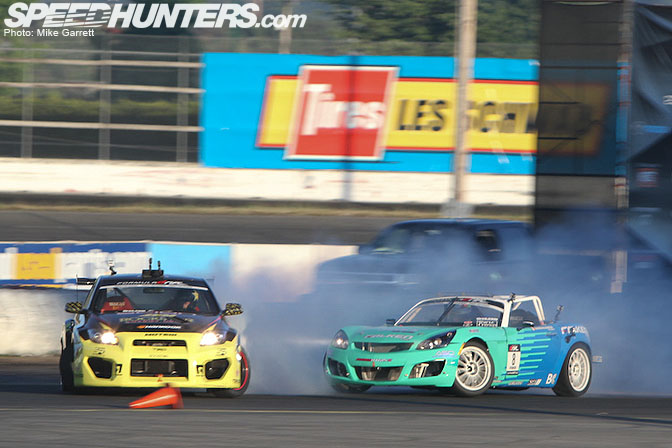 And aimed for his door on the transition….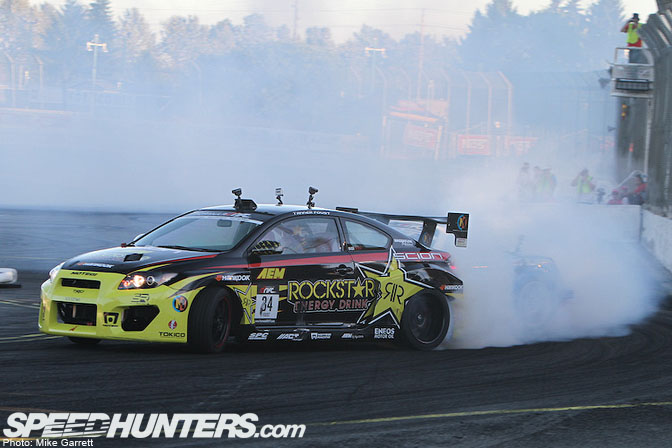 I made sure my headlights where in his mirror at the finish line so he knew what was up!!!
I also remember watching the start Marshall waiting for the decision and talking to him under my breath. And then he raised his hands and extended one finger on each. Not another OMT you gotta be kidding!
Time for more tires and more insanity.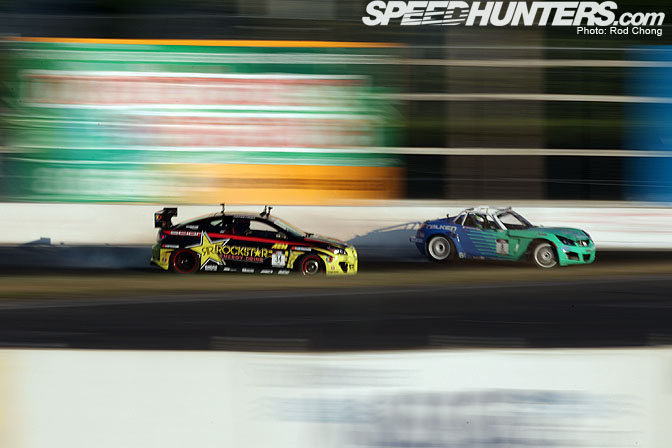 And the madness resumes.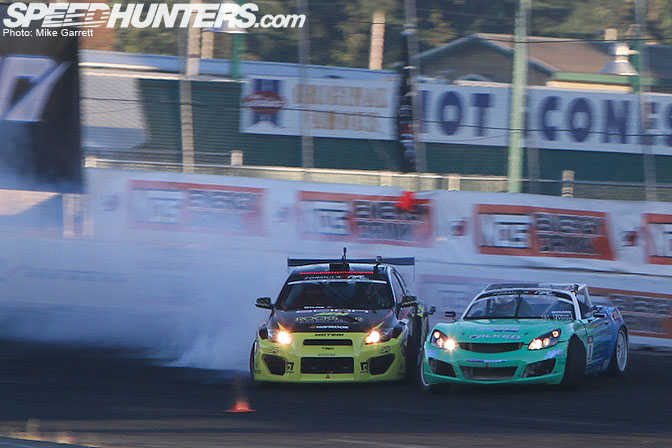 Tanner was pushing very hard this time and with his left foot on the brake it seems….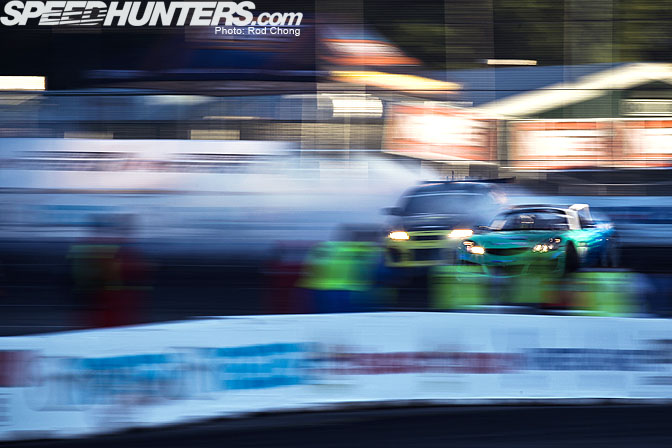 He made contact with my rear wheel. My left hand on the e-brake and my right hand lost the steering wheel from the contact.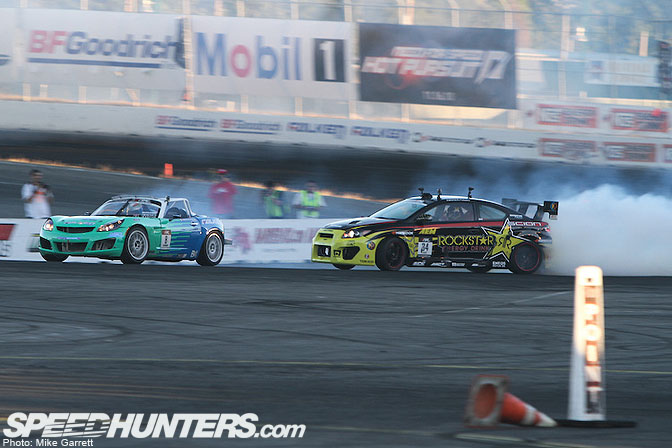 And thats when I straightened out. The judges now had a make or break moment.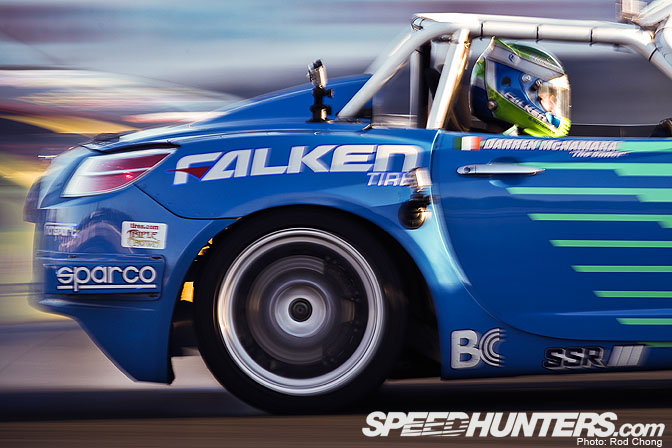 My once white SSR spokes were now all black.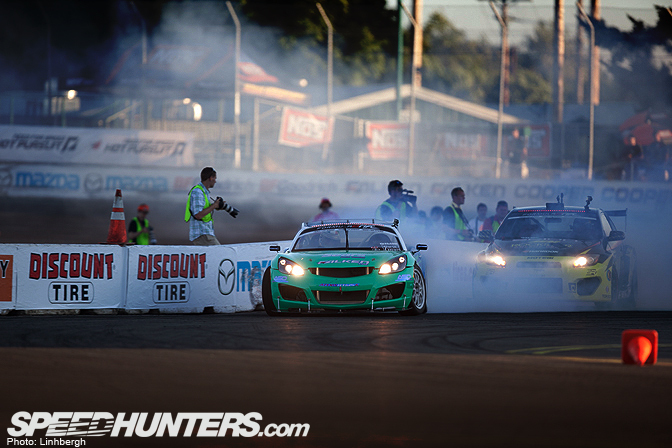 We continued to blitz our way through the course and I remember thinking, "a good chase run here and I have this one surely."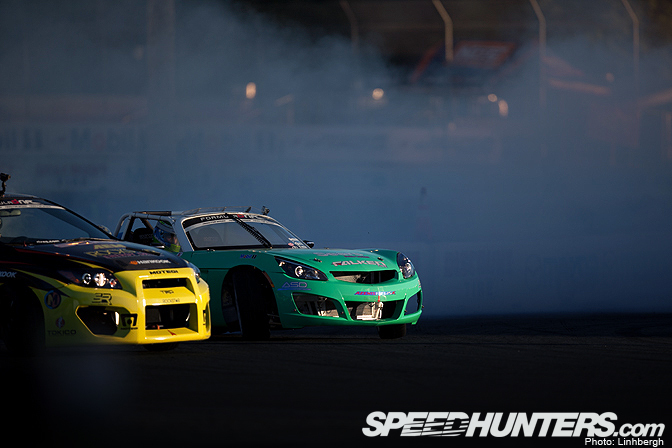 So it was time for more of the same. At this point, I was sick of looking at that Scion.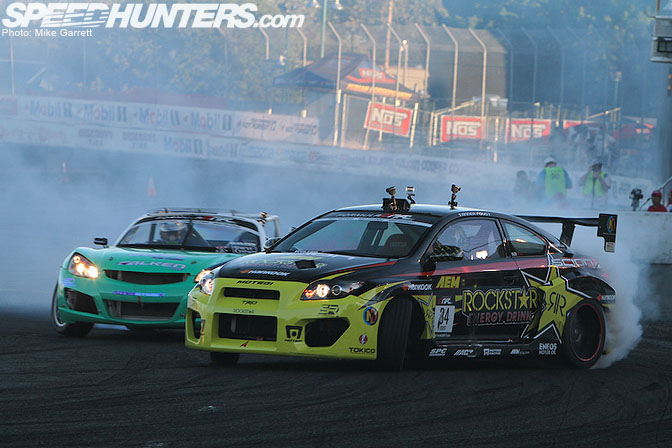 Six battles later, it was out of our hands and the judges had a decision to make. I think me and Tanner were both wrecked at this stage. We had given it all we had and push our cars to the limit. Looking back now I have to say it was a lot of fun running that hard and fast, it was modern drift cars at they're limit
And so the decision came through and Tanner got the win. The judges did not see any contact and had to award Tanner the win.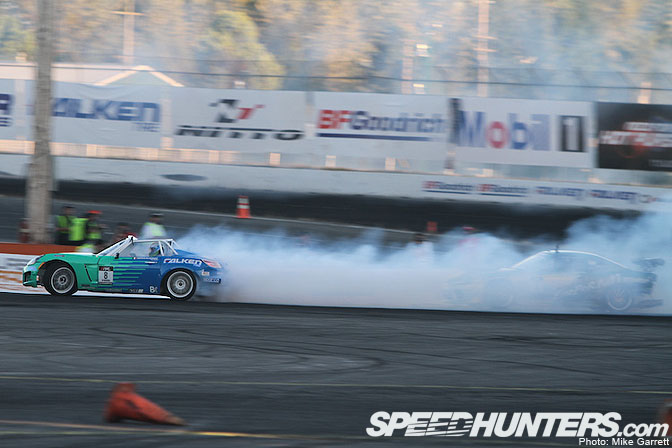 I was disappointed to say the least. But I had one battle left with Takatori for third place. This felt a bit anti-climactic for me but there was still no way I was going to lose. I had a run of Falken Podiums to up keep and so had a job to do!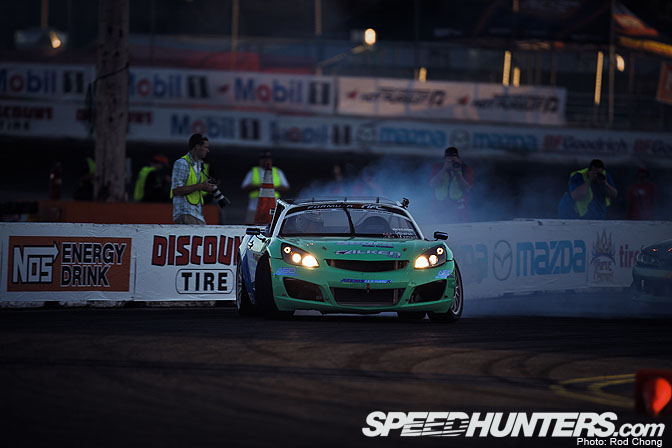 I adjusted back from the insane grip setup, I ran for Tanner, and concentrated on making no mistakes. It was probably my chase run so that could push the result in my favour.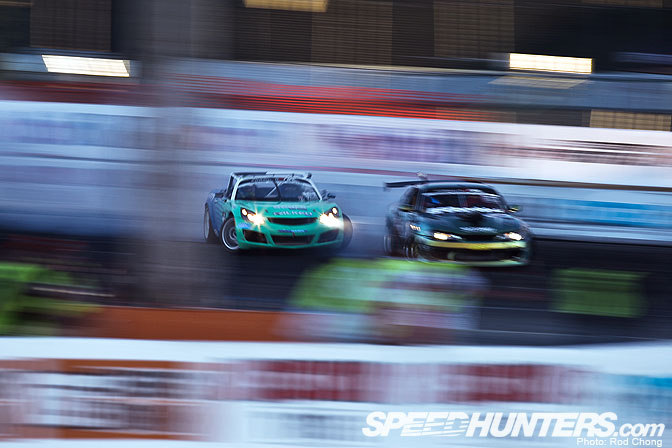 I tried to stay as close as I could on the chase run. Takatori has a similar style to Forsberg, big angle at the end of the bank which causes him to slow down abruptly.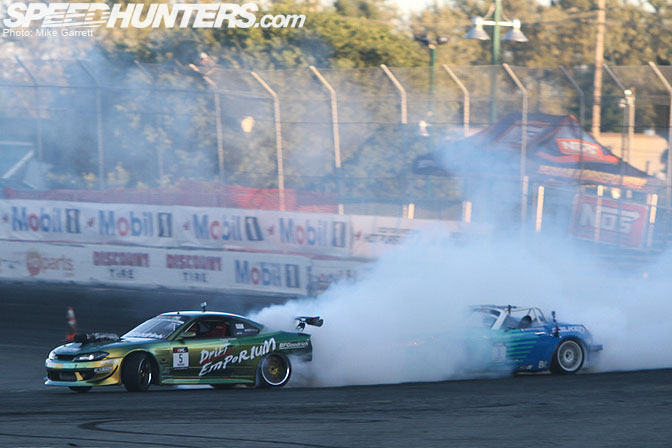 I did not want to get caught inside. So I backed off a little and prepared for my dive down the inside of the left hander under braking.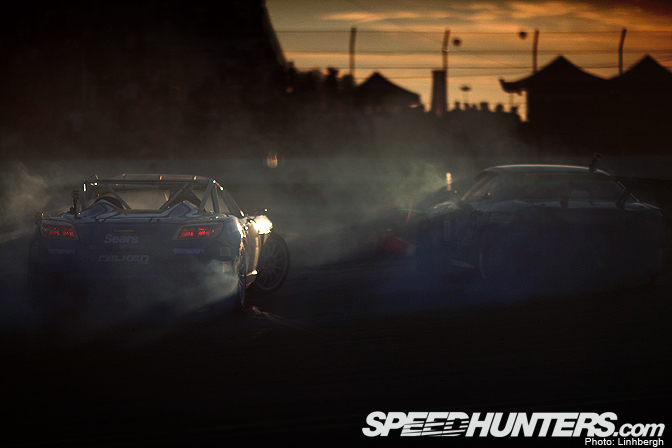 Boom!!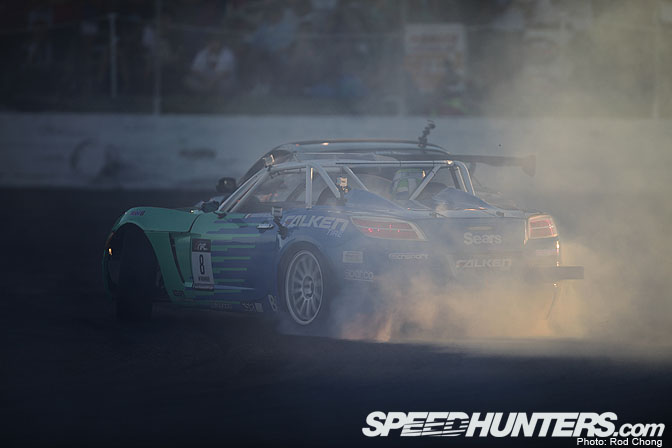 I could smell my first podium of the year at this stage and just needed to finish strong.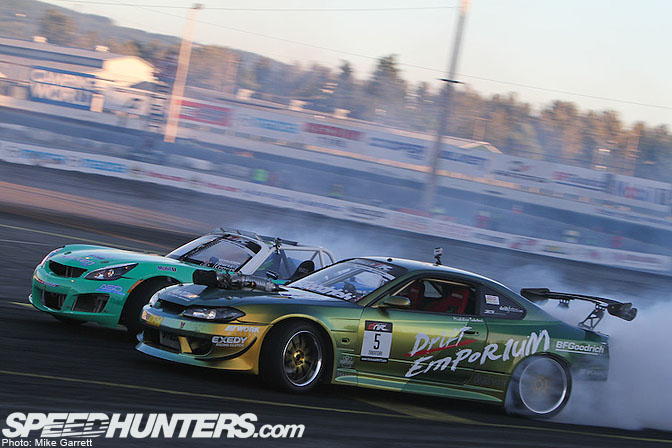 A photo finish!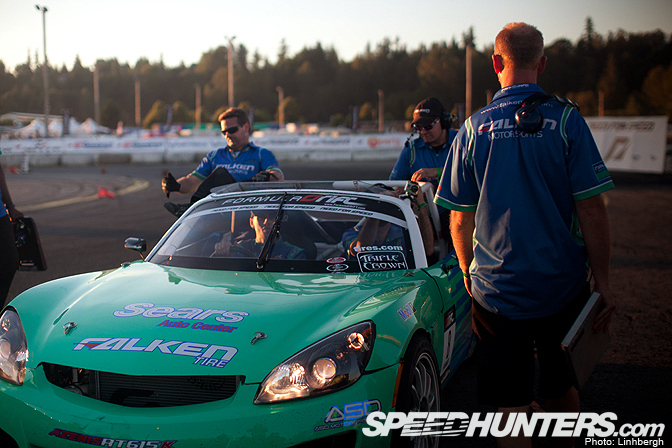 I gave the ASD crew a ride to the podium as they deserved the champagne as much as I did. Its ASD's 4th podium of the year and Falken Tires 6th!! WOW!!!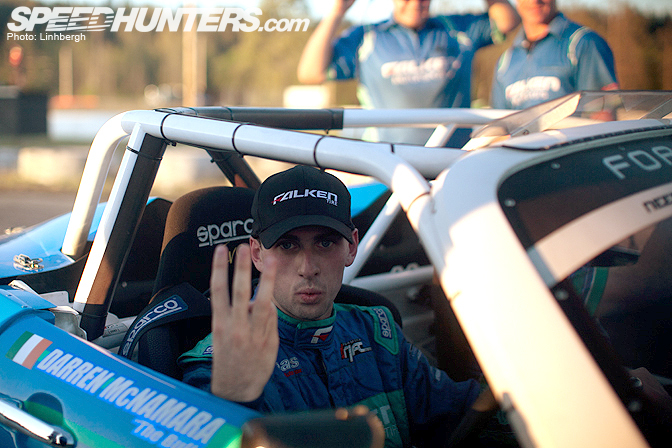 Yes I got third. First podium of the season and it felt good!
Next up is Las Vegas, a track I have pretty much zero time on but i'm looking forward to the challenge
See all you Speedhunters there!!
D-Mac