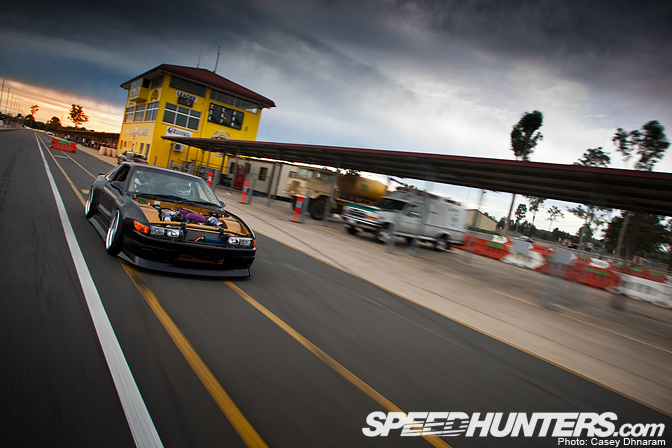 My local track, Queensland Raceway didn't have its usual mood of clear blue skies and scorching sun. The skies were layered with clouds, the air was crisp and the sun was nowhere to be seen. It didn't feel like reality looking through the viewfinder, experiencing this unusual setting with Todd's S13.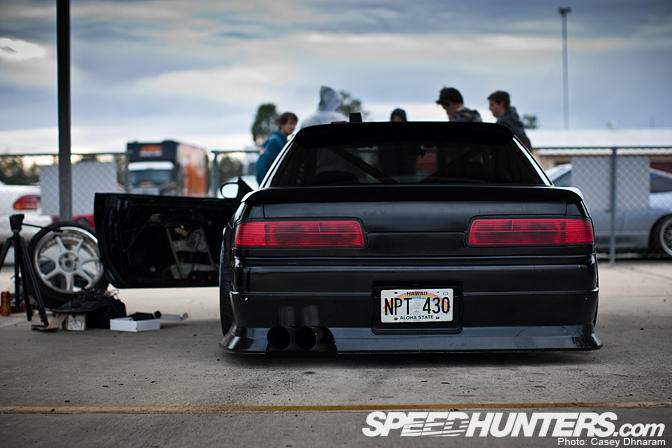 Todd has been building this car for many months and it's great to see it finally hit the track. Many people have been following his threads over the duration of the build and it definitely attracted a lot of attention on the day.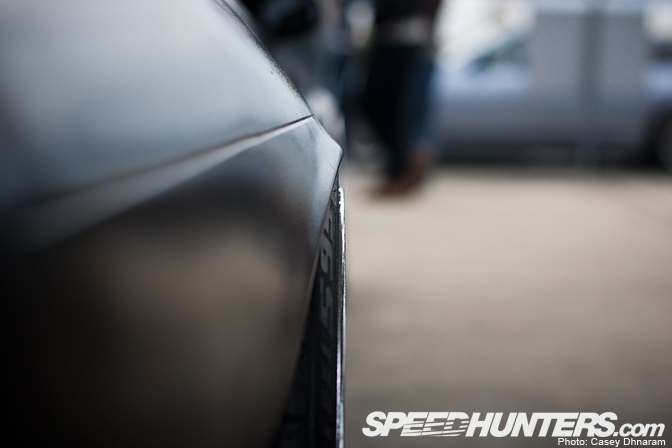 A DMAX wide body kit really gives this car its vibe. To accommodate the large rear guards, the SSR Agle's, 18×11 – 14 wrapped in a 255/35/595, sit snuggly in the arch.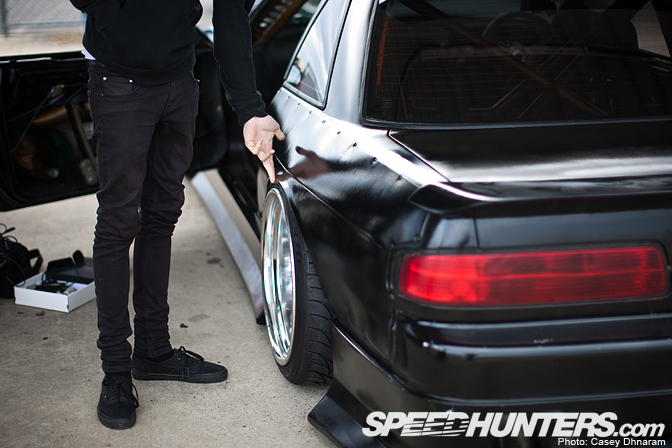 Spot on…
The interior is very simple, it retains the standard S13 dash, covered in suede. Nardi classic wheel with a 50mm spacer, Defi gauges to keep everything in order. 2x Bride Zeta III's and a full weld in cage.
Here is the driver, Todd prepping the car for some track action!
I don't think I've ever experienced such a nice drift car on the track before.
Coming through the crossover the car was smoking not only from the rear but also from the front due to its level of lowness.
Sweeping out of turn 6 and onto the straight, the rear tires began to create more smoke with a lot of speed to match.
After a few hours of getting used to the car, the two housemates 'Zac Seaton and Todd Waldon' thought it was a must to practice some battles around the track.
Here is Zac's tidy S15. You may remember this car from one of my first posts on Speedhunters, click here.
Continuous laps caused the car to slightly overheat. Todd received permission to remove his bonnet and see how the temperatures were affected with the extra airflow to the engine bay.
It was only a matter of laps before Todd destroyed the rear bumper into hundreds of pieces. I think it still looks stylish without!
Giving the car a rest was essential. Even though we are entering into the winter season here in Australia, the track still gets very warm throughout the day.
The S13 almost looks like a toy car exiting the pits…
Straight back into it! By now it was time for the track to changeover to another layout for some variety. Here is Todd coming out of the dipper, past turns 4 and 5 with style and then blowing the radiator cap off!
A cleaner view.
Ever since I started shooting when I was 12/13, I always used to stand on the start line of the run and intimidate the drivers to do something cool for the camera! Yes… Todd fell for it before heading down to turn 3.
The radiator hose kept blowing due to rising temperatures, Todd later found out that week that he had a blown head
gasket. With a new head gasket fitted to the motor, Todd is all set for the next morning drift session. Lets hope he gets more track time with no drama!
Modification List:
Engine:
Wiseco 20 Thou pistons 9.0-1 pistons
Eagle rods
Acl bearings
Tomei 1.5mm head gasket
Tomei 260 inlet cam
Tomei 270 exhaust cam
HKS cam gears
Tomei valve springs
Tomei rocker stoppers
Alloy engine mounts
Driveline & Brakes:
350Z gearbox modified remote shifter
ORC twin plate clutch
B & M short shifter
Custom tail shaft
Custom gearbox mount
Custom adapter plate
R32 GT-R Diff / Axles
Tomei 2-Way Differential centre
R32 GT-R brakes all round
Braided brake lines
Race pads
Aftermarket handbrake shoes
Custom handbrake cables
CNC hydraulic handbrake
Nismo gearbox mount
Induction/Cooling/Exhaust/Fuel/ECU:
Reinhard exhaust, solid mounted, oval section under the sub frame
3" flex section in dump pipe (truck setup)
Solid engine mounts
Full race exhaust manifold
44mm Tial waste gate
30/71R turbo with larger front housing
Custom alloy cooler piping
PWR intercooler
Custom alloy intake manifold
Q45 throttle body
850cc injectors on standard rail
Sard fuel reg
Koyo n flow radiator
Radiator breather swirl tank
BA falcon thermo fans
Bosch 044 pump, Walbaro pickup to surge tank
Greddy Oil cooler
Daves craig power steering cooler
Catch can
Suspension/Steering:
Parts shop max coilover, all adjustable arms
Custom rear springs
Nigel's knuckles with rack spacers (angled up at 45 degrees)
Rack welded forward 20mm on the cross member
Ikeya tie rods, everything tac welded onto rack
S14 control arms, extended 10mm
S14 steering rack and new bushes, steering column solid bush
S15 rear sub frame, raised/solid mounted.
Exterior:
Steer wheels – SSR Agle, 18×9.5 -7 with 225/35/595
Rear wheels – SSR Agle, 18×11 -14, Work Rezax 18×11 – 13, Weds Kranze 18×11 – 13 with 255/35/595
DMAX type III body kit
DMAX bonnet (not on the car yet)
DMAX roof and boot wing
Rocket bunny rear guards, pulled out to about 80mm from 30mm they are meant for
Standard front metal guards flared out
5% Window tint
Clear headlight cover
Clear indicators painted orange
Clear tail lights painted red
East bar mirrors
Interior:
2 x Bride Zeta III
2 x Takata harnesses
Nardi steering wheel, 50mm spacer
Suede covered S13 dash
Defi gauges
Greddy gear knob
Full weld in cage
Stich welded chassis
Haltech platinum ECU
Oddysey battery
Gutted doors, with electric windows
Parcel shelf removed.
- Casey Dhnaram