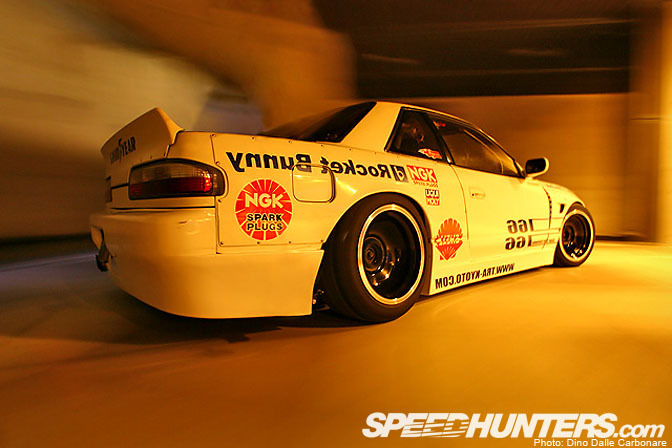 It's funny how the internet works. When I mentioned to Miura-san of TRA Kyoto, the same shop that creates the Rocket Bunny line-up of body parts, that his ghetto S13 Silvia has become an internet sensations he just couldn't comprehend why. To him it's just his daily driver, which actually gets used more by his wife to run errands and drive to and from the TRA Kyoto offices. Yet, this seemingly "boro-boro" or "beaten up" Silvia, has inspired many fanatics of the S-chassis around the world.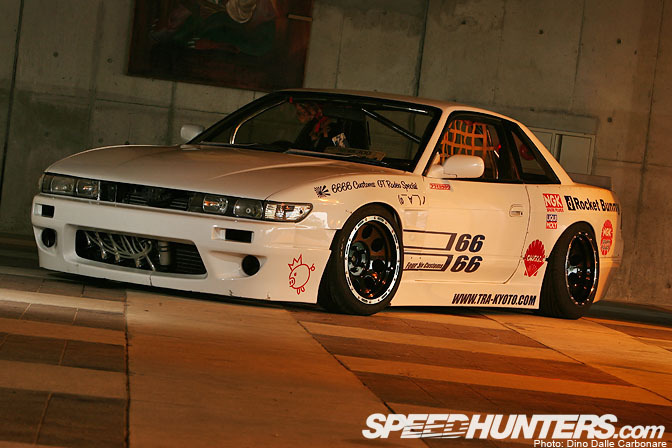 Miura-san works out of the small Top Resin Art (T.R.A) laboratory just outside the city of Kyoto and specializes in the design and creation of body parts for an incredibly vast variety of cars. On top of his own Rocket Bunny, 6666 Customs, Number 6 and of course TRA Kyoto brands Miura-san comes up with the designs and actually makes aero parts for well known Japanese aero specialists making him a very busy man. What sets Miura-san apart from any other aero maker in Japan is that he not only does all of his designs on CAD before hand, but has his own milling machine which shapes the negatives out of polystyrene to create individual parts. This process assures his products are of the uppermost quality and symmetry.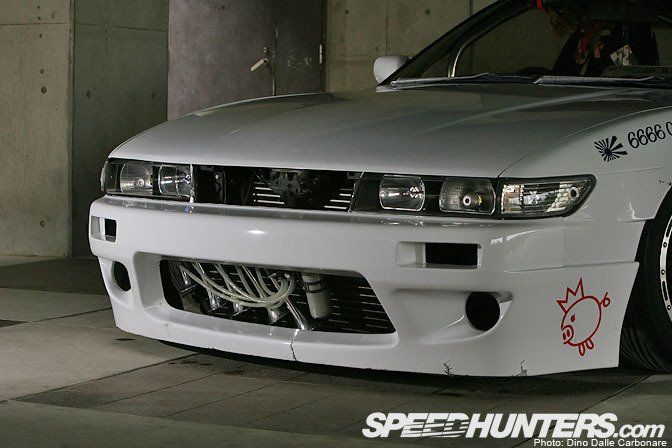 But lets get back to the S13. With all the aero parts available on the Japanese market this particular 6666 Customs kit just stands way out from anything else out there. Miura-san's main influence comes from his lifestyle, he used to be a true bosozoku, spending his free nights terrorizing the streets of Osaka and Kyoto cities.  After a brief period running around in a crazy bike gang in his teens he moved on to racing ED Civics around the Osaka Kanjo, the loop of highway that runs around the city, a sort of smaller version of Tokyo's C1 highway. You can see the series of air horns in front of the intercooler, which in true bosozoku style play the Godfather theme!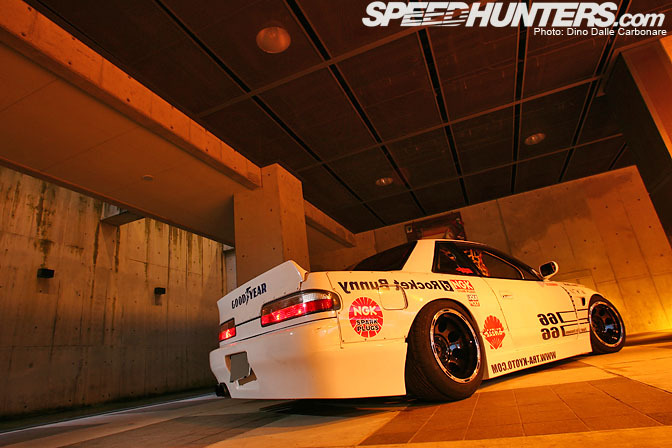 This car is the definition of stance! It literally sits 1-inch from the ground with front and rear tires scraping the inside of the wheel arches at the slightest bump.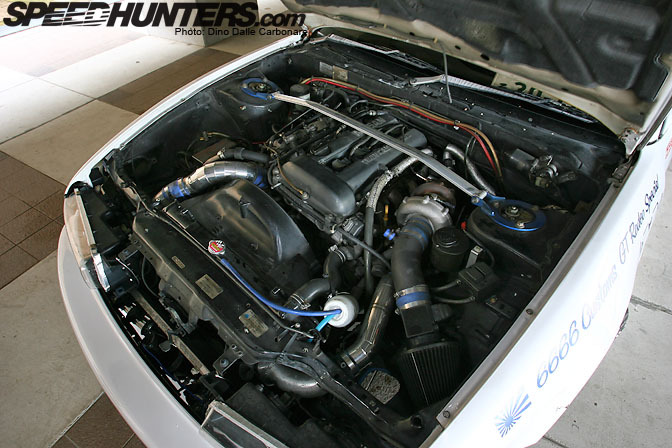 Under the bonnet the boro-boro style continues with a pretty functional looking engine set up. The SR20DET develops around 420 HP thanks to the top mounted Blitz K3T turbo. The engine has been upgraded with oversized Nissan pistons and the head ported for extra flow. Fueling is handled by an in-tank Nismo fuel pump and Sard 800 cc/min injectors.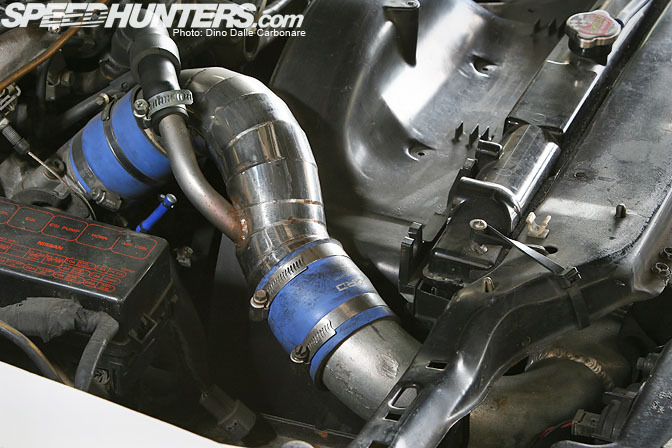 The piping connecting the Nakaoki front intercooler is all custom.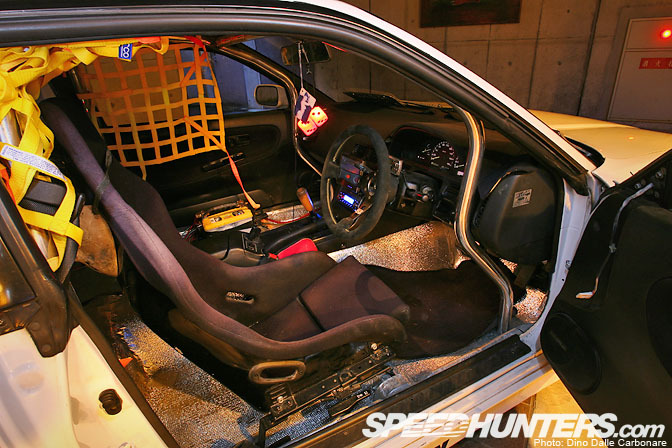 The interior is lined with heat-reflecting material and fitted with a generic brand bucket seat and steering wheel. A custom cage has been bolted in place for extra safety while the illuminated dice are just the right kind of bosozoku addition you would want to see in a car like this.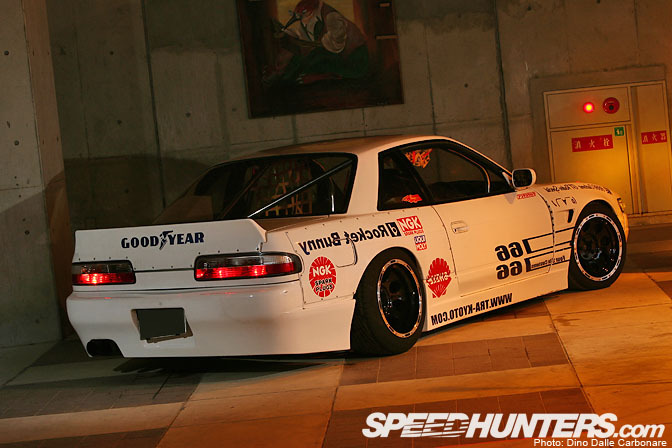 One of my favorite parts of this kit, on top of the riveted rear overfenders, is the rear duck tail rear spoiler, again fixed onto the bodywork with exposed rivets.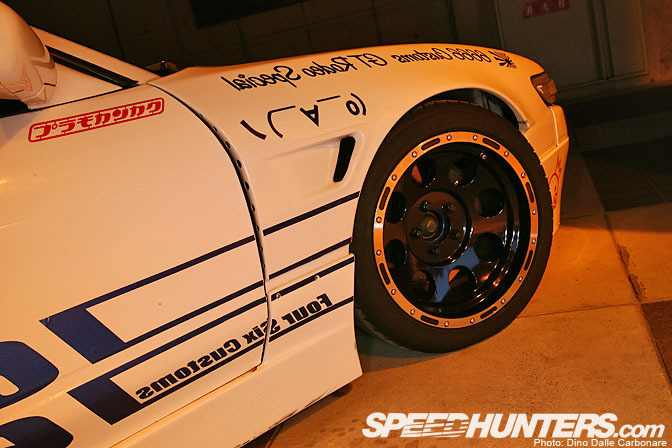 The wheels are a detail that just makes this car. These are Pro Comp Series 8179 truck wheels, usually seen in Japan on vans like the Toyota Hiace! They are fitted in 8Jx16" size at the front and 10Jx16" at the rear, both running Goodyear Eagle rubber (205/45/ZR16 front and 225/50/ZR16 rear).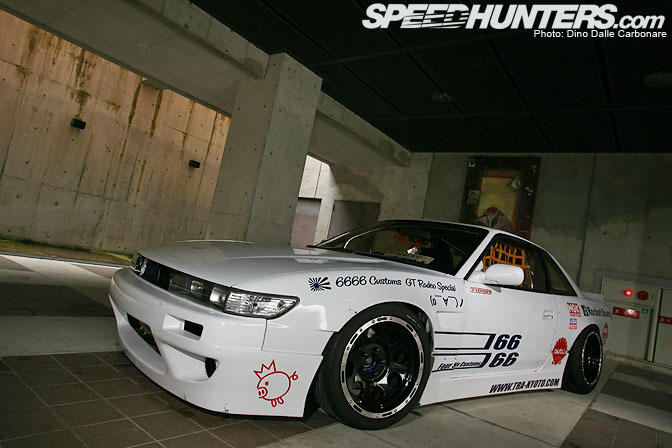 Miura-san has built the car for drifting so it's been fitted with a Nismo 2-way LSD and a Nismo Copper Mix single plate clutch to handle brutal clutch-kicks.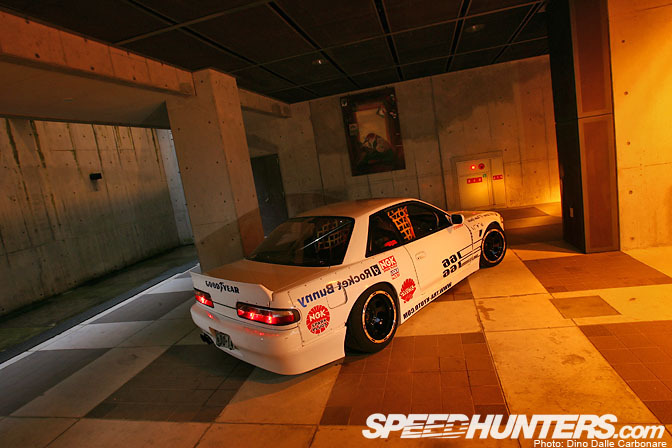 Miura-san has been so busy with his contract work as of late that he hasn't had a chance to dedicate more of his time to expanding the 6666 Customs and Rocket Bunny parts line up. I for one would love to see what he would come up with for the S15 Silvia or some other cool drift-oriented cars like JZX90/100 or even R32 Skylines!
-Dino Dalle Carbonare