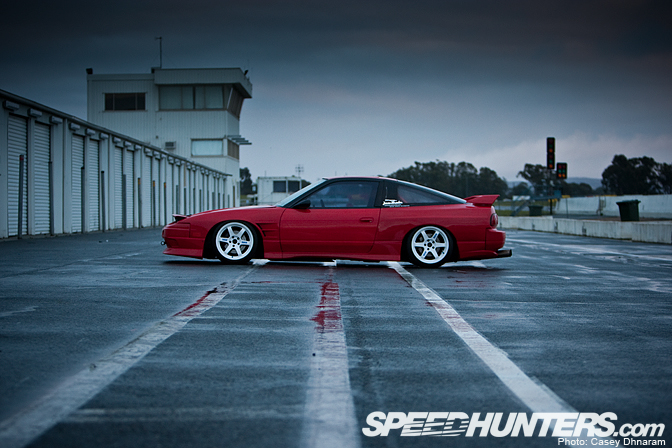 By now, the majority of you would be familiar with Nigel Petrie and his stunning RPS13. Well here it is, this time with new shoes on. Whilst Nigel was signing on he handed me the keys and offered me to go take some photos of it. An offer I couldn't resist right? Driving to the back end of Winton Raceway and entering the pit area, it looked like an exceptional location for some photos.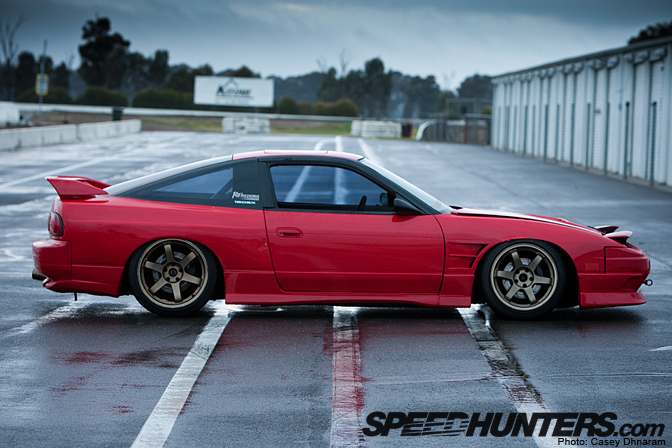 Nigel and I arrived at the gates early Saturday morning in the cold, rainy darkness where we awaited Yoshi to open the gates. Once we were let in, Nigel got straight onto changing the wheels. Swapping from the Driftmasters to the TE37's for a quick photoshoot before the briefing and scrutiny. Whilst I was crossing my fingers and praying to the man above for the rain to stop, Nigel had the wheels changed and it was ready for some photos! The rain began to ease and the clouds began to clear. I got handed the keys to the car. This was too good to be true!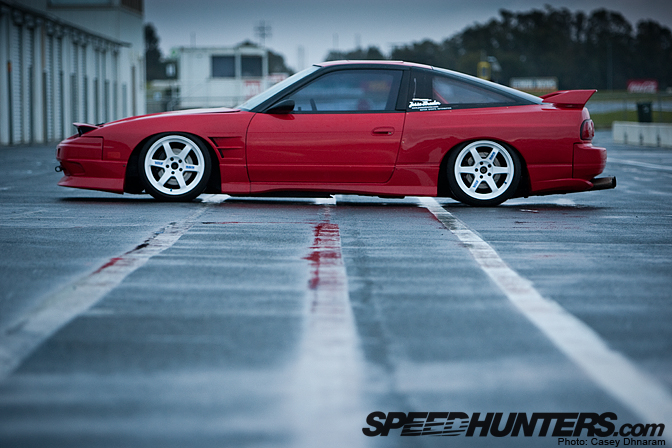 Nigel's dad, Dallas, suggested to only pack two of the four white TE37's so we could put white on one side of the car and bronze on the other.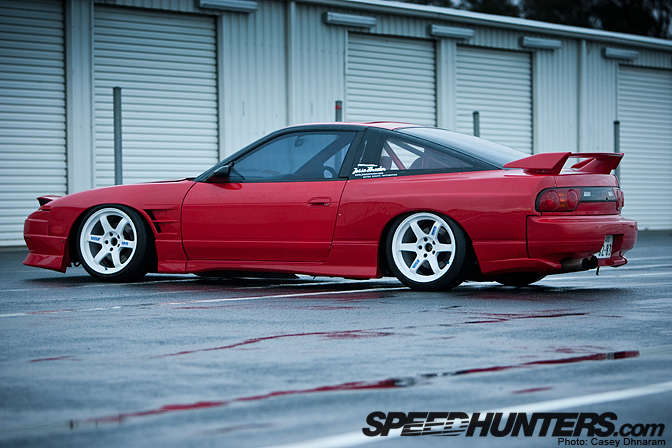 It looks like a clone from a Type X RPS13 from Japan!
The contrast between the dark bronze and the vibrant red work so well together, the TE37's make any car look sexy!
Nigel's cars are all perfect. The interior in this car would be to die for. Mounted on the steering wheel is a little remote which is for Nigel's camera to record in-car footage, a very clever idea.
The staggered wheel size of 17" on the front and 18" on the rear …
… filling the guards perfectly!
Same goes for the front.
White on the other hand are just as sexy, just a tad more stylish perhaps?
Sometimes it's just a matter of taking a few steps back and looking at the car as a whole.
Here is the interior I was drooling over before…
Now this is cool. These Defi gauges are a must to keep everything under control!
A full welded roll cage designed and made by Nigel. He is very precise when it comes to projects like this.
Driven by a SR20DET, currently making 287RW/KW (372BHP), this RPS13 isn't short of power.
Just by looking around the engine bay Nigel's work really starts to shine. From the perfect welds on the intercooler piping to almost every bit of loom hidden, it's a very clean looking engine!
Modification List:
Engine:
Trust TD06L2 turbine kit
46mm Precision turbo waste gate
HKS step1 264/ inlex cams
Tomei ADJ cam gears
740CC nismo injectors
Home made oval exhaust with twin 80mm tips
Greddy oil cooler with re locator kit
Kazama engine mounts
33GTR fuel pump
Apexi PowerFC
Z32 AFM
Splitfire Coil Packs
Drivetrain:
ORC 709D twin plate clutch
Nismo GT PRO LSD 2 way
Z32 gearbox conversion
Custom tailshaft
Nismo clutch braided line
5 stud conversion, R33 brakes all around – full skyline setup
Home made hydro hand brake
S14 lower front control arms, notched, sprung loaded, lengthened 30mm each side
Slotted DBA discs all around, DBA 4000 fronts
Racebrakes pads
Maltech braided lines
Suspension:
Tein super drift coilovers
Kazama tension rods
Kazama tie rods
Kazama tie rod ends
Kazama tension rod support bar
Kazama hicas remover
Kazama metal steering spacer
Kazama rear upper arms
16mm rear toe rods
Home made rear traction arms
Sectioned and raised cradle
Rear whiteline swaybar
NP wonder knuckles
Offset rac spacers
16mm tie rods
Interior:
Nardi deep corn steering wheel
Removable hub
Cruise gear knob
Cruise handbrake button
Bride Zeta III passenger seat
Bride Artis III FIA drivers seat
Defi BF turbo
Defi BF oil pressure
Defi BF oil temp
Defi BF water temp
Home made roll cage
Exterior:
FRP type x front bar
Type x sides and rear
Chargespeed front fenders +25
Alloy lug nuts
Toyo 205/40/17 R888 Fronts
Genuine type x rear lights and wing
Origin type 2 50mm rear fenders
Chassis:
Notched chassis and raised cradle
Front tubs and removable rad support
6 point roll cage
I'd like to personally thank Nigel for his time and efforts with helping me out! Its been a pleasure to shoot such a well respected car!
- Casey Dhnaram