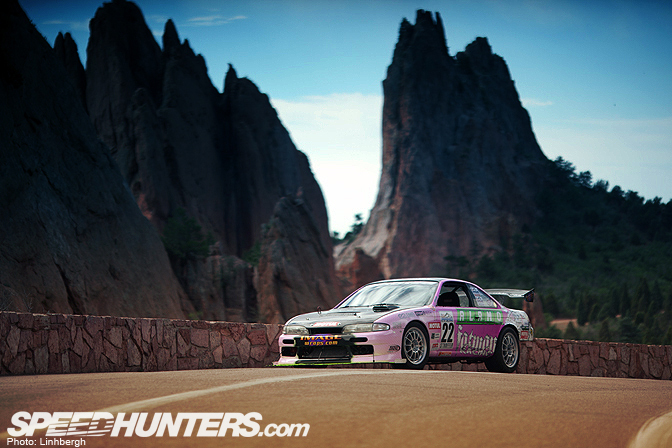 "Racing isn't just a hobby, it defines who I am."
These were words that were muttered by Ken Stouffer, owner and driver of this very S14, as we made our way to the shoot location at the Garden of the Gods in Colorado Springs, Colorado. It was 8am –way later than any of us have slept in that week. We were both beaming with happiness for the fact that we woke up as the sun sat above the horizon. The excitement that exuded from Ken that morning was almost palpable because the following day would be the day that he would make this pink S14 fly up the the mountain at the 88th Pikes Peak International Hill Climb.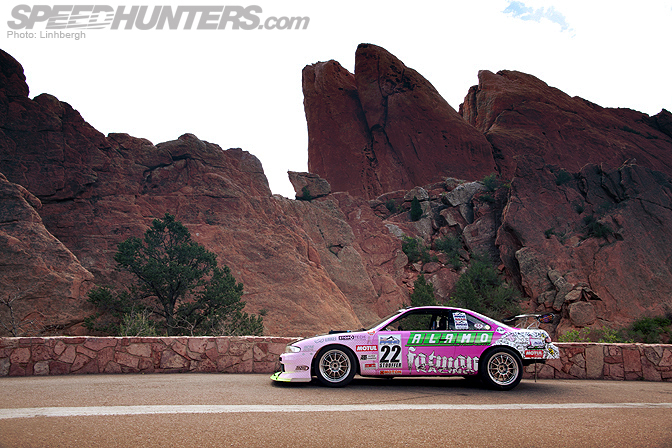 This 1997 Nissan 240sx had racing already bred into its very being when Ken purchased the chassis in 2006. It was originally a Nissan backed Speedvision Touring car which was retired in 2002. After Ken purchased the car, it sat until August 2008 which was when the actual build process started. It took him less than a year to finish the car for its first run up the mountain in 2009.
That year, driver, co-driver, Travis Tollett, and car crossed the finish line at 14,110 feet with a time of 15 minutes and 31 seconds.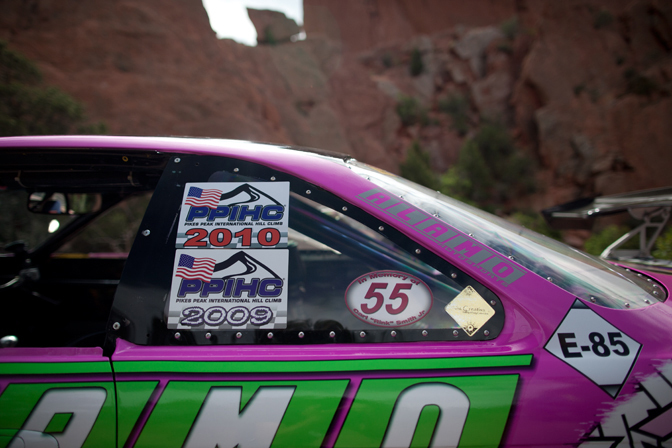 After the 2009 hill climb, the car once again went under the knife. The front unibody was modified with a partial tube frame.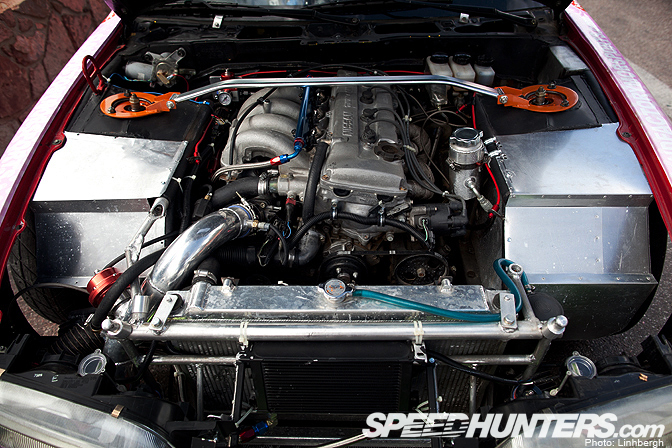 This S14 would make any Matt Powers' fans happy. It is powered by the original 2.4L KA with 1200cc injectors. The engine has been bulletproofed with Kelford 272 Cams, Eagle rods and JE Pistons.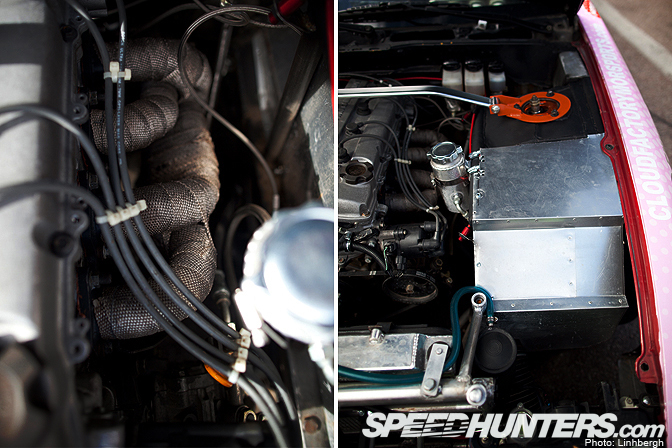 The partial tube frame front end also gave the opportunity to tub out the front wheel wells to fit in bigger wheels and tires!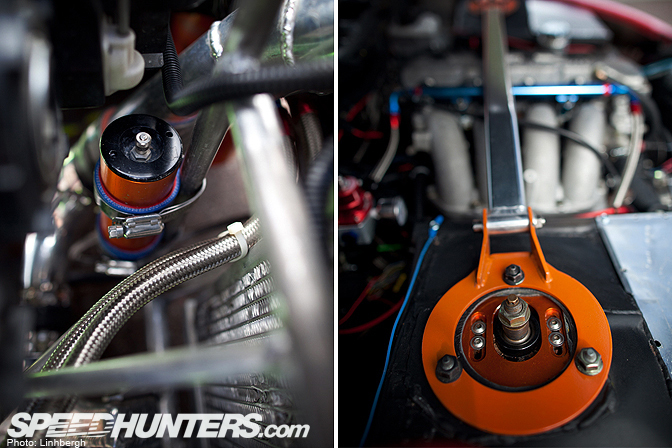 The car was mostly built on a budget. A set of MOTON suspension is most expensive piece on this car. Ken mentioned that the MOTONS have been worth the every penny. Got to pay to play, right?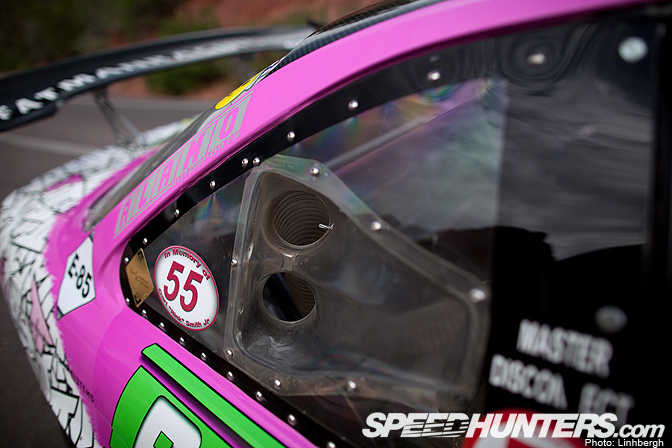 Oh, what do we have here? An air duct?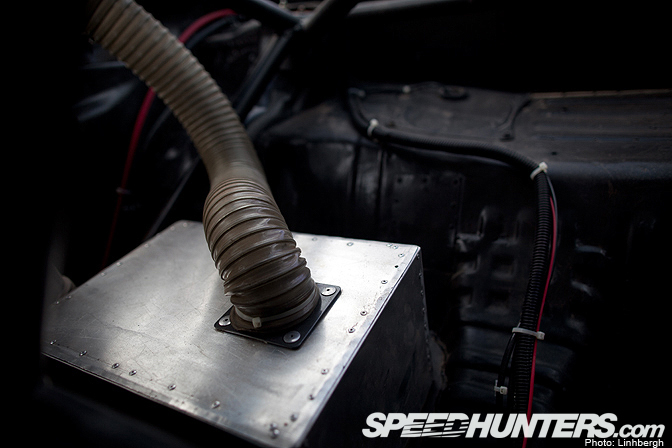 The air duct leads to a metal box that sits directly behind the co-driver's seat. But what's inside the box?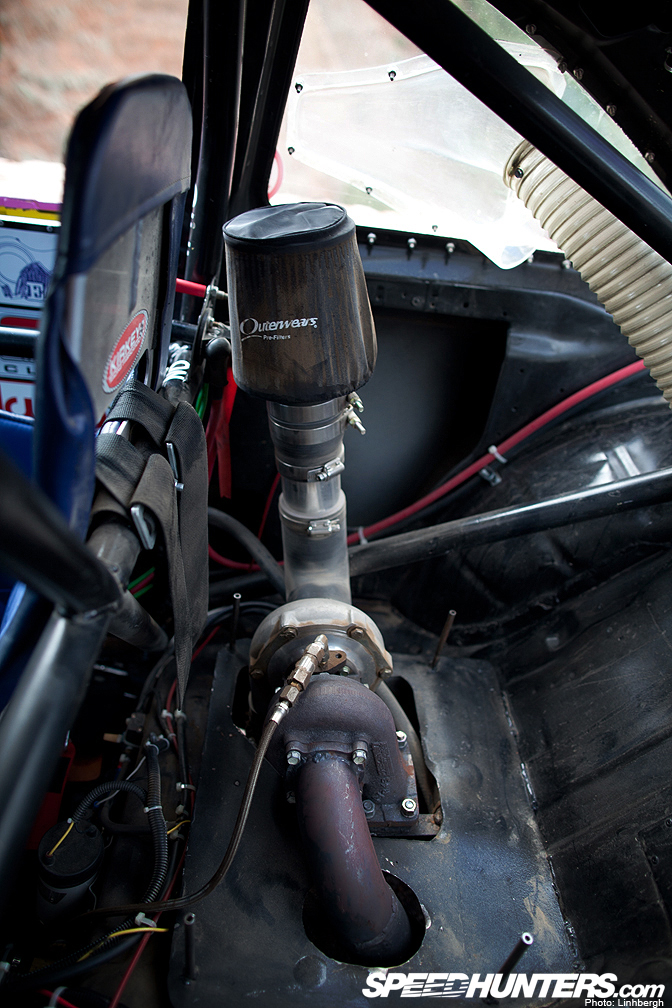 In the box sits a remote 60-1 turbo with 0.48 turbine!
The car was tuned by Brice Yingling at Alamo Autosports. He did it all for free just to make sure Ken could make it to Pikes Peak. Without Brice and his crew, there's no way he could've made it to Colorado. Brice was also the reason Ken was able to have MOTUL and Competition Clutch come on board as sponsors.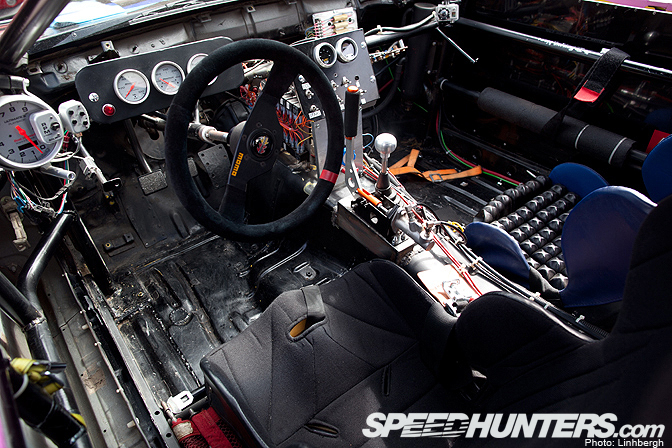 This is Ken's office.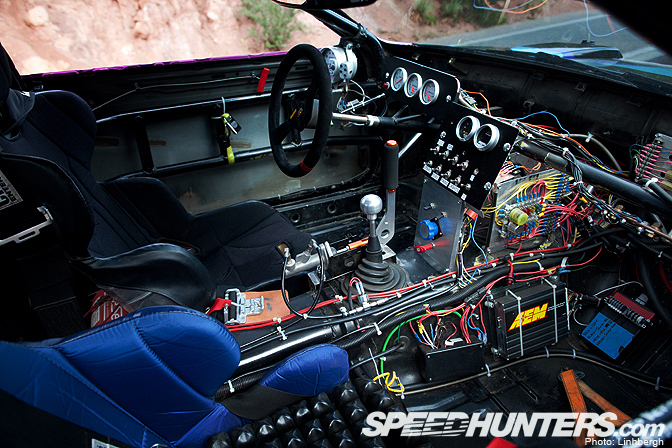 And the office from co-driver, Travis Tollett's, perspective.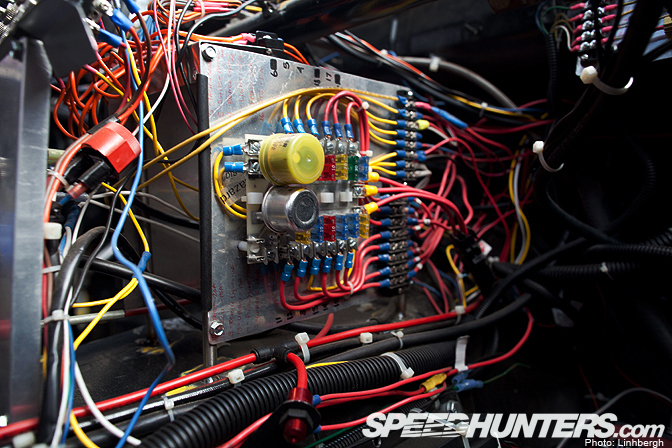 Madness, pure electrical wiring madness.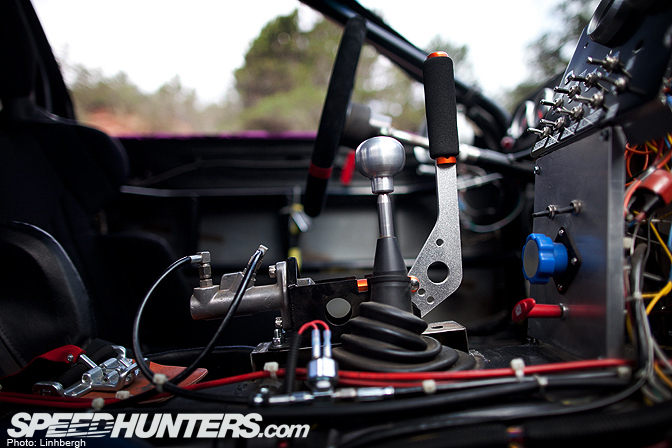 When I saw the hydraulic e-brake system I asked if Ken moonlighted as a drifter. He chuckled and mentioned that it was to get out of sticky situations on the hill.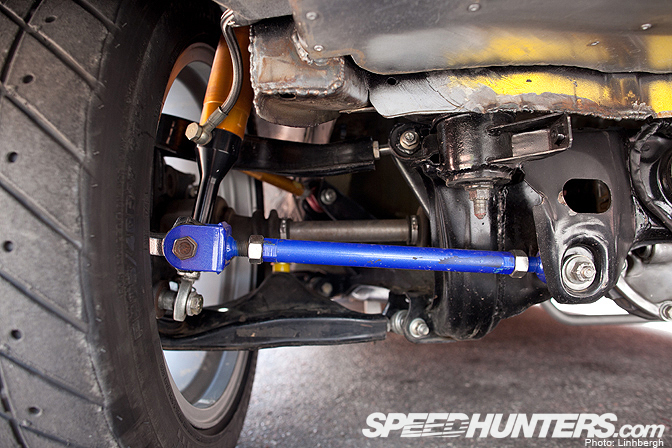 The stock differential was replaced with an S15 Helical diff with stock 4:08 gear and stock axles.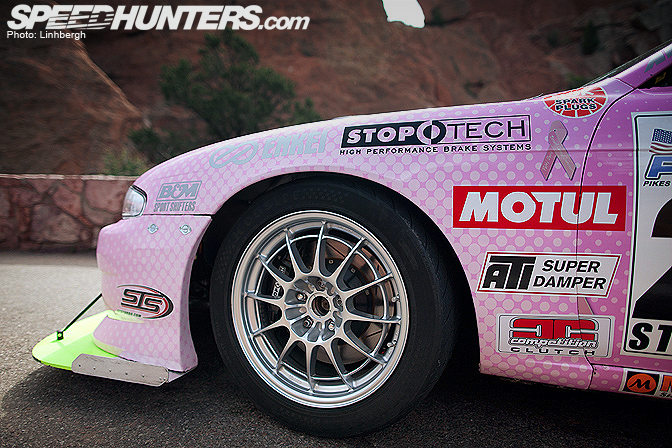 The car sits pretty with a set of Enkei NT03+M. Stoptech brakes sit just underneath the wheels.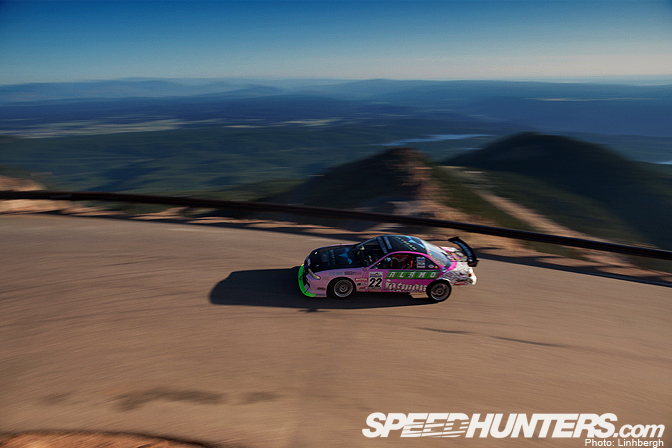 I always knew when the car was coming so I can get ready to take photos because of the distinct sound of the KA turbo.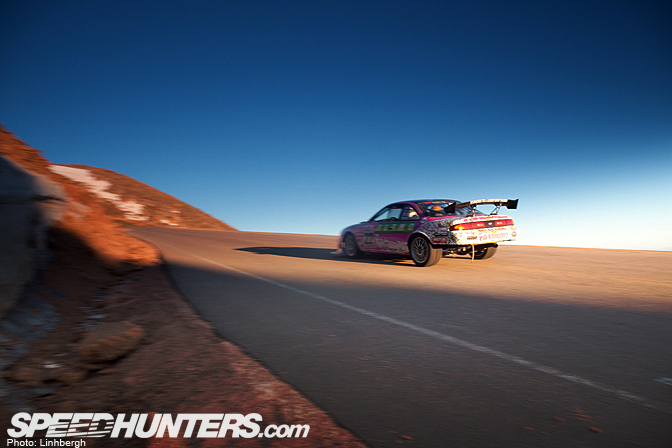 What surprised me every time the car flew past was just how quickly that car flew past!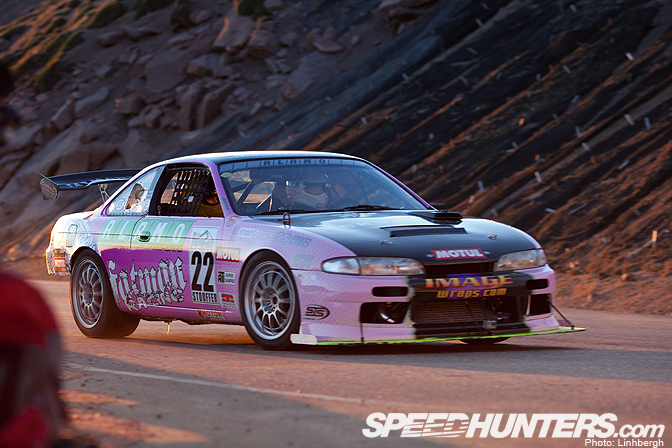 It's amazing to see a car like this plow up the mountainside.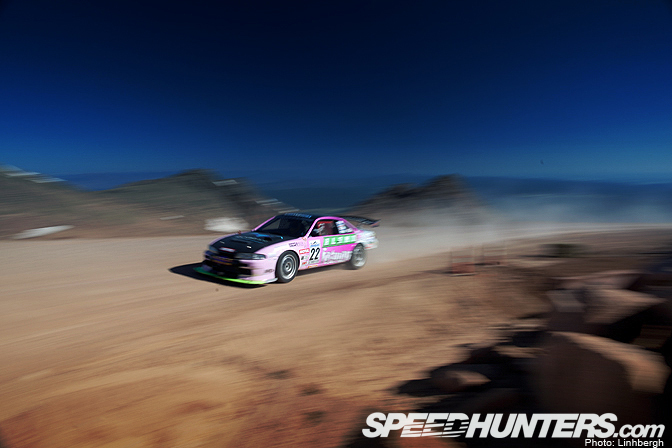 This year, Ken, Travis, and this pink S14 crossed the finish line at 14,110 feet with a time of 13 minutes and 19 seconds. That time landed him just second on the podium which was a minute off from Jeff Zwart's record breaking time of 11 minutes and 31 seconds in the two-wheel drive time attack class.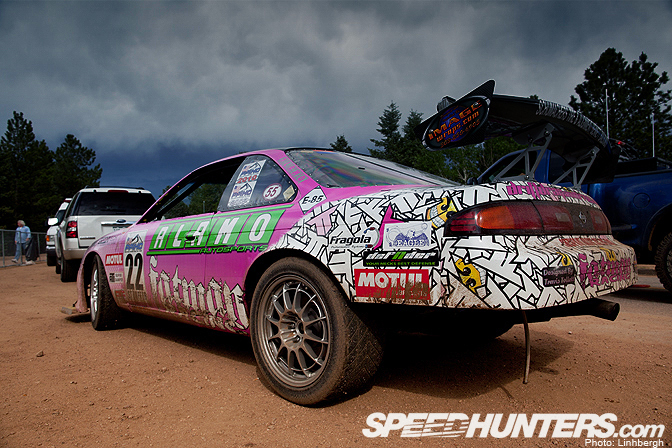 The pink livery comes from very humble roots: Ken's mom survived her battle with br3ast cancer and this car is dedicated to her.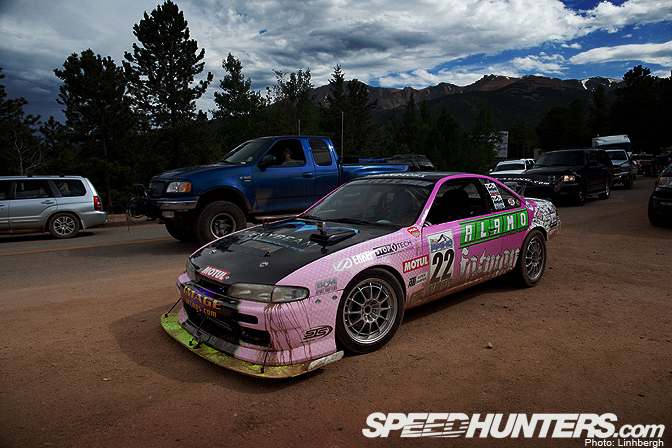 The field of cars that participates in the Pikes Peak International Hill Climb is a very eclectic mix. There's old muscle cars, tube framed open wheelers, trophy trucks, all manner of motorcycles, various late model imports, and monster built specifically to tackle the Peak. When you spend a week up the mountain seeing all those cars blaze past you, there are a few notable cars that stay with you and this pink S14 is one of them. It's so radically different from the rest of the field that it is definitely an extremely cool piece of machinery.
When you take the time to walk around the car and take in all the amazing work that went into this car, you can instantly tell that the people who helped make this car possible are not automobile racing hobbyists but people who's very fiber is racing.
Jeremy Clarkson once said you'd be hard pressed to find any cool Kens but I believe we have one here.
-Linhbergh