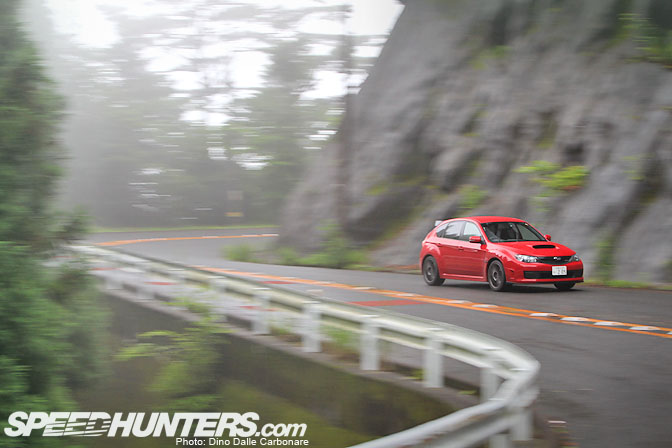 In the current world of dual clutch gearboxes, driver aids and eco cars the red Impreza you see in here has, for me, been the most refreshing drive in quite a while. Don't get me wrong I have absolutely nothing against technological progress or the evolution of the motorcar, it's just sometimes, from a true enthusiast's point of view, the latest crop of modern cars are all a little, well, dull. Performance cars these days are getting phenomenally quick, more efficient in every way but at the same time seem to have traded their souls in for effortless pace. They do everything so well it kind of leaves you with an empty feeling, simply because one's uttermost driving urges have just not been satisfied. It's not all about performance figures and lap times around the Nordschleife, as some manufacturers would like you to believe, it's about character, something the limited edition, Japan-only STi R205 has bucket loads of.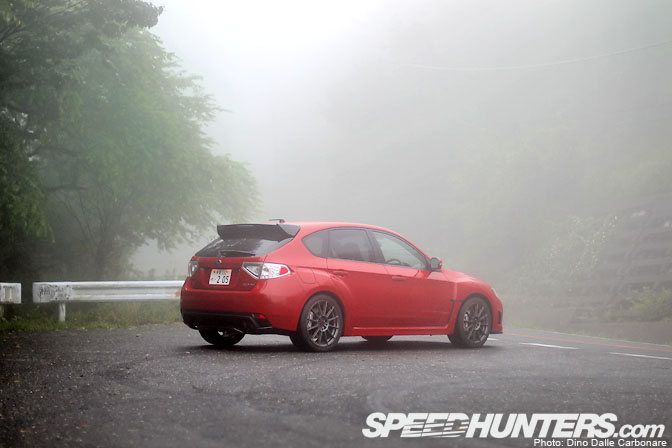 I picked up the red Impreza last week in what turned out to be the last few days of the extremely wet and humid rainy season here in Japan. I wasn't going to let the weather dictate my shooting schedule once again so despite the torrential rain and tropical humidity I stubbornly packed the car up with my equipment and headed north, leaving the crowded capital behind. My destination was to be Mt. Tsukuba, just north of the city it gets its name from. Upon my arrival I was greeted with some pretty eerie conditions with banks of thick fog covering much of the summit. I couldn't have wished for a better backdrop to shoot this very special car against.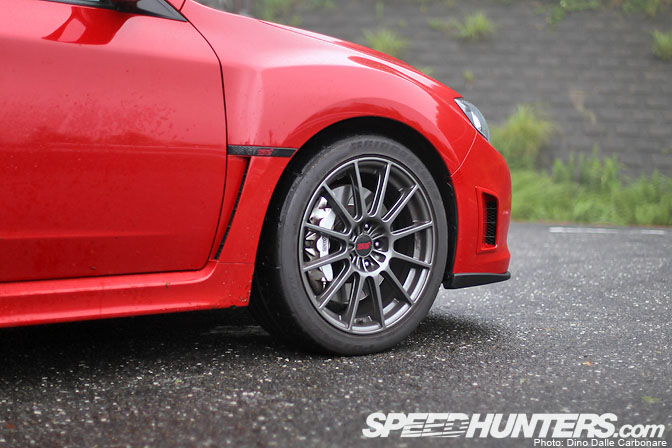 There are subtle differences that separate the R205 from the regular, run of the mill STi Impreza. At first glance it's the 8.5Jx18″ STi wheels some may notice, or the massive monoblock Brembo brake calipers, 6-pots up front and 4-pots at the rear.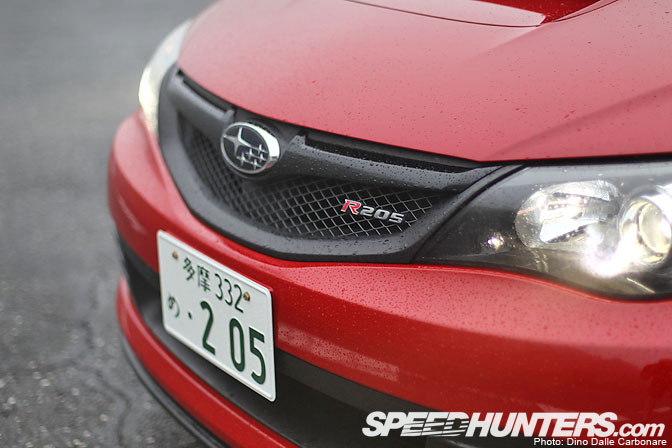 There are plenty of badges around the car reminding you just how special this Impreza is, even the number on the license plate of this STi press car!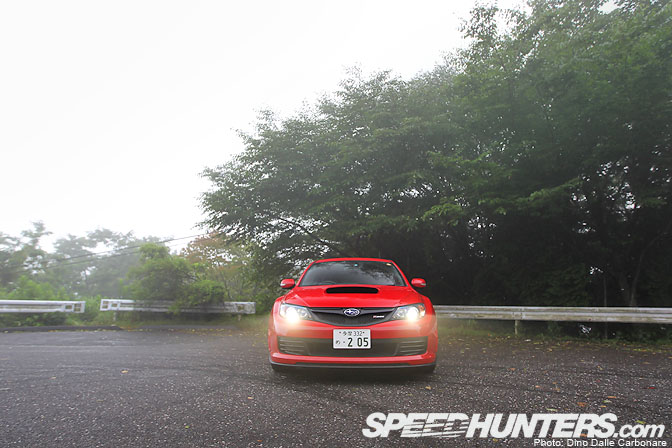 The temperature at the top of Mt. Tsukuba was 16ºC, which was pretty much half what it was in Tokyo, making it rather refreshing not to mention a little bit wet, as the rain never really stopped falling.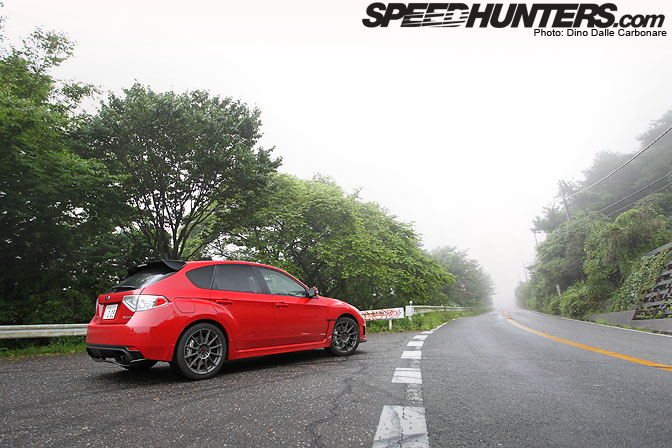 But with empty roads like this to play on I knew it was going to be one hell of a day, rain or shine!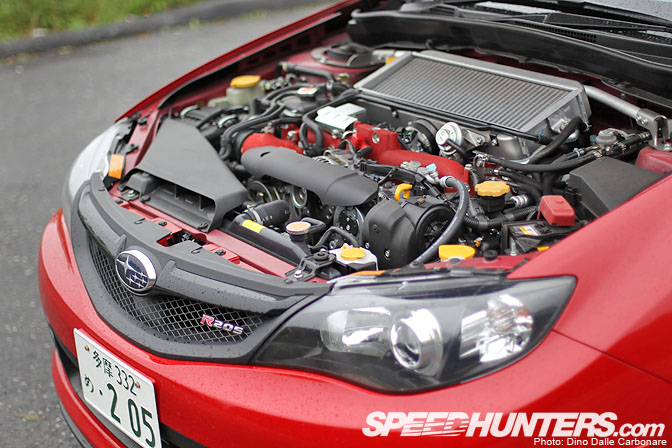 Under the hood the R205 runs the same 2L flat-4 as in the regular JDM Impreza STi except, thanks to a different twin-scroll ball bearing turbo, now develops 315 HP at 6,400 rpm with a nice and exploitable torque curve, which peaks at 4,000 rpm with 318 lb/ft of twist. The EJ20 breathes through an STi panel filter and a special red silicone intake hose while spent gasses are channeled away through the raspy STi exhaust.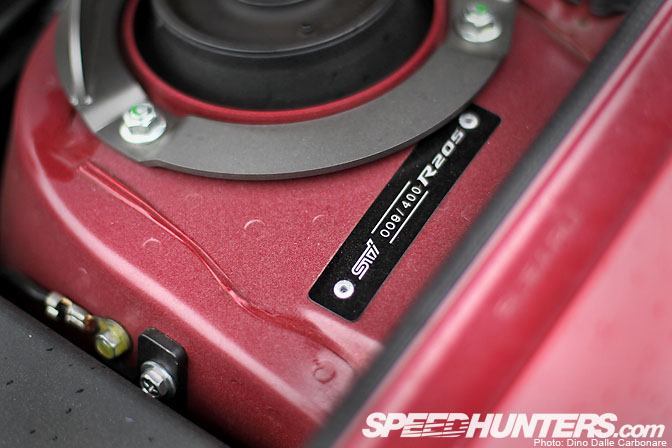 This was car number 009 of 400 that have been made, and like all great cars STi has created in the past only the home market can enjoy the fruits of their great engineering. How unfair!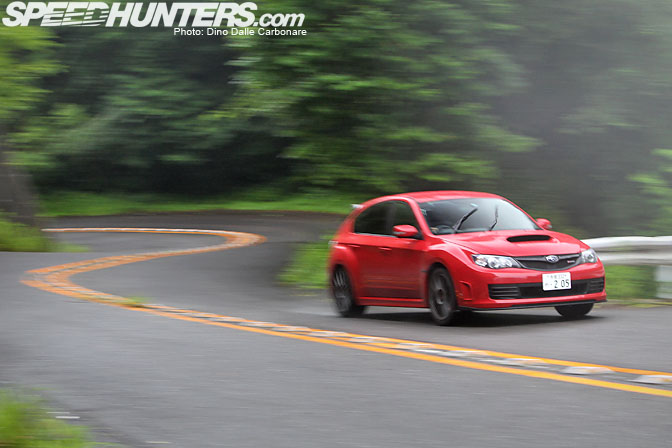 But it isn't until you sit in the tight Recaro bucket seat and start stirring through the short-throw six speed transmission that you begin to understand just how special STi's latest creation is.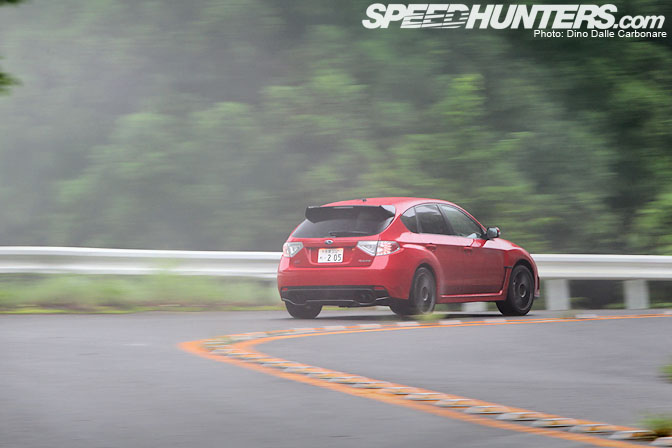 The R205 is a true driver's car, there are no electronics working against you, no smooth & instant shifting dual-clutch transmission, it requires hard work from the driver and rewards you in ways that a lot of modern day sports cars just can't. The engine still exhibits good old-fashioned turbo lag with the towering torquey acceleration making itself felt from 3,500 rpm onward. This made me work hard to keep the engine in the power band with lots of shifts and downshifts as I tackled the tight corners Tsukuba-san has to offer. Get that heel & toe downshift right and you will feel true satisfaction as the adrenaline levels continue to rise. With the rudimentary stability control switched off, an exercise that I found myself doing each time I got in the car, the R205 dances through the apexes and can be pushed well over the limits of grip, something that was easily done on the wet roads. For an AWD car I was surprised just how much it wanted to stick it's tail out when getting hard on the power, never getting out of hand but rather helping you get around turns in a WRC kind of way! Which brings me to the handling. STi have come up with a very nice set up for the R205, it's highly rewarding with a good trade off between outright performance and comfort. Turn in is surgically precise…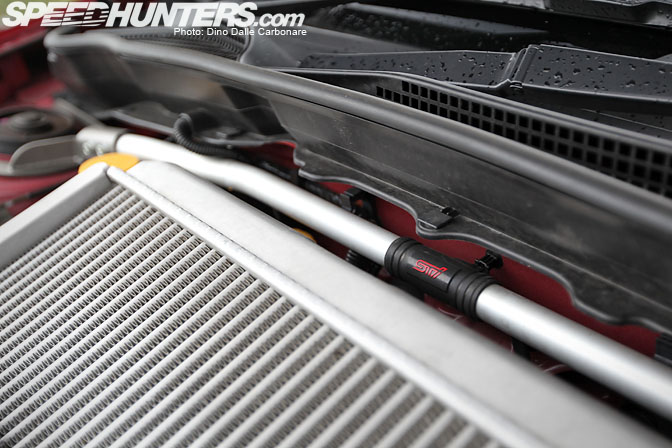 …with instant bite and grip, the car never wanting to understeer even in the wettest and tightest corners. The new flexible STi front strut tower bar has something to do with this as it introduces variable levels of stiffness depending if the car is turning or going straight. The only area I felt disappointed with was the steering kickback, something I have hated on Imprezas since the first time I ever drove one over ten years ago. I don't see how such a well engineered and impressive car should still transmit unacceptable levels of shake through the steering column every time some kind of road imperfection is hit mid-corner. Depending on steering angle, speed and suspension load the whole column and steering wheel will shake violently in your hands, something that if you are not used to can throw you off and surprise you the first few times it happens. I really hope they can fix this soon!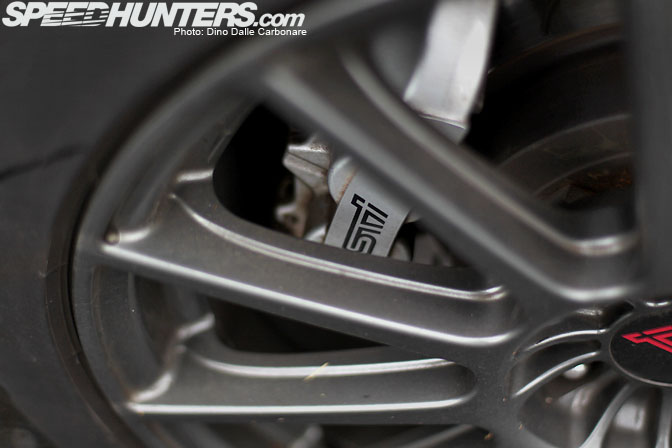 The brakes were simply phenomenal, maybe lacking a little bit of initial bite, feeling almost dormant unless given nice and decisive shove. Despite this, they were more than competent at brushing speed off efficiently and without drama.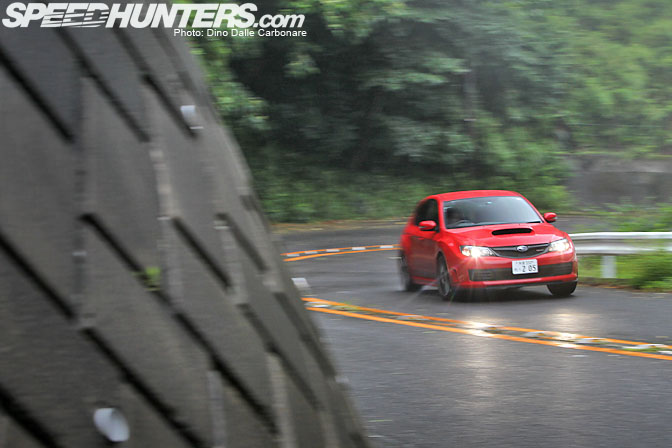 On top of the special STi tuned Bilstein dampers and stiffer springs the R205 gets a host of suspension upgrades which include pillow-ball bushes at the rear to take slack out of the handling and a series of flexible body braces that work on the same principle as the strut tower bar, adding rigidity to the chassis only when needed.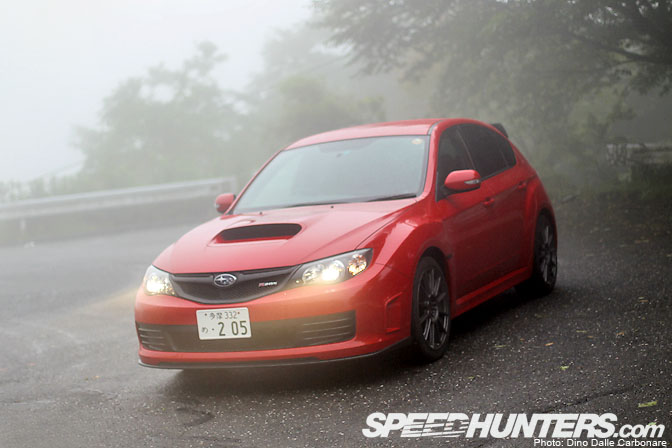 With most Imprezas in Japan being either blue or white I though the red made the car look a little more special.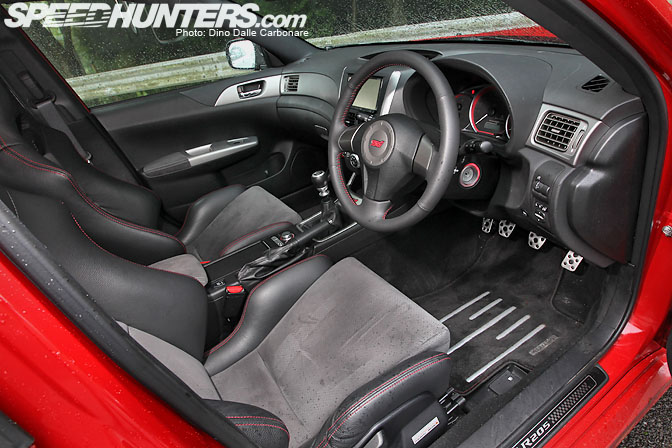 On top of the excellent reclinable Recaro bucket seats the interior gets an STi steering wheel, R205 kick plates…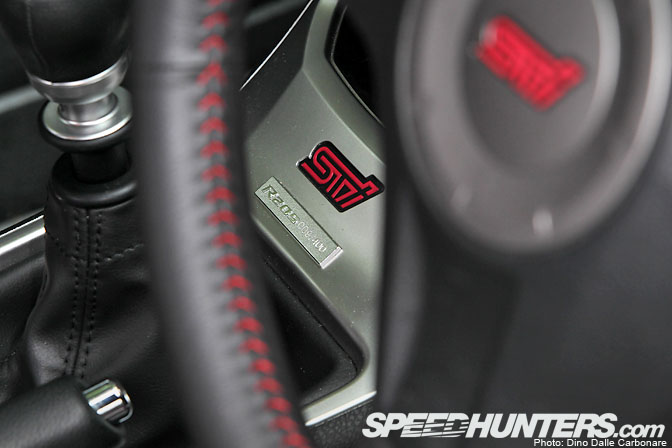 …and a numbered plaque on the center tunnel to remind you just how rare this car is.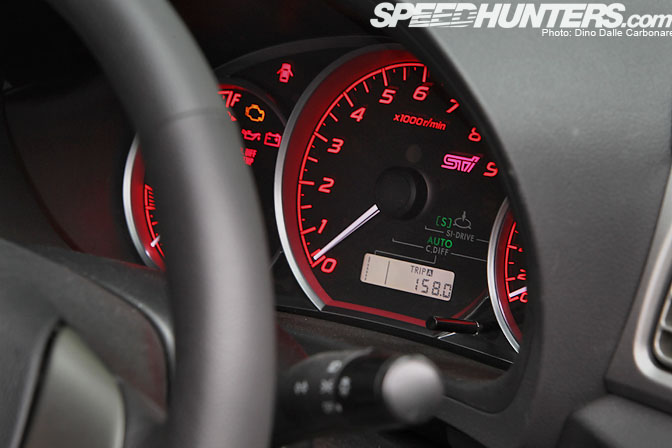 The STI instrument panel remains and on top of the red dials doubles up as a display for the SI-Drive and Center Differential control.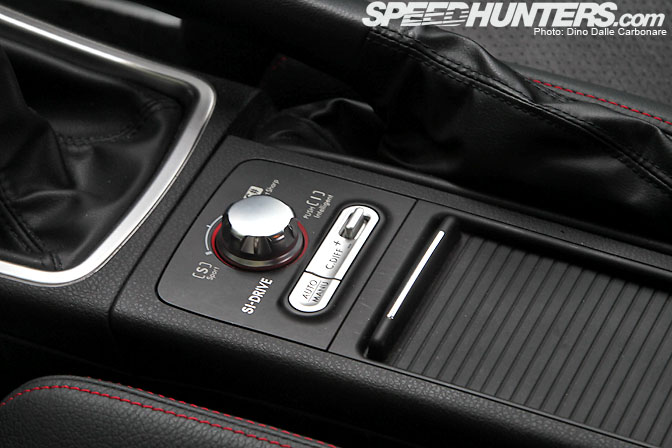 The SI-Drive is supposed to make you drive more economically by cutting throttle response but I found myself using S# (Sport Sharp) mode all of the time. Might not have been economical but it was definitely much more fun. The Center Differential control is a cool gadget that lets you play around with the torque split, allowing you to send more power to the rear wheels or lock the diff completely.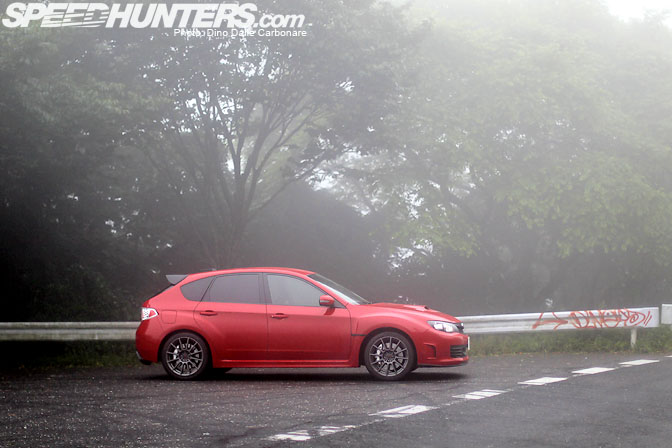 The R205 gets a black roof spoiler, a nice detail on this red example.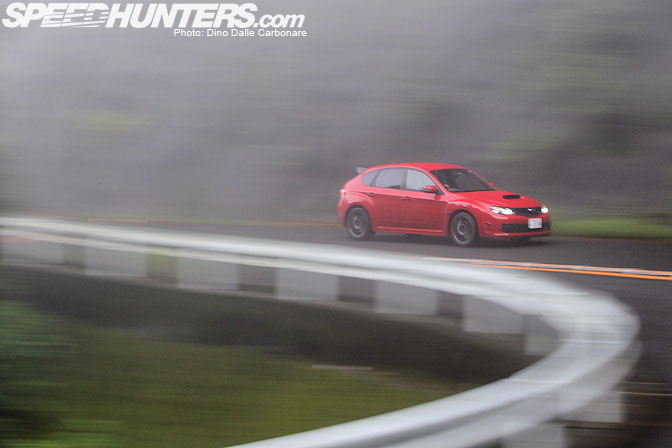 It might not be the most powerful nor the most technologically packed performance car out there right now, but this latest STi special satisfies the driver on so many levels. You feel in charge of every aspect of the driving experience, rather than being a bystander, infinitely rewarding you.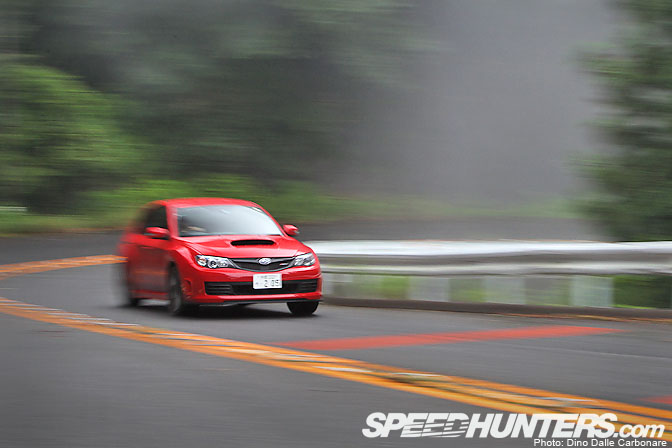 The $12,000 premium over the stock Impreza STi might sound a little steep but I personally think it's well worth it as the job the STi engineers have done really does make it a very focused driver's machine.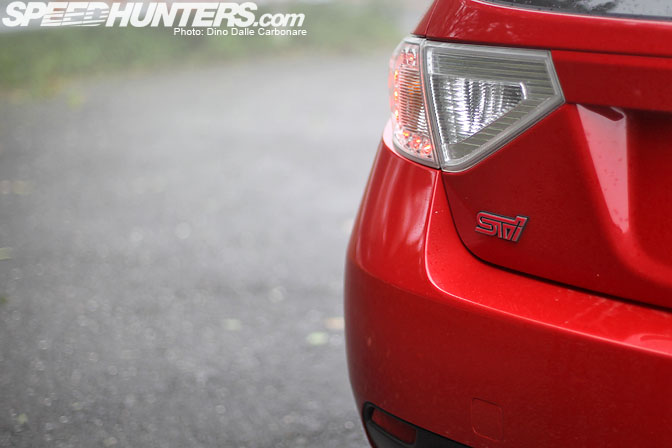 What I can't comprehend is why on earth STi doesn't try to bring these limited edition models into other markets. With the amount of Subaru enthusiasts around the world these cars could potentially be enjoyed by many other people. So how about it STi?
-Dino Dalle Carbonare