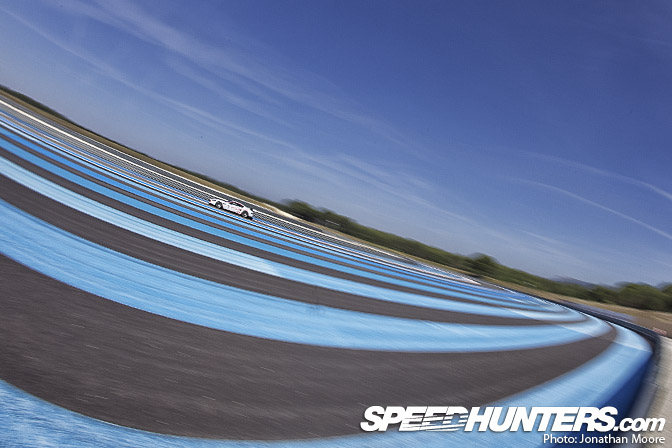 The Speedhunters crew have converged on the Mediterranean coast of France for the next round of the FIA GT world jaunt. Things look like they could get pretty stripey, so it's maybe best to apologise upfront to those of you who are allergic. Now firmly in its European phase, this weekend's event at the famous Paul Ricard track near Marseille comprises the fourth rounds of both the FIA GT1 World Championship and the FIA GT3 European Championship. Deep blue is the colour for the weekend.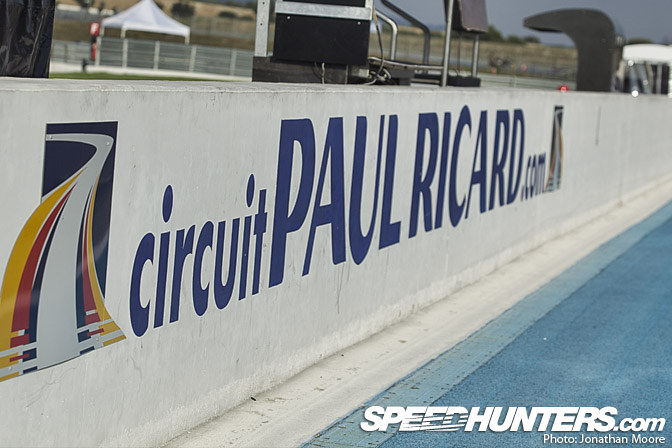 We're somewhere which is an interesting contrast of new and old. Old being the original Le Castellet circuit that the Paul Ricard High Technology Test Track sits on top of, still alive through the slightly quaint Art Deco font still used for all the track logos and the amazing, stretching-into-the-distance Mistral straight. New is the Paul Ricard H-treble-T itself. And my god is it new. It's like being in a perfectly-kept English garden. With a race track inside. Bought and renovated in 1999 by His Imperial F1 Majesty Bernard Charles Ecclestone Of F1-land, it's now out of his ownership but carries forward his perfectionist attitude.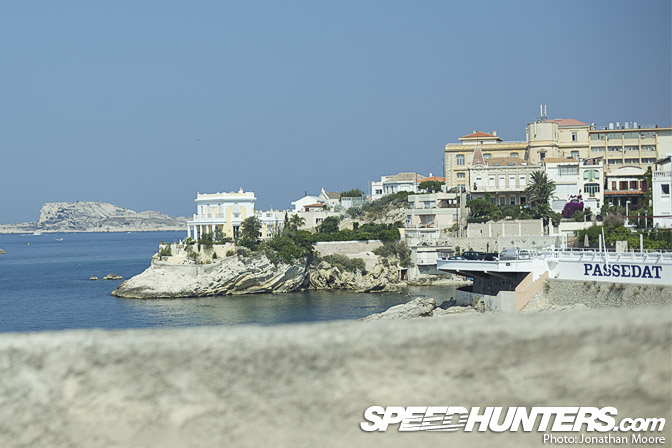 Nearby Marseille is the second biggest town in France after Paris, but as with all towns on a coastline has a completely different feeling to typical urban centres. You can likely waterski to work. It's just generally very agreeable: the place oozes lavender, rosé wine and tanned flesh.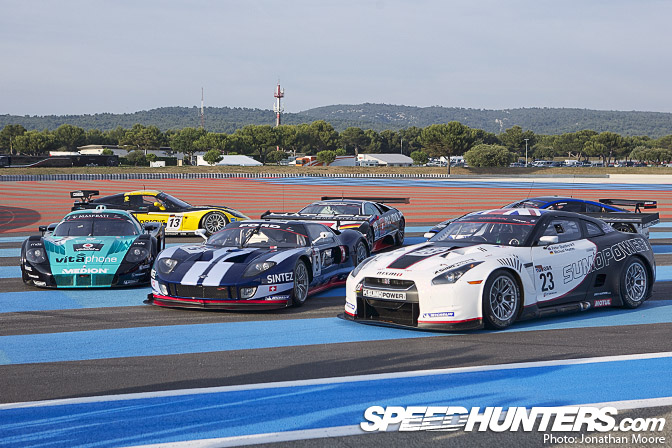 But sun, sea and shandy aside, the reason we're here is to Speedhunt, right? Luckily we have a full grid of 24 GT1 cars to assault our senses and generally beat up our ears. Add in 30-odd GT3 cars, a pack of GT4s and a corral of Lamborghini Super Trofeos, and we reckoned they'd be plenty here to keep us – and hopefully you – happy.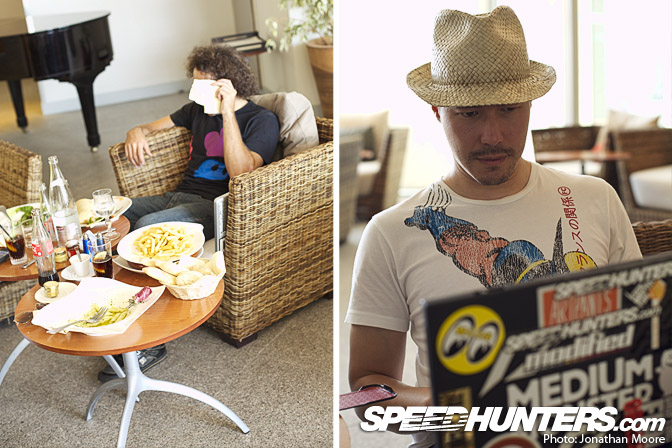 it sounded like a corny gag: an American, a Canadian, an Englishman and Irishman walk into a bar… Or: How To Potentially Set Back Relations With The French By Several Decades. Will Roegge ended up American-size portions of food in out first foray into the local cuisine. Local cuisine being, uh, fries. And plenty of them. Will was admittedly suitably embarrassed at the quantity of riches laid out for him, and was even nice enough not to point out that I'd done the ordering as the designated traducteur de Français. Chief Speedhunter Rod continued transmitting and receiving orders for Team Need For Speed via his wired-in brain and weighed-down-by-stickers laptop.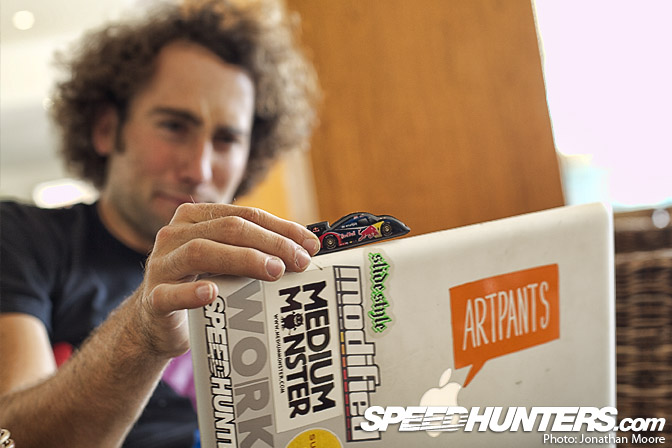 Things got off to a slow start, as a USB drive that Will had scored at Pikes Peak became the focus of attention, rather than planning the weekend. It was his car noises that won us over, backed up by copious amounts of jet lag across the team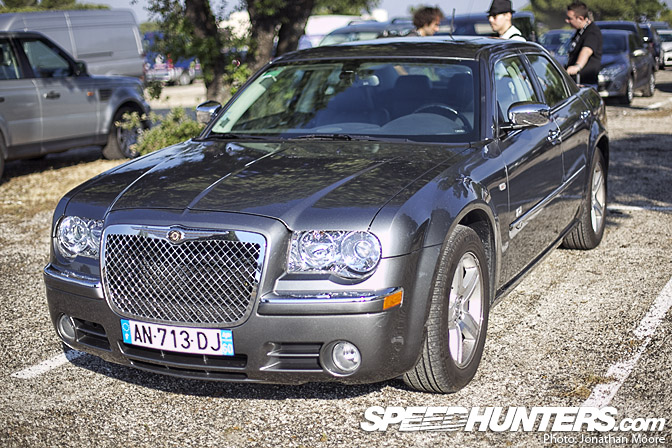 Next up was the hire car. A Chrysler 300C. But a diesel. How is that possible?! A beautiful match of north American for Will and Rod and European for me and Paddy. The road-holding of a water bed and the most confusing GPS interface ever. Me pointing proved more effective.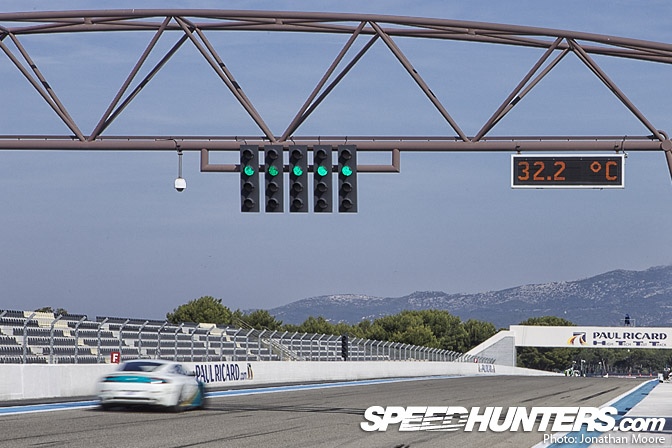 Arriving at the track, the temperature was up to 32 degrees by 10amand would only climb as the day progressed. For us poor photographers, being out in the heat with no shade is the least fun part of the gig.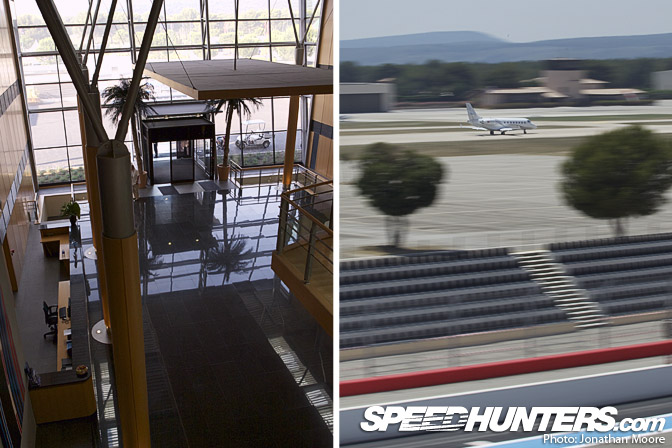 The track itself though is incredible: a testament to Bernie's deep wallet and OCD attention to detail. From the moment you turn off the main road and onto the access road you sense the order and quality: it's more like driving into a country club than a race track. The atrium of the pit building is up there with any corporate headquarters. Running parallel with the pits is a private airport: small jets streamed in and out even as the cars roared round.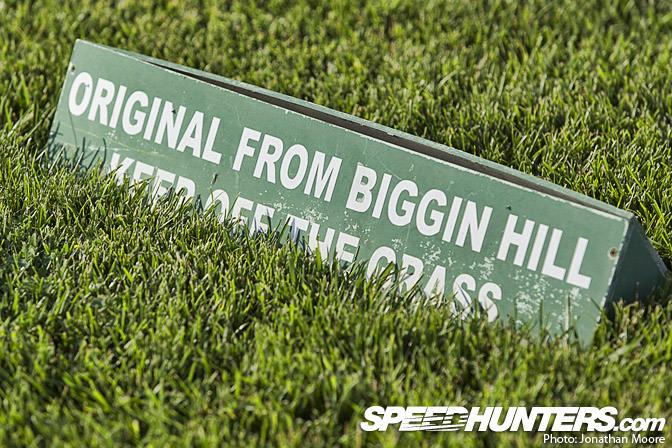 There is even manicured grass between the pit-lane and pit-wall. Better than that, it's imported English grass, from Biggin Hill airport – coincidentally only a couple of miles from where I live. Bernie also owns Biggin Hill. And probably most other places you've heard of.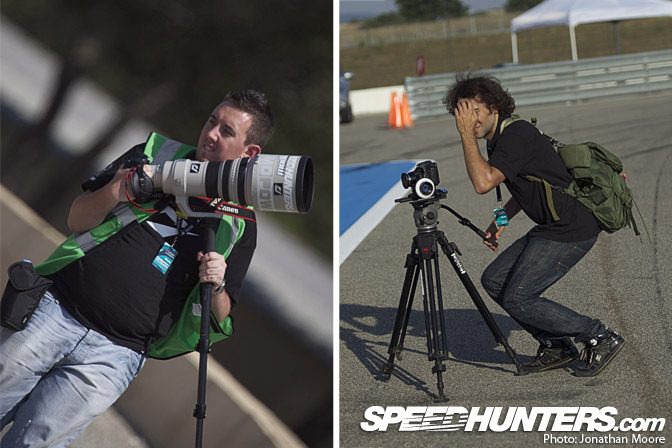 Out on track, Paddy immediately regretted borrowing the Speedhunters prized possession: the obscenely big 400mm Canon lens. In this heat, lugging that around wasn't big fun. Will was still covering his face in shame. Or maybe he was dancing. I wasn't sure by this stage.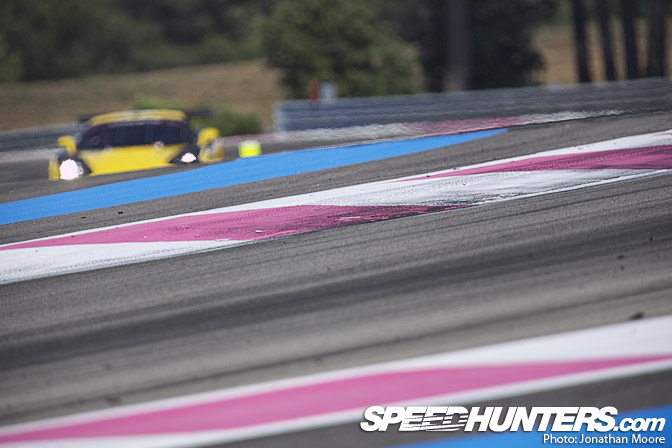 Cars had to be stalked like prey. They hid…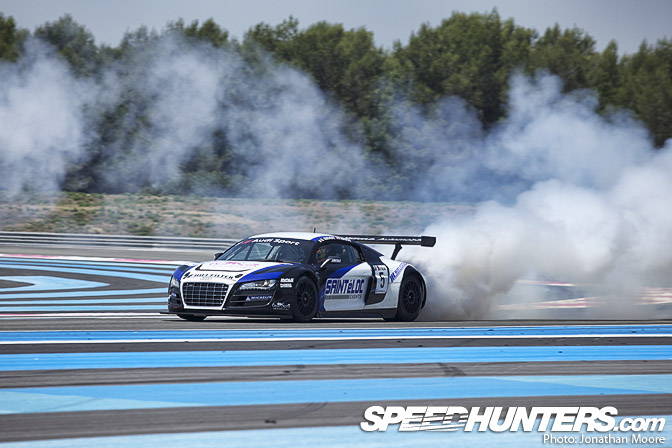 They laid down smoke screens…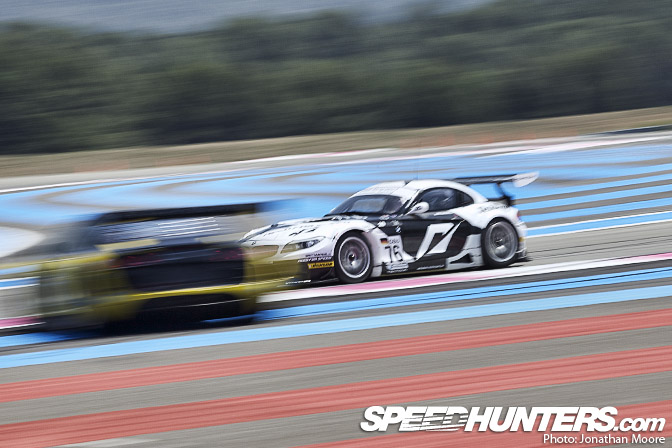 They even tried to hide behind each other…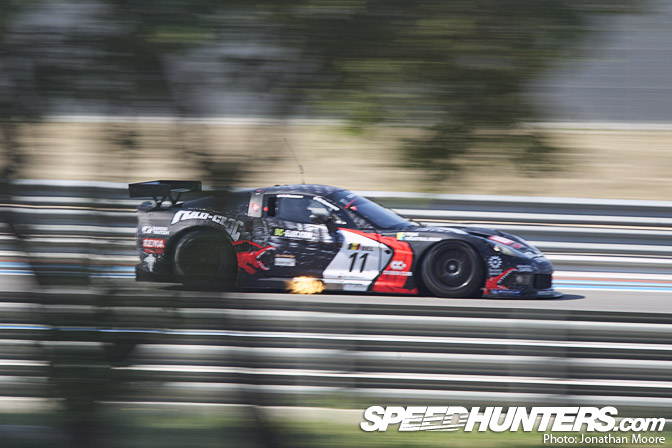 …Or skulked in the woods, spitting flame.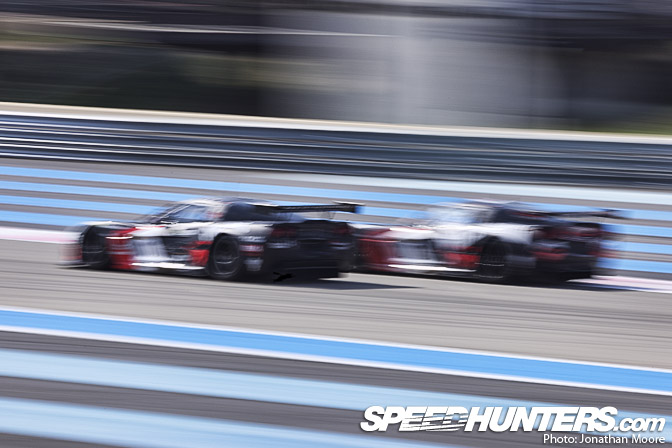 By the end of the day, they even split into two and bellowed at us from the track, making our addled brains even more confused.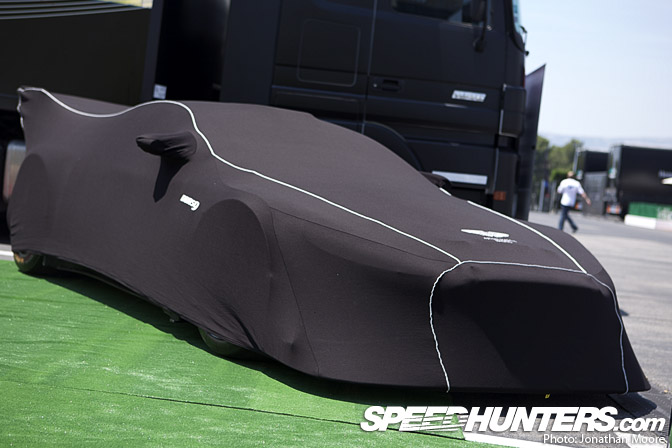 Back in the paddock, an Aston Martin DB9 sat clothed in a black shroud.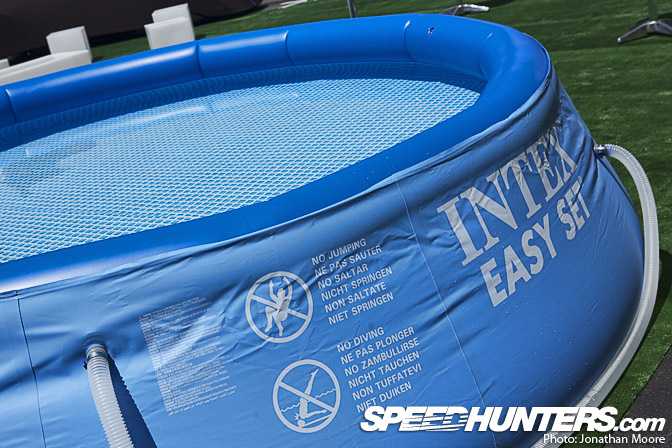 Next to it was a swimming pool. How these two things would be combined on the next day proved quite difficult for male pulses to cope with.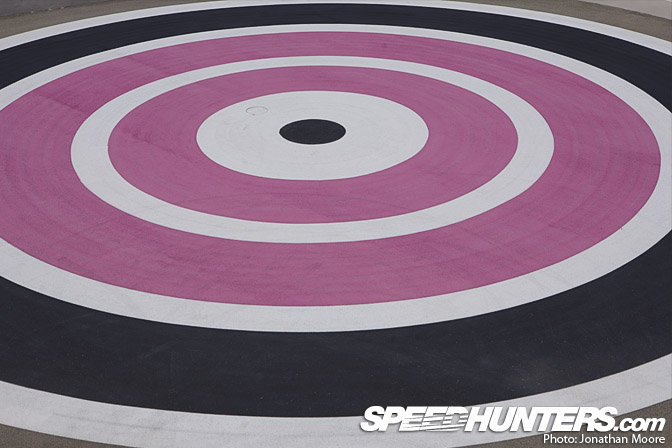 The bullseye skid pan behind the pits became slightly hypnotic after a while. Not a good thing when you're on top of a three-storey building.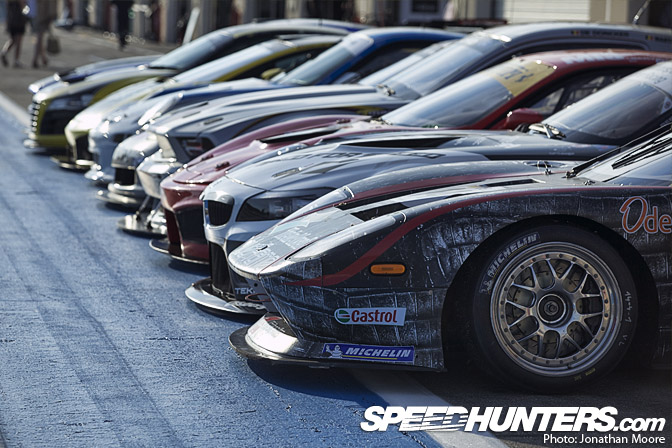 Into the evening, after all the practice sessions for the various series had finished, it was time for some set-piece photo opportunities: first up representatives of the GT3 grid.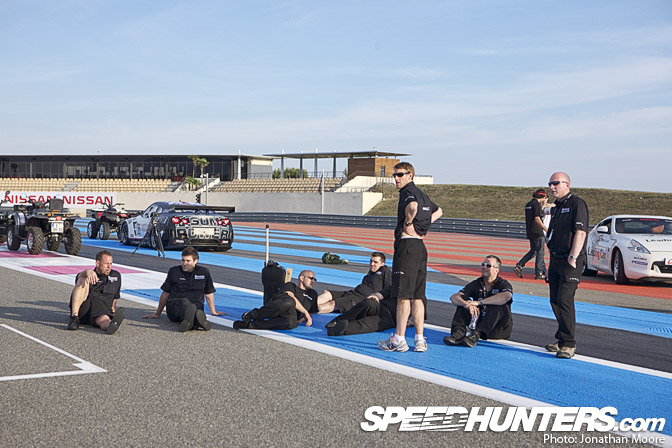 Then, up by the last corner, one car from each GT1 manufacturer was being assembled. But something else was also stirring. The Sumo Power team looked on, open mouthed… What the?!…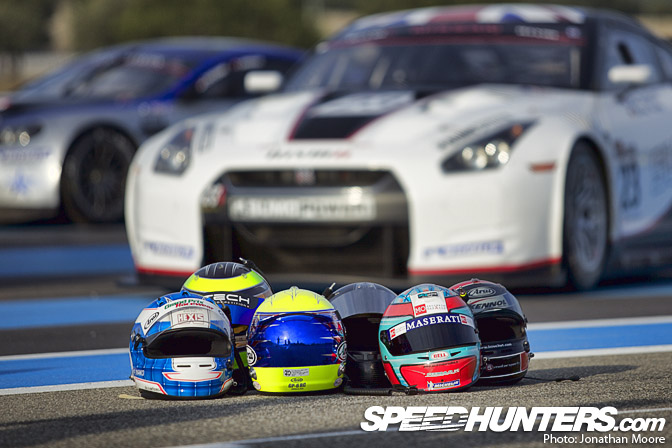 We had cars. We had helmets. But no drivers. Or at least, not drivers in these helmets.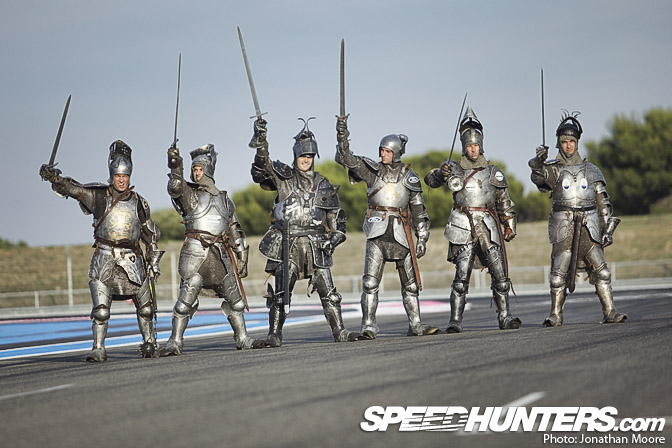 This could be the most genius thing ever, or utterly insane. A driver from each team had somehow been hoodwinked into dressing up in suits of armour. It's like, because, y'know, they're battling, like knights, but in cars…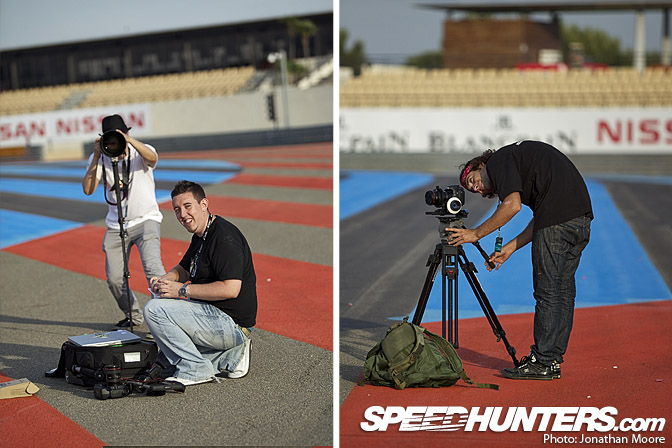 By this stage Paddy couldn't stand up, Rod's eye had become glued to the 400 and Will's back had permanently atrophied into a bent-over hunch, the poor guy. These are the lengths that Speedhunters go to. The suffering.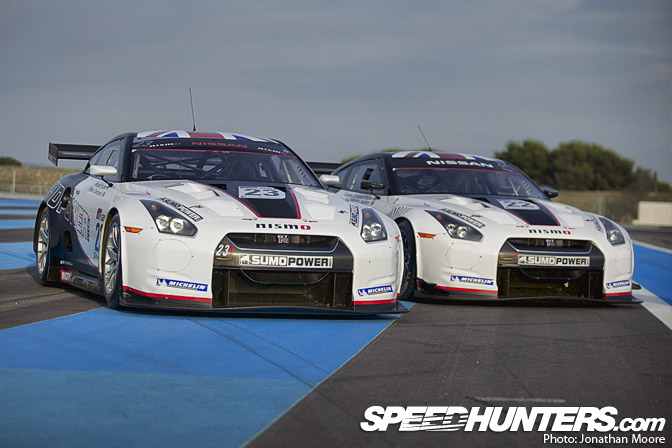 Once the drivers had stopped getting medieval, there was one final chance to get the two Sumo Power Nissan GT-Rs together on track. Things were looking good for both cars: good results were expected.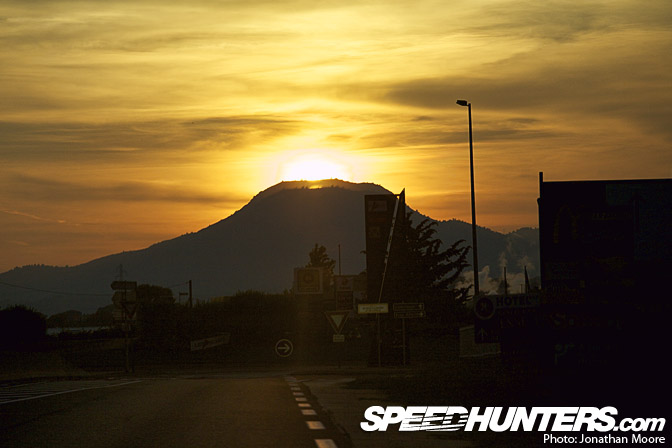 But as the sun set it was time to hurry back to the volcano headquarters of Speedhunters, and regroup for the next day. 
Jonathan Moore