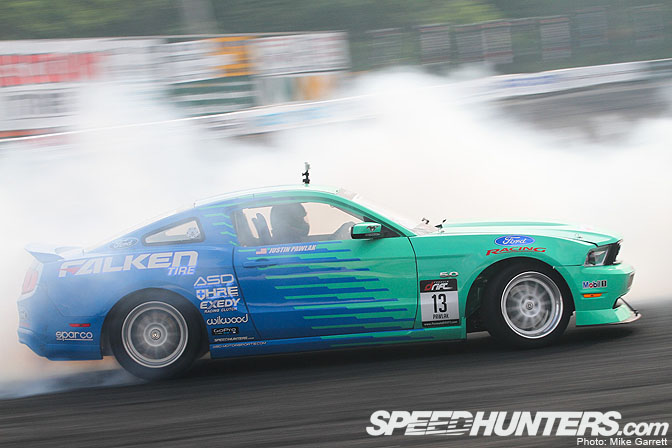 For this month's edition of our Falken Drift report, we decided we'd focus on the newest member of the team – Justin Pawlak.
Immediatlley after FD New Jersey, we put together some questions for Justin, asking him about his new life behind the wheel of the Falken Mustang, his experience at Wall Speedway, and much more.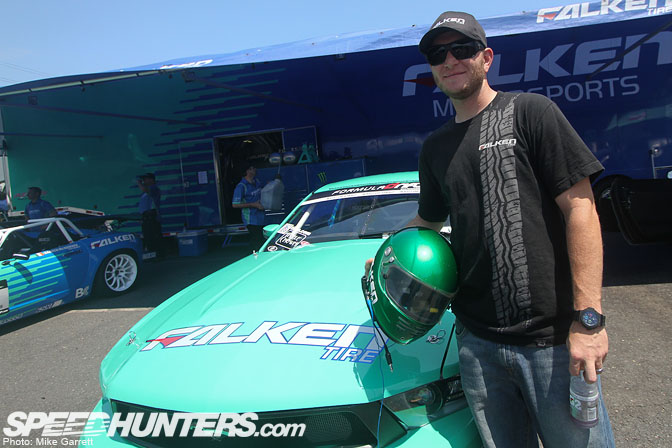 Speedhunters: It's been a while since we've featured you here on Speedhunters, with some big changes in your driving career since then. What has it been like moving from rotaries into a V8 for the first time?
JTP: Yes, things have definitely changed, and changed for the better!  Moving from rotaries to a V8 was surprisingly easy, especially since the car was already very well setup by JR and the guys at ASD.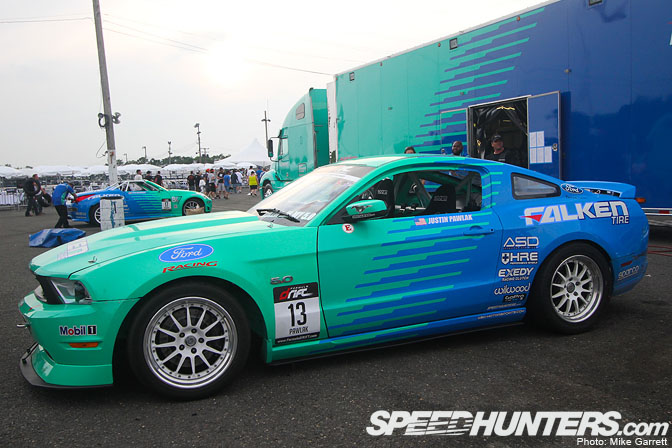 Speedhunters: The first time you hopped into the Mustang during pre-season testing, what were your initial thoughts?
JTP: I was definitely impressed with the power and torque the Mustang made the first time I got behind the wheel.  The steering and overall feel of the car was a good surprise as well, even though it looks like a big heavy car, it was much more nimble than the Rx8 I drove last year.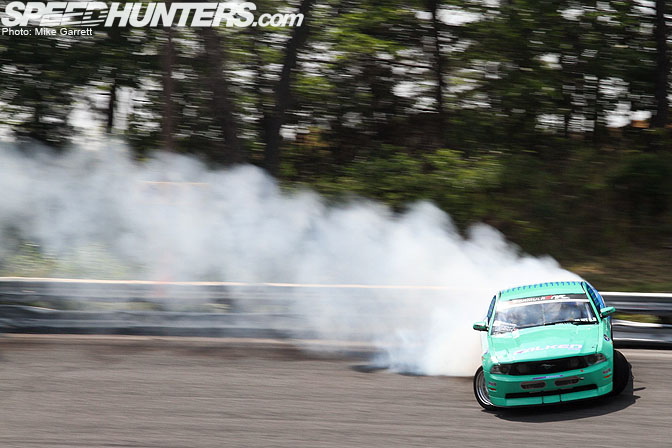 Speedhunters: You have one of the most aggressive driving styles in FD. Has it been difficult adjusting the the new car to your driving style?
JTP: Thank you!  I try to retain my own style no matter what car I'm driving.  Ian and the guys at ASD have been great in trying to setup the car to accommodate my driving style.  But also I've had to make some changes to my driving style to try and achieve the overall goals of the team.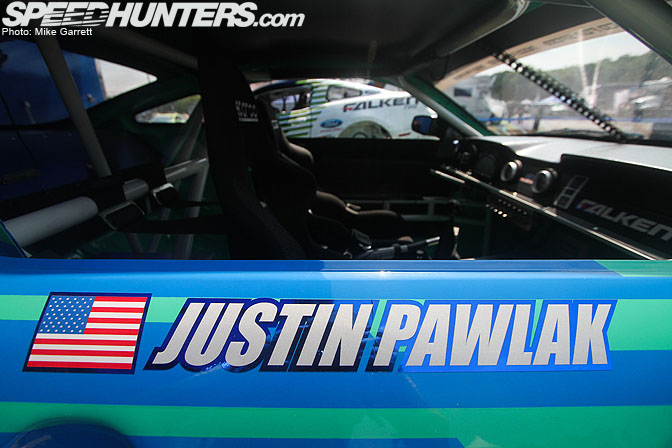 Speedhunters: It's not just that you are driving a new a car this year – you have also become part of one of the sport's most established teams. What's it like having the support of Falken and ASD?
JTP: Having the support of Team Falken and ASD is awesome.  I truly feel like a professional driver this year.  I mean, from flying into each event, having my own hotel room, getting fed 3 times a day and on top of that getting paid to do what I love.  It's amazing!  Also all the guys/gals/drivers at Falken and ASD are super nice and make it feel like a family.  It's really fun hanging out with the other Falken drivers before and after the events, just joking around and having a great time, it definitely makes the events fun and easier to do well.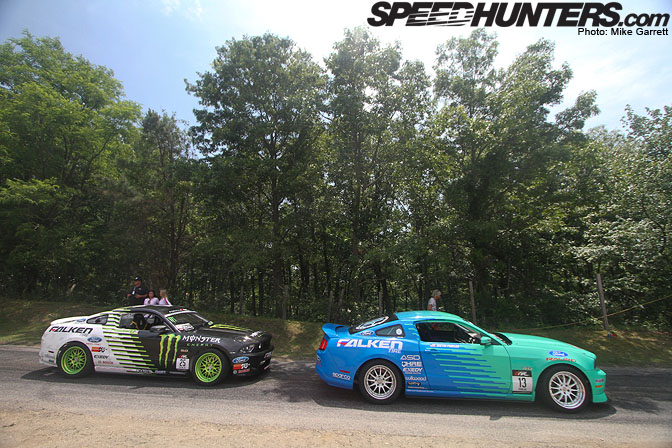 Speedhunters: Having Vaughn Gittin Jr. as teammate with years of experience driving Mustangs also must be a big help. Has he given you a lot of advice?
JTP: Yes definitely.  I ask Jr about each and every track, being that he has so much experience and is driving amazing this year!  It's also cool being able to bounce ideas/strategy off each other throughout the event to see what's working best when attack the course.  On another note, I definitely would like to retract a comment I initially made, haha.  JR's definitely showing us all what's up when it comes to driving a Mustang!  I definitely appreciate everything Jr has done for me this year, and it's awesome being able to drive a "Brostang" with him!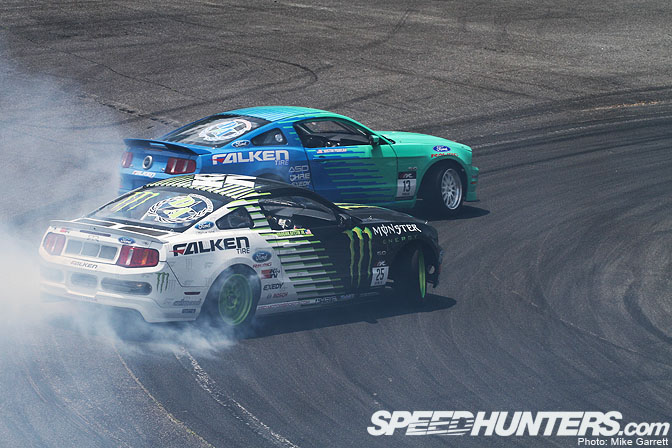 Speedhunters: At the same time. There are also some notable differences in your driving styles. What are some of these?
JTP: I'm gonna leave this one alone…  other than we've both got our own styles and we both know how to make those Falken 615K's smoke!!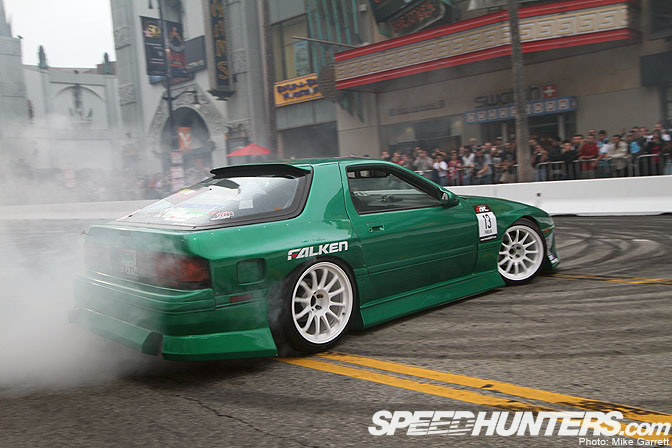 Speedhunters: Even though you are piloting a Mustang in Formula D now, you still live the rotary life in LA with your shop Hot Line. How has that been going?

JTP: Hot Line has been doing very well since we opened in October.  I have to say we've been blessed with how well things have been going.  We have a couple longer term projects that we're working on as well as the quick in and out jobs.  We always are looking for more work though, so If you're looking for good work, we're always here!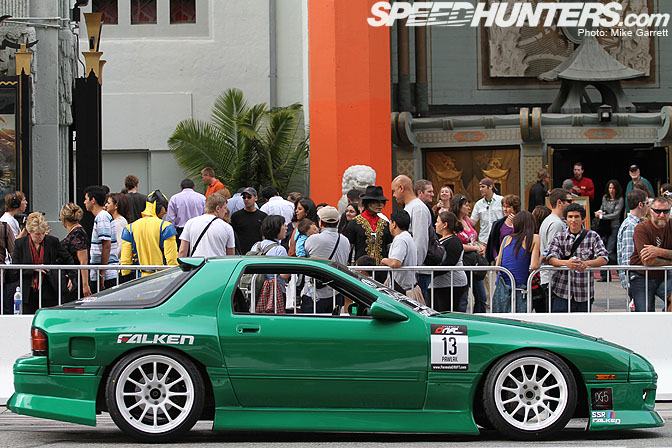 Speedhunters: What kind of work do you specialize in at the shop?
JTP: We specialize in roll cages and suspension/steering modification, but we do everything from engine builds, drive train swaps, v-mounts etc.. pretty much anything you would want to do to a street or race car.  And for those that don't understand rotaries, we're even doing V8 swaps…  I would never do it to my car though.. haha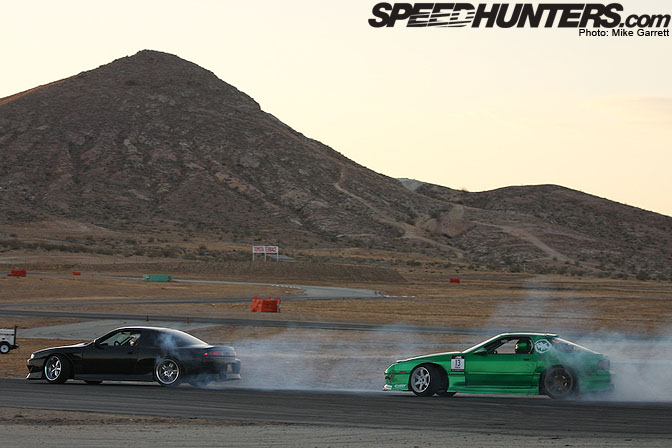 Speedhunters: You're a busy dude. How often do you get a chance to hit up local SoCal drift events these days?
JTP: I've actually been going to up to Willow Springs quite often for the Just Drift events.  I try to get out to the local events as much as possible to support my roots in drifting.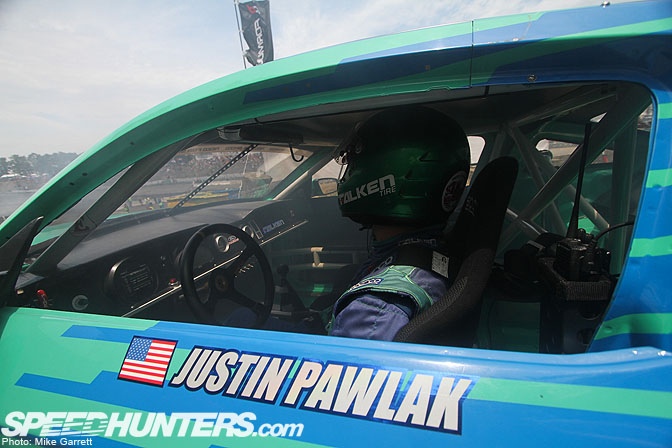 Speedhunters: OK back to Formula D now. Now that we are coming up on the half-way point of the season, are you feeling totally at home in the Stang?
JTP: Yes, this last event in Jersey it finally felt like I was meshed with the Stang.  I finally feel like I can be competitive and have a good chance at winning an event.  Although each track this year is going to be a learning experience I hope to get some good finishes for Team Falken during the rest of the season.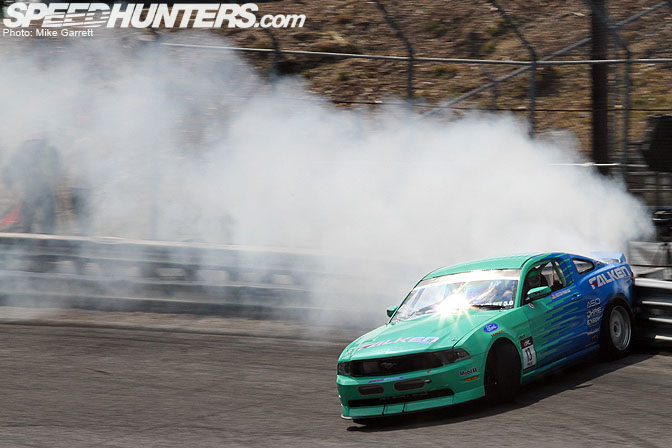 Speedhunters: You had an insane weekend in Jersey. Tell us about your wall-riding qualifying runs.
JTP: Well it's a smaller track so the most "exciting" portion of it is the guardrails, in my opinion.  I had been flirting with the wall in practice, and knew that if I could ride the wall in qualifying I would have a good chance at qualifying high.  Also the "DA clipping point contest" was based on how close we were getting to the wall, and I wanted to win that portion of the contest.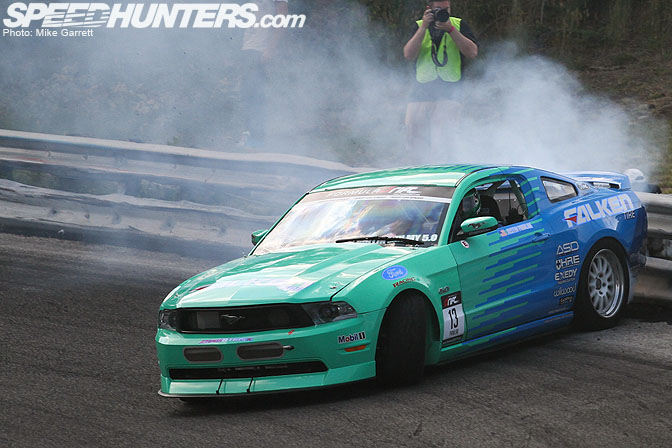 On my first qualifying run I ran a bit too close to the end of the bank and hit the wall a little harder than expected, causing a bit of a correction in the run, reflecting in my score of 84.  The second run I just tried to clean up a couple spots in the run and had a much better line coming off the bank which put me into the number 1 spot, until D-mac took over just minutes later.  Forsberg also blamed me for his encounter with the wall, saying it was my fault because I had been getting so close and he was also after the DA clipping point contest…  sorry Forsberg!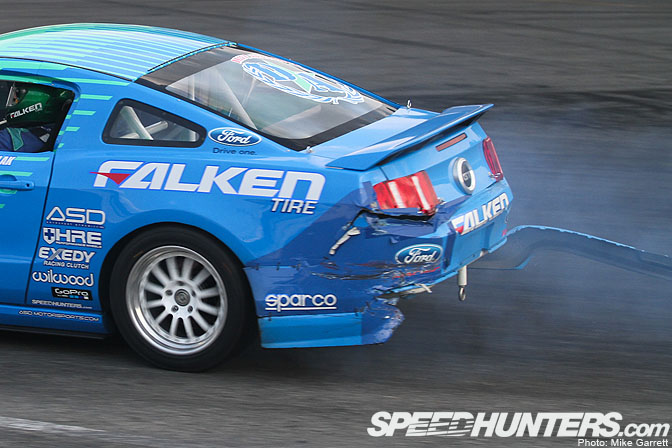 Speedhunters: At one point you even shredded the rear bumper against the guard rail. What did you tell your crew after this one?
JTP: Well, I forewarned them that there was a good chance I would come back without a bumper, so it wasn't much of a surprise to them.  They were on it, and had the car put back together and looking good for the next run!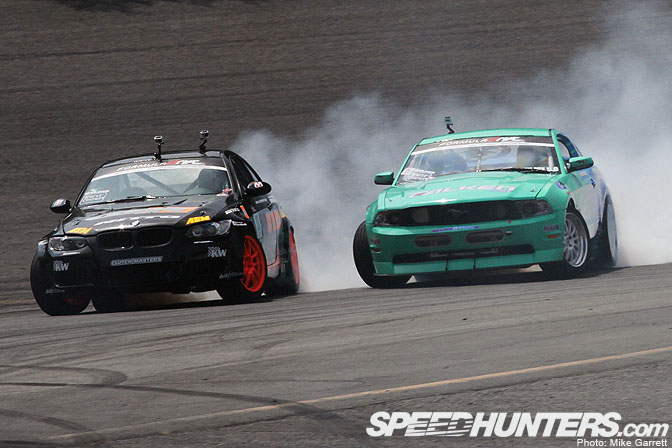 Speedhunters: You faced some tough opponents in Jersey. First up was Michael Essa in the Top 32. How did this go?
JTP: Mike had just come off a great finish in Atlanta so I knew it wouldn't be an easy battle.  Although after studying the speeds I knew I had a couple mph on him coming out of the inner oval so this could be towards my advantage, but also would make it tougher to follow at this point in the track.  ASD made some changes to the car to help with this and the runs went in my favor.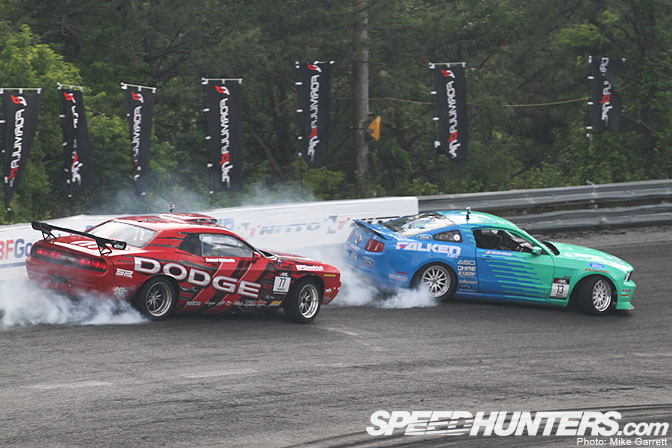 Speedhunters: Next up, Sam Hubinette – always a tough guy to beat. How did you approach this one?
JTP: I was really looking forward to this battle.  It would be a classic muscle car match up and I knew I had the better Muscle car! haha  I knew Sam's car was fast, but not fast enough to pull on my Mustang.  On my lead lap it seemed like he had a little trouble keeping up, and on the follow lap I felt like I could stay fairly close throughout the entire run.  It reflected in the judges decision as I moved on.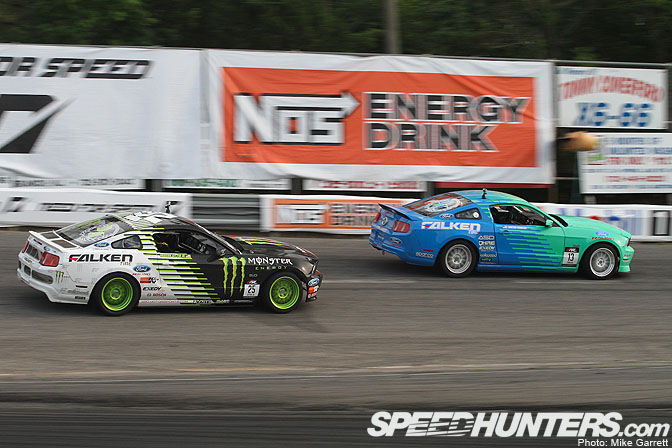 Speedhunters: Finally, in the Top 8 you were matched up with Vaughn in all-Mustang battle. How did you feel when you learned he'd be your opponent?
JTP: I knew after seeing the top 32 grid that there was a good chance of us meeting up.  I was actually really excited to have a chance to run him in competition.  We had made a couple practice passes with each other and there was some friendly taunting going on, so I knew it would be a good battle!!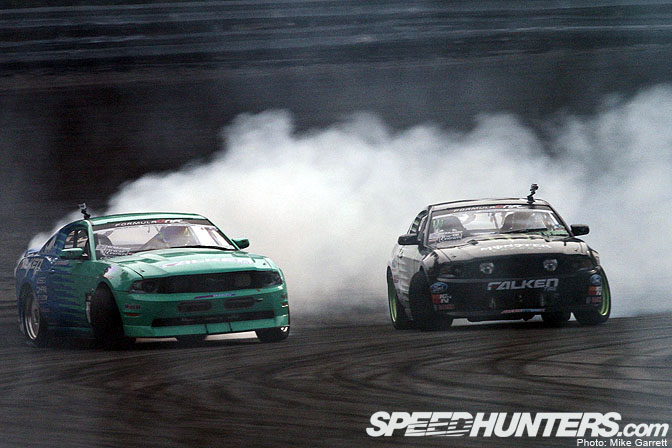 Speedhunters: Take us through the battle with Vaughn.
JTP: Well first of all JR thought he had out qualified me when he lined up on the left starting lane.  Although he was quickly reminded by the starter that he was to move to the right.  Yeah Jr, I did out qualify you in your old car! haha  Getting ready to run we gave each other a friendly smile and thumbs up…  after that it was war!  The first run was very close, and as we rounding the last corner I could see Jr pretty close to my door and knew that it was very even.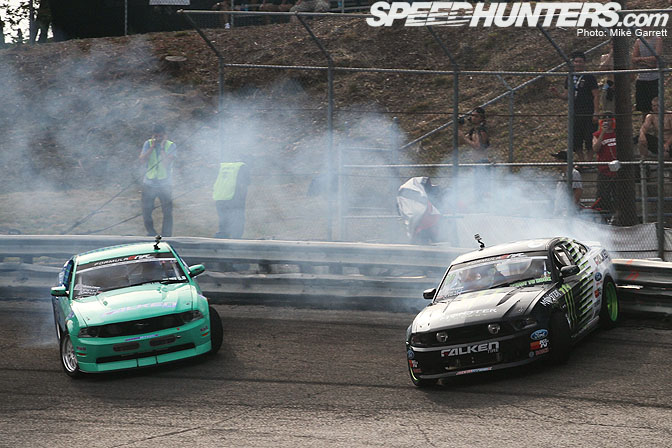 On the second run he pulled on me a little on the start but I was quick to catch back up.  Through the infield I stayed fairly close and tried to attack on the last corner.  As we round the last turn I tried to get right on his door, but got a little too aggressive and tapped his quarter causing myself to correct, which determined the battle.  Overall I think we gave the crowd a great show and I hope Ford Racing enjoyed seeing their cars battle it out!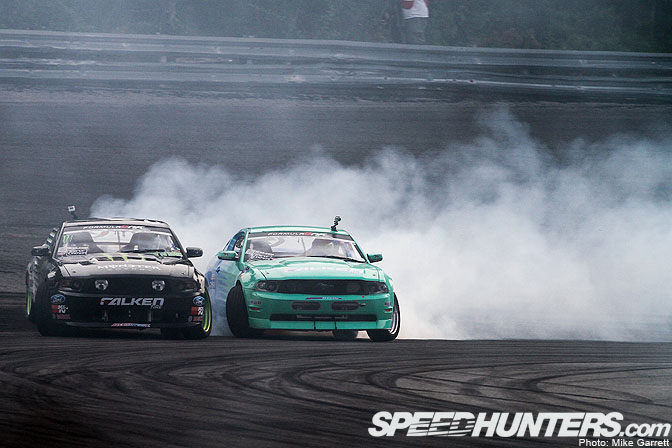 Speedhunters: Even though Vaughn won, It was a close battle against a teammate and one of the hottest drivers in FD right now, not a bad way to go out eh?
JTP: Not a bad way to go out at all.  Although I would have loved to win that battle, he's definitely one of the hottest drivers right now and it was awesome giving him a run for his money!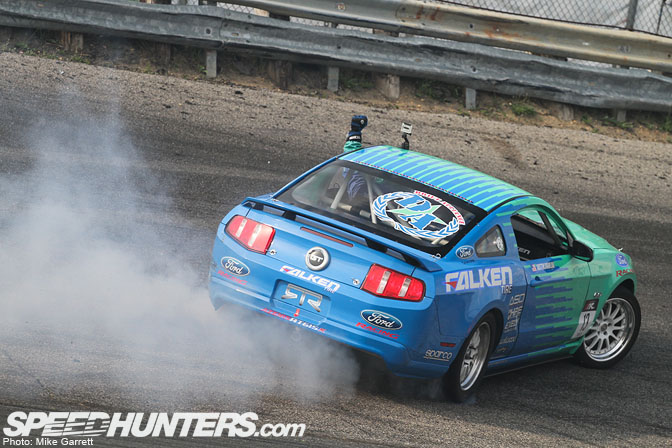 Speedhunters: Now that Formula D returns to the west coast for the remainder of the season, what can we look for from you and the Mustang?
JTP: Well I hope to keep improving every event, pushing towards a podium finish before the end of the year.  ASD has been working diligently on my new car, which will be replica of JR's new car, except sporting the Falken teal and blue livery. This is an updated chassis meeting all of the new rules Formula D has set for 2011, so keep an eye out for it debuting in the next couple months!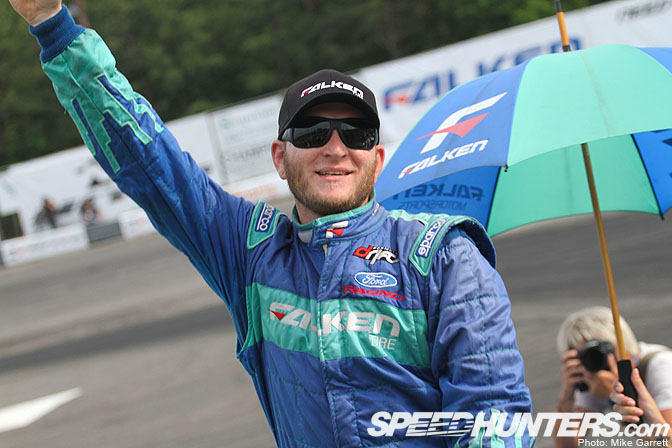 Speedhunters: Finally, anything else you'd like to add?
JTP: I would like to thank all the fans that have supported me throughout the years, it's awesome to have your support no matter what car I'm driving!  Also I'd like to thank my wife for all her support and believing in me, my parents for following me all around the nation and supporting me at all the events over the years.  And last but not least, Falken Tire for giving me this awesome opportunity!  I'm very proud to be a part of the team!