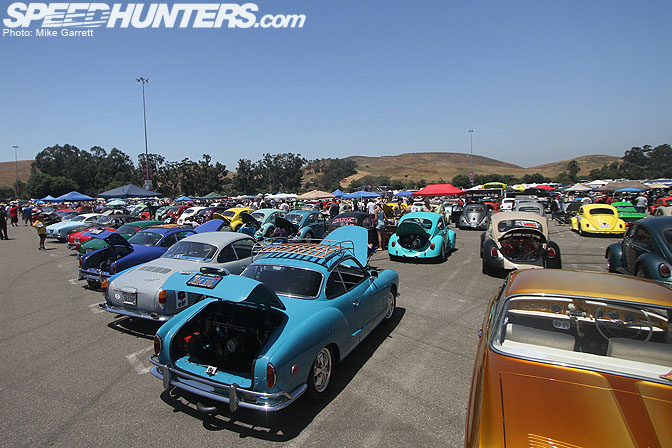 Every summer in Orange county, Volkswagen enthusiasts of all types get together for a massive gathering known as the VW Classic Weekend. For an entire weekend VWs swarm Orange County for a number of events, with the highlight being a giant car show at the Verizon Amphitheater in Irvine.
On Sunday morning I headed down to Irvine to take a look at this mecca of SoCal VW culture.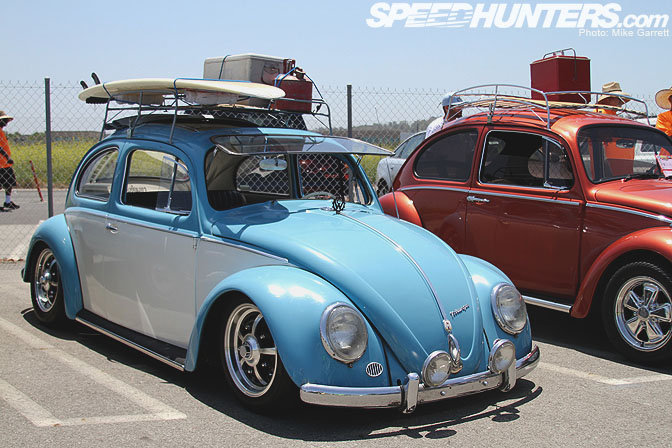 While on the subject of SoCal, it doesn't get much more SoCal than a slammed two-tone Bug sporting a roof rack and a surf board. Yep, VW guys have been on the roof rack trend since before most of us were born…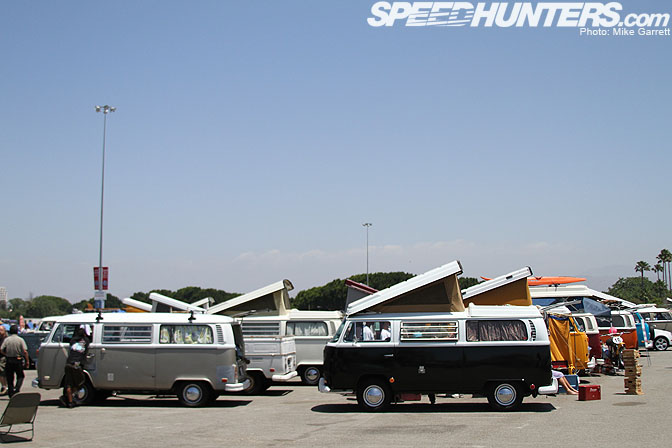 Why stay at a hotel for the show, when you can just spend the night in your VW van? The Keep Drifting Fun boys know all about this.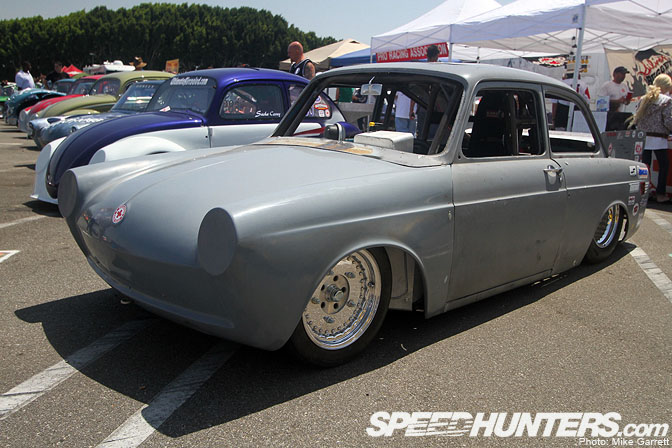 Among the hundreds and hundreds of cars that came out, every type of Volkswagen could be found. There was everything from serious drag cars, like this Type III Notchback…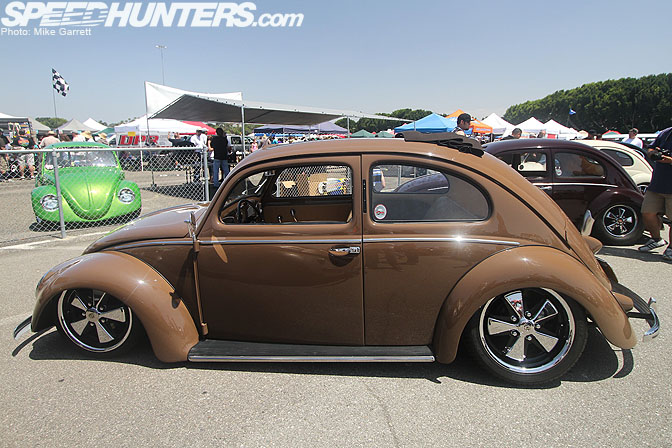 …to slammed cruisers, like this Beetle wearing a set of what look to be 16" Fuch style wheels.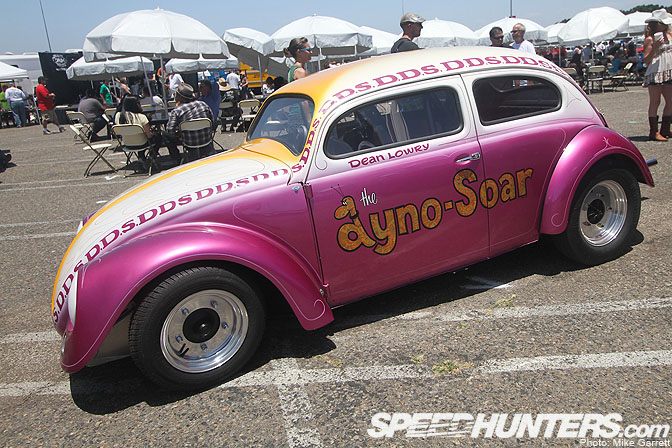 This drag machine looks like it came straight out of one of the old Bug-In events at the long-closed Orange County International Raceway. Love chop top and retro paintwork.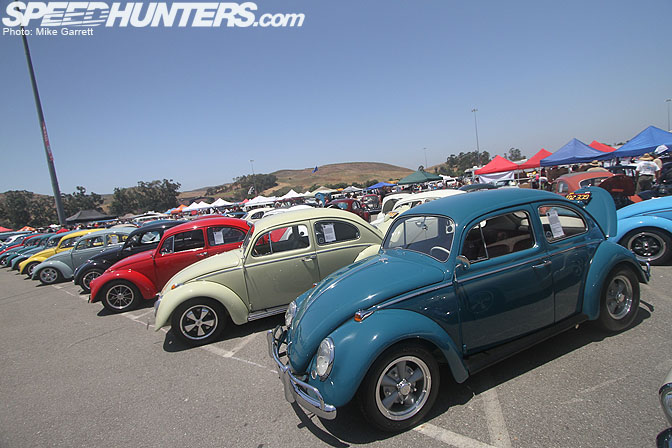 Seeing as this an Orange County VW event, there were dozens of traditional Cal-Look style bugs on hand, many of them from the famous DKP car club.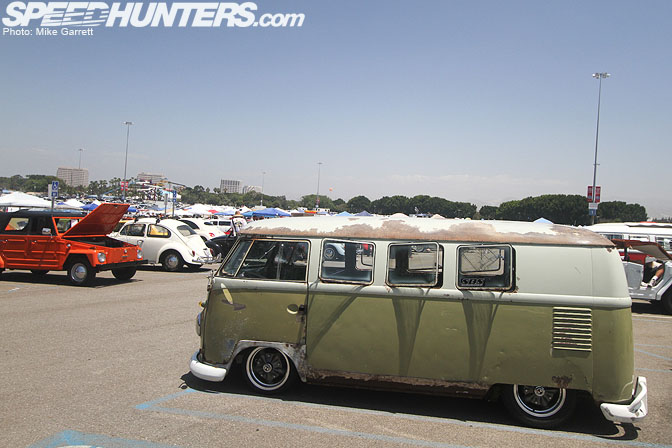 Plenty of "rat style" VW's were out there as well, such as this "green on white on rust" transporter.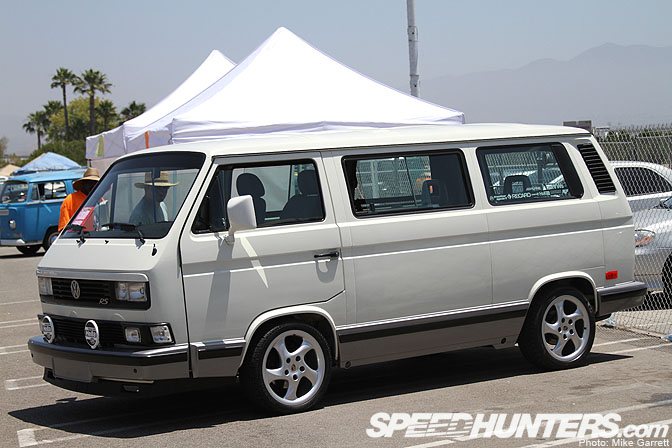 Cross a VW Vanagon with a Porsche 911 and you get something like this. I love it.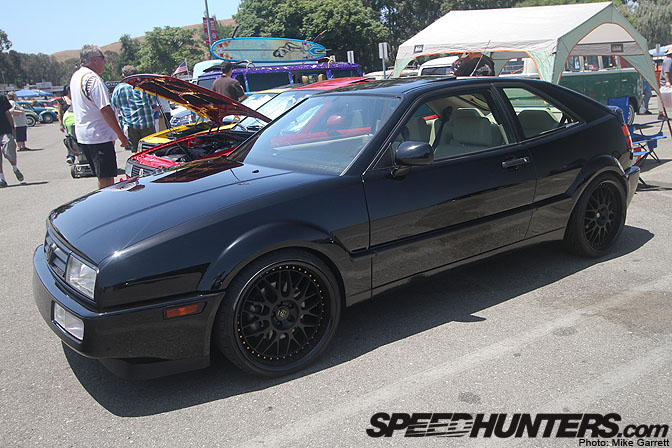 The Classic is dominated by air-cooled VW's, but there were plenty of water pumpers on hand. This Corrado on Work VS-XX's was fantastic.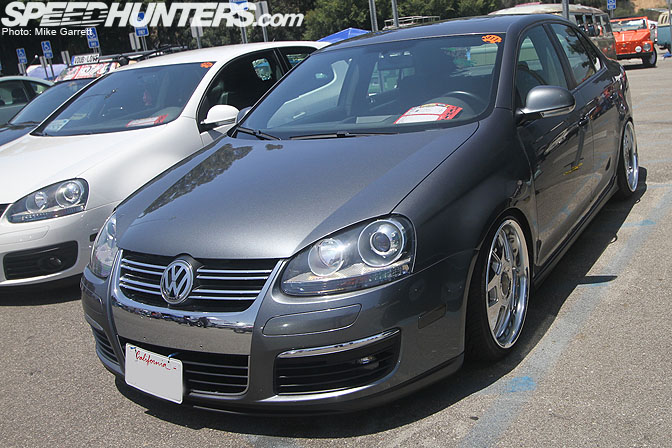 Another VW doing the JDM wheel thing, with this late model Jetta dropped over a set of Work Eurolines.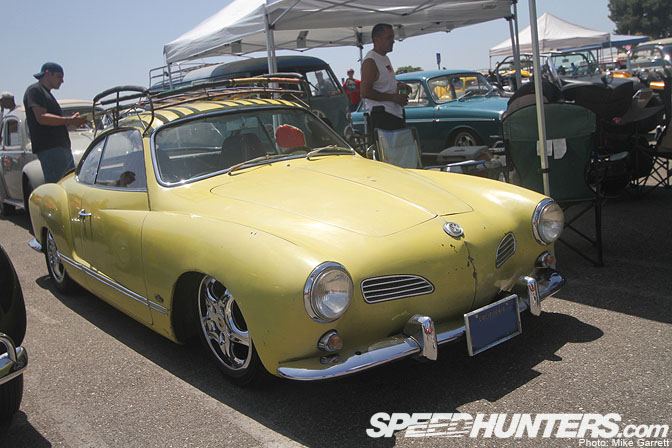 Long live the Karmann Ghia. This one looks pretty sweet on modern Porsche rims.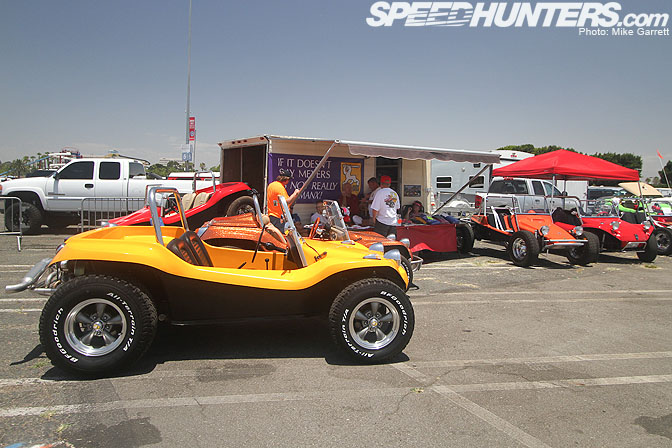 Nothing says retro cool like a Meyers Manx buggy, VW-powered of course.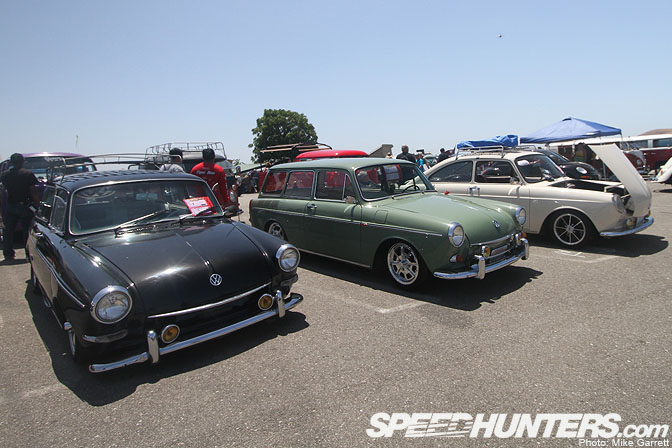 I don't think I've ever talked to anyone who doesn't like Type III VW's. Here's three fine examples of the breed.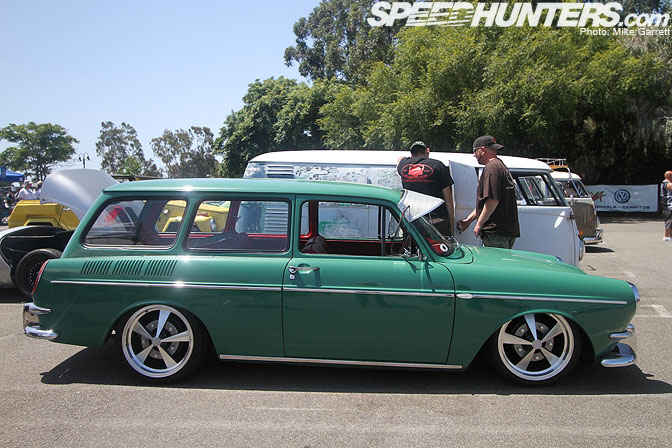 This Squareback looks surprisingly good, dropped on 17's. Typically, cars like this don't look good on big wheels, but it works here.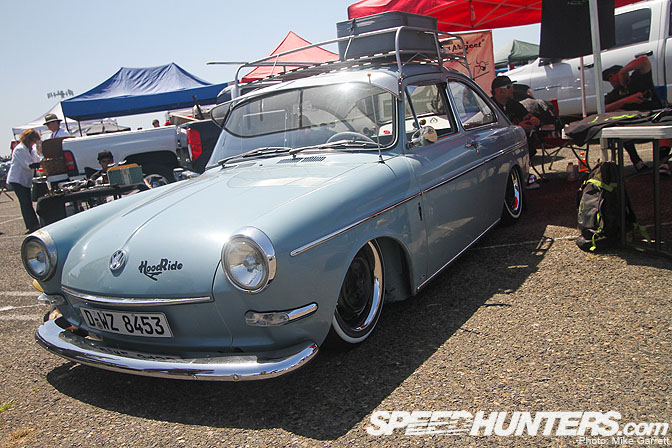 Definitely one of the lowest Type III's I've ever seen, with a super narrow setup up front for maximum slammage.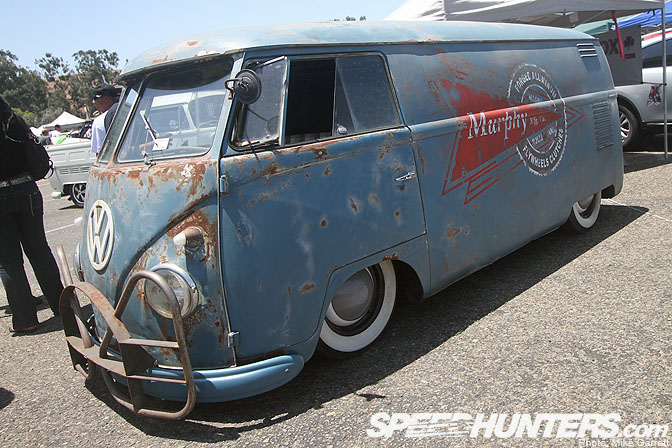 Early model Panel van, rusted, low and looking like it should.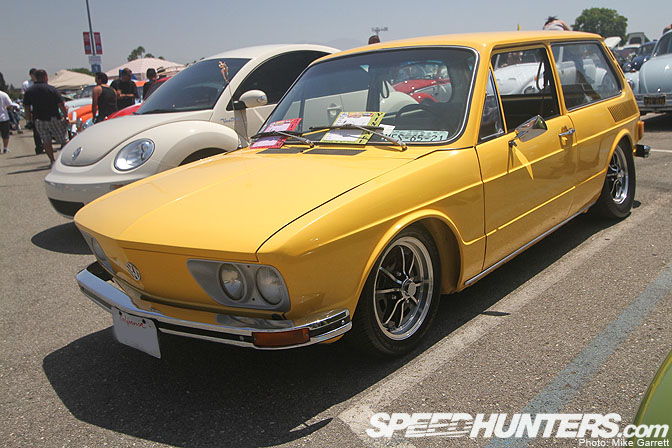 Besides all the Bugs, Ghias, Type III's, and vans, there were also lots of rare VW models on hand, like this super clean Brasilia, from you guessed it…Brazil.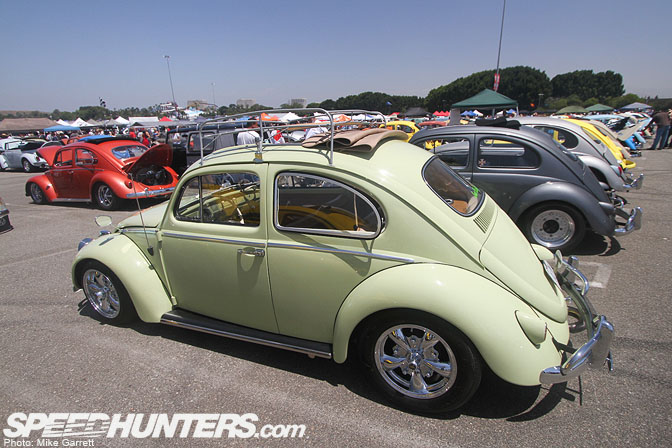 A rag top Bug sitting over a set of polished Empi five-spoke wheels. Iconic as it gets in the VW scene.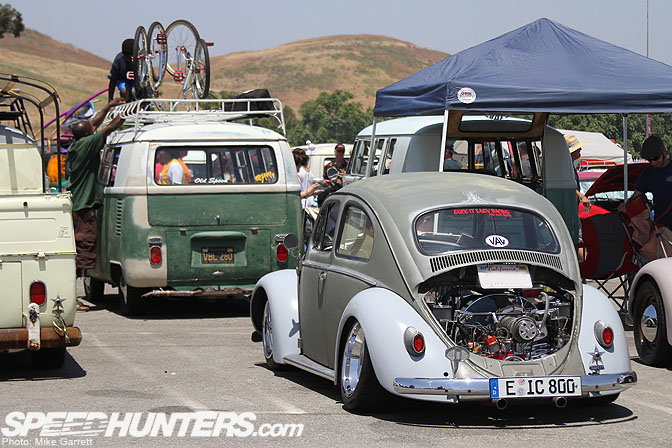 I'll be back soon with more from the VW Classic, including a few spotlights on my favorite cars of the day.
-Mike Garrett