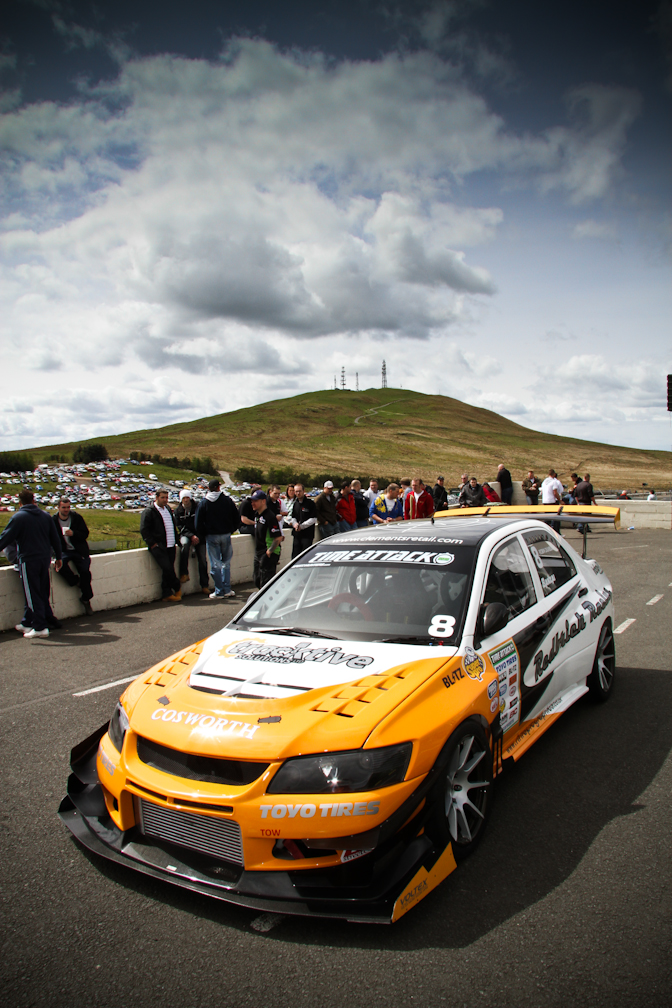 A new addition to this round was the return of Robin Duxbury's EVO 7, with a complete makeover.  Still featuring the mix of Voltex and Do-Luck areo, it has now gotten lower, lighter and faster!  Featuring DTM Spec Mercedes carbon brakes, WRC tarmac spec Exe-tc suspension, Touring car inspired suspension set up's and to top it all over a flappy paddle sequential shift system!  This car really does need to be seen in the flesh to appreciate the attention to detail and the sheer awesomeness that Tractive Solutions/Redbrick Racing have put into it.
Sadly, due to a failed shaft on the dry sump pump, Robin's car had to retire on a practice outting.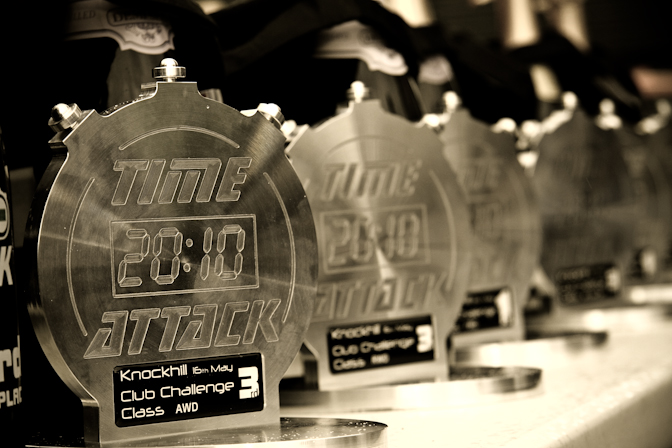 Trophies made courtesy of Sumo Power on the 5 axis CNC machine!
Here Declan Hicks (Team HEL Perfromance) takes the microphone in driver question time!  Also pictured: James Russell (Team Kleers) and Brad O'Nians from Cosworth.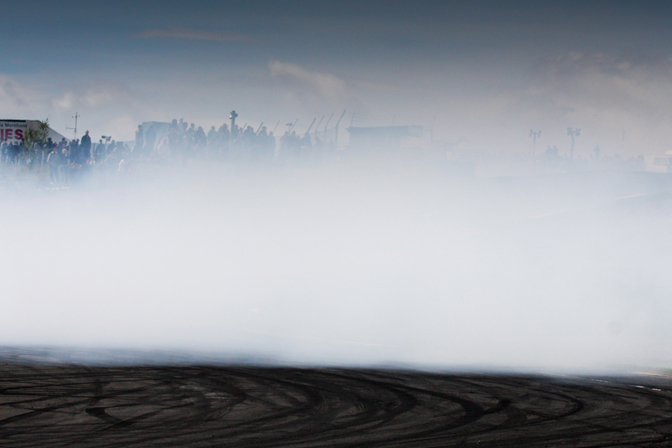 The aftermath of a 6 car drift train!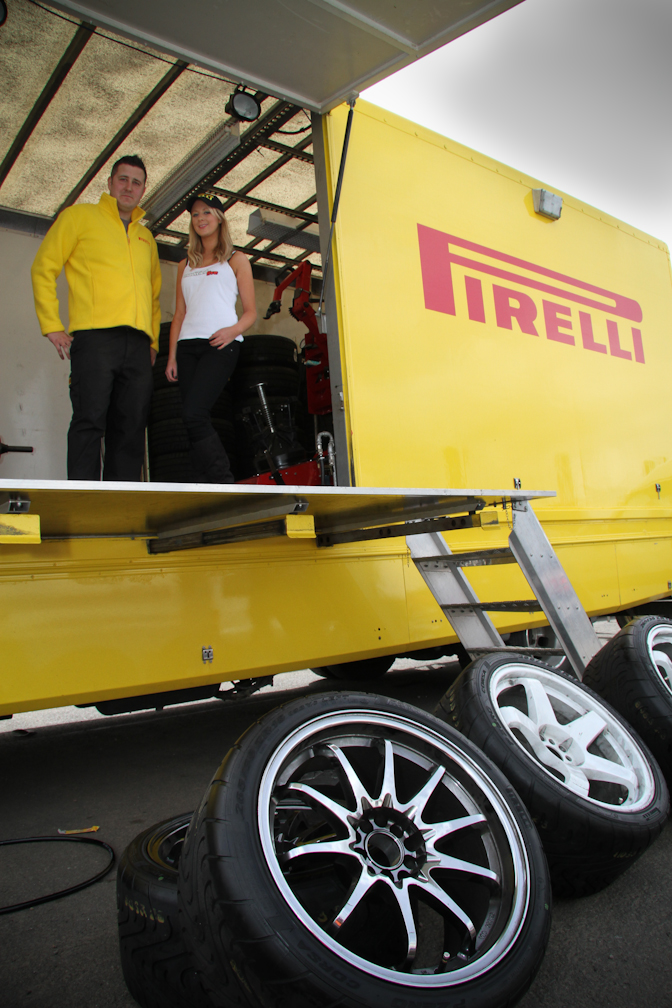 Pirelli, the EDC tyre sponser, were on hand for the day tyre changing and exchanging feedback with the drivers.  Pirelli brought along a new tyre for this round that were extra grippy and extremely smokey! (thats my technicial take on it!)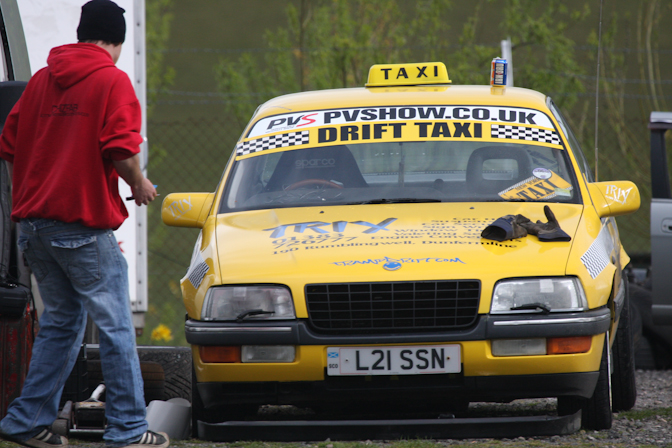 The ever popular Drift Taxi's were on hand for the crowd to give a first hand passenger experience.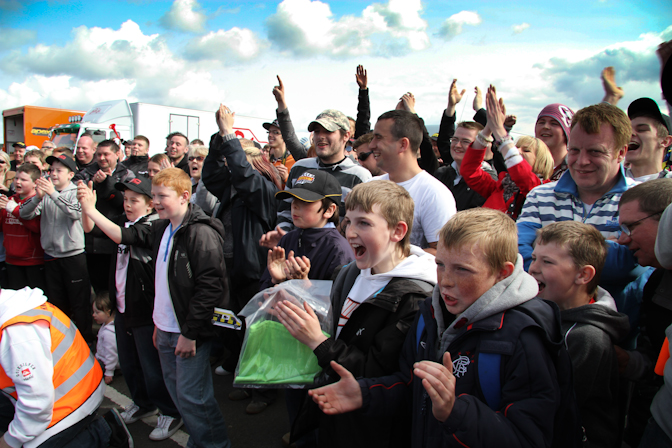 The Scots really got behind the EDC drivers, and showed their support at the podium.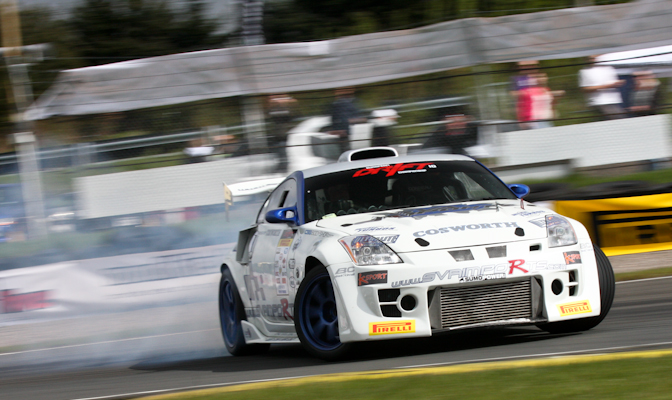 Mark Luney took his second win of the season in the SVA Imports / Cosworth 350z.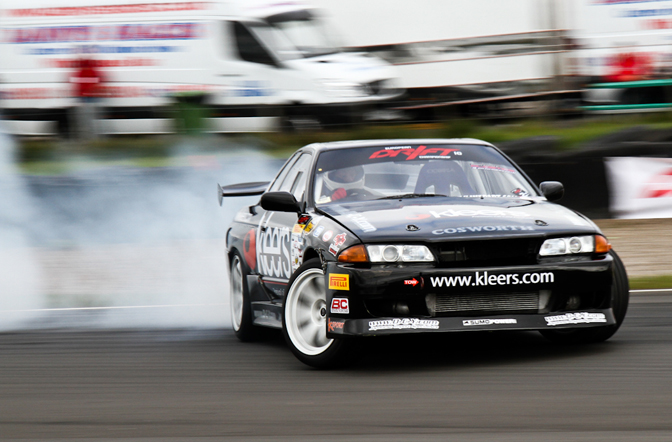 Paul Conlan put in an amazing drive for 2nd place in the 2JZ Powered Sumo Power s15.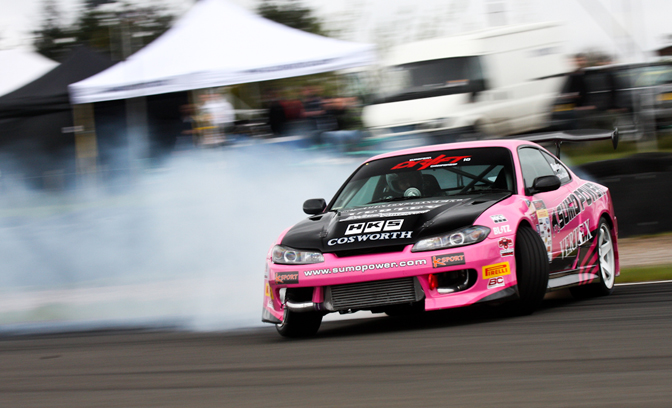 Kieran Cameron completed the podium in this daily driven ApexV8 200sx!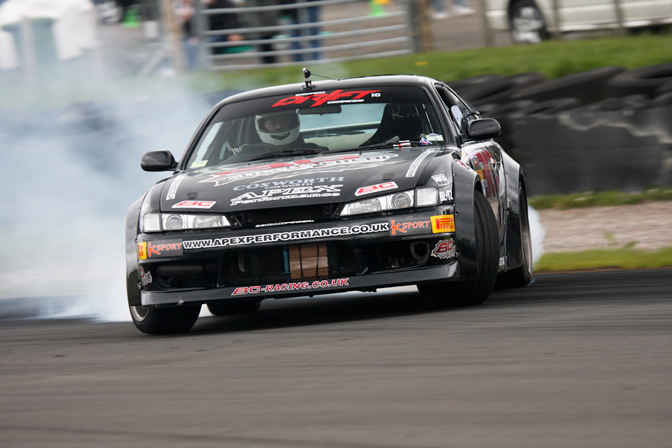 Tim Marshall in the ApexV8 R33.  Some of you might remember this car from competing in the Red Bull World Drift Championship.
In this picture you can see the unburnt fuel back firing out of the air filter.  I'm guessing that the car had semi stalling, and when Tim floored it, it sneezed!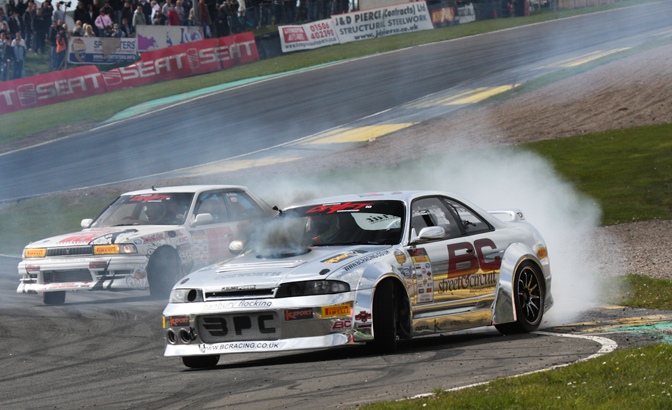 Pete Barber's RX7 was out of action after problems in practice, so it was looking like he wouldn't be able to compete until he was offered Declan Hick's 2009 EDC car to drive from its new owner! With only 4th gear available after some gearbox problems, Pete put in some impressive runs!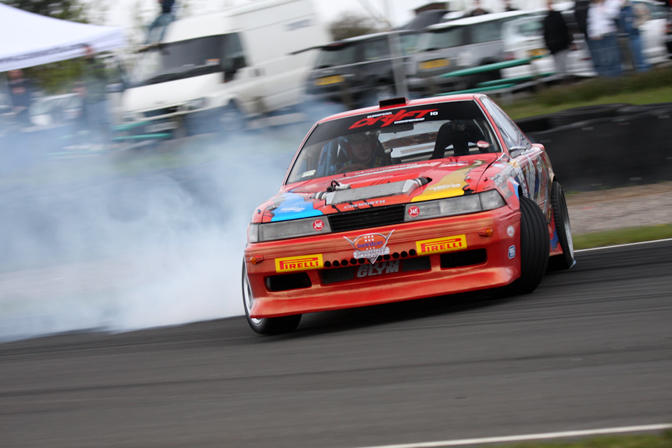 James Russell pictured here in the Team Kleers R32.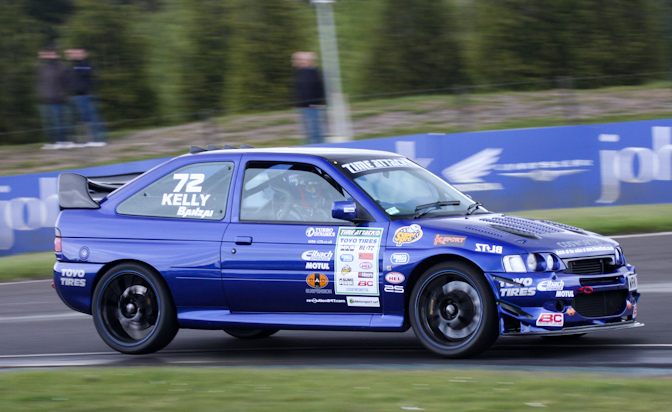 Heres another picture of Warren Kelly's Escort Cosworth, as requested from the last report.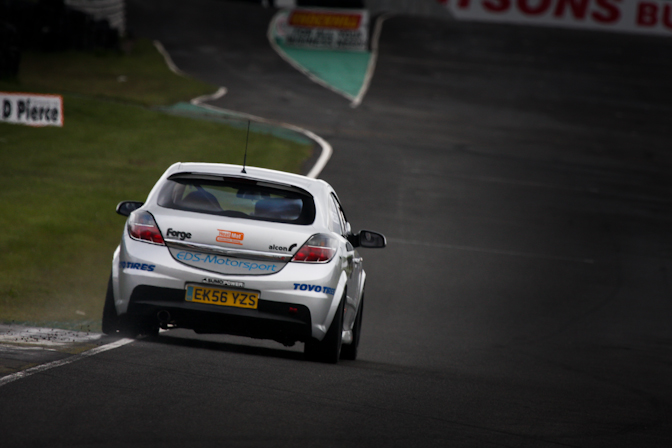 Bo Nielsen makes his way up the Start / Finish straight in his Astra VXR.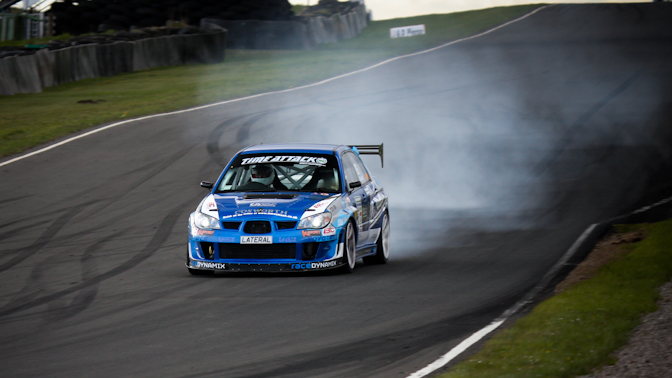 Duncan Graham locking up coming down to dufus dip.  Or trying the drift approach?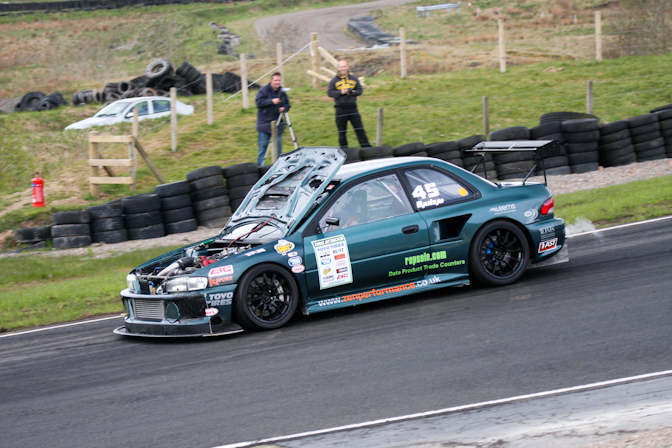 Whoops!  Next time I think Paul Doyle will be checking the bonnet catches 20 times before going out!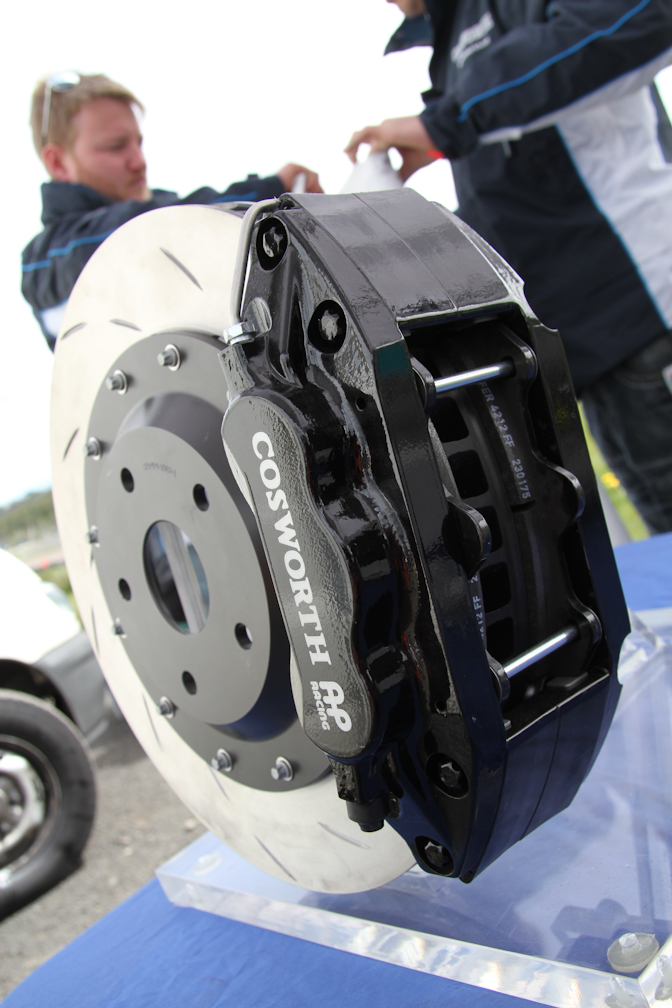 Cosworth presented their new brake kits in trade area.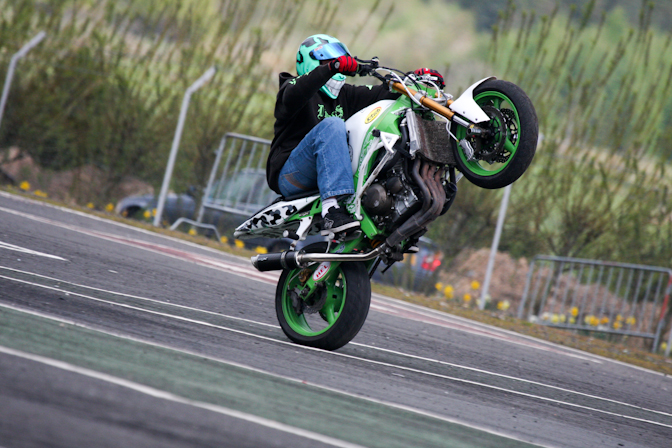 Live action demos provided addtional entertainment between the Time Attack / EDC track sessions.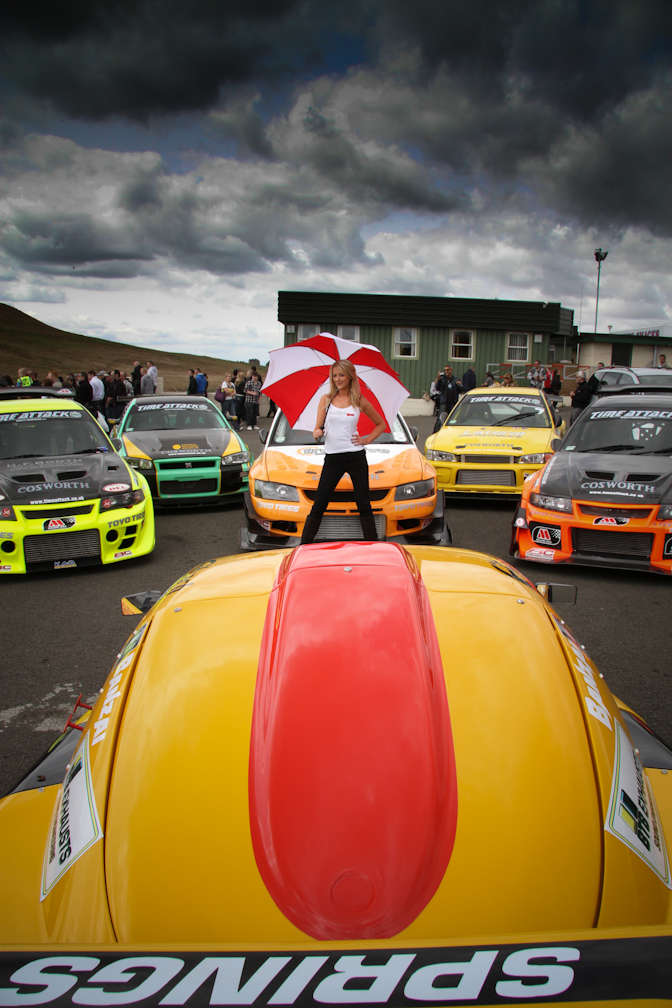 Last but not least, a picture of grid/pit girl Michelle Westby in front of the Pro Class in the assembly area.
-Rich Sams