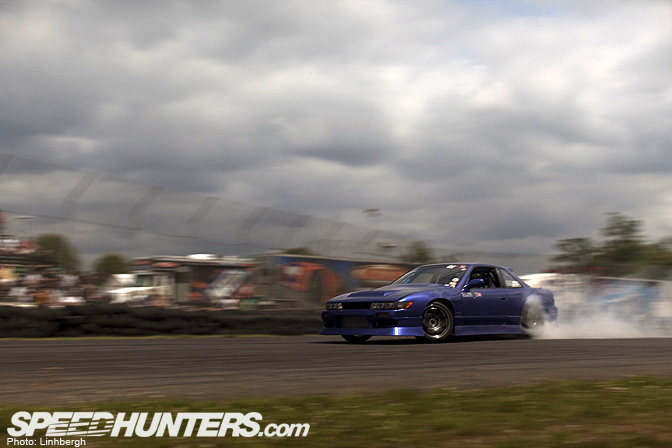 As we start gearing up to cover Formula D this weekend in New Jersey, let's take one last look at this year's East Coast Bash.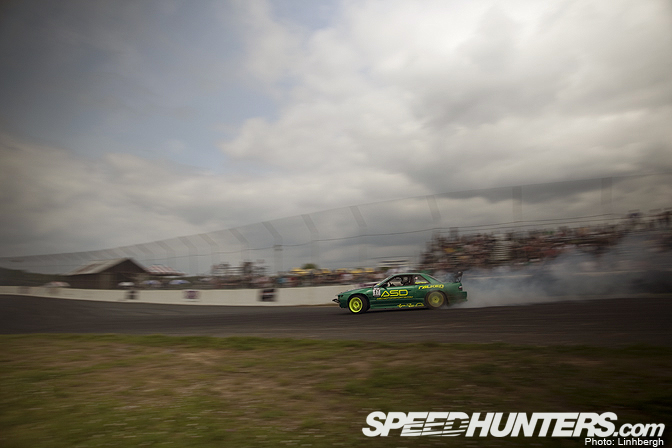 It's more of a drift party than your regular ol' drift practice. East Coast Bash could be seen the Lucy, or "missing link", between the grassroots track days and Formula D. It's not quite the big show that is FD, but it still entertains crowds and also gives those grassroots drivers ample track time to practice and tandem.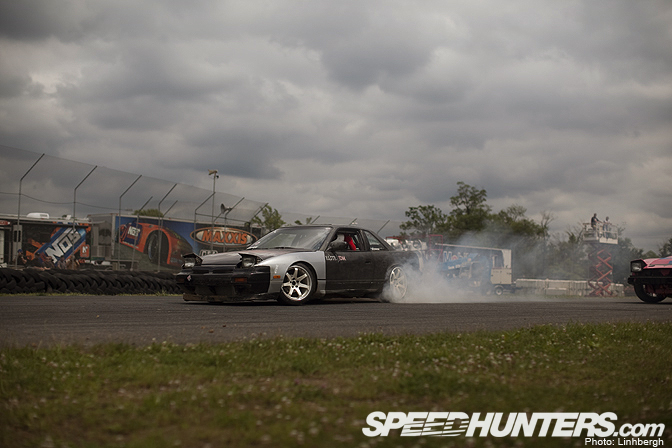 …it also helps that there's a bar at the track. 
You would think mixing high humidity, alcohol, and drifting is a bad combination. But when you see the on track action with a field of professional competition cars, drift missiles and everything in-between, all doubts are instantly washed away.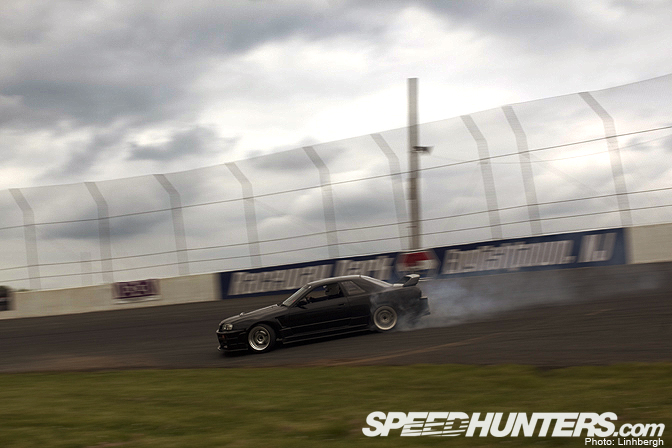 Here's that amazing hybrid of a car again, the R32 with R34 front end powered by a 1JZ attacking the Englishtown banking.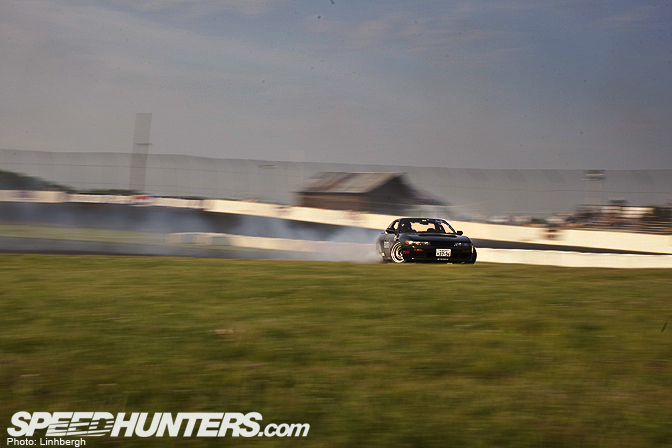 One of the many Elite JDM teams cars ripping it on track. I am particularly fond of this right hand drive Silvia.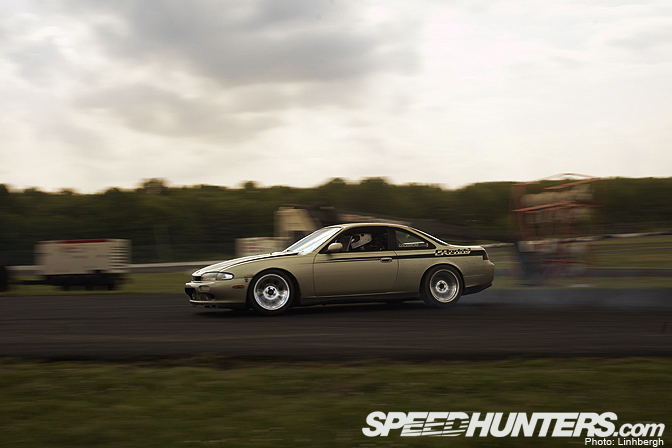 I also dug this tan S14 with chrome steelies.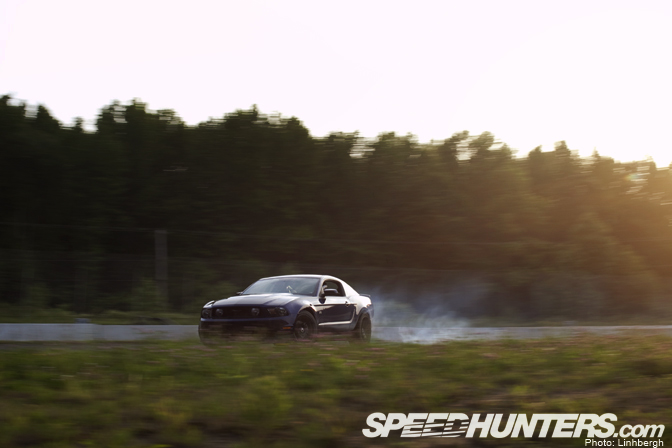 Even Chris Forsberg couldn't help but to have some fun in Vaughn Gittin Jr.'s Mustang RTR.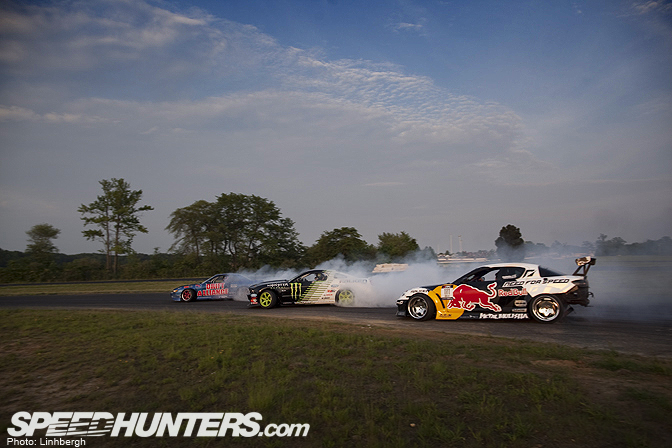 Three car tandem? Oh yes please!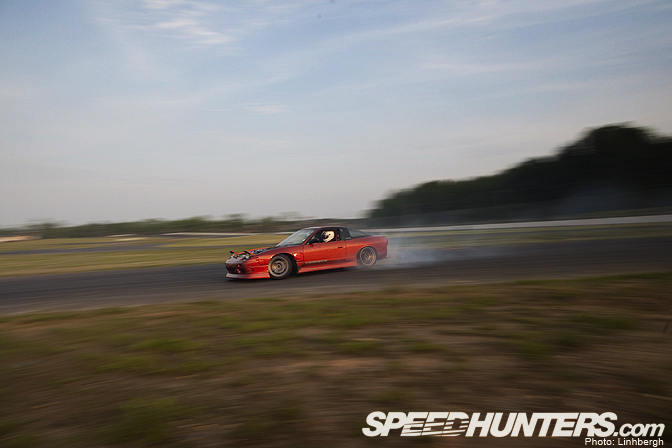 Here's a driver that relatively unknown to the public, Steve Angerman. He's Gardella Racing's developmental driver and will be driving Gardella's V8 Pontiac Solstice for the rest of the XDC season.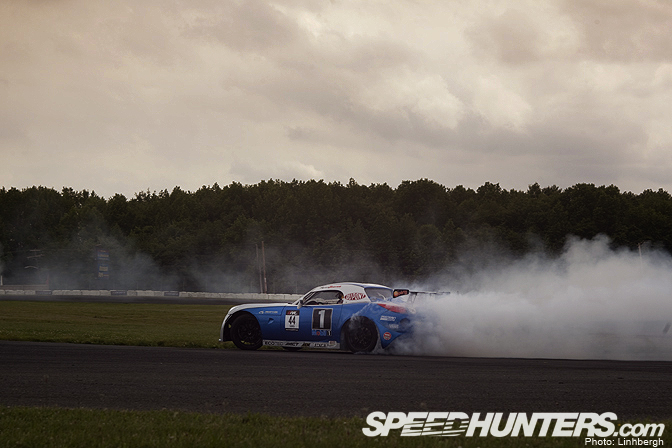 The other Gardella Racing driver, Ryan Tureck, couldn't help but to rip it up all day long in his FD Solstice.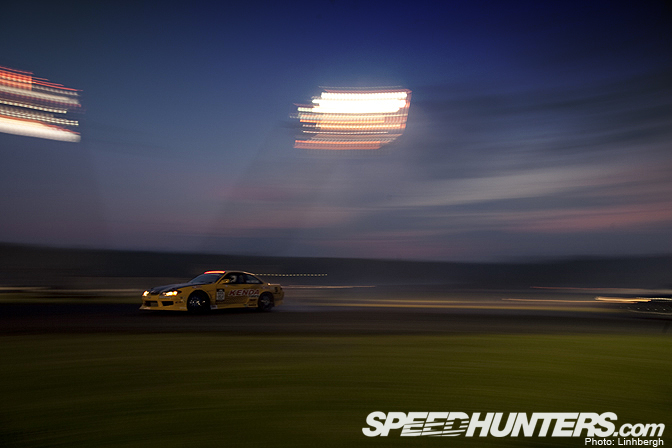 Formula D driver, Dennis Mertzanis, even made it out all to English town to mingle with the grassroots drivers. It's always great to see these pro guys remember their roots and give back to the community as much as they can.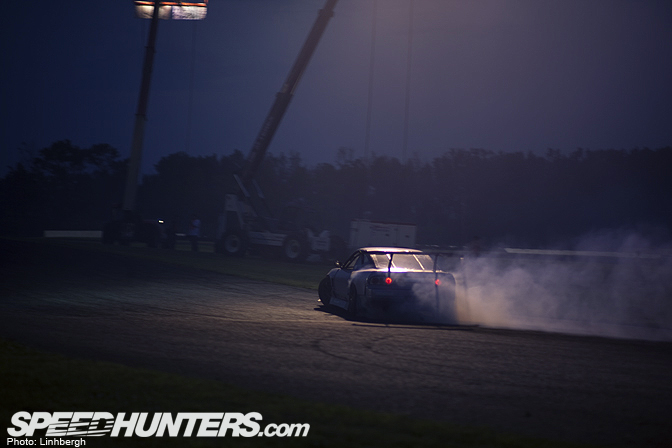 Texas drifter, Russel Walker did his rounds around the track with his personal S13 as he prepped for Formula D this weekend. Unfortunately, his competition STI is still a work in progress and couldn't make it out in time for Wall Speedway. 
The great thing about Russel last weekend and coming into this weekend is that if the car wrecks, he's going to keep driving it as long as its still driftable. Drift missile anyone?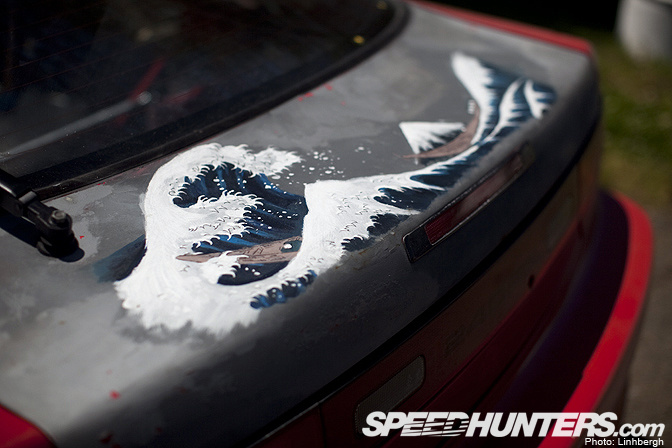 I saw this painting on the trunk of an S13 as I perused the paddock for car spotlights. Flashbacks to the white Origin S13s from back in the day, anyone?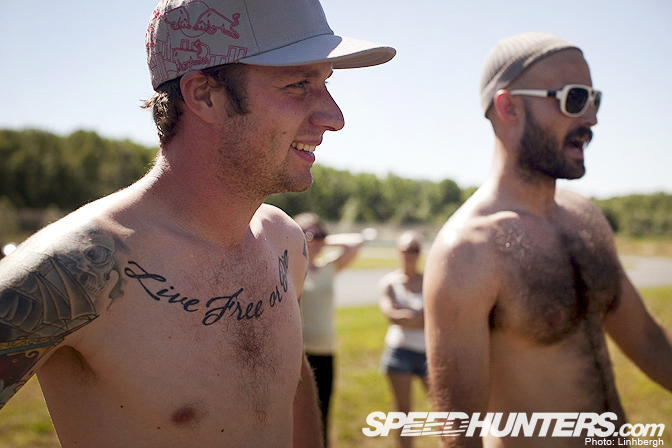 On Saturday, the weather was rather hot, which is an understatement, and Sunday was a bit more bearable. But that didn't stop a few guys, like Ryan Tuerck, to take off their shirts and show off their tattoos and well… massive amounts of chest hair. Totally manly.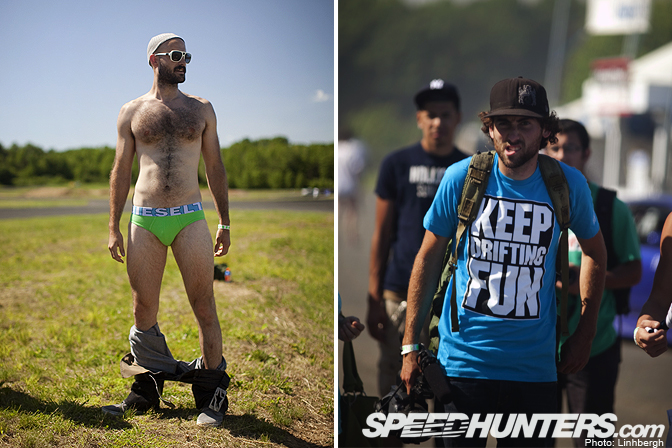 You think taking off shirts was more than enough until someone starts taking off their pants, like Andy Laputka, the Drift Alliance video guy. Will Roegge was not pleased on this rude bit of eye candy.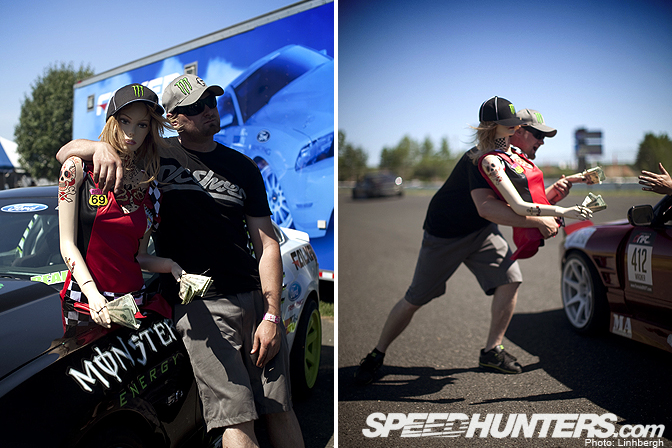 To spice things up, a few of the FD guys go together and came up with an idea to entertain the crowd on Sunday: an early entry contest. The winner wins $250 cash.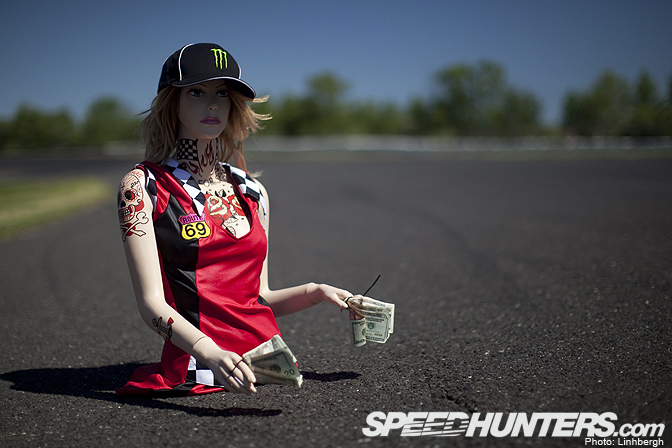 Here's our lovely spokes model showing off the cash to the drivers. As the drivers initiate even earlier, she would be placed further and further back.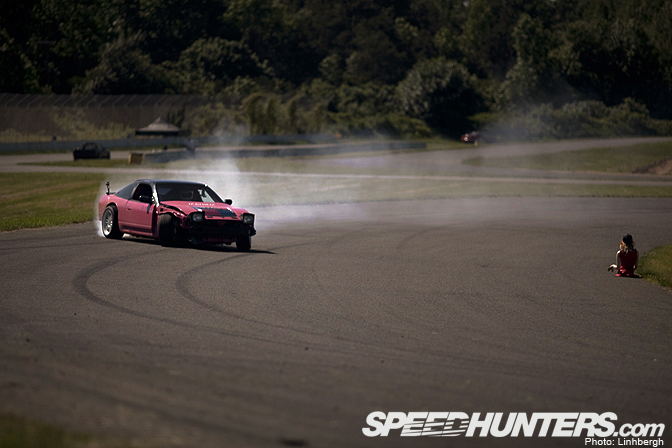 A lot of the drivers did their best, but two guys stood out the most. The driver of this pink S13 hatch….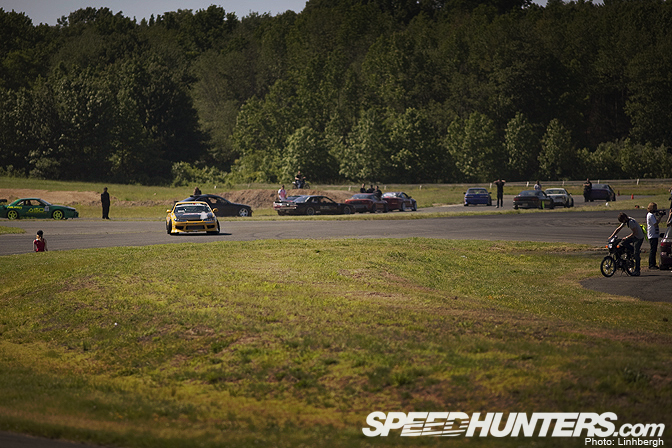 … and Dennis Mertzanis. Dennis kept pushing our dear spokes model back and back and no one would be able to keep up with his extremely early entries.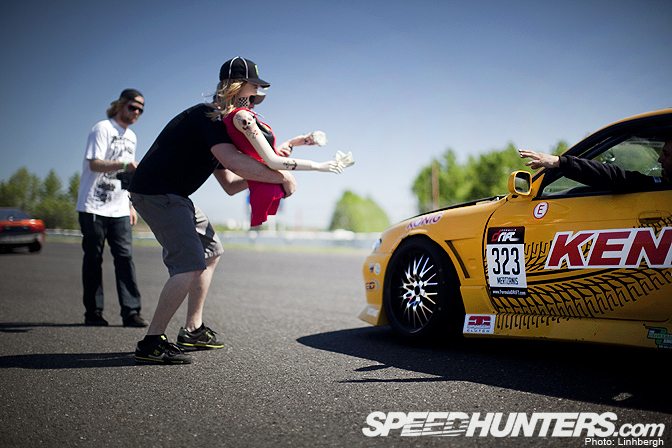 So, $250 cash went straight into his pocket.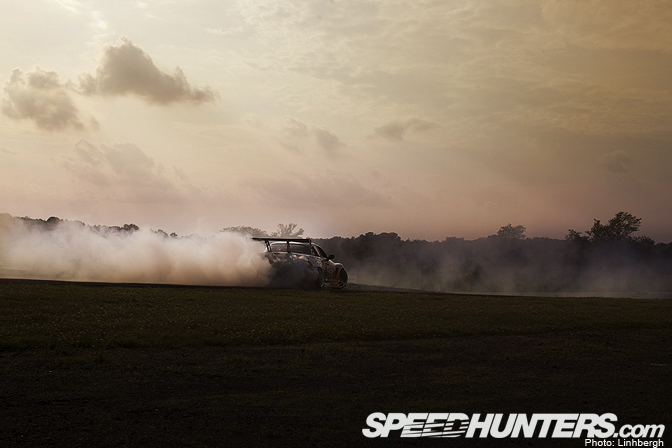 With Midwest Bash and the west coast's, All Star Bash coming up in the near future, it's going to be interesting to see how they measure up to the East Coast. ECB brought the heat hard and its going to be even harder to out do the party that went on in Englishtown, New Jersey.
-Linhbergh