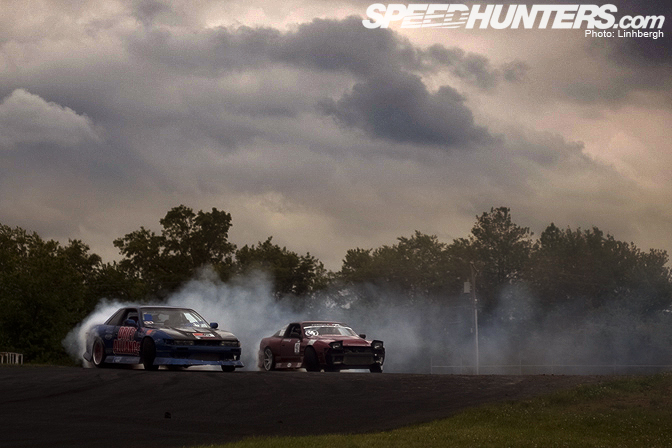 East Coast Bash lives up to its name. Outside of Formula D, this is one of the finest, yet most unrefined, and one of the funnest grassroots drifting experiences you can have. The equation for this extreme amounts of awesome is this: drift cars, drivers willing to drive all out, concrete walls, camping and a bar, that starts its alcoholic services at 2pm, literally inches away from the track. How can you say no to that?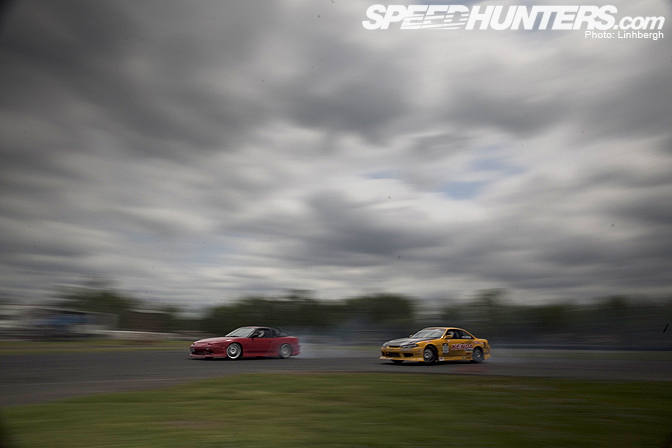 I've attended All Star Bash and now East Coast Bash. Even though I'm a California native and I throw my love and support to the SoCal drift scene, I have to admit that East Coast Bash is on a league of its own.
If East Coast Bash had a theme song, it would, without question, be "Spanish Flea" by Herb Alpert.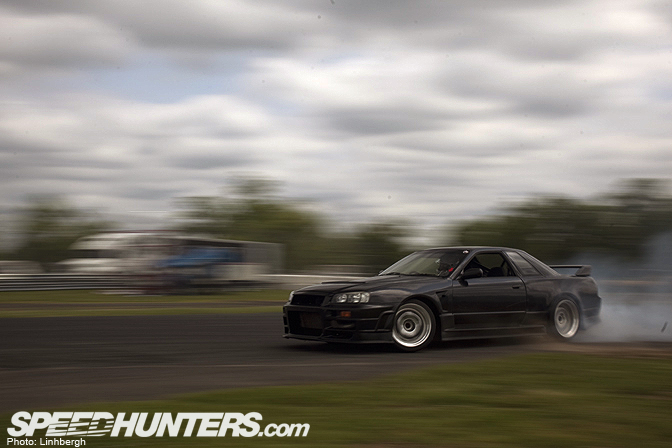 R32 + R34 front end + 1JZ powered. This is easily one of my favorite cars at the event.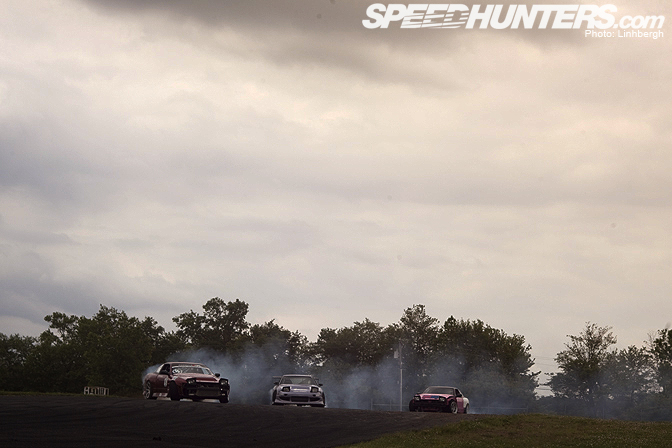 The multiple car tandem is definitely one of the biggest draws of East Coast Bash for the drivers, the spectators, and for the media guys like myself. How can you complain when you see three or more cars going door to door? If my memory serves me correctly, there was a nine car tadem at one time –nine!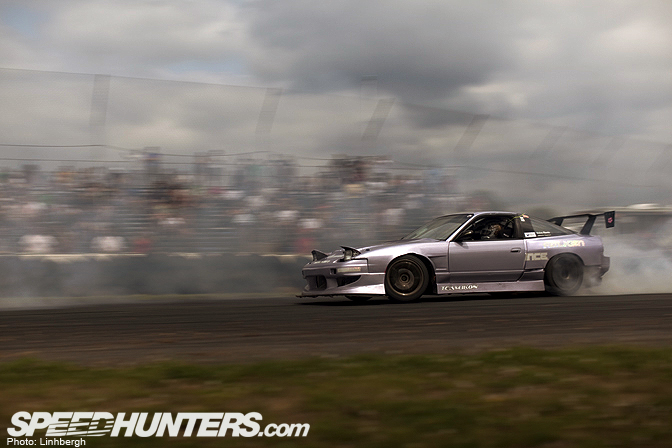 There was, of course, no shortage of S-chassis. From the regular crop of stateside S13s…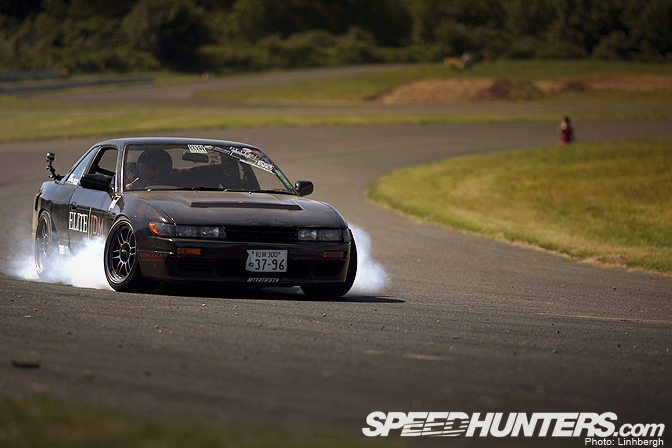 … to S13s Silvias …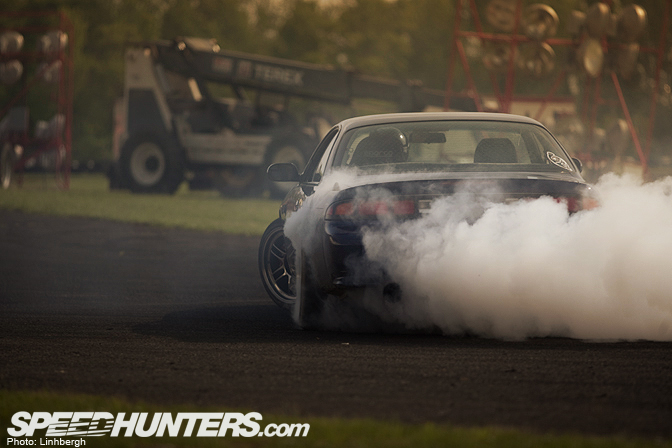 … to S14s, and also one S15.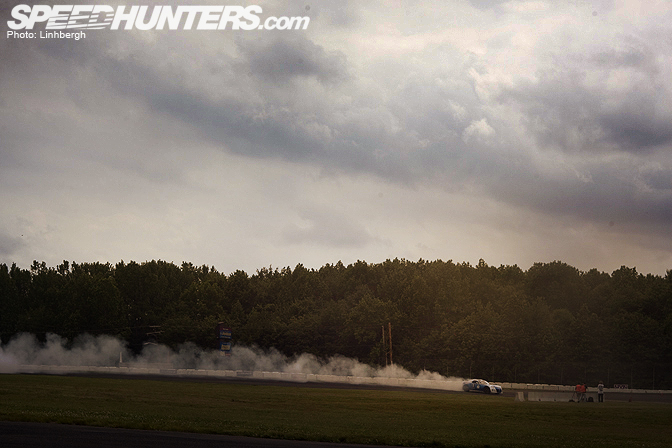 Gardella Racing brought out two Pontiac Solstices. Ryan Tuerck put on quite the smoke show with his competition FD Solstice.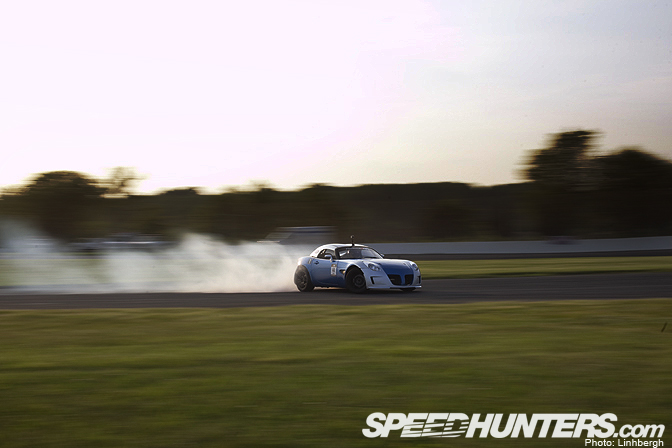 The second Solstice that was brought out was almost identical one to the one seen in FD except for one thing: this one has an LS7 V8 rather than the turbo charged four cylinder EcoTec. Ryan took it out for a few smoke demos for the crowd, but this car will primarily be driven by the Gardella Racing developmental driver and FD spotter, Steve Angerman at the XDC events.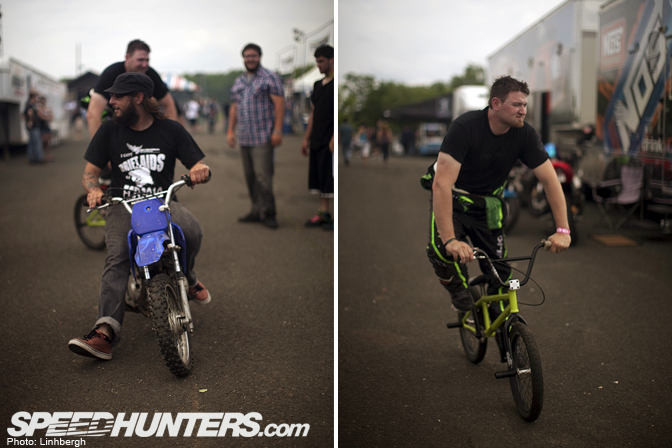 Alterative modes of transportation are fast becoming a lifestyle of its own at these grassroots events. The left frame is East Coast Bash organizer, Matt Petty, on his little dirt bike, and on the right frame is Vaughn Gittin Jr. on an almost-matching-to-the-Monster-green BMX bike.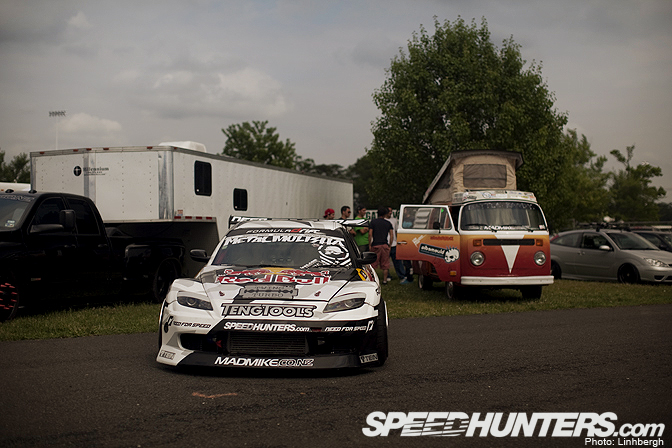 Even Mad Mike made it out to East Coast Bash. He just couldn't help but to check out the grassroots drifting in the States. He mentioned to me that the turn out was just like new zealand, but the on-track amenities (like the bar), and spectators, is something that hasn't quite reached his island nation yet.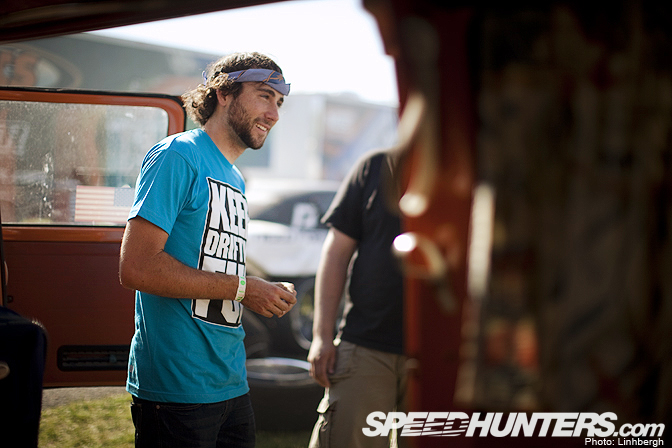 If you were at East Coast Bash and were lucky enough, you could've caught fellow peanut butter nutters (pun intended!), Will Roegge and Joshua Herron, to say hi by the Keep Drifting Fun VW Westy! 
That turquoise Keep Drifting Fun t-shirt? That's an exclusive and limited run KDF t-shirt that will only be available at Formula D New Jersey at Wall Stadium! So if you're in attendance of round 3, be sure to stop by the Westy to grab a shirt!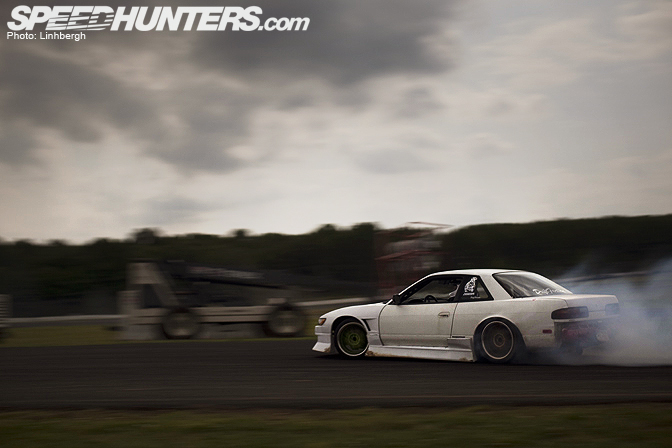 The level that these east coast drivers brought to the track was mind blowing.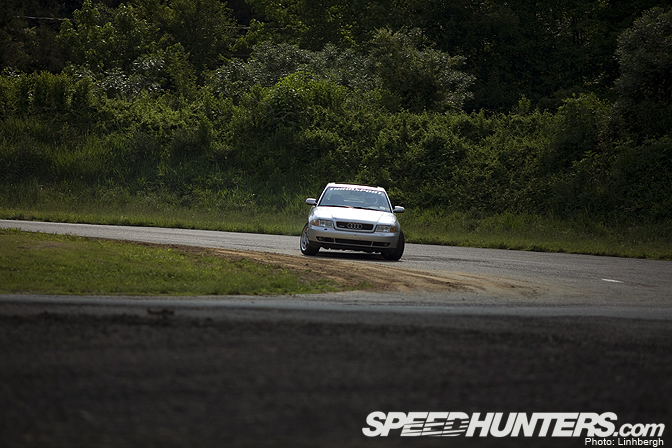 Talk about diversity at East Coast Bash! Drifting is in Audi's racing heritage, but who would've thought to see one at a modern day drift event?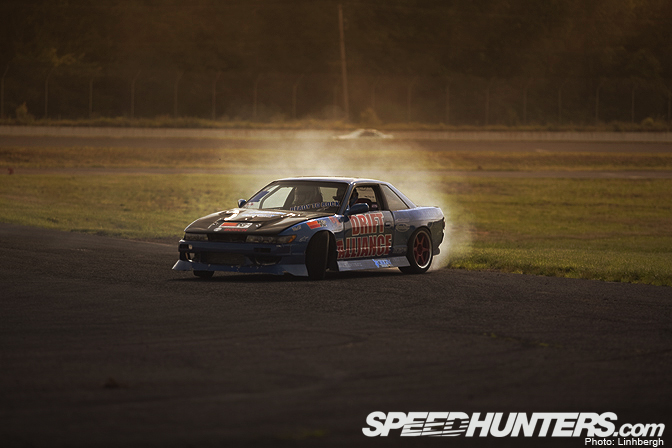 Vaughn Gittin Jr. brought out a few of his cars to the event; his infamous Drift Alliance S13, the newly liveried Monster/Falken demo car with RTR kit (I'm going to have to say that the demo car looks better than his competition car. The RTR kit just looks so aggressive!), and his own personal Mustang RTR.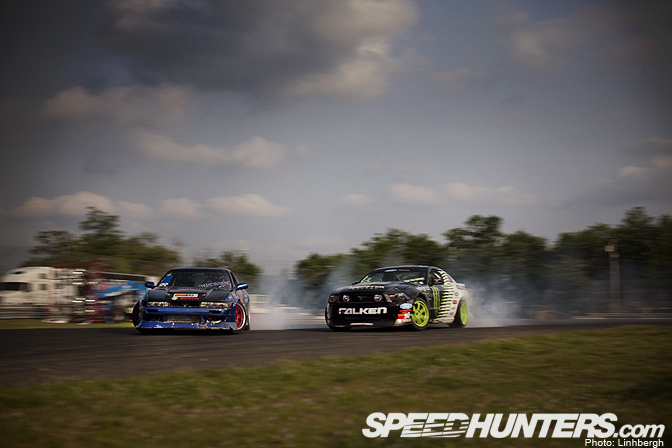 Vaughn's S13 was the East Coast Bash's village bicycle, whoever wanted to drive it could. For the most part, fellow DA member and FD competitor, Chris Forsberg drove that blue S13.
It's a bit crazy to think about the history that's in the photo above: the car that got JR where he is now is tandeming with present day JR.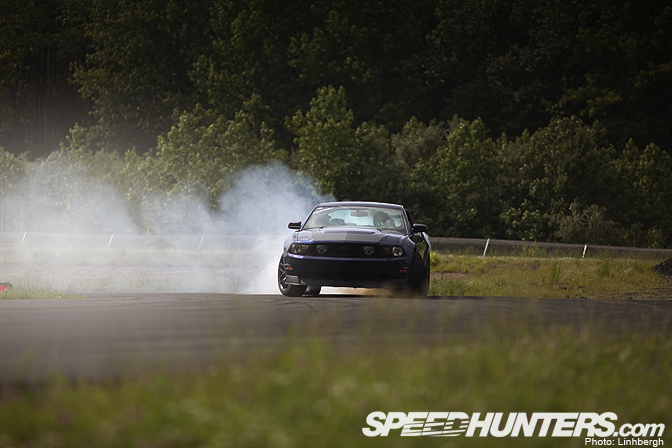 Speaking of the RTR, Vaughn Gittin Jr. gave Mad Mike the opportunity to take the reigns of his Mustang RTR. Mike will be blogging about his thoughts on the sideways aspect of the RTR in the next few weeks.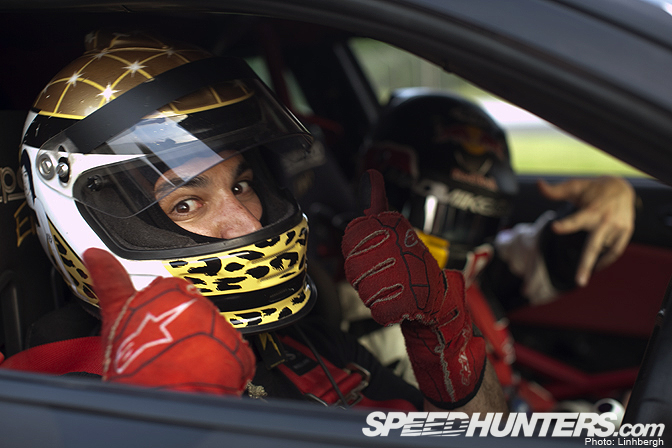 …then the wheels turned a bit. Mad Mike gave Drift Alliance member, Tony Angelo the keys to his MadBull RX-8! After doing a few laps, Tony got out and blabbered on about just how fun and insanely bonkers this car is to drive. He definitely was a happy man.
We've also noticed that Mad Mike is a serial scissor hand-sign abuser. We should keep a tally on this.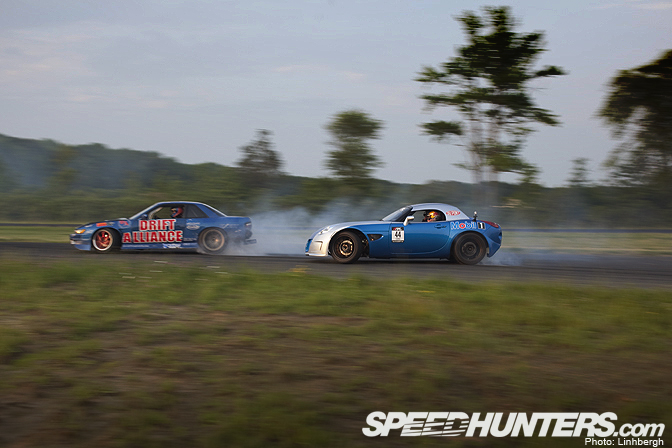 Drift Alliance members, Chris Forsberg and Ryan Tuerck (pictured driving the V8 Solstice) have a bit of fun…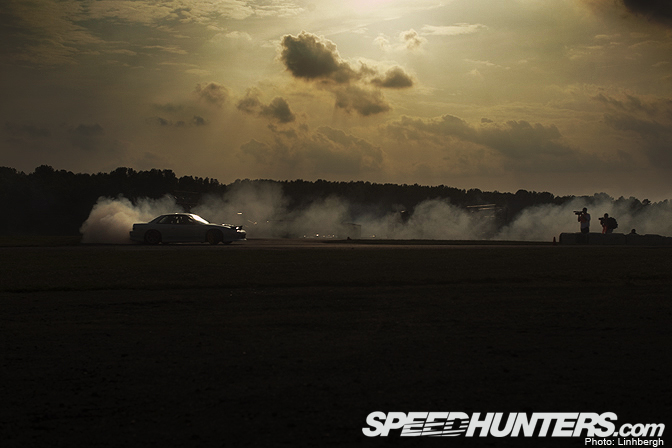 How can you not love drifting?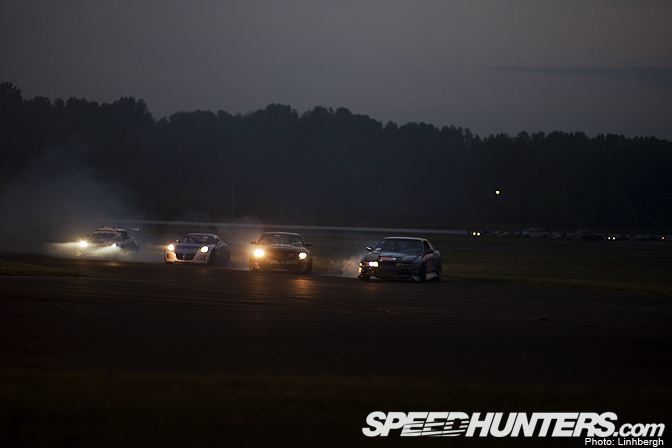 As the sun tucked under the horizon, the action didn't stop. A few of the pro drivers did a few four-car tandem laps to get the spectators all riled up.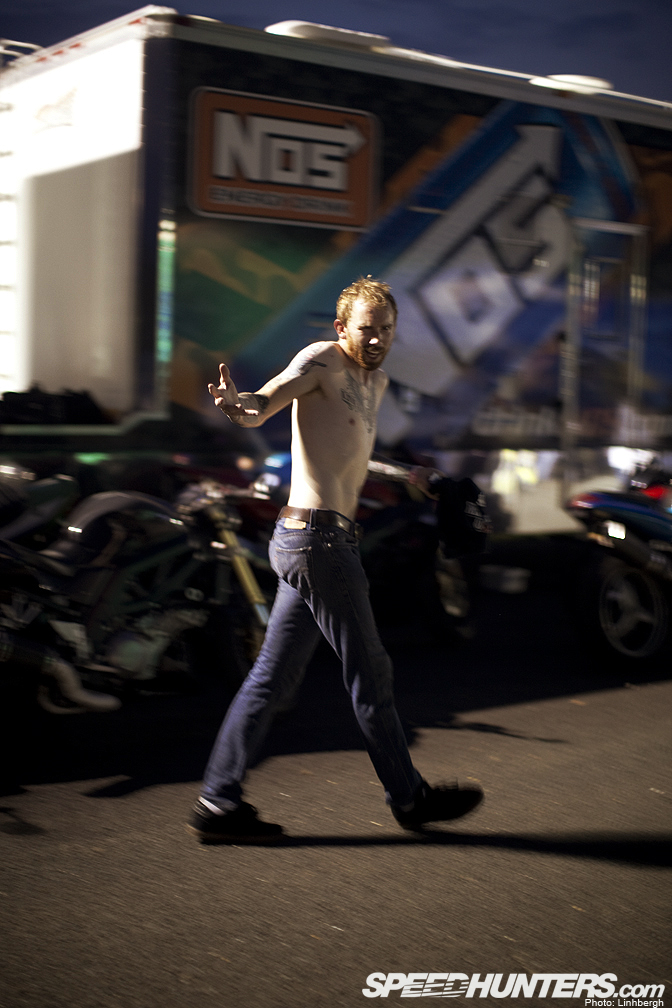 Even when the sun was down, it temperature was still hot and humid. It was so intense that Chris Forsberg couldn't handle wearing a shirt anymore!
Let's not start to wonder if he's visited the bar yet….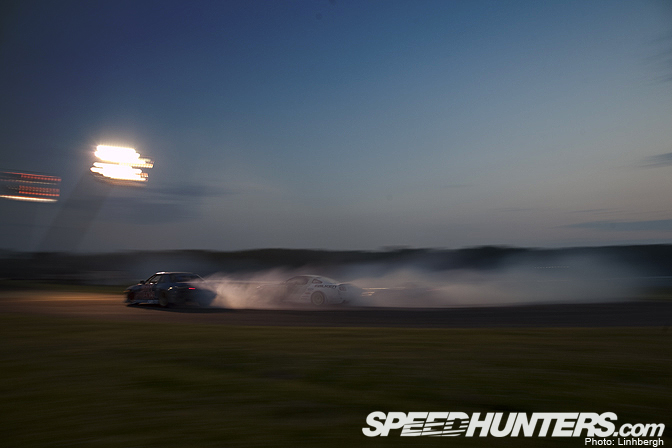 Drifting is such a beautiful sport.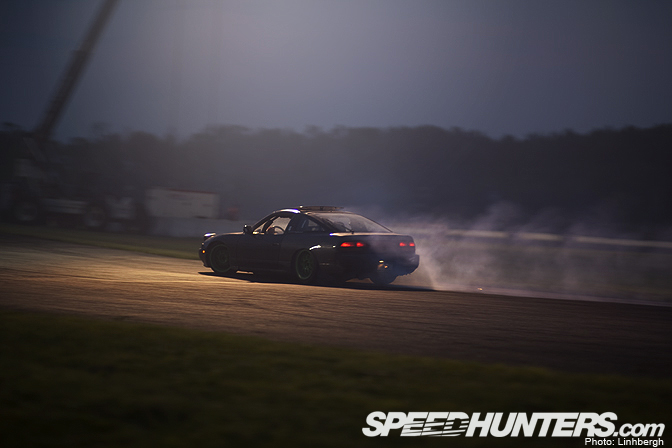 This was another of my personal favorite cars of the event. It was just so low!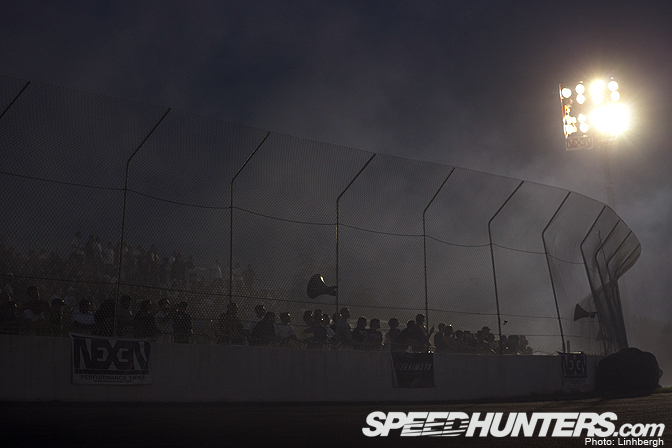 Around 1500 spectators showed up. That's quite a turn out considering that it was just a grassroots practice event. There was no competition, just a mess of guys doing what they love.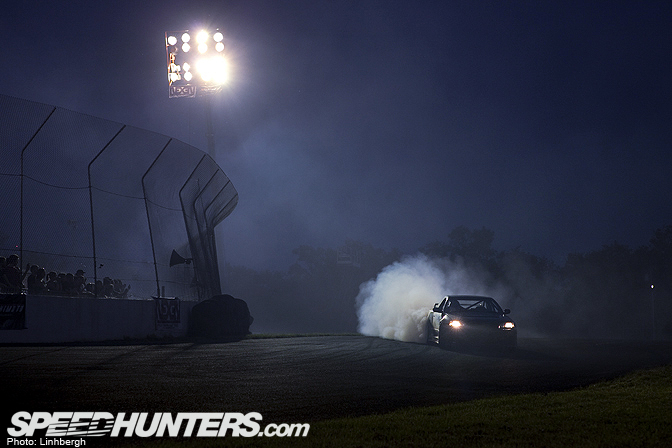 Drifting at night and under lights brings a whole new level to the sport.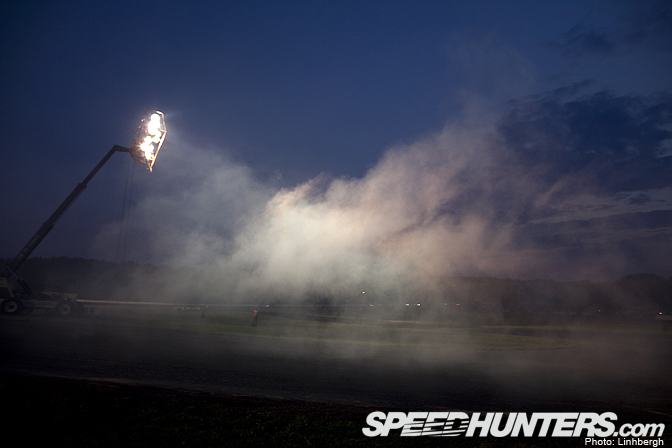 Seeing the tire smoke and cars be momentarily highlighted by the lights is just jaw dropping.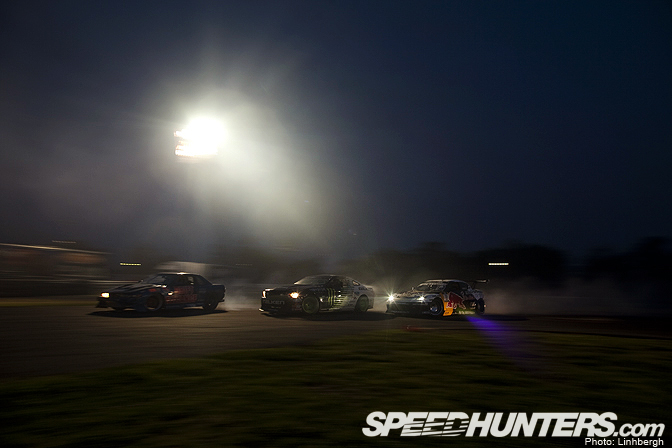 That's it for now. Next we'll look at a few of the crazy antics that came out of East Coast Bash 2010!
 -Linhbergh