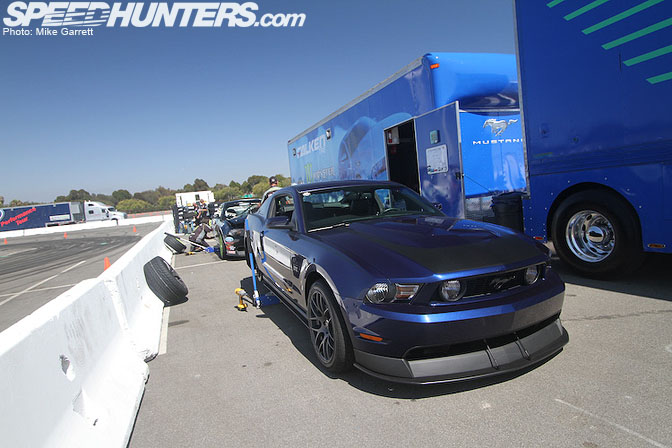 Last week Vaughn Gittin Jr. emailed me asking if I wanted to come check out the Barrett Jackson car auction in Orange County, where he'd be doing drift demonstrations with Ford. Typically these sort of Hawaiian-shirt collector car events are a bit outside of our focus, but I figured why not have a look?
Not really sure what to expect, I made the short trip to the OC Fairgrounds on Friday to check it out.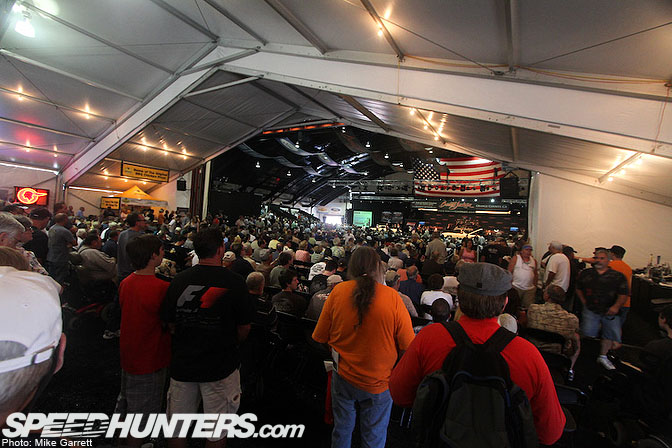 I was amazed at how many people had come out to this event. The main auction arena was packed, and this was only on Friday.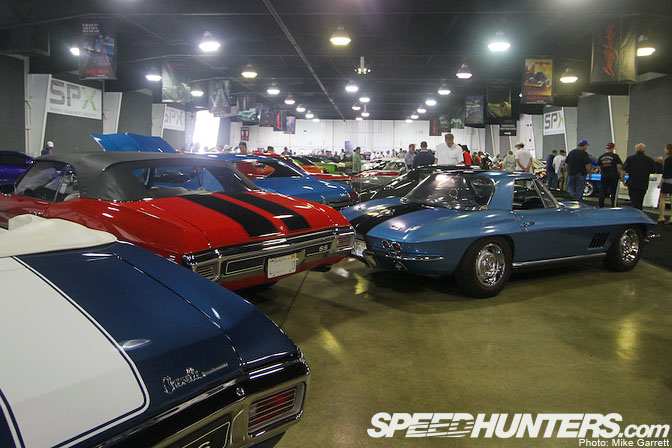 I spent a little time looking over the machinery that would be auctioned off over the course of the weekend. Lots of beautifully restored muscle cars, hot rods, exotics, luxury cars, and everything else you'd expect from a big-name car auction.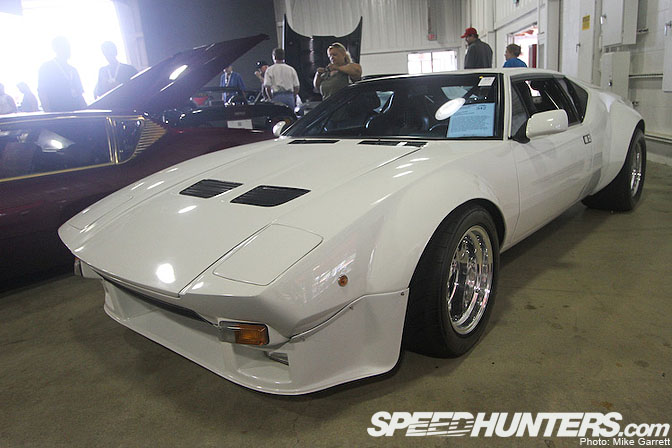 This '72 Pantera was one of the cars that caught my eye, looking about as macho as an automobile possibly can.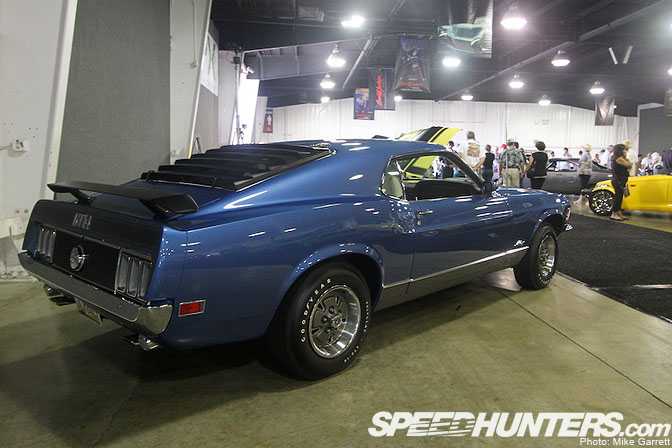 A Mach 1 Mustang looking in absolute show room condition, right down to the Goodyear Polyglas rubber.
It may not have been a genuine 935, but does it really matter? This Porsche looks awesome.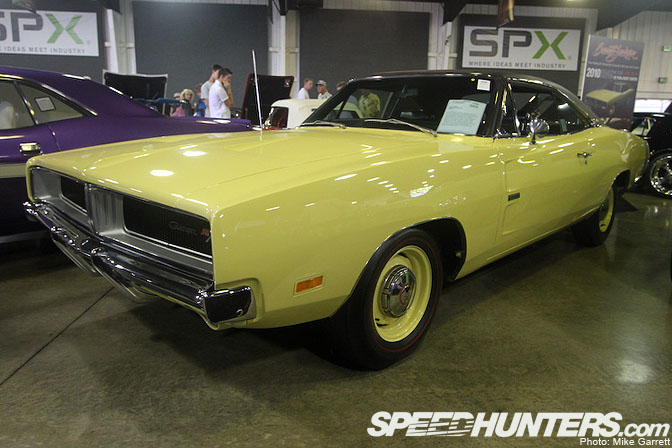 A '69 Hemi Charger with only 56,000 original miles, sure to sell for an incredible sum. Love the steel wheels with "poverty caps".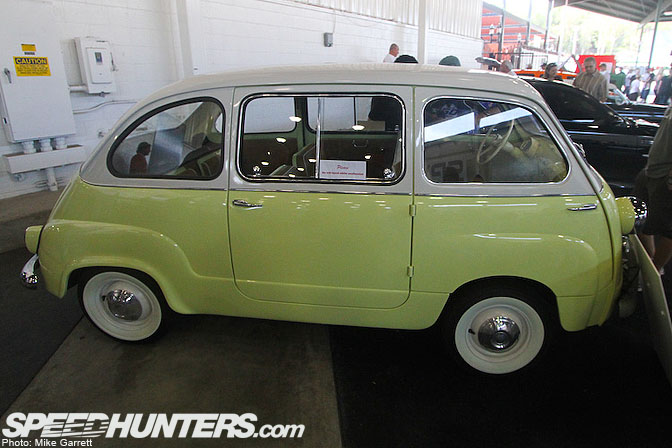 Looking for something a little different? How about this completely restored '59 Fiat 600 Multipla?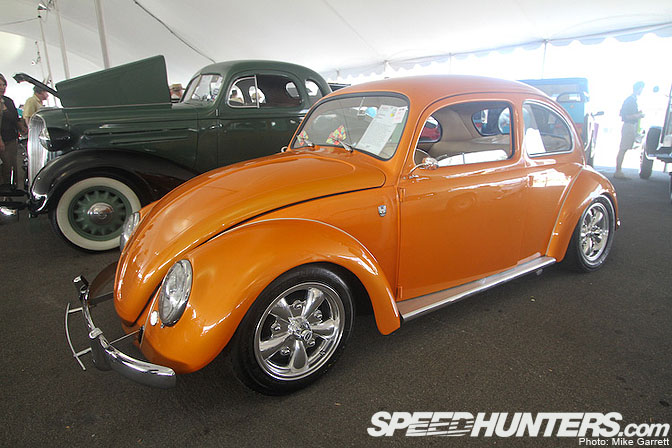 It wasn't as exotic as some of the other cars going up for auction, but this dropped VW was gorgeous.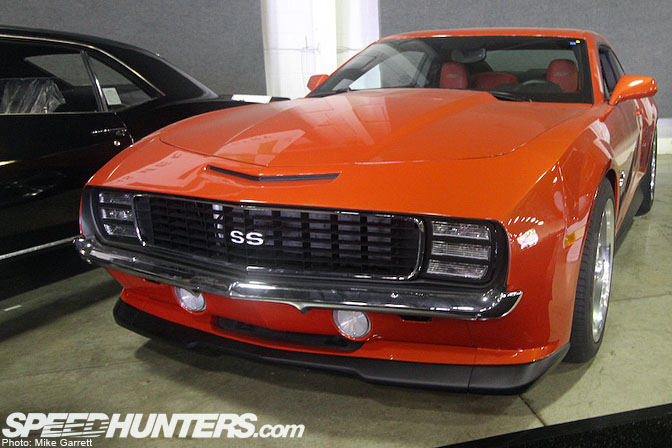 If the new Camaro isn't retro enough for you, you can always slap on an original '69 front end. Not sure if I like this or not…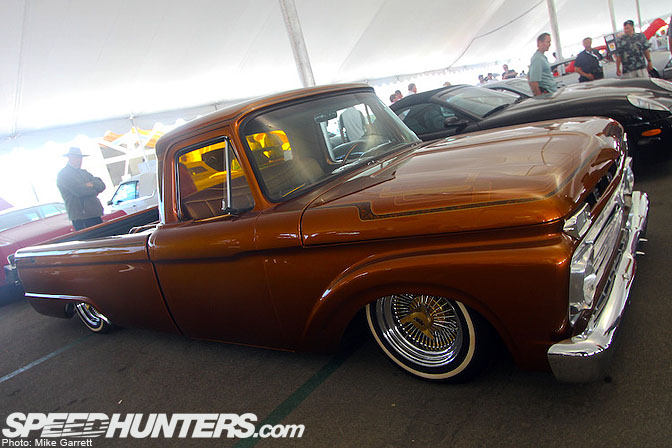 This isn't something you really expect to find at Barrett Jackson – a bagged lowrider Ford pickup.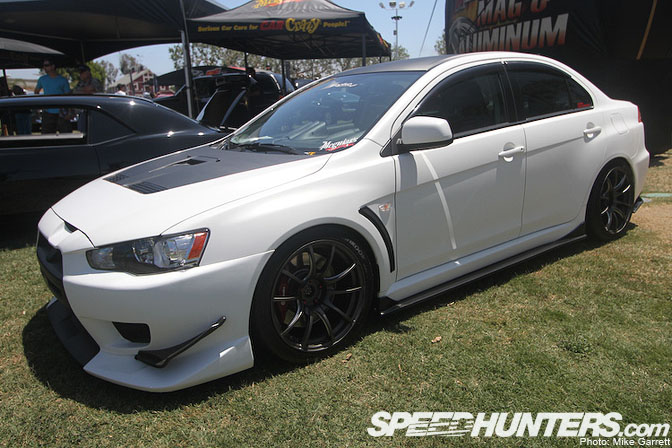 Of course Barrett Jackson isn't just about the cars being sold, there are also lots of vendor and car show displays outside. That's where I found this flat white Evo X.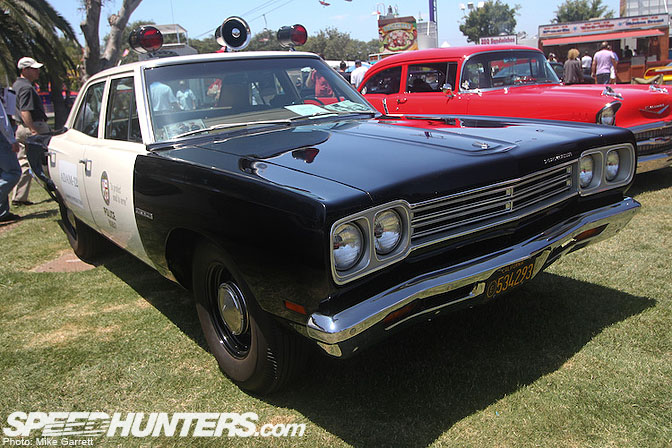 As well as this fully-restored LAPD Plymouth cruiser from the "Adam-12" TV series. Cool.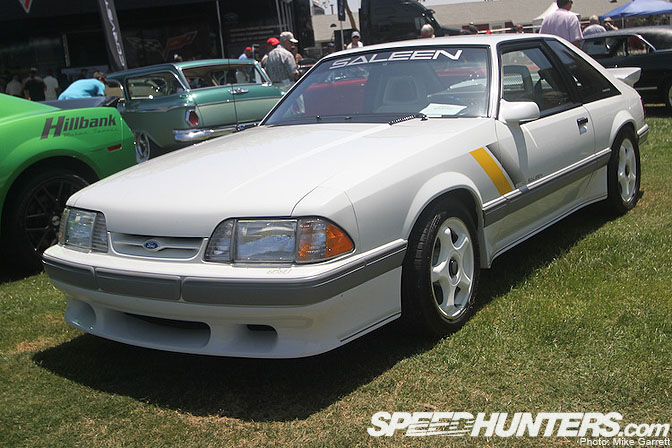 This Fox-chassis Saleen Mustang is definitely a classic in the making.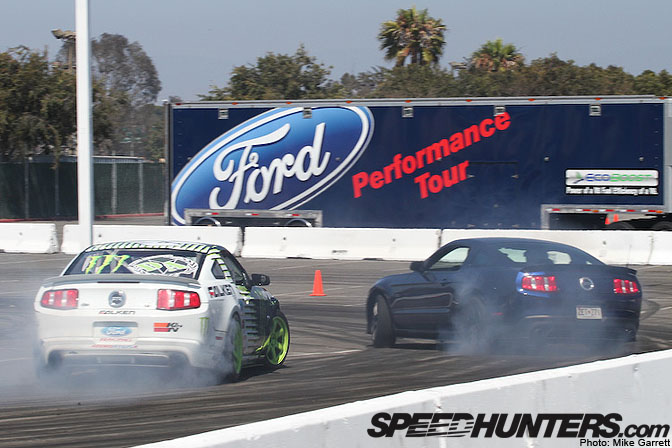 After looking at the cars for a while, I followed the sound of V8's and burning rubber to the Ford Drift Experience. This is where I found familiar faces Vaughn Gittin Jr., Justin Pawlak, Courtney Day, and MC Jarod DeAnda.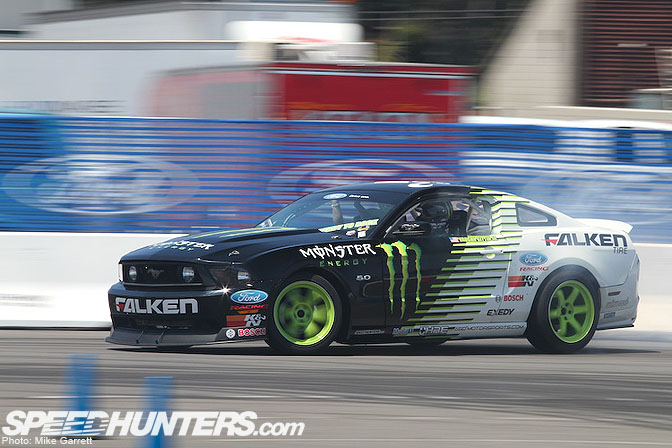 Vaughn was behind the wheel of his trusty demo car.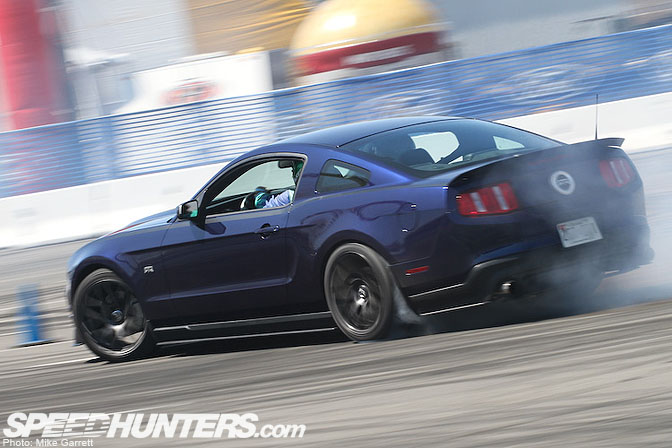 While JTP's weapon was the Mustang RTR in full street trim.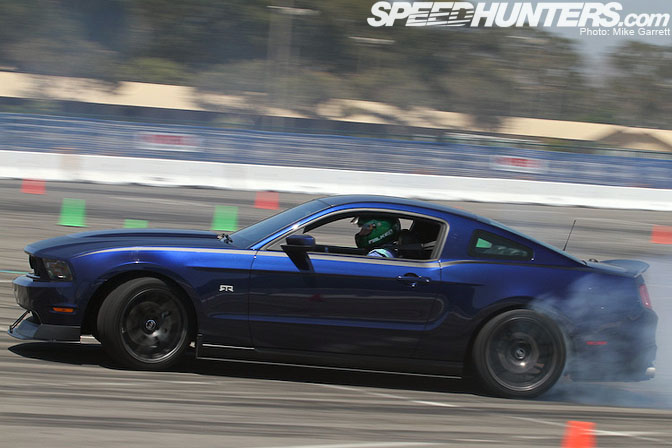 I'm still amazed how driftable this thing is for a lightly modified street car.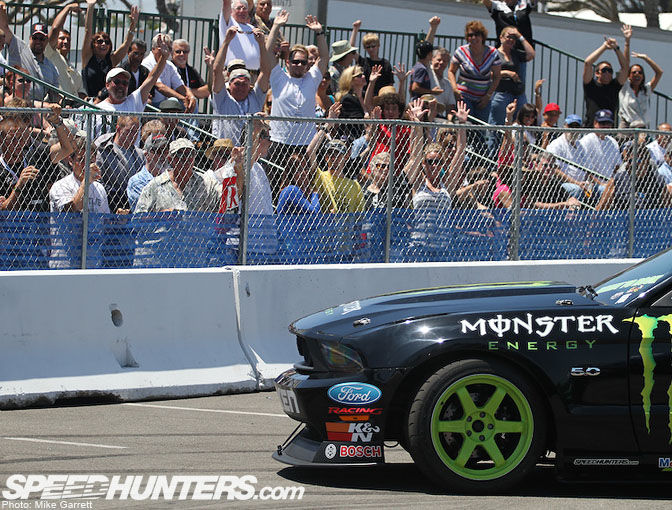 The crowds seemed to enjoy this quite a bit. Here we see Vaughn trying to select a few lucky spectators to take for a ride-along.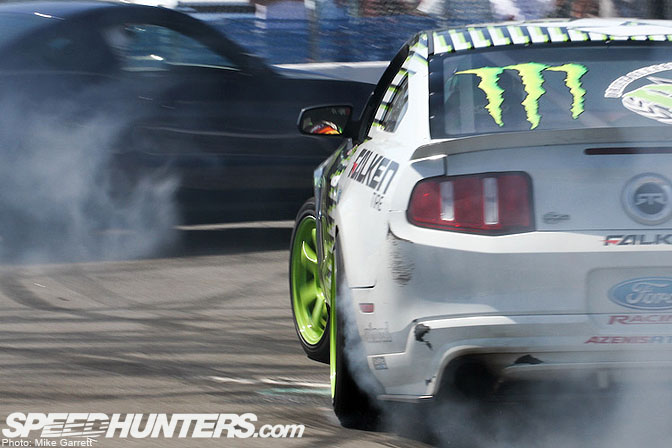 Great SoCal weather, amazing cars on the auction block, and twin Brostang drift action. One of the best Friday afternoons I've had in a while.
-Mike Garrett