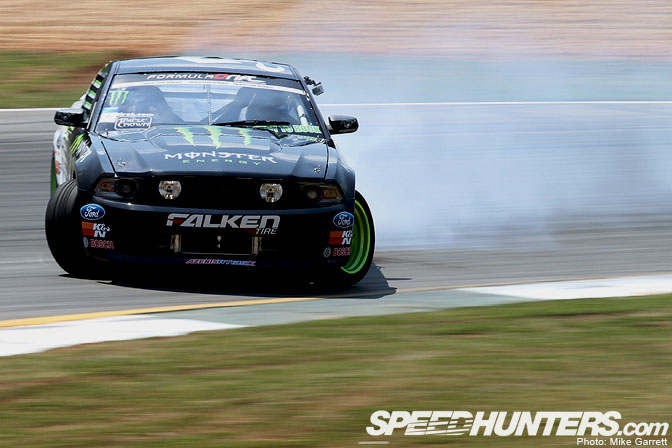 I thought it would be fitting to combine Formula Drift Atlanta and New Jersey into one blog, as both events were super hot, the spectators were incredible, and I ended up with champagne burning my eyes at each round.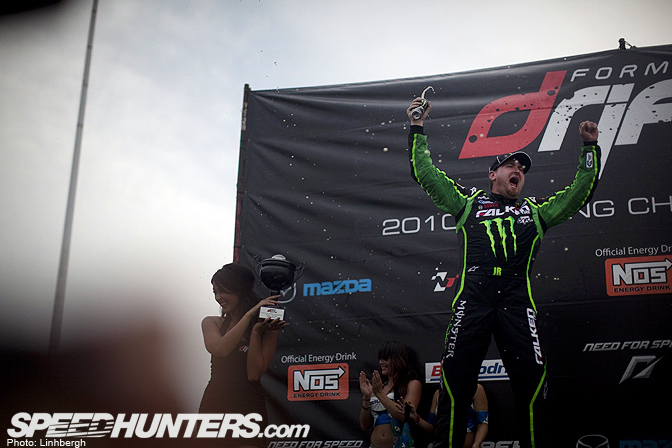 Needless to say I was still on cloud nine going into Round 2 after winning the season opener in Long Beach. Team Falken and I had all intentions of bringing some serious mometum with us to Hotlanta.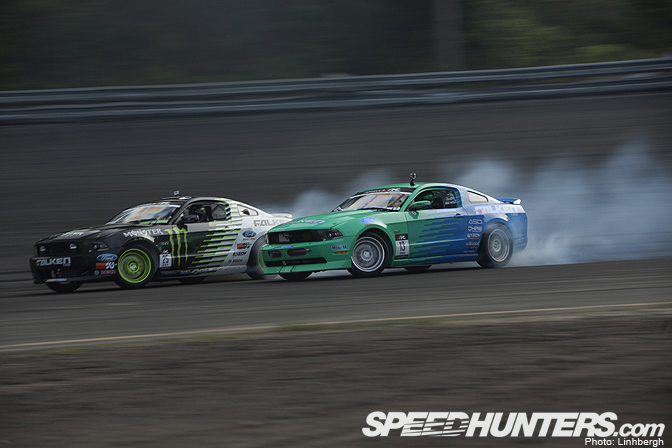 And momentum we brought.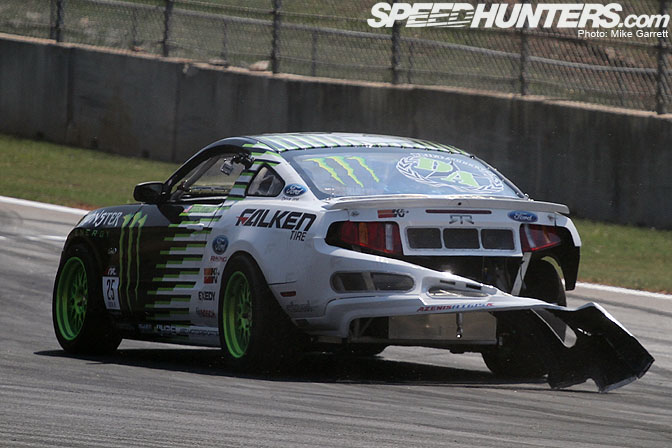 Friday's practice was going good until the infamous gator tried to bite me on on the last turn. He has gotten me the last two years and ripped the front corner off of the car. The correction I had to make to avoid it at speed gave me no choice other then to back it into the wall, which did some pretty decent suspension damage and caused me to miss the rest of practice before qualifying.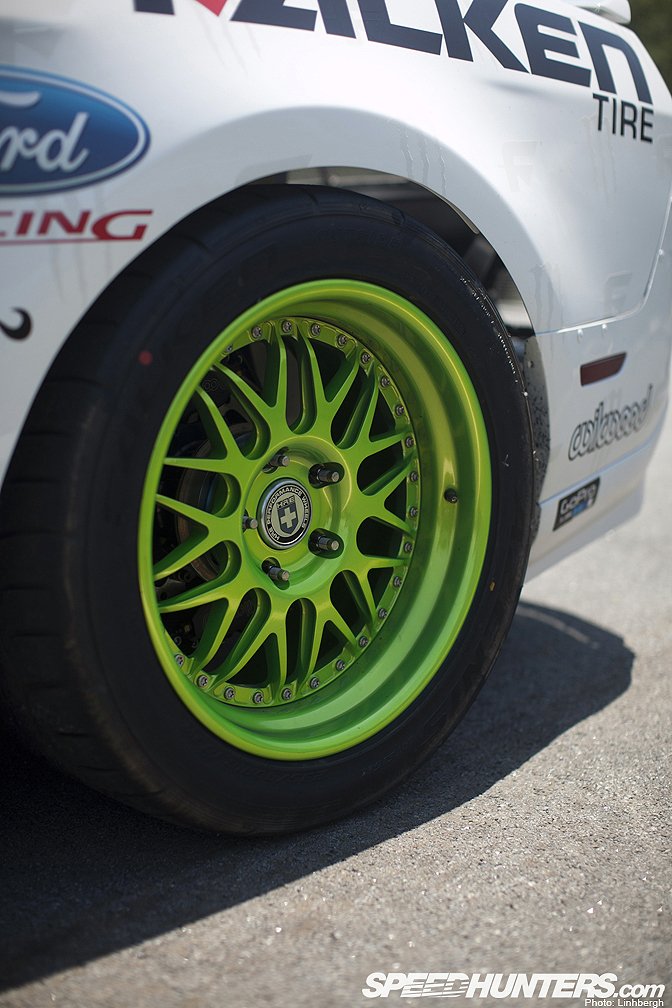 Since we didn't beat the car up too bad in Long Beach, we were able to add some more style to the Mustang including these custom-colored wheels HRE did up for me. Also the M and F pattern on the rear of the car since there was not time to do it before Round 1.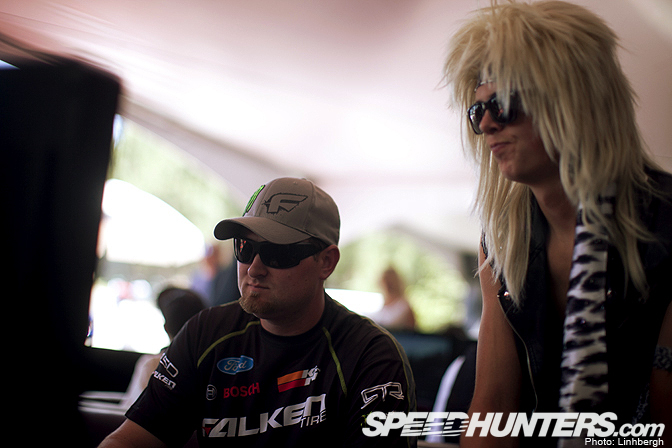 While my man Dean from ASD fixed the Mustang, I headed over to the Need for Speed booth to chillax and substitute my actual practice with some virtual practice with NFS SHIFT. Nasty Nate, infamous leader of the Mattley Crue, came over and hung out. He was a naysayer about drift in SHIFT until I showed him whats up! DEAL WITH IT NATE!!!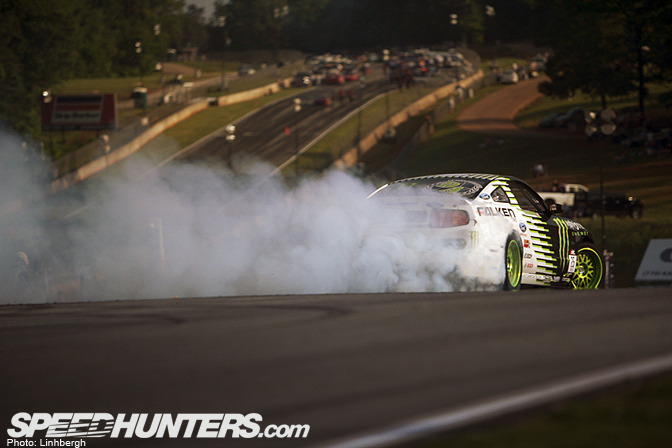 Come qualifying Dean had the 2011 Monster Energy/Falken Tire Mustang ready to rock and assured me it was in the same condition prior to me making out with the Wall. It's always a bit questionable jumping into a car after suspension damage, but I trust my man Dean. I went out and layed down two solid runs getting us into the show.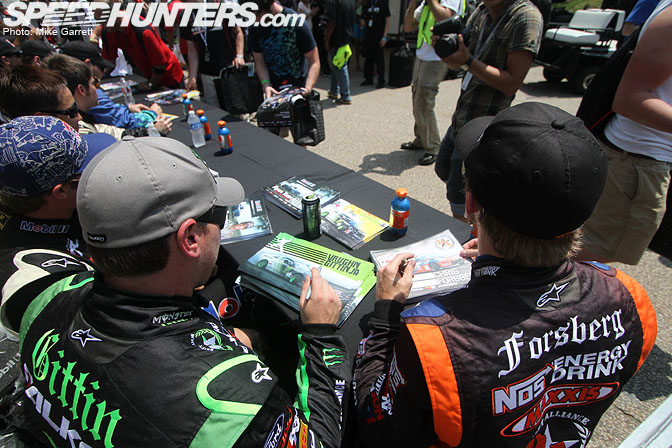 After qualifying we had an autograph session; seriously such a good time at the DA side of the autograph table and Atlanta fans are fun to talk to every year. They also start drinking at like 9AM!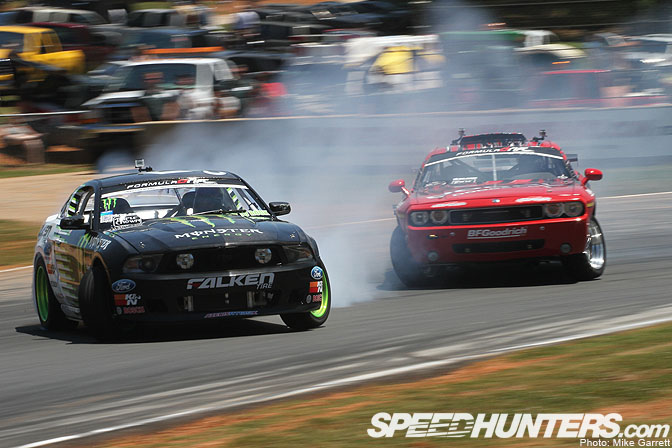 Saturday I was feeling great and practice was a good time. Sometimes I wish we can just go out and practice all day. I think spectators get to see some of the most insanity during practice. No, that is not the titanic chasing me…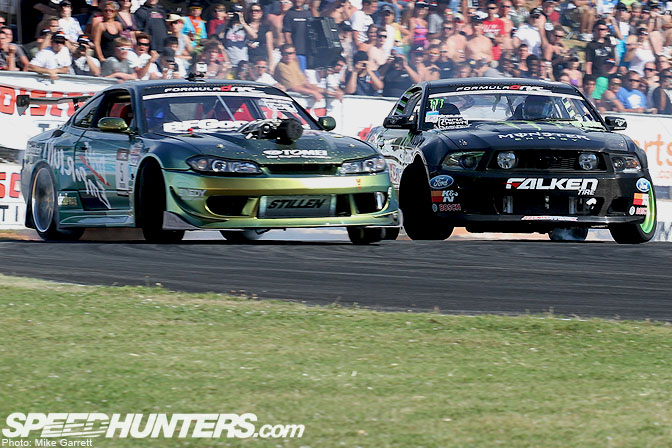 For the Top 32 I was paired up with Takatori. We ran each other last year here as well. Even though my Japanese language skills are non-existent just as his English skills are, we seem to communicate very well in a caveman-like way prior to battles. He is one happy dude and loves to compete in FD according to his forever-smiling face. I was able to stick to his door when following and pulled a pretty decent gap when leading and the judges gave me the nod to the top 16. It was this round that set the tone for the rest of the event for me. Man, do I love our 2011 Mustang!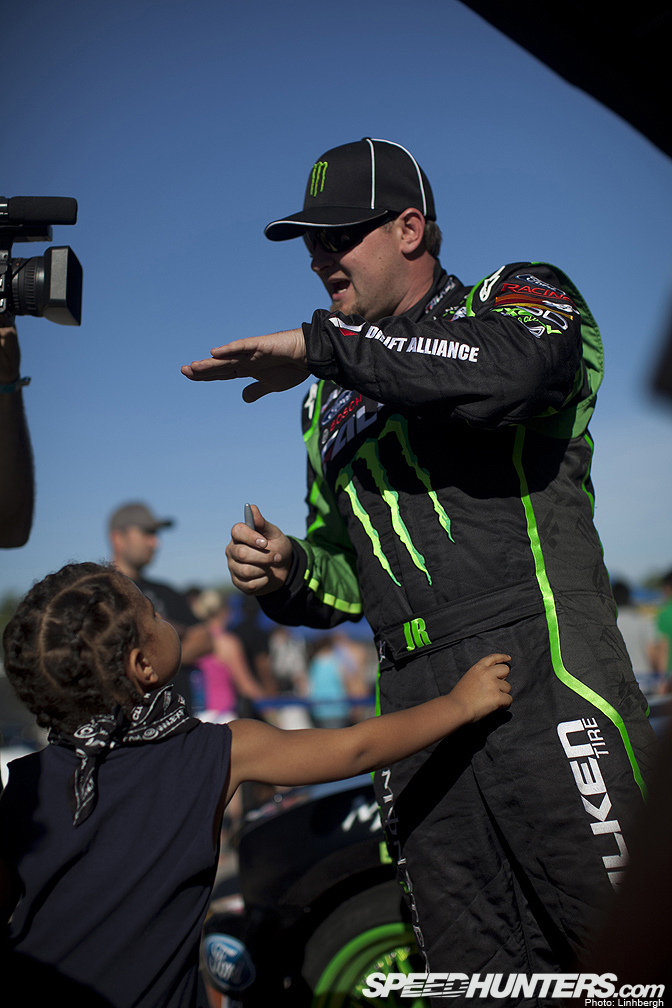 After the top 32 we had some time to hang out and kick it with fans. "TV Gittin" was on point. By my hand motion I think I was maybe\probably talking about drifting here. This picture is awesome; little man did not care in the least bit that I was doing an interview ! He wanted an autograph and a picture.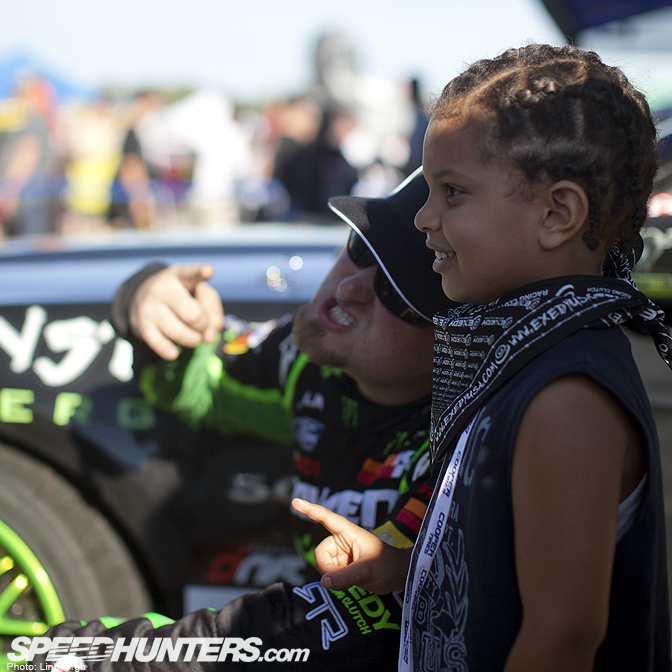 I had the camera man standby so we could get down! Future drifter, look out for him in about 10 years!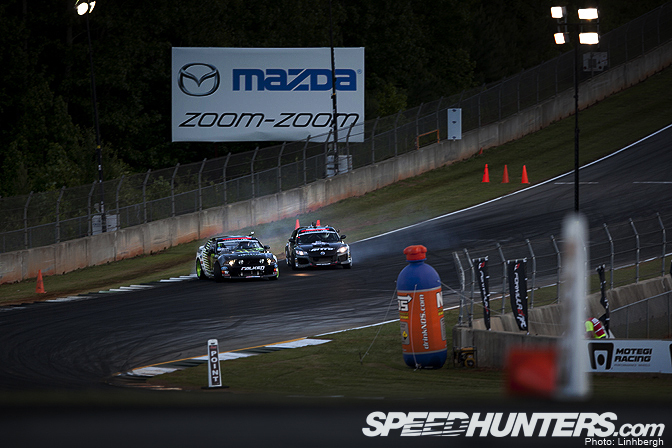 My top 16 battle was against my Drift Alliance bro Joon Maeng (AKA the nicest dude on earth!) He was killing it all weekend and had a great entry down. I knew it was going to be a good battle. I threw it in extra early and hard when running him becasue I knew he would do the same and sure enough he did!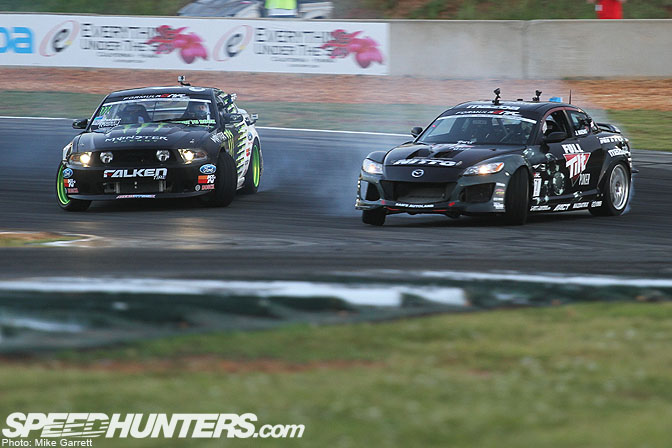 Joon seriously has a heart of Gold. I have a certain flat-bottom shopping cart at my house that has four casters on it and at my last year's annual summer house-party, Joon and I were battling to see who could get the farthest down my driveway. Joon is so committed and competitive. I watched him bounce off of his truck on the way down the driveway like six different times until he finally got it instead of bailing and starting over. My mind was blown – as if him driving all night to get to events and competiting on no sleep wasn't convincing enough! Ok back to the battle… We had a killer battle even though he made a mistake going into the horseshoe, which sealed his fate giving me the hard fought win.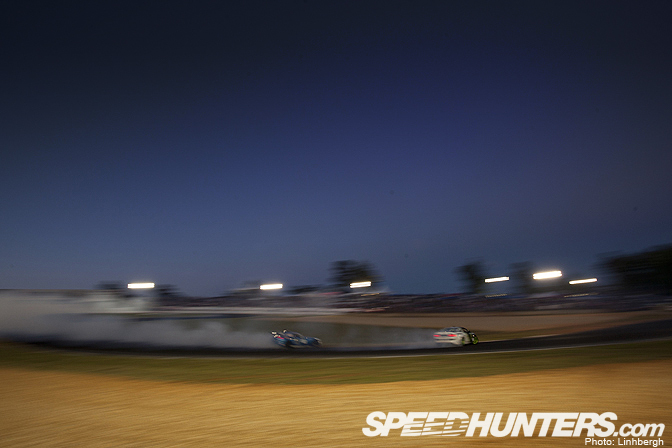 My great 8 battle put me against another DA bro, Ryan Tuerck. I remember thinking to myself SERIOUSLY? I had to run him in Long Beach too. He is a killer out there! We had a serious battle last year and he won. I wanted some revenge in Hotlanta this time! Revenge is what I got. We had a great battle both runs, I was able to stay on his door pretty well when following and pulled a pretty serious gap on him when leading. Last year this could have been easily vice versa. Amazing what a difference the new Falken RT615-K tires make… SICK!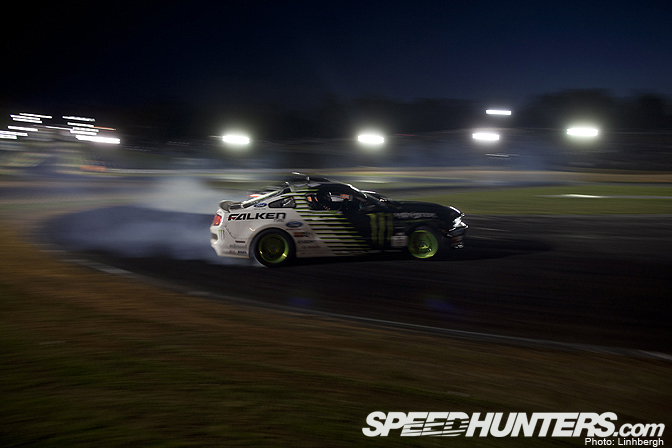 Next round… The Final Four against Mike Essa. Mike had a pretty gangster entry all weekend and I was looking forward to this battle. I knew we were a lot faster then him, so leading I paced him so I didnt run away from him on the downhill. Then it was game on from there.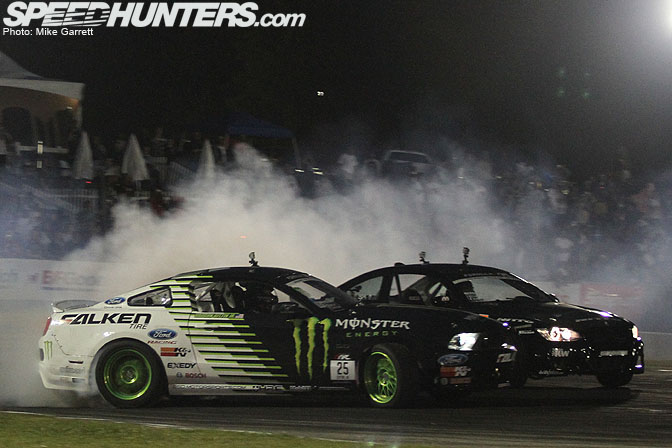 I had a huge lead. In fact, he went super shallow to catch up putting him in a very akward place for the exit of the horse shoe.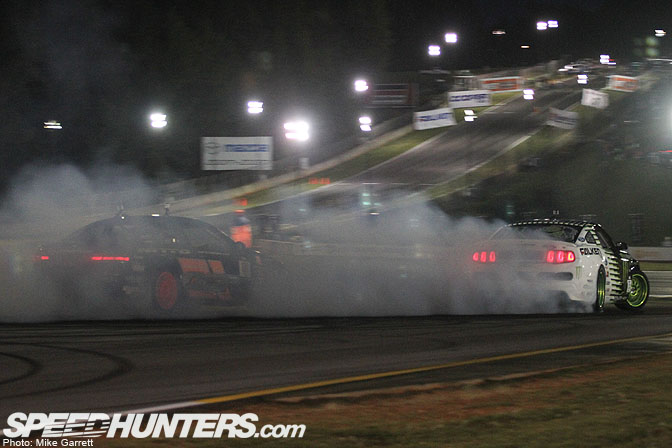 I gained a bit too much speed going down the hill, not sure why my foot wouldn't get off the throttle… I spun on the last corner. I was so mad at myself for such a stupid mistake on a run which I clearly earned a huge advantage. I kept my cool. This is drifting – you never know what could happen. Mike's turn to lead. He spun going into the first turn… unreal!!! Pure luck on my end and bad luck on his. OMT here we come!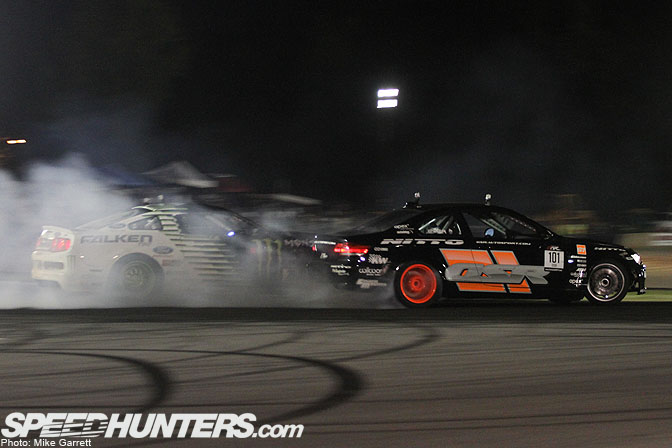 When leading I pulled a gap and made sure I didn't enter the last turn like a jerk at ludicrous speed again. When following I didn't give him an inch. I was moving on to the finals! On another note, Mike has impressed me big time this year. When he nails down his head game and gets that car dialed, he is going to be a force out there!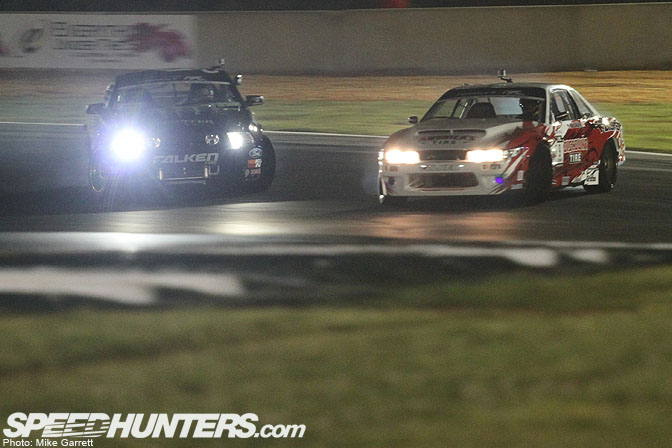 The Finals lined me up against Dai my Falken Tire teammate. I knew this battle would take everything we had to win.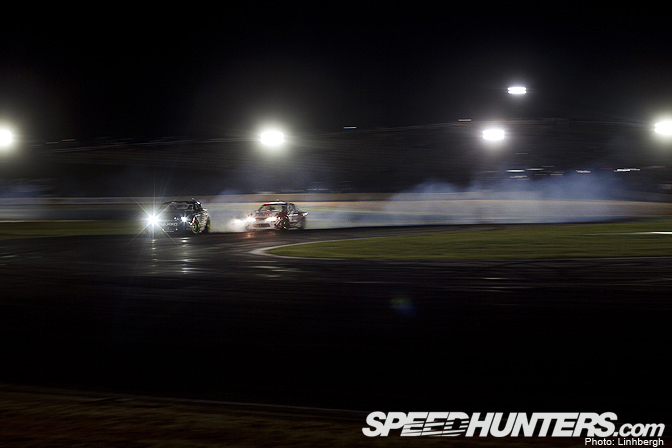 I gave him 110% and it was a great battle, I could hear the crowd coming through the horshoe.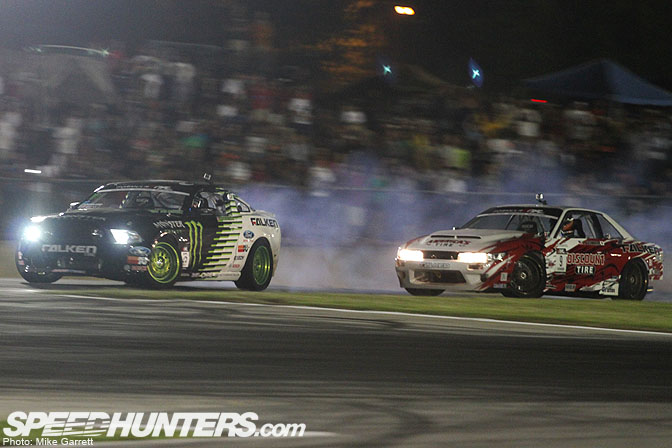 Unfortunatley Dai was a little faster then us and I just couldnt shake him!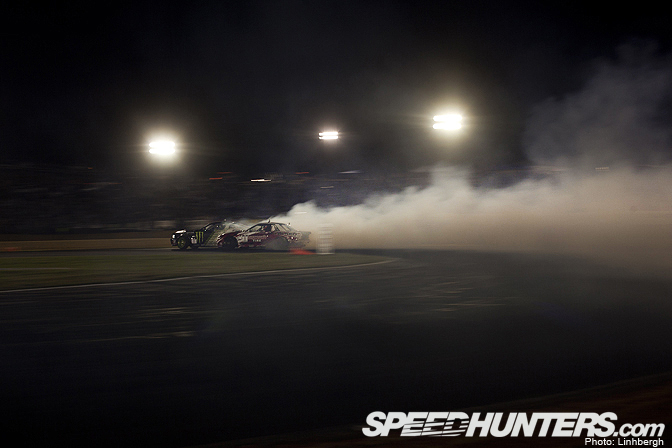 Right here is where the battle was won. On the downhill turn he pulled up to my door. If he was RHD we could have held hands during that turn. I am proud of Dai; he was in a slump and now he is back and as bad as ever!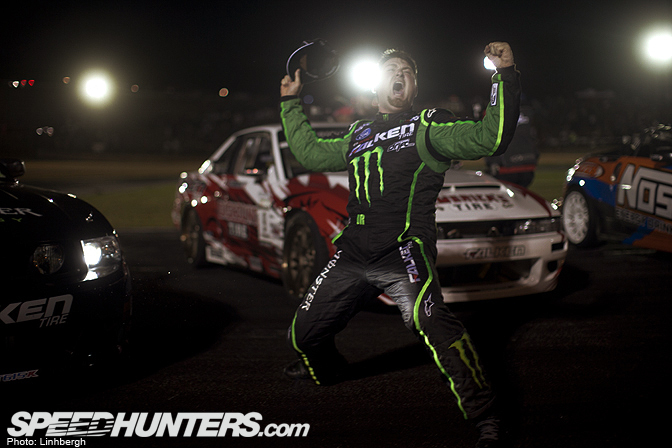 As you can see I was still pretty pumped about 2nd place; 1st and 2nd place finishes in the first two rounds? I'll take that! Plus Falken Tire had the top 2 podium steps covered and I got to share the podium with my Falken Tire teamate Dai and my DA bro Chris Forsberg! I might not have won the event, but all of those things equaled a win to me!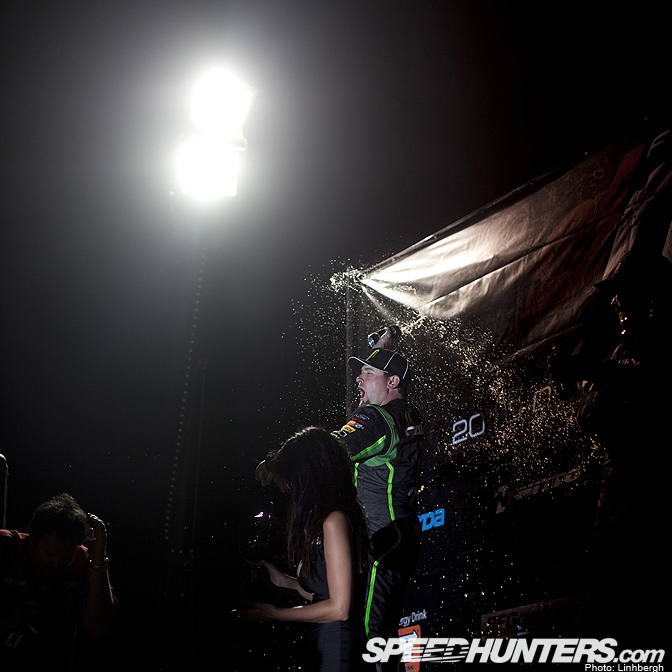 Here is me sharing a can of Monster Energy with everyone. I know I am very thoughtful! Check out this VIDEO from Atlanta that Monster put together for me.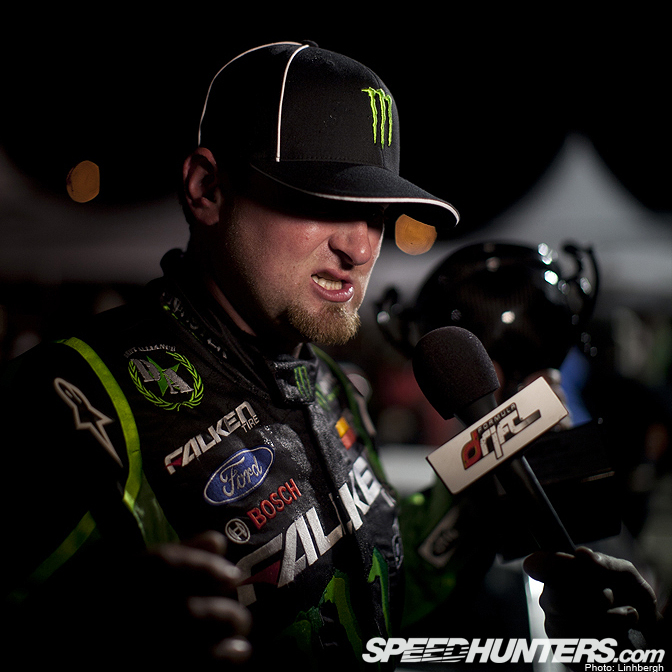 Eyes burning and soaking wet with champagne – can't stop TV Gittin! Next stop: NEW JOIZEY!!!!!!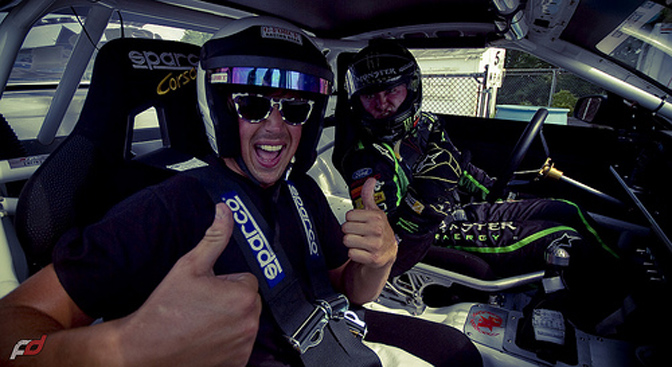 Thursday in Jersey X-games BMX Gold medalist and fellow Monster athlete Scotty Cranmer came out to watch practice as part of the Throttle Thursday experience that has become a fun annual jam. Thanks to Gary Gardella for organizing it. Scotty owns a R34 GTR and a new GTR; he has been a fan of drifting for a long time. I threw in the car and we went for a ride during Thursday's practice. He seemed to have a blast!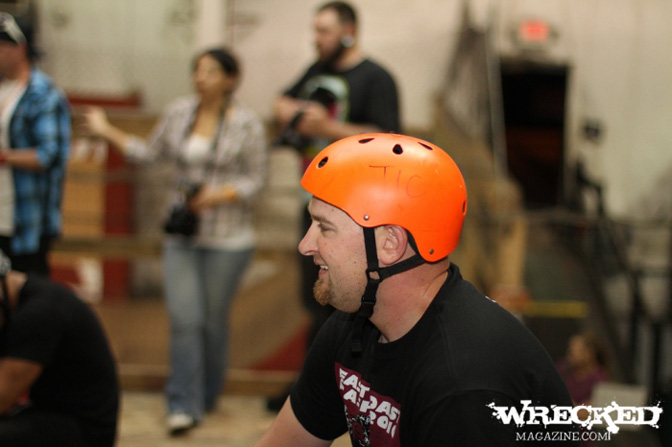 After practice we headed to the Incline club where we watched the BMX crew get nuts. Dudes are straight insane. I even jumped on a bike and played in the kiddie area. I jumped one baby-step up! No getting folded up before an event for me!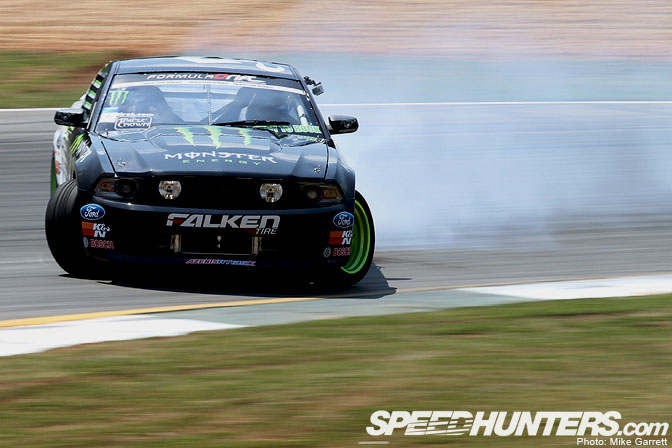 After Thursday and Fridays practice I was definately feeling great. I had the car dialed, and was running the high line on the toilet bowl like bank and was able to stay on throttle for the majority of the course. The whoop section was horrible this year, I guess because of the rough winter we had. I literally attacked the whoops wide-open throttle like I would on a dirt bike and it worked out everytime! What a sweet Mustangawasaki we have!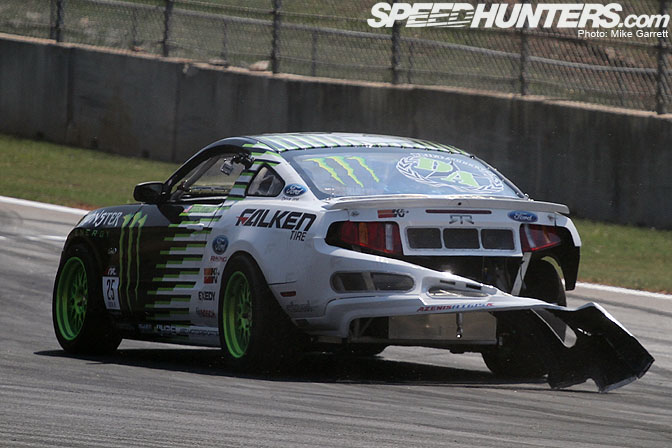 The Jersey fans have a lot of love for me and especially Drift Alliance as a whole. It's really cool to see everyone each year. Everyone is so pumped and the vibe is awesome. I have like 100 friends and family that we get tickets for each year and the support is just incredible and very appreciated!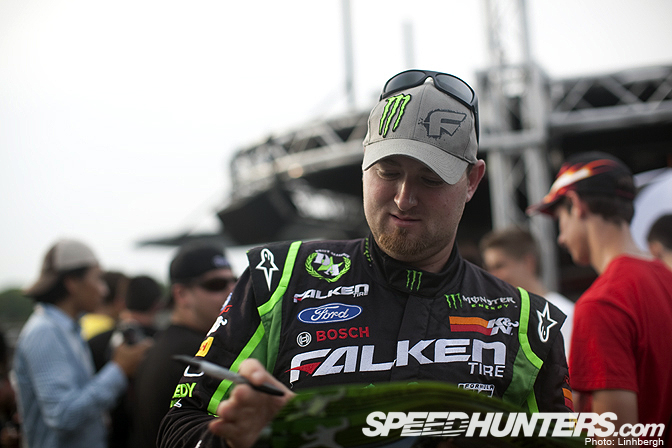 Even though it was insane hot all the drivers sucked it up and spent a good amount of time making sure everyone got posters and chat time.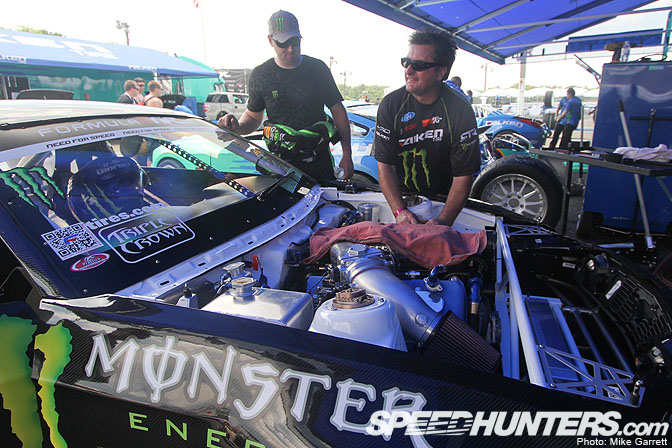 Dean was making some top-secret adjustments before qualifying. AKA putting some fresh Bosch Spark plugs in!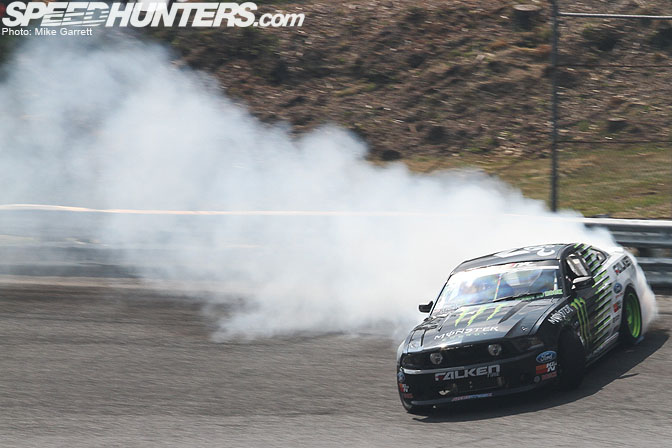 My first qualifying run I went out and ran a good solid run, enough to make sure we were in the main show.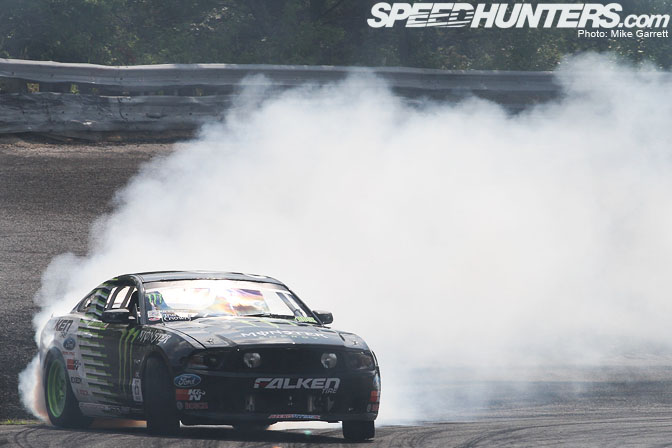 Once I nail down getting in the show, then I can get nuts and not worry about
wading the car up and not being able to fix it in time for the next run.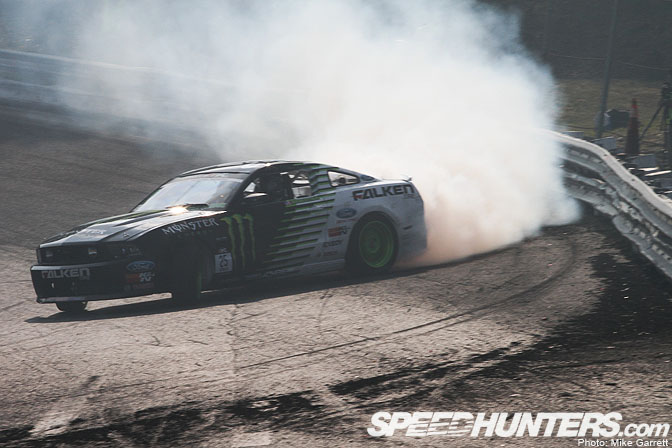 On my second qualifying run I went super hard and high on the bank, especially since JTP was leading the DA closest-to-the wall contest and he was ahead of me in qualifying postiion at this point.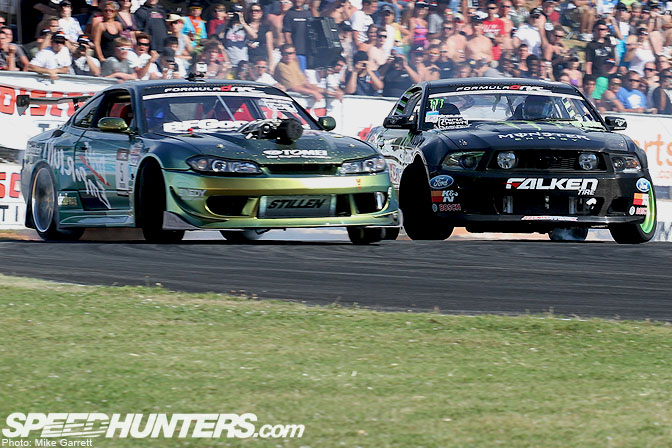 It was a solid aggressive run and moved me up quite a bit – 5th place, one spot below JTP, only like 0.4 points behind.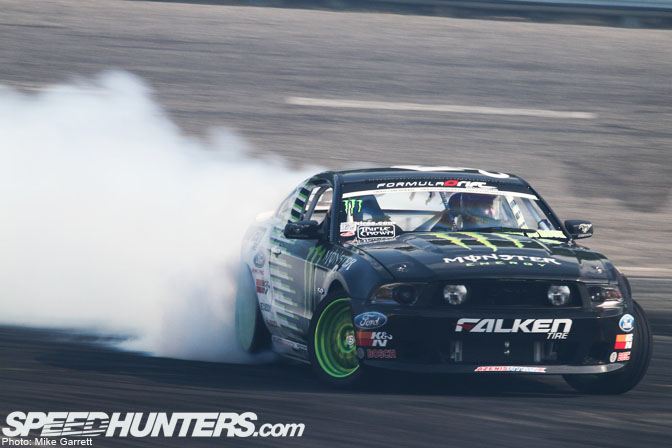 Maybe I should have ripped the bumper off on the wall! Next time sucka!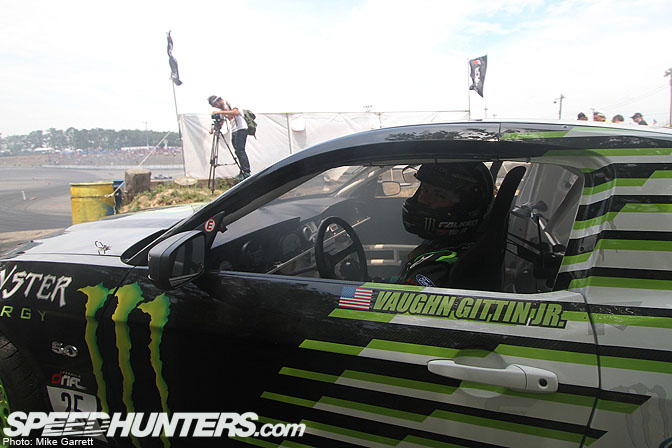 Saturday practice was used to do some following and see how adjustable our setup was for running slower drivers. We had the 2nd fastest speed at both points here and the last thing I wanted to do was get caught up.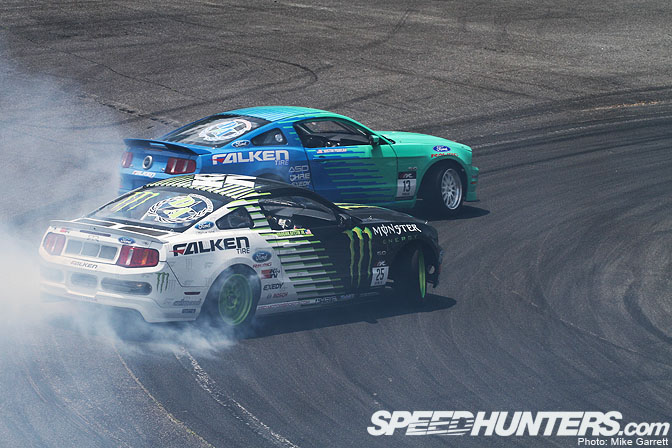 Me and JTP even lined up for some fun. Coming out of the last turn I started banging on my door to taunt him to get closer as I was mashed on the throttle. We push each other hard and talk smack all in the name of love of course. I love that he is rocking that car and so does he!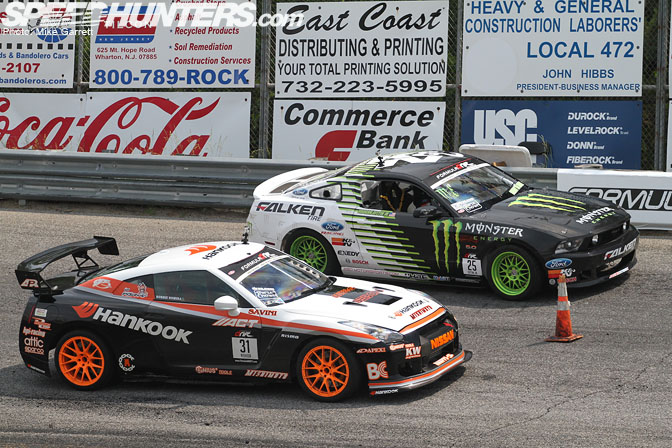 After practice it was time for the game face. My ladder was definately a tough one. I knew I was going to have to work hard for a podium this round. I have never been scared of some work though!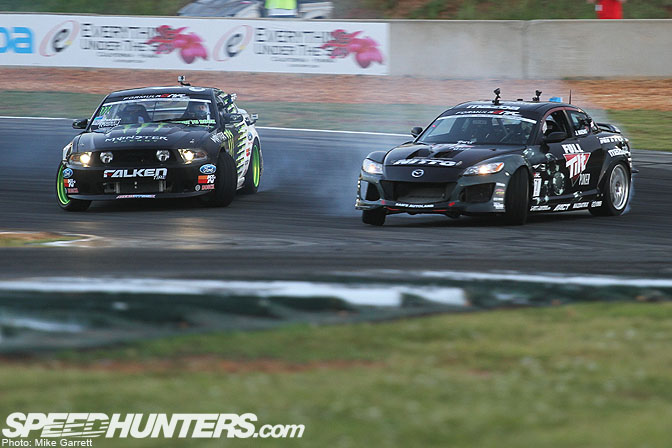 The battle of the top 32 put me up against Robbie Nishida; he asked me for a pace and I gladly gave it to him.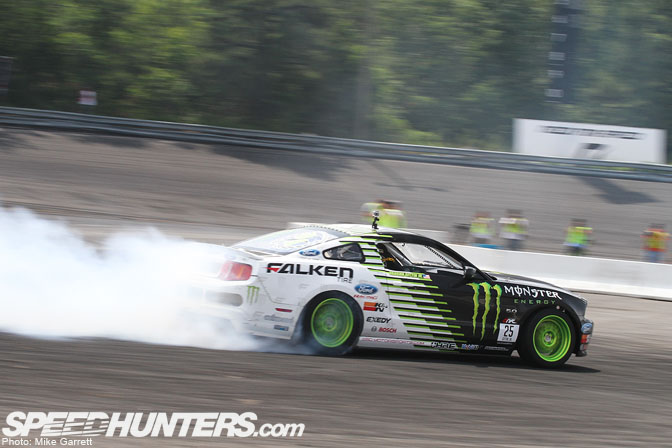 Robbie is such a gentleman and an awesome driver. He seems to still be getting used to that new car because, honestly, it was the easiest battle I ever had against him.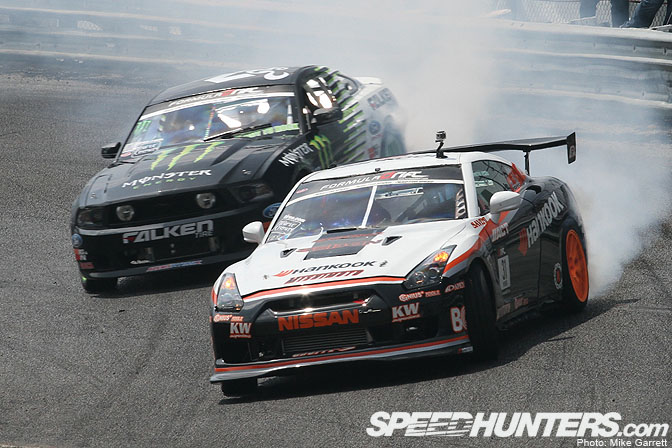 He was a killer in that Z last year. I imagine he will get to that point in GTR later on in the year and will be a serious force once he dials himself in with that machine.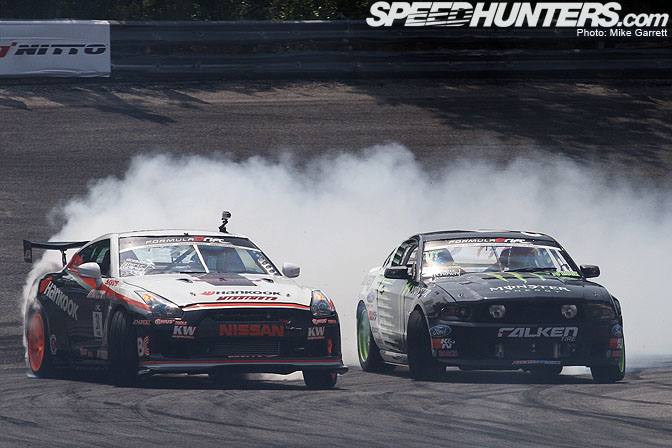 After the round I advanced to the top 16, but not before shaking Robbies hand and him wishing me good luck for the rest of the event.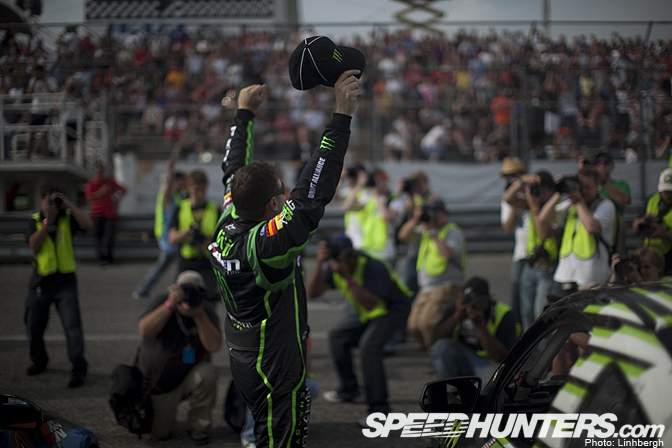 Top 16 introduction's are always fun all of Drift Alliance that made it through lined up and we ran four-wide through the bank. Most of our family\friends had the entire
right side upper level of the stands filled which was rad. Onto business…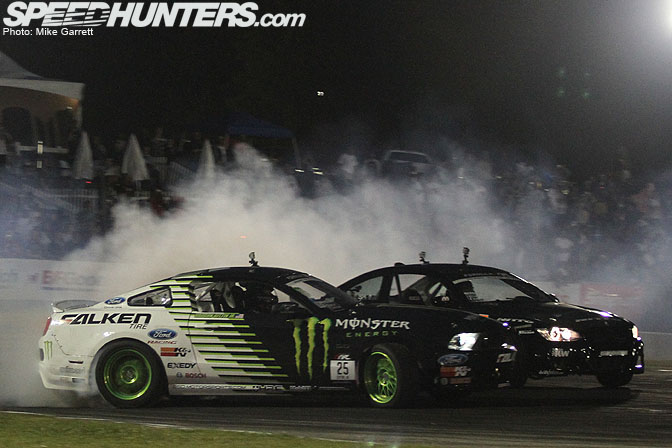 My top 16 battle was against Falken Tire teamate Tyler.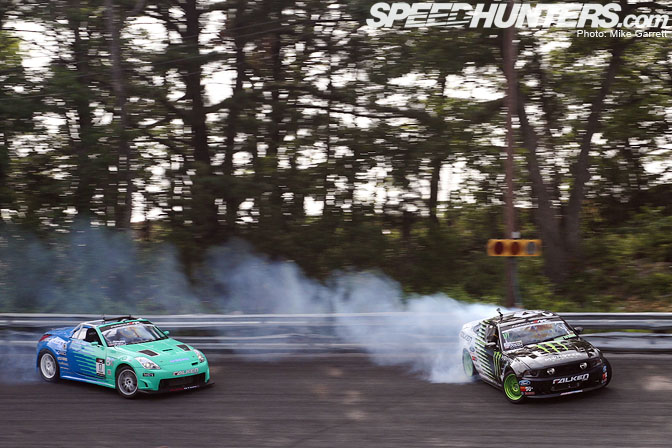 Last year we had a good battle and I came out victorious, Tyler made a mistake and said I got lucky. This time it was a personal goal to make sure luck wasn't part of the equation ;).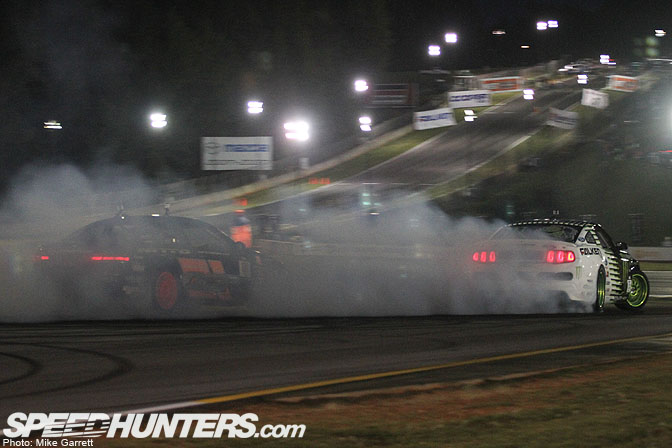 On my lead run I ran high on the wall and I was able to pull a nice gap somehow from his rocket-ship.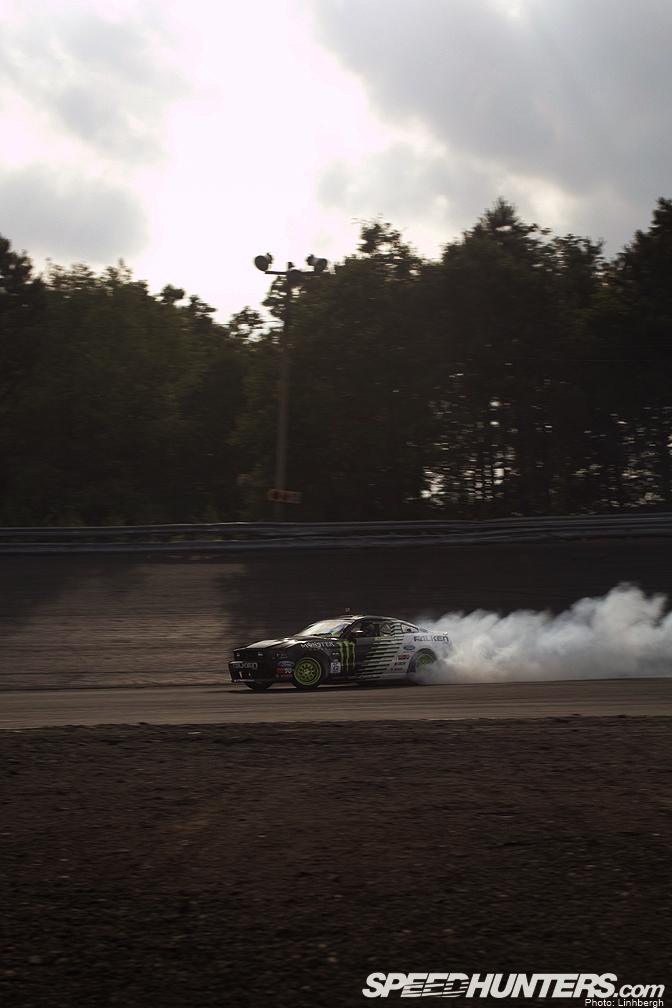 A NICE gap!!!!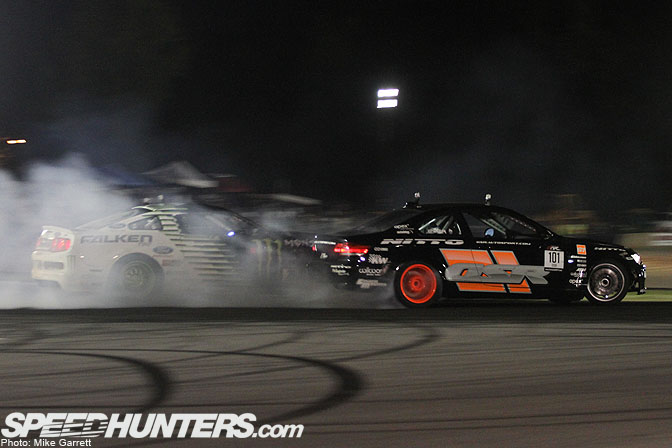 When following, Tyler put it up on the wall and even threw his rear bumper at me like real-life Mario Kart!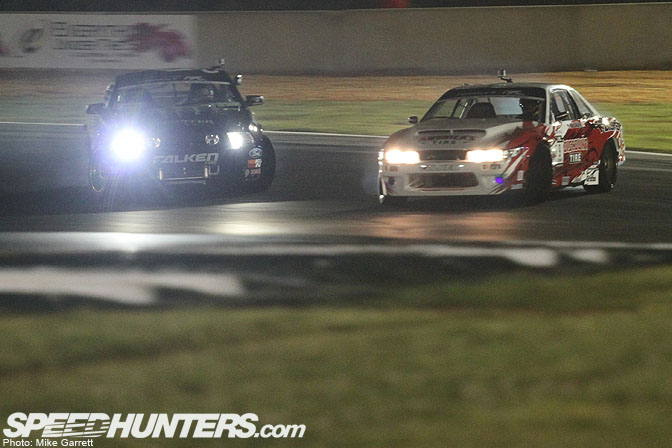 He is a trickster, that TMQ is, I swear!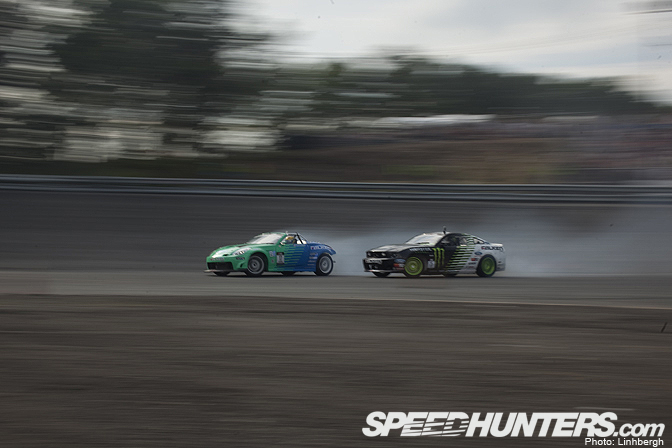 He ran a great line with good speed, and it was an awesome battle for sure.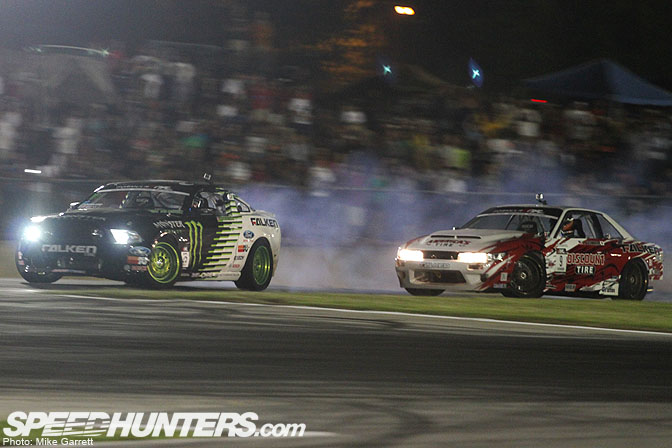 Minus the "luck" this time I got the nod from the judges and moved on to the great eight.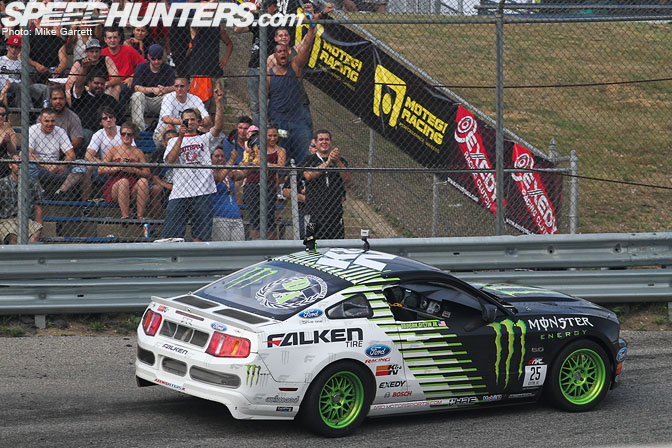 Here is me waving to my family\friend corner.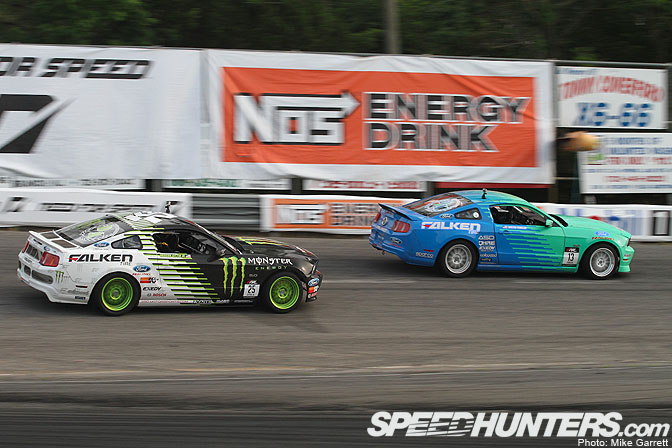 Next up… Mustang vs. Mustang! Me vs. JTP in my old machine. To say there was a lot of pride on the line would be an understatement!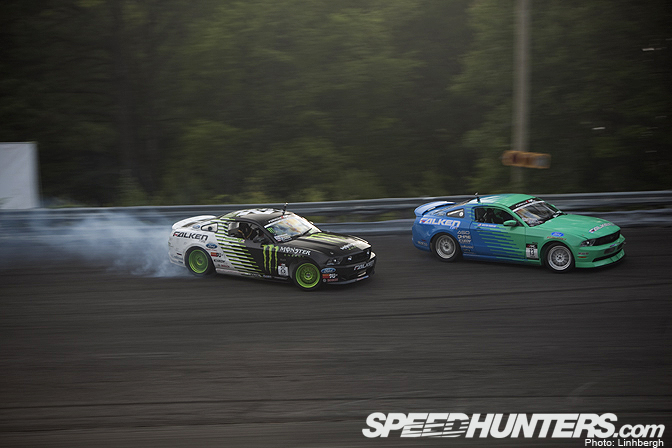 In fact I lined up to lead first and I was quickly reminded JTP outqualified me. Easy now… don't get ahead of yourself Vaughn.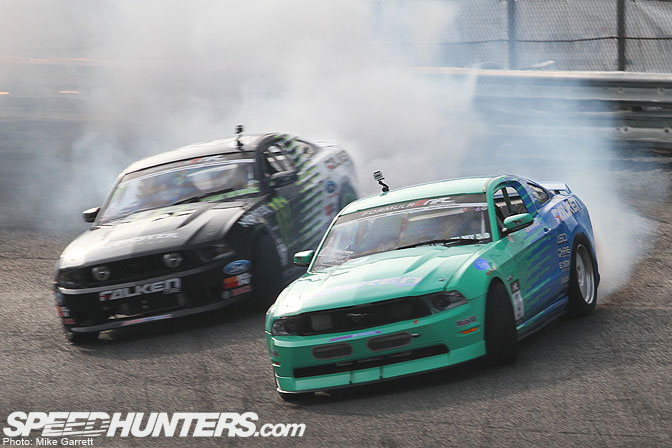 I knew this battle was bound to happen at some point, but I had no idea how weird it was going to be chasing a car that was my other half for five years. Talk about a Jedi mind trick!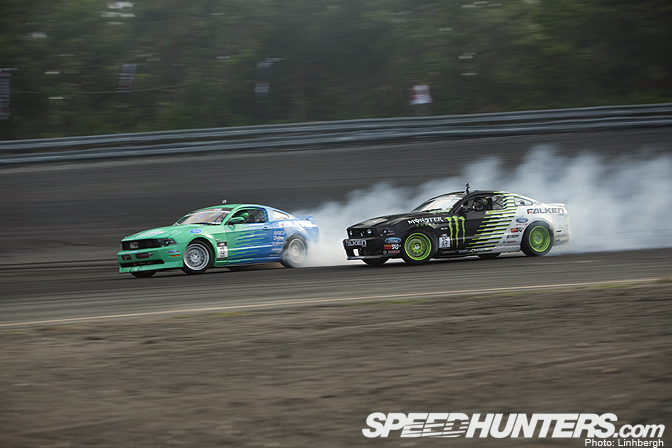 When JTP led he was definately going hard! He was a bit low on the bank, but super fast everywhere else. I had to drive everything I had to keep up with him.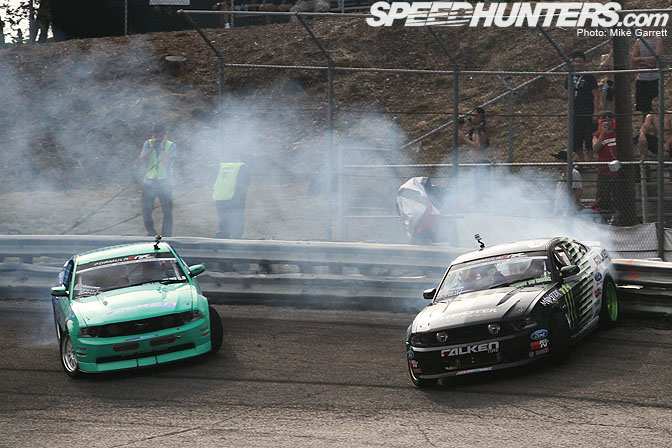 When I led, I focused on being high on the bank and even kissing the wall a little.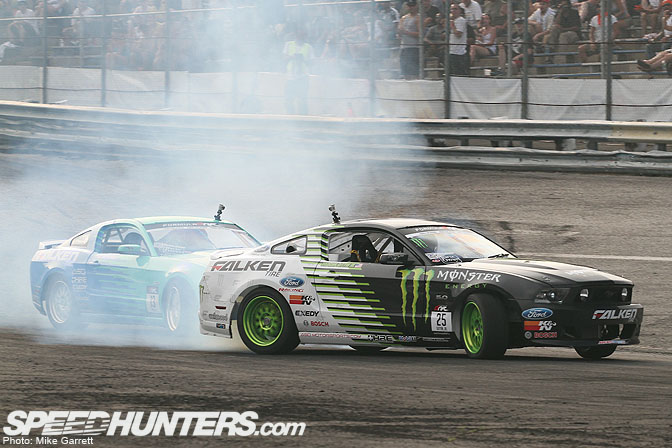 Then I made sure to stay flat-footed through the transition hoping to pull away a bit.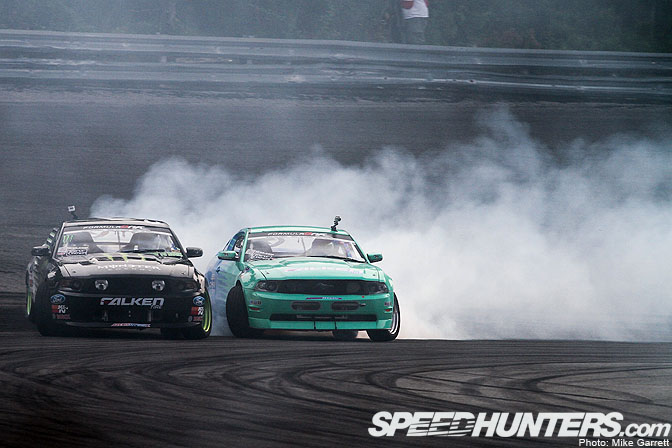 He caught me by the middle of the last turn and got a bit too aggresive… Hey I know a guy that has done that in the past too!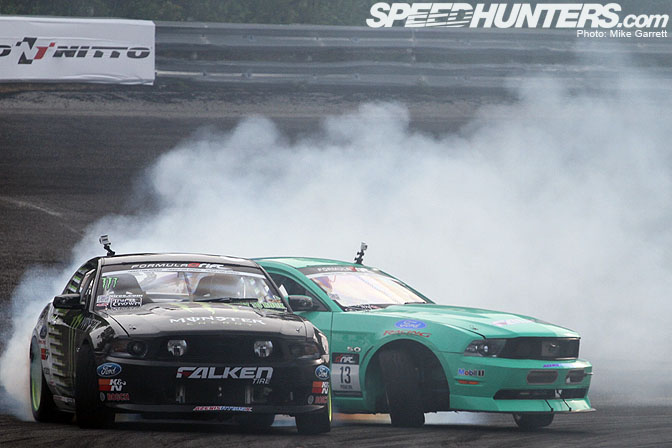 Just a bit too aggressive and over-rotated giving me a slap on the backside on his way around, but sealing his fate nonetheless. I will say that it was an awesome battle and I couldn't be happier then to have him as a teammate on Team Falken, Drift Alliance, and of course, a good friend. He is a great driver and very smart. I am happy to help him out and the amount he has learned in the last three events is incredible. I'm not sure who else could do that car justice like he has done since day one. Your my boy blue! (and teal!)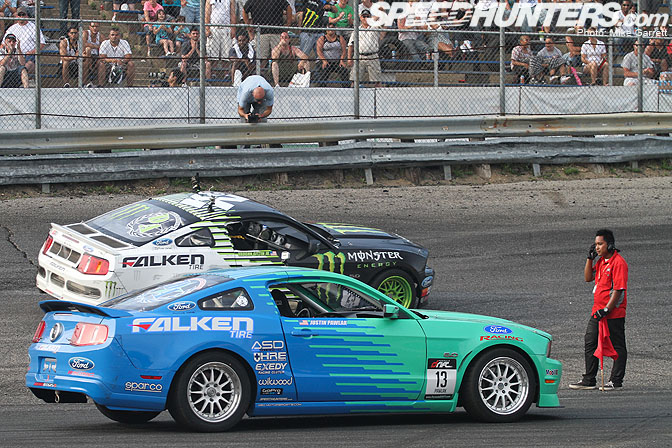 The Brostang battle ended and I was moving on to the Final Four… Wait Seriously? Again! Woooowwwwwwww!!!!!!!!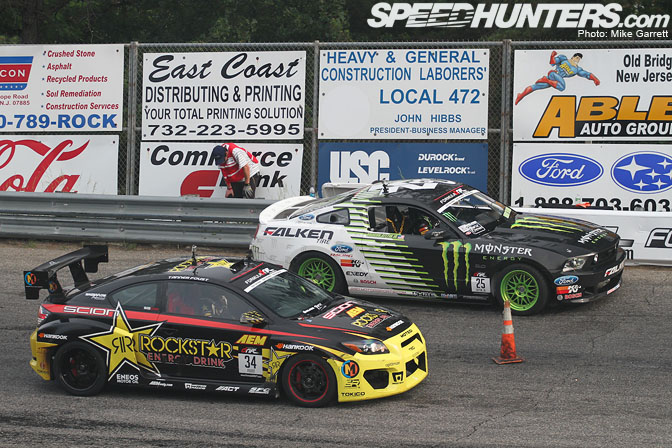 Me and Tanner were lined up to battle for a spot in the finals.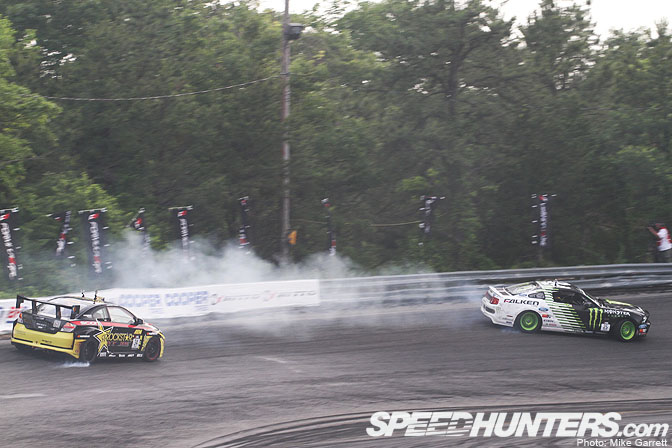 Tanner is a no-BS driver and he has given me 100% everytime we have battled in the past. I expected this time to be no different. I paced him for a bit longer then normal. He usually is right there no problem, especially on starts.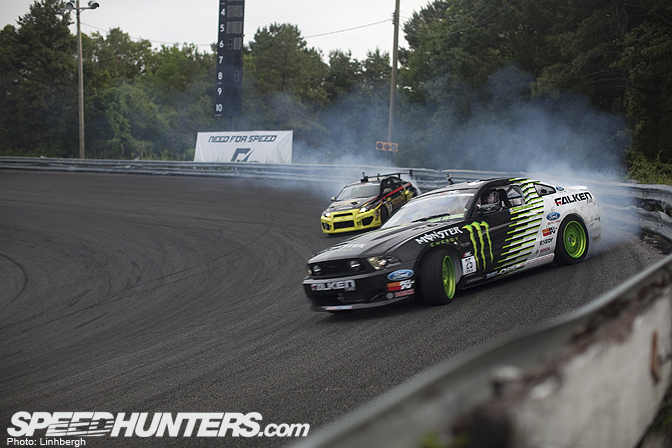 I laid down a textbook run. Full throttle, high on the bank. Tanner was a bit too high on the bank, hitting it, straightening out, and losing his bumper.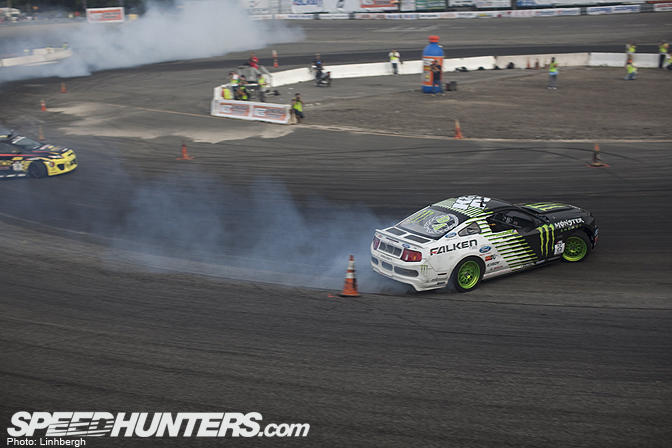 His bumper slid down the bank, this shot is just before I hit it and made it explode. Sorry Steph… not really though!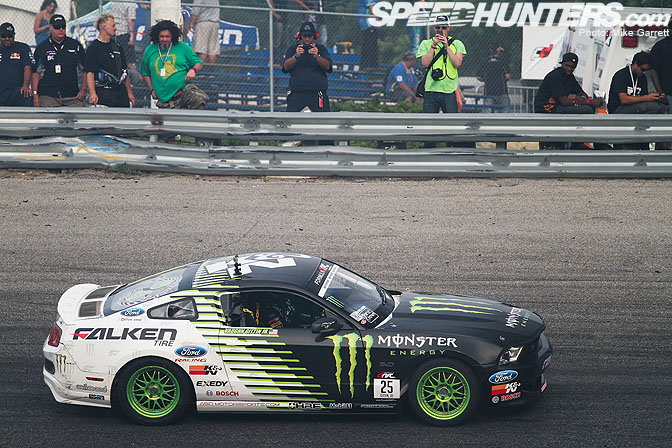 Waiting anxiously for Tanner to come back on track to finish the battle!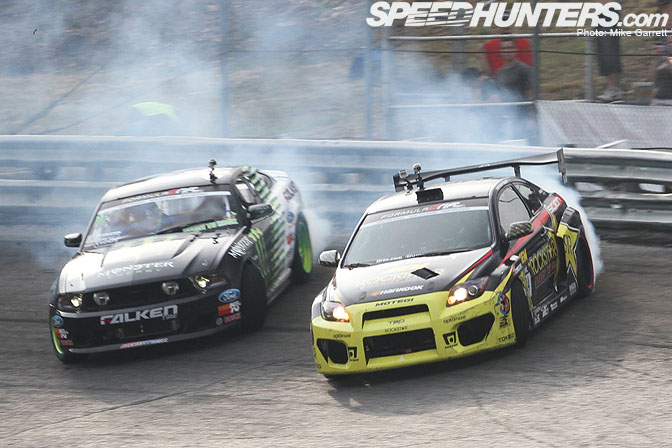 I made sure to follow Tanner as close as possible even though I knew I had a huge advantage.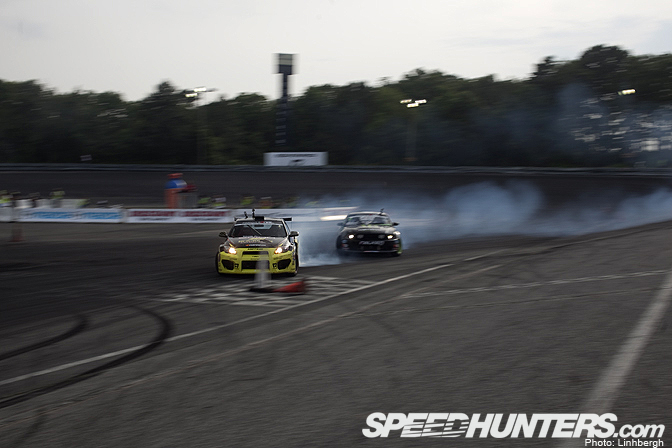 Full throttle off the bank! And pretty tight the rest of the course. I was moving onto the Finals!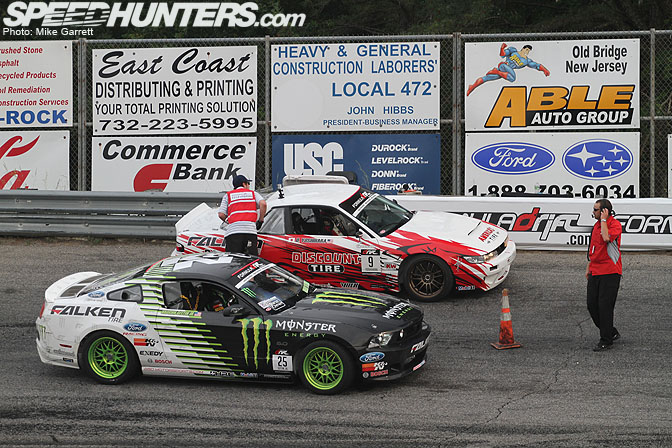 Deja Vu! Me vs Dai again! Officially my new arch nemesis!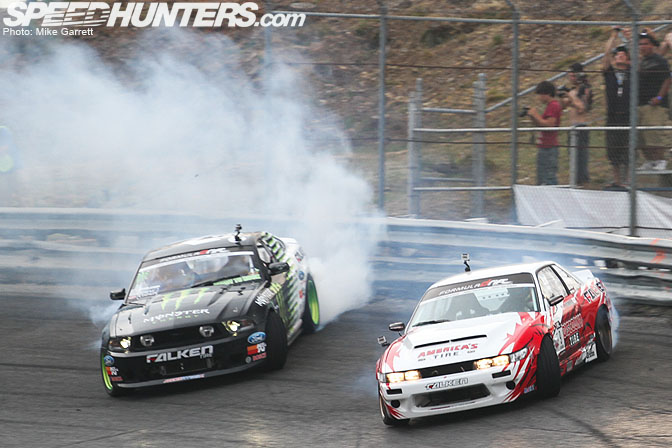 I was determined to get my revenge from Atlanta!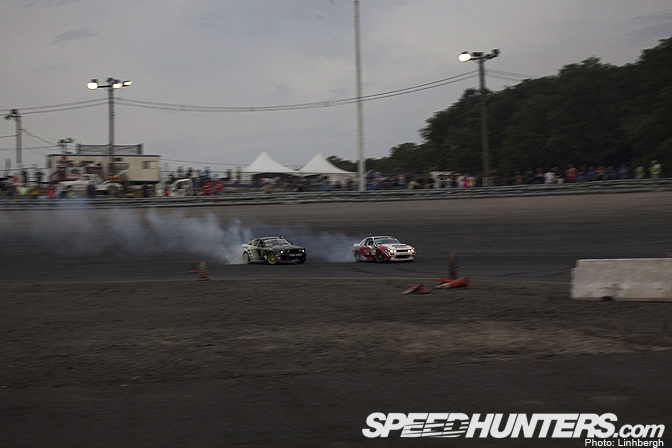 This was all-out war going down in Jersey!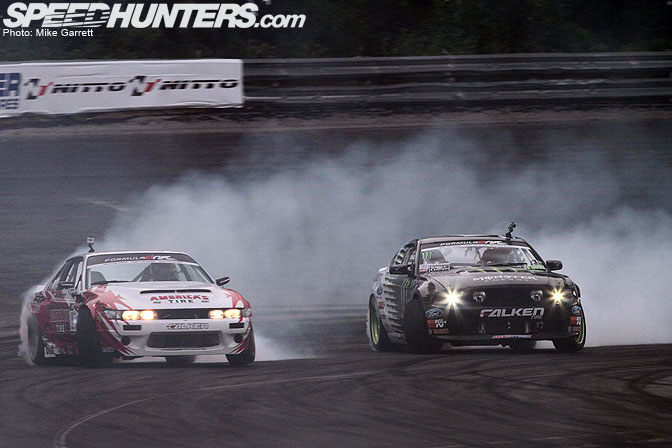 We were both driving 110%! It was nuts!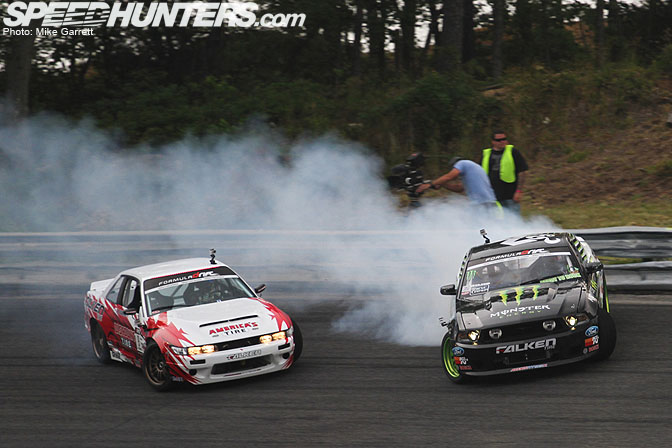 I knew the first run would be about even. I knew I had to throw it down hard to win this one! Dai… your supposed to be like me here!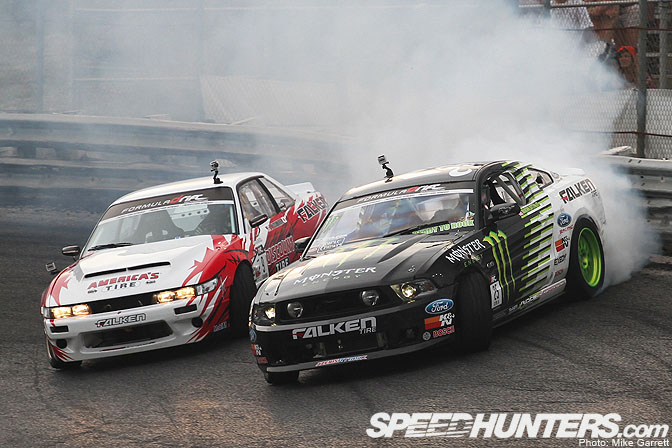 He latched onto me at the end of the bank for a second.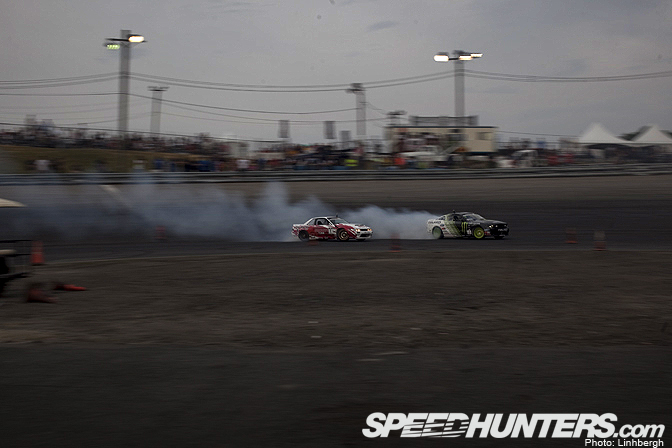 I was able to pull a gap from the transtition through turn one…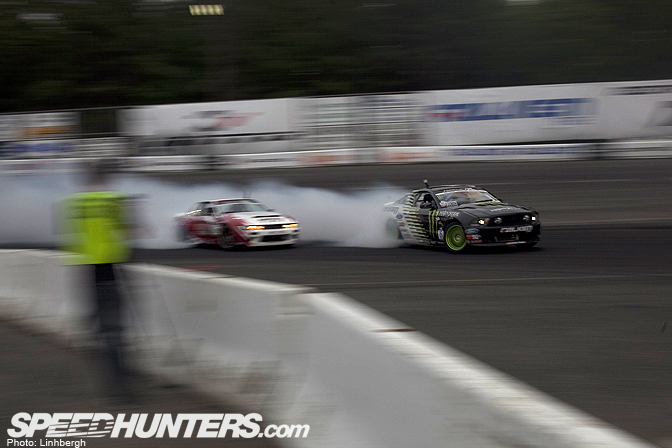 …and the whoop section.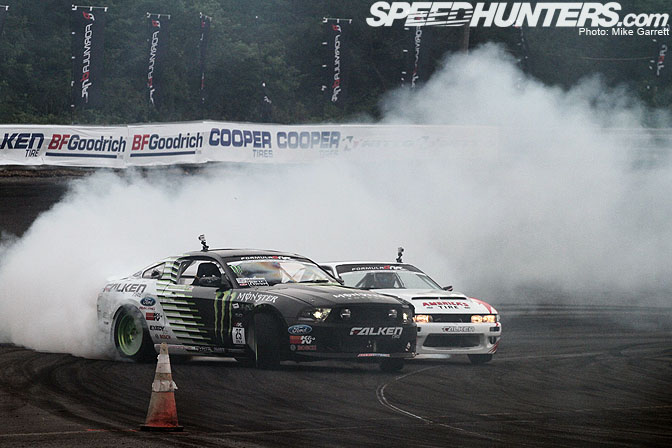 He caught me in the final turn some magical way! Nice work Dai!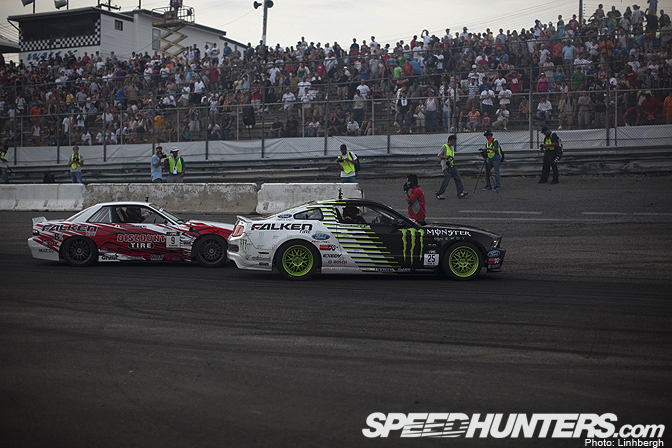 SUSPENSE! Ian called me on the radio and told me we might be in for a OMT due to him being a bit straight on the bank and shallow on the last turn to catch up. I was Ready to Rock again but the judges had decided a winner.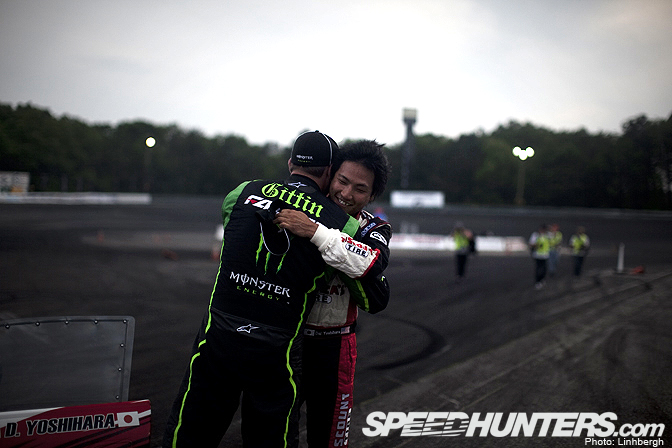 Dai and I got out of the car and the judges announced him the victor. I congradulated him and we hugged it out. A real gnarley sweaty man hug. Thats how we get down in Formula Drift! I am so proud of Dai, he has had a rough last year or so, and now he has been killing it like we are used to – like a drift machine! Don't get used to that top step just yet bro!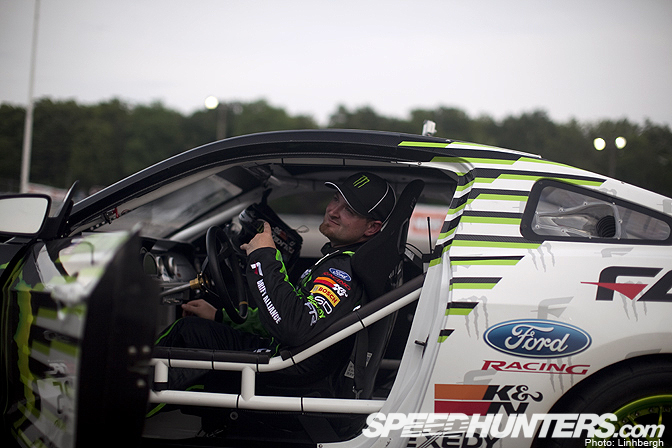 On the way off the track I reminded my family and friends to ROCK OUT because thats what I was about to do!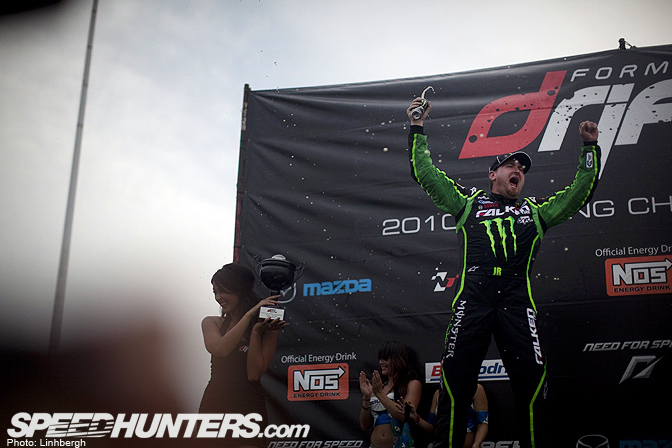 WOOOOOOO!!!!!!!!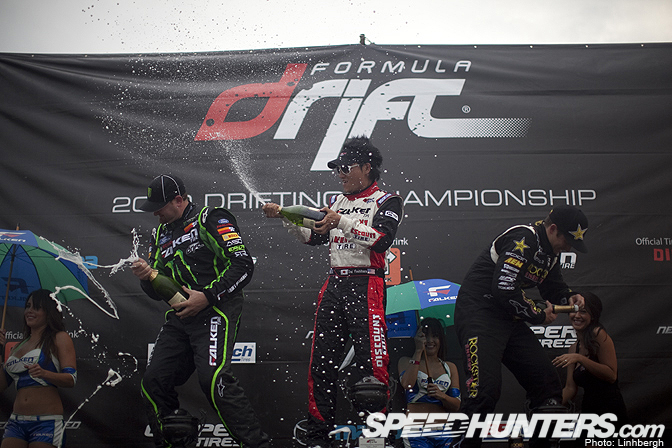 Ready GO!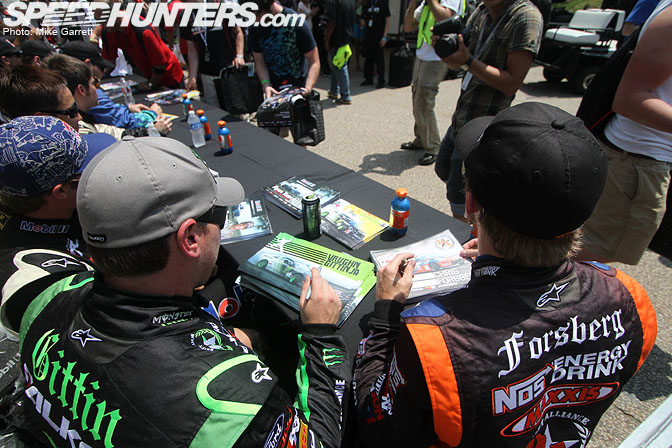 You got me on the track Dai, but I won this one!!!!!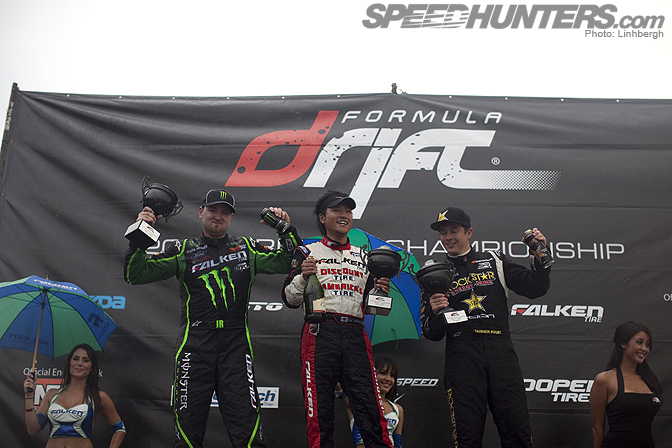 While being 1st was the goal,1st loser is not so bad when you know you gave it your all! Watch this VIDEO from highlighting my weekend at Round Three.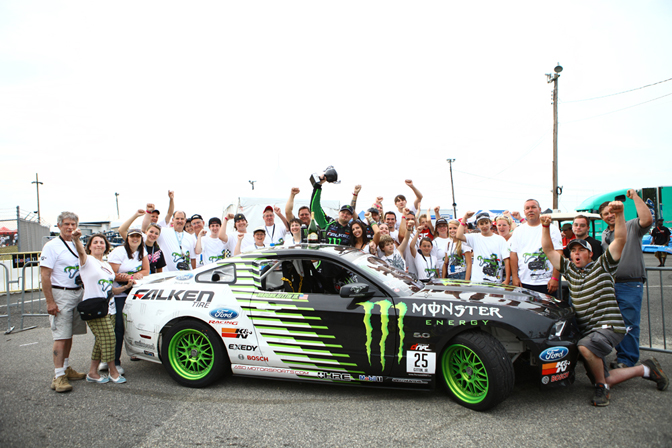 Here is the final shot of the day. Me and the majority of my family from my Mom, grand mom (who was shaking with joy), dad, step-dad, brother, sister, my lady and her dad and step-mother, aunts, uncles, cousins, and friends. Their support is so appreciated as is all of yours!
Let's keep this going!
See you in Seattle! 
- Vaughn Gittin Jr.