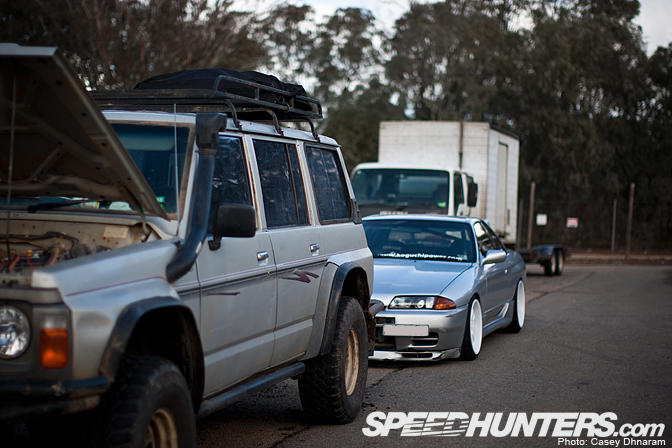 Drift Attack 2010 brought many good quality cars, one of those was Krish's slammed, street R32. Sitting in the pits, this skyline really set itself off with its super low stance and tight wheel fitment, which is what we all dig right? So, let's take a closer look!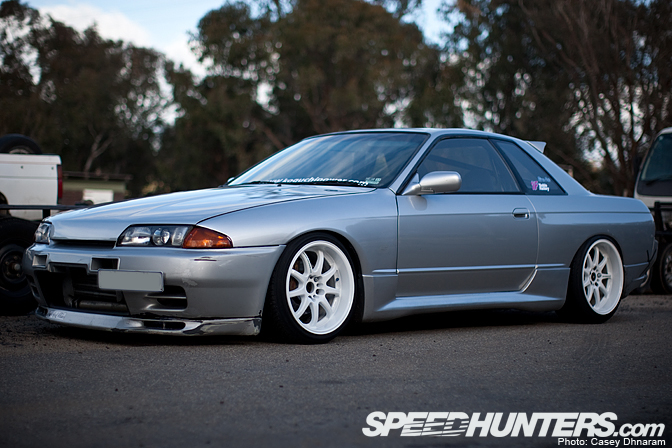 A great looking street car…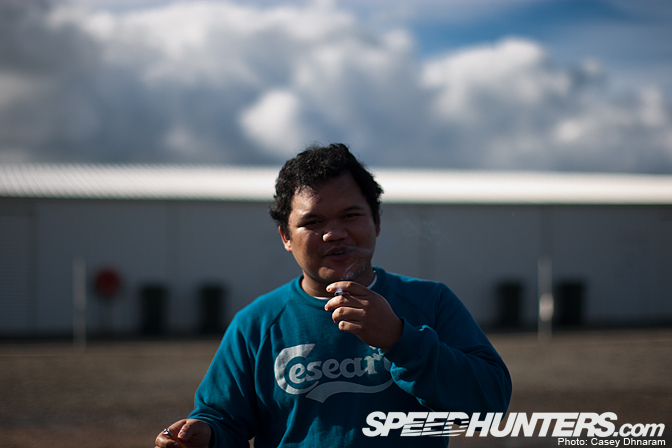 This is James Dihardjo, the man that introduced me to Krish.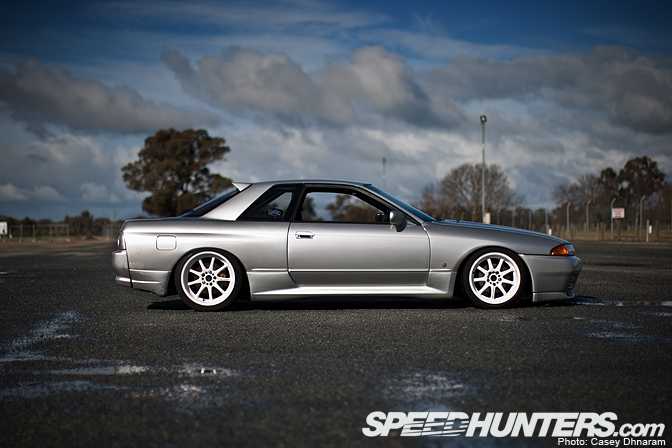 After chatting for a few minutes, we brought the car over to the v8 pit area to shoot some more staged photos.
This R32 look so ideal from every angle, it is really great to see this style of car street registered and driving on Australian streets!
The wheels play a big roll here: bringing the drooling flushness are Work Emotion XD9's, 18×10 +38 on the rear, no spacers…
17×9.5 +17, staggered!
Little things are also what bring cars together, such as the type M rear pods, Type M side skirts and the DMAX roof spoiler.
Up front we have a large Apexi Hybrid Turnflow intercooler hiding behind a sexy R32 GTR N1 model front bar and lip.
Take a step back, and all the accessories fall into place, giving the car a clean, aggressive look.
Koguchi power.
The interior is as fresh as the exterior, with a Nardi 360mm Deep Corn steering wheel, Bride Brix 1.5 drivers seat, R33 GTR passenger seat, Yoshio Factory shift and turn knob. We can also see a Bride trimmed glove box, R32 GTR door cards and HKS Limited 9-Point roll cage, boost gauge and turbo timer.
Driven by a trustworthy RB20DET mounted with a RB25DET turbo, the car has yet to skip a beat over the 4 years of its life. It also sports a HKS Actuator, 3" dump & front pipe, removed catalytic converter, GTR radiator and a remapped ECU tuned specifically for 1 bar of boost. The car is currently making around 230 rwhp: A perfect amount of power for a street driven car.
Krish was even lucky enough to get a couple of my last beloved 'Speedhunters' stickers that he was thrilled to stick on the car!
Represent!
Krish would like to thank all of his mates, mainly: James Dihardjo, James Beck, Bryan Lamb, Jezz Geopfert, Mum & Dad, Girlfriend Nina, and of course Jesse Streeter.
Full Modification List:
Engine
RB20DET
R33 RB25DET turbo
Apexi Hybrid turnflow intercooler
HKS actuator
Remapped ECU
3" Dump & Front Pipe
Removed catalytic converter
Kakimoto Regu 92-Z exhaust
GTR radiator
Tuned for 1 bar
Interior:
Bride Brix 1.5 drivers seat
R33 GTR passenger seat
Yashio factory shift knob
Yashio factory spin turn knob
Yashio factory gear boot
HKS limited edition 9-point roll cage
HKS boost gauge
HKS turbo timer
Bride trimmed glove box
R32 GTR door cards
Nardi 360mm deep corn
Stripped rear seats – carpeted
Exterior:
Type M rear pods
Type M side skirts
R32 GTR N1 model front bar and lip
DMAX roof spoiler
Work Emotion XD9 17×9.5 +17 Front, 18×10+38 Rear – no spacers.
Driver Train:
Welded Differential
Exceedy heavy duty clutch
Suspension:
JIC Coilovers 8-6 spring rates
Cusco strut brace, front / rear
Tein front castor arms
Silk road front camber arms
DMAX rear camber arms
DMAX rear castor arms
DMAX lock bar
DMAX solid cradle bushes
DMAX solid steering spacer
It was a pleasure meeting Krish & James, thanks a lot for your time!
- Casey Dhnaram.