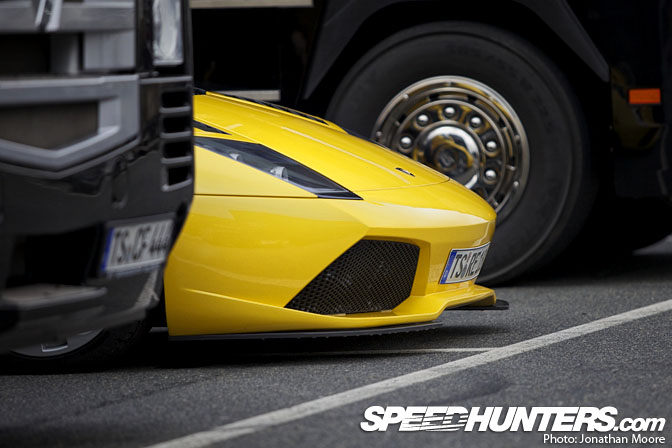 Tucked between the two big Reiter race trailers in the Brno GT1 paddock was this yellow devil: the special edition Reiter Murcielago Strada, German race team Reiter Engineering have taken their experience from the decade or so they've been developing GT1 and GT3 Lamborghini racing weapons and applied it to the road, providing a shopping list of parts to turn your already raging bull into a snarling minotaur.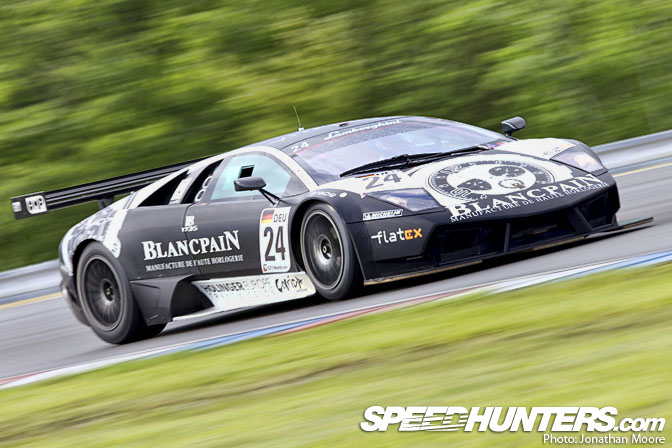 Who wouldn't want to drive a big, fire-breathing GT1 car? Reiter's aim is to make the experience of driving the Murcielago Strada as close to the racing R-SV GT1: the idea is that you take your 'stock' Murcielago to Reiter Engineering along with an appropriately large sum of money and start thumbing through the parts catalogue. Choose everything available and you'll end up with something that looks, sounds and performs pretty close to the race-going version, minus the flame-throwing exhaust of the GT1. Which is probably no bad thing, although I can think of some uses for it on the average high street.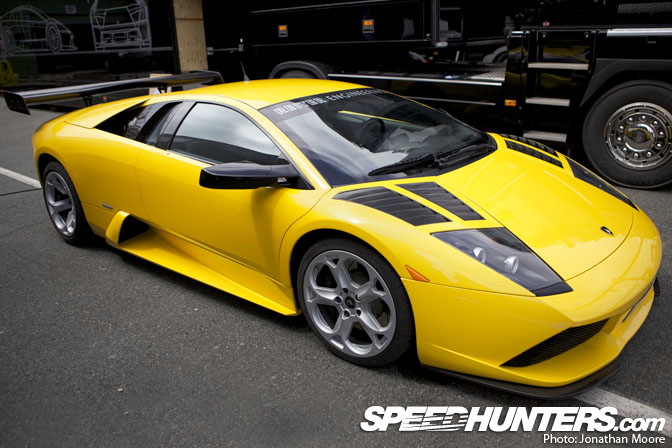 At the moment the Strada show car is a one-off: the model was unveiled at last year's Essen Motor Show, backing up Reiters's Gallardo GT3 Strada and R-GT specials of previous years.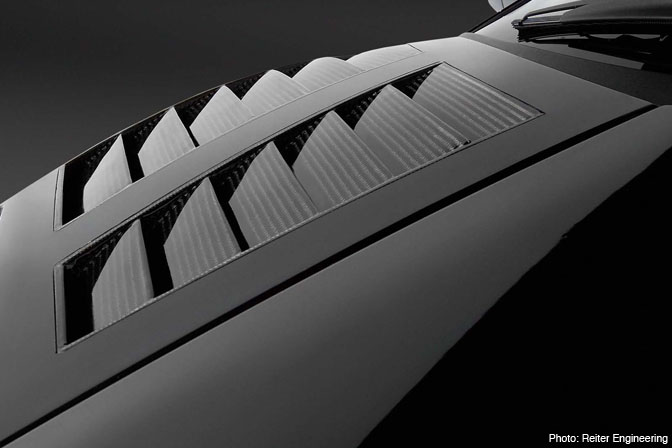 The watchword for the Strada customisation is carbon. It's everywhere. What you gain in expense is balanced by the weight the car loses as a result and the associated performance boost. Slatted front louvres help reduce turbulence and increase downforce.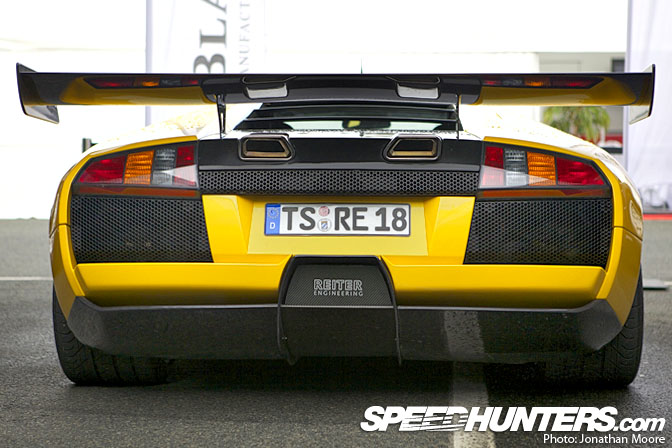 The enormous carbon rear wing is taken straight from the GT1 car: it spans almost two metres and generates over a 1,000kg of downforce! "Smaller wings are available on request" apparently. Other carbon options include the underfloor, front splitter and rear diffuser.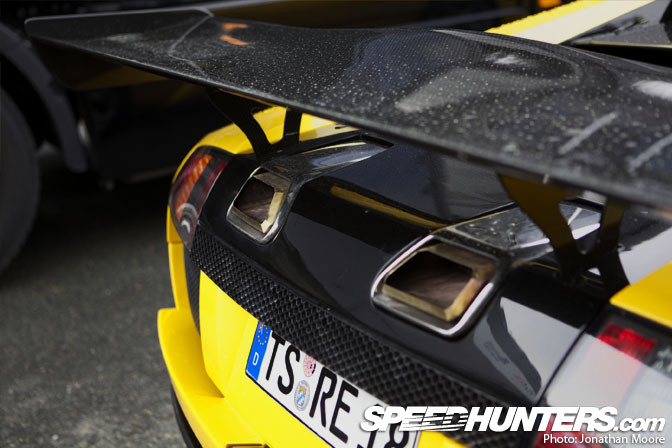 Out back, there's a new centrally-mounted, high-flow twin exhaust system which includes a silencer remote control for those moments when you have to consider the neighbours. Under the body, replace the word 'carbon' for 'race': the Strada has race-derived shock absorbers, anto-roll bars, coil springs, brake disks and callipers.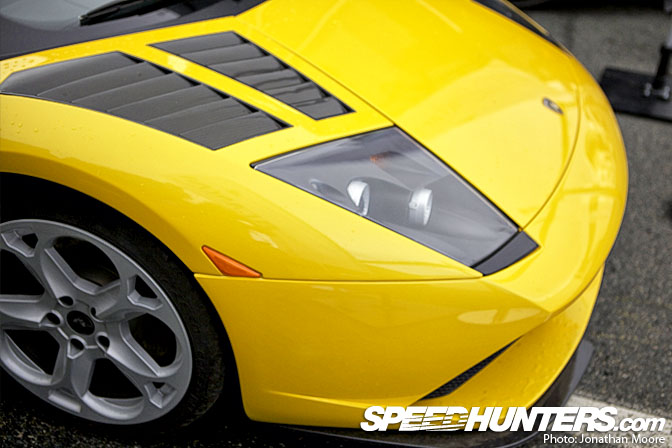 The show car at Brno was fitted with more regular 'dial' spoke rims, but Reiter offer a version of the GT1's aluminium light-alloy Oz racing wheel modified for a regular five-stud mounting system, fitted with a road-legal version of Michelin's Sport Cup racing tyre. The rims are 10"x18" front and 13"x19" at the rear, mounting 265/35/18s on the front and 345/30/19s at the back.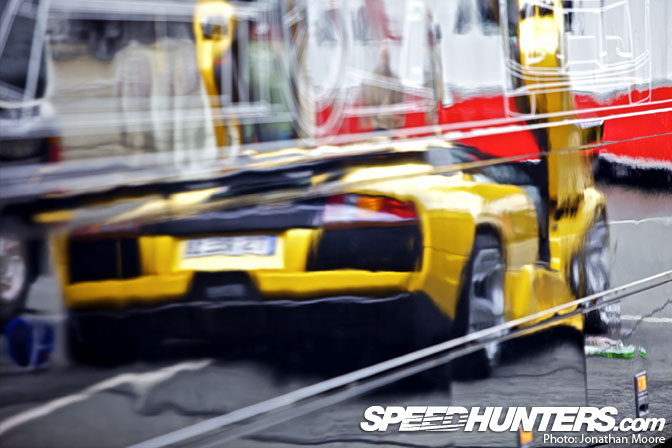 Reiter have widened the track and, like with their racing cars, carried out a rear-wheel drive conversion. No slide-saving four-wheel-drive here. New suspension ('race-proven', of course) is using a set-up developed after a lengthy test programme that involved Reiter's race drivers and engineers. You may appear a blur to other drivers on the road, but inside things should be a lot more controlled.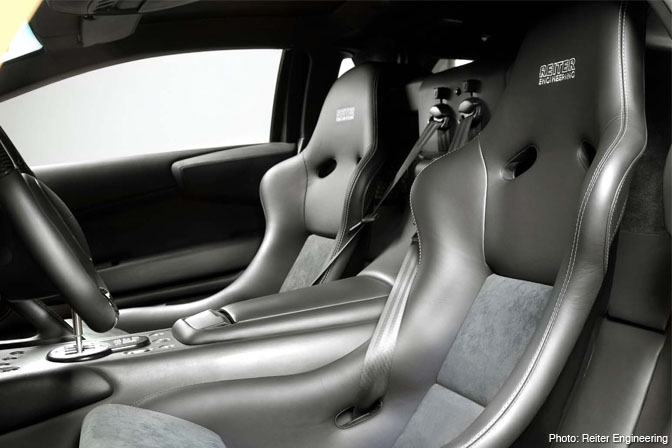 Inside, the cockpit is an overload of carbon and black Alcantara leather: 'race-like' bucket seats can be installed – they even come in an XL size if you carry some personal success ballast along with your enormous bank account. A full FIA-spec (carbon) fire extinguisher system can also be installed: something you hope would never be required…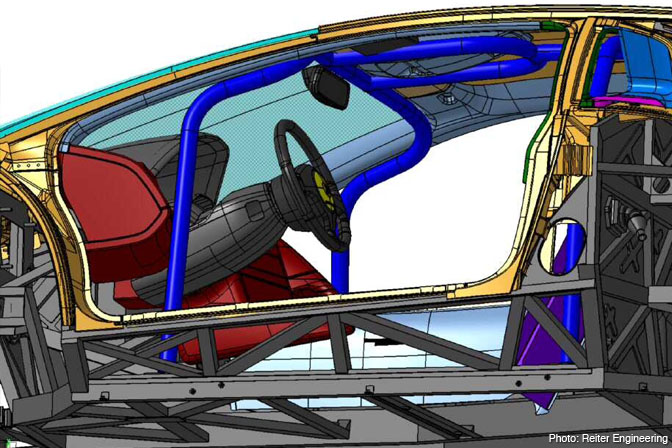 Finally, a full racing roll-cage has been inserted and discretely covered to match the interior leather, with wider than normal gaps to make getting in and out a bit easier.
Jonathan Moore